Click the pics above to follow the path of Phil Jackson.
Three More Rings
Back With Kobe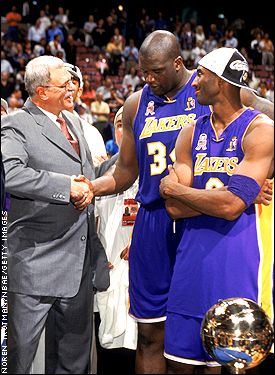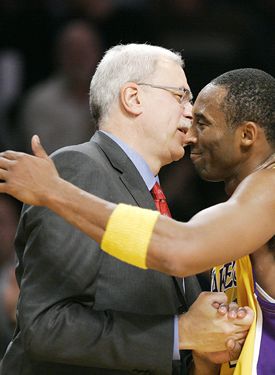 Jackson left the Chicago Bulls in 1998, after winning his sixth NBA title as coach.
He seemed to be burned out, and he took a year off, in a Montana sabbatical that some thought might last.
But when the 1999-2000 season came and he had the opportunity to coach Shaquille O'Neal and Kobe Bryant in Los Angeles, he jumped at the chance. Three seasons later, he had his third threepeat, winning in 2000, '01 and '02.
After a two-year hiatus from coaching, Jackson rejoined Kobe and the Lakers on June 15, 2005, with Shaq having moved on to the Heat.
Jackson's relationship with Bryant was a bit frosty at first, the Zen Master having penned a book that criticized Kobe. But it appears the duo is now on the same page as they find themselves back in the Finals together, with Jackson looking to win a record 10th NBA championship as a coach, which would break his tie with Red Auerbach.