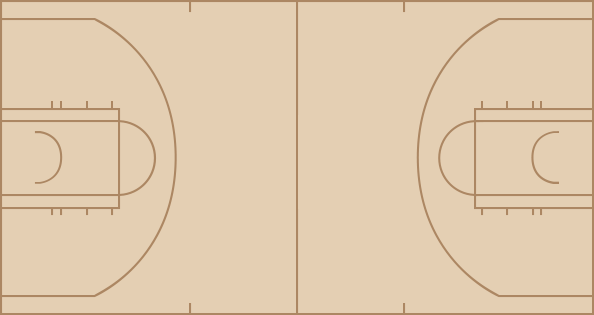 Clippers
time
TEAM
PLAY
SCORE
12:00
DeAndre Jordan vs. Nikola Vucevic (Willie Green gains possession)
0 - 0
11:45
Eric Bledsoe bad pass
0 - 0
11:26
Nikola Vucevic misses 16-foot jumper
0 - 0
11:26
DeAndre Jordan defensive rebound
0 - 0
11:18
Lamar Odom bad pass
0 - 0
11:00
Andrew Nicholson bad pass (Caron Butler steals)
0 - 0
10:52
Caron Butler misses 16-foot jumper
0 - 0
10:51
Jameer Nelson defensive rebound
0 - 0
10:32
Nikola Vucevic misses 9-foot jumper
0 - 0
10:30
Andrew Nicholson makes two point shot
0 - 2
10:30
Andrew Nicholson offensive rebound
0 - 0
10:17
Lamar Odom misses jumper
0 - 2
10:17
DeAndre Jordan offensive rebound
0 - 2
10:15
DeAndre Jordan lost ball turnover (Nikola Vucevic steals)
0 - 2
10:06
Jameer Nelson makes 25-foot three point jumper (E'Twaun Moore assists)
0 - 5
9:47
E'Twaun Moore shooting foul (Eric Bledsoe draws the foul)
0 - 5
9:47
Eric Bledsoe makes free throw 1 of 2
1 - 5
9:47
Eric Bledsoe makes free throw 2 of 2
2 - 5
9:26
E'Twaun Moore misses three point jumper
2 - 5
9:26
Caron Butler defensive rebound
2 - 5
9:11
Lamar Odom bad pass (E'Twaun Moore steals)
2 - 5
9:07
E'Twaun Moore makes 2-foot dunk
2 - 7
9:07
Clippers Full timeout
2 - 7
8:51
Eric Bledsoe misses 19-foot jumper
2 - 7
8:49
Moe Harkless defensive rebound
2 - 7
8:26
Nikola Vucevic misses jumper
2 - 7
8:26
Lamar Odom defensive rebound
2 - 7
8:15
Willie Green makes 18-foot two point shot
4 - 7
7:56
E'Twaun Moore bad pass (Lamar Odom steals)
4 - 7
7:43
Willie Green misses 22-foot jumper
4 - 7
7:43
Moe Harkless defensive rebound
4 - 7
7:33
Jameer Nelson makes 7-foot two point shot
4 - 9
7:13
Nikola Vucevic blocks DeAndre Jordan 's 4-foot jumper
4 - 9
7:11
Andrew Nicholson defensive rebound
4 - 9
7:07
Jameer Nelson bad pass (Lamar Odom steals)
4 - 9
6:58
Eric Bledsoe makes two point shot (Caron Butler assists)
6 - 9
6:48
DeAndre Jordan kicked ball violation
6 - 9
6:43
Jameer Nelson bad pass (Lamar Odom steals)
6 - 9
6:30
Caron Butler misses 24-foot three point jumper
6 - 9
6:28
DeAndre Jordan offensive rebound
6 - 9
6:28
DeAndre Jordan misses tip shot
6 - 9
6:26
Nikola Vucevic defensive rebound
6 - 9
6:16
Andrew Nicholson misses 22-foot jumper
6 - 9
6:16
Willie Green defensive rebound
6 - 9
6:05
DeAndre Jordan misses 4-foot jumper
6 - 9
6:05
DeAndre Jordan offensive rebound
6 - 9
6:03
DeAndre Jordan misses tip shot
6 - 9
6:01
E'Twaun Moore defensive rebound
6 - 9
5:54
Jameer Nelson makes 27-foot three point jumper (E'Twaun Moore assists)
6 - 12
5:35
Lamar Odom misses two point shot
6 - 12
5:35
Nikola Vucevic defensive rebound
6 - 12
5:18
Jameer Nelson misses 27-foot three point jumper
6 - 12
5:18
Clippers defensive team rebound
6 - 12
5:07
Lamar Odom makes 9-foot two point shot
8 - 12
4:48
Moe Harkless makes two point shot
8 - 14
4:39
Eric Bledsoe misses 21-foot jumper
8 - 14
4:37
Moe Harkless defensive rebound
8 - 14
4:28
Jameer Nelson misses two point jumper
8 - 14
4:28
Magic offensive team rebound
8 - 14
4:26
Andrew Nicholson bad pass (Eric Bledsoe steals)
8 - 14
4:24
Jameer Nelson personal foul (Eric Bledsoe draws the foul)
8 - 14
4:05
Eric Bledsoe misses 25-foot three point jumper
8 - 14
4:05
Jameer Nelson defensive rebound
8 - 14
3:57
E'Twaun Moore misses 22-foot two point jumper
8 - 14
3:55
Eric Bledsoe defensive rebound
8 - 14
3:50
Willie Green makes 5-foot two point shot (Eric Bledsoe assists)
10 - 14
3:50
Magic Full timeout
10 - 14
3:31
Lamar Odom shooting block foul (Jameer Nelson draws the foul)
10 - 14
3:31
Jameer Nelson makes free throw 1 of 2
10 - 15
3:31
Jameer Nelson makes free throw 2 of 2
10 - 16
3:10
DeAndre Jordan makes 3-foot two point shot
12 - 16
2:55
Jameer Nelson misses 25-foot three point jumper
12 - 16
2:55
Magic offensive team rebound
12 - 16
2:55
Matt Barnes enters the game for Willie Green
12 - 16
2:55
Grant Hill enters the game for Caron Butler
12 - 16
2:44
Nikola Vucevic misses 9-foot jumper
12 - 16
2:44
Matt Barnes defensive rebound
12 - 16
2:40
Eric Bledsoe bad pass
12 - 16
2:24
Moe Harkless misses driving layup
12 - 16
2:23
Clippers defensive team rebound
12 - 16
2:20
Eric Bledsoe bad pass
12 - 16
2:04
E'Twaun Moore misses 17-foot jumper
12 - 16
2:03
Eric Bledsoe defensive rebound
12 - 16
1:43
DeAndre Jordan makes driving dunk
14 - 16
1:43
Andrew Nicholson shooting foul (DeAndre Jordan draws the foul)
14 - 16
1:43
Ish Smith enters the game for Jameer Nelson
14 - 16
1:43
DeAndre Jordan makes free throw 1 of 1
15 - 16
1:35
Lamar Odom personal block (E'Twaun Moore draws the foul)
15 - 16
1:35
Ronny Turiaf enters the game for Lamar Odom
15 - 16
1:23
E'Twaun Moore misses 21-foot jumper
15 - 16
1:23
Matt Barnes defensive rebound
15 - 16
1:07
DeAndre Jordan makes two point shot (Ronny Turiaf assists)
17 - 16
0:51
Nikola Vucevic misses 19-foot jumper
17 - 16
0:50
Eric Bledsoe defensive rebound
17 - 16
0:33
Ronny Turiaf bad pass (Nikola Vucevic steals)
17 - 16
0:29
Eric Bledsoe blocks Moe Harkless 's 1-foot layup
17 - 16
0:29
Magic offensive team rebound
17 - 16
0:18
DeAndre Jordan personal block (Ish Smith draws the foul)
17 - 16
0:18
Ish Smith misses free throw 1 of 2
17 - 16
0:18
Magic offensive team rebound
17 - 16
0:18
Ish Smith makes free throw 2 of 2
17 - 17
0:00
End of the 1st Quarter
17 - 17

time
TEAM
PLAY
SCORE
11:47
Ryan Hollins shooting foul (Josh McRoberts draws the foul)
17 - 18
11:47
Josh McRoberts makes free throw 1 of 2
17 - 18
11:47
Josh McRoberts misses free throw 2 of 2
17 - 18
11:45
Kyle O'Quinn offensive rebound
17 - 18
11:41
Ronny Turiaf personal foul (Jameer Nelson draws the foul)
17 - 18
11:33
Eric Bledsoe personal foul (Ish Smith draws the foul)
17 - 18
11:26
Ish Smith misses 10-foot Running Jumper
17 - 18
11:26
Ronny Turiaf defensive rebound
17 - 18
11:15
Josh McRoberts personal block (Grant Hill draws the foul)
17 - 18
11:08
Ryan Hollins 3 second turnover
17 - 18
10:53
Gustavo Ayon bad pass (Grant Hill steals)
17 - 18
10:49
Grant Hill makes driving layup
19 - 18
10:29
Ish Smith misses driving layup
19 - 18
10:27
Ryan Hollins defensive rebound
19 - 18
10:21
Eric Bledsoe misses 19-foot jumper
19 - 18
10:19
Ryan Hollins offensive rebound
19 - 18
10:19
Ryan Hollins makes two point shot
21 - 18
10:03
Jameer Nelson misses 26-foot three point jumper
21 - 18
10:02
Ryan Hollins defensive rebound
21 - 18
9:56
Matt Barnes steps out of bounds turnover
21 - 18
9:56
Willie Green enters the game for Eric Bledsoe
21 - 18
9:33
Gustavo Ayon makes two point shot (Kyle O'Quinn assists)
21 - 20
9:18
Matt Barnes bad pass
21 - 20
9:06
Ronny Turiaf blocks Kyle O'Quinn's shot
21 - 20
9:03
Kyle O'Quinn offensive rebound
21 - 20
9:02
Kyle O'Quinn makes 3-foot two point shot
21 - 22
8:45
Willie Green misses jumper
21 - 22
8:44
Kyle O'Quinn defensive rebound
21 - 22
8:37
Jameer Nelson makes 4-foot two point shot
21 - 24
8:37
Clippers Full timeout
21 - 24
8:37
Matt Barnes technical foul(1st technical foul)
21 - 24
8:37
Jameer Nelson makes technical free throw
21 - 25
8:21
Ryan Hollins makes 14-foot jumper (Grant Hill assists)
23 - 25
8:00
Ish Smith makes three point jumper (Jameer Nelson assists)
23 - 28
7:35
Grant Hill misses 16-foot jumper
23 - 28
7:33
Jameer Nelson defensive rebound
23 - 28
7:18
Jameer Nelson makes driving layup
23 - 30
6:58
Matt Barnes makes 26-foot three point jumper (Willie Green assists)
26 - 30
6:45
Jameer Nelson makes 26-foot three point jumper (Kyle O'Quinn assists)
26 - 33
6:33
Matt Barnes misses 8-foot jumper
26 - 33
6:33
Clippers offensive team rebound
26 - 33
6:33
Kyle O'Quinn personal foul (Ryan Hollins draws the foul)
26 - 33
6:33
DeAndre Jordan enters the game for Ronny Turiaf
26 - 33
6:33
Nikola Vucevic enters the game for Ish Smith
26 - 33
6:33
Moe Harkless enters the game for Kyle O'Quinn
26 - 33
6:33
Eric Bledsoe enters the game for Willie Green
26 - 33
6:31
Ryan Hollins makes layup (Grant Hill assists)
28 - 33
6:31
Gustavo Ayon shooting block foul (Ryan Hollins draws the foul)
29 - 33
6:31
Ryan Hollins makes free throw 1 of 1
29 - 33
6:18
Gustavo Ayon makes 2-foot two point shot (Jameer Nelson assists)
29 - 35
6:18
DeAndre Jordan shooting foul (Gustavo Ayon draws the foul)
29 - 35
6:18
Gustavo Ayon misses free throw 1 of 1
29 - 35
6:15
Ryan Hollins defensive rebound
29 - 35
6:05
Eric Bledsoe makes 15-foot jumper
31 - 35
5:48
Jameer Nelson bad pass (Eric Bledsoe steals)
31 - 35
5:46
Josh McRoberts shooting foul (Matt Barnes draws the foul)
32 - 35
5:46
Official timeout
31 - 35
5:46
E'Twaun Moore enters the game for Josh McRoberts
31 - 35
5:46
Matt Barnes misses free throw 1 of 2
31 - 35
5:46
Clippers offensive team rebound
31 - 35
5:46
Matt Barnes makes free throw 2 of 2
32 - 35
5:30
Gustavo Ayon misses jumper
32 - 35
5:28
DeAndre Jordan defensive rebound
32 - 35
5:20
Grant Hill misses 7-foot jumper
32 - 35
5:20
Gustavo Ayon defensive rebound
32 - 35
5:07
E'Twaun Moore misses 26-foot three point jumper
32 - 35
5:07
Gustavo Ayon offensive rebound
32 - 35
4:58
Nikola Vucevic makes 1-foot dunk (Jameer Nelson assists)
32 - 37
4:39
Eric Bledsoe misses 25-foot three point jumper
32 - 37
4:37
Nikola Vucevic defensive rebound
32 - 37
4:24
Moe Harkless misses 23-foot three point jumper
32 - 37
4:24
Grant Hill defensive rebound
32 - 37
4:13
Matt Barnes makes 24-foot three point jumper (Grant Hill assists)
35 - 37
3:57
Ryan Hollins blocks E'Twaun Moore 's 1-foot layup
35 - 37
3:55
DeAndre Jordan defensive rebound
35 - 37
3:49
Eric Bledsoe bad pass (Jameer Nelson steals)
35 - 37
3:41
Jameer Nelson misses 28-foot three point jumper
35 - 37
3:40
Eric Bledsoe defensive rebound
35 - 37
3:38
Jameer Nelson shooting foul (Eric Bledsoe draws the foul)
35 - 37
3:38
Eric Bledsoe misses free throw 1 of 2
35 - 37
3:38
Clippers offensive team rebound
35 - 37
3:38
Caron Butler enters the game for Grant Hill
35 - 37
3:38
Andrew Nicholson enters the game for Gustavo Ayon
35 - 37
3:38
Ish Smith enters the game for Jameer Nelson
35 - 37
3:38
Eric Bledsoe misses free throw 2 of 2
35 - 37
3:35
Nikola Vucevic defensive rebound
35 - 37
3:24
Nikola Vucevic 3 second turnover
35 - 37
3:14
Moe Harkless blocks Eric Bledsoe 's 2-foot layup
35 - 37
3:12
Moe Harkless defensive rebound
35 - 37
3:05
E'Twaun Moore misses 26-foot three point jumper
35 - 37
3:03
Nikola Vucevic offensive rebound
35 - 37
3:03
E'Twaun Moore misses jumper
35 - 37
3:03
Magic offensive team rebound
35 - 37
3:03
Caron Butler loose ball foul (Nikola Vucevic draws the foul)
35 - 38
3:03
Nikola Vucevic misses free throw 1 of 2
35 - 37
3:03
Magic offensive team rebound
35 - 37
3:03
Lamar Odom enters the game for Ryan Hollins
35 - 37
3:03
Nikola Vucevic makes free throw 2 of 2
35 - 38
2:39
Moe Harkless blocks Caron Butler 's 25-foot three point jumper
35 - 38
2:38
Ish Smith defensive rebound
35 - 38
2:35
Magic Full timeout
35 - 38
2:25
Nikola Vucevic misses layup
35 - 38
2:24
Matt Barnes defensive rebound
35 - 38
2:09
Matt Barnes misses three point jumper
35 - 38
2:08
Andrew Nicholson defensive rebound
35 - 38
1:58
Moe Harkless makes 6-foot two point shot
35 - 40
1:36
Caron Butler makes 21-foot jumper
37 - 40
1:12
Ish Smith lost ball turnover (Eric Bledsoe steals)
37 - 40
1:08
E'Twaun Moore shooting foul (Matt Barnes draws the foul)
38 - 40
1:08
Matt Barnes makes free throw 1 of 2
38 - 40
1:08
Matt Barnes misses free throw 2 of 2
38 - 40
1:07
Nikola Vucevic defensive rebound
38 - 40
0:46
Nikola Vucevic misses 15-foot jumper
38 - 40
0:45
Eric Bledsoe defensive rebound
38 - 40
0:38
Eric Bledsoe makes 19-foot jumper
40 - 40
0:16
Ish Smith makes 21-foot jumper
40 - 42
0:00
Matt Barnes misses 26-foot three point jumper
40 - 42
0:00
Clippers offensive team rebound
40 - 42
0:00
End of the 2nd Quarter
40 - 42

time
TEAM
PLAY
SCORE
11:38
Nikola Vucevic makes two point shot (Andrew Nicholson assists)
40 - 44
11:18
Caron Butler misses 24-foot three point jumper
40 - 44
11:18
Nikola Vucevic defensive rebound
40 - 44
11:18
DeAndre Jordan personal foul (Nikola Vucevic draws the foul)
40 - 44
11:03
E'Twaun Moore bad pass (Eric Bledsoe steals)
40 - 44
10:56
Eric Bledsoe makes driving layup
42 - 44
10:42
E'Twaun Moore bad pass (Lamar Odom steals)
42 - 44
10:36
DeAndre Jordan makes 2-foot two point shot (Eric Bledsoe assists)
44 - 44
10:14
Andrew Nicholson misses hook shot
44 - 44
10:12
Clippers defensive team rebound
44 - 44
10:06
Willie Green misses 26-foot three point jumper
44 - 44
10:04
Lamar Odom offensive rebound
44 - 44
9:56
Eric Bledsoe misses 20-foot jumper
44 - 44
9:56
Nikola Vucevic defensive rebound
44 - 44
9:41
Nikola Vucevic makes 5-foot two point shot (Jameer Nelson assists)
44 - 46
9:21
Willie Green misses 23-foot three point jumper
44 - 46
9:19
Nikola Vucevic defensive rebound
44 - 46
9:02
Jameer Nelson misses 23-foot jumper
44 - 46
9:02
Clippers defensive team rebound
44 - 46
8:45
Caron Butler makes 12-foot jumper (Lamar Odom assists)
46 - 46
8:30
Moe Harkless misses 25-foot three point jumper
46 - 46
8:29
DeAndre Jordan defensive rebound
46 - 46
8:06
Eric Bledsoe makes 26-foot three point jumper (Lamar Odom assists)
49 - 46
8:04
Clippers delay of game violation
49 - 46
7:48
Nikola Vucevic bad pass (Lamar Odom steals)
49 - 46
7:43
Willie Green makes driving layup (Lamar Odom assists)
51 - 46
7:41
Magic Full timeout
51 - 46
7:24
E'Twaun Moore bad pass (Eric Bledsoe steals)
51 - 46
7:20
Eric Bledsoe misses layup
51 - 46
7:20
E'Twaun Moore defensive rebound
51 - 46
7:13
E'Twaun Moore misses three point jumper
51 - 46
7:13
DeAndre Jordan defensive rebound
51 - 46
7:07
Willie Green misses layup
51 - 46
7:05
DeAndre Jordan offensive rebound
51 - 46
7:05
DeAndre Jordan makes 2-foot two point shot
53 - 46
6:50
E'Twaun Moore misses 26-foot three point jumper
53 - 46
6:48
DeAndre Jordan defensive rebound
53 - 46
6:45
DeAndre Jordan lost ball turnover (Moe Harkless steals)
53 - 46
6:41
Moe Harkless misses driving layup
53 - 46
6:39
Lamar Odom defensive rebound
53 - 46
6:33
Caron Butler misses two point shot
53 - 46
6:33
Andrew Nicholson defensive rebound
53 - 46
6:24
null
53 - 46
6:22
Jameer Nelson misses 5-foot two point shot
53 - 46
6:22
Nikola Vucevic misses tip shot
53 - 46
6:20
Lamar Odom defensive rebound
53 - 46
6:00
Caron Butler makes 23-foot three point jumper (Willie Green assists)
56 - 46
5:41
E'Twaun Moore misses 18-foot jumper
56 - 46
5:39
Andrew Nicholson offensive rebound
56 - 46
5:39
Andrew Nicholson makes two point shot
56 - 48
5:20
Eric Bledsoe makes 17-foot jumper (Lamar Odom assists)
58 - 48
4:45
E'Twaun Moore makes layup (Nikola Vucevic assists)
60 - 50
4:33
Lamar Odom makes 21-foot jumper (Eric Bledsoe assists)
60 - 50
4:20
Lamar Odom personal foul (Andrew Nicholson draws the foul)
60 - 50
4:20
Kyle O'Quinn enters the game for Moe Harkless
60 - 50
4:20
Ish Smith enters the game for Nikola Vucevic
60 - 50
4:20
Josh McRoberts enters the game for E'Twaun Moore
60 - 50
4:09
Ish Smith makes 25-foot three point jumper (Josh McRoberts assists)
60 - 53
3:39
Lamar Odom misses 22-foot jumper
60 - 53
3:38
Matt Barnes offensive rebound
60 - 53
3:18
Caron Butler misses 26-foot three point jumper
60 - 53
3:17
Jameer Nelson defensive rebound
60 - 53
3:11
Lamar Odom personal foul (Jameer Nelson draws the foul)
60 - 53
3:11
Ryan Hollins enters the game for Lamar Odom
60 - 53
2:59
Andrew Nicholson makes 7-foot two point shot (Ish Smith assists)
60 - 55
2:53
Clippers Full timeout
60 - 55
2:42
Andrew Nicholson blocks Caron Butler 's 3-foot layup
60 - 55
2:41
Jameer Nelson defensive rebound
60 - 55
2:18
Ish Smith misses 22-foot jumper
60 - 55
2:17
DeAndre Jordan defensive rebound
60 - 55
2:12
Eric Bledsoe misses 10-foot two point shot
60 - 55
2:12
Clippers offensive team rebound
60 - 55
2:12
DeAndre Jordan offensive goaltending turnover
60 - 55
1:57
Ish Smith misses 11-foot jumper
60 - 55
1:57
Magic offensive team rebound
60 - 55
1:57
Ryan Hollins personal foul (Kyle O'Quinn draws the foul)
60 - 55
1:57
Grant Hill enters the game for Caron Butler
60 - 55
1:35
Josh McRoberts misses 27-foot three point jumper
60 - 55
1:35
DeAndre Jordan defensive rebound
60 - 55
1:25
Eric Bledsoe makes jumper
62 - 55
1:10
Ish Smith bad pass (Eric Bledsoe steals)
62 - 55
1:05
Eric Bledsoe misses layup
62 - 55
1:02
Ish Smith defensive rebound
62 - 55
0:59
Jameer Nelson misses 26-foot three point jumper
62 - 55
0:59
Ryan Hollins defensive rebound
62 - 55
0:59
Kyle O'Quinn personal foul (Ryan Hollins draws the foul)
62 - 55
0:59
Gustavo Ayon enters the game for Andrew Nicholson
62 - 55
0:59
E'Twaun Moore enters the game for Jameer Nelson
62 - 55
0:50
Grant Hill makes 10-foot two point shot
64 - 55
0:31
Josh McRoberts lost ball turnover (Grant Hill steals)
64 - 55
0:25
Grant Hill misses jumper
64 - 55
0:24
Ish Smith defensive rebound
64 - 55
0:01
Ish Smith misses 19-foot jumper
64 - 55
0:00
Ryan Hollins defensive rebound
64 - 55
0:00
End of the 3rd Quarter
64 - 55

time
TEAM
PLAY
SCORE
11:44
Grant Hill misses 17-foot jumper
64 - 55
11:42
Kyle O'Quinn defensive rebound
64 - 55
11:37
Ryan Hollins shooting block foul (Kyle O'Quinn draws the foul)
64 - 57
11:37
Kyle O'Quinn makes free throw 1 of 2
64 - 56
11:37
Kyle O'Quinn makes free throw 2 of 2
64 - 57
11:17
DeAndre Jordan makes 7-foot jumper
66 - 57
11:07
Ryan Hollins personal foul (Kyle O'Quinn draws the foul)
66 - 57
10:59
Moe Harkless misses 4-foot jumper
66 - 57
10:57
Kyle O'Quinn offensive rebound
66 - 57
10:57
Kyle O'Quinn makes 2-foot two point shot
66 - 59
10:38
Ryan Hollins makes two point shot
68 - 59
10:18
Moe Harkless misses 2-foot two point shot
68 - 59
10:18
DeAndre Jordan defensive rebound
68 - 59
10:00
Gustavo Ayon shooting foul (DeAndre Jordan draws the foul)
68 - 59
10:00
DeAndre Jordan misses free throw 1 of 2
68 - 59
10:00
Clippers offensive team rebound
68 - 59
10:00
DeAndre Jordan misses free throw 2 of 2
68 - 59
9:59
E'Twaun Moore defensive rebound
68 - 59
9:41
Kyle O'Quinn makes jumper (E'Twaun Moore assists)
68 - 61
9:23
Matt Barnes misses 26-foot three point jumper
68 - 61
9:19
Ryan Hollins offensive rebound
68 - 61
9:18
Matt Barnes misses driving layup
68 - 61
9:15
DeAndre Jordan offensive rebound
68 - 61
9:14
Moe Harkless defensive rebound
68 - 61
9:12
DeAndre Jordan misses layup
68 - 61
9:10
Willie Green shooting foul (Moe Harkless draws the foul)
68 - 63
9:10
Moe Harkless makes free throw 1 of 2
68 - 63
9:10
Moe Harkless makes free throw 2 of 2
68 - 63
8:45
Willie Green misses 22-foot jumper
68 - 63
8:45
Moe Harkless defensive rebound
68 - 63
8:37
Moe Harkless offensive Charge (Ryan Hollins draws the foul)
68 - 63
8:37
Moe Harkless turnover
68 - 63
8:37
Official timeout
68 - 63
8:37
Eric Bledsoe enters the game for DeAndre Jordan
68 - 63
8:37
Ronny Turiaf enters the game for Willie Green
68 - 63
8:37
Jameer Nelson enters the game for Kyle O'Quinn
68 - 63
8:37
Nikola Vucevic enters the game for Josh McRoberts
68 - 63
8:19
Grant Hill misses 15-foot jumper
68 - 63
8:18
Ronny Turiaf offensive rebound
68 - 63
8:00
Eric Bledsoe misses 16-foot jumper
68 - 63
8:00
Ronny Turiaf offensive rebound
68 - 63
7:50
Jameer Nelson personal foul (Matt Barnes draws the foul)
68 - 63
7:35
Eric Bledsoe makes 20-foot jumper (Ryan Hollins assists)
70 - 63
7:13
Jameer Nelson lost ball turnover (Ronny Turiaf steals)
70 - 63
6:48
Eric Bledsoe makes 26-foot three point jumper (Matt Barnes assists)
73 - 63
6:30
Nikola Vucevic misses layup
73 - 63
6:26
Nikola Vucevic offensive rebound
73 - 63
6:24
Nikola Vucevic makes layup
73 - 65
6:16
Moe Harkless personal foul (Grant Hill draws the foul)
73 - 65
6:16
Kyle O'Quinn enters the game for Gustavo Ayon
73 - 65
6:01
Eric Bledsoe misses 16-foot jumper
73 - 65
6:01
Ronny Turiaf offensive rebound
73 - 65
5:41
Ryan Hollins misses jumper
73 - 65
5:39
Nikola Vucevic defensive rebound
73 - 65
5:30
Nikola Vucevic misses 11-foot jumper
73 - 65
5:26
Ronny Turiaf defensive rebound
73 - 65
5:22
Kyle O'Quinn personal foul (Ryan Hollins draws the foul)
73 - 65
5:22
Magic Full timeout
73 - 65
5:09
Matt Barnes misses 12-foot Running Jumper
73 - 65
5:09
Moe Harkless defensive rebound
73 - 65
4:50
Moe Harkless misses 9-foot Running Jumper
73 - 65
4:48
Matt Barnes defensive rebound
73 - 65
4:46
Jameer Nelson shooting foul (Eric Bledsoe draws the foul)
74 - 65
4:46
Eric Bledsoe misses free throw 1 of 2
73 - 65
4:46
Clippers offensive team rebound
73 - 65
4:46
Lamar Odom enters the game for Ronny Turiaf
73 - 65
4:46
Eric Bledsoe makes free throw 2 of 2
74 - 65
4:28
Nikola Vucevic misses 12-foot two point shot
74 - 65
4:26
Magic offensive team rebound
74 - 65
4:26
Grant Hill loose ball foul (Kyle O'Quinn draws the foul)
74 - 65
4:15
E'Twaun Moore misses 12-foot two point shot
74 - 65
4:15
Nikola Vucevic offensive rebound
74 - 65
4:09
Nikola Vucevic makes layup
74 - 67
3:57
Matt Barnes misses 18-foot jumper
74 - 67
3:57
Clippers offensive team rebound
74 - 67
3:57
Nikola Vucevic loose ball foul (Eric Bledsoe draws the foul)
74 - 67
3:57
Ryan Hollins makes free throw 1 of 2
75 - 67
3:57
Ryan Hollins makes free throw 2 of 2
76 - 67
3:41
Nikola Vucevic makes layup (E'Twaun Moore assists)
76 - 69
3:23
Matt Barnes misses 25-foot three point jumper
76 - 69
3:21
Moe Harkless defensive rebound
76 - 69
3:13
Jameer Nelson misses 27-foot three point pullup jump shot
76 - 69
3:09
Kyle O'Quinn offensive rebound
76 - 69
3:06
Kyle O'Quinn misses layup
76 - 69
3:04
Grant Hill defensive rebound
76 - 69
3:04
Clippers Full timeout
76 - 69
2:54
Matt Barnes misses driving layup
76 - 69
2:53
Ryan Hollins offensive rebound
76 - 69
2:53
Ryan Hollins makes 1-foot two point shot
78 - 69
2:40
Nikola Vucevic makes jumper (E'Twaun Moore assists)
78 - 71
2:11
Lamar Odom makes 25-foot three point jumper (Matt Barnes assists)
81 - 71
1:55
Ryan Hollins blocks Jameer Nelson 's 2-foot layup
81 - 71
1:54
Eric Bledsoe defensive rebound
81 - 71
1:39
Moe Harkless personal foul (Eric Bledsoe draws the foul)
81 - 71
1:39
Eric Bledsoe makes free throw 1 of 2
82 - 71
1:39
Eric Bledsoe makes free throw 2 of 2
83 - 71
1:37
Magic Full timeout
83 - 71
1:24
Eric Bledsoe blocks E'Twaun Moore 's 15-foot jumper
83 - 71
1:23
Lamar Odom defensive rebound
83 - 71
1:22
Lamar Odom bad pass (Kyle O'Quinn steals)
83 - 71
1:20
E'Twaun Moore makes 24-foot three point jumper (Kyle O'Quinn assists)
83 - 74
0:55
Grant Hill misses jumper
83 - 74
0:54
Kyle O'Quinn defensive rebound
83 - 74
0:45
E'Twaun Moore bad pass (Lamar Odom steals)
83 - 74
0:45
Nikola Vucevic personal foul (Lamar Odom draws the foul)
83 - 74
0:45
Lamar Odom makes free throw 1 of 2
84 - 74
0:45
Lamar Odom misses free throw 2 of 2
83 - 74
0:44
Kyle O'Quinn defensive rebound
83 - 74
0:42
Magic 20 Sec. timeout
83 - 74
0:31
Nikola Vucevic misses 2-foot two point shot
83 - 74
0:29
Moe Harkless offensive rebound
83 - 74
0:28
Moe Harkless misses jumper
83 - 74
0:28
Kyle O'Quinn offensive rebound
85 - 74
0:28
Kyle O'Quinn makes 2-foot two point shot
85 - 76
0:28
Jameer Nelson personal foul (Eric Bledsoe draws the foul)
85 - 76
0:28
Eric Bledsoe makes free throw 1 of 2
85 - 76
0:28
Eric Bledsoe makes free throw 2 of 2
86 - 76
0:16
Nikola Vucevic misses layup
86 - 76
0:14
Grant Hill defensive rebound
86 - 76
0:00
null
86 - 76
0:00
End of the 4th Quarter
85 - 76
The Clippers announced Sunday they were cutting ties with former Michigan State standout Branden Dawson, four months after he was arrested on suspicion of spousal abuse.

It's been a busy NBA offseason, with players taking their talents all across the country. Here's a recap of which players will be wearing different uniforms next season.

Even with chatter of a potential trade, it appears Ricky Rubio will be staying with the Timberwolves for the time being.
2015-2016 Pacific Standings
2015-2016 Southeast Standings