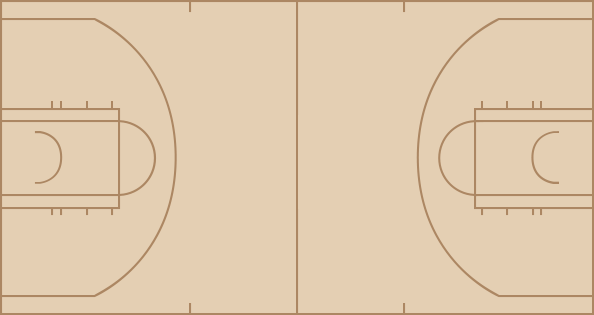 Grizzlies
time
TEAM
PLAY
SCORE
12:00
Marc Gasol vs. J.J. Hickson (Tony Allen gains possession)
0 - 0
11:45
Marc Gasol misses 20-foot jumper
0 - 0
11:44
LaMarcus Aldridge defensive rebound
0 - 0
11:26
J.J. Hickson steps out of bounds turnover
0 - 0
11:04
Zach Randolph bad pass (J.J. Hickson steals)
0 - 0
10:52
LaMarcus Aldridge misses Running Jumper
0 - 0
10:52
Tayshaun Prince defensive rebound
0 - 0
10:30
Marc Gasol lost ball turnover (Nicolas Batum steals)
0 - 0
10:22
J.J. Hickson makes layup (Nicolas Batum assists)
0 - 2
10:04
Tayshaun Prince makes layup (Mike Conley assists)
2 - 2
10:04
Nicolas Batum defensive goaltending violation
2 - 2
9:45
Nicolas Batum misses 25-foot three point jumper
2 - 2
9:45
Zach Randolph defensive rebound
2 - 2
9:38
Tony Allen makes two point shot (Mike Conley assists)
4 - 2
9:25
J.J. Hickson lost ball turnover (Mike Conley steals)
4 - 2
9:19
Tony Allen makes two point shot (Mike Conley assists)
6 - 2
9:02
Wesley Matthews misses 24-foot three point jumper
6 - 2
9:00
J.J. Hickson offensive rebound
6 - 2
8:56
J.J. Hickson makes 17-foot two point shot
6 - 4
8:33
Tony Allen misses 20-foot jumper
6 - 4
8:32
Nicolas Batum defensive rebound
6 - 4
8:14
J.J. Hickson makes driving layup
6 - 6
7:58
Marc Gasol makes 8-foot two point shot (Mike Conley assists)
8 - 6
7:37
Damian Lillard makes 3-foot two point shot
8 - 8
7:28
LaMarcus Aldridge personal foul (Zach Randolph draws the foul)
8 - 8
7:22
Marc Gasol misses 10-foot two point shot
8 - 8
7:18
Zach Randolph offensive rebound
8 - 8
7:18
Zach Randolph makes two point shot
10 - 8
7:07
LaMarcus Aldridge steps out of bounds turnover
10 - 8
6:52
Tayshaun Prince misses dunk
10 - 8
6:50
J.J. Hickson defensive rebound
10 - 8
6:43
Damian Lillard misses 5-foot jump bank shot
10 - 8
6:26
Tayshaun Prince makes 17-foot jumper (Marc Gasol assists)
12 - 8
6:09
LaMarcus Aldridge makes 19-foot jumper (Nicolas Batum assists)
12 - 10
5:47
Zach Randolph makes 19-foot jumper (Mike Conley assists)
14 - 10
5:37
Trail Blazers Full timeout
14 - 10
5:31
Damian Lillard makes two point shot (LaMarcus Aldridge assists)
14 - 12
5:18
J.J. Hickson personal foul (Marc Gasol draws the foul)
14 - 12
5:05
Zach Randolph misses 5-foot hook shot
14 - 12
5:05
J.J. Hickson defensive rebound
14 - 12
5:00
Mike Conley personal foul (Damian Lillard draws the foul)
14 - 12
5:00
Ed Davis enters the game for Zach Randolph
14 - 12
4:56
Tayshaun Prince personal foul (Nicolas Batum draws the foul)
14 - 12
4:47
LaMarcus Aldridge misses jumper
14 - 12
4:45
Mike Conley defensive rebound
14 - 12
4:35
LaMarcus Aldridge blocks Tony Allen's layup
14 - 12
4:33
Wesley Matthews defensive rebound
14 - 12
4:26
Wesley Matthews misses 26-foot three point jumper
14 - 12
4:24
Tayshaun Prince defensive rebound
14 - 12
4:18
Mike Conley bad pass turnover
14 - 12
4:18
Eric Maynor enters the game for Wesley Matthews
14 - 12
4:18
Meyers Leonard enters the game for J.J. Hickson
14 - 12
3:55
Damian Lillard makes 19-foot two point shot
14 - 14
3:35
Marc Gasol makes 6-foot two point shot
16 - 14
3:25
Damian Lillard misses layup
16 - 14
3:24
Jerryd Bayless enters the game for Tony Allen
16 - 14
3:11
Mike Conley misses 24-foot three point jumper
16 - 14
3:10
Nicolas Batum defensive rebound
16 - 14
2:57
Meyers Leonard lost ball turnover (Tayshaun Prince steals)
16 - 14
2:55
Tayshaun Prince bad pass (Eric Maynor steals)
16 - 14
2:50
Meyers Leonard makes two point shot (Damian Lillard assists)
16 - 16
2:31
Nicolas Batum blocks Ed Davis's layup
16 - 16
2:28
LaMarcus Aldridge defensive rebound
16 - 16
2:12
Marc Gasol shooting foul (LaMarcus Aldridge draws the foul)
16 - 16
2:12
Grizzlies Full timeout
16 - 16
2:12
Quincy Pondexter enters the game for Tayshaun Prince
16 - 16
2:12
LaMarcus Aldridge makes free throw 1 of 2
16 - 17
2:12
LaMarcus Aldridge makes free throw 2 of 2
16 - 18
2:05
Meyers Leonard personal block (Mike Conley draws the foul)
16 - 18
2:05
Joel Freeland enters the game for LaMarcus Aldridge
16 - 18
2:01
Ed Davis misses layup
16 - 18
2:00
Eric Maynor defensive rebound
16 - 18
1:57
Eric Maynor misses 22-foot jumper
16 - 18
1:54
Ed Davis defensive rebound
16 - 18
1:51
Nicolas Batum blocks Mike Conley 's 2-foot layup
16 - 18
1:49
Nicolas Batum defensive rebound
16 - 18
1:43
Damian Lillard misses 24-foot three point jumper
16 - 18
1:43
Ed Davis defensive rebound
16 - 18
1:30
Joel Freeland shooting foul (Marc Gasol draws the foul)
16 - 18
1:30
Marc Gasol misses free throw 1 of 2
16 - 18
1:30
Grizzlies offensive team rebound
16 - 18
1:30
Marc Gasol makes free throw 2 of 2
17 - 18
1:07
Damian Lillard makes 27-foot three point jumper
17 - 21
0:54
Meyers Leonard shooting foul (Marc Gasol draws the foul)
17 - 21
0:54
Marc Gasol misses free throw 1 of 2
17 - 21
0:54
Grizzlies offensive team rebound
17 - 21
0:54
Marc Gasol makes free throw 2 of 2
18 - 21
0:34
Eric Maynor misses 22-foot three point jumper
18 - 21
0:34
Quincy Pondexter defensive rebound
18 - 21
0:26
Quincy Pondexter makes 25-foot three point jumper (Mike Conley assists)
21 - 21
0:08
Jerryd Bayless personal foul (Damian Lillard draws the foul)
21 - 21
0:08
Tony Wroten enters the game for Mike Conley
21 - 21
0:00
Damian Lillard misses 21-foot step back jumpshot
21 - 21
0:00
Ed Davis defensive rebound
21 - 21
0:00
End of the 1st Quarter
21 - 21

time
TEAM
PLAY
SCORE
11:41
Meyers Leonard makes two point shot (Damian Lillard assists)
21 - 23
11:22
Marc Gasol misses jumper
21 - 23
11:21
Ed Davis offensive rebound
21 - 23
11:18
Quincy Pondexter misses 25-foot three point jumper
21 - 23
11:17
Meyers Leonard defensive rebound
21 - 23
10:56
Meyers Leonard makes 17-foot jumper (Damian Lillard assists)
21 - 25
10:42
Marc Gasol makes driving dunk (Tony Wroten assists)
23 - 25
10:18
Eric Maynor misses 6-foot Running Jumper
23 - 25
10:17
Ed Davis defensive rebound
23 - 25
10:03
Ed Davis makes dunk (Marc Gasol assists)
25 - 25
9:37
Nicolas Batum lost ball turnover (Marc Gasol steals)
25 - 25
9:34
Zach Randolph enters the game for Marc Gasol
25 - 25
9:34
Wesley Matthews enters the game for Nicolas Batum
25 - 25
9:25
Zach Randolph makes driving layup
27 - 25
9:07
Joel Freeland makes two point shot (Damian Lillard assists)
27 - 27
8:51
Zach Randolph makes 20-foot jumper (Tony Wroten assists)
29 - 27
8:23
Eric Maynor bad pass (Quincy Pondexter steals)
29 - 27
8:22
Damian Lillard shooting foul (Quincy Pondexter draws the foul)
29 - 27
8:22
Official timeout
29 - 27
8:22
Will Barton enters the game for Damian Lillard
29 - 27
8:22
J.J. Hickson enters the game for Meyers Leonard
29 - 27
8:22
LaMarcus Aldridge enters the game for Joel Freeland
29 - 27
8:22
Quincy Pondexter misses free throw 1 of 2
29 - 27
8:22
Grizzlies offensive team rebound
29 - 27
8:22
Quincy Pondexter makes free throw 2 of 2
30 - 27
8:11
J.J. Hickson misses layup
30 - 27
8:08
Zach Randolph defensive rebound
30 - 27
7:58
LaMarcus Aldridge blocks Tony Wroten's layup
30 - 27
7:58
Grizzlies offensive team rebound
30 - 27
7:50
Ed Davis makes 13-foot jumper (Jerryd Bayless assists)
32 - 27
7:24
LaMarcus Aldridge makes jumper (Wesley Matthews assists)
32 - 29
7:11
Quincy Pondexter makes two point shot (Jerryd Bayless assists)
34 - 29
7:01
Quincy Pondexter personal foul (Wesley Matthews draws the foul)
34 - 29
6:50
Ed Davis blocks Eric Maynor 's 6-foot 2-pt jumper
34 - 29
6:48
Eric Maynor offensive rebound
34 - 29
6:46
Eric Maynor misses 24-foot three point jumper
34 - 29
6:46
Jerryd Bayless defensive rebound
34 - 29
6:37
Ed Davis makes two point shot (Jerryd Bayless assists)
36 - 29
6:35
Trail Blazers Full timeout
36 - 29
6:20
Will Barton misses driving layup
36 - 29
6:18
Will Barton offensive rebound
36 - 29
6:16
Will Barton makes two point shot
36 - 31
5:58
Jerryd Bayless misses 19-foot hook shot
36 - 31
5:56
Quincy Pondexter offensive rebound
36 - 31
5:50
Ed Davis makes 2-foot two point shot (Jerryd Bayless assists)
38 - 31
5:35
LaMarcus Aldridge makes 7-foot jumper
38 - 33
5:20
Jerryd Bayless misses 25-foot three point jumper
38 - 33
5:20
Zach Randolph offensive rebound
38 - 33
5:18
Zach Randolph makes two point shot
40 - 33
5:09
Zach Randolph personal foul (LaMarcus Aldridge draws the foul)
40 - 33
5:00
LaMarcus Aldridge makes 4-foot two point shot
40 - 35
4:47
J.J. Hickson shooting foul (Ed Davis draws the foul)
40 - 35
4:47
Ed Davis makes free throw 1 of 2
41 - 35
4:47
Ed Davis makes free throw 2 of 2
42 - 35
4:26
Wesley Matthews misses 21-foot step back jumpshot
42 - 35
4:26
Zach Randolph defensive rebound
42 - 35
4:18
Tony Wroten lost ball turnover (J.J. Hickson steals)
42 - 35
3:58
J.J. Hickson misses 15-foot jumper
42 - 35
3:57
LaMarcus Aldridge offensive rebound
42 - 35
3:57
Zach Randolph personal foul (LaMarcus Aldridge draws the foul)
42 - 35
3:57
Mike Conley enters the game for Tony Wroten
42 - 35
3:57
Marc Gasol enters the game for Ed Davis
42 - 35
3:57
Damian Lillard enters the game for Will Barton
42 - 35
3:57
Nicolas Batum enters the game for Eric Maynor
42 - 35
3:57
Tony Allen enters the game for Jerryd Bayless
42 - 35
3:42
LaMarcus Aldridge lost ball turnover (Mike Conley steals)
42 - 35
3:39
Tony Allen out of bounds lost ball turnover
42 - 35
3:28
Damian Lillard misses 25-foot three point jumper
42 - 35
3:27
J.J. Hickson offensive rebound
42 - 35
3:18
J.J. Hickson misses 19-foot jumper
42 - 35
3:17
LaMarcus Aldridge offensive rebound
42 - 35
3:15
LaMarcus Aldridge misses layup
42 - 35
3:15
Trail Blazers offensive team rebound
42 - 35
3:15
LaMarcus Aldridge misses tip shot
42 - 35
3:15
Trail Blazers offensive team rebound
42 - 35
3:04
LaMarcus Aldridge makes layup (Damian Lillard assists)
42 - 37
2:46
LaMarcus Aldridge blocks Zach Randolph's shot
42 - 37
2:44
Wesley Matthews defensive rebound
42 - 37
2:27
J.J. Hickson misses Running Jumper
42 - 37
2:25
Marc Gasol defensive rebound
42 - 37
2:19
Mike Conley makes driving layup (Marc Gasol assists)
44 - 37
2:18
Grizzlies delay of game violation
44 - 37
2:12
Marc Gasol personal foul (Wesley Matthews draws the foul)
44 - 37
2:12
Grizzlies Full timeout
44 - 37
2:12
Tayshaun Prince enters the game for Zach Randolph
44 - 37
2:12
Ed Davis enters the game for Quincy Pondexter
44 - 37
1:55
Damian Lillard bad pass (Ed Davis steals)
44 - 37
1:53
Tony Allen makes layup (Mike Conley assists)
46 - 37
1:53
Wesley Matthews shooting foul (Tony Allen draws the foul)
46 - 37
1:53
Tony Allen misses free throw 1 of 1
46 - 37
1:52
Nicolas Batum defensive rebound
46 - 37
1:37
Ed Davis blocks Nicolas Batum's layup
46 - 37
1:37
Trail Blazers offensive team rebound
46 - 37
1:29
Wesley Matthews makes 25-foot three point jumper (LaMarcus Aldridge assists)
46 - 40
1:08
Marc Gasol makes 16-foot jumper (Mike Conley assists)
48 - 40
0:47
Trail Blazers 20 Sec. timeout
48 - 40
0:43
Tony Allen blocks Wesley Matthews 's 25-foot three point jumper
48 - 40
0:42
Mike Conley defensive rebound
48 - 40
0:33
Tony Allen misses layup
48 - 40
0:31
J.J. Hickson defensive rebound
48 - 40
0:22
LaMarcus Aldridge traveling
48 - 40
0:22
Quincy Pondexter enters the game for Tony Allen
48 - 40
0:00
Tayshaun Prince misses Running Jumper
48 - 40
0:00
J.J. Hickson defensive rebound
48 - 40
0:00
End of the 2nd Quarter
48 - 40

time
TEAM
PLAY
SCORE
11:38
LaMarcus Aldridge misses 7-foot hook shot
48 - 40
11:38
J.J. Hickson offensive rebound
48 - 40
11:37
Zach Randolph shooting foul (J.J. Hickson draws the foul)
48 - 40
11:37
J.J. Hickson makes free throw 1 of 2
48 - 41
11:37
J.J. Hickson makes free throw 2 of 2
48 - 42
11:18
Tony Allen misses 17-foot jumper
48 - 42
11:18
Tony Allen offensive rebound
48 - 42
11:15
Nicolas Batum shooting foul (Tony Allen draws the foul)
48 - 42
11:15
Tony Allen misses free throw 1 of 2
48 - 42
11:15
Grizzlies offensive team rebound
48 - 42
11:15
Tony Allen makes free throw 2 of 2
49 - 42
10:57
Damian Lillard makes driving layup (Wesley Matthews assists)
49 - 44
10:38
Marc Gasol bad pass (Nicolas Batum steals)
49 - 44
10:34
Marc Gasol blocks Wesley Matthews's layup
49 - 44
10:34
Trail Blazers offensive team rebound
49 - 44
10:27
Wesley Matthews steps out of bounds turnover
49 - 44
10:12
Marc Gasol makes 21-foot jumper (Mike Conley assists)
51 - 44
9:49
Nicolas Batum misses 23-foot jumper
51 - 44
9:47
Wesley Matthews offensive rebound
51 - 44
9:45
Wesley Matthews misses 8-foot jumper
51 - 44
9:44
Tayshaun Prince defensive rebound
51 - 44
9:40
Mike Conley misses 21-foot jumper
51 - 44
9:38
Tayshaun Prince offensive rebound
51 - 44
9:26
Zach Randolph makes 6-foot two point shot (Mike Conley assists)
53 - 44
9:06
Wesley Matthews makes 25-foot three point jumper (LaMarcus Aldridge assists)
53 - 47
8:34
Tony Allen misses 24-foot three point jumper
53 - 47
8:34
Wesley Matthews defensive rebound
53 - 47
8:19
Damian Lillard misses 20-foot two point jumper
53 - 47
8:19
Tayshaun Prince defensive rebound
53 - 47
8:08
Tony Allen makes 18-foot jumper (Marc Gasol assists)
55 - 47
7:47
Marc Gasol blocks LaMarcus Aldridge's layup
55 - 47
7:45
Tony Allen defensive rebound
55 - 47
7:43
Mike Conley offensive Charge (Damian Lillard draws the foul)
55 - 47
7:43
Mike Conley turnover
55 - 47
7:26
Tony Allen blocks J.J. Hickson's shot
55 - 47
7:24
LaMarcus Aldridge offensive rebound
55 - 47
7:18
Wesley Matthews misses 4-foot Running Jumper
55 - 47
7:16
Mike Conley defensive rebound
55 - 47
7:01
Marc Gasol makes 20-foot jumper (Zach Randolph assists)
57 - 47
7:00
Trail Blazers Full timeout
57 - 47
6:45
Marc Gasol shooting foul (LaMarcus Aldridge draws the foul)
57 - 47
6:45
LaMarcus Aldridge makes free throw 1 of 2
57 - 48
6:45
LaMarcus Aldridge makes free throw 2 of 2
57 - 49
6:30
Mike Conley misses three point jumper
57 - 49
6:28
Zach Randolph offensive rebound
57 - 49
6:28
Zach Randolph makes two point shot
59 - 49
6:28
LaMarcus Aldridge shooting foul (Zach Randolph draws the foul)
59 - 49
6:28
Zach Randolph makes free throw 1 of 1
60 - 49
6:07
LaMarcus Aldridge traveling
60 - 49
5:50
Mike Conley misses layup
60 - 49
5:48
J.J. Hickson defensive rebound
60 - 49
5:43
Damian Lillard makes driving layup
60 - 51
5:22
Nicolas Batum personal foul (Marc Gasol draws the foul)
60 - 51
5:16
Mike Conley bad pass (LaMarcus Aldridge steals)
60 - 51
5:11
Damian Lillard misses driving layup
60 - 51
5:09
Zach Randolph defensive rebound
60 - 51
5:03
Wesley Matthews shooting foul (Zach Randolph draws the foul)
60 - 51
5:03
Zach Randolph makes free throw 1 of 2
61 - 51
5:03
Zach Randolph makes free throw 2 of 2
62 - 51
4:41
LaMarcus Aldridge misses 17-foot jumper
62 - 51
4:41
Zach Randolph defensive rebound
62 - 51
4:18
Mike Conley misses 25-foot three point jumper
62 - 51
4:18
J.J. Hickson defensive rebound
62 - 51
4:07
Ed Davis enters the game for Zach Randolph
62 - 51
4:07
Meyers Leonard enters the game for J.J. Hickson
62 - 51
4:07
Grizzlies Full timeout
62 - 51
4:07
Jerryd Bayless enters the game for Tony Allen
62 - 51
4:07
Eric Maynor enters the game for Nicolas Batum
62 - 51
3:56
Damian Lillard misses 11-foot jumper
62 - 51
3:54
Meyers Leonard offensive rebound
62 - 51
3:53
Meyers Leonard misses layup
62 - 51
3:50
Ed Davis defensive rebound
62 - 51
3:34
Marc Gasol makes 19-foot jumper (Tayshaun Prince assists)
64 - 51
3:10
Wesley Matthews lost ball turnover (Jerryd Bayless steals)
64 - 51
3:04
Ed Davis makes layup (Mike Conley assists)
66 - 51
3:04
Meyers Leonard shooting foul (Ed Davis draws the foul)
66 - 51
3:04
Ed Davis misses free throw 1 of 1
66 - 51
3:03
Meyers Leonard defensive rebound
66 - 51
2:57
Nicolas Batum enters the game for Wesley Matthews
66 - 51
2:53
Jerryd Bayless personal foul (Damian Lillard draws the foul)
66 - 51
2:40
Marc Gasol shooting foul (Damian Lillard draws the foul)
66 - 51
2:40
Damian Lillard makes free throw 1 of 2
66 - 52
2:40
Zach Randolph enters the game for Marc Gasol
66 - 52
2:40
Damian Lillard makes free throw 2 of 2
66 - 53
2:28
Tayshaun Prince traveling
66 - 53
2:28
Quincy Pondexter enters the game for Tayshaun Prince
66 - 53
2:12
LaMarcus Aldridge makes driving layup
66 - 55
1:57
Jerryd Bayless misses 18-foot two point jumper
66 - 55
1:54
Eric Maynor defensive rebound
66 - 55
1:47
Ed Davis personal foul (LaMarcus Aldridge draws the foul)
66 - 55
1:47
LaMarcus Aldridge makes free throw 1 of 2
66 - 56
1:47
Will Barton enters the game for Damian Lillard
66 - 56
1:47
Tony Wroten enters the game for Mike Conley
66 - 56
1:47
LaMarcus Aldridge makes free throw 2 of 2
66 - 57
1:34
Ed Davis misses 5-foot jumper
66 - 57
1:32
Zach Randolph misses tip shot
66 - 57
1:32
Zach Randolph offensive rebound
66 - 57
1:31
Meyers Leonard defensive rebound
66 - 57
1:23
Tony Wroten shooting foul (Will Barton draws the foul)
66 - 57
1:23
Will Barton makes free throw 1 of 2
66 - 58
1:23
Will Barton misses free throw 2 of 2
66 - 58
1:22
Ed Davis defensive rebound
66 - 58
0:56
Quincy Pondexter misses 25-foot three point jumper
66 - 58
0:55
Meyers Leonard defensive rebound
66 - 58
0:45
Nicolas Batum misses three point jumper
66 - 58
0:44
Quincy Pondexter defensive rebound
66 - 58
0:28
LaMarcus Aldridge blocks Zach Randolph's layup
66 - 58
0:26
Ed Davis offensive rebound
66 - 58
0:24
Quincy Pondexter makes layup (Ed Davis assists)
68 - 58
0:06
Meyers Leonard misses 20-foot jumper
68 - 58
0:05
Ed Davis defensive rebound
68 - 58
0:00
Jerryd Bayless misses 25-foot three point jumper
68 - 58
0:00
LaMarcus Aldridge defensive rebound
68 - 58
0:00
End of the 3rd Quarter
68 - 58

time
TEAM
PLAY
SCORE
11:49
Will Barton personal foul (Zach Randolph draws the foul)
68 - 58
11:37
Jerryd Bayless misses 21-foot jumper
68 - 58
11:37
Meyers Leonard defensive rebound
68 - 58
11:21
Nicolas Batum bad pass (Zach Randolph steals)
68 - 58
11:03
Zach Randolph makes 18-foot jumper (Jerryd Bayless assists)
70 - 58
10:41
LaMarcus Aldridge makes 5-foot two point shot
70 - 60
10:29
Eric Maynor shooting foul (Tony Wroten draws the foul)
70 - 60
10:29
Tony Wroten makes free throw 1 of 2
71 - 60
10:29
Tony Wroten misses free throw 2 of 2
71 - 60
10:27
LaMarcus Aldridge defensive rebound
71 - 60
10:22
Tony Wroten personal foul (Eric Maynor draws the foul)
71 - 60
10:06
LaMarcus Aldridge makes jumper (Will Barton assists)
71 - 62
9:40
Zach Randolph misses 22-foot jumper
71 - 62
9:38
Nicolas Batum defensive rebound
71 - 62
9:30
LaMarcus Aldridge misses 18-foot jumper
71 - 62
9:30
Zach Randolph defensive rebound
71 - 62
9:22
Jerryd Bayless bad pass
71 - 62
9:22
Mike Conley enters the game for Tony Wroten
71 - 62
9:08
Meyers Leonard misses 19-foot jumper
71 - 62
9:07
LaMarcus Aldridge offensive rebound
71 - 62
8:56
Eric Maynor makes 2-foot two point shot (LaMarcus Aldridge assists)
71 - 64
8:56
Ed Davis defensive goaltending violation
71 - 64
8:56
Ed Davis non unsport techfoul
71 - 64
8:56
Official timeout
71 - 64
8:56
J.J. Hickson enters the game for LaMarcus Aldridge
71 - 64
8:56
Damian Lillard enters the game for Eric Maynor
71 - 64
8:56
Marc Gasol enters the game for Zach Randolph
71 - 64
8:56
Nicolas Batum makes technical free throw
71 - 65
8:42
Jerryd Bayless makes three point jumper (Mike Conley assists)
74 - 65
8:22
J.J. Hickson misses 11-foot two point shot
74 - 65
8:21
Meyers Leonard offensive rebound
74 - 65
8:07
Damian Lillard lost ball turnover (Mike Conley steals)
74 - 65
8:03
Mike Conley makes layup (Jerryd Bayless assists)
76 - 65
7:43
Will Barton misses three point jumper
76 - 65
7:43
Nicolas Batum offensive rebound
76 - 65
7:43
Quincy Pondexter shooting foul (Nicolas Batum draws the foul)
76 - 65
7:43
Nicolas Batum makes free throw 1 of 2
76 - 66
7:43
Wesley Matthews enters the game for Will Barton
76 - 66
7:43
Nicolas Batum makes free throw 2 of 2
76 - 67
7:31
Meyers Leonard shooting foul (Mike Conley draws the foul)
76 - 67
7:31
Mike Conley makes free throw 1 of 2
77 - 67
7:31
Mike Conley misses free throw 2 of 2
77 - 67
7:30
Trail Blazers defensive team rebound
77 - 67
7:07
J.J. Hickson misses driving layup
77 - 67
7:05
Marc Gasol defensive rebound
77 - 67
6:48
Ed Davis makes layup (Marc Gasol assists)
79 - 67
6:47
Trail Blazers Full timeout
79 - 67
6:47
LaMarcus Aldridge enters the game for Meyers Leonard
79 - 67
6:47
Eric Maynor enters the game for J.J. Hickson
79 - 67
6:28
Damian Lillard makes 26-foot three point jumper (Eric Maynor assists)
79 - 70
6:13
Jerryd Bayless misses two point shot
79 - 70
6:11
Nicolas Batum defensive rebound
79 - 70
5:56
Ed Davis shooting foul (LaMarcus Aldridge draws the foul)
79 - 70
5:56
LaMarcus Aldridge makes free throw 1 of 2
79 - 71
5:56
Tayshaun Prince enters the game for Ed Davis
79 - 71
5:56
LaMarcus Aldridge makes free throw 2 of 2
79 - 72
5:39
Mike Conley makes driving layup
81 - 72
5:30
Mike Conley personal foul (Eric Maynor draws the foul)
81 - 72
5:20
Jerryd Bayless personal foul (Damian Lillard draws the foul)
81 - 72
5:20
Damian Lillard makes free throw 1 of 2
81 - 73
5:20
Damian Lillard makes free throw 2 of 2
81 - 74
5:09
Marc Gasol misses jumper
81 - 74
5:09
Damian Lillard defensive rebound
81 - 74
4:58
LaMarcus Aldridge misses layup
81 - 74
4:56
Tayshaun Prince defensive rebound
81 - 74
4:41
Marc Gasol makes dunk (Mike Conley assists)
83 - 74
4:22
LaMarcus Aldridge makes dunk (Damian Lillard assists)
83 - 76
3:58
Mike Conley misses 4-foot Running Jumper
83 - 76
3:56
LaMarcus Aldridge defensive rebound
83 - 76
3:48
Eric Maynor makes two point shot
83 - 78
3:47
Grizzlies Full timeout
83 - 78
3:47
Tony Allen enters the game for Quincy Pondexter
83 - 78
3:31
Tayshaun Prince makes 23-foot three point jumper (Mike Conley assists)
86 - 78
3:14
Nicolas Batum steps out of bounds turnover
86 - 78
2:59
Nicolas Batum personal foul (Marc Gasol draws the foul)
86 - 78
2:44
Marc Gasol misses 12-foot running hook shot
86 - 78
2:44
Nicolas Batum defensive rebound
86 - 78
2:35
LaMarcus Aldridge makes dunk (Damian Lillard assists)
86 - 80
2:13
Mike Conley misses 4-foot Running Jumper
86 - 80
2:12
LaMarcus Aldridge defensive rebound
86 - 80
2:04
Tayshaun Prince blocks Damian Lillard's layup
86 - 80
2:03
Mike Conley defensive rebound
86 - 80
2:03
Eric Maynor personal foul (Mike Conley draws the foul)
86 - 80
2:03
Mike Conley makes free throw 1 of 2
87 - 80
2:03
Mike Conley misses free throw 2 of 2
87 - 80
2:02
Nicolas Batum defensive rebound
87 - 80
1:49
Wesley Matthews makes driving layup
87 - 82
1:25
Tayshaun Prince makes 4-foot jumper
89 - 82
1:21
Marc Gasol shooting foul (Eric Maynor draws the foul)
89 - 82
1:21
Eric Maynor makes free throw 1 of 2
89 - 83
1:21
Eric Maynor makes free throw 2 of 2
89 - 84
0:58
Mike Conley makes 6-foot two point shot
91 - 84
0:58
Trail Blazers Full timeout
91 - 84
0:58
Marc Gasol technical foul(1st technical foul)
91 - 84
0:58
Nicolas Batum makes technical free throw
91 - 85
0:55
Nicolas Batum misses 23-foot three point jumper
91 - 85
0:54
Eric Maynor offensive rebound
91 - 85
0:51
Eric Maynor lost ball turnover (Mike Conley steals)
91 - 85
0:47
Damian Lillard personal take foul (Tony Allen draws the foul)
91 - 85
0:47
Tony Allen makes free throw 1 of 2
92 - 85
0:47
Tony Allen misses free throw 2 of 2
92 - 85
0:46
Nicolas Batum defensive rebound
92 - 85
0:46
Trail Blazers 20 Sec. timeout
92 - 85
0:41
Jerryd Bayless shooting foul (Damian Lillard draws the foul)
92 - 85
0:41
Damian Lillard makes free throw 1 of 2
92 - 86
0:41
Damian Lillard makes free throw 2 of 2
92 - 87
0:37
Eric Maynor personal take foul (Mike Conley draws the foul)
92 - 87
0:37
Mike Conley makes free throw 1 of 2
93 - 87
0:37
Mike Conley makes free throw 2 of 2
94 - 87
0:30
Eric Maynor makes 7-foot two point shot
94 - 89
0:29
Nicolas Batum personal take foul (Mike Conley draws the foul)
94 - 89
0:29
Mike Conley makes free throw 1 of 2
95 - 89
0:29
Mike Conley makes free throw 2 of 2
96 - 89
0:22
Mike Conley shooting foul (Damian Lillard draws the foul)
96 - 89
0:22
Damian Lillard makes free throw 1 of 2
96 - 90
0:22
Damian Lillard makes free throw 2 of 2
96 - 91
0:21
LaMarcus Aldridge personal take foul (Marc Gasol draws the foul)
96 - 91
0:21
Marc Gasol makes free throw 1 of 2
97 - 91
0:21
Marc Gasol makes free throw 2 of 2
98 - 91
0:14
Damian Lillard makes 25-foot three pointer
98 - 94
0:09
Tony Allen makes layup (Mike Conley assists)
100 - 94
0:02
Jerryd Bayless shooting foul (Eric Maynor draws the foul)
100 - 97
0:02
Eric Maynor makes free throw 1 of 3
100 - 97
0:02
Eric Maynor makes free throw 2 of 3
100 - 97
0:02
Will Barton enters the game for LaMarcus Aldridge
100 - 96
0:02
Eric Maynor makes free throw 3 of 3
100 - 97
0:02
Grizzlies 20 Sec. timeout
100 - 97
0:01
Damian Lillard personal take foul (Jerryd Bayless draws the foul)
100 - 97
0:01
Jerryd Bayless makes free throw 1 of 2
101 - 97
0:01
Jerryd Bayless makes free throw 2 of 2
102 - 97
0:00
End of the 4th Quarter
102 - 97
Toronto got pummeled Wednesday night, 116-78, falling behind in the East finals 3-2 and handing the momentum back to Cleveland.

LeBron James scored 23 points then grabbed a seat, Kevin Love scored 25 and the Cleveland Cavaliers unleashed tenacious defense on Toronto to regain control of the Eastern Conference finals.

Toronto fans have nothing to cheer for in Game 5.
Regular Season Series
MEM wins series 3-1
2015-2016 Southwest Standings
2015-2016 Northwest Standings