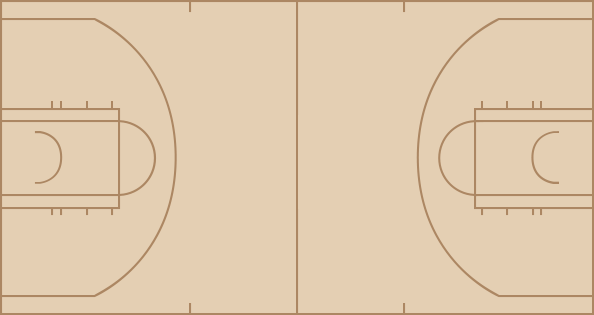 Nets
time
TEAM
PLAY
SCORE
12:00
Brook Lopez vs. Markieff Morris (Deron Williams gains possession)
0 - 0
11:36
Gerald Wallace misses 25-foot three point jumper
0 - 0
11:34
P.J. Tucker defensive rebound
0 - 0
11:19
Markieff Morris misses 18-foot jumper
0 - 0
11:18
Brook Lopez defensive rebound
0 - 0
11:04
Brook Lopez makes layup (Deron Williams assists)
2 - 0
10:53
Luis Scola makes 18-foot jumper (Goran Dragic assists)
2 - 2
10:38
P.J. Tucker personal foul (Deron Williams draws the foul)
2 - 2
10:30
Deron Williams makes layup
4 - 2
10:04
Luis Scola misses 10-foot Regular Jump Shot
4 - 2
10:03
Goran Dragic offensive rebound
4 - 2
10:03
shot clock turnover
4 - 2
9:51
Luis Scola shooting foul (Brook Lopez draws the foul)
5 - 2
9:51
Brook Lopez makes free throw 1 of 2
5 - 2
9:51
Brook Lopez makes free throw 2 of 2
6 - 2
9:44
Goran Dragic out of bounds lost ball turnover
6 - 2
9:33
Brook Lopez makes layup (Deron Williams assists)
8 - 2
9:22
Goran Dragic misses jumper
8 - 2
9:21
Reggie Evans defensive rebound
8 - 2
9:21
Goran Dragic personal foul (Reggie Evans draws the foul)
8 - 2
9:21
Hamed Haddadi enters the game for Luis Scola
8 - 2
9:07
Deron Williams misses 4-foot
8 - 2
9:07
Hamed Haddadi defensive rebound
8 - 2
9:07
Reggie Evans personal foul (Hamed Haddadi draws the foul)
8 - 2
8:53
Hamed Haddadi misses 10-foot two point shot
8 - 2
8:52
P.J. Tucker offensive rebound
8 - 2
8:48
Markieff Morris misses 7-foot jumper
8 - 2
8:47
Markieff Morris makes two point shot
8 - 4
8:47
Markieff Morris offensive rebound
8 - 2
8:37
Deron Williams makes 10-foot two point shot
10 - 4
8:23
Markieff Morris offensive goaltending turnover
10 - 4
8:10
Keith Bogans misses three point jumper
10 - 4
8:08
Markieff Morris defensive rebound
10 - 4
8:07
Deron Williams personal foul (P.J. Tucker draws the foul)
10 - 4
7:54
P.J. Tucker makes 15-foot jumper (Goran Dragic assists)
10 - 6
7:28
Brook Lopez misses layup
10 - 6
7:28
Hamed Haddadi defensive rebound
10 - 6
7:24
P.J. Tucker makes layup (Goran Dragic assists)
10 - 8
7:00
Gerald Wallace bad pass
10 - 8
6:52
Wesley Johnson misses 25-foot three point jumper
10 - 8
6:52
Hamed Haddadi offensive rebound
10 - 8
6:37
Reggie Evans blocks Markieff Morris 's 19-foot jumper
10 - 8
6:35
Markieff Morris offensive rebound
10 - 8
6:30
Goran Dragic misses 19-foot step back jumpshot
10 - 8
6:30
Nets defensive team rebound
10 - 8
6:30
Hamed Haddadi loose ball foul (Brook Lopez draws the foul)
10 - 8
6:20
Deron Williams misses three point jumper
10 - 8
6:18
Goran Dragic defensive rebound
10 - 8
6:13
P.J. Tucker misses layup
10 - 8
6:11
Markieff Morris offensive rebound
10 - 8
6:09
Markieff Morris makes two point shot
10 - 10
5:47
Hamed Haddadi blocks Brook Lopez 's 3-foot jumper
10 - 10
5:43
Goran Dragic defensive rebound
10 - 10
5:41
P.J. Tucker makes dunk (Goran Dragic assists)
10 - 12
5:31
Nets Full timeout
10 - 12
5:24
Brook Lopez misses jumper
10 - 12
5:24
Suns defensive team rebound
10 - 12
5:24
Reggie Evans loose ball foul (Markieff Morris draws the foul)
10 - 12
5:24
Kris Humphries enters the game for Reggie Evans
10 - 12
5:24
Nets delay of game violation
10 - 12
5:11
Brook Lopez defensive rebound
10 - 12
5:11
Markieff Morris misses Regular Jump Shot
10 - 12
4:58
Kris Humphries misses jumper
10 - 12
4:52
Keith Bogans shooting foul (Goran Dragic draws the foul)
10 - 12
4:52
Goran Dragic makes free throw 1 of 2
10 - 13
4:52
Goran Dragic makes free throw 2 of 2
10 - 14
4:37
Brook Lopez lost ball turnover (Hamed Haddadi steals)
10 - 14
4:33
P.J. Tucker bad pass (Deron Williams steals)
10 - 14
4:28
Hamed Haddadi shooting foul (Kris Humphries draws the foul)
11 - 14
4:28
Kris Humphries makes free throw 1 of 2
11 - 14
4:28
Andray Blatche enters the game for Brook Lopez
11 - 14
4:28
Luis Scola enters the game for Hamed Haddadi
11 - 14
4:28
MarShon Brooks enters the game for Keith Bogans
11 - 14
4:28
Kris Humphries makes free throw 2 of 2
12 - 14
4:05
Markieff Morris misses 3-foot jumper
12 - 14
4:05
P.J. Tucker offensive rebound
12 - 14
4:03
P.J. Tucker lost ball turnover (Deron Williams steals)
12 - 14
3:58
Gerald Wallace makes two point shot (Deron Williams assists)
14 - 14
3:46
MarShon Brooks personal foul (Wesley Johnson draws the foul)
14 - 14
3:46
Wesley Johnson misses free throw 1 of 2
14 - 14
3:46
Suns offensive team rebound
14 - 14
3:46
Wesley Johnson makes free throw 2 of 2
14 - 15
3:24
Andray Blatche misses 9-foot two point shot
14 - 15
3:23
Kris Humphries misses
14 - 15
3:23
Kris Humphries offensive rebound
14 - 15
3:20
Gerald Wallace offensive rebound
14 - 15
3:20
Gerald Wallace makes layup
16 - 15
3:08
P.J. Tucker misses three point jumper
16 - 15
3:06
Gerald Wallace defensive rebound
16 - 15
3:02
Kris Humphries makes 1-foot two point shot (Deron Williams assists)
18 - 15
2:40
Luis Scola makes 9-foot jumper (Wesley Johnson assists)
18 - 17
2:21
Deron Williams misses three point jumper
18 - 17
2:20
Wesley Johnson defensive rebound
18 - 17
2:15
Markieff Morris makes 1-foot dunk (Goran Dragic assists)
18 - 19
2:09
Kris Humphries makes layup (Deron Williams assists)
20 - 19
2:09
Markieff Morris shooting foul (Kris Humphries draws the foul)
20 - 19
2:09
Suns Full timeout
20 - 19
2:09
Jared Dudley enters the game for Markieff Morris
20 - 19
2:09
Michael Beasley enters the game for Wesley Johnson
20 - 19
2:09
Kris Humphries makes free throw 1 of 1
21 - 19
1:47
Luis Scola makes 10-foot two point shot
21 - 21
1:24
Goran Dragic shooting foul (MarShon Brooks draws the foul)
21 - 21
1:24
MarShon Brooks makes free throw 1 of 2
22 - 21
1:24
MarShon Brooks makes free throw 2 of 2
23 - 21
1:07
Jared Dudley makes driving layup
23 - 23
0:53
Kris Humphries makes jumper (Deron Williams assists)
25 - 23
0:45
Goran Dragic misses layup
25 - 23
0:44
Kris Humphries defensive rebound
25 - 23
0:31
Luis Scola blocks Andray Blatche 's 5-foot jumper
25 - 23
0:29
Jared Dudley defensive rebound
25 - 23
0:25
P.J. Tucker makes layup (Goran Dragic assists)
25 - 25
0:05
Deron Williams misses 21-foot two point jumper
25 - 25
0:04
Suns defensive team rebound
25 - 25
0:00
End of the 1st Quarter
25 - 25

time
TEAM
PLAY
SCORE
11:45
Michael Beasley misses layup
25 - 25
11:45
Kris Humphries defensive rebound
25 - 25
11:33
Andray Blatche makes 2-foot two point shot
27 - 25
11:22
Kendall Marshall makes 22-foot jumper
27 - 27
11:02
Andray Blatche makes layup (Deron Williams assists)
29 - 27
10:45
Kendall Marshall misses 25-foot three point jumper
29 - 27
10:45
Kris Humphries defensive rebound
29 - 27
10:32
Andray Blatche makes 4-foot two point shot
31 - 27
10:15
Michael Beasley misses 19-foot two point jumper
31 - 27
10:14
Kris Humphries defensive rebound
31 - 27
10:04
C.J. Watson traveling
31 - 27
10:04
Keith Bogans enters the game for Deron Williams
31 - 27
9:52
Luis Scola misses 10-foot jumper
31 - 27
9:51
Keith Bogans defensive rebound
31 - 27
9:27
MarShon Brooks makes layup
33 - 27
9:21
Suns Full timeout
33 - 27
9:21
Marcus Morris enters the game for P.J. Tucker
33 - 27
9:06
Marcus Morris misses 23-foot three point jumper
33 - 27
9:04
Andray Blatche defensive rebound
33 - 27
9:00
MarShon Brooks makes 7-foot jumper (Andray Blatche assists)
35 - 27
8:52
Michael Beasley makes 1-foot dunk (Kendall Marshall assists)
35 - 29
8:30
Keith Bogans makes 23-foot three point jumper (Kris Humphries assists)
38 - 29
8:15
Luis Scola misses 8-foot hook shot
38 - 29
8:12
Marcus Morris offensive rebound
38 - 29
8:04
Jared Dudley misses three point jumper
38 - 29
8:03
C.J. Watson defensive rebound
38 - 29
7:54
Kris Humphries misses 13-foot jumper
38 - 29
7:52
Michael Beasley defensive rebound
38 - 29
7:47
Jared Dudley misses 25-foot three point jumper
38 - 29
7:43
Kris Humphries defensive rebound
38 - 29
7:43
Andray Blatche traveling
38 - 29
7:33
Michael Beasley makes 21-foot jumper (Jared Dudley assists)
38 - 31
7:11
Andray Blatche misses 21-foot jumper
38 - 31
7:09
Kris Humphries offensive rebound
38 - 31
7:03
C.J. Watson misses 25-foot three point jumper
38 - 31
7:03
Keith Bogans offensive rebound
38 - 31
6:50
Keith Bogans bad pass (Michael Beasley steals)
38 - 31
6:39
Kendall Marshall misses 20-foot jumper
38 - 31
6:37
C.J. Watson defensive rebound
38 - 31
6:18
Kris Humphries misses 5-foot jumper
40 - 31
6:18
Andray Blatche offensive rebound
38 - 31
6:18
Andray Blatche makes two point shot
40 - 31
5:58
Michael Beasley misses 16-foot jumper
40 - 31
5:58
Andray Blatche defensive rebound
40 - 31
5:46
Andray Blatche misses 17-foot jumper
40 - 31
5:45
Marcus Morris defensive rebound
40 - 31
5:37
Michael Beasley makes driving layup
40 - 33
5:30
Nets Full timeout
40 - 33
5:30
Brook Lopez enters the game for Kris Humphries
40 - 33
5:30
Reggie Evans enters the game for Andray Blatche
40 - 33
5:30
Goran Dragic enters the game for Luis Scola
40 - 33
5:30
Markieff Morris enters the game for Kendall Marshall
40 - 33
5:20
Keith Bogans misses 25-foot three point jumper
40 - 33
5:20
Markieff Morris defensive rebound
40 - 33
5:07
Brook Lopez defensive 3-seconds (Technical Foul)
40 - 33
5:07
Goran Dragic makes technical free throw
40 - 34
4:54
Marcus Morris misses 3-foot jumper
40 - 34
4:54
Goran Dragic offensive rebound
40 - 34
4:48
Marcus Morris misses 23-foot three point jumper
40 - 34
4:47
Markieff Morris offensive rebound
40 - 34
4:45
MarShon Brooks blocks Markieff Morris 's 3-foot jumper
40 - 34
4:43
MarShon Brooks defensive rebound
40 - 34
4:39
MarShon Brooks out of bounds lost ball turnover
40 - 34
4:24
Goran Dragic makes 8-foot two point shot
40 - 36
4:05
C.J. Watson makes 23-foot jumper (MarShon Brooks assists)
42 - 36
3:55
Goran Dragic bad pass (Keith Bogans steals)
42 - 36
3:47
Brook Lopez 3 second turnover
42 - 36
3:47
Deron Williams enters the game for Keith Bogans
42 - 36
3:47
Gerald Wallace enters the game for MarShon Brooks
42 - 36
3:47
Hamed Haddadi enters the game for Michael Beasley
42 - 36
3:31
Brook Lopez blocks Marcus Morris 's 5-foot jumper
42 - 36
3:30
Gerald Wallace defensive rebound
42 - 36
3:14
Hamed Haddadi blocks Brook Lopez's jumper
42 - 36
3:13
Gerald Wallace offensive rebound
42 - 36
3:11
Gerald Wallace makes layup
44 - 36
2:47
Markieff Morris misses 24-foot three point jumper
44 - 36
2:47
Deron Williams defensive rebound
44 - 36
2:39
Brook Lopez makes layup (Deron Williams assists)
46 - 36
2:26
Goran Dragic makes two point shot
46 - 38
2:16
Jared Dudley personal foul (Deron Williams draws the foul)
46 - 38
2:16
Official timeout
46 - 38
2:16
Wesley Johnson enters the game for Marcus Morris
46 - 38
2:09
Brook Lopez makes two point shot (Deron Williams assists)
48 - 38
1:50
Jared Dudley makes jumper (Goran Dragic assists)
48 - 40
1:28
Gerald Wallace makes 22-foot jumper
50 - 40
1:13
Goran Dragic bad pass (C.J. Watson steals)
50 - 40
0:53
Brook Lopez misses 4-foot jumper
50 - 40
0:53
Brook Lopez offensive rebound
50 - 40
0:53
Hamed Haddadi shooting foul (Brook Lopez draws the foul)
52 - 40
0:53
Brook Lopez makes free throw 1 of 2
51 - 40
0:53
Kris Humphries enters the game for Reggie Evans
51 - 40
0:53
Brook Lopez makes free throw 2 of 2
52 - 40
0:42
Goran Dragic makes 24-foot three point jumper
52 - 43
0:23
Kris Humphries makes 16-foot jumper (Gerald Wallace assists)
54 - 43
0:23
Markieff Morris shooting foul (Kris Humphries draws the foul)
54 - 43
0:23
Kris Humphries makes free throw 1 of 1
55 - 43
0:10
C.J. Watson personal take foul (Goran Dragic draws the foul)
55 - 43
0:07
Goran Dragic misses 8-foot two point shot
55 - 43
0:01
Hamed Haddadi offensive rebound
55 - 43
0:00
Brook Lopez shooting foul (Hamed Haddadi draws the foul)
55 - 43
0:00
Hamed Haddadi misses free throw 1 of 2
55 - 43
0:00
Suns offensive team rebound
55 - 43
0:00
Hamed Haddadi misses free throw 2 of 2
55 - 43
0:00
Suns offensive team rebound
55 - 43
0:00
End of the 2nd Quarter
55 - 43

time
TEAM
PLAY
SCORE
11:44
Wesley Johnson misses layup
55 - 43
11:42
Markieff Morris offensive rebound
55 - 43
11:40
Markieff Morris misses 11-foot jumper
55 - 43
11:38
P.J. Tucker offensive rebound
55 - 43
11:36
Wesley Johnson bad pass (Reggie Evans steals)
55 - 43
11:15
Gerald Wallace misses 25-foot jumper
55 - 43
11:15
Markieff Morris defensive rebound
55 - 43
11:02
Reggie Evans blocks Luis Scola 's 5-foot jumper
55 - 43
11:02
Suns offensive team rebound
55 - 43
11:00
Luis Scola misses 16-foot jumper
55 - 43
10:59
Reggie Evans defensive rebound
55 - 43
10:52
Deron Williams makes 7-foot two point shot
57 - 43
10:36
Luis Scola misses 8-foot jumper
57 - 43
10:34
Reggie Evans defensive rebound
57 - 43
10:25
Deron Williams makes 4-foot jumper
59 - 43
10:19
Suns Full timeout
59 - 43
10:11
Brook Lopez blocks Markieff Morris 's 6-foot jumper
59 - 43
10:11
Suns offensive team rebound
59 - 43
9:59
Wesley Johnson makes 25-foot three point jumper (Goran Dragic assists)
59 - 46
9:44
Luis Scola shooting block foul (Brook Lopez draws the foul)
59 - 46
9:44
Brook Lopez makes free throw 1 of 2
60 - 46
9:44
Brook Lopez makes free throw 2 of 2
61 - 46
9:30
Goran Dragic makes 17-foot jumper (Luis Scola assists)
61 - 48
9:02
Gerald Wallace offensive Charge (Markieff Morris draws the foul)
61 - 48
9:02
Gerald Wallace turnover
61 - 48
8:47
Wesley Johnson misses 24-foot three point jumper
61 - 48
8:45
Markieff Morris offensive rebound
61 - 48
8:37
Reggie Evans shooting foul (Goran Dragic draws the foul)
61 - 48
8:37
Goran Dragic makes free throw 1 of 2
61 - 49
8:37
Goran Dragic makes free throw 2 of 2
61 - 50
8:37
Wesley Johnson personal foul (Reggie Evans draws the foul)
61 - 50
8:33
Deron Williams makes layup
63 - 50
8:27
Deron Williams personal foul (Goran Dragic draws the foul)
63 - 50
8:22
Goran Dragic misses three point jumper
63 - 50
8:22
Reggie Evans defensive rebound
63 - 50
8:12
Luis Scola shooting foul (Brook Lopez draws the foul)
63 - 50
8:12
Brook Lopez makes free throw 1 of 2
64 - 50
8:12
Hamed Haddadi enters the game for Luis Scola
64 - 50
8:12
Brook Lopez misses free throw 2 of 2
64 - 50
8:11
Reggie Evans offensive rebound
64 - 50
8:10
Reggie Evans misses layup
64 - 50
8:07
Goran Dragic defensive rebound
64 - 50
7:52
Wesley Johnson misses two point jumper
64 - 50
7:50
Hamed Haddadi offensive rebound
64 - 50
7:47
Wesley Johnson makes layup (Hamed Haddadi assists)
64 - 52
7:20
Keith Bogans misses 24-foot three point jumper
64 - 52
7:18
Gerald Wallace offensive rebound
64 - 52
7:05
P.J. Tucker blocks Deron Williams 's 9-foot jumper
64 - 52
7:05
Nets offensive team rebound
64 - 52
7:01
Gerald Wallace misses 17-foot jumper
64 - 52
7:01
Gerald Wallace offensive rebound
64 - 52
6:52
Brook Lopez misses 12-foot jump bank shot
64 - 52
6:50
Markieff Morris defensive rebound
64 - 52
6:45
P.J. Tucker makes 2-foot two point shot (Goran Dragic assists)
64 - 54
6:31
Deron Williams misses 9-foot jumper
64 - 54
6:28
Brook Lopez makes two point shot
66 - 54
6:28
Brook Lopez offensive rebound
64 - 54
6:07
Goran Dragic makes 14-foot jumper
66 - 56
5:48
Deron Williams lost ball turnover (Wesley Johnson steals)
66 - 56
5:48
Deron Williams personal foul (Wesley Johnson draws the foul)
66 - 56
5:30
Goran Dragic misses 20-foot step back jumpshot
66 - 56
5:28
Markieff Morris makes two point shot
66 - 58
5:28
Markieff Morris offensive rebound
66 - 56
5:16
Gerald Wallace bad pass
66 - 58
5:16
Nets Full timeout
66 - 58
4:58
Markieff Morris misses 19-foot jumper
66 - 58
4:58
Brook Lopez defensive rebound
66 - 58
4:48
Brook Lopez misses 6-foot jump bank shot
66 - 58
4:47
Wesley Johnson defensive rebound
66 - 58
4:37
Goran Dragic bad pass
66 - 58
4:22
Hamed Haddadi blocks Reggie Evans 's 2-foot layup
66 - 58
4:20
Wesley Johnson defensive rebound
66 - 58
4:13
Goran Dragic makes 21-foot jumper
66 - 60
3:56
Brook Lopez misses 14-foot jumper
66 - 60
3:55
Goran Dragic defensive rebound
66 - 60
3:49
P.J. Tucker makes 1-foot two point shot (Goran Dragic assists)
66 - 62
3:32
Deron Williams misses 17-foot jumper
66 - 62
3:31
Reggie Evans offensive rebound
66 - 62
3:27
Markieff Morris blocks Reggie Evans's layup
66 - 62
3:26
Reggie Evans offensive rebound
66 - 62
3:26
Wesley Johnson shooting foul (Reggie Evans draws the foul)
66 - 62
3:26
Reggie Evans misses free throw 1 of 2
66 - 62
3:26
Nets offensive team rebound
66 - 62
3:26
MarShon Brooks enters the game for Keith Bogans
66 - 62
3:26
Kris Humphries enters the game for Brook Lopez
66 - 62
3:26
Reggie Evans makes free throw 2 of 2
67 - 62
3:13
Markieff Morris makes driving layup
67 - 64
2:51
Luis Scola enters the game for Hamed Haddadi
67 - 64
2:46
Reggie Evans makes layup (MarShon Brooks assists)
69 - 64
2:27
Wesley Johnson misses 20-foot two point jumper
69 - 64
2:26
Goran Dragic offensive rebound
69 - 64
2:12
Wesley Johnson makes 25-foot three point jumper (Markieff Morris assists)
69 - 67
1:54
Kris Humphries makes 14-foot jumper (Deron Williams assists)
71 - 67
1:40
Wesley Johnson makes 23-foot three point jumper (Goran Dragic assists)
71 - 70
1:14
Deron Williams makes 24-foot three point jumper (MarShon Brooks assists)
74 - 70
0:59
Wesley Johnson makes 24-foot three point jumper (Goran Dragic assists)
74 - 73
0:43
MarShon Brooks misses driving layup
74 - 73
0:42
Reggie Evans offensive rebound
74 - 73
0:42
Markieff Morris shooting foul (Reggie Evans draws the foul)
75 - 73
0:42
Reggie Evans makes free throw 1 of 2
75 - 73
0:42
MarShon Brooks turnover (lane violation)
75 - 73
0:31
Markieff Morris misses Regular Jump Shot
75 - 73
0:29
P.J. Tucker offensive rebound
75 - 73
0:10
Wesley Johnson makes 25-foot three point jumper
75 - 76
0:08
MarShon Brooks misses driving layup
75 - 76
0:00
Nets offensive team rebound
75 - 76
0:00
End of the 3rd Quarter
75 - 76

time
TEAM
PLAY
SCORE
11:48
Luis Scola personal foul (Brook Lopez draws the foul)
75 - 76
11:48
Hamed Haddadi enters the game for Luis Scola
75 - 76
11:45
Gerald Wallace offensive foul (Wesley Johnson draws the foul)
75 - 76
11:45
Gerald Wallace turnover
75 - 76
11:30
Markieff Morris misses 18-foot jumper
75 - 76
11:29
Suns offensive team rebound
75 - 76
11:29
MarShon Brooks loose ball foul (P.J. Tucker draws the foul)
75 - 76
11:18
Goran Dragic makes 17-foot two point shot
75 - 78
11:00
Brook Lopez lost ball turnover (Markieff Morris steals)
75 - 78
10:45
Goran Dragic misses 17-foot jumper
75 - 78
10:44
Gerald Wallace defensive rebound
75 - 78
10:37
C.J. Watson makes 25-foot three point jumper (Gerald Wallace assists)
78 - 78
10:17
Kendall Marshall enters the game for Goran Dragic
78 - 78
10:10
Wesley Johnson misses 25-foot three point jumper
78 - 78
10:08
P.J. Tucker offensive rebound
78 - 78
10:00
Wesley Johnson lost ball turnover (Gerald Wallace steals)
78 - 78
9:56
C.J. Watson bad pass
78 - 78
9:44
Hamed Haddadi makes dunk (Kendall Marshall assists)
78 - 80
9:29
Hamed Haddadi shooting foul (Brook Lopez draws the foul)
80 - 80
9:29
Brook Lopez makes free throw 1 of 2
79 - 80
9:29
Keith Bogans enters the game for MarShon Brooks
79 - 80
9:29
Brook Lopez makes free throw 2 of 2
80 - 80
9:12
P.J. Tucker makes 3-foot two point shot (Markieff Morris assists)
80 - 82
8:55
Markieff Morris defensive 3-seconds (Technical Foul)
80 - 82
8:55
Official timeout
80 - 82
8:55
Jared Dudley enters the game for P.J. Tucker
80 - 82
8:55
C.J. Watson makes technical free throw
81 - 82
8:41
Markieff Morris blocks Brook Lopez 's 2-foot layup
81 - 82
8:40
Kris Humphries offensive rebound
81 - 82
8:37
Hamed Haddadi blocks Kris Humphries's layup
81 - 82
8:36
Wesley Johnson defensive rebound
81 - 82
8:30
Wesley Johnson misses 12-foot two point shot
81 - 82
8:29
Markieff Morris misses tip shot
81 - 82
8:29
Markieff Morris offensive rebound
81 - 82
8:26
Gerald Wallace defensive rebound
81 - 82
8:15
Kris Humphries lost ball turnover (Wesley Johnson steals)
81 - 82
8:07
Jared Dudley makes 22-foot jumper (Kendall Marshall assists)
81 - 84
7:46
C.J. Watson makes 20-foot jumper
83 - 84
7:30
Brook Lopez defensive 3-seconds (Technical Foul)
83 - 84
7:30
Wesley Johnson makes technical free throw
83 - 85
7:30
P.J. Tucker enters the game for Jared Dudley
83 - 85
7:30
Deron Williams enters the game for Gerald Wallace
83 - 85
7:16
Kendall Marshall misses 25-foot three point jumper
83 - 85
7:16
Nets defensive team rebound
83 - 85
7:03
Wesley Johnson kicked ball violation
83 - 85
7:03
Goran Dragic enters the game for Kendall Marshall
83 - 85
7:00
Kris Humphries offensive foul (P.J. Tucker draws the foul)
83 - 85
7:00
Kris Humphries turnover
83 - 85
6:39
Keith Bogans blocks Wesley Johnson 's 9-foot jumper
83 - 85
6:37
Wesley Johnson offensive rebound
83 - 85
6:35
Kris Humphries blocks Wesley Johnson's jumper
83 - 85
6:33
C.J. Watson defensive rebound
83 - 85
6:31
Goran Dragic shooting block foul (C.J. Watson draws the foul)
85 - 85
6:31
C.J. Watson makes free throw 1 of 2
84 - 85
6:31
C.J. Watson makes free throw 2 of 2
85 - 85
6:20
Goran Dragic misses 25-foot three point jumper
85 - 85
6:18
C.J. Watson defensive rebound
85 - 85
6:15
Markieff Morris shooting foul (C.J. Watson draws the foul)
86 - 85
6:15
C.J. Watson makes free throw 1 of 2
86 - 85
6:15
C.J. Watson makes free throw 2 of 2
87 - 85
5:52
C.J. Watson shooting foul (Goran Dragic draws the foul)
87 - 85
5:52
Suns Full timeout
87 - 85
5:52
Goran Dragic makes free throw 1 of 2
87 - 86
5:52
Goran Dragic makes free throw 2 of 2
87 - 87
5:37
Keith Bogans misses three point jumper
87 - 87
5:35
Goran Dragic defensive rebound
87 - 87
5:13
Wesley Johnson misses 21-foot jumper
87 - 87
5:13
Keith Bogans defensive rebound
87 - 87
5:07
Deron Williams makes 25-foot three pointer
90 - 87
4:43
Markieff Morris lost ball turnover (Kris Humphries steals)
90 - 87
4:31
Kris Humphries misses
90 - 87
4:28
Markieff Morris defensive rebound
90 - 87
4:26
C.J. Watson shooting foul (Goran Dragic draws the foul)
90 - 89
4:26
Goran Dragic makes free throw 1 of 2
90 - 88
4:26
Luis Scola enters the game for Hamed Haddadi
90 - 88
4:26
Goran Dragic makes free throw 2 of 2
90 - 89
4:13
Brook Lopez makes 9-foot two point shot (Keith Bogans assists)
92 - 89
3:53
Luis Scola misses 15-foot jumper
92 - 89
3:51
P.J. Tucker offensive rebound
92 - 89
3:36
Goran Dragic makes driving layup
92 - 91
3:26
Kris Humphries makes layup (Deron Williams assists)
94 - 91
3:26
Goran Dragic shooting foul (Kris Humphries draws the foul)
95 - 91
3:26
Kris Humphries makes free throw 1 of 1
95 - 91
3:15
Goran Dragic makes driving layup
95 - 93
3:15
Brook Lopez shooting foul (Goran Dragic draws the foul)
95 - 93
3:15
Goran Dragic misses free throw 1 of 1
95 - 93
3:15
Nets defensive team rebound
95 - 93
2:59
P.J. Tucker shooting foul (Deron Williams draws the foul)
95 - 93
2:59
Nets Full timeout
95 - 93
2:59
Gerald Wallace enters the game for C.J. Watson
95 - 93
2:59
Deron Williams makes free throw 1 of 2
96 - 93
2:59
Deron Williams makes free throw 2 of 2
97 - 93
2:39
Luis Scola makes layup (Markieff Morris assists)
97 - 95
2:12
Deron Williams makes driving layup
99 - 95
2:03
C.J. Watson enters the game for Keith Bogans
99 - 95
1:45
Wesley Johnson makes 22-foot jumper
99 - 97
1:30
Gerald Wallace misses 25-foot three point jumper
99 - 97
1:29
P.J. Tucker defensive rebound
99 - 97
1:15
Luis Scola misses 16-foot jumper
99 - 97
1:15
C.J. Watson defensive rebound
99 - 97
1:08
Nets Full timeout
99 - 97
1:00
Brook Lopez misses 7-foot two point shot
99 - 97
0:59
Markieff Morris defensive rebound
99 - 97
0:51
Suns Full timeout
99 - 97
0:40
Luis Scola misses 5-foot jump bank shot
99 - 97
0:39
Luis Scola offensive rebound
99 - 97
0:34
Wesley Johnson misses three point jumper
99 - 97
0:34
Markieff Morris offensive rebound
99 - 97
0:33
Suns 20 Sec. timeout
99 - 97
0:33
Reggie Evans enters the game for Kris Humphries
99 - 97
0:33
Keith Bogans enters the game for C.J. Watson
99 - 97
0:33
Jared Dudley enters the game for P.J. Tucker
99 - 97
0:27
Goran Dragic misses 14-foot step back jumpshot
99 - 97
0:26
Reggie Evans defensive rebound
99 - 97
0:26
Nets 20 Sec. timeout
99 - 97
0:26
C.J. Watson enters the game for Reggie Evans
99 - 97
0:26
P.J. Tucker enters the game for Jared Dudley
99 - 97
0:14
Markieff Morris personal foul (Gerald Wallace draws the foul)
99 - 97
0:14
Gerald Wallace misses free throw 1 of 2
99 - 97
0:14
Nets offensive team rebound
99 - 97
0:14
Reggie Evans enters the game for C.J. Watson
99 - 97
0:14
Gerald Wallace makes free throw 2 of 2
100 - 97
0:14
Suns 20 Sec. timeout
100 - 97
0:14
Jared Dudley enters the game for P.J. Tucker
100 - 97
0:14
C.J. Watson enters the game for Brook Lopez
100 - 97
0:07
Goran Dragic makes 4-foot jumper
100 - 99
0:06
Jared Dudley personal foul (C.J. Watson draws the foul)
100 - 99
0:06
C.J. Watson makes free throw 1 of 2
101 - 99
0:06
C.J. Watson makes free throw 2 of 2
102 - 99
0:03
Deron Williams personal take foul (Goran Dragic draws the foul)
102 - 99
0:03
Goran Dragic makes free throw 1 of 2
102 - 100
0:03
Brook Lopez enters the game for C.J. Watson
102 - 100
0:03
Hamed Haddadi enters the game for Luis Scola
102 - 100
0:03
Goran Dragic misses free throw 2 of 2
102 - 100
0:03
Hamed Haddadi offensive rebound
102 - 100
0:02
Hamed Haddadi misses layup
102 - 100
0:00
Reggie Evans defensive rebound
102 - 100
0:00
End of the 4th Quarter
102 - 100
0:00
End of Game
102 - 100
Carmelo Anthony hopes meeting between community leaders in Los Angeles will "keep the conversation going and dialogue going" regarding issues surrounding the recent police-related shootings.

D.J. Kennedy scores 22 points and grabs 14 rebounds as Overseas Elite defeats Ram Nation 91-80 at The Basketball Tournament.

In a game featuring Pittsburgh alum Levance Fields and Syracuse alum Hakim Warrick, Fields' Untouchables defeat Boeheim's Army 91-84 in The Basketball Tournament Super 16.
Regular Season Series
BKN wins series 2-0
2015-2016 Atlantic Standings
2015-2016 Pacific Standings