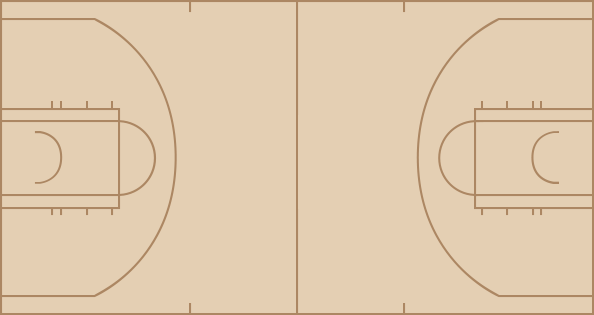 Lakers
time
TEAM
PLAY
SCORE
12:00
Dwight Howard vs. Nikola Pekovic (Ricky Rubio gains possession)
0 - 0
11:38
Ricky Rubio bad pass
0 - 0
11:25
Dwight Howard makes 1-foot two point shot (Steve Nash assists)
2 - 0
11:06
Andrei Kirilenko makes layup
2 - 2
11:06
Kobe Bryant shooting foul (Andrei Kirilenko draws the foul)
2 - 2
11:06
Andrei Kirilenko misses free throw 1 of 1
2 - 2
11:04
Derrick Williams offensive rebound
2 - 2
11:02
Dwight Howard blocks Derrick Williams's layup
2 - 2
11:00
Derrick Williams offensive rebound
2 - 2
10:56
Ricky Rubio lost ball turnover (Jodie Meeks steals)
2 - 2
10:55
Pau Gasol lost ball turnover (Andrei Kirilenko steals)
2 - 2
10:52
Andrei Kirilenko makes dunk
2 - 4
10:34
Pau Gasol makes 15-foot jumper (Steve Nash assists)
4 - 4
10:19
Derrick Williams misses 18-foot jumper
4 - 4
10:18
Nikola Pekovic offensive rebound
4 - 4
10:18
Nikola Pekovic makes layup
4 - 6
10:07
Ricky Rubio personal foul (Steve Nash draws the foul)
4 - 6
10:02
Steve Nash bad pass (Nikola Pekovic steals)
4 - 6
9:57
Pau Gasol shooting foul (Derrick Williams draws the foul)
4 - 6
9:57
Derrick Williams misses free throw 1 of 2
4 - 6
9:57
Timberwolves offensive team rebound
4 - 6
9:57
Derrick Williams misses free throw 2 of 2
4 - 6
9:57
Dwight Howard defensive rebound
4 - 6
9:45
Pau Gasol makes two point shot (Steve Nash assists)
6 - 6
9:30
Nikola Pekovic lost ball turnover (Dwight Howard steals)
6 - 6
9:25
Pau Gasol makes jumper (Kobe Bryant assists)
8 - 6
9:07
Ricky Rubio misses two point shot
8 - 6
9:06
Lakers defensive team rebound
8 - 6
8:59
Steve Nash makes 24-foot three pointer
11 - 6
8:37
Ricky Rubio misses 22-foot jumper
11 - 6
8:37
Pau Gasol defensive rebound
11 - 6
8:11
Kobe Bryant misses 15-foot two point shot
11 - 6
8:10
Jodie Meeks offensive rebound
11 - 6
8:03
Steve Nash misses 25-foot three point jumper
11 - 6
8:03
Nikola Pekovic defensive rebound
11 - 6
7:48
Nikola Pekovic makes dunk (Andrei Kirilenko assists)
11 - 8
7:33
Steve Nash misses 15-foot jumper
11 - 8
7:31
Ricky Rubio defensive rebound
11 - 8
7:18
Luke Ridnour makes 24-foot three point jumper (Ricky Rubio assists)
11 - 11
7:00
Pau Gasol misses 15-foot jumper
11 - 11
6:45
Luke Ridnour bad pass (Pau Gasol steals)
11 - 11
6:37
Pau Gasol lost ball turnover (Ricky Rubio steals)
11 - 11
6:31
Luke Ridnour makes 16-foot two point shot (Ricky Rubio assists)
11 - 13
6:13
Nikola Pekovic blocks Pau Gasol's layup
11 - 13
6:11
Nikola Pekovic defensive rebound
11 - 13
6:07
Dwight Howard personal foul (Nikola Pekovic draws the foul)
11 - 13
6:00
Andrei Kirilenko misses 20-foot jumper
11 - 13
5:58
Pau Gasol defensive rebound
11 - 13
5:48
Jodie Meeks makes 25-foot three point jumper (Kobe Bryant assists)
14 - 13
5:22
Derrick Williams misses 11-foot jumper
14 - 13
5:20
Nikola Pekovic makes two point shot
14 - 15
5:20
Nikola Pekovic offensive rebound
14 - 15
5:03
Kobe Bryant misses 18-foot jumper
14 - 15
5:01
Pau Gasol offensive rebound
14 - 15
4:58
Pau Gasol makes two point shot
16 - 15
4:37
Nikola Pekovic misses layup
16 - 15
4:37
Dwight Howard defensive rebound
16 - 15
4:35
Timberwolves Full timeout
16 - 15
4:35
Antawn Jamison enters the game for Pau Gasol
16 - 15
4:35
Steve Blake enters the game for Steve Nash
16 - 15
4:24
Dwight Howard makes 6-foot jumper (Antawn Jamison assists)
18 - 15
3:59
Nikola Pekovic makes 11-foot two point shot
18 - 17
3:44
Antawn Jamison misses 14-foot jumper
18 - 17
3:43
Dwight Howard offensive rebound
18 - 17
3:43
Nikola Pekovic shooting foul (Dwight Howard draws the foul)
18 - 17
3:43
Dwight Howard misses free throw 1 of 2
18 - 17
3:43
Lakers offensive team rebound
18 - 17
3:43
Earl Clark enters the game for Jodie Meeks
18 - 17
3:43
Dwight Howard makes free throw 2 of 2
19 - 17
3:33
Dwight Howard shooting foul (Nikola Pekovic draws the foul)
19 - 17
3:33
Nikola Pekovic makes free throw 1 of 2
19 - 18
3:33
Pau Gasol enters the game for Dwight Howard
19 - 18
3:33
Chase Budinger enters the game for Luke Ridnour
19 - 18
3:33
Nikola Pekovic makes free throw 2 of 2
19 - 19
3:15
Earl Clark misses 25-foot three point jumper
19 - 19
3:13
Earl Clark offensive rebound
19 - 19
3:10
Earl Clark bad pass (Chase Budinger steals)
19 - 19
3:02
Nikola Pekovic misses layup
19 - 19
3:01
Pau Gasol defensive rebound
19 - 19
2:58
Kobe Bryant bad pass
19 - 19
2:58
Lakers Full timeout
19 - 19
2:44
Chase Budinger misses three point jumper
19 - 19
2:43
Antawn Jamison defensive rebound
19 - 19
2:32
Steve Blake misses 23-foot three point jumper
19 - 19
2:31
Earl Clark offensive rebound
19 - 19
2:20
Earl Clark misses layup
19 - 19
2:19
Chase Budinger defensive rebound
19 - 19
2:11
Ricky Rubio misses two point shot
19 - 19
2:10
Nikola Pekovic offensive rebound
19 - 19
2:09
Nikola Pekovic misses tip shot
19 - 19
2:08
Nikola Pekovic offensive rebound
19 - 19
2:05
Pau Gasol blocks Nikola Pekovic's layup
19 - 19
2:04
Pau Gasol defensive rebound
19 - 19
1:54
Chase Budinger shooting foul (Pau Gasol draws the foul)
19 - 19
1:54
Pau Gasol misses free throw 1 of 2
19 - 19
1:54
Lakers offensive team rebound
19 - 19
1:54
J.J. Barea enters the game for Ricky Rubio
19 - 19
1:54
Greg Stiemsma enters the game for Nikola Pekovic
19 - 19
1:54
Pau Gasol makes free throw 2 of 2
20 - 19
1:52
Derrick Williams bad pass (Kobe Bryant steals)
20 - 19
1:47
Antawn Jamison misses layup
20 - 19
1:47
Antawn Jamison makes two point shot
22 - 19
1:47
Antawn Jamison offensive rebound
20 - 19
1:38
Steve Blake personal foul (J.J. Barea draws the foul)
22 - 19
1:38
J.J. Barea makes free throw 1 of 2
22 - 20
1:38
J.J. Barea makes free throw 2 of 2
22 - 21
1:24
Kobe Bryant lost ball turnover (Andrei Kirilenko steals)
22 - 21
1:20
Andrei Kirilenko misses layup
22 - 21
1:17
Antawn Jamison defensive rebound
22 - 21
1:02
Kobe Bryant bad pass (J.J. Barea steals)
22 - 21
0:55
Chase Budinger misses 23-foot three point jumper
22 - 21
0:53
J.J. Barea offensive rebound
22 - 21
0:45
Derrick Williams makes two point shot (J.J. Barea assists)
22 - 23
0:35
Greg Stiemsma personal foul (Kobe Bryant draws the foul)
22 - 23
0:35
Kobe Bryant makes free throw 1 of 2
23 - 23
0:35
Dante Cunningham enters the game for Derrick Williams
23 - 23
0:35
Kobe Bryant makes free throw 2 of 2
24 - 23
0:21
Dante Cunningham misses 19-foot jumper
24 - 23
0:19
Pau Gasol defensive rebound
24 - 23
0:03
Kobe Bryant makes driving dunk
26 - 23
0:00
J.J. Barea misses 29-foot three point running jumper
26 - 23
0:00
Timberwolves offensive team rebound
26 - 23
0:00
End of the 1st Quarter
26 - 23

time
TEAM
PLAY
SCORE
11:45
Greg Stiemsma blocks Dwight Howard 's 5-foot jumper
26 - 23
11:29
Alexey Shved makes 21-foot jumper
26 - 25
11:18
Steve Nash bad pass (Alexey Shved steals)
26 - 25
11:12
J.J. Barea makes driving layup
26 - 27
11:04
Greg Stiemsma personal foul (Dwight Howard draws the foul)
26 - 27
11:02
Dwight Howard traveling
26 - 27
10:45
Greg Stiemsma misses 18-foot jumper
26 - 27
10:44
Dwight Howard defensive rebound
26 - 27
10:30
Earl Clark misses 20-foot jumper
26 - 27
10:29
Chase Budinger defensive rebound
26 - 27
10:22
J.J. Barea bad pass (Steve Blake steals)
26 - 27
10:21
Dwight Howard bad pass (Alexey Shved steals)
26 - 27
10:07
Greg Stiemsma misses 19-foot jumper
26 - 27
10:07
Earl Clark defensive rebound
26 - 27
9:56
Steve Blake misses 23-foot three point jumper
26 - 27
9:56
J.J. Barea defensive rebound
26 - 27
9:48
J.J. Barea misses three point jumper
26 - 27
9:47
Earl Clark defensive rebound
26 - 27
9:36
Antawn Jamison makes 20-foot jumper (Steve Blake assists)
28 - 27
9:18
Chase Budinger makes two point shot
28 - 29
9:07
Antawn Jamison makes 25-foot three point jumper (Steve Nash assists)
31 - 29
8:53
Dante Cunningham makes 20-foot jumper (J.J. Barea assists)
31 - 31
8:38
Alexey Shved shooting foul (Antawn Jamison draws the foul)
31 - 31
8:38
Full timeout
31 - 31
8:38
Jodie Meeks enters the game for Earl Clark
31 - 31
8:38
Antawn Jamison makes free throw 1 of 2
32 - 31
8:38
Antawn Jamison makes free throw 2 of 2
33 - 31
8:22
Chase Budinger misses 18-foot jumper
33 - 31
8:22
Dwight Howard defensive rebound
33 - 31
8:11
Steve Blake bad pass
33 - 31
8:03
Dante Cunningham misses jumper
33 - 31
8:02
Dwight Howard defensive rebound
33 - 31
7:50
Steve Blake bad pass (Dante Cunningham steals)
33 - 31
7:45
Dwight Howard blocks J.J. Barea's layup
33 - 31
7:43
Steve Blake defensive rebound
33 - 31
7:37
Jodie Meeks misses 23-foot three point jumper
33 - 31
7:24
Alexey Shved misses 25-foot three point jumper
33 - 31
7:22
Greg Stiemsma offensive rebound
33 - 31
7:11
Dante Cunningham misses 17-foot jumper
33 - 31
7:11
Dwight Howard defensive rebound
33 - 31
6:58
Dwight Howard makes layup (Steve Nash assists)
35 - 31
6:58
Greg Stiemsma shooting foul (Dwight Howard draws the foul)
35 - 31
6:58
Nikola Pekovic enters the game for Greg Stiemsma
35 - 31
6:58
Dwight Howard makes free throw 1 of 1
36 - 31
6:43
Alexey Shved makes 24-foot three point jumper (J.J. Barea assists)
36 - 34
6:28
Steve Blake makes 23-foot three point jumper (Steve Nash assists)
39 - 34
6:11
Steve Blake personal foul (J.J. Barea draws the foul)
39 - 34
6:01
Dante Cunningham bad pass
39 - 34
5:52
Nikola Pekovic shooting block foul (Antawn Jamison draws the foul)
39 - 34
5:52
Timberwolves Full timeout
39 - 34
5:52
Derrick Williams enters the game for Dante Cunningham
39 - 34
5:52
Kobe Bryant enters the game for Steve Blake
39 - 34
5:52
Antawn Jamison makes free throw 1 of 2
40 - 34
5:52
Antawn Jamison misses free throw 2 of 2
40 - 34
5:52
Chase Budinger defensive rebound
40 - 34
5:37
Nikola Pekovic lost ball turnover (Dwight Howard steals)
40 - 34
5:18
Chase Budinger blocks Kobe Bryant 's 20-foot jumper
40 - 34
5:16
Derrick Williams defensive rebound
40 - 34
5:09
Antawn Jamison shooting foul (Nikola Pekovic draws the foul)
40 - 34
5:09
Nikola Pekovic makes free throw 1 of 2
40 - 35
5:09
Pau Gasol enters the game for Antawn Jamison
40 - 35
5:09
Nikola Pekovic misses free throw 2 of 2
40 - 35
5:09
Dwight Howard defensive rebound
40 - 35
4:54
Dwight Howard makes two point shot (Kobe Bryant assists)
42 - 35
4:30
Dwight Howard blocks Derrick Williams 's 2-foot layup
42 - 35
4:28
Kobe Bryant defensive rebound
42 - 35
4:09
Dwight Howard lost ball turnover (Chase Budinger steals)
42 - 35
4:00
Chase Budinger makes 25-foot three point jumper (Alexey Shved assists)
42 - 38
3:47
Steve Nash offensive foul (J.J. Barea draws the foul)
42 - 38
3:47
Steve Nash turnover
42 - 38
3:47
Ricky Rubio enters the game for J.J. Barea
42 - 38
3:47
Luke Ridnour enters the game for Alexey Shved
42 - 38
3:32
Dwight Howard blocks Nikola Pekovic's layup
42 - 38
3:31
Dwight Howard defensive rebound
42 - 38
3:26
Ricky Rubio shooting foul (Dwight Howard draws the foul)
42 - 38
3:26
Dwight Howard misses free throw 1 of 2
42 - 38
3:26
Lakers offensive team rebound
42 - 38
3:26
Andrei Kirilenko enters the game for Chase Budinger
42 - 38
3:26
Dwight Howard makes free throw 2 of 2
43 - 38
3:11
Andrei Kirilenko misses layup
43 - 38
3:10
Dwight Howard defensive rebound
43 - 38
3:10
Andrei Kirilenko personal foul (Dwight Howard draws the foul)
43 - 38
3:10
Dwight Howard misses free throw 1 of 2
43 - 38
3:10
Lakers offensive team rebound
43 - 38
3:10
Dwight Howard makes free throw 2 of 2
44 - 38
3:00
Andrei Kirilenko misses layup
44 - 38
3:00
Dwight Howard defensive rebound
44 - 38
2:55
Kobe Bryant makes driving dunk
46 - 38
2:35
Derrick Williams makes 1-foot dunk (Ricky Rubio assists)
46 - 40
2:28
Steve Nash lost ball turnover (Andrei Kirilenko steals)
46 - 40
2:27
Steve Nash personal take foul (Andrei Kirilenko draws the foul)
46 - 40
2:27
Lakers Full timeout
46 - 40
2:14
Ricky Rubio makes 20-foot jumper
46 - 42
1:47
Dwight Howard misses two point shot
46 - 42
1:46
Nikola Pekovic defensive rebound
46 - 42
1:40
Dwight Howard shooting foul (Andrei Kirilenko draws the foul)
46 - 42
1:40
Andrei Kirilenko makes free throw 1 of 2
46 - 43
1:40
Antawn Jamison enters the game for Dwight Howard
46 - 43
1:40
Andrei Kirilenko makes free throw 2 of 2
46 - 44
1:28
Pau Gasol misses jumper
46 - 44
1:27
Antawn Jamison offensive rebound
46 - 44
1:10
Antawn Jamison makes layup (Kobe Bryant assists)
48 - 44
0:55
Derrick Williams misses 26-foot three point jumper
48 - 44
0:54
Nikola Pekovic offensive rebound
48 - 44
0:52
Nikola Pekovic misses
48 - 44
0:51
Pau Gasol defensive rebound
48 - 44
0:40
Kobe Bryant makes jumper
50 - 44
0:26
Antawn Jamison shooting foul (Nikola Pekovic draws the foul)
50 - 44
0:26
Nikola Pekovic makes free throw 1 of 2
50 - 45
0:26
Nikola Pekovic makes free throw 2 of 2
50 - 46
0:03
Kobe Bryant misses 26-foot three point jumper
50 - 46
0:02
Derrick Williams defensive rebound
50 - 46
0:00
End of the 2nd Quarter
50 - 46

time
TEAM
PLAY
SCORE
11:47
Kobe Bryant makes 18-foot jumper (Jodie Meeks assists)
52 - 46
11:30
Derrick Williams lost ball turnover (Dwight Howard steals)
52 - 46
11:22
Steve Nash makes 24-foot three point jumper (Kobe Bryant assists)
55 - 46
11:17
Timberwolves Full timeout
55 - 46
11:04
Andrei Kirilenko traveling
55 - 46
10:56
Steve Nash bad pass (Nikola Pekovic steals)
55 - 46
10:52
Jodie Meeks shooting foul (Derrick Williams draws the foul)
55 - 46
10:52
Derrick Williams makes free throw 1 of 2
55 - 47
10:52
Derrick Williams misses free throw 2 of 2
55 - 47
10:52
Dwight Howard defensive rebound
55 - 47
10:40
Dwight Howard makes two point shot (Steve Nash assists)
57 - 47
10:25
Derrick Williams misses 19-foot jumper
57 - 47
10:23
Kobe Bryant defensive rebound
57 - 47
10:06
Pau Gasol makes 7-foot two point shot
59 - 47
9:51
Kobe Bryant personal foul (Andrei Kirilenko draws the foul)
59 - 47
9:45
Luke Ridnour misses 20-foot jumper
59 - 47
9:45
Kobe Bryant defensive rebound
59 - 47
9:41
Jodie Meeks makes layup (Kobe Bryant assists)
61 - 47
9:22
Kobe Bryant shooting foul (Andrei Kirilenko draws the foul)
61 - 47
9:22
Andrei Kirilenko makes free throw 1 of 2
61 - 48
9:22
Andrei Kirilenko makes free throw 2 of 2
61 - 49
9:07
Dwight Howard misses 5-foot two point shot
61 - 49
9:06
Nikola Pekovic defensive rebound
61 - 49
8:56
Dwight Howard shooting foul (Nikola Pekovic draws the foul)
61 - 49
8:56
Nikola Pekovic makes free throw 1 of 2
61 - 50
8:56
Antawn Jamison enters the game for Dwight Howard
61 - 50
8:56
Nikola Pekovic makes free throw 2 of 2
61 - 51
8:47
Steve Nash makes 17-foot jumper (Pau Gasol assists)
63 - 51
8:30
Andrei Kirilenko makes layup (Ricky Rubio assists)
63 - 53
8:12
Pau Gasol misses 19-foot jumper
63 - 53
8:11
Antawn Jamison offensive rebound
63 - 53
8:11
Antawn Jamison misses 3-foot jumper
63 - 53
8:10
Andrei Kirilenko defensive rebound
63 - 53
7:58
Nikola Pekovic lost ball turnover (Pau Gasol steals)
63 - 53
7:54
Kobe Bryant makes 2-foot two point shot (Jodie Meeks assists)
65 - 53
7:33
Ricky Rubio makes two point shot
65 - 55
7:15
Kobe Bryant misses 26-foot three point jumper
65 - 55
7:13
Pau Gasol offensive rebound
65 - 55
7:13
Pau Gasol makes layup
67 - 55
6:46
Andrei Kirilenko misses 25-foot three point jumper
67 - 55
6:46
Lakers defensive team rebound
67 - 55
6:37
Steve Nash makes 20-foot two point shot
69 - 55
6:30
Derrick Williams bad pass
69 - 55
6:24
Jodie Meeks misses 25-foot three point jumper
69 - 55
6:22
Nikola Pekovic defensive rebound
69 - 55
6:16
Ricky Rubio makes driving layup
69 - 57
6:01
Kobe Bryant makes 15-foot jumper
71 - 57
5:41
Nikola Pekovic misses 9-foot jumper
71 - 57
5:41
Derrick Williams offensive rebound
71 - 57
5:39
Derrick Williams makes layup
71 - 59
5:39
Jodie Meeks shooting foul (Derrick Williams draws the foul)
71 - 60
5:39
Steve Blake enters the game for Steve Nash
71 - 59
5:39
Derrick Williams makes free throw 1 of 1
71 - 60
5:26
Ricky Rubio personal foul (Pau Gasol draws the foul)
71 - 60
5:24
Kobe Bryant bad pass (Ricky Rubio steals)
71 - 60
5:20
Ricky Rubio makes driving layup (Andrei Kirilenko assists)
71 - 62
5:03
Kobe Bryant misses 18-foot jumper
71 - 62
5:01
Derrick Williams defensive rebound
71 - 62
4:54
Steve Blake shooting foul (Andrei Kirilenko draws the foul)
71 - 62
4:54
Andrei Kirilenko misses free throw 1 of 2
71 - 62
4:54
Timberwolves offensive team rebound
71 - 62
4:54
Earl Clark enters the game for Jodie Meeks
71 - 62
4:54
Andrei Kirilenko makes free throw 2 of 2
71 - 63
4:39
Kobe Bryant makes 25-foot three point jumper (Earl Clark assists)
74 - 63
4:28
Ricky Rubio misses layup
74 - 63
4:26
Steve Blake defensive rebound
74 - 63
4:15
Antawn Jamison makes 23-foot three point jumper (Earl Clark assists)
77 - 63
4:15
Ricky Rubio shooting foul (Antawn Jamison draws the foul)
77 - 63
4:15
J.J. Barea enters the game for Ricky Rubio
77 - 63
4:15
Antawn Jamison misses free throw 1 of 1
77 - 63
4:15
Andrei Kirilenko defensive rebound
77 - 63
4:03
Luke Ridnour makes 21-foot two point shot
77 - 65
3:42
Steve Blake makes 25-foot three point jumper (Pau Gasol assists)
80 - 65
3:20
Luke Ridnour makes 25-foot three point jumper
80 - 68
3:09
Kobe Bryant makes 6-foot two point shot
82 - 68
2:54
Derrick Williams makes driving layup (Luke Ridnour assists)
82 - 70
2:38
Kobe Bryant traveling
82 - 70
2:38
Lakers Full timeout
82 - 70
2:29
Nikola Pekovic offensive foul (Kobe Bryant draws the foul)
82 - 70
2:29
Nikola Pekovic turnover
82 - 70
2:16
Kobe Bryant makes 10-foot two point shot
84 - 70
2:04
Steve Blake kicked ball violation
84 - 70
1:59
Antawn Jamison blocks Nikola Pekovic's jumper
84 - 70
1:58
Timberwolves offensive team rebound
84 - 70
1:53
Derrick Williams makes 21-foot jumper (Andrei Kirilenko assists)
84 - 72
1:29
Steve Blake makes 23-foot jumper (Pau Gasol assists)
86 - 72
1:10
Derrick Williams makes 25-foot three point jumper (J.J. Barea assists)
86 - 75
0:50
Pau Gasol makes 22-foot jumper (Kobe Bryant assists)
88 - 75
0:38
Steve Blake shooting foul (J.J. Barea draws the foul)
88 - 75
0:38
Steve Blake technical foul(1st technical foul)
88 - 75
0:38
Luke Ridnour makes technical free throw
88 - 76
0:38
J.J. Barea misses free throw 1 of 2
88 - 76
0:38
Timberwolves offensive team rebound
88 - 76
0:38
J.J. Barea makes free throw 2 of 2
88 - 77
0:21
Kobe Bryant makes 24-foot three point jumper
91 - 77
0:02
J.J. Barea makes 14-foot two point shot
91 - 79
0:00
Steve Blake misses 31-foot three point running jumper
91 - 79
0:00
Lakers offensive team rebound
91 - 79
0:00
End of the 3rd Quarter
91 - 79

time
TEAM
PLAY
SCORE
11:42
Chase Budinger makes two point shot (Nikola Pekovic assists)
91 - 81
11:42
Earl Clark shooting foul (Chase Budinger draws the foul)
91 - 81
11:42
Chase Budinger makes free throw 1 of 1
91 - 82
11:30
Dwight Howard misses layup
91 - 82
11:29
Nikola Pekovic defensive rebound
91 - 82
11:19
Alexey Shved lost ball turnover (Dwight Howard steals)
91 - 82
11:10
Steve Blake misses two point shot
91 - 82
11:08
Nikola Pekovic defensive rebound
91 - 82
10:57
J.J. Barea makes 18-foot jumper
91 - 84
10:47
Alexey Shved personal foul (Steve Nash draws the foul)
91 - 84
10:47
Jodie Meeks enters the game for Earl Clark
91 - 84
10:37
Steve Blake misses 19-foot jumper
91 - 84
10:37
Dwight Howard offensive rebound
91 - 84
10:34
Dwight Howard makes two point shot
93 - 84
10:14
Chase Budinger bad pass (Dwight Howard steals)
93 - 84
9:59
Steve Blake misses 20-foot jumper
93 - 84
9:57
Chase Budinger defensive rebound
93 - 84
9:56
Steve Blake personal foul (Dante Cunningham draws the foul)
93 - 84
9:49
Alexey Shved misses 19-foot two point jumper
93 - 84
9:48
Steve Blake defensive rebound
93 - 84
9:33
Dwight Howard makes 4-foot jumper (Steve Nash assists)
95 - 84
9:19
Dante Cunningham makes 17-foot jumper (J.J. Barea assists)
95 - 86
9:00
Antawn Jamison makes driving layup (Steve Blake assists)
97 - 86
9:00
Chase Budinger shooting foul (Antawn Jamison draws the foul)
98 - 86
9:00
Antawn Jamison makes free throw 1 of 1
98 - 86
8:45
J.J. Barea makes 8-foot two point shot
98 - 88
8:41
J.J. Barea technical foul(1st technical foul)
98 - 88
8:41
Full timeout
98 - 88
8:41
Steve Nash makes technical free throw
99 - 88
8:33
Alexey Shved personal foul (Steve Nash draws the foul)
99 - 88
8:27
Antawn Jamison misses 7-foot jumper
99 - 88
8:26
Nikola Pekovic defensive rebound
99 - 88
8:22
Steve Nash personal block (Alexey Shved draws the foul)
99 - 88
8:22
Pau Gasol enters the game for Antawn Jamison
99 - 88
8:15
Dante Cunningham makes 21-foot jumper (J.J. Barea assists)
99 - 90
7:56
Jodie Meeks misses 21-foot jumper
99 - 90
7:54
Dwight Howard offensive rebound
99 - 90
7:54
J.J. Barea shooting foul (Dwight Howard draws the foul)
99 - 90
7:54
Dwight Howard misses free throw 1 of 2
99 - 90
7:54
Lakers offensive team rebound
99 - 90
7:54
Kobe Bryant enters the game for Steve Nash
99 - 90
7:54
Dwight Howard makes free throw 2 of 2
100 - 90
7:41
J.J. Barea misses 18-foot two point jumper
100 - 90
7:39
Lakers defensive team rebound
100 - 90
7:24
Kobe Bryant offensive Charge (J.J. Barea draws the foul)
100 - 90
7:24
Kobe Bryant turnover
100 - 90
7:13
Alexey Shved misses 25-foot three point jumper
100 - 90
7:13
Jodie Meeks defensive rebound
100 - 90
7:03
Ricky Rubio enters the game for Alexey Shved
100 - 90
6:58
Pau Gasol makes 7-foot jumper
102 - 90
6:52
Ricky Rubio misses layup
102 - 90
6:52
Dwight Howard defensive rebound
102 - 90
6:28
Kobe Bryant misses 25-foot three point jumper
102 - 90
6:26
Jodie Meeks offensive rebound
102 - 90
6:24
Dwight Howard makes dunk (Jodie Meeks assists)
104 - 90
6:11
Dante Cunningham makes two point shot (Ricky Rubio assists)
104 - 92
5:52
Dwight Howard makes 5-foot jumper (Steve Blake assists)
106 - 92
5:41
Steve Blake personal foul (Nikola Pekovic draws the foul)
106 - 92
5:41
Timberwolves Full timeout
106 - 92
5:41
Steve Nash enters the game for Steve Blake
106 - 92
5:31
Dante Cunningham misses 18-foot jumper
106 - 92
5:30
Timberwolves offensive team rebound
106 - 92
5:26
Chase Budinger makes 17-foot jumper (J.J. Barea assists)
106 - 94
5:07
Jodie Meeks misses 24-foot three point jumper
106 - 94
5:07
Chase Budinger defensive rebound
106 - 94
4:58
Dante Cunningham misses 18-foot jumper
106 - 94
4:56
Jodie Meeks defensive rebound
106 - 94
4:39
Kobe Bryant misses 9-foot jumper
106 - 94
4:39
Ricky Rubio defensive rebound
106 - 94
4:35
Steve Nash shooting foul (Ricky Rubio draws the foul)
106 - 94
4:35
Ricky Rubio misses free throw 1 of 2
106 - 94
4:35
Timberwolves offensive team rebound
106 - 94
4:35
Ricky Rubio makes free throw 2 of 2
106 - 95
4:22
Steve Nash misses 18-foot jumper
106 - 95
4:20
Dante Cunningham defensive rebound
106 - 95
4:11
J.J. Barea misses 25-foot three point jumper
106 - 95
4:09
Dwight Howard defensive rebound
106 - 95
4:07
Dwight Howard lost ball turnover (Dante Cunningham steals)
106 - 95
3:51
Dante Cunningham makes 20-foot jumper (Ricky Rubio assists)
106 - 97
3:27
Kobe Bryant makes 25-foot three point jumper
109 - 97
3:09
Ricky Rubio misses layup
109 - 97
3:08
Nikola Pekovic offensive rebound
109 - 97
3:05
Nikola Pekovic makes two point shot
109 - 99
3:00
J.J. Barea personal foul (Steve Nash draws the foul)
109 - 99
3:00
Steve Nash makes free throw 1 of 2
110 - 99
3:00
Steve Nash makes free throw 2 of 2
111 - 99
2:56
Steve Nash personal foul (Ricky Rubio draws the foul)
111 - 99
2:56
Lakers Full timeout
111 - 99
2:56
Luke Ridnour enters the game for J.J. Barea
111 - 99
2:56
Ricky Rubio makes free throw 1 of 2
111 - 100
2:56
Ricky Rubio makes free throw 2 of 2
111 - 101
2:56
Luke Ridnour personal take foul (Dwight Howard draws the foul)
111 - 101
2:56
Dwight Howard misses free throw 1 of 2
111 - 101
2:56
Lakers offensive team rebound
111 - 101
2:56
Dwight Howard misses free throw 2 of 2
111 - 101
2:56
Dante Cunningham defensive rebound
111 - 101
2:47
Pau Gasol blocks Chase Budinger 's 24-foot three point jumper
111 - 101
2:46
Chase Budinger offensive rebound
111 - 101
2:43
Luke Ridnour misses 13-foot jumper
111 - 101
2:42
Pau Gasol defensive rebound
111 - 101
2:40
Dante Cunningham personal take foul (Dwight Howard draws the foul)
111 - 101
2:40
Dwight Howard misses free throw 1 of 2
111 - 101
2:40
Lakers offensive team rebound
111 - 101
2:40
Dwight Howard misses free throw 2 of 2
111 - 101
2:40
Chase Budinger defensive rebound
111 - 101
2:33
Dwight Howard kicked ball violation
111 - 101
2:28
Dwight Howard blocks Ricky Rubio 's 17-foot jumper
111 - 101
2:26
Luke Ridnour offensive rebound
111 - 101
2:24
Dante Cunningham makes 19-foot jumper (Luke Ridnour assists)
111 - 103
2:18
Luke Ridnour personal take foul (Dwight Howard draws the foul)
111 - 103
2:18
Dwight Howard makes free throw 1 of 2
112 - 103
2:18
Dwight Howard misses free throw 2 of 2
112 - 103
2:18
Chase Budinger defensive rebound
112 - 103
2:11
Chase Budinger misses layup
112 - 103
2:10
Dante Cunningham offensive rebound
112 - 103
2:06
Chase Budinger makes driving layup (Dante Cunningham assists)
112 - 105
2:03
Chase Budinger personal take foul (Dwight Howard draws the foul)
112 - 105
2:03
Dwight Howard misses free throw 1 of 2
112 - 105
2:03
Lakers offensive team rebound
112 - 105
2:03
Dwight Howard makes free throw 2 of 2
113 - 105
1:58
Dante Cunningham makes jumper (Ricky Rubio assists)
113 - 107
1:57
Luke Ridnour away from play foul (Dwight Howard draws the foul)
114 - 107
1:57
Steve Nash misses free throw 1 of 2
113 - 107
1:57
Lakers offensive team rebound
113 - 107
1:57
Steve Nash makes free throw 2 of 2
114 - 107
1:39
Kobe Bryant misses 25-foot three point jumper
114 - 107
1:38
Nikola Pekovic defensive rebound
114 - 107
1:35
Ricky Rubio makes driving layup
114 - 109
1:17
Steve Nash bad pass (Ricky Rubio steals)
114 - 109
1:10
Dante Cunningham misses 18-foot jumper
114 - 109
1:09
Chase Budinger offensive rebound
114 - 109
1:08
Chase Budinger makes two point shot
114 - 111
0:48
Kobe Bryant makes 22-foot two point shot
116 - 111
0:48
Timberwolves Full timeout
116 - 111
0:39
Dante Cunningham makes 17-foot jumper (Chase Budinger assists)
116 - 113
0:18
Jodie Meeks misses 7-foot jumper
116 - 113
0:15
Lakers offensive team rebound
116 - 113
0:15
Dante Cunningham loose ball foul (Kobe Bryant draws the foul)
116 - 113
0:15
Kobe Bryant makes free throw 1 of 2
117 - 113
0:15
Kobe Bryant misses free throw 2 of 2
117 - 113
0:15
Luke Ridnour defensive rebound
117 - 113
0:15
Timberwolves 20 Sec. timeout
117 - 113
0:12
Chase Budinger misses 23-foot three point jumper
117 - 113
0:11
Dante Cunningham makes two point shot
117 - 115
0:11
Dante Cunningham offensive rebound
117 - 113
0:09
Dante Cunningham personal take foul (Steve Nash draws the foul)
119 - 115
0:09
Steve Nash makes free throw 1 of 2
118 - 115
0:09
Steve Nash makes free throw 2 of 2
119 - 115
0:09
Timberwolves 20 Sec. timeout
119 - 115
0:05
Luke Ridnour misses 21-foot jumper
119 - 115
0:04
Nikola Pekovic offensive rebound
119 - 115
0:04
Nikola Pekovic makes two point shot
119 - 117
0:04
Dwight Howard defensive goaltending violation
119 - 117
0:03
Chase Budinger personal take foul (Kobe Bryant draws the foul)
119 - 117
0:03
Kobe Bryant makes free throw 1 of 2
120 - 117
0:03
Kobe Bryant misses free throw 2 of 2
120 - 117
0:03
Ricky Rubio defensive rebound
120 - 117
0:00
Kobe Bryant blocks Ricky Rubio 's 28-foot three point jumper
120 - 117
0:00
Timberwolves offensive team rebound
120 - 117
0:00
End of the 4th Quarter
120 - 117
0:00
End of Game
120 - 117
Carmelo Anthony calls Michael Jordan's contributions of a million dollars each to two organizations "very big on his behalf."

The Charlotte Hornets have signed 7-foot Virginia center Mike Tobey.

Kevin Blackistone is not impressed with Michael Jordan's generous donations, instead, Blackistone proposes that Jordan contribute to the grass-roots movement Black Lives Matter, who he sees as the new era in civil rights advocates.
Regular Season Series
LAL wins series 3-0
2015-2016 Pacific Standings
2015-2016 Northwest Standings