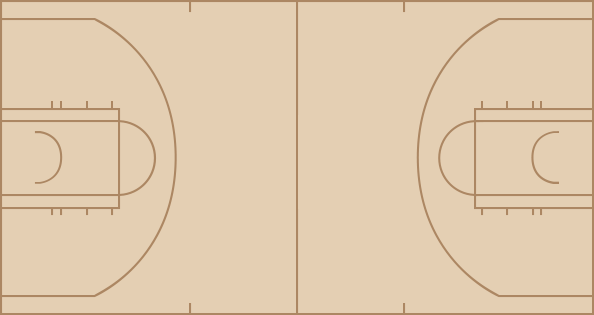 Wizards
time
TEAM
PLAY
SCORE
12:00
Marcin Gortat vs. Spencer Hawes (Trevor Ariza gains possession)
0 - 0
11:44
Bradley Beal makes 24-foot three point jumper (John Wall assists)
3 - 0
11:33
Evan Turner makes dunk (Spencer Hawes assists)
3 - 2
11:19
Marcin Gortat makes 7-foot two point shot (Bradley Beal assists)
5 - 2
11:07
Nene blocks James Anderson's layup
5 - 2
11:04
Nene defensive rebound
5 - 2
11:00
Trevor Ariza makes driving layup (John Wall assists)
7 - 2
10:45
Thaddeus Young makes 20-foot two point shot
7 - 4
10:32
John Wall misses 26-foot three point jumper
7 - 4
10:30
Wizards offensive team rebound
7 - 4
10:22
Marcin Gortat makes 13-foot jumper (Bradley Beal assists)
9 - 4
9:59
Spencer Hawes misses 8-foot jumper
9 - 4
9:56
Marcin Gortat defensive rebound
9 - 4
9:52
Nene makes two point shot (John Wall assists)
11 - 4
9:44
Trevor Ariza personal foul (Michael Carter-Williams draws the foul)
11 - 4
9:30
Nene blocks Michael Carter-Williams 's 2-foot layup
11 - 4
9:29
Thaddeus Young offensive rebound
11 - 4
9:27
Thaddeus Young makes 1-foot two point shot
11 - 6
9:07
Marcin Gortat makes layup (Nene assists)
13 - 6
8:55
Evan Turner makes two point shot
13 - 8
8:48
Trevor Ariza misses layup
13 - 8
8:45
Marcin Gortat makes two point shot
15 - 8
8:45
Marcin Gortat offensive rebound
13 - 8
8:42
Thaddeus Young bad pass (Trevor Ariza steals)
15 - 8
8:34
Trevor Ariza misses 3-foot jumper
15 - 8
8:33
James Anderson defensive rebound
15 - 8
8:26
James Anderson misses 25-foot three point jumper
15 - 8
8:25
Trevor Ariza defensive rebound
15 - 8
8:21
John Wall makes driving layup
17 - 8
8:15
Michael Carter-Williams makes 19-foot two point shot
17 - 10
8:02
Thaddeus Young technical foul(1st technical foul)
17 - 10
8:02
Trevor Ariza makes technical free throw
18 - 10
7:48
Bradley Beal makes 27-foot three point jumper
21 - 10
7:33
Michael Carter-Williams misses 3-foot jumper
21 - 10
7:31
Marcin Gortat defensive rebound
21 - 10
7:09
Marcin Gortat misses jumper
21 - 10
7:07
James Anderson defensive rebound
21 - 10
7:03
James Anderson misses layup
21 - 10
6:58
Thaddeus Young offensive rebound
21 - 10
6:56
Michael Carter-Williams misses 26-foot three point jumper
21 - 10
6:54
Thaddeus Young offensive rebound
21 - 10
6:39
James Anderson misses 23-foot jumper
21 - 10
6:37
Spencer Hawes offensive rebound
21 - 10
6:35
Spencer Hawes makes two point shot
21 - 12
6:24
Michael Carter-Williams blocks Nene 's 3-foot layup
21 - 12
6:22
James Anderson defensive rebound
21 - 12
6:15
Michael Carter-Williams misses three point jumper
21 - 12
6:11
Trevor Ariza defensive rebound
21 - 12
6:05
Trevor Ariza makes three point jumper (John Wall assists)
24 - 12
6:00
76ers Full timeout
24 - 12
5:43
Spencer Hawes misses 26-foot three point jumper
24 - 12
5:41
Trevor Ariza defensive rebound
24 - 12
5:35
Bradley Beal makes 25-foot three pointer (John Wall assists)
27 - 12
5:24
Thaddeus Young makes two point shot (Michael Carter-Williams assists)
27 - 14
5:07
Trevor Ariza misses layup
27 - 14
5:05
Thaddeus Young defensive rebound
27 - 14
4:58
Evan Turner misses 26-foot three point jumper
27 - 14
4:58
Bradley Beal defensive rebound
27 - 14
4:54
Trevor Ariza misses 20-foot jumper
27 - 14
4:50
Evan Turner defensive rebound
27 - 14
4:46
Spencer Hawes makes two point shot (Evan Turner assists)
27 - 16
4:26
John Wall misses 19-foot jumper
27 - 16
4:24
Spencer Hawes defensive rebound
27 - 16
4:22
Spencer Hawes bad pass (Bradley Beal steals)
27 - 16
4:20
John Wall makes dunk
29 - 16
4:01
Michael Carter-Williams misses 19-foot jumper
29 - 16
4:01
Wizards defensive team rebound
29 - 16
4:01
Al Harrington enters the game for Trevor Ariza
29 - 16
4:01
Martell Webster enters the game for Nene
29 - 16
4:01
Lavoy Allen enters the game for Thaddeus Young
29 - 16
4:01
Tony Wroten enters the game for James Anderson
29 - 16
3:43
Marcin Gortat makes 15-foot jumper (Bradley Beal assists)
31 - 16
3:32
Spencer Hawes makes three point jumper (Michael Carter-Williams assists)
31 - 19
3:11
Bradley Beal misses layup
31 - 19
3:09
Lavoy Allen defensive rebound
31 - 19
3:02
Al Harrington shooting foul (Spencer Hawes draws the foul)
31 - 19
3:02
Spencer Hawes makes free throw 1 of 2
31 - 20
3:02
Darius Morris enters the game for Michael Carter-Williams
31 - 20
3:02
Spencer Hawes makes free throw 2 of 2
31 - 21
2:47
Al Harrington misses jumper
31 - 21
2:46
Lavoy Allen defensive rebound
31 - 21
2:39
Tony Wroten offensive Charge (Marcin Gortat draws the foul)
31 - 21
2:39
Tony Wroten turnover
31 - 21
2:39
Wizards Full timeout
31 - 21
2:39
Kevin Seraphin enters the game for Marcin Gortat
31 - 21
2:39
Daniel Orton enters the game for Spencer Hawes
31 - 21
2:26
Kevin Seraphin makes layup (Bradley Beal assists)
33 - 21
2:17
Darius Morris out of bounds lost ball turnover
33 - 21
2:17
Eric Maynor enters the game for John Wall
33 - 21
2:08
Bradley Beal misses 20-foot jumper
33 - 21
2:05
Daniel Orton defensive rebound
33 - 21
1:57
Tony Wroten misses 24-foot three point jumper
33 - 21
1:54
Martell Webster defensive rebound
33 - 21
1:45
Martell Webster makes 26-foot three point jumper (Eric Maynor assists)
36 - 21
1:34
James Anderson enters the game for Evan Turner
36 - 21
1:22
Kevin Seraphin shooting foul (Daniel Orton draws the foul)
36 - 21
1:22
Daniel Orton makes free throw 1 of 2
36 - 22
1:22
Daniel Orton makes free throw 2 of 2
36 - 23
1:09
Kevin Seraphin misses 7-foot hook shot
36 - 23
1:07
Tony Wroten defensive rebound
36 - 23
1:01
Darius Morris makes two point shot (Tony Wroten assists)
36 - 25
0:50
Al Harrington makes three point jumper (Kevin Seraphin assists)
39 - 25
0:39
Lavoy Allen bad pass (Bradley Beal steals)
39 - 25
0:32
Martell Webster misses 26-foot three point jumper
39 - 25
0:31
Wizards offensive team rebound
39 - 25
0:10
Eric Maynor misses 5-foot jumper
39 - 25
0:08
Lavoy Allen defensive rebound
39 - 25
0:01
James Anderson makes two point shot
39 - 27
0:00
End of the 1st Quarter
39 - 27

time
TEAM
PLAY
SCORE
11:37
Daniel Orton misses 13-foot jumper
39 - 27
11:36
Lavoy Allen offensive rebound
39 - 27
11:36
shot clock turnover
39 - 27
11:22
Al Harrington traveling
39 - 27
11:14
James Anderson makes three point jumper (Darius Morris assists)
39 - 30
10:59
Eric Maynor misses 18-foot jumper
39 - 30
10:56
Lavoy Allen defensive rebound
39 - 30
10:52
Daniel Orton offensive foul (Kevin Seraphin draws the foul)
39 - 30
10:52
Daniel Orton turnover
39 - 30
10:42
Al Harrington makes driving dunk (Eric Maynor assists)
41 - 30
10:18
Daniel Orton makes layup (Tony Wroten assists)
41 - 32
10:18
Kevin Seraphin shooting foul (Daniel Orton draws the foul)
41 - 32
10:18
Daniel Orton makes free throw 1 of 1
41 - 33
10:03
Kevin Seraphin misses layup
41 - 33
10:00
Daniel Orton defensive rebound
41 - 33
9:57
Lavoy Allen offensive foul (Al Harrington draws the foul)
41 - 33
9:57
Lavoy Allen turnover
41 - 33
9:57
Nene enters the game for Kevin Seraphin
41 - 33
9:42
Al Harrington out of bounds lost ball turnover
41 - 33
9:30
Lavoy Allen makes jumper (Darius Morris assists)
41 - 35
9:15
Eric Maynor makes two point shot
43 - 35
9:06
Darius Morris misses jumper
43 - 35
9:03
Trevor Ariza defensive rebound
43 - 35
9:00
Daniel Orton personal foul (Nene draws the foul)
43 - 35
9:00
Wizards Full timeout
43 - 35
8:45
Trevor Ariza traveling
43 - 35
8:27
Tony Wroten steps out of bounds turnover
43 - 35
8:27
John Wall enters the game for Eric Maynor
43 - 35
8:27
Marcin Gortat enters the game for Al Harrington
43 - 35
8:11
John Wall misses jumper
43 - 35
8:10
Daniel Orton defensive rebound
43 - 35
8:06
Darius Morris offensive Charge (Nene draws the foul)
43 - 35
8:06
Darius Morris turnover
43 - 35
8:06
Michael Carter-Williams enters the game for Lavoy Allen
43 - 35
8:06
Spencer Hawes enters the game for Darius Morris
43 - 35
8:06
Thaddeus Young enters the game for Daniel Orton
43 - 35
7:54
Nene misses 7-foot hook shot
43 - 35
7:52
Thaddeus Young defensive rebound
43 - 35
7:52
Nene personal foul (Spencer Hawes draws the foul)
43 - 35
7:39
James Anderson makes 26-foot three point jumper (Spencer Hawes assists)
43 - 38
7:22
Martell Webster misses 12-foot jumper
43 - 38
7:22
Spencer Hawes defensive rebound
43 - 38
7:18
Tony Wroten misses layup
43 - 38
7:15
Marcin Gortat defensive rebound
43 - 38
7:05
Nene misses 14-foot jumper
43 - 38
7:03
Spencer Hawes defensive rebound
43 - 38
6:54
James Anderson makes 16-foot two point shot
43 - 40
6:28
Nene misses 2-foot hook shot
43 - 40
6:28
Michael Carter-Williams defensive rebound
43 - 40
6:20
Thaddeus Young misses layup
43 - 40
6:18
Wizards defensive team rebound
43 - 40
6:18
Evan Turner enters the game for Tony Wroten
43 - 40
6:18
Bradley Beal enters the game for Martell Webster
43 - 40
6:01
Nene misses 17-foot jumper
43 - 40
5:58
James Anderson defensive rebound
43 - 40
5:48
Thaddeus Young misses 14-foot jumper
43 - 40
5:46
Bradley Beal defensive rebound
43 - 40
5:39
Bradley Beal misses 25-foot three point jumper
43 - 40
5:39
76ers defensive team rebound
43 - 40
5:39
Official timeout
43 - 40
5:18
James Anderson misses three point jumper
43 - 40
5:16
Trevor Ariza defensive rebound
43 - 40
5:01
Trevor Ariza misses three point jumper
43 - 40
4:58
Spencer Hawes defensive rebound
43 - 40
4:56
Michael Carter-Williams misses layup
43 - 40
4:54
Nene defensive rebound
43 - 40
4:48
Bradley Beal makes 16-foot two point shot
45 - 40
4:37
Spencer Hawes bad pass (Trevor Ariza steals)
45 - 40
4:33
Spencer Hawes shooting foul (Nene draws the foul)
45 - 40
4:33
Nene makes free throw 1 of 2
46 - 40
4:33
Hollis Thompson enters the game for James Anderson
46 - 40
4:33
Nene makes free throw 2 of 2
47 - 40
4:16
Michael Carter-Williams makes driving layup (Spencer Hawes assists)
47 - 42
4:09
Trevor Ariza makes three point jumper (John Wall assists)
50 - 42
4:01
Michael Carter-Williams lost ball turnover (John Wall steals)
50 - 42
3:58
Bradley Beal makes two point shot (Nene assists)
52 - 42
3:39
Marcin Gortat shooting foul (Hollis Thompson draws the foul)
52 - 42
3:39
Hollis Thompson misses free throw 1 of 3
52 - 42
3:39
76ers offensive team rebound
52 - 42
3:39
Hollis Thompson makes free throw 2 of 3
52 - 43
3:39
Hollis Thompson makes free throw 3 of 3
52 - 44
3:18
John Wall makes 25-foot three point jumper (Bradley Beal assists)
55 - 44
3:00
Michael Carter-Williams misses 19-foot jumper
55 - 44
2:59
Hollis Thompson offensive rebound
55 - 44
2:56
Spencer Hawes makes two point shot (Hollis Thompson assists)
55 - 46
2:38
Marcin Gortat misses 16-foot jumper
55 - 46
2:36
Spencer Hawes defensive rebound
55 - 46
2:24
Marcin Gortat blocks Michael Carter-Williams's layup
55 - 46
2:20
Nene defensive rebound
55 - 46
2:11
Bradley Beal misses 25-foot three point jumper
55 - 46
2:10
Spencer Hawes defensive rebound
55 - 46
2:03
Bradley Beal shooting foul (Spencer Hawes draws the foul)
55 - 46
2:03
76ers Full timeout
55 - 46
2:03
Spencer Hawes misses free throw 1 of 2
55 - 46
2:03
Al Harrington enters the game for Nene
55 - 46
2:03
Spencer Hawes makes free throw 2 of 2
55 - 47
2:03
76ers offensive team rebound
55 - 46
1:50
John Wall makes 21-foot jumper
57 - 47
1:35
Evan Turner makes driving layup
57 - 49
1:16
Bradley Beal misses layup
57 - 49
1:15
Bradley Beal bad pass (Spencer Hawes steals)
57 - 49
1:15
Bradley Beal offensive rebound
57 - 49
1:12
John Wall blocks Thaddeus Young 's 1-foot layup
57 - 49
1:10
Michael Carter-Williams offensive rebound
57 - 49
1:09
John Wall shooting foul (Michael Carter-Williams draws the foul)
57 - 49
1:09
Michael Carter-Williams misses free throw 1 of 2
57 - 49
1:09
76ers offensive team rebound
57 - 49
1:09
Michael Carter-Williams makes free throw 2 of 2
57 - 50
0:58
John Wall bad pass
57 - 50
0:44
Al Harrington personal foul (Evan Turner draws the foul)
57 - 50
0:44
Evan Turner misses free throw 1 of 2
57 - 50
0:44
76ers offensive team rebound
57 - 50
0:44
Evan Turner makes free throw 2 of 2
57 - 51
0:24
Trevor Ariza makes 25-foot three point jumper (Al Harrington assists)
60 - 51
0:24
76ers 20 Sec. timeout
60 - 51
0:24
Martell Webster enters the game for Al Harrington
60 - 51
0:06
Michael Carter-Williams misses 20-foot jumper
60 - 51
0:04
Evan Turner offensive rebound
60 - 51
0:01
Bradley Beal blocks Evan Turner 's 4-foot jumper
60 - 51
0:01
76ers offensive team rebound
60 - 51
0:00
Spencer Hawes misses jumper
60 - 51
0:00
76ers offensive team rebound
60 - 51
0:00
End of the 2nd Quarter
60 - 51

time
TEAM
PLAY
SCORE
11:41
Spencer Hawes bad pass (Nene steals)
60 - 51
11:34
Nene bad pass (Thaddeus Young steals)
60 - 51
11:22
Thaddeus Young misses 20-foot jumper
60 - 51
11:21
Marcin Gortat defensive rebound
60 - 51
10:56
Bradley Beal bad pass (Evan Turner steals)
60 - 51
10:52
James Anderson makes jumper (Evan Turner assists)
60 - 53
10:52
John Wall shooting foul (James Anderson draws the foul)
60 - 53
10:52
James Anderson makes free throw 1 of 1
60 - 54
10:38
John Wall makes three point jumper (Trevor Ariza assists)
63 - 54
10:18
Michael Carter-Williams makes 17-foot jumper (Spencer Hawes assists)
63 - 56
10:02
Trevor Ariza makes driving layup (John Wall assists)
65 - 56
10:02
James Anderson shooting foul (Trevor Ariza draws the foul)
65 - 56
10:02
Trevor Ariza makes free throw 1 of 1
66 - 56
9:41
Spencer Hawes misses 19-foot jumper
66 - 56
9:38
Trevor Ariza defensive rebound
66 - 56
9:30
Bradley Beal misses three point jumper
66 - 56
9:26
Marcin Gortat makes two point shot
68 - 56
9:26
Marcin Gortat offensive rebound
66 - 56
9:21
Evan Turner makes 17-foot two point shot (Michael Carter-Williams assists)
68 - 58
9:07
John Wall misses 26-foot three point jumper
68 - 58
9:03
Evan Turner defensive rebound
68 - 58
8:56
Michael Carter-Williams misses layup
68 - 58
8:55
Michael Carter-Williams makes layup
68 - 60
8:55
Michael Carter-Williams offensive rebound
68 - 58
8:33
Marcin Gortat misses 12-foot jumper
68 - 60
8:32
Michael Carter-Williams defensive rebound
68 - 60
8:25
Thaddeus Young misses layup
68 - 60
8:22
Marcin Gortat defensive rebound
68 - 60
8:15
Bradley Beal misses 17-foot jumper
68 - 60
8:14
Thaddeus Young defensive rebound
68 - 60
7:58
Spencer Hawes out of bounds lost ball turnover
68 - 60
7:43
Nene makes 16-foot jumper (Bradley Beal assists)
70 - 60
7:31
Evan Turner makes 11-foot two point shot (Thaddeus Young assists)
70 - 62
7:16
James Anderson shooting foul (John Wall draws the foul)
70 - 62
7:16
John Wall misses free throw 1 of 2
70 - 62
7:16
Wizards offensive team rebound
70 - 62
7:16
John Wall makes free throw 2 of 2
71 - 62
7:01
Evan Turner makes three point jumper (Michael Carter-Williams assists)
71 - 65
6:35
Bradley Beal misses 18-foot jumper
71 - 65
6:33
Michael Carter-Williams defensive rebound
71 - 65
6:28
Spencer Hawes makes layup
71 - 67
6:26
Wizards Full timeout
71 - 67
6:26
Lavoy Allen enters the game for Spencer Hawes
71 - 67
6:01
John Wall makes three point jumper (Trevor Ariza assists)
74 - 67
5:47
Evan Turner misses 11-foot jumper
74 - 67
5:46
John Wall defensive rebound
74 - 67
5:39
Bradley Beal misses three point jumper
74 - 67
5:37
Marcin Gortat makes 1-foot two point shot
76 - 67
5:37
Marcin Gortat offensive rebound
74 - 67
5:24
James Anderson traveling
76 - 67
5:07
Thaddeus Young shooting foul (Bradley Beal draws the foul)
76 - 67
5:07
Bradley Beal misses free throw 1 of 2
76 - 67
5:07
Wizards offensive team rebound
76 - 67
5:07
Spencer Hawes enters the game for Thaddeus Young
76 - 67
5:07
Tony Wroten enters the game for James Anderson
76 - 67
5:07
Bradley Beal misses free throw 2 of 2
76 - 67
5:05
Nene makes two point shot
78 - 67
5:05
Nene offensive rebound
76 - 67
4:52
Nene personal foul (Michael Carter-Williams draws the foul)
78 - 67
4:52
Al Harrington enters the game for Nene
78 - 67
4:39
Tony Wroten misses 28-foot three point jumper
78 - 67
4:37
John Wall defensive rebound
78 - 67
4:33
John Wall misses layup
78 - 67
4:31
Tony Wroten defensive rebound
78 - 67
4:26
Evan Turner misses layup
78 - 67
4:24
Evan Turner offensive rebound
78 - 67
4:20
Michael Carter-Williams makes 26-foot three point jumper (Evan Turner assists)
78 - 70
3:57
Trevor Ariza bad pass (Michael Carter-Williams steals)
78 - 70
3:53
Tony Wroten makes two point shot (Michael Carter-Williams assists)
78 - 72
3:34
Al Harrington makes 25-foot three point jumper (Marcin Gortat assists)
81 - 72
3:34
Lavoy Allen away from play foul (Al Harrington draws the foul)
82 - 72
3:34
Darius Morris enters the game for Michael Carter-Williams
81 - 72
3:34
Marcin Gortat makes free throw 1 of 1
82 - 72
3:34
Martell Webster enters the game for Bradley Beal
82 - 72
3:14
Evan Turner makes 13-foot two point shot (Darius Morris assists)
82 - 74
2:58
Al Harrington misses 12-foot jumper
82 - 74
2:56
Lavoy Allen defensive rebound
82 - 74
2:48
Evan Turner makes two point shot (Darius Morris assists)
82 - 76
2:32
Al Harrington misses 26-foot three point jumper
82 - 76
2:31
Lavoy Allen defensive rebound
82 - 76
2:17
Spencer Hawes misses 15-foot jumper
82 - 76
2:15
Marcin Gortat defensive rebound
82 - 76
1:55
John Wall makes 27-foot three point jumper (Trevor Ariza assists)
85 - 76
1:46
76ers Full timeout
85 - 76
1:46
Kevin Seraphin enters the game for Marcin Gortat
85 - 76
1:46
Michael Carter-Williams enters the game for Evan Turner
85 - 76
1:46
Thaddeus Young enters the game for Lavoy Allen
85 - 76
1:34
Spencer Hawes misses 5-foot jumper
85 - 76
1:31
Martell Webster defensive rebound
85 - 76
1:19
Al Harrington misses three point jumper
85 - 76
1:17
Kevin Seraphin offensive rebound
85 - 76
1:09
John Wall misses 26-foot three point jumper
85 - 76
1:08
Darius Morris defensive rebound
85 - 76
1:01
Tony Wroten misses three point jumper
85 - 76
1:00
Al Harrington defensive rebound
85 - 76
0:58
Darius Morris shooting foul (John Wall draws the foul)
85 - 76
0:58
John Wall makes free throw 1 of 2
86 - 76
0:58
John Wall makes free throw 2 of 2
87 - 76
0:42
Thaddeus Young misses 7-foot jumper
87 - 76
0:42
76ers offensive team rebound
87 - 76
0:42
Trevor Ariza personal foul (Michael Carter-Williams draws the foul)
87 - 76
0:33
Michael Carter-Williams bad pass (Trevor Ariza steals)
87 - 76
0:30
Michael Carter-Williams shooting foul (Martell Webster draws the foul)
87 - 76
0:30
Martell Webster makes free throw 1 of 2
88 - 76
0:30
Eric Maynor enters the game for John Wall
88 - 76
0:30
Martell Webster makes free throw 2 of 2
89 - 76
0:07
Tony Wroten misses layup
89 - 76
0:05
Al Harrington defensive rebound
89 - 76
0:00
Kevin Seraphin misses layup
89 - 76
0:00
Eric Maynor offensive rebound
89 - 76
0:00
Eric Maynor misses 15-foot jumper
89 - 76
0:00
Wizards offensive team rebound
89 - 76
0:00
End of the 3rd Quarter
89 - 76

time
TEAM
PLAY
SCORE
11:42
Bradley Beal makes 5-foot jumper (Martell Webster assists)
91 - 76
11:22
Darius Morris traveling
91 - 76
11:22
Evan Turner enters the game for Michael Carter-Williams
91 - 76
11:07
Kevin Seraphin traveling
91 - 76
10:53
Bradley Beal shooting foul (Evan Turner draws the foul)
91 - 76
10:53
Evan Turner makes free throw 1 of 2
91 - 77
10:53
Evan Turner makes free throw 2 of 2
91 - 78
10:37
Eric Maynor misses 11-foot jumper
91 - 78
10:37
Tony Wroten defensive rebound
91 - 78
10:33
Darius Morris makes layup (Tony Wroten assists)
91 - 80
10:33
Bradley Beal shooting foul (Darius Morris draws the foul)
91 - 80
10:33
Darius Morris misses free throw 1 of 1
91 - 80
10:33
Kevin Seraphin defensive rebound
91 - 80
10:22
Martell Webster misses 14-foot jumper
91 - 80
10:19
Spencer Hawes defensive rebound
91 - 80
10:11
Spencer Hawes offensive Charge (Martell Webster draws the foul)
91 - 80
10:11
Spencer Hawes turnover
91 - 80
10:11
Marcin Gortat enters the game for Kevin Seraphin
91 - 80
10:00
Bradley Beal misses 16-foot jumper
91 - 80
9:59
Marcin Gortat offensive rebound
91 - 80
9:56
Spencer Hawes blocks Marcin Gortat 's 3-foot jumper
91 - 80
9:56
76ers defensive team rebound
91 - 80
9:56
Marcin Gortat loose ball foul (Spencer Hawes draws the foul)
91 - 80
9:41
Evan Turner bad pass (Bradley Beal steals)
91 - 80
9:37
Al Harrington makes layup (Bradley Beal assists)
93 - 80
9:37
Evan Turner shooting foul (Al Harrington draws the foul)
93 - 80
9:37
Al Harrington misses free throw 1 of 1
93 - 80
9:36
Evan Turner defensive rebound
93 - 80
9:22
Spencer Hawes makes 24-foot three point jumper (Evan Turner assists)
93 - 83
9:11
Spencer Hawes blocks Al Harrington 's 2-foot layup
93 - 83
9:11
Wizards offensive team rebound
93 - 83
9:11
Nene enters the game for Al Harrington
93 - 83
9:10
Marcin Gortat makes 14-foot jumper (Martell Webster assists)
95 - 83
8:52
Thaddeus Young bad pass (Martell Webster steals)
95 - 83
8:48
Bradley Beal makes layup (Martell Webster assists)
97 - 83
8:48
76ers Full timeout
97 - 83
8:48
Michael Carter-Williams enters the game for Darius Morris
97 - 83
8:48
James Anderson enters the game for Tony Wroten
97 - 83
8:48
Lavoy Allen enters the game for Thaddeus Young
97 - 83
8:27
Michael Carter-Williams makes 13-foot two point shot
97 - 85
8:03
Eric Maynor makes 25-foot three point jumper (Marcin Gortat assists)
100 - 85
7:48
Michael Carter-Williams makes 8-foot two point shot (Spencer Hawes assists)
100 - 87
7:48
Nene shooting foul (Michael Carter-Williams draws the foul)
100 - 88
7:48
Michael Carter-Williams makes free throw 1 of 1
100 - 88
7:31
Martell Webster makes three point jumper (Eric Maynor assists)
103 - 88
7:26
Nene personal foul (Lavoy Allen draws the foul)
103 - 89
7:26
Lavoy Allen misses free throw 1 of 2
103 - 88
7:26
76ers offensive team rebound
103 - 88
7:26
Lavoy Allen makes free throw 2 of 2
103 - 89
7:11
Eric Maynor misses 9-foot jumper
103 - 89
7:09
Spencer Hawes defensive rebound
103 - 89
6:58
Michael Carter-Williams misses 25-foot three point jumper
103 - 89
6:56
Bradley Beal defensive rebound
103 - 89
6:41
Marcin Gortat lost ball turnover (Michael Carter-Williams steals)
103 - 89
6:37
Evan Turner makes layup (Michael Carter-Williams assists)
103 - 91
6:22
Martell Webster misses layup
103 - 91
6:20
Spencer Hawes defensive rebound
103 - 91
6:18
Spencer Hawes bad pass (Marcin Gortat steals)
103 - 91
6:09
Bradley Beal misses jumper
103 - 91
6:09
Wizards offensive team rebound
103 - 91
6:09
Wizards Full timeout
103 - 91
6:09
John Wall enters the game for Eric Maynor
103 - 91
6:09
Thaddeus Young enters the game for Spencer Hawes
103 - 91
5:43
Bradley Beal misses 28-foot three point jumper
103 - 91
5:41
Marcin Gortat offensive rebound
103 - 91
5:33
Nene makes two point shot (John Wall assists)
105 - 91
5:15
Thaddeus Young misses 26-foot three point jumper
105 - 91
5:13
Marcin Gortat defensive rebound
105 - 91
4:54
Bradley Beal misses three point jumper
105 - 91
4:54
76ers defensive team rebound
105 - 91
4:54
Marcin Gortat loose ball foul (Thaddeus Young draws the foul)
105 - 91
4:54
Thaddeus Young misses free throw 1 of 2
105 - 91
4:54
76ers offensive team rebound
105 - 91
4:54
Thaddeus Young makes free throw 2 of 2
105 - 92
4:41
Martell Webster makes three point jumper (John Wall assists)
108 - 92
4:35
John Wall shooting foul (Evan Turner draws the foul)
108 - 92
4:35
Evan Turner makes free throw 1 of 2
108 - 93
4:35
Spencer Hawes enters the game for Lavoy Allen
108 - 93
4:35
Evan Turner makes free throw 2 of 2
108 - 94
4:11
John Wall misses 22-foot jumper
108 - 94
4:09
Nene offensive rebound
108 - 94
4:01
Nene misses layup
108 - 94
4:00
Evan Turner defensive rebound
108 - 94
3:53
Thaddeus Young misses jumper
108 - 94
3:51
Martell Webster defensive rebound
108 - 94
3:29
Martell Webster makes 25-foot three point jumper (Bradley Beal assists)
111 - 94
3:17
Spencer Hawes makes 12-foot jumper (Michael Carter-Williams assists)
111 - 96
2:53
John Wall bad pass
111 - 96
2:53
Official timeout
111 - 96
2:53
Trevor Ariza enters the game for Nene
111 - 96
2:41
Spencer Hawes misses 26-foot three point jumper
111 - 96
2:40
Bradley Beal defensive rebound
111 - 96
2:15
Martell Webster misses 27-foot three point jumper
111 - 96
2:14
Evan Turner defensive rebound
111 - 96
2:09
Michael Carter-Williams misses jumper
111 - 96
2:04
Martell Webster defensive rebound
111 - 96
1:50
John Wall misses 5-foot jumper
111 - 96
1:47
Spencer Hawes defensive rebound
111 - 96
1:39
Michael Carter-Williams makes 7-foot jumper
111 - 98
1:39
John Wall shooting foul (Michael Carter-Williams draws the foul)
111 - 98
1:39
Michael Carter-Williams misses free throw 1 of 1
111 - 98
1:39
76ers Full timeout
111 - 98
1:38
Spencer Hawes makes two point shot
111 - 100
1:38
Spencer Hawes offensive rebound
111 - 98
1:19
Spencer Hawes shooting foul (Marcin Gortat draws the foul)
111 - 100
1:19
Marcin Gortat makes free throw 1 of 2
112 - 100
1:19
Marcin Gortat makes free throw 2 of 2
113 - 100
1:05
Michael Carter-Williams misses layup
113 - 100
1:04
John Wall defensive rebound
113 - 100
0:45
Martell Webster misses 27-foot three point jumper
113 - 100
0:43
Spencer Hawes defensive rebound
113 - 100
0:33
Spencer Hawes makes layup (Thaddeus Young assists)
113 - 102
0:14
John Wall makes 26-foot three point jumper
116 - 102
0:00
End of the 4th Quarter
116 - 102
Jemele Hill makes a case that Warriors forward Draymond Green is a better all-around player than Cavaliers star LeBron James. Taylor Twellman vehemently disagrees with her.

LeBron James tells reporters he and Dwyane Wade have always talked about playing against each other in the playoffs and comments on his potential role in "Space Jam 2."

Stephen A. Smith does not believe the Warriors should play Stephen Curry in Game 3 against the Blazers because Golden State can win the series without him.
Regular Season Series
WSH wins series 3-1
2015-2016 Southeast Standings
2015-2016 Atlantic Standings