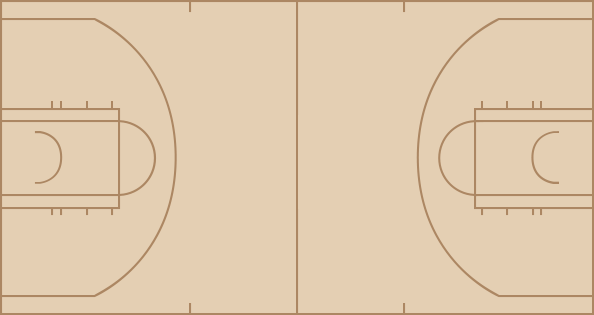 Spurs
time
TEAM
PLAY
SCORE
12:00
Tiago Splitter vs. Spencer Hawes (Tony Parker gains possession)
0 - 0
11:42
Tiago Splitter misses layup
0 - 0
11:41
Spencer Hawes defensive rebound
0 - 0
11:34
Evan Turner misses jumper
0 - 0
11:33
Tiago Splitter defensive rebound
0 - 0
11:15
Michael Carter-Williams blocks Kawhi Leonard 's 2-foot layup
0 - 0
11:12
Evan Turner defensive rebound
0 - 0
11:06
Spencer Hawes misses 26-foot three point jumper
0 - 0
11:03
Danny Green defensive rebound
0 - 0
10:56
Tiago Splitter makes 6-foot two point shot (Boris Diaw assists)
2 - 0
10:41
Thaddeus Young misses 16-foot jumper
2 - 0
10:38
Danny Green defensive rebound
2 - 0
10:26
Boris Diaw lost ball turnover (Michael Carter-Williams steals)
2 - 0
10:18
Evan Turner misses 25-foot three point jumper
2 - 0
10:17
Kawhi Leonard defensive rebound
2 - 0
10:04
Tiago Splitter makes 1-foot dunk (Boris Diaw assists)
4 - 0
9:40
Spencer Hawes misses 16-foot jumper
4 - 0
9:37
Kawhi Leonard defensive rebound
4 - 0
9:27
Kawhi Leonard bad pass (Michael Carter-Williams steals)
4 - 0
9:22
James Anderson misses layup
4 - 0
9:21
Danny Green defensive rebound
4 - 0
9:12
Kawhi Leonard makes 14-foot two point shot (Danny Green assists)
6 - 0
8:56
Thaddeus Young misses 27-foot three point jumper
6 - 0
8:53
Kawhi Leonard defensive rebound
6 - 0
8:48
Tony Parker bad pass
6 - 0
8:36
James Anderson makes 26-foot three point jumper (Thaddeus Young assists)
6 - 3
8:23
James Anderson personal foul (Tony Parker draws the foul)
6 - 3
8:14
Kawhi Leonard misses three point jumper
6 - 3
8:11
Spencer Hawes defensive rebound
6 - 3
8:03
Evan Turner makes two point shot
6 - 5
7:50
Michael Carter-Williams blocks Tony Parker 's 18-foot jumper
6 - 5
7:48
Michael Carter-Williams defensive rebound
6 - 5
7:39
Evan Turner makes two point shot (James Anderson assists)
6 - 7
7:28
Danny Green makes 26-foot three point jumper (Tony Parker assists)
9 - 7
7:09
Thaddeus Young misses jumper
9 - 7
7:07
Danny Green defensive rebound
9 - 7
6:43
Danny Green makes 25-foot three point jumper (Kawhi Leonard assists)
12 - 7
6:33
Michael Carter-Williams misses 27-foot three point jumper
12 - 7
6:31
Tiago Splitter defensive rebound
12 - 7
6:18
Tony Parker makes two point shot
14 - 7
6:16
76ers Full timeout
14 - 7
6:16
Manu Ginobili enters the game for Kawhi Leonard
14 - 7
5:56
Evan Turner traveling
14 - 7
5:41
Tony Parker misses 23-foot jumper
14 - 7
5:39
James Anderson defensive rebound
14 - 7
5:33
Michael Carter-Williams misses 17-foot jumper
14 - 7
5:31
Boris Diaw defensive rebound
14 - 7
5:22
Boris Diaw misses 26-foot three point jumper
14 - 7
5:20
Spencer Hawes defensive rebound
14 - 7
5:13
James Anderson makes two point shot (Spencer Hawes assists)
14 - 9
4:52
Tony Parker misses three point jumper
14 - 9
4:48
Boris Diaw offensive rebound
14 - 9
4:47
Tiago Splitter misses 5-foot jumper
14 - 9
4:45
Spencer Hawes defensive rebound
14 - 9
4:35
Spencer Hawes misses 4-foot jumper
14 - 9
4:33
Spencer Hawes offensive rebound
14 - 9
4:33
Spencer Hawes makes two point shot
14 - 11
4:22
Tony Parker makes driving layup
16 - 11
4:01
James Anderson misses 18-foot jumper
16 - 11
3:58
Tiago Splitter defensive rebound
16 - 11
3:44
Spencer Hawes shooting foul (Tiago Splitter draws the foul)
16 - 11
3:44
Tiago Splitter makes free throw 1 of 2
17 - 11
3:44
Patty Mills enters the game for Danny Green
17 - 11
3:44
Marco Belinelli enters the game for Tony Parker
17 - 11
3:44
Tony Wroten enters the game for James Anderson
17 - 11
3:44
Lavoy Allen enters the game for Spencer Hawes
17 - 11
3:44
Jeff Ayres enters the game for Boris Diaw
17 - 11
3:44
Darius Morris enters the game for Michael Carter-Williams
17 - 11
3:44
Tiago Splitter misses free throw 2 of 2
17 - 11
3:39
Thaddeus Young defensive rebound
17 - 11
3:28
Evan Turner makes driving layup
17 - 13
3:08
Lavoy Allen shooting foul (Tiago Splitter draws the foul)
17 - 13
3:08
Tiago Splitter makes free throw 1 of 2
18 - 13
3:08
Tiago Splitter makes free throw 2 of 2
19 - 13
2:55
Tiago Splitter blocks Tony Wroten's jumper
19 - 13
2:54
Jeff Ayres defensive rebound
19 - 13
2:47
Thaddeus Young blocks Tiago Splitter 's 2-foot layup
19 - 13
2:47
Spurs offensive team rebound
19 - 13
2:47
Spurs Full timeout
19 - 13
2:47
Brandon Davies enters the game for Thaddeus Young
19 - 13
2:47
Kawhi Leonard enters the game for Tiago Splitter
19 - 13
2:38
Manu Ginobili makes two point shot
21 - 13
2:38
Brandon Davies defensive goaltending violation
21 - 13
2:26
Evan Turner misses jumper
21 - 13
2:24
Kawhi Leonard defensive rebound
21 - 13
2:08
Marco Belinelli makes 25-foot three point jumper (Patty Mills assists)
24 - 13
1:54
Lavoy Allen misses 17-foot jumper
24 - 13
1:53
Kawhi Leonard defensive rebound
24 - 13
1:31
Marco Belinelli misses three point jumper
24 - 13
1:29
Tony Wroten defensive rebound
24 - 13
1:16
Darius Morris bad pass (Kawhi Leonard steals)
24 - 13
1:07
Manu Ginobili makes 25-foot three point jumper (Patty Mills assists)
27 - 13
0:53
Tony Wroten lost ball turnover (Patty Mills steals)
27 - 13
0:50
Patty Mills makes layup (Marco Belinelli assists)
29 - 13
0:48
Lavoy Allen bad pass (Patty Mills steals)
29 - 13
0:38
Tony Wroten blocks Marco Belinelli's layup
29 - 13
0:36
Marco Belinelli offensive rebound
29 - 13
0:34
Marco Belinelli makes 8-foot two point shot
31 - 13
0:34
76ers 20 Sec. timeout
31 - 13
0:34
Hollis Thompson enters the game for Evan Turner
31 - 13
0:27
Darius Morris misses 18-foot jumper
31 - 13
0:25
Marco Belinelli defensive rebound
31 - 13
0:07
Marco Belinelli steps out of bounds turnover
31 - 13
0:04
Manu Ginobili personal foul (Darius Morris draws the foul)
31 - 13
0:00
End of the 1st Quarter
31 - 13

time
TEAM
PLAY
SCORE
11:37
Darius Morris offensive Charge (Jeff Ayres draws the foul)
31 - 13
11:37
Darius Morris turnover
31 - 13
11:37
Spencer Hawes enters the game for Brandon Davies
31 - 13
11:22
Manu Ginobili misses 15-foot jumper
31 - 13
11:21
Spencer Hawes defensive rebound
31 - 13
11:11
Tony Wroten makes driving layup (Darius Morris assists)
31 - 15
11:00
Spencer Hawes blocks Kawhi Leonard 's 3-foot jumper
31 - 15
10:57
Lavoy Allen defensive rebound
31 - 15
10:47
Spencer Hawes makes 4-foot two point shot (Darius Morris assists)
31 - 17
10:47
Jeff Ayres shooting foul (Spencer Hawes draws the foul)
31 - 18
10:47
Michael Carter-Williams enters the game for Tony Wroten
31 - 17
10:47
Spencer Hawes makes free throw 1 of 1
31 - 18
10:22
Patty Mills misses 25-foot three point jumper
31 - 18
10:19
Spencer Hawes defensive rebound
31 - 18
10:18
Spencer Hawes bad pass (Patty Mills steals)
31 - 18
10:11
Michael Carter-Williams blocks Marco Belinelli's jumper
31 - 18
10:07
Lavoy Allen defensive rebound
31 - 18
9:53
Darius Morris misses 25-foot three point jumper
31 - 18
9:52
Jeff Ayres defensive rebound
31 - 18
9:42
Marco Belinelli misses 27-foot three point jumper
31 - 18
9:41
Lavoy Allen defensive rebound
31 - 18
9:33
Jeff Ayres shooting foul (Spencer Hawes draws the foul)
31 - 18
9:33
Spencer Hawes makes free throw 1 of 2
31 - 19
9:33
Danny Green enters the game for Manu Ginobili
31 - 19
9:33
Tiago Splitter enters the game for Jeff Ayres
31 - 19
9:33
Evan Turner enters the game for Lavoy Allen
31 - 19
9:33
Thaddeus Young enters the game for Hollis Thompson
31 - 19
9:33
Spencer Hawes makes free throw 2 of 2
31 - 20
9:11
Kawhi Leonard lost ball turnover (Michael Carter-Williams steals)
31 - 20
9:06
Evan Turner makes 25-foot three point jumper (Michael Carter-Williams assists)
31 - 23
9:06
Spurs Full timeout
31 - 23
9:06
Tony Parker enters the game for Patty Mills
31 - 23
9:06
Boris Diaw enters the game for Kawhi Leonard
31 - 23
8:45
Danny Green misses 11-foot jumper
31 - 23
8:42
Spencer Hawes defensive rebound
31 - 23
8:34
Danny Green blocks Michael Carter-Williams 's 6-foot jumper
31 - 23
8:32
Thaddeus Young offensive rebound
31 - 23
8:26
Evan Turner misses 8-foot jumper
31 - 23
8:25
Marco Belinelli defensive rebound
31 - 23
8:11
Boris Diaw misses 17-foot jumper
31 - 23
8:11
Spencer Hawes defensive rebound
31 - 23
8:03
James Anderson enters the game for Darius Morris
31 - 23
7:54
Spencer Hawes misses 4-foot jumper
31 - 23
7:54
Danny Green defensive rebound
31 - 23
7:33
Boris Diaw makes layup (Tony Parker assists)
33 - 23
7:33
Spurs delay of game violation
33 - 23
7:18
Michael Carter-Williams makes 2-foot two point shot
33 - 25
6:58
Boris Diaw lost ball turnover (Thaddeus Young steals)
33 - 25
6:52
Thaddeus Young bad pass (Marco Belinelli steals)
33 - 25
6:43
Boris Diaw makes 6-foot two point shot
35 - 25
6:28
Spencer Hawes misses 3-foot jumper
35 - 25
6:26
Boris Diaw defensive rebound
35 - 25
6:13
Boris Diaw traveling
35 - 25
5:58
Evan Turner makes two point shot (Michael Carter-Williams assists)
35 - 27
5:41
Danny Green makes 25-foot three point jumper (Tony Parker assists)
38 - 27
5:18
Spencer Hawes makes 25-foot three point jumper (Evan Turner assists)
38 - 30
5:01
Marco Belinelli makes three point jumper (Tony Parker assists)
41 - 30
4:43
Spencer Hawes misses 26-foot three point jumper
41 - 30
4:41
Thaddeus Young offensive rebound
41 - 30
4:35
Evan Turner misses 15-foot jumper
41 - 30
4:33
Tony Parker defensive rebound
41 - 30
4:18
Tiago Splitter makes two point shot (Danny Green assists)
43 - 30
4:18
Spurs Full timeout
43 - 30
4:18
Kawhi Leonard enters the game for Marco Belinelli
43 - 30
4:18
Manu Ginobili enters the game for Boris Diaw
43 - 30
4:05
Evan Turner makes 5-foot two point shot
43 - 32
3:48
Tony Parker bad pass
43 - 32
3:41
Danny Green personal foul (Evan Turner draws the foul)
43 - 32
3:34
Evan Turner makes two point shot
43 - 34
3:19
Danny Green makes 26-foot three point jumper (Tony Parker assists)
46 - 34
3:09
Michael Carter-Williams misses jumper
46 - 34
3:06
Kawhi Leonard defensive rebound
46 - 34
2:54
Tony Parker makes two point shot
48 - 34
2:38
Evan Turner misses 25-foot three point jumper
48 - 34
2:36
Thaddeus Young offensive rebound
48 - 34
2:33
Thaddeus Young makes 3-foot two point shot
48 - 36
2:32
76ers delay of game violation
48 - 36
2:15
Kawhi Leonard misses three point jumper
48 - 36
2:12
Tony Parker offensive rebound
48 - 36
2:00
Tony Parker makes driving layup
50 - 36
1:43
Spencer Hawes traveling
50 - 36
1:43
Official timeout
50 - 36
1:43
Darius Morris enters the game for Evan Turner
50 - 36
1:43
Tony Wroten enters the game for Thaddeus Young
50 - 36
1:43
Brandon Davies enters the game for Spencer Hawes
50 - 36
1:43
Lavoy Allen enters the game for James Anderson
50 - 36
1:28
Tiago Splitter makes two point shot (Manu Ginobili assists)
52 - 36
1:28
Brandon Davies defensive goaltending violation
52 - 36
1:12
Michael Carter-Williams misses 7-foot jumper
52 - 36
1:10
Tiago Splitter defensive rebound
52 - 36
1:00
Manu Ginobili makes 25-foot three point jumper (Danny Green assists)
55 - 36
0:43
Darius Morris misses 14-foot jumper
55 - 36
0:42
76ers offensive team rebound
55 - 36
0:36
Tiago Splitter shooting foul (Michael Carter-Williams draws the foul)
55 - 36
0:36
Michael Carter-Williams makes free throw 1 of 2
55 - 37
0:36
Jeff Ayres enters the game for Kawhi Leonard
55 - 37
0:36
Michael Carter-Williams makes free throw 2 of 2
55 - 38
0:28
Tony Parker makes two point shot
57 - 38
0:04
Michael Carter-Williams misses 22-foot jumper
57 - 38
0:02
Manu Ginobili defensive rebound
57 - 38
0:00
Danny Green misses three point jumper
57 - 38
0:00
Spurs offensive team rebound
57 - 38
0:00
End of the 2nd Quarter
57 - 38

time
TEAM
PLAY
SCORE
11:47
James Anderson bad pass (Danny Green steals)
57 - 38
11:41
Kawhi Leonard makes layup (Tony Parker assists)
59 - 38
11:14
Evan Turner misses layup
59 - 38
11:12
Spencer Hawes makes layup
59 - 40
11:12
Spencer Hawes offensive rebound
59 - 38
10:49
Boris Diaw misses layup
59 - 40
10:48
76ers defensive team rebound
59 - 40
10:48
Tiago Splitter loose ball foul (Evan Turner draws the foul)
59 - 40
10:30
Kawhi Leonard personal foul (Evan Turner draws the foul)
59 - 40
10:22
Michael Carter-Williams out of bounds lost ball turnover
59 - 40
10:07
Kawhi Leonard makes 3-foot two point shot (Tony Parker assists)
61 - 40
9:52
Evan Turner misses 18-foot jumper
61 - 40
9:51
Thaddeus Young offensive rebound
61 - 40
9:44
Thaddeus Young makes 3-foot two point shot
61 - 42
9:26
Danny Green misses 27-foot three point jumper
61 - 42
9:25
Boris Diaw offensive rebound
61 - 42
9:11
Tony Parker makes 19-foot two point shot
63 - 42
8:56
Michael Carter-Williams misses three point jumper
63 - 42
8:55
Spencer Hawes offensive rebound
63 - 42
8:51
Michael Carter-Williams offensive foul (Danny Green draws the foul)
63 - 42
8:51
Michael Carter-Williams turnover
63 - 42
8:51
Jeff Ayres enters the game for Boris Diaw
63 - 42
8:36
Tony Parker misses 19-foot jumper
63 - 42
8:33
Kawhi Leonard offensive rebound
63 - 42
8:21
Tony Parker traveling
63 - 42
8:07
Michael Carter-Williams misses
63 - 42
8:04
Jeff Ayres defensive rebound
63 - 42
7:58
Kawhi Leonard makes three point jumper (Tony Parker assists)
66 - 42
7:41
Spencer Hawes makes two point shot (Evan Turner assists)
66 - 44
7:22
Danny Green makes three point jumper (Jeff Ayres assists)
69 - 44
7:09
James Anderson makes layup (Spencer Hawes assists)
69 - 46
6:50
Kawhi Leonard makes 16-foot two point shot
71 - 46
6:39
Thaddeus Young misses 25-foot three point jumper
71 - 46
6:37
Danny Green defensive rebound
71 - 46
6:22
Kawhi Leonard makes 17-foot two point shot (Tony Parker assists)
73 - 46
6:22
Patty Mills enters the game for Tony Parker
73 - 46
6:22
Tony Wroten enters the game for James Anderson
73 - 46
6:22
76ers Full timeout
73 - 46
6:07
Patty Mills personal foul (Michael Carter-Williams draws the foul)
73 - 46
6:07
Marco Belinelli enters the game for Kawhi Leonard
73 - 46
5:56
Evan Turner misses jumper
73 - 46
5:54
Tiago Splitter defensive rebound
73 - 46
5:39
Patty Mills misses 16-foot jumper
73 - 46
5:37
Jeff Ayres misses layup
73 - 46
5:37
Jeff Ayres offensive rebound
73 - 46
5:35
Tiago Splitter offensive rebound
73 - 46
5:33
Jeff Ayres makes layup (Tiago Splitter assists)
75 - 46
5:16
Spencer Hawes makes three point jumper (Michael Carter-Williams assists)
75 - 49
5:03
Lavoy Allen enters the game for Thaddeus Young
75 - 49
5:01
Tony Wroten personal foul (Marco Belinelli draws the foul)
75 - 49
4:56
Spencer Hawes blocks Tiago Splitter 's 13-foot jumper
75 - 49
4:54
Michael Carter-Williams defensive rebound
75 - 49
4:41
Evan Turner misses layup
75 - 49
4:39
Evan Turner misses tip shot
75 - 49
4:39
Evan Turner offensive rebound
75 - 49
4:35
Danny Green defensive rebound
75 - 49
4:31
Patty Mills misses 26-foot three point jumper
75 - 49
4:31
Spencer Hawes defensive rebound
75 - 49
4:28
Evan Turner makes 1-foot dunk (Spencer Hawes assists)
75 - 51
4:24
Spurs Full timeout
75 - 51
4:05
Jeff Ayres misses layup
75 - 51
4:03
Lavoy Allen defensive rebound
75 - 51
3:47
Evan Turner makes layup (Tony Wroten assists)
75 - 53
3:23
Marco Belinelli makes driving layup
77 - 53
3:08
Lavoy Allen makes two point shot
77 - 55
3:08
Jeff Ayres shooting foul (Lavoy Allen draws the foul)
77 - 55
3:08
Lavoy Allen misses free throw 1 of 1
77 - 55
3:08
Brandon Davies enters the game for Spencer Hawes
77 - 55
3:06
Brandon Davies offensive rebound
77 - 55
2:47
Tony Wroten makes layup (Michael Carter-Williams assists)
77 - 57
2:31
Evan Turner personal foul (Tiago Splitter draws the foul)
77 - 57
2:31
Boris Diaw enters the game for Tiago Splitter
77 - 57
2:31
Hollis Thompson enters the game for Evan Turner
77 - 57
2:26
Danny Green makes 6-foot jumper (Jeff Ayres assists)
79 - 57
2:26
Tony Wroten shooting foul (Danny Green draws the foul)
79 - 57
2:26
Danny Green makes free throw 1 of 1
80 - 57
2:15
Lavoy Allen makes 19-foot jumper (Tony Wroten assists)
80 - 59
1:54
Patty Mills makes three point jumper (Marco Belinelli assists)
83 - 59
1:44
Michael Carter-Williams makes driving layup (Tony Wroten assists)
83 - 61
1:34
Brandon Davies blocks Jeff Ayres's jumper
83 - 61
1:31
Lavoy Allen defensive rebound
83 - 61
1:27
Tony Wroten misses 26-foot three point jumper
83 - 61
1:24
Hollis Thompson offensive rebound
83 - 61
1:05
Michael Carter-Williams misses 12-foot jumper
83 - 61
1:01
Boris Diaw defensive rebound
83 - 61
0:59
Boris Diaw traveling
83 - 61
0:59
Darius Morris enters the game for Michael Carter-Williams
83 - 61
0:59
Kawhi Leonard enters the game for Boris Diaw
83 - 61
0:36
Brandon Davies makes 9-foot two point shot
83 - 63
0:21
Kawhi Leonard misses 12-foot jumper
83 - 63
0:19
Lavoy Allen defensive rebound
83 - 63
0:03
Danny Green shooting foul (Tony Wroten draws the foul)
83 - 63
0:03
Tony Wroten makes free throw 1 of 2
83 - 64
0:03
Tony Wroten misses free throw 2 of 2
83 - 64
0:01
Kawhi Leonard defensive rebound
83 - 64
0:00
End of the 3rd Quarter
83 - 64

time
TEAM
PLAY
SCORE
11:41
Patty Mills makes three point jumper (Kawhi Leonard assists)
86 - 64
11:29
Brandon Davies lost ball turnover (Kawhi Leonard steals)
86 - 64
11:25
Patty Mills makes layup (Kawhi Leonard assists)
88 - 64
11:07
Tony Wroten makes driving layup
88 - 66
10:45
Jeff Ayres misses 18-foot jumper
88 - 66
10:44
76ers defensive team rebound
88 - 66
10:22
Tony Wroten makes 26-foot three point jumper (Brandon Davies assists)
88 - 69
9:59
Kawhi Leonard misses 24-foot three point jumper
88 - 69
9:56
Brandon Davies defensive rebound
88 - 69
9:45
Nando de Colo enters the game for Danny Green
88 - 69
9:45
Marco Belinelli kicked ball violation
88 - 69
9:45
Tony Parker enters the game for Kawhi Leonard
88 - 69
9:45
Boris Diaw enters the game for Patty Mills
88 - 69
9:37
Darius Morris misses jumper
88 - 69
9:37
Marco Belinelli defensive rebound
88 - 69
9:19
Marco Belinelli misses three point jumper
88 - 69
9:18
Spurs offensive team rebound
88 - 69
8:59
Tony Parker misses 17-foot jumper
88 - 69
8:56
Hollis Thompson defensive rebound
88 - 69
8:51
Tony Wroten traveling
88 - 69
8:51
Official timeout
88 - 69
8:51
Evan Turner enters the game for Lavoy Allen
88 - 69
8:51
Thaddeus Young enters the game for Brandon Davies
88 - 69
8:51
Spencer Hawes enters the game for Hollis Thompson
88 - 69
8:33
Darius Morris personal foul (Tony Parker draws the foul)
88 - 69
8:26
Boris Diaw misses jumper
88 - 69
8:25
Jeff Ayres offensive rebound
88 - 69
8:22
Jeff Ayres makes two point shot
90 - 69
8:10
Spencer Hawes bad pass (Marco Belinelli steals)
90 - 69
8:06
Jeff Ayres misses layup
90 - 69
8:04
Marco Belinelli offensive rebound
90 - 69
8:03
Marco Belinelli misses layup
90 - 69
8:02
Spurs offensive team rebound
90 - 69
8:00
Marco Belinelli makes 16-foot jumper (Boris Diaw assists)
92 - 69
7:39
Spencer Hawes misses 5-foot jumper
92 - 69
7:37
Marco Belinelli defensive rebound
92 - 69
7:18
Jeff Ayres makes 16-foot jumper
94 - 69
7:07
Darius Morris makes driving layup
94 - 71
7:07
Jeff Ayres shooting foul (Darius Morris draws the foul)
94 - 71
7:07
Darius Morris makes free throw 1 of 1
94 - 72
7:07
James Anderson enters the game for Tony Wroten
94 - 72
7:07
Cory Joseph enters the game for Marco Belinelli
94 - 72
6:56
Nando de Colo misses 26-foot three point jumper
94 - 72
6:54
Spencer Hawes defensive rebound
94 - 72
6:45
James Anderson misses 25-foot three point jumper
94 - 72
6:43
Jeff Ayres defensive rebound
94 - 72
6:33
Jeff Ayres misses layup
94 - 72
6:31
Darius Morris defensive rebound
94 - 72
6:26
Darius Morris makes driving layup
94 - 74
6:09
Tony Parker makes 5-foot two point shot
96 - 74
5:58
Thaddeus Young makes layup (Darius Morris assists)
96 - 76
5:46
Boris Diaw bad pass
96 - 76
5:46
76ers Full timeout
96 - 76
5:46
Michael Carter-Williams enters the game for Darius Morris
96 - 76
5:33
Cory Joseph shooting foul (Evan Turner draws the foul)
96 - 76
5:33
Evan Turner misses free throw 1 of 2
96 - 76
5:33
76ers offensive team rebound
96 - 76
5:33
Evan Turner makes free throw 2 of 2
96 - 77
5:24
Spencer Hawes kicked ball violation
96 - 77
5:16
Nando de Colo misses 26-foot three point jumper
96 - 77
5:15
Thaddeus Young defensive rebound
96 - 77
5:05
Evan Turner misses 27-foot three point jumper
96 - 77
5:03
Nando de Colo defensive rebound
96 - 77
4:47
Cory Joseph misses jumper
96 - 77
4:45
Evan Turner defensive rebound
96 - 77
4:33
Boris Diaw shooting foul (Thaddeus Young draws the foul)
96 - 77
4:33
Thaddeus Young makes free throw 1 of 2
96 - 78
4:33
Thaddeus Young misses free throw 2 of 2
96 - 78
4:31
Tony Parker defensive rebound
96 - 78
4:09
Nando de Colo makes 25-foot three point jumper (Cory Joseph assists)
99 - 78
3:58
Tony Parker shooting foul (Michael Carter-Williams draws the foul)
99 - 78
3:58
Michael Carter-Williams makes free throw 1 of 2
99 - 79
3:58
Patty Mills enters the game for Tony Parker
99 - 79
3:58
Michael Carter-Williams makes free throw 2 of 2
99 - 80
3:40
Cory Joseph makes 7-foot two point shot
101 - 80
3:35
Spencer Hawes bad pass (Patty Mills steals)
101 - 80
3:24
Boris Diaw makes 4-foot two point shot (Nando de Colo assists)
103 - 80
3:17
76ers Full timeout
103 - 80
3:17
Darius Morris enters the game for Evan Turner
103 - 80
3:17
Hollis Thompson enters the game for Thaddeus Young
103 - 80
3:17
Lavoy Allen enters the game for Spencer Hawes
103 - 80
3:17
Brandon Davies enters the game for James Anderson
103 - 80
3:17
Tony Wroten enters the game for Michael Carter-Williams
103 - 80
3:17
Aron Baynes enters the game for Jeff Ayres
103 - 80
3:13
Brandon Davies misses 18-foot jumper
103 - 80
3:11
Aron Baynes defensive rebound
103 - 80
2:55
Cory Joseph traveling
103 - 80
2:43
Tony Wroten misses 3-foot jumper
103 - 80
2:42
Tony Wroten makes layup
103 - 82
2:42
Tony Wroten offensive rebound
103 - 80
2:42
Patty Mills shooting foul (Tony Wroten draws the foul)
103 - 82
2:42
Tony Wroten makes free throw 1 of 1
103 - 83
2:25
Boris Diaw makes 18-foot jumper (Cory Joseph assists)
105 - 83
2:15
Brandon Davies makes layup (Darius Morris assists)
105 - 85
2:02
Cory Joseph misses 21-foot jumper
105 - 85
2:00
Hollis Thompson defensive rebound
105 - 85
1:46
Brandon Davies misses 20-foot jumper
105 - 85
1:45
Aron Baynes defensive rebound
105 - 85
1:28
Lavoy Allen shooting foul (Cory Joseph draws the foul)
105 - 85
1:28
Cory Joseph makes free throw 1 of 2
106 - 85
1:28
Cory Joseph makes free throw 2 of 2
107 - 85
1:15
Lavoy Allen misses 19-foot jumper
107 - 85
1:15
Patty Mills defensive rebound
107 - 85
1:06
Tony Wroten personal foul (Cory Joseph draws the foul)
107 - 85
1:06
Cory Joseph misses free throw 1 of 2
107 - 85
1:06
Cory Joseph makes free throw 2 of 2
108 - 85
1:06
Spurs offensive team rebound
107 - 85
0:54
Tony Wroten misses 26-foot three point jumper
108 - 85
0:52
Nando de Colo defensive rebound
108 - 85
0:41
Aron Baynes misses 8-foot hook shot
108 - 85
0:39
Cory Joseph offensive rebound
108 - 85
0:34
Brandon Davies shooting foul (Cory Joseph draws the foul)
108 - 85
0:34
Cory Joseph misses free throw 1 of 2
108 - 85
0:34
Spurs offensive team rebound
108 - 85
0:34
Cory Joseph makes free throw 2 of 2
109 - 85
0:27
Hollis Thompson misses 26-foot three point jumper
109 - 85
0:24
Patty Mills defensive rebound
109 - 85
0:05
Lavoy Allen blocks Cory Joseph's layup
109 - 85
0:02
Patty Mills misses 27-foot three point jumper
109 - 85
0:02
Patty Mills offensive rebound
109 - 85
0:00
Hollis Thompson defensive rebound
109 - 85
0:00
End of the 4th Quarter
109 - 85
0:00
End of Game
109 - 85
Jalen Rose and David Jacoby talk about Kevin Durant's new Tupac/Wu-Tang Clan hybrid leg tattoo and what it could potentially mean for his other leg.

Steph Curry breaks down how he found out Kevin Durant was joining the Warriors and the work that will go in to figure out how Golden State is going to play.

Coach Kenny Atkinson had his doubts about Jeremy Lin during their days with the Knicks, but their work together paved the way for a Brooklyn reunion.
Regular Season Series
SA wins series 2-0
2015-2016 Southwest Standings
2015-2016 Atlantic Standings