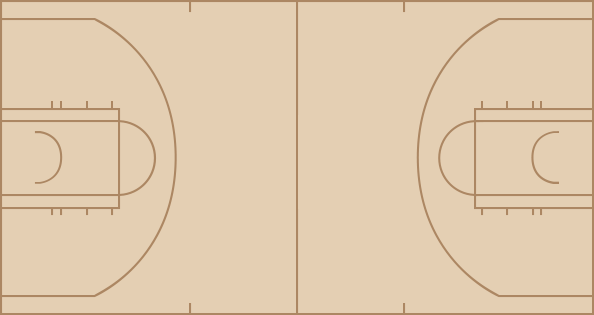 Heat
time
TEAM
PLAY
SCORE
12:00
Chris Bosh vs. Robin Lopez (Dwyane Wade gains possession)
0 - 0
11:41
Chris Bosh makes driving layup (Shane Battier assists)
2 - 0
11:23
Damian Lillard makes three point jumper (Nicolas Batum assists)
2 - 3
11:04
Dwyane Wade makes 11-foot two point shot
4 - 3
10:52
LaMarcus Aldridge bad pass (Shane Battier steals)
4 - 3
10:44
Michael Beasley makes 25-foot three point jumper (Dwyane Wade assists)
7 - 3
10:27
Nicolas Batum bad pass (Chris Bosh steals)
7 - 3
10:15
Dwyane Wade makes 13-foot two point shot
9 - 3
9:48
LaMarcus Aldridge misses 15-foot two point shot
9 - 3
9:47
Mario Chalmers defensive rebound
9 - 3
9:42
Michael Beasley makes 20-foot jumper (Mario Chalmers assists)
11 - 3
9:21
Nicolas Batum makes 23-foot three point jumper (Wesley Matthews assists)
11 - 6
8:59
Chris Bosh makes 19-foot jumper (Mario Chalmers assists)
13 - 6
8:33
LaMarcus Aldridge makes 9-foot two point shot
13 - 8
8:11
Michael Beasley misses 17-foot jumper
13 - 8
8:10
LaMarcus Aldridge defensive rebound
13 - 8
8:00
Robin Lopez makes layup (Damian Lillard assists)
13 - 10
7:48
Chris Bosh makes layup (Mario Chalmers assists)
15 - 10
7:35
Nicolas Batum misses 25-foot three point jumper
15 - 10
7:33
Chris Bosh defensive rebound
15 - 10
7:20
Chris Bosh makes 21-foot jumper
17 - 10
7:07
Robin Lopez makes layup (LaMarcus Aldridge assists)
17 - 12
6:48
Mario Chalmers misses Running Jumper
17 - 12
6:46
Chris Bosh makes two point shot
19 - 12
6:46
Chris Bosh offensive rebound
17 - 12
6:26
LaMarcus Aldridge makes 22-foot jumper (Damian Lillard assists)
19 - 14
5:54
Nicolas Batum blocks Dwyane Wade 's 19-foot jumper
19 - 14
5:54
Nicolas Batum defensive rebound
19 - 14
5:52
Wesley Matthews makes 25-foot three point jumper (Damian Lillard assists)
19 - 17
5:35
Robin Lopez shooting foul (Mario Chalmers draws the foul)
19 - 17
5:35
Trail Blazers Full timeout
19 - 17
5:35
Mario Chalmers makes free throw 1 of 2
20 - 17
5:35
Ray Allen enters the game for Dwyane Wade
20 - 17
5:35
Mario Chalmers makes free throw 2 of 2
21 - 17
5:20
Damian Lillard bad pass (Ray Allen steals)
21 - 17
5:13
Ray Allen lost ball turnover (Wesley Matthews steals)
21 - 17
5:05
Wesley Matthews out of bounds lost ball turnover
21 - 17
5:05
Mo Williams enters the game for Damian Lillard
21 - 17
4:48
Michael Beasley makes driving layup (Mario Chalmers assists)
23 - 17
4:48
Mo Williams shooting foul (Michael Beasley draws the foul)
24 - 17
4:48
Michael Beasley makes free throw 1 of 1
24 - 17
4:28
LaMarcus Aldridge makes 16-foot two point shot (Nicolas Batum assists)
24 - 19
4:09
Chris Bosh lost ball turnover (Nicolas Batum steals)
24 - 19
4:01
Wesley Matthews makes 23-foot (Mo Williams assists)
24 - 22
3:43
Michael Beasley misses 9-foot Running Jumper
24 - 22
3:42
Robin Lopez defensive rebound
24 - 22
3:32
LaMarcus Aldridge makes 21-foot jumper (Mo Williams assists)
24 - 24
3:31
Heat Full timeout
24 - 24
3:31
Joel Freeland enters the game for Robin Lopez
24 - 24
3:31
Rashard Lewis enters the game for Shane Battier
24 - 24
3:15
Rashard Lewis makes 23-foot three point jumper (Mario Chalmers assists)
27 - 24
3:02
Wesley Matthews misses layup
27 - 24
3:02
Trail Blazers offensive team rebound
27 - 24
2:58
Michael Beasley shooting foul (Nicolas Batum draws the foul)
27 - 25
2:58
Nicolas Batum misses free throw 1 of 2
27 - 24
2:58
Trail Blazers offensive team rebound
27 - 24
2:58
Dorell Wright enters the game for Wesley Matthews
27 - 24
2:58
Nicolas Batum makes free throw 2 of 2
27 - 25
2:48
Michael Beasley misses layup
27 - 25
2:47
LaMarcus Aldridge defensive rebound
27 - 25
2:27
Nicolas Batum misses 24-foot three point jumper
27 - 25
2:25
Mario Chalmers defensive rebound
27 - 25
2:09
Ray Allen makes 24-foot three point jumper (Mario Chalmers assists)
30 - 25
1:45
Dorell Wright misses three point jumper
30 - 25
1:45
Mario Chalmers defensive rebound
30 - 25
1:30
Michael Beasley misses 11-foot two point shot
30 - 25
1:29
Joel Freeland defensive rebound
30 - 25
1:24
Chris Bosh shooting foul (Mo Williams draws the foul)
30 - 25
1:24
Mo Williams makes free throw 1 of 2
30 - 26
1:24
Damian Lillard enters the game for Nicolas Batum
30 - 26
1:24
Norris Cole enters the game for Michael Beasley
30 - 26
1:24
Dwyane Wade enters the game for Chris Bosh
30 - 26
1:24
Udonis Haslem enters the game for Mario Chalmers
30 - 26
1:24
Mo Williams makes free throw 2 of 2
30 - 27
1:00
Dorell Wright blocks Dwyane Wade's layup
30 - 27
0:59
Joel Freeland defensive rebound
30 - 27
0:50
LaMarcus Aldridge makes 17-foot jumper (Mo Williams assists)
30 - 29
0:47
Dorell Wright personal block (Dwyane Wade draws the foul)
30 - 29
0:37
Dwyane Wade misses
30 - 29
0:37
Joel Freeland defensive rebound
30 - 29
0:31
Damian Lillard makes 25-foot three point jumper
30 - 32
0:16
Dwyane Wade misses layup
30 - 32
0:15
Trail Blazers defensive team rebound
30 - 32
0:15
Robin Lopez enters the game for Joel Freeland
30 - 32
0:04
Robin Lopez makes layup (Damian Lillard assists)
30 - 34
0:00
Ray Allen misses 27-foot three point jumper
30 - 34
0:00
Heat offensive team rebound
30 - 34
0:00
End of the 1st Quarter
30 - 34

time
TEAM
PLAY
SCORE
11:47
Mo Williams bad pass (Rashard Lewis steals)
30 - 34
11:41
Ray Allen misses 25-foot three point jumper
30 - 34
11:40
Mo Williams defensive rebound
30 - 34
11:30
Robin Lopez bad pass (Udonis Haslem steals)
30 - 34
11:18
Rashard Lewis misses Running Jumper
30 - 34
11:18
Robin Lopez defensive rebound
30 - 34
11:11
Meyers Leonard makes 4-foot two point shot (Damian Lillard assists)
30 - 36
10:51
Ray Allen makes jumper (Norris Cole assists)
32 - 36
10:30
Meyers Leonard misses 21-foot jumper
32 - 36
10:30
Udonis Haslem defensive rebound
32 - 36
10:11
Norris Cole misses driving layup
32 - 36
10:08
Dorell Wright defensive rebound
32 - 36
10:03
Damian Lillard makes three point jumper (Dorell Wright assists)
32 - 39
9:40
Udonis Haslem makes 19-foot jumper (Ray Allen assists)
34 - 39
9:22
Meyers Leonard makes 10-foot jumper (Mo Williams assists)
34 - 41
9:04
Ray Allen misses driving layup
34 - 41
9:03
Meyers Leonard defensive rebound
34 - 41
8:59
Dorell Wright makes layup (Mo Williams assists)
34 - 43
8:48
Heat Full timeout
34 - 43
8:48
Mario Chalmers enters the game for Ray Allen
34 - 43
8:48
Chris Bosh enters the game for Rashard Lewis
34 - 43
8:34
Dwyane Wade makes two point shot
36 - 43
8:07
Dwyane Wade blocks Dorell Wright 's 27-foot three point jumper
36 - 43
8:07
Trail Blazers offensive team rebound
36 - 43
8:07
shot clock turnover
36 - 43
7:54
Mario Chalmers lost ball turnover (Mo Williams steals)
36 - 43
7:48
Damian Lillard makes layup
36 - 45
7:30
Chris Bosh misses 18-foot step back jumpshot
36 - 45
7:28
Meyers Leonard defensive rebound
36 - 45
7:22
Mario Chalmers personal foul (Damian Lillard draws the foul)
36 - 45
7:22
Wesley Matthews enters the game for Damian Lillard
36 - 45
7:22
Michael Beasley enters the game for Udonis Haslem
36 - 45
7:18
Mo Williams misses 26-foot three point jumper
36 - 45
7:16
Meyers Leonard offensive rebound
36 - 45
7:15
Wesley Matthews misses 25-foot three point jumper
36 - 45
7:13
Heat defensive team rebound
36 - 45
7:13
Dorell Wright loose ball foul (Dwyane Wade draws the foul)
36 - 45
6:56
Dwyane Wade out of bounds lost ball turnover
36 - 45
6:46
Dorell Wright misses jumper
36 - 45
6:46
Mario Chalmers defensive rebound
36 - 45
6:41
Dwyane Wade makes layup (Norris Cole assists)
38 - 45
6:41
Meyers Leonard shooting foul (Dwyane Wade draws the foul)
38 - 45
6:41
Nicolas Batum enters the game for Dorell Wright
38 - 45
6:41
Dwyane Wade misses free throw 1 of 1
38 - 45
6:39
Meyers Leonard defensive rebound
38 - 45
6:24
Mo Williams misses 26-foot three point jumper
38 - 45
6:22
Wesley Matthews offensive rebound
38 - 45
6:20
Wesley Matthews makes 23-foot jumper
38 - 47
6:03
Michael Beasley bad pass (Mo Williams steals)
38 - 47
5:58
Mo Williams misses driving layup
38 - 47
5:56
Michael Beasley defensive rebound
38 - 47
5:52
Mario Chalmers bad pass
38 - 47
5:52
Official timeout
38 - 47
5:52
Joel Freeland enters the game for Robin Lopez
38 - 47
5:52
LaMarcus Aldridge enters the game for Meyers Leonard
38 - 47
5:52
Ray Allen enters the game for Dwyane Wade
38 - 47
5:39
LaMarcus Aldridge misses 18-foot jumper
38 - 47
5:39
Chris Bosh defensive rebound
38 - 47
5:28
Ray Allen misses driving layup
38 - 47
5:26
Chris Bosh offensive rebound
38 - 47
5:24
Chris Bosh makes dunk
40 - 47
5:13
Mo Williams bad pass (Norris Cole steals)
40 - 47
5:09
Ray Allen makes two point shot (Norris Cole assists)
42 - 47
4:48
LaMarcus Aldridge misses jumper
42 - 47
4:48
Joel Freeland offensive rebound
42 - 47
4:43
Wesley Matthews makes three point jumper (Joel Freeland assists)
42 - 50
4:22
Chris Bosh misses 17-foot jumper
42 - 50
4:22
Wesley Matthews defensive rebound
42 - 50
4:07
LaMarcus Aldridge misses 9-foot jumper
42 - 50
4:07
Michael Beasley defensive rebound
42 - 50
4:01
Mario Chalmers makes driving layup
44 - 50
4:01
Joel Freeland shooting foul (Mario Chalmers draws the foul)
44 - 50
4:01
Damian Lillard enters the game for Mo Williams
44 - 50
4:01
Mario Chalmers makes free throw 1 of 1
45 - 50
3:46
LaMarcus Aldridge misses 20-foot jumper
45 - 50
3:44
Joel Freeland misses tip shot
45 - 50
3:44
Joel Freeland offensive rebound
45 - 50
3:43
Michael Beasley defensive rebound
45 - 50
3:31
Chris Bosh misses 23-foot jumper
45 - 50
3:31
Joel Freeland defensive rebound
45 - 50
3:12
Wesley Matthews misses 25-foot three point jumper
45 - 50
3:10
Joel Freeland offensive rebound
45 - 50
3:05
Damian Lillard misses 25-foot three point jumper
45 - 50
3:04
Ray Allen defensive rebound
45 - 50
2:59
Joel Freeland personal foul (Norris Cole draws the foul)
45 - 50
2:59
Trail Blazers Full timeout
45 - 50
2:59
Robin Lopez enters the game for Joel Freeland
45 - 50
2:47
Norris Cole makes 24-foot three point jumper (Ray Allen assists)
48 - 50
2:30
Wesley Matthews makes three point jumper (Nicolas Batum assists)
48 - 53
2:13
Mario Chalmers makes two point shot
50 - 53
1:57
Wesley Matthews makes layup (LaMarcus Aldridge assists)
50 - 55
1:38
Michael Beasley makes 9-foot two point shot
52 - 55
1:17
Wesley Matthews makes 8-foot two point shot (Nicolas Batum assists)
52 - 57
0:59
Chris Bosh makes two point shot (Mario Chalmers assists)
54 - 57
0:46
Wesley Matthews misses 25-foot three point jumper
54 - 57
0:45
Michael Beasley defensive rebound
54 - 57
0:36
Robin Lopez shooting foul (Chris Bosh draws the foul)
56 - 57
0:36
Chris Bosh makes free throw 1 of 2
55 - 57
0:36
Dwyane Wade enters the game for Norris Cole
55 - 57
0:36
Chris Bosh makes free throw 2 of 2
56 - 57
0:31
Damian Lillard makes 26-foot three point jumper (Nicolas Batum assists)
56 - 60
0:25
Heat 20 Sec. timeout
56 - 60
0:07
Chris Bosh makes driving layup (Dwyane Wade assists)
58 - 60
0:07
Chris Bosh in bound foul (Robin Lopez draws the foul)
58 - 60
0:07
Robin Lopez makes free throw 1 of 2
58 - 61
0:07
Chris Bosh technical foul(1st technical foul)
58 - 61
0:07
Damian Lillard makes technical free throw
58 - 62
0:07
Robin Lopez misses free throw 2 of 2
58 - 62
0:06
Chris Bosh defensive rebound
58 - 62
0:00
Dwyane Wade bad pass (Damian Lillard steals)
58 - 62
0:00
End of the 2nd Quarter
58 - 62

time
TEAM
PLAY
SCORE
11:45
Robin Lopez makes two point shot
58 - 64
11:26
Chris Bosh misses layup
58 - 64
11:23
LaMarcus Aldridge defensive rebound
58 - 64
11:14
Damian Lillard bad pass (Mario Chalmers steals)
58 - 64
11:07
Dwyane Wade bad pass
58 - 64
10:48
LaMarcus Aldridge misses 9-foot two point shot
58 - 64
10:48
Shane Battier defensive rebound
58 - 64
10:37
Mario Chalmers makes 8-foot two point shot
60 - 64
10:22
Nicolas Batum misses 26-foot three point jumper
60 - 64
10:22
Chris Bosh defensive rebound
60 - 64
10:14
Michael Beasley makes 7-foot two point shot
62 - 64
10:03
Robin Lopez makes two point shot (LaMarcus Aldridge assists)
62 - 66
9:52
Heat 20 Sec. timeout
62 - 66
9:52
Rashard Lewis enters the game for Michael Beasley
62 - 66
9:52
Heat delay of game violation
62 - 66
9:36
Rashard Lewis makes 3-foot two point shot (Dwyane Wade assists)
64 - 66
9:36
delay techfoul
64 - 66
9:36
Damian Lillard makes technical free throw
64 - 67
9:15
Damian Lillard misses layup
64 - 67
9:12
Dwyane Wade defensive rebound
64 - 67
9:06
Dwyane Wade misses 19-foot jumper
64 - 67
9:06
Robin Lopez defensive rebound
64 - 67
9:00
Shane Battier kicked ball violation
64 - 67
8:52
LaMarcus Aldridge offensive foul (Mario Chalmers draws the foul)
64 - 67
8:52
LaMarcus Aldridge turnover
64 - 67
8:37
Dwyane Wade misses
64 - 67
8:34
Chris Bosh misses
64 - 67
8:34
Chris Bosh offensive rebound
64 - 67
8:33
Nicolas Batum defensive rebound
64 - 67
8:15
Robin Lopez makes two point shot
64 - 69
7:54
LaMarcus Aldridge shooting foul (Chris Bosh draws the foul)
64 - 69
7:54
Chris Bosh makes free throw 1 of 2
65 - 69
7:54
Chris Bosh makes free throw 2 of 2
66 - 69
7:33
LaMarcus Aldridge misses 20-foot jumper
66 - 69
7:31
Robin Lopez offensive rebound
66 - 69
7:31
shot clock turnover
66 - 69
7:20
Chris Bosh misses 20-foot jumper
66 - 69
7:20
LaMarcus Aldridge defensive rebound
66 - 69
7:09
Robin Lopez misses 10-foot two point shot
66 - 69
7:07
Mario Chalmers defensive rebound
66 - 69
6:54
Chris Bosh makes layup (Mario Chalmers assists)
68 - 69
6:39
LaMarcus Aldridge misses two point shot
68 - 69
6:37
Chris Bosh defensive rebound
68 - 69
6:31
Nicolas Batum blocks Dwyane Wade's layup
68 - 69
6:24
Shane Battier offensive rebound
68 - 69
6:18
Rashard Lewis makes 25-foot three point jumper (Mario Chalmers assists)
71 - 69
6:18
Trail Blazers Full timeout
71 - 69
5:54
Robin Lopez misses jumper
71 - 69
5:54
LaMarcus Aldridge offensive rebound
71 - 69
5:54
Rashard Lewis shooting foul (LaMarcus Aldridge draws the foul)
71 - 69
5:54
LaMarcus Aldridge makes free throw 1 of 2
71 - 70
5:54
LaMarcus Aldridge makes free throw 2 of 2
71 - 71
5:31
Chris Bosh makes 19-foot two point shot
73 - 71
5:16
Nicolas Batum misses 21-foot jumper
73 - 71
5:16
Mario Chalmers defensive rebound
73 - 71
5:07
Chris Bosh makes layup (Dwyane Wade assists)
75 - 71
4:50
Shane Battier shooting foul (Robin Lopez draws the foul)
75 - 71
4:50
Robin Lopez makes free throw 1 of 2
75 - 72
4:50
Mo Williams enters the game for Damian Lillard
75 - 72
4:50
Robin Lopez makes free throw 2 of 2
75 - 73
4:35
LaMarcus Aldridge blocks Chris Bosh 's 3-foot layup
75 - 73
4:33
Nicolas Batum defensive rebound
75 - 73
4:22
Wesley Matthews makes three point jumper (Nicolas Batum assists)
75 - 76
4:18
Heat Full timeout
75 - 76
4:18
Joel Freeland enters the game for Robin Lopez
75 - 76
4:18
Michael Beasley enters the game for Shane Battier
75 - 76
4:03
Dwyane Wade misses 19-foot jumper
75 - 76
4:03
Joel Freeland defensive rebound
75 - 76
3:47
Nicolas Batum makes driving dunk (LaMarcus Aldridge assists)
75 - 78
3:31
Dwyane Wade makes two point shot (Chris Bosh assists)
77 - 78
3:14
Chris Bosh shooting foul (Joel Freeland draws the foul)
77 - 78
3:14
Joel Freeland makes free throw 1 of 2
77 - 79
3:14
Joel Freeland misses free throw 2 of 2
77 - 79
3:13
Michael Beasley defensive rebound
77 - 79
3:03
Ray Allen enters the game for Dwyane Wade
77 - 79
3:03
Michael Beasley out of bounds lost ball turnover
77 - 79
2:47
Joel Freeland makes dunk (Mo Williams assists)
77 - 81
2:38
Mo Williams personal foul (Mario Chalmers draws the foul)
77 - 81
2:38
Udonis Haslem enters the game for Chris Bosh
77 - 81
2:31
Nicolas Batum blocks Mario Chalmers 's 6-foot jumper
77 - 81
2:31
LaMarcus Aldridge defensive rebound
77 - 81
2:31
Udonis Haslem personal foul (LaMarcus Aldridge draws the foul)
77 - 81
2:31
Damian Lillard enters the game for Wesley Matthews
77 - 81
2:12
LaMarcus Aldridge makes 20-foot jumper (Nicolas Batum assists)
77 - 83
1:46
Michael Beasley steps out of bounds turnover
77 - 83
1:46
Norris Cole enters the game for Mario Chalmers
77 - 83
1:36
Mo Williams bad pass (Rashard Lewis steals)
77 - 83
1:32
Rashard Lewis makes driving layup
79 - 83
1:12
Mo Williams makes 25-foot three point jumper (Damian Lillard assists)
79 - 86
0:58
Norris Cole makes driving layup
81 - 86
0:50
LaMarcus Aldridge makes 15-foot jumper (Mo Williams assists)
81 - 88
0:35
Michael Beasley misses 25-foot three point jumper
81 - 88
0:34
LaMarcus Aldridge defensive rebound
81 - 88
0:22
Damian Lillard misses 26-foot three point jumper
81 - 88
0:22
Michael Beasley defensive rebound
81 - 88
0:00
Norris Cole makes layup
83 - 88
0:00
End of the 3rd Quarter
83 - 88

time
TEAM
PLAY
SCORE
11:40
Ray Allen misses 25-foot three point jumper
83 - 88
11:40
Joel Freeland defensive rebound
83 - 88
11:29
Joel Freeland makes layup (Mo Williams assists)
83 - 90
11:11
Udonis Haslem 3 second turnover
83 - 90
11:02
Damian Lillard bad pass (Ray Allen steals)
83 - 90
10:56
Ray Allen makes 3-foot two point shot
85 - 90
10:37
Joel Freeland misses layup
85 - 90
10:37
Dwyane Wade defensive rebound
85 - 90
10:23
Dwyane Wade misses 14-foot two point jumper
85 - 90
10:23
Meyers Leonard defensive rebound
85 - 90
10:08
Dwyane Wade kicked ball violation
85 - 90
10:08
Chris Bosh enters the game for Michael Beasley
85 - 90
10:00
Meyers Leonard makes 6-foot jumper (Mo Williams assists)
85 - 92
9:37
Dwyane Wade makes 5-foot two point shot
87 - 92
9:30
Mo Williams lost ball turnover (Ray Allen steals)
87 - 92
9:19
Dwyane Wade misses 11-foot jumper
87 - 92
9:18
Joel Freeland defensive rebound
87 - 92
9:03
Mo Williams misses 26-foot three point jumper
87 - 92
9:03
Ray Allen defensive rebound
87 - 92
8:51
Chris Bosh misses 16-foot jumper
87 - 92
8:49
Joel Freeland defensive rebound
87 - 92
8:27
Meyers Leonard misses 22-foot three point jumper
87 - 92
8:26
Chris Bosh defensive rebound
87 - 92
8:15
Chris Bosh misses 17-foot jumper
87 - 92
8:14
Joel Freeland defensive rebound
87 - 92
8:07
Damian Lillard misses 27-foot three point pullup jump shot
87 - 92
8:06
Udonis Haslem defensive rebound
87 - 92
7:43
Chris Bosh misses 20-foot jumper
87 - 92
7:43
Damian Lillard defensive rebound
87 - 92
7:43
Trail Blazers Full timeout
87 - 92
7:43
Robin Lopez enters the game for Joel Freeland
87 - 92
7:43
Wesley Matthews enters the game for Damian Lillard
87 - 92
7:26
Meyers Leonard traveling
87 - 92
7:16
Dwyane Wade makes 7-foot jumper
89 - 92
7:16
Meyers Leonard defensive goaltending violation
89 - 92
7:00
Robin Lopez traveling
89 - 92
7:00
LaMarcus Aldridge enters the game for Meyers Leonard
89 - 92
7:00
Nicolas Batum enters the game for Dorell Wright
89 - 92
6:37
Norris Cole misses driving layup
89 - 92
6:35
Udonis Haslem offensive rebound
89 - 92
6:31
Ray Allen misses 25-foot three point jumper
89 - 92
6:31
Nicolas Batum defensive rebound
89 - 92
6:16
Robin Lopez makes dunk (Nicolas Batum assists)
89 - 94
6:01
Robin Lopez shooting foul (Udonis Haslem draws the foul)
89 - 94
6:01
Udonis Haslem makes free throw 1 of 2
90 - 94
6:01
Mario Chalmers enters the game for Dwyane Wade
90 - 94
6:01
Udonis Haslem makes free throw 2 of 2
91 - 94
5:43
Robin Lopez misses hook shot
91 - 94
5:41
Mario Chalmers defensive rebound
91 - 94
5:31
Ray Allen misses three point jumper
91 - 94
5:31
Robin Lopez defensive rebound
91 - 94
5:16
Mo Williams bad pass (Udonis Haslem steals)
91 - 94
5:13
Norris Cole makes driving layup (Udonis Haslem assists)
93 - 94
4:50
LaMarcus Aldridge misses 10-foot jumper
93 - 94
4:50
Mario Chalmers defensive rebound
93 - 94
4:33
Mario Chalmers misses driving layup
93 - 94
4:33
Nicolas Batum defensive rebound
93 - 94
4:28
Wesley Matthews makes layup (Nicolas Batum assists)
93 - 96
4:20
Heat Full timeout
93 - 96
4:20
Dwyane Wade enters the game for Ray Allen
93 - 96
4:20
Damian Lillard enters the game for Mo Williams
93 - 96
4:05
Chris Bosh makes 23-foot three point jumper (Dwyane Wade assists)
96 - 96
3:53
Robin Lopez bad pass (Chris Bosh steals)
96 - 96
3:39
Udonis Haslem misses 20-foot jumper
96 - 96
3:38
Wesley Matthews defensive rebound
96 - 96
3:29
LaMarcus Aldridge makes 20-foot jumper (Damian Lillard assists)
96 - 98
3:09
Chris Bosh vs. Wesley Matthews
96 - 98
3:09
Chris Bosh lost ball turnover (Wesley Matthews steals)
96 - 98
3:05
Mario Chalmers loose ball foul (Damian Lillard draws the foul)
96 - 98
3:04
Wesley Matthews misses
96 - 98
3:02
Mario Chalmers defensive rebound
96 - 98
3:00
Norris Cole makes layup
98 - 98
3:00
LaMarcus Aldridge defensive goaltending violation
98 - 98
2:46
Damian Lillard bad pass (Dwyane Wade steals)
98 - 98
2:42
Dwyane Wade misses layup
98 - 98
2:40
Trail Blazers defensive team rebound
98 - 98
2:40
Dwyane Wade loose ball foul (Damian Lillard draws the foul)
98 - 98
2:40
Official timeout
98 - 98
2:24
LaMarcus Aldridge misses 11-foot two point shot
98 - 98
2:24
Dwyane Wade defensive rebound
98 - 98
2:03
Chris Bosh makes 24-foot three point jumper (Dwyane Wade assists)
101 - 98
1:44
Chris Bosh shooting foul (LaMarcus Aldridge draws the foul)
101 - 98
1:44
LaMarcus Aldridge makes free throw 1 of 2
101 - 99
1:44
LaMarcus Aldridge makes free throw 2 of 2
101 - 100
1:25
Robin Lopez blocks Udonis Haslem 's 2-foot layup
101 - 100
1:23
Chris Bosh offensive rebound
103 - 100
1:23
Chris Bosh makes layup
103 - 100
1:08
LaMarcus Aldridge makes layup
103 - 102
0:47
Chris Bosh misses jumper
103 - 102
0:45
Nicolas Batum defensive rebound
103 - 102
0:32
Dwyane Wade shooting foul (Nicolas Batum draws the foul)
103 - 102
0:32
Nicolas Batum makes free throw 1 of 3
103 - 103
0:32
Nicolas Batum makes free throw 2 of 3
103 - 104
0:32
Nicolas Batum makes free throw 3 of 3
103 - 105
0:32
Heat Full timeout
103 - 105
0:32
Ray Allen enters the game for Udonis Haslem
103 - 105
0:32
Mo Williams enters the game for Robin Lopez
103 - 105
0:26
Dwyane Wade makes driving dunk
105 - 105
0:26
Trail Blazers Full timeout
105 - 105
0:07
Ray Allen shooting foul (Nicolas Batum draws the foul)
105 - 105
0:07
Nicolas Batum makes free throw 1 of 2
105 - 106
0:07
Udonis Haslem enters the game for Ray Allen
105 - 106
0:07
Robin Lopez enters the game for Mo Williams
105 - 106
0:07
Nicolas Batum makes free throw 2 of 2
105 - 107
0:07
Heat 20 Sec. timeout
105 - 107
0:07
Ray Allen enters the game for Udonis Haslem
105 - 107
0:07
Mo Williams enters the game for Robin Lopez
105 - 107
0:00
Chris Bosh makes 25-foot three point jumper (Dwyane Wade assists)
108 - 107
0:00
Trail Blazers 20 Sec. timeout
108 - 107
0:00
Joel Anthony enters the game for Ray Allen
108 - 107
0:00
LaMarcus Aldridge misses 4-foot jumper
108 - 107
0:00
Trail Blazers offensive team rebound
108 - 107
0:00
End of the 4th Quarter
108 - 107
0:00
End of Game
108 - 107
The Oklahoma City Thunder have signed guard Alex Abrines to a multiyear contract.

As the summer heats up and NBA free agency continues, Kevin Pelton breaks down the best and worst signings, including Gerald Green's addition to the Celtics.

D.J. Kennedy drops 18 points and nine rebounds to lead Overseas Elite passed Trained To Go and onto the semifinals of The Basketball Tournament.
Regular Season Series
MIA wins series 2-0
2015-2016 Southeast Standings
2015-2016 Northwest Standings