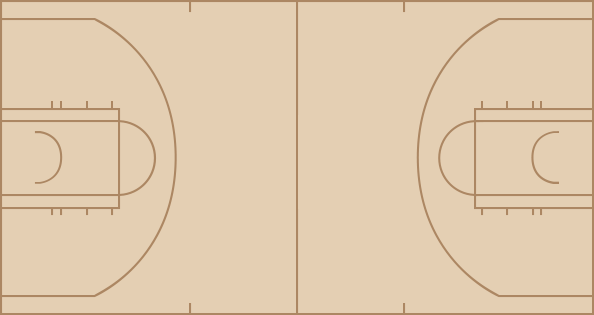 Pacers
time
TEAM
PLAY
SCORE
12:00
Roy Hibbert vs. Spencer Hawes (Kwame Brown gains possession)
0 - 0
11:41
Roy Hibbert blocks Kwame Brown's layup
0 - 0
11:38
Roy Hibbert defensive rebound
0 - 0
11:22
Roy Hibbert misses jumper
0 - 0
11:19
Roy Hibbert makes two point shot
2 - 0
11:19
Roy Hibbert offensive rebound
2 - 0
10:57
Jrue Holiday bad pass (David West steals)
2 - 0
10:45
David West makes jumper (Paul George assists)
4 - 0
10:36
Evan Turner misses 16-foot jumper
4 - 0
10:33
Roy Hibbert defensive rebound
4 - 0
10:25
Paul George misses 9-foot jumper
4 - 0
10:23
Jrue Holiday defensive rebound
4 - 0
10:15
Nick Young makes 10-foot two point shot (Jrue Holiday assists)
4 - 2
10:00
David West misses jumper
4 - 2
9:57
Kwame Brown defensive rebound
4 - 2
9:48
Spencer Hawes makes 4-foot two point shot (Kwame Brown assists)
4 - 4
9:32
Roy Hibbert makes 15-foot jumper (Paul George assists)
6 - 4
9:19
Jrue Holiday misses jumper
6 - 4
9:15
Spencer Hawes makes two point shot
6 - 6
9:15
Spencer Hawes offensive rebound
6 - 6
8:52
Roy Hibbert misses two point shot
6 - 6
8:51
Evan Turner defensive rebound
6 - 6
8:41
Evan Turner misses 14-foot jumper
6 - 6
8:38
Lance Stephenson defensive rebound
6 - 6
8:33
Lance Stephenson misses layup
6 - 6
8:32
Spencer Hawes defensive rebound
6 - 6
8:26
Roy Hibbert blocks Nick Young's jumper
6 - 6
8:23
Roy Hibbert defensive rebound
6 - 6
8:07
Lance Stephenson misses 26-foot three point jumper
6 - 6
8:06
Kwame Brown defensive rebound
6 - 6
7:50
Jrue Holiday misses jumper
6 - 6
7:48
Paul George defensive rebound
6 - 6
7:37
Roy Hibbert misses 15-foot jumper
6 - 6
7:35
Kwame Brown defensive rebound
6 - 6
7:26
Evan Turner bad pass (George Hill steals)
6 - 6
7:24
George Hill makes driving layup
8 - 6
7:07
Jrue Holiday misses 13-foot jumper
8 - 6
7:07
Paul George defensive rebound
8 - 6
6:54
George Hill makes layup (Paul George assists)
10 - 6
6:54
76ers Full timeout
10 - 6
6:37
Nick Young misses 18-foot jumper
10 - 6
6:35
Lance Stephenson defensive rebound
10 - 6
6:20
Roy Hibbert makes 3-foot two point shot (Lance Stephenson assists)
12 - 6
6:01
Kwame Brown bad pass (Roy Hibbert steals)
12 - 6
5:50
George Hill misses layup
12 - 6
5:46
Lavoy Allen enters the game for Kwame Brown
12 - 6
5:46
Dorell Wright enters the game for Evan Turner
12 - 6
5:41
Jrue Holiday misses 3-foot jumper
12 - 6
5:39
Lance Stephenson defensive rebound
12 - 6
5:31
David West misses jumper
12 - 6
5:30
Dorell Wright defensive rebound
12 - 6
5:20
Spencer Hawes misses 18-foot jumper
12 - 6
5:18
Roy Hibbert defensive rebound
12 - 6
5:03
David West misses jumper
12 - 6
5:00
Roy Hibbert misses layup
12 - 6
5:00
Roy Hibbert offensive rebound
12 - 6
4:56
Spencer Hawes blocks Roy Hibbert's layup
12 - 6
4:56
Roy Hibbert offensive rebound
12 - 6
4:56
Spencer Hawes defensive rebound
12 - 6
4:48
Roy Hibbert blocks Nick Young 's 3-foot jumper
12 - 6
4:46
Nick Young offensive rebound
12 - 6
4:43
Roy Hibbert blocks Lavoy Allen's shot
12 - 6
4:43
Nick Young offensive rebound
12 - 6
4:41
Nick Young misses 11-foot jumper
12 - 6
4:39
Nick Young offensive rebound
12 - 6
4:37
Jrue Holiday makes driving layup (Nick Young assists)
12 - 8
4:22
Paul George misses 26-foot three point jumper
12 - 8
4:20
Nick Young defensive rebound
12 - 8
4:09
Lavoy Allen makes 16-foot jumper (Dorell Wright assists)
12 - 10
3:47
George Hill makes jumper
14 - 10
3:36
Dorell Wright makes three point jumper (Jrue Holiday assists)
14 - 13
3:31
Orlando Johnson enters the game for Lance Stephenson
14 - 13
3:31
Tyler Hansbrough enters the game for David West
14 - 13
3:31
Pacers Full timeout
14 - 13
3:19
Roy Hibbert misses 9-foot jumper
14 - 13
3:18
Jrue Holiday defensive rebound
14 - 13
3:04
Nick Young misses 13-foot jumper
14 - 13
3:03
Pacers defensive team rebound
14 - 13
2:48
George Hill misses jumper
14 - 13
2:47
Nick Young defensive rebound
14 - 13
2:36
Jrue Holiday misses 24-foot three point jumper
14 - 13
2:34
Tyler Hansbrough defensive rebound
14 - 13
2:31
Lavoy Allen personal foul (Roy Hibbert draws the foul)
14 - 13
2:26
Paul George misses 14-foot jumper
14 - 13
2:24
Jrue Holiday defensive rebound
14 - 13
2:03
Spencer Hawes misses jumper
14 - 13
2:01
Dorell Wright offensive rebound
14 - 13
1:57
Dorell Wright misses three point jumper
14 - 13
1:54
Orlando Johnson defensive rebound
14 - 13
1:47
Spencer Hawes blocks Tyler Hansbrough 's 2-foot layup
14 - 13
1:47
Tyler Hansbrough vs. Spencer Hawes (D.J. Augustin gains possession)
14 - 13
1:47
D.J. Augustin enters the game for George Hill
14 - 13
1:47
Royal Ivey enters the game for Jrue Holiday
14 - 13
1:47
Pacers offensive team rebound
14 - 13
1:31
Roy Hibbert makes jumper (Tyler Hansbrough assists)
16 - 13
1:05
Spencer Hawes misses two point shot
16 - 13
1:05
76ers offensive team rebound
16 - 13
1:00
Spencer Hawes misses 16-foot jumper
16 - 13
0:59
Orlando Johnson defensive rebound
16 - 13
0:42
Roy Hibbert misses jumper
16 - 13
0:38
Tyler Hansbrough misses tip shot
16 - 13
0:38
Tyler Hansbrough offensive rebound
16 - 13
0:36
Spencer Hawes defensive rebound
16 - 13
0:31
Nick Young misses layup
16 - 13
0:28
Spencer Hawes misses tip shot
16 - 13
0:28
Spencer Hawes offensive rebound
16 - 13
0:26
Tyler Hansbrough defensive rebound
16 - 13
0:08
Paul George makes 17-foot jumper
18 - 13
0:00
Lavoy Allen makes jumper (Royal Ivey assists)
18 - 15
0:00
End of the 1st Quarter
18 - 15

time
TEAM
PLAY
SCORE
11:38
Tyler Hansbrough misses 7-foot jumper
18 - 15
11:38
76ers defensive team rebound
18 - 15
11:25
Arnett Moultrie makes dunk (Evan Turner assists)
18 - 17
11:00
Orlando Johnson misses three point jumper
18 - 17
10:57
Royal Ivey defensive rebound
18 - 17
10:44
Evan Turner out of bounds lost ball turnover
18 - 17
10:32
D.J. Augustin makes 24-foot three point jumper (Paul George assists)
21 - 17
10:10
Royal Ivey misses 26-foot three point jumper
21 - 17
10:07
Dorell Wright offensive rebound
21 - 17
10:04
Dorell Wright misses 17-foot jumper
21 - 17
10:03
Ian Mahinmi defensive rebound
21 - 17
9:53
Arnett Moultrie blocks D.J. Augustin's jumper
21 - 17
9:52
D.J. Augustin offensive rebound
21 - 17
9:48
Orlando Johnson makes
24 - 17
9:25
Lavoy Allen misses layup
24 - 17
9:25
Lavoy Allen offensive rebound
24 - 17
9:25
Orlando Johnson loose ball foul (Lavoy Allen draws the foul)
24 - 17
9:15
Lavoy Allen misses 20-foot jumper
24 - 17
9:12
Evan Turner offensive rebound
24 - 17
9:11
Evan Turner misses jumper
24 - 17
9:10
Ian Mahinmi defensive rebound
24 - 17
8:52
Arnett Moultrie shooting foul (Paul George draws the foul)
24 - 17
8:52
Official timeout
24 - 17
8:52
Paul George misses free throw 1 of 2
24 - 17
8:52
Pacers offensive team rebound
24 - 17
8:52
Paul George misses free throw 2 of 2
24 - 17
8:52
Dorell Wright defensive rebound
24 - 17
8:33
Arnett Moultrie makes layup (Evan Turner assists)
24 - 19
8:11
Tyler Hansbrough misses 4-foot jumper
24 - 19
8:08
Lavoy Allen defensive rebound
24 - 19
7:56
Lavoy Allen lost ball turnover (D.J. Augustin steals)
24 - 19
7:54
Evan Turner shooting foul (D.J. Augustin draws the foul)
25 - 19
7:54
Jrue Holiday enters the game for Royal Ivey
24 - 19
7:54
D.J. Augustin makes free throw 1 of 2
25 - 19
7:54
Sam Young enters the game for Paul George
25 - 19
7:54
D.J. Augustin misses free throw 2 of 2
25 - 19
7:43
Dorell Wright defensive rebound
25 - 19
7:39
Evan Turner misses 18-foot jumper
25 - 19
7:37
D.J. Augustin defensive rebound
25 - 19
7:33
Dorell Wright blocks D.J. Augustin 's 20-foot jumper
25 - 19
7:31
Tyler Hansbrough offensive rebound
25 - 19
7:30
Lavoy Allen blocks Tyler Hansbrough 's 2-foot layup
25 - 19
7:28
Tyler Hansbrough offensive rebound
25 - 19
7:24
Tyler Hansbrough misses layup
25 - 19
7:24
Dorell Wright defensive rebound
25 - 19
7:22
Arnett Moultrie makes two point shot (Dorell Wright assists)
25 - 21
7:22
Pacers Full timeout
25 - 21
7:07
Sam Young bad pass (Dorell Wright steals)
25 - 21
6:56
Jrue Holiday misses jumper
25 - 21
6:56
Tyler Hansbrough defensive rebound
25 - 21
6:52
Arnett Moultrie personal foul (Ian Mahinmi draws the foul)
25 - 21
6:35
Jrue Holiday blocks D.J. Augustin 's 26-foot three point jumper
25 - 21
6:33
Evan Turner defensive rebound
25 - 21
6:28
Evan Turner makes 10-foot two point shot
25 - 23
6:03
Tyler Hansbrough makes 2-foot two point shot (D.J. Augustin assists)
27 - 23
5:50
Lavoy Allen misses jumper
27 - 23
5:48
Arnett Moultrie offensive rebound
27 - 23
5:48
Arnett Moultrie misses layup
27 - 23
5:46
Ian Mahinmi defensive rebound
27 - 23
5:46
Ian Mahinmi lost ball turnover (Lavoy Allen steals)
27 - 23
5:46
Tyler Hansbrough loose ball foul (Lavoy Allen draws the foul)
27 - 23
5:46
Spencer Hawes enters the game for Evan Turner
27 - 23
5:46
Nick Young enters the game for Arnett Moultrie
27 - 23
5:46
George Hill enters the game for Orlando Johnson
27 - 23
5:46
David West enters the game for Tyler Hansbrough
27 - 23
5:46
Lance Stephenson enters the game for D.J. Augustin
27 - 23
5:33
Lavoy Allen makes layup (Nick Young assists)
27 - 25
5:33
Sam Young shooting foul (Lavoy Allen draws the foul)
27 - 25
5:33
Lavoy Allen misses free throw 1 of 1
27 - 25
5:22
David West defensive rebound
27 - 25
5:16
Lance Stephenson misses 15-foot jumper
27 - 25
5:13
Dorell Wright defensive rebound
27 - 25
5:01
Ian Mahinmi shooting foul (Jrue Holiday draws the foul)
27 - 26
5:01
Jrue Holiday makes free throw 1 of 2
27 - 26
5:01
Arnett Moultrie enters the game for Lavoy Allen
27 - 26
5:01
Jrue Holiday misses free throw 2 of 2
27 - 26
5:01
Roy Hibbert enters the game for Ian Mahinmi
27 - 26
4:56
Sam Young defensive rebound
27 - 26
4:45
Lance Stephenson makes 22-foot jumper (George Hill assists)
29 - 26
4:28
Dorell Wright makes 21-foot jumper (Jrue Holiday assists)
29 - 28
4:16
Lance Stephenson misses 28-foot three point jumper
29 - 28
4:13
George Hill offensive rebound
29 - 28
4:09
Nick Young personal foul (Lance Stephenson draws the foul)
29 - 28
3:58
Sam Young bad pass (Jrue Holiday steals)
29 - 28
3:47
Nick Young misses 16-foot jumper
29 - 28
3:46
Roy Hibbert defensive rebound
29 - 28
3:27
David West misses 10-foot jumper
29 - 28
3:26
George Hill offensive rebound
29 - 28
3:21
George Hill misses 26-foot three point jumper
29 - 28
3:19
Dorell Wright defensive rebound
29 - 28
3:03
Jrue Holiday makes driving layup
29 - 30
2:39
David West makes 17-foot jumper
31 - 30
2:30
76ers Full timeout
31 - 30
2:30
Lavoy Allen enters the game for Arnett Moultrie
31 - 30
2:19
Jrue Holiday misses 5-foot jumper
31 - 30
2:16
Lavoy Allen makes two point shot
31 - 32
2:16
Lavoy Allen offensive rebound
31 - 32
1:54
Roy Hibbert makes two point shot (Lance Stephenson assists)
33 - 32
1:38
Spencer Hawes misses layup
33 - 32
1:37
David West defensive rebound
33 - 32
1:17
George Hill makes 8-foot jumper (Lance Stephenson assists)
35 - 32
0:59
Jrue Holiday misses 10-foot jumper
35 - 32
0:58
David West defensive rebound
35 - 32
0:41
Lance Stephenson bad pass
35 - 32
0:26
Dorell Wright misses 20-foot jumper
35 - 32
0:24
Spencer Hawes offensive rebound
35 - 32
0:22
Dorell Wright makes two point shot (Spencer Hawes assists)
35 - 34
0:01
David West makes 18-foot two point shot
37 - 34
0:00
Lavoy Allen bad pass
37 - 34
0:00
D.J. Augustin enters the game for Roy Hibbert
37 - 34
0:00
End of the 2nd Quarter
37 - 34

time
TEAM
PLAY
SCORE
11:36
David West misses 17-foot jumper
37 - 34
11:33
Spencer Hawes defensive rebound
37 - 34
11:18
Lavoy Allen misses layup
37 - 34
11:18
David West defensive rebound
37 - 34
11:08
Paul George misses three point jumper
37 - 34
11:07
Roy Hibbert offensive rebound
37 - 34
11:00
Roy Hibbert makes 6-foot two point shot
39 - 34
11:00
Spencer Hawes shooting foul (Roy Hibbert draws the foul)
39 - 34
11:00
Roy Hibbert misses free throw 1 of 1
39 - 34
11:00
Evan Turner defensive rebound
39 - 34
10:41
Nick Young makes 17-foot jumper (Spencer Hawes assists)
39 - 36
10:26
Paul George makes 13-foot two point shot (George Hill assists)
41 - 36
10:06
Evan Turner misses 14-foot jumper
41 - 36
10:03
Roy Hibbert defensive rebound
41 - 36
9:52
Roy Hibbert misses 19-foot jumper
41 - 36
9:51
George Hill offensive rebound
41 - 36
9:41
Paul George misses 18-foot jumper
41 - 36
9:40
Evan Turner defensive rebound
41 - 36
9:29
Spencer Hawes misses 18-foot jumper
41 - 36
9:26
Paul George defensive rebound
41 - 36
9:11
David West makes 18-foot jumper (Lance Stephenson assists)
43 - 36
8:57
Jrue Holiday misses 17-foot jumper
43 - 36
8:56
Paul George defensive rebound
43 - 36
8:41
Lance Stephenson misses 26-foot three point jumper
43 - 36
8:41
Evan Turner defensive rebound
43 - 36
8:33
Evan Turner bad pass
43 - 36
8:10
George Hill makes 25-foot three point jumper (David West assists)
46 - 36
8:02
76ers Full timeout
46 - 36
7:48
Evan Turner lost ball turnover (Paul George steals)
46 - 36
7:33
Nick Young shooting foul (Paul George draws the foul)
46 - 36
7:33
Paul George makes free throw 1 of 2
47 - 36
7:33
Dorell Wright enters the game for Evan Turner
47 - 36
7:33
Paul George makes free throw 2 of 2
48 - 36
7:20
Jrue Holiday misses layup
48 - 36
7:20
Pacers defensive team rebound
48 - 36
7:01
George Hill lost ball turnover (Jrue Holiday steals)
48 - 36
6:56
Jrue Holiday makes layup
48 - 38
6:54
76ers delay of game violation
48 - 38
6:39
David West misses 19-foot jumper
48 - 38
6:37
Roy Hibbert makes two point shot
50 - 38
6:37
Lance Stephenson offensive rebound
48 - 38
6:18
Lavoy Allen misses 12-foot jumper
50 - 38
6:18
Lavoy Allen offensive rebound
50 - 38
6:11
Lavoy Allen misses jumper
50 - 38
6:09
George Hill defensive rebound
50 - 38
5:58
Paul George misses jumper
50 - 38
5:56
Spencer Hawes defensive rebound
50 - 38
5:37
Jrue Holiday misses 18-foot jumper
50 - 38
5:35
Roy Hibbert defensive rebound
50 - 38
5:30
George Hill misses 25-foot three point jumper
50 - 38
5:28
Jrue Holiday defensive rebound
50 - 38
5:13
Spencer Hawes misses layup
50 - 38
5:11
Spencer Hawes makes two point shot
50 - 40
5:11
Spencer Hawes offensive rebound
50 - 38
4:48
Roy Hibbert makes driving layup
52 - 40
4:30
Nick Young makes layup (Lavoy Allen assists)
52 - 42
4:07
Lavoy Allen personal foul (Roy Hibbert draws the foul)
52 - 42
4:07
Evan Turner enters the game for Jrue Holiday
52 - 42
4:03
Paul George makes two point shot (Roy Hibbert assists)
54 - 42
3:45
Dorell Wright lost ball turnover (David West steals)
54 - 42
3:42
Spencer Hawes shooting foul (Lance Stephenson draws the foul)
54 - 42
3:42
Lance Stephenson makes free throw 1 of 2
55 - 42
3:42
Pacers Full timeout
55 - 42
3:42
Arnett Moultrie enters the game for Lavoy Allen
55 - 42
3:42
Lance Stephenson makes free throw 2 of 2
56 - 42
3:18
Evan Turner misses 17-foot jumper
56 - 42
3:17
Pacers defensive team rebound
56 - 42
3:03
Lance Stephenson bad pass (Arnett Moultrie steals)
56 - 42
2:54
Roy Hibbert blocks Spencer Hawes 's 5-foot jumper
56 - 42
2:51
Spencer Hawes offensive rebound
56 - 42
2:48
Arnett Moultrie makes 12-foot jumper (Spencer Hawes assists)
56 - 44
2:25
Roy Hibbert misses 8-foot jumper
56 - 44
2:23
Roy Hibbert offensive rebound
56 - 44
2:21
Dorell Wright blocks Roy Hibbert's layup
56 - 44
2:19
Evan Turner defensive rebound
56 - 44
2:11
George Hill personal foul (Evan Turner draws the foul)
56 - 44
2:11
Jrue Holiday enters the game for Nick Young
56 - 44
2:11
Ian Mahinmi enters the game for Roy Hibbert
56 - 44
2:01
Evan Turner misses 17-foot jumper
56 - 44
2:00
Lance Stephenson defensive rebound
56 - 44
1:46
Spencer Hawes blocks David West's jumper
56 - 44
1:44
Jrue Holiday defensive rebound
56 - 44
1:39
Dorell Wright makes 1-foot two point shot (Jrue Holiday assists)
56 - 46
1:23
Paul George misses jumper
56 - 46
1:23
Evan Turner defensive rebound
56 - 46
1:09
Arnett Moultrie makes two point shot (Evan Turner assists)
56 - 48
0:57
Spencer Hawes personal foul (David West draws the foul)
56 - 48
0:57
David West misses free throw 1 of 2
56 - 48
0:57
Pacers offensive team rebound
56 - 48
0:57
Lavoy Allen enters the game for Spencer Hawes
56 - 48
0:57
Orlando Johnson enters the game for George Hill
56 - 48
0:57
D.J. Augustin enters the game for Lance Stephenson
56 - 48
0:57
David West makes free throw 2 of 2
57 - 48
0:40
Evan Turner misses three point jumper
57 - 48
0:38
D.J. Augustin defensive rebound
57 - 48
0:28
Lavoy Allen shooting foul (Orlando Johnson draws the foul)
57 - 48
0:28
Orlando Johnson makes free throw 1 of 2
58 - 48
0:28
Tyler Hansbrough enters the game for David West
58 - 48
0:28
Nick Young enters the game for Evan Turner
58 - 48
0:28
Spencer Hawes enters the game for Lavoy Allen
58 - 48
0:28
Orlando Johnson makes free throw 2 of 2
59 - 48
0:07
Jrue Holiday misses layup
59 - 48
0:06
76ers offensive team rebound
59 - 48
0:03
Spencer Hawes misses 20-foot jumper
59 - 48
0:02
Ian Mahinmi defensive rebound
59 - 48
0:00
End of the 3rd Quarter
59 - 48

time
TEAM
PLAY
SCORE
11:37
Jrue Holiday misses 3-foot jumper
59 - 48
11:36
Arnett Moultrie offensive rebound
59 - 48
11:34
Arnett Moultrie makes two point shot
59 - 50
11:10
Paul George bad pass (Arnett Moultrie steals)
59 - 50
11:00
Arnett Moultrie misses 17-foot jumper
59 - 50
10:59
Orlando Johnson defensive rebound
59 - 50
10:37
Paul George misses three point jumper
59 - 50
10:36
Lavoy Allen defensive rebound
59 - 50
10:22
Jrue Holiday misses 3-foot jumper
59 - 50
10:22
D.J. Augustin defensive rebound
59 - 50
10:18
Nick Young shooting foul (Paul George draws the foul)
59 - 50
10:18
Paul George makes free throw 1 of 2
60 - 50
10:18
Paul George makes free throw 2 of 2
61 - 50
10:07
Jrue Holiday makes two point shot
61 - 52
9:44
Orlando Johnson makes 26-foot three point jumper (Paul George assists)
64 - 52
9:36
Jrue Holiday traveling
64 - 52
9:18
Paul George lost ball turnover (Jrue Holiday steals)
64 - 52
9:11
Jrue Holiday makes 24-foot
64 - 55
8:40
Lavoy Allen shooting foul (Tyler Hansbrough draws the foul)
64 - 55
8:40
Official timeout
64 - 55
8:40
Spencer Hawes enters the game for Lavoy Allen
64 - 55
8:40
Tyler Hansbrough makes free throw 1 of 2
65 - 55
8:40
Tyler Hansbrough makes free throw 2 of 2
66 - 55
8:25
Dorell Wright misses 8-foot jumper
66 - 55
8:22
Tyler Hansbrough defensive rebound
66 - 55
8:03
Jrue Holiday shooting foul (D.J. Augustin draws the foul)
66 - 55
8:03
D.J. Augustin makes free throw 1 of 2
67 - 55
8:03
D.J. Augustin makes free throw 2 of 2
68 - 55
7:48
Dorell Wright lost ball turnover (Tyler Hansbrough steals)
68 - 55
7:37
Tyler Hansbrough misses 17-foot jumper
68 - 55
7:35
Jrue Holiday defensive rebound
68 - 55
7:20
Jrue Holiday bad pass (Paul George steals)
68 - 55
7:16
Dorell Wright shooting foul (Tyler Hansbrough draws the foul)
68 - 55
7:16
Tyler Hansbrough makes free throw 1 of 2
69 - 55
7:16
Evan Turner enters the game for Nick Young
69 - 55
7:16
Lavoy Allen enters the game for Arnett Moultrie
69 - 55
7:16
Tyler Hansbrough misses free throw 2 of 2
69 - 55
7:16
Lavoy Allen defensive rebound
69 - 55
7:05
Jrue Holiday makes driving layup (Dorell Wright assists)
69 - 57
7:05
D.J. Augustin shooting foul (Jrue Holiday draws the foul)
69 - 57
7:05
George Hill enters the game for D.J. Augustin
69 - 57
7:05
Roy Hibbert enters the game for Ian Mahinmi
69 - 57
7:05
Jrue Holiday makes free throw 1 of 1
69 - 58
6:58
Dorell Wright personal foul (Paul George draws the foul)
69 - 58
6:58
Paul George makes free throw 1 of 2
70 - 58
6:58
Nick Young enters the game for Dorell Wright
70 - 58
6:58
Paul George makes free throw 2 of 2
71 - 58
6:41
Nick Young misses 25-foot three point jumper
71 - 58
6:37
George Hill defensive rebound
71 - 58
6:26
Roy Hibbert misses jumper
71 - 58
6:24
Roy Hibbert offensive rebound
71 - 58
6:09
George Hill makes 15-foot two point shot
73 - 58
5:50
Lavoy Allen makes 16-foot jumper (Nick Young assists)
73 - 60
5:31
George Hill makes 4-foot two point shot (Paul George assists)
75 - 60
5:13
Jrue Holiday makes 12-foot two point shot
75 - 62
4:52
Lavoy Allen personal foul (Roy Hibbert draws the foul)
75 - 62
4:52
76ers Full timeout
75 - 62
4:52
David West enters the game for Tyler Hansbrough
75 - 62
4:52
Roy Hibbert makes free throw 1 of 2
76 - 62
4:52
Lance Stephenson enters the game for Orlando Johnson
76 - 62
4:52
Roy Hibbert makes free throw 2 of 2
77 - 62
4:39
Evan Turner misses 18-foot jumper
77 - 62
4:37
Lance Stephenson defensive rebound
77 - 62
4:15
David West misses 20-foot jumper
77 - 62
4:13
Nick Young defensive rebound
77 - 62
4:05
Roy Hibbert defensive 3-seconds (Technical Foul)
77 - 62
4:05
Nick Young makes technical free throw
77 - 63
4:03
Jrue Holiday bad pass
77 - 63
3:46
David West makes 16-foot jumper (George Hill assists)
79 - 63
3:31
George Hill shooting foul (Jrue Holiday draws the foul)
79 - 63
3:31
Jrue Holiday makes free throw 1 of 2
79 - 64
3:31
Arnett Moultrie enters the game for Spencer Hawes
79 - 64
3:31
Jrue Holiday makes free throw 2 of 2
79 - 65
3:08
shot clock turnover
79 - 65
3:01
Lavoy Allen lost ball turnover (Roy Hibbert steals)
79 - 65
3:01
Pacers Full timeout
79 - 65
2:45
David West makes 16-foot two point shot (Lance Stephenson assists)
81 - 65
2:31
Lance Stephenson personal foul (Nick Young draws the foul)
81 - 65
2:26
Nick Young misses 24-foot three point jumper
81 - 65
2:25
Pacers defensive team rebound
81 - 65
2:05
Paul George makes 25-foot three point jumper (George Hill assists)
84 - 65
1:44
Jrue Holiday misses 20-foot jumper
84 - 65
1:42
Arnett Moultrie offensive rebound
84 - 65
1:40
Arnett Moultrie misses layup
84 - 65
1:39
Roy Hibbert defensive rebound
84 - 65
1:19
David West makes 20-foot jumper (George Hill assists)
86 - 65
1:07
Jrue Holiday bad pass (David West steals)
86 - 65
0:47
David West misses three point jumper
86 - 65
0:44
Evan Turner defensive rebound
86 - 65
0:34
Lavoy Allen makes 16-foot jumper (Evan Turner assists)
86 - 67
0:11
Roy Hibbert misses three point jumper
86 - 67
0:08
Paul George misses jumper
86 - 67
0:08
Paul George offensive rebound
86 - 67
0:08
Lance Stephenson makes two point shot
88 - 67
0:08
Lance Stephenson offensive rebound
86 - 67
0:02
Nick Young makes dunk
88 - 69
0:00
End of the 4th Quarter
88 - 69
The Clippers' DeAndre Jordan is about to become an Olympian despite never having set foot at All-Star Weekend as a center. "I think [the Olympics] is way bigger than any of that," he said.

The Jordan XXXI, unveiled Wednesday night in Las Vegas, will be available on Sept. 3 for $185.

Is Kevin Durant setting up Brandon Ingram for a disappointing debut by deeming him a younger version of himself?
Regular Season Series
Series tied 2-2
2015-2016 Central Standings
2015-2016 Atlantic Standings