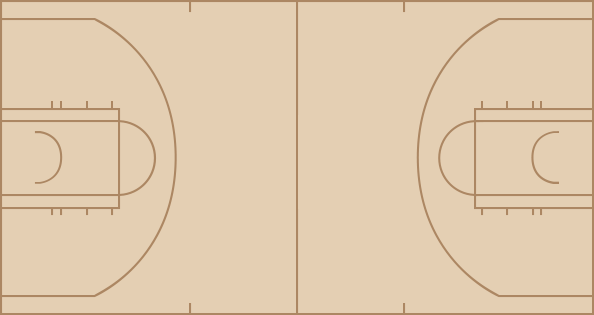 Mavericks
time
TEAM
PLAY
SCORE
12:00
Start of the 1st Quarter
0 - 0
12:00
Jumpball: Brendan Haywood vs. Dwight Howard (Jameer Nelson gains possession)
0 - 0
11:47
Jameer Nelson makes driving layup
0 - 2
11:18
Caron Butler makes 15-foot jumper (Dirk Nowitzki assists)
2 - 2
11:06
Rashard Lewis lost ball (Caron Butler steals)
2 - 2
10:52
Shawn Marion misses 9-foot jumper
2 - 2
10:52
Matt Barnes defensive rebound
2 - 2
10:33
Vince Carter misses 26-foot three point jumper
2 - 2
10:33
Shawn Marion defensive rebound
2 - 2
10:22
Shawn Marion misses 9-foot two point shot
2 - 2
10:21
Dwight Howard defensive rebound
2 - 2
10:04
Vince Carter makes driving layup
2 - 4
9:44
Dwight Howard blocks Shawn Marion's 7-foot jumper
2 - 4
9:41
Matt Barnes defensive rebound
2 - 4
9:41
Brendan Haywood personal foul (Dwight Howard draws the foul)
2 - 4
9:34
Dwight Howard misses 7-foot hook shot
2 - 4
9:34
Dirk Nowitzki defensive rebound
2 - 4
9:22
Dirk Nowitzki makes two point shot
4 - 4
9:11
Jameer Nelson makes two point shot
4 - 6
8:52
Brendan Haywood makes layup (Jason Kidd assists)
6 - 6
8:52
Matt Barnes shooting foul (Brendan Haywood draws the foul)
6 - 6
8:52
Brendan Haywood makes free throw 1 of 1
7 - 6
8:38
Vince Carter makes driving layup
7 - 8
8:30
Dirk Nowitzki makes 16-foot jumper (Shawn Marion assists)
9 - 8
8:22
Jameer Nelson bad pass (Jason Kidd steals)
9 - 8
8:18
Jameer Nelson shooting foul (Shawn Marion draws the foul)
9 - 8
8:18
Shawn Marion makes free throw 1 of 2
10 - 8
8:18
Shawn Marion makes free throw 2 of 2
11 - 8
8:03
Vince Carter makes driving layup
11 - 10
7:46
Caron Butler makes 20-foot jumper (Brendan Haywood assists)
13 - 10
7:30
Matt Barnes misses 23-foot three point jumper
13 - 10
7:30
Shawn Marion defensive rebound
13 - 10
7:16
Dirk Nowitzki makes layup
15 - 10
7:03
Dwight Howard makes driving layup (Vince Carter assists)
15 - 12
6:50
Caron Butler misses 23-foot three point jumper
15 - 12
6:50
Dallas offensive rebound
15 - 12
6:50
Vince Carter loose ball foul (Brendan Haywood draws the foul)
15 - 12
6:43
Caron Butler misses 11-foot two point shot
15 - 12
6:41
Dwight Howard defensive rebound
15 - 12
6:33
Brendan Haywood personal foul (Vince Carter draws the foul)
15 - 12
6:33
Eduardo Najera enters the game for Brendan Haywood
15 - 12
6:26
Eduardo Najera personal foul (Dwight Howard draws the foul)
15 - 12
6:16
Dwight Howard makes layup
15 - 14
5:54
Dwight Howard blocks Caron Butler's driving layup
15 - 14
5:54
Dallas offensive rebound
15 - 14
5:54
Orlando full timeout
15 - 14
5:50
Jason Kidd makes 17-foot jumper (Shawn Marion assists)
17 - 14
5:35
Vince Carter misses 15-foot jumper
17 - 14
5:35
Jason Kidd defensive rebound
17 - 14
5:20
Eduardo Najera makes 14-foot jumper (Shawn Marion assists)
19 - 14
5:07
Matt Barnes misses driving layup
19 - 14
5:07
Dwight Howard offensive rebound
19 - 14
5:05
Shawn Marion shooting foul (Dwight Howard draws the foul)
19 - 14
5:05
Dwight Howard makes free throw 1 of 2
19 - 15
5:05
Jason Terry enters the game for Shawn Marion
19 - 15
5:05
Dwight Howard misses free throw 2 of 2
19 - 15
5:03
Matt Barnes offensive rebound
19 - 15
4:52
Dwight Howard makes two point shot (Jameer Nelson assists)
19 - 17
4:37
Jason Terry makes 9-foot jumper (Jason Kidd assists)
21 - 17
4:26
Jameer Nelson misses 20-foot jumper
21 - 17
4:26
Jason Kidd defensive rebound
21 - 17
4:20
Jason Terry bad pass (Rashard Lewis steals)
21 - 17
4:09
Vince Carter makes 25-foot three point jumper (Rashard Lewis assists)
21 - 20
3:50
Dirk Nowitzki misses 8-foot two point shot
21 - 20
3:49
Matt Barnes defensive rebound
21 - 20
3:42
Rashard Lewis makes 25-foot three point jumper (Vince Carter assists)
21 - 23
3:40
Dallas full timeout
21 - 23
3:40
Jason Williams enters the game for Jameer Nelson
21 - 23
3:24
Jason Terry misses 17-foot jumper
21 - 23
3:23
Jason Williams defensive rebound
21 - 23
3:05
Rashard Lewis misses 25-foot three point jumper
21 - 23
3:05
Dirk Nowitzki defensive rebound
21 - 23
2:55
Jason Kidd misses 26-foot three point jumper
21 - 23
2:54
Caron Butler offensive rebound
21 - 23
2:43
Jason Kidd misses 25-foot three point jumper
21 - 23
2:43
Rashard Lewis defensive rebound
21 - 23
2:27
Shawn Marion enters the game for Dirk Nowitzki
21 - 23
2:21
Rashard Lewis makes 10-foot two point shot (Matt Barnes assists)
21 - 25
2:02
Caron Butler makes 18-foot jumper (Jason Kidd assists)
23 - 25
1:51
Jason Kidd personal foul (Rashard Lewis draws the foul)
23 - 25
1:51
Rashard Lewis makes free throw 1 of 2
23 - 26
1:51
Rashard Lewis makes free throw 2 of 2
23 - 27
1:39
Jason Terry misses 16-foot jumper
23 - 27
1:39
Dwight Howard defensive rebound
23 - 27
1:17
Dwight Howard makes dunk (Matt Barnes assists)
23 - 29
1:02
Eduardo Najera misses 24-foot three point jumper
23 - 29
1:01
Caron Butler offensive rebound
23 - 29
0:59
Caron Butler misses layup
23 - 29
0:58
Rashard Lewis defensive rebound
23 - 29
0:54
Eduardo Najera shooting foul (Dwight Howard draws the foul)
23 - 29
0:54
Dwight Howard makes free throw 1 of 2
23 - 30
0:54
Dirk Nowitzki enters the game for Caron Butler
23 - 30
0:54
Dwight Howard makes free throw 2 of 2
23 - 31
0:36
Jason Kidd bad pass (Rashard Lewis steals)
23 - 31
0:27
Rashard Lewis bad pass (Dirk Nowitzki steals)
23 - 31
0:04
Eduardo Najera misses jumper
23 - 31
0:03
Dwight Howard defensive rebound
23 - 31
0:00
Matt Barnes makes two point shot (Dwight Howard assists)
23 - 33
0:00
End of the 1st Quarter
23 - 33

time
TEAM
PLAY
SCORE
12:00
Start of the 2nd Quarter
23 - 33
11:40
Dirk Nowitzki misses 15-foot jumper
23 - 33
11:38
Dallas defensive rebound
23 - 33
11:38
Brendan Haywood enters the game for Eduardo Najera
23 - 33
11:22
Dwight Howard makes 9-foot two point shot
23 - 35
11:07
Dwight Howard personal foul (Jose Juan Barea draws the foul)
23 - 35
11:07
Marcin Gortat enters the game for Dwight Howard
23 - 35
11:07
Eduardo Najera enters the game for Brendan Haywood
23 - 35
10:59
Jason Williams personal foul (Jose Juan Barea draws the foul)
23 - 35
10:51
Jose Juan Barea misses 25-foot three point jumper
23 - 35
10:51
Jason Terry offensive rebound
23 - 35
10:47
Jason Terry misses 25-foot three point jumper
23 - 35
10:45
Ryan Anderson defensive rebound
23 - 35
10:40
Matt Barnes bad pass (Eduardo Najera steals)
23 - 35
10:26
Jose Juan Barea offensive foul (Jason Williams draws the foul)
23 - 35
10:26
Jose Juan Barea turnover
23 - 35
10:26
Mickael Pietrus enters the game for Matt Barnes
23 - 35
10:11
Ryan Anderson misses 26-foot three point jumper
23 - 35
10:11
Jason Terry defensive rebound
23 - 35
9:59
Dirk Nowitzki misses 9-foot two point shot
23 - 35
9:57
Ryan Anderson defensive rebound
23 - 35
9:51
Jason Williams misses 25-foot three point jumper
23 - 35
9:49
Eduardo Najera defensive rebound
23 - 35
9:44
Jose Juan Barea makes driving layup
25 - 35
9:44
Jason Williams shooting foul (Jose Juan Barea draws the foul)
25 - 35
9:44
Jose Juan Barea misses free throw 1 of 1
25 - 35
9:44
Ryan Anderson defensive rebound
25 - 35
9:27
J.J. Redick bad pass
25 - 35
9:15
Dirk Nowitzki misses 19-foot two point shot
25 - 35
9:15
Marcin Gortat defensive rebound
25 - 35
9:00
Eduardo Najera blocks Ryan Anderson's layup
25 - 35
8:57
Marcin Gortat offensive rebound
25 - 35
8:55
Marcin Gortat makes layup
25 - 37
8:47
Eduardo Najera bad pass (Mickael Pietrus steals)
25 - 37
8:37
Mickael Pietrus misses 26-foot three point jumper
25 - 37
8:36
Shawn Marion defensive rebound
25 - 37
8:27
Jose Juan Barea bad pass (Jason Williams steals)
25 - 37
8:11
Dirk Nowitzki blocks Marcin Gortat's layup
25 - 37
8:10
Dirk Nowitzki defensive rebound
25 - 37
8:04
Jose Juan Barea makes layup (Dirk Nowitzki assists)
27 - 37
7:46
J.J. Redick misses 20-foot jumper
27 - 37
7:45
Eduardo Najera defensive rebound
27 - 37
7:26
Dirk Nowitzki misses 10-foot jumper
27 - 37
7:24
Marcin Gortat defensive rebound
27 - 37
7:16
Ryan Anderson misses 25-foot three point jumper
27 - 37
7:16
Eduardo Najera defensive rebound
27 - 37
7:03
Eduardo Najera makes 25-foot three point jumper (Dirk Nowitzki assists)
30 - 37
6:48
J.J. Redick misses 27-foot three pointer
30 - 37
6:47
Eduardo Najera defensive rebound
30 - 37
6:26
Dirk Nowitzki misses 16-foot jumper
30 - 37
6:24
Mickael Pietrus defensive rebound
30 - 37
6:16
Marcin Gortat makes 10-foot jumper (Jason Williams assists)
30 - 39
6:07
Dallas full timeout
30 - 39
6:07
Jason Williams double technical foul
30 - 39
6:07
Vince Carter enters the game for Jason Williams
30 - 39
6:07
Jameer Nelson enters the game for J.J. Redick
30 - 39
6:07
Caron Butler enters the game for Eduardo Najera
30 - 39
6:00
Ryan Anderson personal foul (Jason Terry draws the foul)
30 - 39
5:41
Caron Butler misses 22-foot two point shot
30 - 39
5:39
Jameer Nelson defensive rebound
30 - 39
5:35
Official timeout
30 - 39
5:35
Dwight Howard enters the game for Marcin Gortat
30 - 39
5:35
Brendan Haywood enters the game for Shawn Marion
30 - 39
5:33
Mickael Pietrus makes layup (Vince Carter assists)
30 - 41
5:15
Dirk Nowitzki misses 14-foot jumper
30 - 41
5:13
Brendan Haywood offensive rebound
30 - 41
5:11
Brendan Haywood makes layup
32 - 41
4:50
Vince Carter misses 11-foot running jumper
32 - 41
4:47
Ryan Anderson offensive rebound
32 - 41
4:45
Dirk Nowitzki blocks Ryan Anderson's 26-foot three point jumper
32 - 41
4:45
Orlando offensive rebound
32 - 41
4:45
shot clock violation
32 - 41
4:45
Rashard Lewis enters the game for Ryan Anderson
32 - 41
4:30
Jameer Nelson personal foul (Brendan Haywood draws the foul)
32 - 41
4:30
Shawn Marion enters the game for Dirk Nowitzki
32 - 41
4:30
Jason Kidd enters the game for Jose Juan Barea
32 - 41
4:30
Brendan Haywood makes free throw 1 of 2
33 - 41
4:30
Brendan Haywood misses free throw 2 of 2
33 - 41
4:28
Dwight Howard defensive rebound
33 - 41
4:11
Dwight Howard misses 7-foot two point shot
33 - 41
4:09
Jason Kidd defensive rebound
33 - 41
3:58
Shawn Marion makes 12-foot two point shot
35 - 41
3:46
Jameer Nelson makes 11-foot two point shot
35 - 43
3:32
Caron Butler makes driving dunk
37 - 43
3:15
Jameer Nelson misses 10-foot two point shot
37 - 43
3:14
Dwight Howard offensive rebound
37 - 43
3:12
Dwight Howard lost ball (Jason Kidd steals)
37 - 43
2:47
Caron Butler makes 12-foot two point shot
39 - 43
2:41
Vince Carter misses driving layup
39 - 43
2:39
Brendan Haywood defensive rebound
39 - 43
2:34
Orlando full timeout
39 - 43
2:24
Dwight Howard blocks Brendan Haywood's layup
39 - 43
2:23
Jameer Nelson defensive rebound
39 - 43
2:15
Mickael Pietrus misses 27-foot three point jumper
39 - 43
2:15
Jason Kidd defensive rebound
39 - 43
2:10
Mickael Pietrus blocks Shawn Marion's layup
39 - 43
2:08
Vince Carter defensive rebound
39 - 43
1:59
Mickael Pietrus misses 23-foot three point jumper
39 - 43
1:59
Brendan Haywood defensive rebound
39 - 43
1:35
Caron Butler misses 20-foot jumper
39 - 43
1:34
Mickael Pietrus defensive rebound
39 - 43
1:15
Vince Carter misses 26-foot three point jumper
39 - 43
1:15
Shawn Marion defensive rebound
39 - 43
1:06
Caron Butler misses jumper
39 - 43
1:06
Dwight Howard defensive rebound
39 - 43
0:57
Jameer Nelson makes driving layup
39 - 45
0:51
Dallas 20 Sec. timeout
39 - 45
0:51
J.J. Redick enters the game for Jameer Nelson
39 - 45
0:51
Jason Williams enters the game for Mickael Pietrus
39 - 45
0:51
Dirk Nowitzki enters the game for Shawn Marion
39 - 45
0:38
Dirk Nowitzki makes 21-foot jumper (Jason Terry assists)
41 - 45
0:20
Vince Carter lost ball (Jason Kidd steals)
41 - 45
0:17
J.J. Redick shooting foul (Jason Terry draws the foul)
41 - 45
0:17
Jason Terry misses free throw 1 of 2
41 - 45
0:17
Dallas offensive rebound
41 - 45
0:17
Jason Terry makes free throw 2 of 2
42 - 45
0:06
Jason Kidd personal foul (Jason Williams draws the foul)
42 - 45
0:01
Vince Carter makes driving dunk
42 - 47
0:00
Caron Butler misses 46-foot three point jumper
42 - 47
0:00
Dallas offensive rebound
42 - 47
0:00
End of the 2nd Quarter
42 - 47

time
TEAM
PLAY
SCORE
12:00
Start of the 3rd Quarter
42 - 47
11:45
Dirk Nowitzki misses 17-foot jumper
42 - 47
11:45
Matt Barnes defensive rebound
42 - 47
11:40
Dirk Nowitzki personal foul (Dwight Howard draws the foul)
42 - 47
11:30
Matt Barnes makes two point shot (Jameer Nelson assists)
42 - 49
11:11
Shawn Marion misses two point shot
42 - 49
11:10
Shawn Marion offensive rebound
42 - 49
11:06
Brendan Haywood makes dunk (Jason Kidd assists)
44 - 49
10:42
Dwight Howard makes 7-foot two point shot (Jameer Nelson assists)
44 - 51
10:32
Brendan Haywood misses layup
44 - 51
10:30
Vince Carter defensive rebound
44 - 51
10:19
Jameer Nelson misses 25-foot three point jumper
44 - 51
10:19
Dirk Nowitzki defensive rebound
44 - 51
10:15
Caron Butler makes driving layup
46 - 51
10:15
Rashard Lewis shooting foul (Caron Butler draws the foul)
46 - 51
10:15
Caron Butler makes free throw 1 of 1
47 - 51
9:59
Dwight Howard misses 9-foot two point shot
47 - 51
9:57
Matt Barnes offensive rebound
47 - 51
9:57
Matt Barnes misses tip shot
47 - 51
9:56
Matt Barnes offensive rebound
47 - 51
9:55
Brendan Haywood blocks Matt Barnes's layup
47 - 51
9:52
Caron Butler defensive rebound
47 - 51
9:41
Caron Butler misses 20-foot jumper
47 - 51
9:41
Dwight Howard defensive rebound
47 - 51
9:30
Rashard Lewis misses 25-foot three point jumper
47 - 51
9:30
Caron Butler defensive rebound
47 - 51
9:23
Dirk Nowitzki makes 26-foot three point jumper (Jason Kidd assists)
50 - 51
9:03
Brendan Haywood shooting foul (Dwight Howard draws the foul)
50 - 51
9:03
Dwight Howard makes free throw 1 of 2
50 - 52
9:03
Dwight Howard makes free throw 2 of 2
50 - 53
8:47
Rashard Lewis personal foul (Dirk Nowitzki draws the foul)
50 - 53
8:38
Matt Barnes personal foul (Caron Butler draws the foul)
50 - 53
8:32
Dirk Nowitzki makes 19-foot jumper (Jason Kidd assists)
52 - 53
8:08
Rashard Lewis makes 23-foot three point jumper (Vince Carter assists)
52 - 56
7:56
Caron Butler makes 3-foot two point shot (Dirk Nowitzki assists)
54 - 56
7:37
Matt Barnes misses layup
54 - 56
7:35
Brendan Haywood defensive rebound
54 - 56
7:33
Jason Kidd bad pass
54 - 56
7:15
Rashard Lewis misses 25-foot three point jumper
54 - 56
7:15
Jason Kidd defensive rebound
54 - 56
7:03
Shawn Marion backcourt
54 - 56
6:47
Dwight Howard makes hook shot
54 - 58
6:35
Dwight Howard blocks Brendan Haywood's layup
54 - 58
6:33
Dwight Howard defensive rebound
54 - 58
6:26
Dwight Howard makes two point shot (Jameer Nelson assists)
54 - 60
6:24
Dallas full timeout
54 - 60
6:07
Dirk Nowitzki makes 13-foot jumper
56 - 60
5:43
Dwight Howard misses 8-foot two point shot
56 - 60
5:41
Brendan Haywood defensive rebound
56 - 60
5:24
Jason Kidd misses 26-foot three point jumper
56 - 60
5:24
Dallas defensive rebound
56 - 60
5:05
Vince Carter makes 24-foot three point jumper (Matt Barnes assists)
56 - 63
4:39
Dirk Nowitzki misses two point shot
56 - 63
4:39
Brendan Haywood offensive rebound
56 - 63
4:39
shot clock violation
56 - 63
4:39
Jason Terry enters the game for Shawn Marion
56 - 63
4:22
Rashard Lewis makes 20-foot jumper (Matt Barnes assists)
56 - 65
3:57
Dwight Howard shooting foul (Dirk Nowitzki draws the foul)
56 - 65
3:57
Dirk Nowitzki makes free throw 1 of 2
57 - 65
3:57
Dirk Nowitzki makes free throw 2 of 2
58 - 65
3:34
Dwight Howard makes 9-foot hook shot (Jameer Nelson assists)
58 - 67
3:11
Caron Butler misses 9-foot running jumper
58 - 67
3:11
Matt Barnes defensive rebound
58 - 67
2:56
Dwight Howard misses two point shot
58 - 67
2:54
Jason Kidd defensive rebound
58 - 67
2:46
Dirk Nowitzki misses 16-foot jumper
58 - 67
2:45
Dwight Howard defensive rebound
58 - 67
2:29
Jameer Nelson misses 21-foot jumper
58 - 67
2:29
Brendan Haywood defensive rebound
58 - 67
2:11
Jason Kidd misses 26-foot three point jumper
58 - 67
2:11
Dwight Howard defensive rebound
58 - 67
1:53
Caron Butler blocks Dwight Howard's 5-foot hook shot
58 - 67
1:51
Matt Barnes offensive rebound
58 - 67
1:49
Matt Barnes makes layup
58 - 69
1:49
Dallas 20 Sec. timeout
58 - 69
1:49
Orlando full timeout
58 - 69
1:49
Jason Williams enters the game for Rashard Lewis
58 - 69
1:49
Ryan Anderson enters the game for Jameer Nelson
58 - 69
1:34
Dirk Nowitzki makes jumper (Jason Terry assists)
60 - 69
1:19
Vince Carter bad pass (Dirk Nowitzki steals)
60 - 69
1:00
Dirk Nowitzki makes 8-foot two point shot
62 - 69
0:52
Dwight Howard lost ball (Jason Kidd steals)
62 - 69
0:46
Jason Terry makes 28-foot three point jumper (Jason Kidd assists)
65 - 69
0:24
Dirk Nowitzki blocks Ryan Anderson's jumper
65 - 69
0:22
Jason Terry defensive rebound
65 - 69
0:05
Dirk Nowitzki offensive foul (Vince Carter draws the foul)
65 - 69
0:05
Dirk Nowitzki turnover
65 - 69
0:05
Shawn Marion enters the game for Dirk Nowitzki
65 - 69
0:00
End of the 3rd Quarter
65 - 69

time
TEAM
PLAY
SCORE
12:00
Start of the 4th Quarter
65 - 69
11:40
Mickael Pietrus misses 24-foot three point jumper
67 - 69
11:37
Shawn Marion defensive rebound
65 - 69
11:27
Jason Terry makes two point shot
67 - 69
11:18
Brendan Haywood blocks J.J. Redick's driving layup
67 - 69
11:18
Orlando offensive rebound
67 - 69
11:07
J.J. Redick bad pass
67 - 69
10:48
Jason Kidd makes 24-foot three point jumper (Jason Terry assists)
70 - 69
10:26
Ryan Anderson bad pass (Caron Butler steals)
70 - 69
10:18
Brendan Haywood makes dunk (Caron Butler assists)
72 - 69
10:18
Mickael Pietrus shooting foul (Brendan Haywood draws the foul)
72 - 69
10:18
Rashard Lewis enters the game for Ryan Anderson
72 - 69
10:18
Orlando full timeout
72 - 69
10:18
Brendan Haywood makes free throw 1 of 1
73 - 69
10:03
J.J. Redick misses layup
73 - 69
10:02
Jason Terry defensive rebound
73 - 69
9:36
Brendan Haywood makes 4-foot hook shot
75 - 69
9:26
Jason Terry personal foul (J.J. Redick draws the foul)
75 - 69
9:26
Jameer Nelson enters the game for Jason Williams
75 - 69
9:14
Dwight Howard misses 10-foot two point shot
75 - 69
9:14
Orlando defensive rebound
75 - 69
9:14
Mickael Pietrus loose ball foul (Caron Butler draws the foul)
75 - 69
8:53
Jason Kidd makes 12-foot jumper
77 - 69
8:45
Jameer Nelson makes 18-foot jumper
77 - 71
8:27
Jason Terry misses 15-foot jumper
77 - 71
8:26
Jason Terry offensive rebound
77 - 71
8:26
Jason Terry misses tip shot
77 - 71
8:23
Jason Terry offensive rebound
77 - 71
8:23
Dirk Nowitzki enters the game for Caron Butler
77 - 71
8:11
Dwight Howard blocks Brendan Haywood's layup
77 - 71
8:08
J.J. Redick defensive rebound
77 - 71
8:02
Dwight Howard makes layup (Jameer Nelson assists)
77 - 73
7:58
Dallas full timeout
77 - 73
7:58
Vince Carter enters the game for J.J. Redick
77 - 73
7:41
Brendan Haywood makes layup (Jason Terry assists)
79 - 73
7:22
Vince Carter makes 19-foot jumper
79 - 75
7:05
Jason Terry makes 13-foot two point shot
81 - 75
6:50
Jameer Nelson makes 18-foot two point shot
81 - 77
6:31
Dirk Nowitzki misses 18-foot jumper
81 - 77
6:30
Mickael Pietrus defensive rebound
81 - 77
6:20
Jameer Nelson discontinue dribble
81 - 77
6:07
Jason Terry turnover
81 - 77
5:48
Rashard Lewis misses layup
81 - 77
5:47
Jason Kidd defensive rebound
81 - 77
5:41
Dirk Nowitzki misses 19-foot jumper
81 - 77
5:41
Dwight Howard defensive rebound
81 - 77
5:35
Shawn Marion personal foul (Rashard Lewis draws the foul)
81 - 77
5:35
Caron Butler enters the game for Shawn Marion
81 - 77
5:26
Mickael Pietrus misses 23-foot three point jumper
81 - 77
5:26
Caron Butler defensive rebound
81 - 77
5:03
Caron Butler misses three point jumper
81 - 77
5:03
Vince Carter defensive rebound
81 - 77
4:52
Jameer Nelson misses driving layup
81 - 77
4:50
Dwight Howard offensive rebound
81 - 77
4:50
Caron Butler shooting foul (Dwight Howard draws the foul)
81 - 77
4:50
Matt Barnes enters the game for Mickael Pietrus
81 - 77
4:50
Dwight Howard makes free throw 1 of 2
81 - 78
4:50
Dwight Howard misses free throw 2 of 2
81 - 78
4:48
Caron Butler defensive rebound
81 - 78
4:24
Jason Terry makes 18-foot jumper (Dirk Nowitzki assists)
83 - 78
4:24
Orlando 20 Sec. timeout
83 - 78
4:11
Dwight Howard misses 10-foot hook shot
83 - 78
4:11
Jason Kidd defensive rebound
83 - 78
3:59
Jason Kidd bad pass (Vince Carter steals)
83 - 78
3:58
Caron Butler personal foul (Jameer Nelson draws the foul)
83 - 78
3:44
Vince Carter misses 11-foot two point shot
83 - 78
3:44
Dwight Howard offensive rebound
83 - 78
3:44
Dirk Nowitzki shooting foul (Dwight Howard draws the foul)
83 - 78
3:44
Dwight Howard misses free throw 1 of 2
83 - 78
3:44
Orlando offensive rebound
83 - 78
3:44
Dwight Howard makes free throw 2 of 2
83 - 79
3:26
Dirk Nowitzki misses 12-foot two point shot
83 - 79
3:26
Vince Carter defensive rebound
83 - 79
3:12
Matt Barnes misses 24-foot three point jumper
83 - 79
3:12
Orlando defensive rebound
83 - 79
2:51
Dirk Nowitzki makes 14-foot two point shot
85 - 79
2:39
Jameer Nelson makes 7-foot two point shot
85 - 81
2:14
Dirk Nowitzki misses 19-foot two point shot
85 - 81
2:12
Dwight Howard defensive rebound
85 - 81
2:01
Rashard Lewis misses 25-foot three point jumper
85 - 81
2:00
Jameer Nelson offensive rebound
85 - 81
1:53
Dirk Nowitzki jump ball
85 - 81
1:53
Official timeout
85 - 81
1:43
Vince Carter misses 12-foot two point shot
85 - 81
1:42
Brendan Haywood defensive rebound
85 - 81
1:20
Jason Kidd makes 26-foot three point jumper (Caron Butler assists)
88 - 81
1:07
Jameer Nelson misses driving layup
88 - 81
1:06
Jason Terry defensive rebound
88 - 81
0:51
Jason Terry makes layup (Jason Kidd assists)
90 - 81
0:51
Orlando full timeout
90 - 81
0:44
Rashard Lewis misses 26-foot three point jumper
90 - 81
0:43
Jameer Nelson offensive rebound
90 - 81
0:39
Vince Carter misses three point jumper
90 - 81
0:39
Caron Butler defensive rebound
90 - 81
0:39
Jameer Nelson personal foul (Caron Butler draws the foul)
90 - 81
0:38
Matt Barnes personal foul (Caron Butler draws the foul)
90 - 81
0:38
Caron Butler misses free throw 1 of 2
90 - 81
0:38
Dallas offensive rebound
90 - 81
0:38
Jose Juan Barea enters the game for Jason Kidd
90 - 81
0:38
Eduardo Najera enters the game for Dirk Nowitzki
90 - 81
0:38
Caron Butler makes free throw 2 of 2
91 - 81
0:31
Jameer Nelson makes two point shot
91 - 83
0:30
Vince Carter personal foul (Jason Terry draws the foul)
91 - 83
0:30
Jason Terry makes free throw 1 of 2
92 - 83
0:30
Jason Terry makes free throw 2 of 2
93 - 83
0:22
Dwight Howard makes dunk (Vince Carter assists)
93 - 85
0:18
Vince Carter personal foul (Jose Juan Barea draws the foul)
93 - 85
0:18
Jose Juan Barea makes free throw 1 of 2
94 - 85
0:18
Jose Juan Barea makes free throw 2 of 2
95 - 85
0:11
Jameer Nelson misses 22-foot jumper
95 - 85
0:10
Brendan Haywood defensive rebound
95 - 85
0:00
End of the 4th Quarter
95 - 85
0:00
End Game
95 - 85
A sporting goods store in Oklahoma City took a drastic move -- marking down some Kevin Durant Thunder jerseys to 99 percent off.

Draymond Green reached a plea agreement that will allow him to avoid jail time and reduce the charges he faced for allegedly slapping a Michigan State football player.

Ohm Youngmisuk is not buying Jae Crowder's claims that Kevin Durant compromised the Celtics' strategies by listening to their free agency pitch.
Regular Season Series
Series tied 1-1
2015-2016 Southwest Standings
2015-2016 Southeast Standings