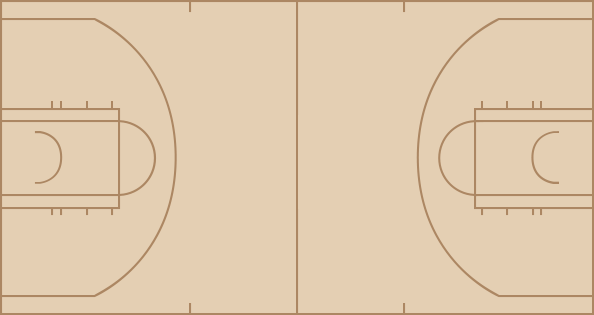 Lakers
time
TEAM
PLAY
SCORE
11:45
Glenn Robinson Defensive Rebound.
0 - 0
11:34
Kobe Bryant Personal Foul
0 - 0
11:25
Sam Cassell made Jumper.
0 - 2
10:57
Rick Fox missed Three Point Jumper.
0 - 2
10:56
Joel Przybilla Defensive Rebound.
0 - 2
10:47
Ray Allen made Three Point Jumper.
0 - 5
10:37
Joel Przybilla Personal Foul
0 - 5
10:29
Kobe Bryant made Jumper.
2 - 5
10:07
Anthony Mason missed Jumper.
2 - 5
10:07
Defensive Rebound.
2 - 5
9:55
Lindsey Hunter missed Three Point Jumper.
2 - 5
9:52
Los Angeles Defensive Rebound.
2 - 5
9:32
Ray Allen made Jumper. Assisted by Glenn Robinson.
2 - 7
9:14
Ray Allen Shooting Foul
2 - 7
9:14
Los Angeles Defensive Rebound.
2 - 7
9:03
Anthony Mason made Layup. Assisted by Sam Cassell.
2 - 9
8:48
Kobe Bryant made Two Point Shot. Assisted by Robert Horry.
4 - 9
8:25
Glenn Robinson missed Jumper.
4 - 9
8:22
Defensive Rebound.
4 - 9
8:12
Kobe Bryant made Slam Dunk.
6 - 9
8:00
Ray Allen Bad Pass
6 - 9
7:47
Rick Fox missed Three Point Jumper.
6 - 9
7:43
Joel Przybilla Defensive Rebound.
6 - 9
7:31
Sam Cassell missed Jumper.
6 - 9
7:31
Lindsey Hunter Defensive Rebound.
6 - 9
7:16
Kobe Bryant missed Jumper.
6 - 9
7:13
Defensive Rebound.
6 - 9
7:13
Joel Przybilla Shooting Foul
6 - 9
7:11
Joel Przybilla Defensive Rebound.
6 - 9
6:58
Lindsey Hunter Shooting Foul
6 - 9
6:58
Glenn Robinson made Free Throw 1 of 2.
6 - 10
6:58
Glenn Robinson made Free Throw 2 of 2.
6 - 11
6:43
Lindsey Hunter made Three Point Jumper. Assisted by Kobe Bryant.
9 - 11
6:33
Sam Cassell Offensive Foul
9 - 11
6:33
Sam Cassell Foul
9 - 11
6:20
Kobe Bryant made Layup. Assisted by Rick Fox.
11 - 11
6:05
Anthony Mason made Jumper. Assisted by Sam Cassell.
11 - 13
5:28
Ray Allen missed Jumper.
11 - 13
5:28
Joel Przybilla Defensive Rebound.
11 - 13
5:28
Kobe Bryant Loose Ball Foul
11 - 13
5:28
Milwaukee Full Timeout.
11 - 13
5:28
Tim Thomas enters the game for Joel Przybilla.
11 - 13
5:28
Derek Fisher enters the game for Kobe Bryant.
11 - 13
5:16
Sam Cassell Lost Ball
11 - 13
4:45
Sam Cassell made Jumper.
11 - 15
4:33
Anthony Mason Personal Foul
11 - 15
4:20
Derek Fisher made Jumper. Assisted by Rick Fox.
13 - 15
4:01
Tim Thomas made Two Point Shot. Assisted by Ray Allen.
13 - 17
3:38
Rick Fox missed Jumper.
13 - 17
3:35
Anthony Mason Defensive Rebound.
13 - 17
3:25
Glenn Robinson missed Jumper.
13 - 17
3:24
Milwaukee Defensive Rebound.
13 - 17
3:24
Glenn Robinson Loose Ball Foul
13 - 17
3:24
Derek Fisher made Free Throw 1 of 2.
14 - 17
3:24
Derek Fisher made Free Throw 2 of 2.
15 - 17
3:11
Sam Cassell missed Jumper.
15 - 17
3:09
Derek Fisher Defensive Rebound.
15 - 17
3:02
Rick Fox missed Jumper.
15 - 17
3:00
Tim Thomas Defensive Rebound.
15 - 17
2:54
Tim Thomas Lost Ball. Stolen by Robert Horry.
15 - 17
2:49
Lindsey Hunter missed Jumper.
15 - 17
2:47
Sam Cassell Defensive Rebound.
15 - 17
2:41
Derek Fisher Personal Foul
15 - 17
2:41
Los Angeles Full Timeout.
15 - 17
2:41
Ervin Johnson enters the game for Glenn Robinson.
15 - 17
2:41
Devean George enters the game for Rick Fox.
15 - 17
2:31
Ray Allen made Three Point Jumper. Assisted by Sam Cassell.
15 - 20
2:15
Devean George missed Jumper.
15 - 20
2:12
Ervin Johnson Defensive Rebound.
15 - 20
2:05
Tim Thomas made Layup. Assisted by Sam Cassell.
15 - 22
2:05
Tim Thomas made Free Throw 1 of 1.
15 - 23
1:40
Robert Horry Technical Foul
15 - 23
1:40
Sam Cassell made Technical Free Throw.
15 - 24
1:31
Tim Thomas made Jumper. Assisted by Ray Allen.
15 - 26
1:13
Sam Cassell Personal Foul
15 - 26
1:13
Michael Redd enters the game for Ray Allen.
15 - 26
1:13
Robert Horry made Free Throw 1 of 2.
16 - 26
1:13
Brian Shaw enters the game for Lindsey Hunter.
16 - 26
1:13
Robert Horry made Free Throw 2 of 2.
17 - 26
0:59
Tim Thomas missed Jumper.
17 - 26
0:57
Anthony Mason Defensive Rebound.
17 - 26
0:49
Milwaukee Defensive Rebound.
17 - 26
0:49
Stanislav Medvedenko Defensive Rebound.
17 - 26
0:32
Derek Fisher missed Jumper.
17 - 26
0:30
Anthony Mason Defensive Rebound.
17 - 26
0:12
Sam Cassell made Jumper.
17 - 28
0:02
Derek Fisher missed Layup. Blocked by Ervin Johnson.
17 - 28
0:01
Michael Redd Defensive Rebound.
17 - 28
0:00
Michael Redd missed Three Point Jumper.
17 - 28
0:00
Milwaukee Defensive Rebound.
17 - 28

time
TEAM
PLAY
SCORE
11:42
Anthony Mason made Jumper.
17 - 30
11:22
Michael Redd Personal Foul
17 - 30
11:17
Kobe Bryant made Layup. Assisted by Derek Fisher.
19 - 30
11:02
Sam Cassell missed Jumper.
19 - 30
11:00
Stanislav Medvedenko Defensive Rebound.
19 - 30
10:51
Derek Fisher missed Three Point Jumper.
19 - 30
10:49
Los Angeles Defensive Rebound.
19 - 30
10:47
Kobe Bryant made Jumper. Assisted by Brian Shaw.
21 - 30
10:23
Sam Cassell missed Three Point Jumper.
21 - 30
10:22
Stanislav Medvedenko Defensive Rebound.
21 - 30
10:08
Derek Fisher made Three Point Jumper. Assisted by Kobe Bryant.
24 - 30
9:51
Anthony Mason made Two Point Shot.
24 - 32
9:40
Devean George missed Two Point Shot.
24 - 32
9:37
Anthony Mason Defensive Rebound.
24 - 32
9:37
Devean George Personal Foul
24 - 32
9:37
Glenn Robinson enters the game for Anthony Mason.
24 - 32
9:37
Darvin Ham enters the game for Sam Cassell.
24 - 32
9:37
Ray Allen enters the game for Michael Redd.
24 - 32
9:37
Mark Madsen enters the game for Stanislav Medvedenko.
24 - 32
9:23
Tim Thomas missed Jumper.
24 - 32
9:21
Mark Madsen Defensive Rebound.
24 - 32
9:21
Darvin Ham Loose Ball Foul
24 - 32
9:11
Kobe Bryant missed Layup. Blocked by Ervin Johnson.
24 - 32
9:10
Los Angeles Defensive Rebound.
24 - 32
9:02
Kobe Bryant missed Jumper.
24 - 32
9:00
Darvin Ham Defensive Rebound.
24 - 32
8:52
Ray Allen made Three Point Jumper.
24 - 35
8:41
Brian Shaw missed Three Point Jumper.
24 - 35
8:40
Los Angeles Defensive Rebound.
24 - 35
8:40
Ervin Johnson Loose Ball Foul
24 - 35
8:40
Official Timeout.
24 - 35
8:40
Rick Fox enters the game for Mark Madsen.
24 - 35
8:26
Ray Allen Defensive Rebound.
24 - 35
8:19
Darvin Ham Offensive Foul
24 - 35
8:19
Darvin Ham Foul
24 - 35
7:45
Tim Thomas missed Three Point Jumper.
24 - 35
7:43
Defensive Rebound.
24 - 35
7:22
Rick Fox made Jumper.
26 - 35
7:07
Anthony Mason enters the game for Darvin Ham.
26 - 35
7:07
Robert Horry enters the game for Derek Fisher.
26 - 35
7:07
Darvin Ham Technical Foul
26 - 35
7:07
Kobe Bryant made Technical Free Throw.
27 - 35
7:03
Glenn Robinson missed Jumper.
27 - 35
7:01
Defensive Rebound.
27 - 35
6:35
Ray Allen made Jumper.
27 - 37
5:50
Anthony Mason made Hook Shot.
27 - 39
5:22
Kobe Bryant missed Three Point Jumper.
27 - 39
5:20
Ervin Johnson Defensive Rebound.
27 - 39
5:07
Ray Allen missed Layup.
27 - 39
5:05
Ervin Johnson Defensive Rebound.
27 - 39
5:05
Ervin Johnson Lost Ball
27 - 39
5:05
Milwaukee Full Timeout.
27 - 39
5:05
Sam Cassell enters the game for Tim Thomas.
27 - 39
5:05
Joel Przybilla enters the game for Ervin Johnson.
27 - 39
5:05
Derek Fisher enters the game for Devean George.
27 - 39
4:45
Derek Fisher missed Jumper.
27 - 39
4:43
Joel Przybilla Defensive Rebound.
27 - 39
4:37
Ray Allen Lost Ball
27 - 39
4:18
Joel Przybilla Shooting Foul
27 - 39
4:18
Tim Thomas enters the game for Joel Przybilla.
27 - 39
4:16
Anthony Mason Defensive Rebound.
27 - 39
4:01
Ray Allen Lost Ball. Stolen by Rick Fox.
27 - 39
3:50
Michael Redd enters the game for Ray Allen.
27 - 39
3:43
Kobe Bryant made Layup.
29 - 39
3:28
Rick Fox Shooting Foul
29 - 39
3:28
Tim Thomas made Free Throw 1 of 2.
29 - 40
3:28
Devean George enters the game for Robert Horry.
29 - 40
3:28
Tim Thomas made Free Throw 2 of 2.
29 - 41
3:11
Kobe Bryant made Layup.
31 - 41
2:49
Tim Thomas made Jumper. Assisted by Sam Cassell.
31 - 43
2:29
Derek Fisher made Three Point Jumper.
34 - 43
2:17
Sam Cassell made Layup.
34 - 45
2:02
Tim Thomas Shooting Foul
34 - 45
2:02
Los Angeles Full Timeout.
34 - 45
2:02
Brian Shaw enters the game for Kobe Bryant.
34 - 45
2:02
Los Angeles Defensive Rebound.
34 - 45
2:02
Devean George made Free Throw 2 of 2.
35 - 45
1:50
Sam Cassell missed Three Point Jumper.
35 - 45
1:47
Rick Fox Defensive Rebound.
35 - 45
1:45
Glenn Robinson Personal Foul
35 - 45
1:45
Ray Allen enters the game for Sam Cassell.
35 - 45
1:45
Mark Madsen made Free Throw 1 of 2.
36 - 45
1:45
Mark Madsen made Free Throw 2 of 2.
37 - 45
1:29
Michael Redd missed Three Point Jumper.
37 - 45
1:25
Glenn Robinson Defensive Rebound.
37 - 45
1:23
Tim Thomas Out of Bounds
37 - 45
1:15
Derek Fisher made Jumper.
39 - 45
0:57
Rick Fox Personal Foul
39 - 45
0:49
Mark Madsen Personal Foul
39 - 45
0:49
Anthony Mason made Free Throw 1 of 2.
39 - 46
0:49
Darvin Ham enters the game for Glenn Robinson.
39 - 46
0:48
Brian Shaw Defensive Rebound.
39 - 46
0:34
Rick Fox missed Jumper.
39 - 46
0:18
Devean George Defensive Rebound.
39 - 46
0:05
Devean George made Three Point Jumper. Assisted by Rick Fox.
42 - 46
0:00
Tim Thomas missed Three Point Jumper.
42 - 46
0:00
Milwaukee Defensive Rebound.
42 - 46

time
TEAM
PLAY
SCORE
11:41
Anthony Mason missed Jumper.
42 - 46
11:40
Kobe Bryant Defensive Rebound.
42 - 46
11:26
Rick Fox made Layup.
44 - 46
11:15
Sam Cassell missed Jumper.
44 - 46
11:12
Rick Fox Defensive Rebound.
44 - 46
11:03
Lindsey Hunter missed Jumper.
44 - 46
11:00
Ray Allen Defensive Rebound.
44 - 46
10:52
Glenn Robinson made Jumper. Assisted by Ray Allen.
44 - 48
10:33
Rick Fox missed Jumper.
44 - 48
10:30
Joel Przybilla Defensive Rebound.
44 - 48
10:26
Robert Horry Shooting Foul
44 - 48
10:26
Anthony Mason made Free Throw 1 of 2.
44 - 49
10:25
Rick Fox Defensive Rebound.
44 - 49
10:12
Kobe Bryant made Layup.
46 - 49
10:03
Glenn Robinson made Jumper. Assisted by Sam Cassell.
46 - 51
9:38
Kobe Bryant Lost Ball
46 - 51
9:25
Joel Przybilla made Dunk. Assisted by Sam Cassell.
46 - 53
9:10
Rick Fox missed Jumper.
46 - 53
9:07
Anthony Mason Defensive Rebound.
46 - 53
9:00
Sam Cassell missed Three Point Jumper.
46 - 53
9:00
Milwaukee Defensive Rebound.
46 - 53
8:18
Sam Cassell made Jumper.
46 - 55
8:00
Robert Horry missed Three Point Jumper.
46 - 55
7:58
Ray Allen Defensive Rebound.
46 - 55
7:52
Ray Allen missed Three Point Jumper.
46 - 55
7:50
Robert Horry Defensive Rebound.
46 - 55
7:31
Rick Fox missed Jumper.
46 - 55
7:28
Los Angeles Defensive Rebound.
46 - 55
7:13
Anthony Mason made Jumper. Assisted by Sam Cassell.
46 - 57
6:54
Joel Przybilla Shooting Foul
46 - 57
6:43
Rick Fox Personal Foul
46 - 57
6:37
Glenn Robinson Lost Ball. Stolen by Rick Fox.
46 - 57
6:35
Robert Horry Bad Pass
46 - 57
6:24
Glenn Robinson made Jumper. Assisted by Sam Cassell.
46 - 59
5:58
Glenn Robinson Defensive Rebound.
46 - 59
5:52
Lindsey Hunter Shooting Foul
46 - 59
5:52
Milwaukee Full Timeout.
46 - 59
5:52
Sam Cassell made Free Throw 1 of 2.
46 - 60
5:52
Sam Cassell made Free Throw 2 of 2.
46 - 61
5:33
Kobe Bryant missed Jumper.
46 - 61
5:31
Anthony Mason Defensive Rebound.
46 - 61
5:22
Sam Cassell missed Jumper.
46 - 61
5:22
Lindsey Hunter Defensive Rebound.
46 - 61
5:05
Kobe Bryant missed Jumper.
46 - 61
5:01
Joel Przybilla Defensive Rebound.
46 - 61
4:50
Anthony Mason missed Jumper.
46 - 61
4:47
Defensive Rebound.
46 - 61
4:28
Rick Fox Defensive Rebound.
48 - 61
4:28
Rick Fox made Tip Shot.
48 - 61
4:05
Robert Horry Shooting Foul
48 - 61
4:05
Milwaukee Defensive Rebound.
48 - 61
4:05
Joel Przybilla made Free Throw 2 of 2.
48 - 62
3:43
Kobe Bryant Defensive Rebound.
48 - 62
3:41
Kobe Bryant made Layup.
50 - 62
3:18
Glenn Robinson made Jumper. Assisted by Anthony Mason.
50 - 64
3:00
Anthony Mason Defensive Rebound.
50 - 64
2:43
Glenn Robinson missed Three Point Jumper.
50 - 64
2:41
Anthony Mason Defensive Rebound.
50 - 64
2:39
Anthony Mason missed Layup.
50 - 64
2:38
Defensive Rebound.
50 - 64
2:24
Kobe Bryant made Layup.
52 - 64
2:08
Rick Fox Shooting Foul
52 - 64
2:08
Los Angeles Full Timeout.
52 - 64
2:08
Tim Thomas enters the game for Joel Przybilla.
52 - 64
2:08
Michael Redd enters the game for Ray Allen.
52 - 64
2:08
Devean George enters the game for Rick Fox.
52 - 64
2:08
Stanislav Medvedenko enters the game for Lindsey Hunter.
52 - 64
2:08
Milwaukee Defensive Rebound.
52 - 64
2:08
Glenn Robinson made Free Throw 2 of 2.
52 - 65
1:45
Robert Horry made Three Point Jumper. Assisted by Kobe Bryant.
55 - 65
1:21
Tim Thomas made Two Point Shot. Assisted by Michael Redd.
55 - 67
0:54
Kobe Bryant missed Jumper.
55 - 67
0:52
Los Angeles Defensive Rebound.
55 - 67
0:43
Tim Thomas Personal Foul
55 - 67
0:27
Derek Fisher missed Jumper.
55 - 67
0:25
Michael Redd Defensive Rebound.
55 - 67
0:11
Stanislav Medvedenko Shooting Foul
55 - 67
0:11
Milwaukee Defensive Rebound.
55 - 67
0:11
Ervin Johnson enters the game for Anthony Mason.
55 - 67
0:11
Lindsey Hunter enters the game for Stanislav Medvedenko.
55 - 67
0:11
Sam Cassell made Free Throw 2 of 2.
55 - 68
0:01
Kobe Bryant missed Jumper. Blocked by Tim Thomas.
55 - 68
0:00
Ervin Johnson Defensive Rebound.
55 - 68

time
TEAM
PLAY
SCORE
11:37
Ervin Johnson Shooting Foul
55 - 68
11:37
Sam Cassell Defensive Rebound.
55 - 68
11:14
Glenn Robinson missed Jumper.
55 - 68
11:12
Ervin Johnson Defensive Rebound.
55 - 68
10:56
Glenn Robinson made Jumper. Assisted by Sam Cassell.
55 - 70
10:37
Rick Fox missed Jumper.
55 - 70
10:34
Defensive Rebound.
55 - 70
10:25
Sam Cassell Defensive Rebound.
55 - 70
10:15
Brian Shaw Personal Foul
55 - 70
10:07
Rick Fox Shooting Foul
55 - 70
10:07
Glenn Robinson made Free Throw 1 of 2.
55 - 71
10:07
Kobe Bryant enters the game for Rick Fox.
55 - 71
10:07
Glenn Robinson made Free Throw 2 of 2.
55 - 72
9:56
Brian Shaw Bad Pass. Stolen by Tim Thomas.
55 - 72
9:52
Brian Shaw Shooting Foul
55 - 72
9:52
Ray Allen enters the game for Glenn Robinson.
55 - 72
9:52
Tim Thomas made Free Throw 1 of 2.
55 - 73
9:52
Tim Thomas made Free Throw 2 of 2.
55 - 74
9:41
Kobe Bryant missed Jumper.
55 - 74
9:41
Defensive Rebound.
55 - 74
9:41
Ervin Johnson Loose Ball Foul
55 - 74
9:26
Kobe Bryant Lost Ball. Stolen by Ray Allen.
55 - 74
9:18
Sam Cassell made Three Point Jumper. Assisted by Ray Allen.
55 - 77
9:00
Tim Thomas Personal Foul
55 - 77
8:49
Ervin Johnson Shooting Foul
55 - 77
8:49
Official Timeout.
55 - 77
8:49
Los Angeles Defensive Rebound.
55 - 77
8:37
Devean George Personal Foul
55 - 77
8:26
Ray Allen missed Jumper.
55 - 77
8:26
Devean George Defensive Rebound.
55 - 77
8:14
Kobe Bryant missed Jumper.
55 - 77
8:11
Defensive Rebound.
55 - 77
8:11
Ervin Johnson Shooting Foul
55 - 77
8:11
Anthony Mason enters the game for Michael Redd.
55 - 77
8:11
Robert Horry enters the game for Brian Shaw.
55 - 77
7:56
Ray Allen Lost Ball. Stolen by Derek Fisher.
55 - 77
7:48
Kobe Bryant made Two Point Shot.
57 - 77
7:24
Sam Cassell missed Three Point Jumper.
57 - 77
7:22
Devean George Defensive Rebound.
57 - 77
7:11
Devean George made Three Point Jumper. Assisted by Kobe Bryant.
60 - 77
7:07
Milwaukee Full Timeout.
60 - 77
7:07
Glenn Robinson enters the game for Ervin Johnson.
60 - 77
6:48
Sam Cassell made Jumper. Assisted by Ray Allen.
60 - 79
6:01
Tim Thomas missed Jumper.
60 - 79
6:00
Defensive Rebound.
60 - 79
5:39
Robert Horry made Three Point Jumper. Assisted by Devean George.
63 - 79
5:22
Glenn Robinson missed Jumper.
63 - 79
5:20
Devean George Defensive Rebound.
63 - 79
5:09
Derek Fisher missed Three Point Jumper.
63 - 79
5:07
Tim Thomas Defensive Rebound.
63 - 79
4:58
Sam Cassell made Jumper. Assisted by Glenn Robinson.
63 - 81
4:41
Los Angeles Full Timeout.
63 - 81
4:30
Devean George made Three Point Jumper. Assisted by Robert Horry.
66 - 81
4:16
Devean George Personal Foul
66 - 81
4:16
Glenn Robinson made Free Throw 1 of 2.
66 - 82
4:16
Glenn Robinson made Free Throw 2 of 2.
66 - 83
3:50
Kobe Bryant missed Three Point Jumper.
66 - 83
3:48
Ray Allen Defensive Rebound.
66 - 83
3:43
Tim Thomas missed Layup.
66 - 83
3:41
Tim Thomas Defensive Rebound.
66 - 85
3:41
Tim Thomas made Tip Shot.
66 - 85
3:28
Glenn Robinson Personal Foul
66 - 85
3:28
Rick Fox enters the game for Devean George.
66 - 85
3:28
Glenn Robinson Defensive Rebound.
66 - 85
3:15
Ray Allen made Free Throw 2 of 2.
66 - 87
3:15
Ray Allen made Free Throw 1 of 2.
66 - 86
2:55
Defensive Rebound.
66 - 87
2:54
Glenn Robinson Shooting Foul
66 - 87
2:53
Glenn Robinson Defensive Rebound.
66 - 87
2:43
Glenn Robinson made Free Throw 1 of 2.
66 - 88
2:43
Glenn Robinson made Free Throw 2 of 2.
66 - 89
2:30
Derek Fisher made Three Point Jumper. Assisted by Kobe Bryant.
69 - 89
2:05
Sam Cassell missed Jumper.
69 - 89
2:03
Defensive Rebound.
69 - 89
1:47
Robert Horry Lost Ball. Stolen by Glenn Robinson.
69 - 89
1:31
Anthony Mason missed Jumper.
69 - 89
1:30
Milwaukee Defensive Rebound.
69 - 89
1:30
Delay of Game
69 - 89
1:07
Robert Horry missed Three Point Jumper.
69 - 89
1:06
Kobe Bryant Defensive Rebound.
69 - 89
1:05
Kobe Bryant made Dunk.
71 - 89
1:05
Milwaukee Full Timeout.
71 - 89
0:58
Sam Cassell Bad Pass. Stolen by Robert Horry.
71 - 89
0:40
Kobe Bryant missed Jumper.
71 - 89
0:38
Tim Thomas Defensive Rebound.
71 - 89
0:35
Tim Thomas Bad Pass. Stolen by Kobe Bryant.
71 - 89
0:19
Los Angeles Defensive Rebound.
71 - 89
0:11
Glenn Robinson missed Jumper. Blocked by Robert Horry.
71 - 89
0:08
Kobe Bryant Defensive Rebound.
71 - 89
Charles Barkley tells Mike & Mike he would keep Chris Paul, Blake Griffin and DeAndre Jordan together for one more season and felt if Paul and Griffin had stayed healthy, the Clippers would have advanced past the Warriors.

Stephen A. Smith reacts to Magic Johnson's tweets saying that the Lakers should attempt to pursue Cavaliers star LeBron James in free agency.

Charles Barkley thinks the Thunder will eliminate the Spurs as long as they don't make "what the hell plays."
Regular Season Series
LAL wins series 2-0
2015-2016 Pacific Standings