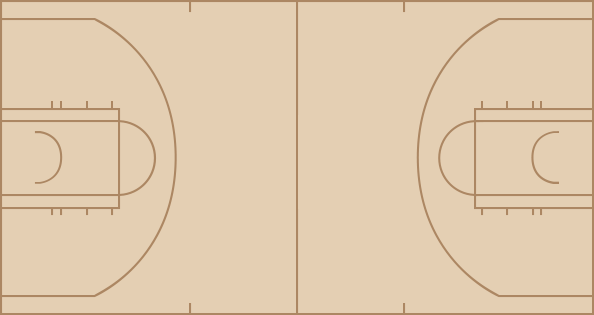 Grizzlies
time
TEAM
PLAY
SCORE
11:41
Pau Gasol made Jumper. Assisted by Eddie Gill.
2 - 0
11:15
Lorenzen Wright Shooting Foul
2 - 0
11:15
Juwan Howard made Free Throw 1 of 2.
2 - 1
11:15
Juwan Howard made Free Throw 2 of 2.
2 - 2
10:52
Eddie Gill missed Jumper.
2 - 2
10:48
Juwan Howard Defensive Rebound.
2 - 2
10:45
Grant Long Shooting Foul
2 - 2
10:45
Antonio McDyess made Free Throw 1 of 2.
2 - 3
10:44
Pau Gasol Defensive Rebound.
2 - 3
10:30
Lorenzen Wright made Layup. Assisted by Eddie Gill.
4 - 3
10:30
Calbert Cheaney Shooting Foul
4 - 3
10:30
Memphis Defensive Rebound.
4 - 3
10:22
Lorenzen Wright missed Jumper.
4 - 3
10:21
Ryan Bowen Defensive Rebound.
4 - 3
10:17
Calbert Cheaney made Layup. Assisted by Tim Hardaway.
4 - 5
10:03
Pau Gasol made Two Point Shot. Assisted by Eddie Gill.
6 - 5
9:37
Pau Gasol made Dunk. Assisted by Eddie Gill.
8 - 5
9:14
Eddie Gill missed Jumper.
8 - 5
9:11
Antonio McDyess Defensive Rebound.
8 - 5
9:00
Ryan Bowen made Two Point Shot. Assisted by Juwan Howard.
8 - 7
8:34
Shane Battier missed Hook Shot.
8 - 7
8:32
Juwan Howard Defensive Rebound.
8 - 7
8:26
Antonio McDyess made Layup. Assisted by Juwan Howard.
8 - 9
8:00
Antonio McDyess missed Jumper.
8 - 9
7:58
Antonio McDyess Defensive Rebound.
8 - 9
7:52
Grant Long Lost Ball
8 - 9
7:46
Tim Hardaway made Jumper.
8 - 11
7:28
Lorenzen Wright missed Jumper.
8 - 11
7:26
Calbert Cheaney Defensive Rebound.
8 - 11
7:15
Pau Gasol made Dunk. Assisted by Grant Long.
10 - 11
7:15
Tim Hardaway Shooting Foul
10 - 11
7:15
Rodney Buford enters the game for Shane Battier.
10 - 11
7:15
Pau Gasol made Free Throw 1 of 1.
11 - 11
7:01
Rodney Buford Shooting Foul
11 - 11
7:01
Juwan Howard made Free Throw 1 of 2.
11 - 12
7:01
Juwan Howard made Free Throw 2 of 2.
11 - 13
6:41
Pau Gasol Defensive Rebound.
11 - 13
6:41
Ryan Bowen Shooting Foul
11 - 13
6:41
Pau Gasol made Free Throw 1 of 2.
12 - 13
6:41
Pau Gasol made Free Throw 2 of 2.
13 - 13
6:26
Calbert Cheaney missed Jumper.
13 - 13
6:24
Lorenzen Wright Defensive Rebound.
13 - 13
6:01
Grant Long made Layup. Assisted by Eddie Gill.
15 - 13
5:39
Juwan Howard missed Two Point Shot.
15 - 13
5:37
Lorenzen Wright Defensive Rebound.
15 - 13
5:22
Juwan Howard Personal Foul
15 - 13
5:22
Denver Full Timeout.
15 - 13
5:22
Donnell Harvey enters the game for Antonio McDyess.
15 - 13
4:52
Calbert Cheaney made Two Point Shot.
15 - 15
4:30
Juwan Howard Defensive Rebound.
15 - 15
4:28
Juwan Howard Bad Pass
15 - 15
4:28
George McCloud enters the game for Tim Hardaway.
15 - 15
4:03
Juwan Howard made Layup.
15 - 17
4:03
Rodney Buford Defensive Goaltending
15 - 17
3:47
Donnell Harvey Personal Foul
15 - 17
3:47
Pau Gasol made Free Throw 1 of 2.
16 - 17
3:47
Willie Solomon enters the game for Eddie Gill.
16 - 17
3:47
Shane Battier enters the game for Grant Long.
16 - 17
3:47
Pau Gasol made Free Throw 2 of 2.
17 - 17
3:45
Willie Solomon Personal Foul
17 - 17
3:45
Stromile Swift enters the game for Pau Gasol.
17 - 17
3:30
Donnell Harvey missed Jumper. Blocked by Stromile Swift.
17 - 17
3:26
Lorenzen Wright Defensive Rebound.
17 - 17
3:19
Donnell Harvey made Layup.
17 - 19
3:11
Rodney Buford missed Layup. Blocked by Juwan Howard.
17 - 19
3:09
Ryan Bowen Defensive Rebound.
17 - 19
3:05
Calbert Cheaney made Dunk. Assisted by George McCloud.
17 - 21
2:58
Memphis Full Timeout.
17 - 21
2:58
James Posey enters the game for Ryan Bowen.
17 - 21
2:39
Willie Solomon missed Layup.
17 - 21
2:36
Rodney Buford Defensive Rebound.
17 - 21
2:33
Rodney Buford made Jumper.
19 - 21
2:20
Calbert Cheaney Offensive Foul
19 - 21
2:20
Calbert Cheaney Foul
19 - 21
2:02
Lorenzen Wright made Layup. Assisted by Stromile Swift.
21 - 21
1:38
Eddie Gill enters the game for Willie Solomon.
21 - 21
1:38
Voshon Lenard enters the game for Calbert Cheaney.
21 - 21
1:36
Stromile Swift made Jumper. Assisted by Eddie Gill.
23 - 21
1:25
Stromile Swift Illegal Defense Foul
23 - 21
1:25
James Posey made Technical Free Throw.
23 - 22
1:25
Willie Solomon enters the game for Eddie Gill.
23 - 22
1:17
Juwan Howard missed Two Point Shot.
23 - 22
1:15
Shane Battier Defensive Rebound.
23 - 22
1:06
Stromile Swift made Layup.
25 - 22
0:49
Voshon Lenard made Jumper. Assisted by George McCloud.
25 - 24
0:27
Memphis Defensive Rebound.
25 - 24
0:27
Rodney Buford Loose Ball Foul
25 - 24
0:27
Denver Defensive Rebound.
25 - 24
0:27
Voshon Lenard made Free Throw 2 of 2.
25 - 25
0:09
Lorenzen Wright missed Jumper.
25 - 25
0:06
George McCloud Defensive Rebound.
25 - 25
0:00
Donnell Harvey made Jumper. Assisted by James Posey.
25 - 27

time
TEAM
PLAY
SCORE
11:48
George McCloud Lost Ball
25 - 27
11:37
Stromile Swift 3 second
25 - 27
11:26
Voshon Lenard missed Jumper.
25 - 27
11:22
Tony Massenburg Defensive Rebound.
25 - 27
11:07
Tony Massenburg missed Layup.
25 - 27
11:06
Voshon Lenard Defensive Rebound.
25 - 27
10:56
Voshon Lenard made Two Point Shot.
25 - 29
10:38
Stromile Swift missed Jumper.
25 - 29
10:37
George McCloud Defensive Rebound.
25 - 29
10:32
James Posey missed Three Point Jumper.
25 - 29
10:30
Denver Defensive Rebound.
25 - 29
10:18
Voshon Lenard missed Jumper.
25 - 29
10:17
Tony Massenburg Defensive Rebound.
25 - 29
10:07
James Posey made Three Point Jumper. Assisted by George McCloud.
25 - 32
9:41
Grant Long enters the game for Rodney Buford.
25 - 32
9:41
Pau Gasol enters the game for Tony Massenburg.
25 - 32
9:25
Grant Long Defensive Rebound.
25 - 32
9:25
Antonio McDyess Personal Foul
25 - 32
9:11
Shane Battier made Jumper. Assisted by Pau Gasol.
27 - 32
8:49
Stromile Swift Personal Foul
27 - 32
8:49
Official Timeout.
27 - 32
8:44
George McCloud missed Jumper.
27 - 32
8:37
Antonio McDyess Defensive Rebound.
27 - 32
8:37
Antonio McDyess missed Layup. Blocked by Pau Gasol.
27 - 32
8:33
Donnell Harvey Defensive Rebound.
27 - 32
8:32
Shane Battier Shooting Foul
27 - 32
8:32
Kenny Satterfield enters the game for Donnell Harvey.
27 - 32
8:32
Denver Defensive Rebound.
27 - 32
8:32
James Posey made Free Throw 2 of 2.
27 - 33
8:19
James Posey Personal Foul
27 - 33
8:07
Grant Long made Jumper.
29 - 33
7:48
Antonio McDyess made Dunk. Assisted by George McCloud.
29 - 35
7:30
Willie Solomon made Three Point Jumper. Assisted by Pau Gasol.
32 - 35
7:11
George McCloud missed Three Point Jumper.
32 - 35
7:09
Grant Long Defensive Rebound.
32 - 35
7:09
Voshon Lenard Personal Foul
32 - 35
7:09
Rodney Buford enters the game for Grant Long.
32 - 35
7:09
Juwan Howard enters the game for Antonio McDyess.
32 - 35
6:52
Pau Gasol missed Hook Shot.
32 - 35
6:52
Memphis Defensive Rebound.
32 - 35
6:52
George McCloud Loose Ball Foul
32 - 35
6:43
Pau Gasol made Dunk. Assisted by Shane Battier.
34 - 35
6:31
Denver Full Timeout.
34 - 35
6:31
Menk Bateer enters the game for Kenny Satterfield.
34 - 35
6:13
Menk Bateer Defensive Rebound.
34 - 37
6:13
Menk Bateer made Two Point Shot.
34 - 37
5:47
Shane Battier made Jumper.
36 - 37
5:31
Voshon Lenard missed Three Point Jumper. Blocked by Pau Gasol.
36 - 37
5:31
Juwan Howard Defensive Rebound.
36 - 39
5:31
Juwan Howard made Layup.
36 - 39
5:31
Stromile Swift Shooting Foul
36 - 39
5:31
Calbert Cheaney enters the game for James Posey.
36 - 39
5:31
Juwan Howard made Free Throw 1 of 1.
36 - 40
5:18
Pau Gasol Bad Pass
36 - 40
5:18
Lorenzen Wright enters the game for Stromile Swift.
36 - 40
4:58
Menk Bateer Personal Foul
36 - 40
4:58
Pau Gasol made Free Throw 1 of 2.
37 - 40
4:58
Tim Hardaway enters the game for George McCloud.
37 - 40
4:58
Pau Gasol made Free Throw 2 of 2.
38 - 40
4:33
Menk Bateer missed Three Point Jumper.
38 - 40
4:33
Denver Defensive Rebound.
38 - 40
4:16
Pau Gasol made Hook Shot. Assisted by Willie Solomon.
40 - 40
4:01
Menk Bateer Offensive Foul
40 - 40
4:01
Menk Bateer Foul
40 - 40
3:46
Lorenzen Wright missed Layup.
40 - 40
3:44
Lorenzen Wright Defensive Rebound.
42 - 40
3:44
Lorenzen Wright made Dunk.
42 - 40
3:39
Pau Gasol Shooting Foul
42 - 40
3:39
Juwan Howard made Free Throw 1 of 2.
42 - 41
3:39
Donnell Harvey enters the game for Menk Bateer.
42 - 41
3:39
Juwan Howard made Free Throw 2 of 2.
42 - 42
3:33
Memphis Full Timeout.
42 - 42
3:17
Voshon Lenard Shooting Foul
42 - 42
3:17
Memphis Defensive Rebound.
42 - 42
3:17
Ryan Bowen enters the game for Voshon Lenard.
42 - 42
3:17
Pau Gasol made Free Throw 2 of 2.
43 - 42
3:08
Willie Solomon Shooting Foul
43 - 42
3:08
Tim Hardaway made Free Throw 1 of 3.
43 - 43
3:08
Tim Hardaway made Free Throw 2 of 3.
43 - 44
3:08
Tim Hardaway made Free Throw 3 of 3.
43 - 45
2:47
Pau Gasol missed Jumper.
43 - 45
2:47
Lorenzen Wright Defensive Rebound.
43 - 45
2:47
Juwan Howard Personal Foul
43 - 45
2:47
Lorenzen Wright made Free Throw 1 of 2.
44 - 45
2:47
Lorenzen Wright made Free Throw 2 of 2.
45 - 45
2:31
Donnell Harvey missed Jumper.
45 - 45
2:28
Juwan Howard Defensive Rebound.
45 - 45
2:28
Juwan Howard missed Tip Shot.
45 - 45
2:26
Lorenzen Wright Defensive Rebound.
45 - 45
2:02
Juwan Howard Defensive Rebound.
45 - 45
1:54
Juwan Howard made Jumper. Assisted by Calbert Cheaney.
45 - 47
1:39
Donnell Harvey Personal Foul
45 - 47
1:39
Shane Battier made Free Throw 1 of 2.
46 - 47
1:38
Ryan Bowen Defensive Rebound.
46 - 47
1:20
Lorenzen Wright Defensive Rebound.
46 - 47
1:05
Willie Solomon missed Three Point Jumper.
46 - 47
1:01
Lorenzen Wright Defensive Rebound.
46 - 47
0:58
Lorenzen Wright missed Hook Shot.
46 - 47
0:57
Lorenzen Wright Defensive Rebound.
46 - 47
0:57
Donnell Harvey Shooting Foul
46 - 47
0:57
Lorenzen Wright made Free Throw 1 of 2.
47 - 47
0:57
George McCloud enters the game for Donnell Harvey.
47 - 47
0:57
Eddie Gill enters the game for Willie Solomon.
47 - 47
0:56
Ryan Bowen Defensive Rebound.
47 - 47
0:41
Juwan Howard made Jumper. Assisted by Tim Hardaway.
47 - 49
0:37
Memphis 20 Second Timeou.
47 - 49
0:37
Willie Solomon enters the game for Eddie Gill.
47 - 49
0:36
Donnell Harvey enters the game for George McCloud.
47 - 49
0:22
Ryan Bowen Personal Foul
47 - 49
0:22
Pau Gasol made Free Throw 1 of 2.
48 - 49
0:22
Grant Long enters the game for Lorenzen Wright.
48 - 49
0:22
George McCloud enters the game for Donnell Harvey.
48 - 49
0:22
Pau Gasol made Free Throw 2 of 2.
49 - 49
0:02
Tim Hardaway missed Three Point Jumper.
49 - 49
0:00
Juwan Howard Defensive Rebound.
49 - 49
0:00
Juwan Howard missed Tip Shot.
49 - 49
0:00
Rodney Buford Defensive Rebound.
49 - 49

time
TEAM
PLAY
SCORE
11:44
Juwan Howard made Jumper. Assisted by Antonio McDyess.
49 - 51
11:19
Lorenzen Wright missed Jumper.
49 - 51
11:18
Tim Hardaway Defensive Rebound.
49 - 51
11:11
Tim Hardaway made Jumper.
49 - 53
10:48
Calbert Cheaney Offensive Foul
49 - 53
10:48
Calbert Cheaney Foul
49 - 53
10:32
Antonio McDyess made Layup.
49 - 55
10:30
Memphis Full Timeout.
49 - 55
10:11
Juwan Howard Personal Foul
49 - 55
10:03
Shane Battier Traveling
49 - 55
9:45
Juwan Howard missed Jumper. Blocked by Shane Battier.
49 - 55
9:41
Shane Battier Defensive Rebound.
49 - 55
9:38
Grant Long made Layup. Assisted by Pau Gasol.
51 - 55
9:25
Calbert Cheaney missed Jumper.
51 - 55
9:22
Pau Gasol Defensive Rebound.
51 - 55
9:12
Eddie Gill made Jumper.
53 - 55
8:59
Tim Hardaway made Three Point Jumper.
53 - 58
8:36
Lorenzen Wright missed Hook Shot.
53 - 58
8:32
Juwan Howard Defensive Rebound.
53 - 58
8:27
Tim Hardaway made Three Point Jumper.
53 - 61
8:25
Memphis 20 Second Timeou.
53 - 61
2:01
Tim Hardaway Bad Pass
53 - 61
2:01
Rodney Buford Kicked Ball
53 - 61

time
TEAM
PLAY
SCORE
11:38
George McCloud Shooting Foul
53 - 61
11:38
Eddie Gill made Free Throw 1 of 2.
54 - 61
11:38
Eddie Gill made Free Throw 2 of 2.
55 - 61
11:23
Tony Massenburg Personal Foul
55 - 61
11:18
James Posey made Jumper. Assisted by Juwan Howard.
55 - 63
10:53
Rodney Buford missed Two Point Shot. Blocked by Donnell Harvey.
55 - 63
10:48
George McCloud Defensive Rebound.
55 - 63
10:30
Juwan Howard made Jumper.
55 - 65
10:08
Eddie Gill made Two Point Shot.
57 - 65
9:45
James Posey made Jumper.
57 - 67
9:30
Rodney Buford made Two Point Shot. Assisted by Tony Massenburg.
59 - 67
9:17
Shane Battier enters the game for Stromile Swift.
59 - 67
9:17
Menk Bateer enters the game for Juwan Howard.
59 - 67
9:11
James Posey missed Three Point Jumper.
59 - 67
5:41
Kenny Satterfield enters the game for George McCloud.
59 - 67
5:41
Rodney Buford made Free Throw 1 of 2.
60 - 67
4:52
Willie Solomon Shooting Foul
60 - 67
2:06
Denver Defensive Rebound.
60 - 67
1:51
Pau Gasol made Free Throw 2 of 2.
62 - 67
1:51
Pau Gasol made Free Throw 1 of 2.
61 - 67
1:51
Donnell Harvey Personal Foul
60 - 67
Ricky Santos, a graduate of the University of California, Davis, mimics LeBron James' signature chalk toss while walking across the stage during graduation.

Pacers guard George Hill joins SportsCenter to explain why he thinks the Cavaliers have been successful this postseason, as well as the importance of locker room chemistry.

Stephen A. Smith is highly critical of Kevin Durant's and Russell Westbrook's performances late in Game 6 against the Warriors, and now believes OKC's chances of winning Game 7 are slim.
Regular Season Series
DEN wins series 3-1