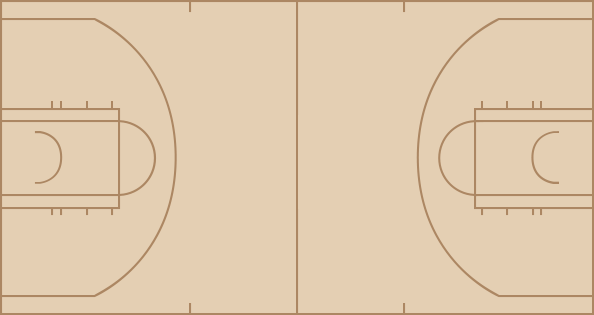 Wizards
time
TEAM
PLAY
SCORE
12:00
Start of the 1st Quarter.
0 - 0
12:00
Jumpball. Christian Laettner vs. Tracy McGrady. Chris Whitney gains possession.
0 - 0
11:47
Popeye Jones missed Hook Shot.
0 - 0
11:45
Pat Garrity Defensive Rebound.
0 - 0
11:30
Darrell Armstrong missed 19 ft Jumper.
0 - 0
11:27
Horace Grant Defensive Rebound.
0 - 0
11:25
Mike Miller made Two Point Shot. Assisted by Horace Grant.
0 - 2
11:00
Richard Hamilton missed 13 ft Two Point Shot.
0 - 2
10:56
Darrell Armstrong Defensive Rebound.
0 - 2
10:51
Darrell Armstrong made 13 ft Jumper.
0 - 4
10:33
Christian Laettner made Hook Shot.
2 - 4
10:21
Tracy McGrady missed 17 ft Jumper.
2 - 4
10:18
Christian Laettner Defensive Rebound.
2 - 4
10:11
Richard Hamilton made Layup. Assisted by Popeye Jones.
4 - 4
9:55
Courtney Alexander Shooting Foul
4 - 4
9:55
Tracy McGrady made Free Throw 1 of 2.
4 - 5
9:55
Tracy McGrady made Free Throw 2 of 2.
4 - 6
9:37
Christian Laettner Lost Ball. Stolen by Tracy McGrady.
4 - 6
9:32
Tracy McGrady made 27 ft Three Point Jumper. Assisted by Darrell Armstrong.
4 - 9
9:08
Chris Whitney missed 28 ft Three Point Jumper.
4 - 9
9:06
Tracy McGrady Defensive Rebound.
4 - 9
9:00
Tracy McGrady made Three Point Jumper.
4 - 12
8:41
Courtney Alexander missed 18 ft Jumper.
4 - 12
8:40
Horace Grant Defensive Rebound.
4 - 12
8:33
Tracy McGrady made Layup. Assisted by Darrell Armstrong.
4 - 14
8:12
Popeye Jones missed 18 ft Jumper.
4 - 14
8:11
Darrell Armstrong Defensive Rebound.
4 - 14
8:03
Tracy McGrady missed 19 ft Jumper.
4 - 14
8:02
Christian Laettner Defensive Rebound.
4 - 14
7:58
Richard Hamilton made Layup. Assisted by Christian Laettner.
6 - 14
7:41
Horace Grant missed 17 ft Jumper.
6 - 14
7:39
Christian Laettner Defensive Rebound.
6 - 14
7:31
Mike Miller Personal Foul
6 - 14
7:22
Christian Laettner missed 19 ft Jumper.
6 - 14
7:20
Courtney Alexander Defensive Rebound.
6 - 14
7:11
Richard Hamilton missed 14 ft Jumper. Blocked by Horace Grant.
6 - 14
7:09
Christian Laettner Defensive Rebound.
6 - 14
7:09
Christian Laettner missed Tip Shot.
6 - 14
7:07
Tracy McGrady Defensive Rebound.
6 - 14
6:56
Tracy McGrady made 11 ft Two Point Shot.
6 - 16
6:56
Popeye Jones Shooting Foul
6 - 16
6:56
Tracy McGrady missed Free Throw 1 of 1.
6 - 16
6:56
Popeye Jones Defensive Rebound.
6 - 16
6:46
Pat Garrity Illegal Defense Foul
6 - 16
6:46
Chris Whitney made Technical Free Throw.
7 - 16
6:35
Richard Hamilton made 15 ft Jumper.
9 - 16
6:16
Mike Miller made 15 ft Jumper.
9 - 18
5:50
Christian Laettner made 15 ft Jumper. Assisted by Richard Hamilton.
11 - 18
5:47
Orlando Full Timeout.
11 - 18
5:47
Monty Williams enters the game for Mike Miller.
11 - 18
5:30
Monty Williams made Layup. Assisted by Darrell Armstrong.
11 - 20
5:03
Courtney Alexander missed 21 ft Jumper.
11 - 20
5:01
Horace Grant Defensive Rebound.
11 - 20
4:56
Richard Hamilton Shooting Foul
11 - 20
4:56
Tracy McGrady missed Free Throw 1 of 2.
11 - 20
4:56
Orlando Defensive Rebound.
11 - 20
4:56
Tyrone Nesby enters the game for Courtney Alexander.
11 - 20
4:56
Tracy McGrady missed Free Throw 2 of 2.
11 - 20
4:54
Popeye Jones Defensive Rebound.
11 - 20
4:43
Tyrone Nesby Bad Pass. Stolen by Tracy McGrady.
11 - 20
4:39
Tracy McGrady made Two Point Shot.
11 - 22
4:16
Chris Whitney missed Three Point Jumper.
11 - 22
4:13
Horace Grant Defensive Rebound.
11 - 22
4:01
Chris Whitney Personal Foul
11 - 22
4:01
Tyronn Lue enters the game for Chris Whitney.
11 - 22
3:57
Darrell Armstrong missed 26 ft Three Point Jumper.
11 - 22
3:53
Pat Garrity Defensive Rebound.
11 - 24
3:53
Pat Garrity made Layup.
11 - 24
3:33
Richard Hamilton missed Jumper. Blocked by Monty Williams.
11 - 24
3:31
Tyrone Nesby Defensive Rebound.
11 - 24
3:30
Tyrone Nesby made Jumper.
13 - 24
3:25
Tracy McGrady Bad Pass. Stolen by Tyronn Lue.
13 - 24
3:19
Tyrone Nesby missed 9 ft Jumper.
13 - 24
3:15
Tyrone Nesby Defensive Rebound.
13 - 24
3:15
Tyrone Nesby missed Tip Shot.
13 - 24
3:15
Popeye Jones Defensive Rebound.
13 - 24
3:15
Popeye Jones missed Layup.
13 - 24
3:14
Horace Grant Defensive Rebound.
13 - 24
3:08
Pat Garrity made 27 ft Three Point Jumper. Assisted by Tracy McGrady.
13 - 27
2:50
Richard Hamilton made Layup. Assisted by Christian Laettner.
15 - 27
2:50
Monty Williams Shooting Foul
15 - 27
2:50
Washington Full Timeout.
15 - 27
2:50
Troy Hudson enters the game for Horace Grant.
15 - 27
2:50
Andrew DeClercq enters the game for Tracy McGrady.
15 - 27
2:50
Hubert Davis enters the game for Christian Laettner.
15 - 27
2:50
Etan Thomas enters the game for Popeye Jones.
15 - 27
2:50
Richard Hamilton made Free Throw 1 of 1.
16 - 27
2:36
Monty Williams made Layup. Assisted by Darrell Armstrong.
16 - 29
2:18
Richard Hamilton Offensive Foul
16 - 29
2:18
Richard Hamilton Foul
16 - 29
2:18
Brendan Haywood enters the game for Richard Hamilton.
16 - 29
2:04
Pat Garrity missed 25 ft Three Point Jumper.
16 - 29
2:02
Hubert Davis Defensive Rebound.
16 - 29
1:47
Etan Thomas made Layup. Assisted by Tyronn Lue.
18 - 29
1:47
Andrew DeClercq Shooting Foul
18 - 29
1:47
Etan Thomas made Free Throw 1 of 1.
19 - 29
1:35
Monty Williams missed Layup. Blocked by Etan Thomas.
19 - 29
1:32
Monty Williams Defensive Rebound.
19 - 29
1:30
Monty Williams Lost Ball
19 - 29
1:30
Patrick Ewing enters the game for Pat Garrity.
19 - 29
1:15
Tyrone Nesby missed 17 ft Jumper.
19 - 29
1:15
Washington Defensive Rebound.
19 - 29
1:15
Etan Thomas Loose Ball Foul
19 - 29
1:15
Andrew DeClercq made Free Throw 1 of 2.
19 - 30
1:15
Andrew DeClercq missed Free Throw 2 of 2.
19 - 30
1:13
Tyrone Nesby Defensive Rebound.
19 - 30
0:56
Brendan Haywood made 12 ft Two Point Shot. Assisted by Tyronn Lue.
21 - 30
0:43
Patrick Ewing missed Jumper.
21 - 30
0:41
Tyrone Nesby Defensive Rebound.
21 - 30
0:35
Tyronn Lue made 19 ft Jumper. Assisted by Tyrone Nesby.
23 - 30
0:22
Troy Hudson made Hook Shot.
23 - 32
0:21
Brendan Haywood Bad Pass. Stolen by Darrell Armstrong.
23 - 32
0:02
Troy Hudson missed 20 ft Jumper.
23 - 32
0:00
Tyrone Nesby Defensive Rebound.
23 - 32
0:00
End of the 1st Quarter.
23 - 32

time
TEAM
PLAY
SCORE
12:00
Start of the 2nd Quarter.
23 - 32
11:45
Troy Hudson made Two Point Shot. Assisted by Patrick Ewing.
23 - 34
11:26
Etan Thomas missed 6 ft Jumper.
23 - 34
11:25
Brendan Haywood Defensive Rebound.
23 - 34
11:25
Andrew DeClercq Flagrant Foul Type 1
23 - 34
11:25
Jud Buechler enters the game for Darrell Armstrong.
23 - 34
11:25
Brendan Haywood made Flagrant Free Throw 1 of 2.
24 - 34
11:25
Brendan Haywood made Flagrant Free Throw 2 of 2.
25 - 34
11:18
Andrew DeClercq Personal Foul
25 - 34
11:18
Don Reid enters the game for Andrew DeClercq.
25 - 34
11:03
Tyrone Nesby missed 14 ft Jumper. Blocked by Jud Buechler.
25 - 34
11:02
Washington Defensive Rebound.
25 - 34
10:48
Patrick Ewing made 16 ft Jumper. Assisted by Jud Buechler.
25 - 36
10:30
Etan Thomas made 15 ft Jumper. Assisted by Tyronn Lue.
27 - 36
10:19
Troy Hudson missed Two Point Shot. Blocked by Brendan Haywood.
27 - 36
10:18
Hubert Davis Defensive Rebound.
27 - 36
10:07
Brendan Haywood missed Jumper.
27 - 36
10:06
Jud Buechler Defensive Rebound.
27 - 36
9:56
Jud Buechler Bad Pass
27 - 36
9:36
Tyrone Nesby missed 15 ft Jumper. Blocked by Jud Buechler.
27 - 36
9:33
Jud Buechler Defensive Rebound.
27 - 36
9:18
Patrick Ewing missed Layup.
27 - 36
9:17
Etan Thomas Defensive Rebound.
27 - 36
9:03
Etan Thomas made 12 ft Jumper. Assisted by Tyronn Lue.
29 - 36
8:47
Washington Official Timeout.
29 - 36
8:47
Pat Garrity enters the game for Patrick Ewing.
29 - 36
8:47
Tracy McGrady enters the game for Jud Buechler.
29 - 36
8:47
Courtney Alexander enters the game for Tyrone Nesby.
29 - 36
8:41
Etan Thomas Shooting Foul
29 - 36
8:41
Tracy McGrady made Free Throw 1 of 2.
29 - 37
8:41
Tracy McGrady made Free Throw 2 of 2.
29 - 38
8:21
Tyronn Lue missed 16 ft Two Point Shot.
29 - 38
8:18
Pat Garrity Defensive Rebound.
29 - 38
8:14
Hubert Davis Shooting Foul
29 - 38
8:14
Don Reid made Free Throw 1 of 2.
29 - 39
8:14
Don Reid made Free Throw 2 of 2.
29 - 40
7:56
Etan Thomas missed 4 ft Two Point Shot.
29 - 40
7:54
Tracy McGrady Defensive Rebound.
29 - 40
7:48
Tracy McGrady made 26 ft Three Point Jumper.
29 - 43
7:31
Tyronn Lue made 16 ft Jumper. Assisted by Courtney Alexander.
31 - 43
7:20
Troy Hudson missed 15 ft Jumper.
31 - 43
7:18
Don Reid Defensive Rebound.
31 - 45
7:18
Don Reid made Tip Shot.
31 - 45
6:56
Brendan Haywood made Dunk. Assisted by Hubert Davis.
33 - 45
6:56
Monty Williams Shooting Foul
33 - 45
6:56
Popeye Jones enters the game for Etan Thomas.
33 - 45
6:56
Richard Hamilton enters the game for Hubert Davis.
33 - 45
6:56
Brendan Haywood made Free Throw 1 of 1.
34 - 45
6:43
Don Reid missed Layup.
34 - 45
6:41
Popeye Jones Defensive Rebound.
34 - 45
6:33
Popeye Jones missed Layup.
34 - 45
6:30
Brendan Haywood Defensive Rebound.
36 - 45
6:30
Brendan Haywood made Tip Shot.
36 - 45
6:11
Tracy McGrady made 18 ft Jumper. Assisted by Pat Garrity.
36 - 47
5:52
Richard Hamilton missed 14 ft Jumper.
36 - 47
5:50
Brendan Haywood Defensive Rebound.
36 - 47
5:46
Richard Hamilton made 15 ft Jumper. Assisted by Tyronn Lue.
38 - 47
5:24
Tracy McGrady missed 8 ft Jumper.
38 - 47
5:22
Brendan Haywood Defensive Rebound.
38 - 47
5:16
Richard Hamilton made 12 ft Jumper. Assisted by Brendan Haywood.
40 - 47
4:58
Pat Garrity made 18 ft Jumper. Assisted by Don Reid.
40 - 49
4:35
Popeye Jones missed 13 ft Jumper.
40 - 49
4:33
Don Reid Defensive Rebound.
40 - 49
4:24
Tracy McGrady missed Two Point Shot.
40 - 49
4:22
Orlando Defensive Rebound.
40 - 49
4:22
Orlando Full Timeout.
40 - 49
4:22
Christian Laettner enters the game for Popeye Jones.
40 - 49
4:22
Horace Grant enters the game for Troy Hudson.
40 - 49
4:22
Darrell Armstrong enters the game for Don Reid.
40 - 49
4:01
Horace Grant missed 15 ft Jumper.
40 - 49
3:59
Christian Laettner Defensive Rebound.
40 - 49
3:46
Tyronn Lue made 14 ft Two Point Shot.
42 - 49
3:29
Tracy McGrady Bad Pass. Stolen by Brendan Haywood.
42 - 49
3:23
Courtney Alexander missed Layup.
42 - 49
3:20
Pat Garrity Defensive Rebound.
42 - 49
3:16
Tracy McGrady missed 28 ft Three Point Jumper.
42 - 49
3:14
Brendan Haywood Defensive Rebound.
42 - 49
3:01
Courtney Alexander missed Jumper.
42 - 49
3:00
Pat Garrity Defensive Rebound.
42 - 49
2:44
Darrell Armstrong made 23 ft Three Point Jumper. Assisted by Tracy McGrady.
42 - 52
2:34
Washington Full Timeout.
42 - 52
2:34
Chris Whitney enters the game for Tyronn Lue.
42 - 52
2:34
Troy Hudson enters the game for Monty Williams.
42 - 52
2:20
Christian Laettner missed 16 ft Jumper.
42 - 52
2:16
Tracy McGrady Defensive Rebound.
42 - 52
2:00
Courtney Alexander Shooting Foul
42 - 52
2:00
Hubert Davis enters the game for Richard Hamilton.
42 - 52
2:00
Tracy McGrady made Free Throw 1 of 2.
42 - 53
2:00
Tyrone Nesby enters the game for Courtney Alexander.
42 - 53
2:00
Monty Williams enters the game for Troy Hudson.
42 - 53
2:00
Tracy McGrady made Free Throw 2 of 2.
42 - 54
1:50
Tyrone Nesby Offensive Foul
42 - 54
1:50
Tyrone Nesby Foul
42 - 54
1:38
Orlando 20 Second Timeou.
42 - 54
1:31
Tracy McGrady made 21 ft Jumper.
42 - 56
1:15
Chris Whitney missed 16 ft Jumper.
42 - 56
1:12
Tyrone Nesby Defensive Rebound.
42 - 56
1:10
Tracy McGrady Shooting Foul
42 - 56
1:10
Troy Hudson enters the game for Monty Williams.
42 - 56
1:10
Tyrone Nesby missed Free Throw 1 of 2.
42 - 56
1:10
Washington Defensive Rebound.
42 - 56
1:10
Tyrone Nesby made Free Throw 2 of 2.
43 - 56
0:52
Horace Grant missed 16 ft Jumper.
43 - 56
0:49
Christian Laettner Defensive Rebound.
43 - 56
0:35
Christian Laettner made 15 ft Jumper. Assisted by Chris Whitney.
45 - 56
0:19
Tracy McGrady made 25 ft Three Point Jumper. Assisted by Horace Grant.
45 - 59
0:14
Washington 20 Second Timeou.
45 - 59
0:14
Tyronn Lue enters the game for Brendan Haywood.
45 - 59
0:14
Jud Buechler enters the game for Horace Grant.
45 - 59
0:00
Christian Laettner made Layup. Assisted by Tyronn Lue.
47 - 59
0:00
End of the 2nd Quarter.
47 - 59

time
TEAM
PLAY
SCORE
12:00
Start of the 3rd Quarter.
47 - 59
11:47
Darrell Armstrong Bad Pass. Stolen by Courtney Alexander.
47 - 59
11:42
Pat Garrity Shooting Foul
47 - 59
11:42
Courtney Alexander made Free Throw 1 of 2.
48 - 59
11:42
Courtney Alexander made Free Throw 2 of 2.
49 - 59
11:36
Monty Williams made Two Point Shot.
49 - 61
11:15
Richard Hamilton missed Hook Shot.
49 - 61
11:14
Horace Grant Defensive Rebound.
49 - 61
11:03
Darrell Armstrong made 25 ft Three Point Jumper. Assisted by Monty Williams.
49 - 64
10:42
Popeye Jones made Dunk. Assisted by Christian Laettner.
51 - 64
10:29
Monty Williams made Layup. Assisted by Tracy McGrady.
51 - 66
10:12
Courtney Alexander made Jumper. Assisted by Christian Laettner.
53 - 66
9:59
Tracy McGrady made Two Point Shot.
53 - 68
9:52
Washington Full Timeout.
53 - 68
9:52
Tyrone Nesby enters the game for Richard Hamilton.
53 - 68
9:33
Courtney Alexander missed 16 ft Jumper. Blocked by Horace Grant.
53 - 68
9:30
Tyrone Nesby Defensive Rebound.
55 - 68
9:30
Tyrone Nesby made Tip Shot.
55 - 68
9:06
Horace Grant missed 10 ft Jumper.
55 - 68
8:56
Popeye Jones Defensive Rebound.
55 - 68
8:51
Tyrone Nesby made 15 ft Jumper. Assisted by Popeye Jones.
57 - 68
8:42
Courtney Alexander Personal Foul
57 - 68
8:33
Darrell Armstrong missed 16 ft Jumper.
57 - 68
8:32
Darrell Armstrong Defensive Rebound.
57 - 68
8:29
Darrell Armstrong made 22 ft Jumper.
57 - 70
8:04
Christian Laettner made 6 ft Hook Shot.
59 - 70
7:50
Tracy McGrady missed 26 ft Three Point Jumper.
59 - 70
7:48
Courtney Alexander Defensive Rebound.
59 - 70
7:41
Courtney Alexander Bad Pass. Stolen by Horace Grant.
59 - 70
7:35
Pat Garrity Bad Pass
59 - 70
7:11
Christian Laettner Traveling
59 - 70
6:50
Horace Grant missed 6 ft Hook Shot.
59 - 70
6:47
Popeye Jones Defensive Rebound.
59 - 70
6:41
Christian Laettner made Layup. Assisted by Chris Whitney.
61 - 70
6:26
Tyrone Nesby Personal Foul
61 - 70
6:26
Orlando 20 Second Timeou.
61 - 70
6:20
Tyrone Nesby Shooting Foul
61 - 70
6:20
Tracy McGrady missed Free Throw 1 of 2.
61 - 70
6:20
Orlando Defensive Rebound.
61 - 70
6:20
Tracy McGrady made Free Throw 2 of 2.
61 - 71
6:11
Courtney Alexander missed Layup. Blocked by Monty Williams.
61 - 71
6:09
Pat Garrity Defensive Rebound.
61 - 71
6:00
Tracy McGrady made 17 ft Jumper.
61 - 73
5:45
Popeye Jones Bad Pass. Stolen by Monty Williams.
61 - 73
5:41
Darrell Armstrong Lost Ball
61 - 73
5:41
Richard Hamilton enters the game for Tyrone Nesby.
61 - 73
5:28
Monty Williams Personal Foul
61 - 73
5:18
Richard Hamilton made 16 ft Jumper. Assisted by Courtney Alexander.
63 - 73
5:00
Horace Grant missed Layup.
63 - 73
4:56
Courtney Alexander Defensive Rebound.
63 - 73
4:39
Chris Whitney Bad Pass. Stolen by Darrell Armstrong.
63 - 73
4:30
Tracy McGrady missed 26 ft Three Point Jumper.
63 - 73
4:28
Christian Laettner Defensive Rebound.
63 - 73
4:22
Christian Laettner missed 18 ft Jumper.
63 - 73
4:20
Richard Hamilton Defensive Rebound.
63 - 73
4:16
Richard Hamilton made Two Point Shot.
65 - 73
4:09
Orlando Full Timeout.
65 - 73
4:09
Brendan Haywood enters the game for Popeye Jones.
65 - 73
3:59
Darrell Armstrong missed 26 ft Three Point Jumper.
65 - 73
3:55
Christian Laettner Defensive Rebound.
65 - 73
3:36
Richard Hamilton made Jumper. Assisted by Chris Whitney.
67 - 73
3:17
Monty Williams missed Jumper.
67 - 73
3:16
Richard Hamilton Defensive Rebound.
67 - 73
3:14
Richard Hamilton Lost Ball. Stolen by Darrell Armstrong.
67 - 73
3:04
Richard Hamilton Personal Foul
67 - 73
3:04
Troy Hudson enters the game for Monty Williams.
67 - 73
3:00
Horace Grant missed 19 ft Jumper.
67 - 73
2:58
Christian Laettner Defensive Rebound.
67 - 73
2:51
Richard Hamilton missed 22 ft Jumper.
67 - 73
2:49
Troy Hudson Defensive Rebound.
67 - 73
2:48
Brendan Haywood Personal Foul
67 - 73
2:48
Troy Hudson made Free Throw 1 of 2.
67 - 74
2:48
Patrick Ewing enters the game for Horace Grant.
67 - 74
2:48
Troy Hudson missed Free Throw 2 of 2.
67 - 74
2:47
Christian Laettner Defensive Rebound.
67 - 74
2:36
Richard Hamilton missed 14 ft Two Point Shot.
67 - 74
2:34
Tracy McGrady Defensive Rebound.
67 - 74
2:24
Troy Hudson missed Jumper.
67 - 74
2:23
Orlando Defensive Rebound.
67 - 74
2:23
Christian Laettner Loose Ball Foul
67 - 74
2:23
Patrick Ewing made Free Throw 1 of 2.
67 - 75
2:23
Tyronn Lue enters the game for Chris Whitney.
67 - 75
2:23
Patrick Ewing missed Free Throw 2 of 2.
67 - 75
2:08
Christian Laettner Defensive Rebound.
67 - 75
2:01
Pat Garrity Personal Foul
67 - 75
2:01
Courtney Alexander made Free Throw 1 of 2.
68 - 75
2:01
Courtney Alexander made Free Throw 2 of 2.
69 - 75
1:47
Brendan Haywood Shooting Foul
69 - 75
1:47
Patrick Ewing missed Free Throw 1 of 2.
69 - 75
1:47
Orlando Defensive Rebound.
69 - 75
1:47
Patrick Ewing made Free Throw 2 of 2.
69 - 76
1:36
Patrick Ewing Shooting Foul
69 - 76
1:36
Richard Hamilton made Free Throw 1 of 2.
70 - 76
1:36
Tyrone Nesby enters the game for Christian Laettner.
70 - 76
1:36
Richard Hamilton made Free Throw 2 of 2.
71 - 76
1:24
Tracy McGrady missed 17 ft Jumper.
71 - 76
1:23
Tyronn Lue Defensive Rebound.
71 - 76
1:04
Tyronn Lue Bad Pass. Stolen by Darrell Armstrong.
71 - 76
0:52
Tracy McGrady made Layup.
71 - 78
0:42
Richard Hamilton Offensive Foul
71 - 78
0:42
Richard Hamilton Foul
71 - 78
0:42
Monty Williams enters the game for Darrell Armstrong.
71 - 78
0:42
Chris Whitney enters the game for Richard Hamilton.
71 - 78
0:25
Troy Hudson missed Two Point Shot.
71 - 78
0:24
Tyrone Nesby Defensive Rebound.
71 - 78
0:02
Tyrone Nesby made 16 ft Jumper. Assisted by Courtney Alexander.
73 - 78
0:00
End of the 3rd Quarter.
73 - 78

time
TEAM
PLAY
SCORE
12:00
Start of the 4th Quarter.
73 - 78
11:48
Brendan Haywood made Slam Dunk. Assisted by Richard Hamilton.
75 - 78
11:30
Monty Williams made Layup.
75 - 80
11:11
Courtney Alexander made Jumper. Assisted by Tyronn Lue.
77 - 80
10:55
Courtney Alexander Personal Foul
77 - 80
10:45
Troy Hudson missed 26 ft Three Point Jumper.
77 - 80
10:42
Brendan Haywood Defensive Rebound.
77 - 80
10:33
Patrick Ewing Shooting Foul
77 - 80
10:33
Horace Grant enters the game for Patrick Ewing.
77 - 80
10:33
Tyrone Nesby made Free Throw 1 of 2.
78 - 80
10:33
Tyrone Nesby made Free Throw 2 of 2.
79 - 80
10:19
Horace Grant made 18 ft Jumper. Assisted by Troy Hudson.
79 - 82
9:56
Courtney Alexander made 16 ft Two Point Shot. Assisted by Tyronn Lue.
81 - 82
9:37
Brendan Haywood Shooting Foul
81 - 82
9:37
Horace Grant missed Free Throw 1 of 2.
81 - 82
9:37
Orlando Defensive Rebound.
81 - 82
9:37
Horace Grant missed Free Throw 2 of 2.
81 - 82
9:36
Tyrone Nesby Defensive Rebound.
81 - 82
9:25
Brendan Haywood missed Layup. Blocked by Horace Grant.
81 - 82
9:22
Jud Buechler Defensive Rebound.
81 - 82
9:12
Tyrone Nesby Shooting Foul
81 - 82
9:12
Darrell Armstrong enters the game for Jud Buechler.
81 - 82
9:12
Tracy McGrady made Free Throw 1 of 2.
81 - 83
9:12
Tracy McGrady made Free Throw 2 of 2.
81 - 84
8:59
Tyronn Lue made 25 ft Three Point Jumper. Assisted by Richard Hamilton.
84 - 84
8:44
Tracy McGrady made 18 ft Jumper.
84 - 86
8:32
Washington Full Timeout.
84 - 86
8:22
Tyronn Lue made 15 ft Jumper.
86 - 86
8:03
Tracy McGrady made Jumper.
86 - 88
7:41
Richard Hamilton missed 17 ft Jumper.
86 - 88
7:39
Monty Williams Defensive Rebound.
86 - 88
7:18
Darrell Armstrong missed 16 ft Jumper.
86 - 88
7:16
Tyrone Nesby Defensive Rebound.
86 - 88
7:09
Brendan Haywood 3 second
86 - 88
7:00
Troy Hudson Bad Pass
86 - 88
6:48
Tyronn Lue made Two Point Shot.
88 - 88
6:26
Troy Hudson missed 18 ft Jumper.
88 - 88
6:24
Orlando Defensive Rebound.
88 - 88
6:24
Troy Hudson Loose Ball Foul
88 - 88
6:05
Courtney Alexander made 17 ft Jumper.
90 - 88
6:03
Orlando Full Timeout.
90 - 88
6:03
Chris Whitney enters the game for Tyrone Nesby.
90 - 88
6:03
Pat Garrity enters the game for Horace Grant.
90 - 88
5:39
Troy Hudson missed Two Point Shot.
90 - 88
5:35
Brendan Haywood Defensive Rebound.
90 - 88
5:22
Richard Hamilton made Two Point Shot. Assisted by Chris Whitney.
92 - 88
5:22
Monty Williams Shooting Foul
92 - 88
5:22
Richard Hamilton made Free Throw 1 of 1.
93 - 88
5:11
Tracy McGrady made 12 ft Two Point Shot.
93 - 90
4:46
Tyronn Lue missed Two Point Shot.
93 - 90
4:45
Monty Williams Defensive Rebound.
93 - 90
4:37
Pat Garrity made 20 ft Jumper. Assisted by Darrell Armstrong.
93 - 92
4:13
Richard Hamilton missed Jumper.
93 - 92
4:11
Tracy McGrady Defensive Rebound.
93 - 92
4:00
Tracy McGrady missed 20 ft Jumper.
93 - 92
3:58
Brendan Haywood Defensive Rebound.
93 - 92
3:54
Tyronn Lue Bad Pass
93 - 92
3:54
Popeye Jones enters the game for Brendan Haywood.
93 - 92
3:54
Jud Buechler enters the game for Monty Williams.
93 - 92
3:35
Tracy McGrady Lost Ball. Stolen by Popeye Jones.
93 - 92
3:19
Richard Hamilton missed 9 ft Jumper.
93 - 92
3:18
Jud Buechler Defensive Rebound.
93 - 92
3:02
Tracy McGrady made 22 ft Jumper.
93 - 94
2:40
Darrell Armstrong Personal Foul
93 - 94
2:40
Washington Official Timeout.
93 - 94
2:27
Chris Whitney missed 20 ft Jumper.
93 - 94
2:24
Darrell Armstrong Defensive Rebound.
93 - 94
2:15
Chris Whitney Personal Foul
93 - 94
2:15
Brendan Haywood enters the game for Popeye Jones.
93 - 94
2:09
Pat Garrity missed 26 ft Three Point Jumper.
93 - 94
2:06
Chris Whitney Defensive Rebound.
93 - 94
2:00
Jud Buechler Personal Foul
93 - 94
2:00
Richard Hamilton made Free Throw 1 of 2.
94 - 94
2:00
Popeye Jones enters the game for Brendan Haywood.
94 - 94
2:00
Richard Hamilton made Free Throw 2 of 2.
95 - 94
1:47
Tracy McGrady missed 19 ft Jumper.
95 - 94
1:45
Courtney Alexander Defensive Rebound.
95 - 94
1:23
Richard Hamilton missed 17 ft Jumper.
95 - 94
1:22
Tracy McGrady Defensive Rebound.
95 - 94
1:09
Tracy McGrady made 14 ft Two Point Shot.
95 - 96
1:09
Washington Full Timeout.
95 - 96
1:09
Horace Grant enters the game for Pat Garrity.
95 - 96
0:51
Chris Whitney missed 17 ft Jumper.
95 - 96
0:49
Tracy McGrady Defensive Rebound.
95 - 96
0:35
Tracy McGrady missed 14 ft Two Point Shot.
95 - 96
0:33
Courtney Alexander Defensive Rebound.
95 - 96
0:33
Darrell Armstrong Personal Foul
95 - 96
0:33
Courtney Alexander made Free Throw 1 of 2.
96 - 96
0:33
Tyrone Nesby enters the game for Chris Whitney.
96 - 96
0:33
Courtney Alexander missed Free Throw 2 of 2.
96 - 96
0:31
Tracy McGrady Defensive Rebound.
96 - 96
0:31
Orlando Full Timeout.
96 - 96
0:31
Pat Garrity enters the game for Horace Grant.
96 - 96
0:12
Tracy McGrady made 13 ft Jumper.
96 - 98
0:12
Washington Full Timeout.
96 - 98
0:12
Horace Grant enters the game for Pat Garrity.
96 - 98
0:12
Chris Whitney enters the game for Tyrone Nesby.
96 - 98
0:02
Tyronn Lue missed Jumper.
96 - 98
0:00
Tracy McGrady Defensive Rebound.
96 - 98
0:00
Popeye Jones Loose Ball Foul
96 - 98
0:00
Tracy McGrady missed Free Throw 1 of 2.
96 - 98
0:00
Orlando Defensive Rebound.
96 - 98
0:00
Monty Williams enters the game for Darrell Armstrong.
96 - 98
0:00
Tyrone Nesby enters the game for Richard Hamilton.
96 - 98
0:00
Tracy McGrady made Free Throw 2 of 2.
96 - 99
0:00
Washington 20 Second Timeou.
96 - 99
0:00
Darrell Armstrong enters the game for Horace Grant.
96 - 99
0:00
Richard Hamilton enters the game for Tyronn Lue.
96 - 99
0:00
Chris Whitney missed 25 ft Three Point Jumper.
96 - 99
0:00
Washington Defensive Rebound.
96 - 99
0:00
End of the 4th Quarter.
96 - 99
The Raptors may have their backs against the wall again, but in a Jekyll-and-Hyde playoff run they're still enjoying themselves along the way.

Golden State abandoned a tricky defensive plan it used in falling into a 3-1 hole against Oklahoma City. The result? A series-saving Game 5 win.

Michael Smith and Jemele Hill agonize over the All-NBA picks and debate the fairness of media opinions affecting players' livelihoods.
Regular Season Series
Series tied 2-2
2015-2016 Atlantic Standings