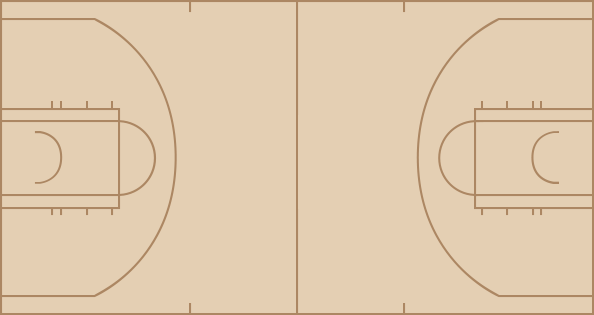 Jazz
time
TEAM
PLAY
SCORE
12:00
Start of the 1st Quarter.
0 - 0
12:00
Jumpball. Donyell Marshall vs. Ben Wallace. Chucky Atkins gains possession.
0 - 0
11:45
Chucky Atkins missed 8 ft Two Point Shot.
0 - 0
11:42
John Stockton Defensive Rebound.
0 - 0
11:37
Andrei Kirilenko made Layup. Assisted by John Stockton.
2 - 0
11:12
Chucky Atkins missed 26 ft Three Point Jumper.
2 - 0
11:11
Andrei Kirilenko Defensive Rebound.
2 - 0
11:03
Jarron Collins made Layup. Assisted by Andrei Kirilenko.
4 - 0
10:45
Clifford Robinson made 19 ft Jumper. Assisted by Jerry Stackhouse.
4 - 2
10:21
Andrei Kirilenko made 12 ft Jumper. Assisted by John Stockton.
6 - 2
10:04
Michael Curry missed Layup. Blocked by Donyell Marshall.
6 - 2
10:02
John Stockton Defensive Rebound.
6 - 2
9:52
Donyell Marshall missed Layup.
6 - 2
9:52
Jarron Collins Defensive Rebound.
6 - 2
9:51
Jarron Collins made Tip Shot.
8 - 2
9:49
Detroit 20 Second Timeou.
8 - 2
9:34
Clifford Robinson Lost Ball. Stolen by John Stockton.
8 - 2
9:27
Bryon Russell missed Three Point Jumper.
8 - 2
9:26
Clifford Robinson Defensive Rebound.
8 - 2
9:15
Chucky Atkins missed 27 ft Three Point Jumper.
8 - 2
9:15
John Stockton Defensive Rebound.
8 - 2
9:11
Andrei Kirilenko missed Layup.
8 - 2
9:08
Andrei Kirilenko Defensive Rebound.
8 - 2
9:07
Andrei Kirilenko made Tip Shot.
10 - 2
8:52
Clifford Robinson missed 12 ft Jumper.
10 - 2
8:51
Detroit Defensive Rebound.
10 - 2
8:42
Jerry Stackhouse made 17 ft Jumper.
10 - 4
8:18
Jarron Collins missed 18 ft Jumper.
10 - 4
8:17
Jerry Stackhouse Defensive Rebound.
10 - 4
8:11
Jerry Stackhouse missed 18 ft Jumper.
10 - 4
8:10
John Stockton Defensive Rebound.
10 - 4
8:03
Jarron Collins missed Layup. Blocked by Ben Wallace.
10 - 4
8:00
Clifford Robinson Defensive Rebound.
10 - 4
7:43
Chucky Atkins missed 18 ft Jumper.
10 - 4
7:41
Detroit Defensive Rebound.
10 - 4
7:31
John Stockton made Layup. Assisted by Bryon Russell.
12 - 4
7:31
Defensive Goaltending
12 - 4
7:01
Jarron Collins missed 18 ft Jumper.
12 - 4
7:00
Michael Curry Defensive Rebound.
12 - 4
6:45
Clifford Robinson missed 10 ft Two Point Shot.
12 - 4
6:41
Ben Wallace Defensive Rebound.
12 - 4
6:39
Jerry Stackhouse made 27 ft Three Point Jumper. Assisted by Chucky Atkins.
12 - 7
6:22
Andrei Kirilenko Bad Pass. Stolen by Jerry Stackhouse.
12 - 7
6:11
Clifford Robinson missed 26 ft Three Point Jumper.
12 - 7
6:09
Detroit Defensive Rebound.
12 - 7
6:05
Chucky Atkins Offensive Foul
12 - 7
6:05
Chucky Atkins Foul
12 - 7
5:58
Jarron Collins missed Layup. Blocked by Ben Wallace.
12 - 7
5:56
Jarron Collins Defensive Rebound.
12 - 7
5:52
Jarron Collins made Layup.
14 - 7
5:37
Jerry Stackhouse made 18 ft Jumper. Assisted by Ben Wallace.
14 - 9
5:18
Donyell Marshall missed Layup.
14 - 9
5:16
Clifford Robinson Defensive Rebound.
14 - 9
5:11
John Stockton Shooting Foul
14 - 9
5:11
Detroit Full Timeout.
14 - 9
5:11
Rusty LaRue enters the game for John Stockton.
14 - 9
5:11
Chucky Atkins made Free Throw 1 of 2.
14 - 10
5:11
Chucky Atkins missed Free Throw 2 of 2.
14 - 10
5:09
Donyell Marshall Defensive Rebound.
14 - 10
4:50
Bryon Russell missed 18 ft Jumper.
14 - 10
4:48
Donyell Marshall Defensive Rebound.
14 - 10
4:35
Donyell Marshall missed 19 ft Jumper.
14 - 10
4:33
Andrei Kirilenko Defensive Rebound.
14 - 10
4:30
Andrei Kirilenko made Layup.
16 - 10
4:11
Jerry Stackhouse made 18 ft Jumper. Assisted by Ben Wallace.
16 - 12
3:48
Rusty LaRue Bad Pass. Stolen by Clifford Robinson.
16 - 12
3:42
Clifford Robinson made 26 ft Three Point Jumper. Assisted by Jerry Stackhouse.
16 - 15
3:23
Rusty LaRue made 18 ft Jumper. Assisted by Jarron Collins.
18 - 15
3:02
Rusty LaRue Shooting Foul
18 - 15
3:02
Ben Wallace made Free Throw 1 of 2.
18 - 16
3:02
Ben Wallace made Free Throw 2 of 2.
18 - 17
2:45
Bryon Russell Bad Pass. Stolen by Jerry Stackhouse.
18 - 17
2:35
Chucky Atkins Bad Pass. Stolen by Andrei Kirilenko.
18 - 17
2:31
Donyell Marshall Lost Ball
18 - 17
2:31
Utah Full Timeout.
18 - 17
2:10
Michael Curry Offensive Foul
18 - 17
2:10
Michael Curry Foul
18 - 17
1:51
Donyell Marshall made 13 ft Jumper.
20 - 17
1:35
Chucky Atkins made Two Point Shot.
20 - 19
1:15
Jarron Collins made 18 ft Jumper. Assisted by Rusty LaRue.
22 - 19
0:57
Jerry Stackhouse made 15 ft Two Point Shot.
22 - 21
0:43
Chucky Atkins Personal Foul
22 - 21
0:43
Jon Barry enters the game for Jerry Stackhouse.
22 - 21
0:43
Corliss Williamson enters the game for Michael Curry.
22 - 21
0:43
Damon Jones enters the game for Chucky Atkins.
22 - 21
0:34
Andrei Kirilenko made Two Point Shot. Assisted by Rusty LaRue.
24 - 21
0:00
Jon Barry made Jumper. Assisted by Damon Jones.
24 - 23
0:00
End of the 1st Quarter.
24 - 23

time
TEAM
PLAY
SCORE
12:00
Start of the 2nd Quarter.
24 - 23
11:45
Rusty LaRue made 19 ft Jumper. Assisted by Scott Padgett.
26 - 23
11:29
Clifford Robinson made 8 ft Two Point Shot. Assisted by Jon Barry.
26 - 25
11:03
Scott Padgett made 18 ft Jumper.
28 - 25
10:48
Victor Alexander missed 20 ft Jumper.
28 - 25
10:47
Detroit Defensive Rebound.
28 - 25
10:26
Scott Padgett missed Layup.
28 - 25
10:25
Andrei Kirilenko Defensive Rebound.
28 - 25
10:23
Andrei Kirilenko made Tip Shot.
30 - 25
10:18
Corliss Williamson Offensive Foul
30 - 25
10:03
Jarron Collins missed Layup.
30 - 25
10:00
Victor Alexander Defensive Rebound.
30 - 25
9:45
Jon Barry made 26 ft Three Point Jumper. Assisted by Corliss Williamson.
30 - 28
9:30
Damon Jones Personal Foul
30 - 28
9:30
Donyell Marshall enters the game for Jarron Collins.
30 - 28
9:26
Rusty LaRue missed 25 ft Three Point Jumper.
30 - 28
9:22
Clifford Robinson Defensive Rebound.
30 - 28
9:15
Jon Barry Bad Pass
30 - 28
9:15
John Stockton enters the game for Rusty LaRue.
30 - 28
8:55
Scott Padgett missed 26 ft Three Point Jumper.
30 - 28
8:53
Jon Barry Defensive Rebound.
30 - 28
8:45
Corliss Williamson missed Layup.
30 - 28
8:41
Detroit Defensive Rebound.
30 - 28
8:41
Utah Full Timeout.
30 - 28
8:41
Ben Wallace enters the game for Clifford Robinson.
30 - 28
8:41
Bryon Russell enters the game for Andrei Kirilenko.
30 - 28
8:23
Ben Wallace Shooting Foul
30 - 28
8:23
Donyell Marshall missed Free Throw 1 of 2.
30 - 28
8:23
Utah Defensive Rebound.
30 - 28
8:23
Donyell Marshall made Free Throw 2 of 2.
31 - 28
8:11
Corliss Williamson missed 16 ft Jumper.
31 - 28
8:10
Scott Padgett Defensive Rebound.
31 - 28
7:56
Donyell Marshall missed Layup. Blocked by Ben Wallace.
31 - 28
7:52
Bryon Russell Defensive Rebound.
31 - 28
7:50
Donyell Marshall missed Layup. Blocked by Victor Alexander.
31 - 28
7:48
Corliss Williamson Defensive Rebound.
31 - 28
7:46
Bryon Russell Shooting Foul
31 - 28
7:46
Ben Wallace missed Free Throw 1 of 2.
31 - 28
7:46
Detroit Defensive Rebound.
31 - 28
7:46
Jerry Stackhouse enters the game for Victor Alexander.
31 - 28
7:46
Ben Wallace made Free Throw 2 of 2.
31 - 29
7:31
Scott Padgett Bad Pass. Stolen by Jon Barry.
31 - 29
7:13
Damon Jones made 25 ft Three Point Jumper. Assisted by Jerry Stackhouse.
31 - 32
6:54
Donyell Marshall made 7 ft Hook Shot. Assisted by John Stockton.
33 - 32
6:35
Jon Barry Bad Pass. Stolen by Bryon Russell.
33 - 32
6:24
Donyell Marshall Lost Ball. Stolen by Jerry Stackhouse.
33 - 32
6:20
Bryon Russell Personal Foul
33 - 32
6:20
Andrei Kirilenko enters the game for Scott Padgett.
33 - 32
6:20
Detroit Full Timeout.
33 - 32
6:20
Jarron Collins enters the game for Donyell Marshall.
33 - 32
6:01
John Stockton made Layup. Assisted by Jarron Collins.
35 - 32
5:43
Corliss Williamson made Two Point Shot. Assisted by Damon Jones.
35 - 34
5:24
Andrei Kirilenko made Layup. Assisted by Bryon Russell.
37 - 34
5:07
Jon Barry made Layup. Assisted by Damon Jones.
37 - 36
4:52
Bryon Russell Lost Ball. Stolen by Ben Wallace.
37 - 36
4:46
John Stockton made 16 ft Jumper.
39 - 36
4:22
Jon Barry Bad Pass. Stolen by Jarron Collins.
39 - 36
4:03
John Starks made Layup. Assisted by Jarron Collins.
41 - 36
3:47
Bryon Russell Personal Foul
41 - 36
3:47
Clifford Robinson enters the game for Corliss Williamson.
41 - 36
3:47
DeShawn Stevenson enters the game for Bryon Russell.
41 - 36
3:35
Clifford Robinson made 7 ft Hook Shot. Assisted by Jon Barry.
41 - 38
3:20
Clifford Robinson Shooting Foul
41 - 38
3:20
Andrei Kirilenko made Free Throw 1 of 2.
42 - 38
3:20
Andrei Kirilenko made Free Throw 2 of 2.
43 - 38
2:59
Jon Barry missed 19 ft Jumper.
43 - 38
2:57
Jarron Collins Defensive Rebound.
43 - 38
2:51
Damon Jones Shooting Foul
43 - 38
2:51
Utah Full Timeout.
43 - 38
2:51
Chucky Atkins enters the game for Damon Jones.
43 - 38
2:51
Andrei Kirilenko made Free Throw 1 of 2.
44 - 38
2:51
Andrei Kirilenko made Free Throw 2 of 2.
45 - 38
2:28
24 second
45 - 38
2:15
Andrei Kirilenko missed Layup.
45 - 38
2:15
Utah Defensive Rebound.
45 - 38
2:02
Clifford Robinson made Free Throw 1 of 2.
45 - 39
2:02
Andrei Kirilenko Shooting Foul
45 - 38
2:02
Michael Curry enters the game for Jon Barry.
45 - 39
2:02
Clifford Robinson made Free Throw 2 of 2.
45 - 40
1:47
Andrei Kirilenko made Dunk. Assisted by John Stockton.
47 - 40
1:30
Clifford Robinson missed 18 ft Jumper.
47 - 40
1:28
Detroit Defensive Rebound.
47 - 40
1:13
DeShawn Stevenson made 17 ft Jumper. Assisted by John Stockton.
49 - 40
0:56
Clifford Robinson missed 9 ft Jumper.
49 - 40
0:55
Jarron Collins Defensive Rebound.
49 - 40
0:42
Andrei Kirilenko missed 23 ft Three Point Jumper.
49 - 40
0:40
Michael Curry Defensive Rebound.
49 - 40
0:32
Jerry Stackhouse missed 26 ft Three Point Jumper.
49 - 40
0:29
DeShawn Stevenson Defensive Rebound.
49 - 40
0:11
DeShawn Stevenson missed Layup.
49 - 40
0:09
Ben Wallace Defensive Rebound.
49 - 40
0:03
Chucky Atkins missed 26 ft Three Point Jumper.
49 - 40
0:01
Jarron Collins Defensive Rebound.
49 - 40
0:00
End of the 2nd Quarter.
49 - 40

time
TEAM
PLAY
SCORE
12:00
Start of the 3rd Quarter.
49 - 40
11:45
Jarron Collins made 15 ft Jumper. Assisted by John Stockton.
51 - 40
11:23
Clifford Robinson Lost Ball. Stolen by John Stockton.
51 - 40
11:06
Chucky Atkins Shooting Foul
51 - 40
11:06
Donyell Marshall made Free Throw 1 of 2.
52 - 40
11:06
Donyell Marshall missed Free Throw 2 of 2.
52 - 40
11:04
Ben Wallace Defensive Rebound.
52 - 40
10:52
Clifford Robinson made Two Point Shot. Assisted by Jerry Stackhouse.
52 - 42
10:30
John Stockton Lost Ball. Stolen by Ben Wallace.
52 - 42
10:25
Michael Curry made Dunk. Assisted by Chucky Atkins.
52 - 44
10:03
Michael Curry Personal Foul
52 - 44
9:56
Chucky Atkins Personal Foul
52 - 44
9:56
Damon Jones enters the game for Chucky Atkins.
52 - 44
9:44
Jarron Collins missed 15 ft Jumper.
52 - 44
9:41
Ben Wallace Defensive Rebound.
52 - 44
9:34
Clifford Robinson made 28 ft Three Point Jumper. Assisted by Damon Jones.
52 - 47
9:12
Andrei Kirilenko made Two Point Shot.
54 - 47
9:12
Ben Wallace Shooting Foul
54 - 47
9:12
Andrei Kirilenko missed Free Throw 1 of 1.
54 - 47
9:11
Ben Wallace Defensive Rebound.
54 - 47
8:52
Jerry Stackhouse missed 16 ft Jumper.
54 - 47
8:49
Donyell Marshall Defensive Rebound.
54 - 47
8:37
Jarron Collins Bad Pass. Stolen by Clifford Robinson.
54 - 47
8:33
John Stockton Personal Foul
54 - 47
8:23
Donyell Marshall Personal Foul
54 - 47
8:18
John Stockton Personal Foul
54 - 47
8:08
Jerry Stackhouse made 24 ft Three Point Jumper. Assisted by Clifford Robinson.
54 - 50
7:48
Clifford Robinson Personal Foul
54 - 50
7:48
Bryon Russell made Free Throw 1 of 2.
55 - 50
7:48
Bryon Russell made Free Throw 2 of 2.
56 - 50
7:35
Damon Jones Bad Pass. Stolen by Donyell Marshall.
56 - 50
7:20
Andrei Kirilenko made Dunk. Assisted by Jarron Collins.
58 - 50
7:11
Detroit Full Timeout.
58 - 50
7:03
Bryon Russell Personal Foul
58 - 50
7:03
John Starks enters the game for Bryon Russell.
58 - 50
6:56
Jerry Stackhouse Offensive Foul
58 - 50
6:48
Damon Jones Personal Foul
58 - 50
6:48
John Stockton made Free Throw 1 of 2.
59 - 50
6:48
John Stockton made Free Throw 2 of 2.
60 - 50
6:39
John Starks Personal Foul
60 - 50
6:39
Jerry Stackhouse made Free Throw 1 of 2.
60 - 51
6:39
Jerry Stackhouse made Free Throw 2 of 2.
60 - 52
6:24
John Stockton missed 17 ft Jumper.
60 - 52
6:22
Donyell Marshall Defensive Rebound.
60 - 52
6:20
Donyell Marshall missed Layup.
60 - 52
6:18
Jarron Collins Defensive Rebound.
60 - 52
6:18
Jarron Collins missed Tip Shot.
60 - 52
6:16
Ben Wallace Defensive Rebound.
60 - 52
6:03
Michael Curry missed Dunk. Blocked by Donyell Marshall.
60 - 52
6:00
John Stockton Defensive Rebound.
60 - 52
5:50
Andrei Kirilenko missed Layup.
60 - 52
5:48
Donyell Marshall Defensive Rebound.
60 - 52
5:46
Donyell Marshall missed 7 ft Hook Shot.
60 - 52
5:43
Clifford Robinson Defensive Rebound.
60 - 52
5:39
John Starks Personal Foul
60 - 52
5:39
Jerry Stackhouse made Free Throw 1 of 2.
60 - 53
5:39
Rusty LaRue enters the game for John Stockton.
60 - 53
5:39
Jerry Stackhouse made Free Throw 2 of 2.
60 - 54
5:26
Michael Curry Personal Foul
60 - 54
5:26
Andrei Kirilenko made Free Throw 1 of 2.
61 - 54
5:26
Andrei Kirilenko missed Free Throw 2 of 2.
61 - 54
5:26
Utah Defensive Rebound.
61 - 54
5:26
Rusty LaRue Offensive Foul
61 - 54
5:26
Rusty LaRue Foul
61 - 54
5:09
Damon Jones missed Three Point Jumper.
61 - 54
5:07
Andrei Kirilenko Defensive Rebound.
61 - 54
4:58
John Starks made 24 ft Three Point Jumper. Assisted by Rusty LaRue.
64 - 54
4:33
Donyell Marshall Shooting Foul
64 - 54
4:33
Jerry Stackhouse made Free Throw 1 of 2.
64 - 55
4:33
Jerry Stackhouse made Free Throw 2 of 2.
64 - 56
4:13
Jarron Collins made Layup. Assisted by John Starks.
66 - 56
3:59
Rusty LaRue Shooting Foul
66 - 56
3:59
Damon Jones missed Free Throw 1 of 2.
66 - 56
3:59
Detroit Defensive Rebound.
66 - 56
3:59
Damon Jones made Free Throw 2 of 2.
66 - 57
3:47
Donyell Marshall missed Dunk. Blocked by Ben Wallace.
66 - 57
3:45
Ben Wallace Defensive Rebound.
66 - 57
3:41
Andrei Kirilenko Personal Foul
66 - 57
3:41
Michael Curry made Free Throw 1 of 2.
66 - 58
3:41
Michael Curry made Free Throw 2 of 2.
66 - 59
3:27
Rusty LaRue Lost Ball. Stolen by Jerry Stackhouse.
66 - 59
3:21
Jerry Stackhouse made Layup. Assisted by Michael Curry.
66 - 61
3:14
John Starks missed 27 ft Three Point Jumper.
66 - 61
3:12
Andrei Kirilenko Defensive Rebound.
66 - 61
3:09
Clifford Robinson Shooting Foul
66 - 61
3:09
Rusty LaRue made Free Throw 1 of 2.
67 - 61
3:09
Rusty LaRue made Free Throw 2 of 2.
68 - 61
3:02
John Starks Personal Foul
68 - 61
3:02
Jerry Stackhouse made Free Throw 1 of 2.
68 - 62
3:02
Jerry Stackhouse made Free Throw 2 of 2.
68 - 63
2:40
Jarron Collins missed Layup. Blocked by Ben Wallace.
68 - 63
2:38
Ben Wallace Defensive Rebound.
68 - 63
2:32
Michael Curry missed Layup. Blocked by Donyell Marshall.
68 - 63
2:31
Detroit Defensive Rebound.
68 - 63
2:31
Utah Full Timeout.
68 - 63
2:18
Clifford Robinson missed 10 ft Jumper. Blocked by Donyell Marshall.
68 - 63
2:15
Clifford Robinson Defensive Rebound.
68 - 63
2:08
Clifford Robinson missed 23 ft Three Point Jumper.
68 - 63
2:05
Ben Wallace Defensive Rebound.
68 - 63
2:03
Ben Wallace made 15 ft Jumper.
68 - 65
1:47
John Starks made 19 ft Jumper. Assisted by Donyell Marshall.
70 - 65
1:31
Jerry Stackhouse missed 13 ft Jumper.
70 - 65
1:29
Damon Jones Defensive Rebound.
70 - 65
1:27
Damon Jones made 27 ft Three Point Jumper.
70 - 68
0:59
John Starks made 26 ft Three Point Jumper.
73 - 68
0:43
Damon Jones missed Two Point Shot.
73 - 68
0:41
Donyell Marshall Defensive Rebound.
73 - 68
0:27
Andrei Kirilenko made Layup.
75 - 68
0:03
Damon Jones made 21 ft Jumper. Assisted by Jerry Stackhouse.
75 - 70
0:00
End of the 3rd Quarter.
75 - 70

time
TEAM
PLAY
SCORE
12:00
Start of the 4th Quarter.
75 - 70
11:41
Scott Padgett Shooting Foul
75 - 70
11:41
Clifford Robinson missed Free Throw 1 of 2.
75 - 70
11:41
Detroit Defensive Rebound.
75 - 70
11:41
Clifford Robinson made Free Throw 2 of 2.
75 - 71
11:30
John Starks Offensive Foul
75 - 71
11:30
John Starks Foul
75 - 71
11:19
Corliss Williamson missed Layup. Blocked by Andrei Kirilenko.
75 - 71
11:19
Detroit Defensive Rebound.
75 - 71
11:19
DeShawn Stevenson enters the game for John Starks.
75 - 71
11:03
Jarron Collins made Layup. Assisted by John Stockton.
77 - 71
10:41
Damon Jones made 24 ft Three Point Jumper. Assisted by Jon Barry.
77 - 74
10:22
DeShawn Stevenson missed 9 ft Jumper.
77 - 74
10:19
Utah Defensive Rebound.
77 - 74
10:19
Chucky Atkins enters the game for Damon Jones.
77 - 74
10:03
Clifford Robinson missed 14 ft Jumper.
77 - 74
10:02
Ben Wallace Defensive Rebound.
77 - 74
9:56
Corliss Williamson made Layup. Assisted by Chucky Atkins.
77 - 76
9:44
Chucky Atkins Personal Foul
77 - 76
9:44
Donyell Marshall enters the game for Jarron Collins.
77 - 76
9:44
Bryon Russell enters the game for Andrei Kirilenko.
77 - 76
9:44
Damon Jones enters the game for Chucky Atkins.
77 - 76
9:34
John Stockton missed 15 ft Jumper.
77 - 76
9:33
Clifford Robinson Defensive Rebound.
77 - 76
9:15
Damon Jones missed 18 ft Jumper.
77 - 76
9:12
Donyell Marshall Defensive Rebound.
77 - 76
9:04
Bryon Russell missed 26 ft Three Point Jumper.
77 - 76
9:03
Corliss Williamson Defensive Rebound.
77 - 76
8:48
Corliss Williamson missed 8 ft Jumper.
77 - 76
8:45
Donyell Marshall Defensive Rebound.
77 - 76
8:29
Donyell Marshall made Layup.
79 - 76
8:29
Clifford Robinson Shooting Foul
79 - 76
8:29
Utah Official TV Time.
79 - 76
8:29
Donyell Marshall made Free Throw 1 of 1.
80 - 76
8:18
Scott Padgett Personal Foul
80 - 76
8:10
Clifford Robinson made Hook Shot. Assisted by Damon Jones.
80 - 78
7:45
DeShawn Stevenson missed Layup. Blocked by Ben Wallace.
80 - 78
7:43
Damon Jones Defensive Rebound.
80 - 78
7:39
Corliss Williamson made Layup. Assisted by Jon Barry.
80 - 80
7:39
John Stockton Shooting Foul
80 - 80
7:39
Andrei Kirilenko enters the game for DeShawn Stevenson.
80 - 80
7:39
Jarron Collins enters the game for Scott Padgett.
80 - 80
7:39
Corliss Williamson made Free Throw 1 of 1.
80 - 81
7:22
Bryon Russell missed 24 ft Three Point Jumper.
80 - 81
7:20
Jarron Collins Defensive Rebound.
80 - 81
7:07
Donyell Marshall made 4 ft Hook Shot. Assisted by John Stockton.
82 - 81
6:50
Bryon Russell Shooting Foul
82 - 81
6:50
Jon Barry made Free Throw 1 of 2.
82 - 82
6:50
Jon Barry made Free Throw 2 of 2.
82 - 83
6:33
Bryon Russell missed 17 ft Jumper.
82 - 83
6:31
Ben Wallace Defensive Rebound.
82 - 83
6:26
Jon Barry missed 27 ft Three Point Jumper.
82 - 83
6:24
Andrei Kirilenko Defensive Rebound.
82 - 83
6:18
Donyell Marshall Offensive Foul
82 - 83
6:18
Donyell Marshall Foul
82 - 83
6:16
Detroit Full Timeout.
82 - 83
6:16
John Starks enters the game for Bryon Russell.
82 - 83
6:03
Jon Barry made 28 ft Three Point Jumper. Assisted by Clifford Robinson.
82 - 86
5:35
Jarron Collins Traveling
82 - 86
5:18
Clifford Robinson Lost Ball. Stolen by Donyell Marshall.
82 - 86
5:07
Donyell Marshall made Layup. Assisted by John Starks.
84 - 86
4:50
Clifford Robinson missed 26 ft Three Point Jumper.
84 - 86
4:48
Andrei Kirilenko Defensive Rebound.
84 - 86
4:39
Donyell Marshall missed 11 ft Jumper. Blocked by Clifford Robinson.
84 - 86
4:37
Ben Wallace Defensive Rebound.
84 - 86
4:37
Donyell Marshall Loose Ball Foul
84 - 86
4:37
Jerry Stackhouse enters the game for Corliss Williamson.
84 - 86
4:37
Ben Wallace made Free Throw 1 of 2.
84 - 87
4:37
Ben Wallace made Free Throw 2 of 2.
84 - 88
4:30
John Starks made 21 ft Jumper. Assisted by John Stockton.
86 - 88
4:15
John Starks Personal Foul
86 - 88
4:15
Ben Wallace missed Free Throw 1 of 2.
86 - 88
4:15
Detroit Defensive Rebound.
86 - 88
4:15
Ben Wallace made Free Throw 2 of 2.
86 - 89
3:59
John Stockton missed 14 ft Jumper.
86 - 89
3:57
Donyell Marshall Defensive Rebound.
86 - 89
3:56
Donyell Marshall made Layup.
88 - 89
3:42
Jon Barry Lost Ball. Stolen by John Stockton.
88 - 89
3:23
Donyell Marshall missed 12 ft Jumper.
88 - 89
3:20
Jarron Collins Defensive Rebound.
88 - 89
3:18
Jarron Collins made Layup.
90 - 89
3:03
Jarron Collins Shooting Foul
90 - 89
3:03
Damon Jones made Free Throw 1 of 2.
90 - 90
3:03
Damon Jones made Free Throw 2 of 2.
90 - 91
2:51
John Stockton missed 15 ft Jumper.
90 - 91
2:49
Jon Barry Defensive Rebound.
90 - 91
2:48
Utah Full Timeout.
90 - 91
2:38
Jon Barry made 17 ft Jumper.
90 - 93
2:14
Donyell Marshall missed 10 ft Two Point Shot. Blocked by Clifford Robinson.
90 - 93
2:12
Utah Defensive Rebound.
90 - 93
1:58
Jon Barry made 23 ft Three Point Jumper. Assisted by Jerry Stackhouse.
90 - 96
1:46
John Starks made 26 ft Three Point Jumper. Assisted by John Stockton.
93 - 96
1:27
Damon Jones missed 24 ft Three Point Jumper.
93 - 96
1:24
Donyell Marshall Defensive Rebound.
93 - 96
1:19
John Stockton made 27 ft Three Point Jumper.
96 - 96
1:19
Detroit Full Timeout.
96 - 96
1:12
Damon Jones Offensive Foul
96 - 96
1:12
Damon Jones Foul
96 - 96
0:56
John Starks missed 16 ft Jumper.
96 - 96
0:54
Jarron Collins Defensive Rebound.
96 - 96
0:40
John Stockton made 5 ft Two Point Shot.
98 - 96
0:23
John Stockton Shooting Foul
98 - 96
0:23
Ben Wallace made Free Throw 1 of 2.
98 - 97
0:23
Ben Wallace missed Free Throw 2 of 2.
98 - 97
0:23
Andrei Kirilenko Defensive Rebound.
98 - 97
0:22
Clifford Robinson Personal Foul
98 - 97
0:22
Detroit 20 Second Timeou.
98 - 97
0:21
Clifford Robinson Personal Foul
98 - 97
0:21
Corliss Williamson enters the game for Clifford Robinson.
98 - 97
0:21
Donyell Marshall made Free Throw 1 of 2.
99 - 97
0:21
Donyell Marshall missed Free Throw 2 of 2.
99 - 97
0:20
Ben Wallace Defensive Rebound.
99 - 97
0:20
Detroit Full Timeout.
99 - 97
0:14
Jerry Stackhouse missed 24 ft Three Point Jumper.
99 - 97
0:11
John Stockton Defensive Rebound.
99 - 97
0:11
Damon Jones Personal Foul
99 - 97
0:11
John Stockton missed Free Throw 1 of 2.
99 - 97
0:11
Utah Defensive Rebound.
99 - 97
0:11
Chucky Atkins enters the game for Ben Wallace.
99 - 97
0:11
Bryon Russell enters the game for Jarron Collins.
99 - 97
0:11
John Stockton made Free Throw 2 of 2.
100 - 97
0:03
Jerry Stackhouse missed 27 ft Three Point Jumper. Blocked by Andrei Kirilenko.
100 - 97
0:01
Damon Jones Defensive Rebound.
100 - 97
0:00
Damon Jones missed 23 ft Three Point Jumper. Blocked by John Stockton.
100 - 97
0:00
Detroit Defensive Rebound.
100 - 97
0:00
End of the 4th Quarter.
100 - 97
0:00
End Game
79 - 76
0:00
End Game
82 - 83
0:00
End Game
90 - 91
0:00
End Game
100 - 97
ESPN Fan Shop Powered By
adidas Men's Utah Jazz Gordon Hayward #20 Navy T-ShirtPrice: $32.00 Shop
What do the Charlotte Hornets need to do to keep improving in the East? And can they attract key free agents? Our NBA Insiders go 5-on-5 on the future of the Hornets.

Goran Dragic scored 25 points, Gerald Green added 16 and the Heat emphatically ended Charlotte's season Sunday, beating the Hornets 106-73 in Game 7.

Heat guard Dwyane Wade explains his pregame emotions shedding a tear during the National Anthem and how Goran Dragic is able to be a game changer for their team moving forward.
Regular Season Series
Series tied 1-1