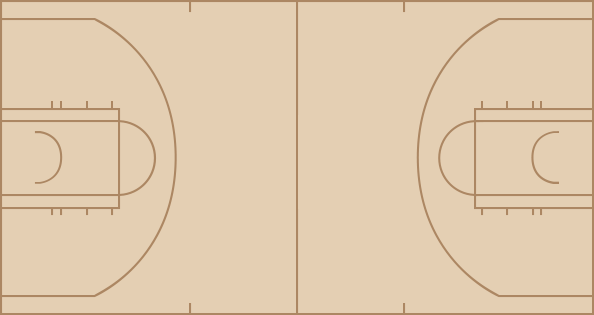 Knicks
time
TEAM
PLAY
SCORE
12:00
Start of the 1st Quarter.
0 - 0
12:00
Jumpball. Kurt Thomas vs. Nazr Mohammed. Mark Jackson gains possession.
0 - 0
11:47
Latrell Sprewell made 11 ft Jumper.
2 - 0
11:32
Shareef Abdur-Rahim missed Jumper.
2 - 0
11:30
Clarence Weatherspoon Defensive Rebound.
2 - 0
11:14
Clarence Weatherspoon made Dunk. Assisted by Kurt Thomas.
4 - 0
11:02
Shareef Abdur-Rahim made 18 ft Jumper. Assisted by Jason Terry.
4 - 2
10:45
Latrell Sprewell missed 21 ft Jumper.
4 - 2
10:42
DerMarr Johnson Defensive Rebound.
4 - 2
10:30
Kurt Thomas Shooting Foul
4 - 2
10:30
DerMarr Johnson made Free Throw 1 of 2.
4 - 3
10:30
DerMarr Johnson made Free Throw 2 of 2.
4 - 4
10:18
Allan Houston made 26 ft Three Point Jumper. Assisted by Latrell Sprewell.
7 - 4
9:55
Nazr Mohammed missed 10 ft Jumper.
7 - 4
9:53
Allan Houston Defensive Rebound.
7 - 4
9:48
Allan Houston made 24 ft Three Point Jumper.
10 - 4
9:36
Jason Terry made 15 ft Jumper.
10 - 6
9:14
DerMarr Johnson made 25 ft Three Point Jumper. Assisted by Shareef Abdur-Rahim.
10 - 9
9:00
Latrell Sprewell missed Three Point Jumper.
10 - 9
8:57
Shareef Abdur-Rahim Defensive Rebound.
10 - 9
8:47
Nazr Mohammed missed Layup.
10 - 9
8:45
Nazr Mohammed Defensive Rebound.
10 - 11
8:45
Nazr Mohammed made Tip Shot.
10 - 11
8:30
Shareef Abdur-Rahim Personal Foul
10 - 11
8:25
Mark Jackson made 23 ft Three Point Jumper. Assisted by Allan Houston.
13 - 11
8:07
Nazr Mohammed missed Jumper.
13 - 11
8:04
Latrell Sprewell Defensive Rebound.
13 - 11
7:52
Kurt Thomas missed Jumper.
13 - 11
7:52
Shareef Abdur-Rahim Defensive Rebound.
13 - 11
7:43
Jason Terry made Two Point Shot.
13 - 13
7:26
Mark Jackson missed 26 ft Three Point Jumper.
13 - 13
7:24
Shareef Abdur-Rahim Defensive Rebound.
13 - 13
7:16
Shareef Abdur-Rahim made Two Point Shot.
13 - 15
6:58
Kurt Thomas missed Jumper.
13 - 15
6:56
Shareef Abdur-Rahim Defensive Rebound.
13 - 15
6:37
Kurt Thomas Shooting Foul
13 - 15
6:37
New York Full Timeout.
13 - 15
6:37
Jason Terry missed Free Throw 1 of 2.
13 - 15
6:37
Atlanta Defensive Rebound.
13 - 15
6:37
Othella Harrington enters the game for Kurt Thomas.
13 - 15
6:37
Jason Terry made Free Throw 2 of 2.
13 - 16
6:16
Clarence Weatherspoon missed Jumper.
13 - 16
6:11
Nazr Mohammed Defensive Rebound.
13 - 16
6:09
DerMarr Johnson missed 14 ft Jumper.
13 - 16
6:07
Ira Newble Defensive Rebound.
13 - 16
5:45
Allan Houston missed 26 ft Three Point Jumper.
13 - 16
5:43
Ira Newble Defensive Rebound.
13 - 16
5:37
Shareef Abdur-Rahim made 19 ft Jumper. Assisted by Jason Terry.
13 - 18
5:11
Clarence Weatherspoon missed Jumper.
13 - 18
5:09
Nazr Mohammed Defensive Rebound.
13 - 18
5:01
Ira Newble missed Layup.
13 - 18
5:00
Nazr Mohammed Defensive Rebound.
13 - 18
5:00
Nazr Mohammed missed Layup.
13 - 18
4:58
Allan Houston Defensive Rebound.
13 - 18
4:43
Ira Newble Shooting Foul
13 - 18
4:43
Othella Harrington made Free Throw 1 of 2.
14 - 18
4:43
Othella Harrington made Free Throw 2 of 2.
15 - 18
4:22
Nazr Mohammed made 12 ft Jumper. Assisted by Jason Terry.
15 - 20
3:54
Allan Houston missed Three Point Jumper.
15 - 20
3:50
Nazr Mohammed Defensive Rebound.
15 - 20
3:47
Shareef Abdur-Rahim made Layup. Assisted by Jason Terry.
15 - 22
3:28
Nazr Mohammed Shooting Foul
15 - 22
3:28
Othella Harrington made Free Throw 1 of 2.
16 - 22
3:28
Othella Harrington made Free Throw 2 of 2.
17 - 22
3:03
Latrell Sprewell missed 16 ft Jumper.
17 - 22
3:01
Nazr Mohammed Defensive Rebound.
17 - 22
2:53
Ira Newble made Dunk. Assisted by DerMarr Johnson.
17 - 24
2:38
Allan Houston missed 15 ft Jumper.
17 - 24
2:35
New York Defensive Rebound.
17 - 24
2:33
Atlanta Full Timeout.
17 - 24
2:33
Alan Henderson enters the game for Nazr Mohammed.
17 - 24
2:20
Jason Terry missed Layup.
17 - 24
2:19
Clarence Weatherspoon Defensive Rebound.
17 - 24
2:14
Mark Jackson made Two Point Shot.
19 - 24
2:03
Mark Jackson Shooting Foul
19 - 24
2:03
Jason Terry made Free Throw 1 of 2.
19 - 25
2:03
Jason Terry made Free Throw 2 of 2.
19 - 26
1:46
DerMarr Johnson Shooting Foul
19 - 26
1:46
Othella Harrington made Free Throw 1 of 2.
20 - 26
1:46
Othella Harrington made Free Throw 2 of 2.
21 - 26
1:32
Othella Harrington Personal Foul
21 - 26
1:24
Shareef Abdur-Rahim made 9 ft Two Point Shot. Assisted by Jason Terry.
21 - 28
0:59
Latrell Sprewell missed 22 ft Jumper.
21 - 28
0:57
New York Defensive Rebound.
21 - 28
0:40
Alan Henderson made Layup. Assisted by Ira Newble.
21 - 30
0:27
Othella Harrington missed 12 ft Jumper.
21 - 30
0:25
Ira Newble Defensive Rebound.
21 - 30
0:20
Ira Newble made Two Point Shot.
21 - 32
0:10
Allan Houston made 19 ft Jumper. Assisted by Othella Harrington.
23 - 32
0:03
Shareef Abdur-Rahim missed 24 ft Three Point Jumper.
23 - 32
0:00
Clarence Weatherspoon Defensive Rebound.
23 - 32
0:00
End of the 1st Quarter.
23 - 32

time
TEAM
PLAY
SCORE
12:00
Start of the 2nd Quarter.
23 - 32
11:38
Othella Harrington made Dunk. Assisted by Charlie Ward.
25 - 32
11:22
Toni Kukoc missed Layup. Blocked by Shandon Anderson.
25 - 32
11:18
Toni Kukoc Defensive Rebound.
25 - 32
11:18
Toni Kukoc made Layup.
25 - 34
10:52
Toni Kukoc made Jumper. Assisted by Shareef Abdur-Rahim.
25 - 36
10:45
New York 20 Second Timeou.
25 - 36
10:36
Othella Harrington missed Jumper.
25 - 36
10:32
Shareef Abdur-Rahim Defensive Rebound.
25 - 36
10:25
Alan Henderson missed Jumper.
25 - 36
10:22
Kurt Thomas Defensive Rebound.
25 - 36
10:15
Shandon Anderson made Jumper. Assisted by Charlie Ward.
27 - 36
9:56
Ira Newble missed Jumper.
27 - 36
9:52
Shareef Abdur-Rahim Defensive Rebound.
27 - 36
9:52
Shareef Abdur-Rahim missed Tip Shot.
27 - 36
9:51
Kurt Thomas Defensive Rebound.
27 - 36
9:47
Shandon Anderson made Layup.
29 - 36
9:32
Ira Newble made Two Point Shot. Assisted by Toni Kukoc.
29 - 38
9:04
Othella Harrington Personal Foul
29 - 38
9:04
Latrell Sprewell enters the game for Allan Houston.
29 - 38
9:04
Travis Knight enters the game for Othella Harrington.
29 - 38
8:52
Jacque Vaughn missed 22 ft Jumper.
29 - 38
8:51
Kurt Thomas Defensive Rebound.
29 - 38
8:37
Alan Henderson missed Layup.
29 - 38
8:34
Shandon Anderson Defensive Rebound.
29 - 38
8:14
Charlie Ward made 24 ft Three Point Jumper. Assisted by Latrell Sprewell.
32 - 38
7:54
Official Timeout.
32 - 38
7:54
Nazr Mohammed enters the game for Shareef Abdur-Rahim.
32 - 38
7:54
Hanno Mottola enters the game for Ira Newble.
32 - 38
7:54
Jason Terry enters the game for Alan Henderson.
32 - 38
7:54
DerMarr Johnson enters the game for Jacque Vaughn.
32 - 38
7:31
Charlie Ward missed 24 ft Three Point Jumper.
32 - 38
7:30
Toni Kukoc Defensive Rebound.
32 - 38
7:18
Hanno Mottola missed Layup.
32 - 38
7:18
Nazr Mohammed Defensive Rebound.
32 - 40
7:18
Nazr Mohammed made Tip Shot.
32 - 40
6:56
Charlie Ward missed 26 ft Three Point Jumper.
32 - 40
6:56
Nazr Mohammed Defensive Rebound.
32 - 40
6:47
Hanno Mottola made Layup. Assisted by Toni Kukoc.
32 - 42
6:20
Jason Terry made 11 ft Jumper.
32 - 44
6:01
Travis Knight made Layup.
34 - 44
6:01
Toni Kukoc Shooting Foul
34 - 44
6:01
Travis Knight made Free Throw 1 of 1.
35 - 44
5:47
Toni Kukoc missed 5 ft Jumper.
35 - 44
5:45
Nazr Mohammed Defensive Rebound.
35 - 46
5:45
Nazr Mohammed made Tip Shot.
35 - 46
5:35
Atlanta Full Timeout.
35 - 46
5:35
Clarence Weatherspoon enters the game for Shandon Anderson.
35 - 46
5:35
Allan Houston enters the game for Travis Knight.
35 - 46
5:24
Toni Kukoc missed Jumper.
35 - 46
5:22
Hanno Mottola Defensive Rebound.
35 - 46
5:22
Hanno Mottola missed Layup.
35 - 46
5:22
Kurt Thomas Defensive Rebound.
35 - 46
5:15
Kurt Thomas made 10 ft Jumper. Assisted by Charlie Ward.
37 - 46
5:03
Nazr Mohammed made 13 ft Jumper. Assisted by Jason Terry.
37 - 48
4:43
Nazr Mohammed Shooting Foul
37 - 48
4:43
Kurt Thomas made Free Throw 1 of 2.
38 - 48
4:43
Kurt Thomas missed Free Throw 2 of 2.
38 - 48
4:41
Charlie Ward Defensive Rebound.
38 - 48
4:31
Kurt Thomas made 11 ft Jumper.
40 - 48
4:16
Nazr Mohammed made 9 ft Jumper. Assisted by Jason Terry.
40 - 50
3:56
Kurt Thomas made Jumper.
42 - 50
3:44
DerMarr Johnson made 25 ft Three Point Jumper. Assisted by Hanno Mottola.
42 - 53
3:30
Allan Houston missed 23 ft Three Point Jumper.
42 - 53
3:28
DerMarr Johnson Defensive Rebound.
42 - 53
3:16
Jason Terry missed 25 ft Three Point Jumper.
42 - 53
3:15
Allan Houston Defensive Rebound.
42 - 53
3:06
Kurt Thomas made Jumper.
44 - 53
2:49
Toni Kukoc made 25 ft Three Point Jumper. Assisted by Hanno Mottola.
44 - 56
2:28
Charlie Ward missed 26 ft Three Point Jumper.
44 - 56
2:26
Toni Kukoc Defensive Rebound.
44 - 56
2:18
Jason Terry missed 23 ft Three Point Jumper.
44 - 56
2:16
Clarence Weatherspoon Defensive Rebound.
44 - 56
2:14
DerMarr Johnson Personal Foul
44 - 56
2:14
New York Full Timeout.
44 - 56
2:14
Shareef Abdur-Rahim enters the game for DerMarr Johnson.
44 - 56
2:14
Ira Newble enters the game for Nazr Mohammed.
44 - 56
2:14
Alan Henderson enters the game for Hanno Mottola.
44 - 56
2:14
Mark Jackson enters the game for Charlie Ward.
44 - 56
2:05
Latrell Sprewell made Two Point Shot.
46 - 56
1:52
Jason Terry missed Layup.
46 - 56
1:51
Clarence Weatherspoon Defensive Rebound.
46 - 56
1:46
Mark Jackson missed Layup.
46 - 56
1:46
Kurt Thomas Defensive Rebound.
46 - 56
1:46
Alan Henderson Personal Foul
46 - 56
1:31
Latrell Sprewell missed 18 ft Jumper.
46 - 56
1:30
Toni Kukoc Defensive Rebound.
46 - 56
1:12
Shareef Abdur-Rahim missed 8 ft Jumper.
46 - 56
1:09
Atlanta Defensive Rebound.
46 - 56
1:08
Ira Newble made Two Point Shot. Assisted by Toni Kukoc.
46 - 58
0:46
Kurt Thomas missed Jumper.
46 - 58
0:44
Toni Kukoc Defensive Rebound.
46 - 58
0:31
Allan Houston Shooting Foul
46 - 58
0:31
Shareef Abdur-Rahim missed Free Throw 1 of 2.
46 - 58
0:31
Atlanta Defensive Rebound.
46 - 58
0:31
Shareef Abdur-Rahim made Free Throw 2 of 2.
46 - 59
0:21
Latrell Sprewell missed Jumper.
46 - 59
0:18
Clarence Weatherspoon Defensive Rebound.
46 - 59
0:18
Clarence Weatherspoon missed Tip Shot.
46 - 59
0:16
Kurt Thomas Defensive Rebound.
48 - 59
0:16
Kurt Thomas made Tip Shot.
48 - 59
0:15
Atlanta 20 Second Timeou.
48 - 59
0:03
Jason Terry made 25 ft Three Point Jumper.
48 - 62
0:00
Mark Jackson missed 42 ft Three Point Jumper.
48 - 62
0:00
New York Defensive Rebound.
48 - 62
0:00
End of the 2nd Quarter.
48 - 62

time
TEAM
PLAY
SCORE
12:00
Start of the 3rd Quarter.
48 - 62
11:47
Shareef Abdur-Rahim missed Jumper.
48 - 62
11:44
Kurt Thomas Defensive Rebound.
48 - 62
11:33
Mark Jackson missed 6 ft Jumper.
48 - 62
11:30
Clarence Weatherspoon Defensive Rebound.
48 - 62
11:29
Ira Newble Shooting Foul
48 - 62
11:29
Clarence Weatherspoon made Free Throw 1 of 2.
49 - 62
11:29
Clarence Weatherspoon made Free Throw 2 of 2.
50 - 62
11:10
Nazr Mohammed missed Layup. Blocked by Clarence Weatherspoon.
50 - 62
11:10
Clarence Weatherspoon Defensive Rebound.
50 - 62
11:00
Latrell Sprewell made Jumper.
52 - 62
10:45
DerMarr Johnson missed 24 ft Three Point Jumper.
52 - 62
10:42
Latrell Sprewell Defensive Rebound.
52 - 62
10:29
Latrell Sprewell missed 5 ft Jumper.
52 - 62
10:26
DerMarr Johnson Defensive Rebound.
52 - 62
10:08
Clarence Weatherspoon Shooting Foul
52 - 62
10:08
Shareef Abdur-Rahim made Free Throw 1 of 2.
52 - 63
10:08
Shareef Abdur-Rahim made Free Throw 2 of 2.
52 - 64
9:49
DerMarr Johnson Shooting Foul
52 - 64
9:49
Allan Houston made Free Throw 1 of 2.
53 - 64
9:49
Allan Houston made Free Throw 2 of 2.
54 - 64
9:22
Allan Houston missed 17 ft Jumper.
54 - 64
9:19
Shareef Abdur-Rahim Defensive Rebound.
54 - 64
9:08
Jason Terry made 24 ft Three Point Jumper. Assisted by Shareef Abdur-Rahim.
54 - 67
8:47
Kurt Thomas missed 17 ft Jumper.
54 - 67
8:45
Jason Terry Defensive Rebound.
54 - 67
8:41
Jason Terry missed 10 ft Jumper.
54 - 67
8:40
Ira Newble Defensive Rebound.
54 - 67
8:37
Nazr Mohammed made Layup. Assisted by Ira Newble.
54 - 69
8:33
New York Full Timeout.
54 - 69
8:19
Kurt Thomas missed Jumper.
54 - 69
8:18
Nazr Mohammed Defensive Rebound.
54 - 69
8:00
Kurt Thomas Shooting Foul
54 - 69
8:00
Shareef Abdur-Rahim made Free Throw 1 of 2.
54 - 70
8:00
Shareef Abdur-Rahim made Free Throw 2 of 2.
54 - 71
7:54
Nazr Mohammed made Layup. Assisted by DerMarr Johnson.
54 - 73
7:33
Allan Houston missed 25 ft Three Point Jumper.
54 - 73
7:31
Shareef Abdur-Rahim Defensive Rebound.
54 - 73
7:22
Nazr Mohammed made 8 ft Hook Shot. Assisted by Jason Terry.
54 - 75
6:58
Mark Jackson made 5 ft Jumper. Assisted by Latrell Sprewell.
56 - 75
6:39
Nazr Mohammed made Two Point Shot.
56 - 77
6:22
Mark Jackson missed 5 ft Jumper.
56 - 77
6:20
Shareef Abdur-Rahim Defensive Rebound.
56 - 77
6:16
Ira Newble made Layup. Assisted by Jason Terry.
56 - 79
5:54
Latrell Sprewell missed 25 ft Three Point Jumper.
56 - 79
5:54
New York Defensive Rebound.
56 - 79
5:54
Othella Harrington enters the game for Clarence Weatherspoon.
56 - 79
5:39
DerMarr Johnson missed 12 ft Jumper.
56 - 79
5:37
Mark Jackson Defensive Rebound.
56 - 79
5:35
Latrell Sprewell made Layup. Assisted by Mark Jackson.
58 - 79
5:16
Shareef Abdur-Rahim made 26 ft Three Point Jumper. Assisted by Jason Terry.
58 - 82
4:58
Kurt Thomas made 13 ft Jumper. Assisted by Allan Houston.
60 - 82
4:39
DerMarr Johnson made 25 ft Three Point Jumper. Assisted by Shareef Abdur-Rahim.
60 - 85
4:35
New York 20 Second Timeou.
60 - 85
4:18
Kurt Thomas made Two Point Shot.
62 - 85
4:03
Shareef Abdur-Rahim made 14 ft Jumper.
62 - 87
3:48
Allan Houston missed 25 ft Three Point Jumper.
62 - 87
3:47
Ira Newble Defensive Rebound.
62 - 87
3:30
DerMarr Johnson made Two Point Shot.
62 - 89
3:02
Allan Houston missed Jumper.
62 - 89
3:01
New York Defensive Rebound.
62 - 89
3:01
24 second
62 - 89
3:01
Atlanta Full Timeout.
62 - 89
2:51
Shareef Abdur-Rahim missed 16 ft Jumper.
62 - 89
2:50
Kurt Thomas Defensive Rebound.
62 - 89
2:38
Othella Harrington missed Layup.
62 - 89
2:36
Kurt Thomas Defensive Rebound.
62 - 89
2:36
Kurt Thomas missed Tip Shot.
62 - 89
2:33
New York Defensive Rebound.
62 - 89
1:58
Nazr Mohammed made Two Point Shot. Assisted by Shareef Abdur-Rahim.
62 - 91
1:45
Allan Houston missed 14 ft Jumper.
62 - 91
1:44
Latrell Sprewell Defensive Rebound.
62 - 91
1:36
Nazr Mohammed Shooting Foul
62 - 91
1:36
Othella Harrington made Free Throw 1 of 2.
63 - 91
1:36
Lavor Postell enters the game for Allan Houston.
63 - 91
1:36
Othella Harrington made Free Throw 2 of 2.
64 - 91
1:13
Othella Harrington missed 6 ft Jumper.
64 - 91
1:10
Kurt Thomas Defensive Rebound.
64 - 91
1:08
Lavor Postell missed 23 ft Three Point Jumper.
64 - 91
1:07
DerMarr Johnson Defensive Rebound.
64 - 91
0:52
Nazr Mohammed missed Jumper.
64 - 91
0:51
Latrell Sprewell Defensive Rebound.
64 - 91
0:33
Othella Harrington missed Layup.
64 - 91
0:32
Nazr Mohammed Defensive Rebound.
64 - 91
0:13
Nazr Mohammed made Layup. Assisted by Jason Terry.
64 - 93
0:05
Kurt Thomas made Jumper. Assisted by Mark Jackson.
66 - 93
0:01
Jason Terry missed Jumper.
66 - 93
0:00
DerMarr Johnson Defensive Rebound.
66 - 93
0:00
DerMarr Johnson missed Tip Shot.
66 - 93
0:00
Atlanta Defensive Rebound.
66 - 93
0:00
End of the 3rd Quarter.
66 - 93

time
TEAM
PLAY
SCORE
12:00
Start of the 4th Quarter.
66 - 93
11:48
Hanno Mottola Illegal Defense Foul
66 - 93
11:48
Latrell Sprewell made Technical Free Throw.
67 - 93
11:41
Latrell Sprewell made Two Point Shot.
69 - 93
11:15
Hanno Mottola made Layup. Assisted by Alan Henderson.
69 - 95
11:10
New York Full Timeout.
69 - 95
11:10
Clarence Weatherspoon enters the game for Othella Harrington.
69 - 95
11:10
Jacque Vaughn enters the game for Jason Terry.
69 - 95
11:00
Latrell Sprewell made Jumper.
71 - 95
10:40
Toni Kukoc made 20 ft Jumper. Assisted by Jacque Vaughn.
71 - 97
10:22
Mark Strickland enters the game for Ira Newble.
71 - 97
10:18
Latrell Sprewell missed 24 ft Three Point Jumper.
71 - 97
10:17
Clarence Weatherspoon Defensive Rebound.
71 - 97
10:11
Kurt Thomas made Jumper. Assisted by Latrell Sprewell.
73 - 97
9:37
Clarence Weatherspoon missed 7 ft Jumper.
73 - 97
9:34
Hanno Mottola Defensive Rebound.
73 - 97
9:23
Alan Henderson made Dunk. Assisted by Jacque Vaughn.
73 - 99
9:08
Jacque Vaughn Personal Foul
73 - 99
8:59
Lavor Postell missed 4 ft Jumper.
73 - 99
8:57
Clarence Weatherspoon Defensive Rebound.
75 - 99
8:57
Clarence Weatherspoon made Layup.
75 - 99
8:41
Mark Strickland missed 21 ft Jumper.
75 - 99
8:38
Lavor Postell Defensive Rebound.
75 - 99
8:30
Lavor Postell missed 25 ft Three Point Jumper.
75 - 99
8:29
Hanno Mottola Defensive Rebound.
75 - 99
8:10
Mark Strickland made Jumper. Assisted by Jacque Vaughn.
75 - 101
7:54
Mark Strickland Personal Foul
75 - 101
7:45
Lavor Postell missed 25 ft Three Point Jumper.
75 - 101
7:43
Hanno Mottola Defensive Rebound.
75 - 101
7:33
Alan Henderson made Two Point Shot.
75 - 103
7:15
Charlie Ward missed 25 ft Three Point Jumper.
75 - 103
7:13
Toni Kukoc Defensive Rebound.
75 - 103
7:01
Hanno Mottola missed 17 ft Jumper.
75 - 103
6:58
Alan Henderson Defensive Rebound.
75 - 103
6:47
Toni Kukoc missed Jumper.
75 - 103
6:45
Kurt Thomas Defensive Rebound.
75 - 103
6:41
Latrell Sprewell made 18 ft Jumper.
77 - 103
6:18
Toni Kukoc missed 22 ft Three Point Jumper.
77 - 103
6:18
Atlanta Defensive Rebound.
77 - 103
6:18
Shandon Anderson enters the game for Latrell Sprewell.
77 - 103
6:07
Clarence Weatherspoon made Layup. Assisted by Charlie Ward.
79 - 103
6:07
Hanno Mottola Shooting Foul
79 - 103
6:07
Clarence Weatherspoon made Free Throw 1 of 1.
80 - 103
5:56
Kurt Thomas Personal Foul
80 - 103
5:56
Atlanta Full Timeout.
80 - 103
5:56
Travis Knight enters the game for Kurt Thomas.
80 - 103
5:52
Hanno Mottola made 17 ft Jumper. Assisted by Jacque Vaughn.
80 - 105
5:33
Alan Henderson made Layup. Assisted by Toni Kukoc.
80 - 107
5:16
Travis Knight missed 21 ft Jumper.
80 - 107
5:13
Hanno Mottola Defensive Rebound.
80 - 107
4:50
Jacque Vaughn missed 17 ft Jumper.
80 - 107
4:46
Hanno Mottola Defensive Rebound.
80 - 107
4:46
Hanno Mottola missed Tip Shot.
80 - 107
4:45
Charlie Ward Defensive Rebound.
80 - 107
4:43
Charlie Ward missed Layup.
80 - 107
4:41
Alan Henderson Defensive Rebound.
80 - 107
4:35
Toni Kukoc made Layup. Assisted by Jacque Vaughn.
80 - 109
4:09
Shandon Anderson missed Three Point Jumper.
80 - 109
4:07
Toni Kukoc Defensive Rebound.
80 - 109
3:47
Mark Strickland missed 24 ft Three Point Jumper.
80 - 109
3:47
Atlanta Defensive Rebound.
80 - 109
3:47
Toni Kukoc Personal Foul
80 - 109
3:47
Leon Smith enters the game for Alan Henderson.
80 - 109
3:47
Cal Bowdler enters the game for Toni Kukoc.
80 - 109
3:34
Lavor Postell made 25 ft Three Point Jumper.
83 - 109
3:14
Jacque Vaughn missed 25 ft Three Point Jumper.
83 - 109
3:12
Shandon Anderson Defensive Rebound.
83 - 109
2:48
Cal Bowdler missed 5 ft Jumper.
83 - 109
2:47
Hanno Mottola Defensive Rebound.
83 - 111
2:47
Hanno Mottola made Layup.
83 - 111
2:32
Travis Knight missed Jumper.
83 - 111
2:31
Clarence Weatherspoon Defensive Rebound.
83 - 111
2:16
Travis Knight made 16 ft Jumper. Assisted by Clarence Weatherspoon.
85 - 111
1:55
Cal Bowdler missed 15 ft Jumper.
85 - 111
1:54
Clarence Weatherspoon Defensive Rebound.
85 - 111
1:43
Mark Strickland made Dunk. Assisted by Leon Smith.
85 - 113
1:32
Lavor Postell made 17 ft Jumper.
87 - 113
1:19
Leon Smith made 5 ft Two Point Shot.
87 - 115
1:04
Lavor Postell missed 26 ft Three Point Jumper.
87 - 115
1:01
Leon Smith Defensive Rebound.
87 - 115
0:53
Jacque Vaughn Personal Foul
87 - 115
0:53
Atlanta Full Timeout.
87 - 115
0:53
Lavor Postell made Free Throw 1 of 2.
88 - 115
0:53
Lavor Postell made Free Throw 2 of 2.
89 - 115
0:38
Charlie Ward Shooting Foul
89 - 115
0:38
Leon Smith missed Free Throw 1 of 2.
89 - 115
0:38
Atlanta Defensive Rebound.
89 - 115
0:38
Leon Smith made Free Throw 2 of 2.
89 - 116
0:18
Leon Smith made Dunk. Assisted by Jacque Vaughn.
89 - 118
0:00
End of the 4th Quarter.
89 - 118
0:00
End Game
89 - 118
0:00
End Game
89 - 118
For more than three quarters Tuesday night, the Trail Blazers had the answer to beating the Warriors. But then they lost it, the strategy and the game.

The Warriors erase an 11-point fourth-quarter deficit, with Klay Thompson scoring 18 of his 27 points in the second half, and rally past the Blazers for a 110-99 win over and 2-0 series lead.

Golden State trailed by 17 points and looked as if it might lose at home, but Klay Thompson and Draymond Green wouldn't permit it.
Regular Season Series
NY wins series 3-1
2015-2016 Atlantic Standings