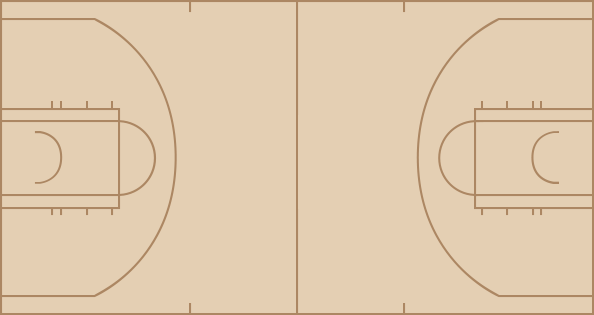 Magic
time
TEAM
PLAY
SCORE
12:00
Start of the 1st Quarter.
0 - 0
12:00
Jumpball. Horace Grant vs. Jamaal Magloire. P.J. Brown gains possession.
0 - 0
11:41
Jamaal Magloire made Layup. Assisted by David Wesley.
0 - 2
11:29
Darrell Armstrong missed 18 ft Jumper.
0 - 2
11:26
Jamal Mashburn Defensive Rebound.
0 - 2
11:19
Jamaal Magloire made Layup. Assisted by Baron Davis.
0 - 4
11:00
Monty Williams made Layup.
2 - 4
10:44
P.J. Brown missed 13 ft Jumper.
2 - 4
10:41
Darrell Armstrong Defensive Rebound.
2 - 4
10:27
Tracy McGrady missed 11 ft Jumper.
2 - 4
10:26
Jamal Mashburn Defensive Rebound.
2 - 4
10:19
Jamaal Magloire made Dunk. Assisted by Baron Davis.
2 - 6
10:03
Pat Garrity missed 20 ft Jumper.
2 - 6
10:02
Orlando Offensive Rebound.
2 - 6
10:00
Jamaal Magloire Loose Ball Foul
2 - 6
9:55
Monty Williams made Layup. Assisted by Darrell Armstrong.
4 - 6
9:41
P.J. Brown made 18 ft Jumper. Assisted by David Wesley.
4 - 8
9:19
Tracy McGrady made Two Point Shot.
6 - 8
9:10
Jamaal Magloire made Layup.
6 - 10
8:55
Jamaal Magloire Illegal Defense Foul
6 - 10
8:55
Darrell Armstrong made Technical Free Throw.
7 - 10
8:41
Horace Grant missed 19 ft Jumper.
7 - 10
8:40
Jamal Mashburn Defensive Rebound.
7 - 10
8:32
P.J. Brown made Layup. Assisted by Jamal Mashburn.
7 - 12
8:32
Monty Williams Shooting Foul
7 - 12
8:32
P.J. Brown missed Free Throw 1 of 1.
7 - 12
8:30
Horace Grant Defensive Rebound.
7 - 12
8:15
Pat Garrity missed 11 ft Jumper. Blocked by Jamal Mashburn.
7 - 12
8:14
P.J. Brown Defensive Rebound.
7 - 12
8:08
Jamaal Magloire made Two Point Shot. Assisted by Baron Davis.
7 - 14
7:48
Tracy McGrady made Dunk. Assisted by Darrell Armstrong.
9 - 14
7:33
Jamaal Magloire missed Layup.
9 - 14
7:33
Monty Williams Defensive Rebound.
9 - 14
7:28
Darrell Armstrong missed Layup.
9 - 14
7:26
Pat Garrity Offensive Rebound.
9 - 14
7:13
Pat Garrity made 26 ft Three Point Jumper. Assisted by Darrell Armstrong.
12 - 14
7:00
Jamal Mashburn made 15 ft Two Point Shot.
12 - 16
6:45
Monty Williams missed Layup. Blocked by P.J. Brown.
12 - 16
6:45
Orlando Offensive Rebound.
12 - 16
6:39
Monty Williams Lost Ball. Stolen by David Wesley.
12 - 16
6:31
Jamal Mashburn made 23 ft Three Point Jumper. Assisted by P.J. Brown.
12 - 19
6:13
David Wesley Personal Foul
12 - 19
6:09
P.J. Brown Personal Foul
12 - 19
6:05
Tracy McGrady made 17 ft Jumper. Assisted by Darrell Armstrong.
14 - 19
5:56
Jamal Mashburn Lost Ball. Stolen by Tracy McGrady.
14 - 19
5:50
Darrell Armstrong made Dunk. Assisted by Tracy McGrady.
16 - 19
5:33
David Wesley made 26 ft Three Point Jumper. Assisted by P.J. Brown.
16 - 22
5:16
Tracy McGrady missed 26 ft Three Point Jumper.
16 - 22
5:13
P.J. Brown Defensive Rebound.
16 - 22
5:05
Jamal Mashburn Lost Ball. Stolen by Pat Garrity.
16 - 22
5:03
Baron Davis Shooting Foul
16 - 22
5:03
Charlotte Full Timeout.
16 - 22
5:03
Darrell Armstrong made Free Throw 1 of 2.
17 - 22
5:03
Darrell Armstrong made Free Throw 2 of 2.
18 - 22
4:46
Baron Davis made 16 ft Jumper.
18 - 24
4:26
Tracy McGrady missed Layup. Blocked by P.J. Brown.
18 - 24
4:22
Tracy McGrady Offensive Rebound.
18 - 24
4:22
Tracy McGrady missed Layup.
18 - 24
4:20
Tracy McGrady Offensive Rebound.
20 - 24
4:20
Tracy McGrady made Layup.
20 - 24
4:15
Baron Davis missed Layup. Blocked by Tracy McGrady.
20 - 24
4:11
Baron Davis Offensive Rebound.
20 - 24
4:00
Tracy McGrady Shooting Foul
20 - 24
4:00
Baron Davis made Free Throw 1 of 2.
20 - 25
4:00
Baron Davis missed Free Throw 2 of 2.
20 - 25
3:59
P.J. Brown Offensive Rebound.
20 - 25
3:41
Jamaal Magloire Offensive Foul
20 - 25
3:41
Jamaal Magloire Foul
20 - 25
3:30
Horace Grant made 20 ft Jumper. Assisted by Pat Garrity.
22 - 25
3:12
Horace Grant Personal Foul
22 - 25
3:12
Robert Traylor enters the game for Jamaal Magloire.
22 - 25
3:04
Jamal Mashburn made 20 ft Jumper. Assisted by Baron Davis.
22 - 27
2:45
Tracy McGrady missed Layup.
22 - 27
2:41
Horace Grant Offensive Rebound.
22 - 27
2:39
P.J. Brown Shooting Foul
22 - 27
2:39
Orlando Full Timeout.
22 - 27
2:39
George Lynch enters the game for P.J. Brown.
22 - 27
2:39
Patrick Ewing enters the game for Horace Grant.
22 - 27
2:39
Tracy McGrady missed Free Throw 1 of 2.
22 - 27
2:39
Orlando Offensive Rebound.
22 - 27
2:39
Tracy McGrady missed Free Throw 2 of 2.
22 - 27
2:38
George Lynch Defensive Rebound.
22 - 27
2:28
Robert Traylor made Layup. Assisted by Baron Davis.
22 - 29
2:28
Patrick Ewing Shooting Foul
22 - 29
2:28
Troy Hudson enters the game for Monty Williams.
22 - 29
2:28
Robert Traylor made Free Throw 1 of 1.
22 - 30
2:15
Darrell Armstrong missed Layup.
22 - 30
2:14
Robert Traylor Defensive Rebound.
22 - 30
2:02
Baron Davis Bad Pass. Stolen by Pat Garrity.
22 - 30
1:57
Pat Garrity made 19 ft Jumper.
24 - 30
1:38
David Wesley missed 15 ft Jumper.
24 - 30
1:35
Tracy McGrady Defensive Rebound.
24 - 30
1:31
Darrell Armstrong missed Layup.
24 - 30
1:29
George Lynch Defensive Rebound.
24 - 30
1:23
David Wesley missed Layup.
24 - 30
1:23
Robert Traylor Offensive Rebound.
24 - 30
1:23
Robert Traylor missed Tip Shot.
24 - 30
1:19
Baron Davis Offensive Rebound.
24 - 32
1:19
Baron Davis made Layup.
24 - 32
1:02
Tracy McGrady missed 8 ft Jumper.
24 - 32
1:00
Baron Davis Defensive Rebound.
24 - 32
0:57
Baron Davis Bad Pass. Stolen by Pat Garrity.
24 - 32
0:53
Robert Traylor Shooting Foul
24 - 32
0:53
Tracy McGrady made Free Throw 1 of 2.
25 - 32
0:53
Tracy McGrady made Free Throw 2 of 2.
26 - 32
0:39
Robert Traylor missed Layup.
26 - 32
0:38
George Lynch Offensive Rebound.
26 - 34
0:38
George Lynch made Layup.
26 - 34
0:31
George Lynch Personal Foul
26 - 34
0:31
Tracy McGrady missed Free Throw 1 of 2.
26 - 34
0:31
Orlando Offensive Rebound.
26 - 34
0:31
Tracy McGrady made Free Throw 2 of 2.
27 - 34
0:09
George Lynch made 16 ft Jumper. Assisted by Robert Traylor.
27 - 36
0:00
End of the 1st Quarter.
27 - 36

time
TEAM
PLAY
SCORE
12:00
Start of the 2nd Quarter.
27 - 36
11:45
Tracy McGrady made 14 ft Two Point Shot. Assisted by Don Reid.
29 - 36
11:30
George Lynch missed 17 ft Jumper.
29 - 36
11:26
Jamal Mashburn Offensive Rebound.
29 - 36
11:11
George Lynch made 18 ft Jumper. Assisted by Jamal Mashburn.
29 - 38
10:45
Troy Hudson missed 9 ft Jumper.
29 - 38
10:42
Orlando Offensive Rebound.
29 - 38
10:42
24 second
29 - 38
10:42
Lee Nailon enters the game for Jamal Mashburn.
29 - 38
10:23
Robert Traylor made Layup. Assisted by George Lynch.
29 - 40
10:06
Troy Hudson Bad Pass. Stolen by Robert Traylor.
29 - 40
9:42
Robert Traylor missed 9 ft Jumper.
29 - 40
9:41
Patrick Ewing Defensive Rebound.
29 - 40
9:36
Troy Hudson made 18 ft Jumper.
31 - 40
9:11
Baron Davis made 25 ft Three Point Jumper.
31 - 43
9:03
Orlando Full Timeout.
31 - 43
9:03
Horace Grant enters the game for Patrick Ewing.
31 - 43
9:03
Jamaal Magloire enters the game for Robert Traylor.
31 - 43
9:03
David Wesley enters the game for Baron Davis.
31 - 43
8:53
Lee Nailon Personal Foul
31 - 43
8:41
Don Reid missed 6 ft Jumper.
31 - 43
8:37
Jamaal Magloire Defensive Rebound.
31 - 43
8:22
Lee Nailon made Jumper. Assisted by Jamaal Magloire.
31 - 45
8:03
Tracy McGrady missed 6 ft Jumper. Blocked by Stacey Augmon.
31 - 45
7:58
Stacey Augmon Defensive Rebound.
31 - 45
7:54
Lee Nailon missed Layup.
31 - 45
7:54
Don Reid Defensive Rebound.
31 - 45
7:39
Horace Grant made 19 ft Jumper. Assisted by Tracy McGrady.
33 - 45
7:20
David Wesley missed 26 ft Three Point Jumper.
33 - 45
7:18
Don Reid Defensive Rebound.
33 - 45
7:09
Horace Grant made 20 ft Jumper. Assisted by Tracy McGrady.
35 - 45
6:50
Stacey Augmon Lost Ball. Stolen by Don Reid.
35 - 45
6:46
Troy Hudson missed Layup.
35 - 45
6:43
Stacey Augmon Defensive Rebound.
35 - 45
6:41
Jud Buechler Shooting Foul
35 - 45
6:41
Pat Garrity enters the game for Tracy McGrady.
35 - 45
6:41
Darrell Armstrong enters the game for Jud Buechler.
35 - 45
6:41
Monty Williams enters the game for Don Reid.
35 - 45
6:41
David Wesley missed Free Throw 1 of 2.
35 - 45
6:41
Charlotte Offensive Rebound.
35 - 45
6:41
P.J. Brown enters the game for George Lynch.
35 - 45
6:41
David Wesley made Free Throw 2 of 2.
35 - 46
6:28
Monty Williams made Layup. Assisted by Darrell Armstrong.
37 - 46
6:13
P.J. Brown made Layup. Assisted by Stacey Augmon.
37 - 48
5:54
Pat Garrity made 25 ft Three Point Jumper. Assisted by Monty Williams.
40 - 48
5:35
Darrell Armstrong Shooting Foul
40 - 48
5:35
Official Timeout.
40 - 48
5:35
Stacey Augmon made Free Throw 1 of 2.
40 - 49
5:35
Stacey Augmon made Free Throw 2 of 2.
40 - 50
5:20
Troy Hudson made 17 ft Jumper.
42 - 50
5:03
Lee Nailon made 16 ft Jumper.
42 - 52
4:41
Darrell Armstrong Bad Pass. Stolen by P.J. Brown.
42 - 52
4:37
Stacey Augmon Bad Pass. Stolen by Troy Hudson.
42 - 52
4:33
Darrell Armstrong missed 26 ft Three Point Jumper.
42 - 52
4:31
Stacey Augmon Defensive Rebound.
42 - 52
4:11
David Wesley made Two Point Shot.
42 - 54
3:58
Lee Nailon Personal Foul
42 - 54
3:58
Jamal Mashburn enters the game for Lee Nailon.
42 - 54
3:58
Baron Davis enters the game for Stacey Augmon.
42 - 54
3:53
Darrell Armstrong Lost Ball. Stolen by Baron Davis.
42 - 54
3:31
Jamaal Magloire made Dunk. Assisted by David Wesley.
42 - 56
3:12
Troy Hudson made 22 ft Jumper. Assisted by Horace Grant.
44 - 56
2:55
P.J. Brown missed 16 ft Jumper.
44 - 56
2:53
Darrell Armstrong Defensive Rebound.
44 - 56
2:42
Horace Grant missed 20 ft Jumper.
44 - 56
2:41
Orlando Offensive Rebound.
44 - 56
2:41
Jamaal Magloire Loose Ball Foul
44 - 56
2:41
Charlotte Full Timeout.
44 - 56
2:41
Robert Traylor enters the game for Jamaal Magloire.
44 - 56
2:41
Tracy McGrady enters the game for Horace Grant.
44 - 56
2:30
Tracy McGrady made 21 ft Jumper.
46 - 56
2:15
Monty Williams Shooting Foul
46 - 56
2:15
Baron Davis missed Free Throw 1 of 2.
46 - 56
2:15
Charlotte Offensive Rebound.
46 - 56
2:15
Baron Davis missed Free Throw 2 of 2.
46 - 56
2:15
Charlotte Defensive Rebound.
46 - 56
2:04
Tracy McGrady missed 20 ft Jumper.
46 - 56
2:02
Baron Davis Defensive Rebound.
46 - 56
1:53
Robert Traylor made Two Point Shot. Assisted by Jamal Mashburn.
46 - 58
1:34
Pat Garrity missed 25 ft Three Point Jumper.
46 - 58
1:31
Darrell Armstrong Offensive Rebound.
46 - 58
1:28
Robert Traylor Shooting Foul
46 - 58
1:28
Monty Williams missed Free Throw 1 of 2.
46 - 58
1:28
Orlando Offensive Rebound.
46 - 58
1:28
Monty Williams made Free Throw 2 of 2.
47 - 58
1:10
Jamal Mashburn missed 19 ft Jumper.
47 - 58
1:08
Monty Williams Defensive Rebound.
47 - 58
1:02
Monty Williams made Layup. Assisted by Tracy McGrady.
49 - 58
0:41
Robert Traylor missed 6 ft Jumper.
49 - 58
0:39
Troy Hudson Defensive Rebound.
49 - 58
0:34
Troy Hudson missed 9 ft Jumper.
49 - 58
0:32
Jamal Mashburn Defensive Rebound.
49 - 58
0:27
David Wesley missed 25 ft Three Point Jumper.
49 - 58
0:26
Charlotte Defensive Rebound.
49 - 58
0:26
Orlando 20 Second Timeou.
49 - 58
0:26
Horace Grant enters the game for Monty Williams.
49 - 58
0:26
George Lynch enters the game for Robert Traylor.
49 - 58
0:07
Horace Grant made Layup. Assisted by Troy Hudson.
51 - 58
0:07
Jamal Mashburn Shooting Foul
51 - 58
0:07
Horace Grant made Free Throw 1 of 1.
52 - 58
0:00
Jamal Mashburn missed 21 ft Jumper.
52 - 58
0:00
Tracy McGrady Defensive Rebound.
52 - 58
0:00
End of the 2nd Quarter.
52 - 58

time
TEAM
PLAY
SCORE
12:00
Start of the 3rd Quarter.
52 - 58
11:40
Horace Grant missed 21 ft Jumper.
52 - 58
11:37
Jamal Mashburn Defensive Rebound.
52 - 58
11:22
Jamal Mashburn Bad Pass. Stolen by Tracy McGrady.
52 - 58
11:19
Tracy McGrady Bad Pass. Stolen by Baron Davis.
52 - 58
10:56
Jamaal Magloire made 6 ft Hook Shot.
52 - 60
10:41
Tracy McGrady made 21 ft Jumper.
54 - 60
10:29
Horace Grant Personal Foul
54 - 60
10:15
Jamaal Magloire missed 8 ft Jumper.
54 - 60
10:11
Darrell Armstrong Defensive Rebound.
54 - 60
10:07
Tracy McGrady missed 26 ft Three Point Jumper.
54 - 60
10:03
Orlando Offensive Rebound.
54 - 60
9:55
Tracy McGrady made 18 ft Jumper.
56 - 60
9:42
Jamaal Magloire Traveling
56 - 60
9:33
Tracy McGrady missed 25 ft Three Point Jumper.
56 - 60
9:30
Tracy McGrady Offensive Rebound.
56 - 60
9:26
Tracy McGrady missed Layup.
56 - 60
9:25
P.J. Brown Defensive Rebound.
56 - 60
9:22
David Wesley made Layup. Assisted by P.J. Brown.
56 - 62
9:07
David Wesley Personal Foul
56 - 62
8:52
Monty Williams missed 16 ft Jumper.
56 - 62
8:51
Jamaal Magloire Defensive Rebound.
56 - 62
8:41
Baron Davis missed 25 ft Three Point Jumper.
56 - 62
8:38
Darrell Armstrong Defensive Rebound.
56 - 62
8:26
Baron Davis Personal Foul
56 - 62
8:17
Tracy McGrady missed 16 ft Jumper.
56 - 62
8:15
Jamaal Magloire Defensive Rebound.
56 - 62
7:58
Jamal Mashburn missed 26 ft Three Point Jumper.
56 - 62
7:58
Jamaal Magloire Offensive Rebound.
56 - 62
7:58
Jamaal Magloire missed Tip Shot.
56 - 62
7:58
Jamaal Magloire Offensive Rebound.
56 - 62
7:58
Monty Williams Shooting Foul
56 - 62
7:58
Jamaal Magloire made Free Throw 1 of 2.
56 - 63
7:58
Jamaal Magloire made Free Throw 2 of 2.
56 - 64
7:48
Darrell Armstrong made Layup. Assisted by Monty Williams.
58 - 64
7:28
Jamaal Magloire made Dunk. Assisted by Jamal Mashburn.
58 - 66
7:13
Horace Grant made 14 ft Jumper. Assisted by Monty Williams.
60 - 66
6:54
Monty Williams Personal Foul
60 - 66
6:54
Troy Hudson enters the game for Monty Williams.
60 - 66
6:39
P.J. Brown made Layup. Assisted by David Wesley.
60 - 68
6:26
Tracy McGrady made 17 ft Jumper.
62 - 68
6:05
Jamal Mashburn made 12 ft Jumper.
62 - 70
5:48
Pat Garrity Lost Ball
62 - 70
5:48
Charlotte Full Timeout.
62 - 70
5:35
P.J. Brown made Layup. Assisted by Jamal Mashburn.
62 - 72
5:11
Troy Hudson made 26 ft Three Point Jumper. Assisted by Darrell Armstrong.
65 - 72
4:43
P.J. Brown made Layup.
65 - 74
4:26
Pat Garrity made 26 ft Three Point Jumper. Assisted by Tracy McGrady.
68 - 74
4:13
Jamal Mashburn made Layup.
68 - 76
3:54
Tracy McGrady Bad Pass. Stolen by David Wesley.
68 - 76
3:48
P.J. Brown made Layup. Assisted by David Wesley.
68 - 78
3:28
Troy Hudson made 26 ft Three Point Jumper. Assisted by Tracy McGrady.
71 - 78
3:05
Jamal Mashburn missed 19 ft Jumper.
71 - 78
3:03
Horace Grant Defensive Rebound.
71 - 78
2:56
Troy Hudson missed 26 ft Three Point Jumper.
71 - 78
2:54
P.J. Brown Defensive Rebound.
71 - 78
2:35
P.J. Brown Lost Ball. Stolen by Tracy McGrady.
71 - 78
2:31
Darrell Armstrong missed Layup. Blocked by David Wesley.
71 - 78
2:28
Troy Hudson Offensive Rebound.
71 - 78
2:28
Troy Hudson missed Layup. Blocked by Baron Davis.
71 - 78
2:23
Jamal Mashburn Defensive Rebound.
71 - 78
2:20
P.J. Brown missed 7 ft Hook Shot.
71 - 78
2:16
Darrell Armstrong Defensive Rebound.
71 - 78
2:06
Orlando Full Timeout.
71 - 78
2:06
Monty Williams enters the game for Tracy McGrady.
71 - 78
2:06
George Lynch enters the game for P.J. Brown.
71 - 78
1:55
24 second
71 - 78
1:37
David Wesley Bad Pass. Stolen by Darrell Armstrong.
71 - 78
1:31
Troy Hudson Bad Pass. Stolen by Jamal Mashburn.
71 - 78
1:07
Jamal Mashburn missed 17 ft Jumper.
71 - 78
1:06
Horace Grant Defensive Rebound.
71 - 78
0:59
Troy Hudson made 20 ft Jumper. Assisted by Darrell Armstrong.
73 - 78
0:43
Pat Garrity Shooting Foul
73 - 78
0:43
Andrew DeClercq enters the game for Horace Grant.
73 - 78
0:43
Jamaal Magloire made Free Throw 1 of 2.
73 - 79
0:43
Stacey Augmon enters the game for David Wesley.
73 - 79
0:43
Jamaal Magloire missed Free Throw 2 of 2.
73 - 79
0:42
Pat Garrity Defensive Rebound.
73 - 79
0:26
Monty Williams missed Layup.
73 - 79
0:24
Andrew DeClercq Offensive Rebound.
73 - 79
0:24
Andrew DeClercq missed Tip Shot. Blocked by Jamaal Magloire.
73 - 79
0:23
Andrew DeClercq Offensive Rebound.
73 - 79
0:23
Andrew DeClercq missed Layup.
73 - 79
0:23
Jamaal Magloire Defensive Rebound.
73 - 79
0:23
Andrew DeClercq Personal Foul
73 - 79
0:23
Jamaal Magloire missed Free Throw 1 of 2.
73 - 79
0:23
Charlotte Offensive Rebound.
73 - 79
0:23
Jamaal Magloire missed Free Throw 2 of 2.
73 - 79
0:22
Charlotte Offensive Rebound.
73 - 79
0:02
Jamal Mashburn missed 19 ft Jumper.
73 - 79
0:00
Pat Garrity Defensive Rebound.
73 - 79
0:00
End of the 3rd Quarter.
73 - 79

time
TEAM
PLAY
SCORE
12:00
Start of the 4th Quarter.
73 - 79
11:41
Lee Nailon made 21 ft Jumper. Assisted by Baron Davis.
73 - 81
11:22
Troy Hudson missed Layup. Blocked by Robert Traylor.
73 - 81
11:19
Robert Traylor Defensive Rebound.
73 - 81
11:17
Monty Williams Shooting Foul
73 - 81
11:17
Lee Nailon missed Free Throw 1 of 2.
73 - 81
11:17
Charlotte Offensive Rebound.
73 - 81
11:17
Jud Buechler enters the game for Monty Williams.
73 - 81
11:17
Lee Nailon made Free Throw 2 of 2.
73 - 82
11:06
Troy Hudson made Two Point Shot.
75 - 82
10:47
Baron Davis made 21 ft Jumper.
75 - 84
10:30
Troy Hudson Bad Pass. Stolen by Lee Nailon.
75 - 84
10:27
Andrew DeClercq Shooting Foul
75 - 84
10:27
Stacey Augmon made Free Throw 1 of 2.
75 - 85
10:27
Pat Garrity enters the game for Andrew DeClercq.
75 - 85
10:27
Stacey Augmon made Free Throw 2 of 2.
75 - 86
10:12
Tracy McGrady missed 18 ft Jumper.
75 - 86
10:11
Baron Davis Defensive Rebound.
75 - 86
10:03
Lee Nailon missed Layup.
75 - 86
9:57
Don Reid Defensive Rebound.
75 - 86
9:52
Baron Davis Shooting Foul
75 - 86
9:52
Pat Garrity missed Free Throw 1 of 2.
75 - 86
9:52
Orlando Offensive Rebound.
75 - 86
9:52
Darrell Armstrong enters the game for Jud Buechler.
75 - 86
9:52
Pat Garrity made Free Throw 2 of 2.
76 - 86
9:30
Jamal Mashburn missed 17 ft Jumper.
76 - 86
9:30
Tracy McGrady Defensive Rebound.
76 - 86
9:30
Lee Nailon Personal Foul
76 - 86
9:30
David Wesley enters the game for Jamal Mashburn.
76 - 86
9:19
Don Reid missed Layup. Blocked by Robert Traylor.
76 - 86
9:18
David Wesley Defensive Rebound.
76 - 86
9:07
Stacey Augmon Bad Pass. Stolen by Tracy McGrady.
76 - 86
9:00
Don Reid missed Layup. Blocked by Lee Nailon.
76 - 86
8:56
Baron Davis Defensive Rebound.
76 - 86
8:53
David Wesley missed Layup.
76 - 86
8:49
Baron Davis Offensive Rebound.
76 - 88
8:49
Baron Davis made Tip Shot.
76 - 88
8:48
Orlando Full Timeout.
76 - 88
8:48
Horace Grant enters the game for Don Reid.
76 - 88
8:41
Darrell Armstrong Bad Pass. Stolen by Baron Davis.
76 - 88
8:33
Lee Nailon made Dunk. Assisted by Baron Davis.
76 - 90
8:25
Tracy McGrady made Layup. Assisted by Darrell Armstrong.
78 - 90
8:06
Robert Traylor missed Layup. Blocked by Horace Grant.
78 - 90
8:04
Pat Garrity Defensive Rebound.
78 - 90
7:58
Horace Grant made 21 ft Jumper.
80 - 90
7:48
Charlotte Full Timeout.
80 - 90
7:48
Jamal Mashburn enters the game for Robert Traylor.
80 - 90
7:43
Baron Davis made 25 ft Three Point Jumper. Assisted by Jamal Mashburn.
80 - 93
7:28
Troy Hudson made 25 ft Three Point Jumper. Assisted by Darrell Armstrong.
83 - 93
7:03
David Wesley missed 23 ft Three Point Jumper.
83 - 93
7:01
Pat Garrity Defensive Rebound.
83 - 93
6:56
Jamal Mashburn Shooting Foul
83 - 93
6:56
Troy Hudson made Free Throw 1 of 2.
84 - 93
6:56
Jamaal Magloire enters the game for Stacey Augmon.
84 - 93
6:56
Troy Hudson made Free Throw 2 of 2.
85 - 93
6:41
David Wesley Lost Ball. Stolen by Tracy McGrady.
85 - 93
6:35
Jamal Mashburn Shooting Foul
85 - 93
6:35
Troy Hudson made Free Throw 1 of 2.
86 - 93
6:35
Troy Hudson made Free Throw 2 of 2.
87 - 93
6:15
Jamal Mashburn missed 7 ft Jumper.
87 - 93
6:13
Tracy McGrady Defensive Rebound.
87 - 93
6:07
Troy Hudson missed Layup.
87 - 93
6:05
Horace Grant Offensive Rebound.
87 - 93
6:01
Darrell Armstrong made 26 ft Three Point Jumper. Assisted by Horace Grant.
90 - 93
5:58
Charlotte Full Timeout.
90 - 93
5:58
P.J. Brown enters the game for Lee Nailon.
90 - 93
5:39
Jamal Mashburn made 24 ft Three Point Jumper. Assisted by Baron Davis.
90 - 96
5:13
Horace Grant made Layup. Assisted by Tracy McGrady.
92 - 96
4:54
David Wesley missed 23 ft Three Point Jumper.
92 - 96
4:50
Pat Garrity Defensive Rebound.
92 - 96
4:37
Pat Garrity made 26 ft Three Point Jumper. Assisted by Darrell Armstrong.
95 - 96
4:15
Pat Garrity Shooting Foul
95 - 96
4:15
Jamaal Magloire made Free Throw 1 of 2.
95 - 97
4:15
Jamaal Magloire made Free Throw 2 of 2.
95 - 98
4:05
Horace Grant made Layup. Assisted by Troy Hudson.
97 - 98
3:40
David Wesley made 24 ft Three Point Jumper. Assisted by Jamal Mashburn.
97 - 101
3:23
Horace Grant missed 16 ft Jumper.
97 - 101
3:19
Jamal Mashburn Defensive Rebound.
97 - 101
3:11
David Wesley Bad Pass
97 - 101
3:11
Orlando Full Timeout.
97 - 101
3:00
Troy Hudson missed Layup.
97 - 101
3:00
Baron Davis Defensive Rebound.
97 - 101
2:49
Baron Davis missed Layup.
97 - 101
2:47
P.J. Brown Offensive Rebound.
97 - 103
2:47
P.J. Brown made Layup.
97 - 103
2:27
Troy Hudson Lost Ball. Stolen by Jamaal Magloire.
97 - 103
2:23
Jamal Mashburn Bad Pass. Stolen by Pat Garrity.
97 - 103
2:16
Troy Hudson made 18 ft Jumper.
99 - 103
1:58
P.J. Brown made Jumper. Assisted by Jamal Mashburn.
99 - 105
1:45
Tracy McGrady made Two Point Shot.
101 - 105
1:23
Baron Davis missed 16 ft Jumper.
101 - 105
1:21
Troy Hudson Defensive Rebound.
101 - 105
1:13
Tracy McGrady Bad Pass
101 - 105
0:53
P.J. Brown missed 16 ft Jumper.
101 - 105
0:53
Charlotte Offensive Rebound.
101 - 105
0:53
Pat Garrity Loose Ball Foul
101 - 105
0:33
Jamal Mashburn made 26 ft Three Point Jumper. Assisted by Baron Davis.
101 - 108
0:33
Orlando Full Timeout.
101 - 108
0:33
Stacey Augmon enters the game for Jamaal Magloire.
101 - 108
0:27
Horace Grant missed 16 ft Jumper.
101 - 108
0:25
Jamal Mashburn Defensive Rebound.
101 - 108
0:25
Tracy McGrady Personal Foul
101 - 108
0:25
Jamal Mashburn missed Free Throw 1 of 2.
101 - 108
0:25
Charlotte Offensive Rebound.
101 - 108
0:25
Jamal Mashburn made Free Throw 2 of 2.
101 - 109
0:19
Pat Garrity made 25 ft Three Point Jumper. Assisted by Troy Hudson.
104 - 109
0:18
Tracy McGrady Personal Foul
104 - 109
0:18
Jamal Mashburn made Free Throw 1 of 2.
104 - 110
0:18
Jamal Mashburn made Free Throw 2 of 2.
104 - 111
0:18
Orlando 20 Second Timeou.
104 - 111
0:12
Darrell Armstrong missed 21 ft Jumper.
104 - 111
0:09
P.J. Brown Defensive Rebound.
104 - 111
0:00
End of the 4th Quarter.
104 - 111
0:00
End Game
104 - 111
Michael Wilbon explains how the Warriors going big, plus the extra boost of energy from the Oracle Arena crowd, pushed the Warriors to stay alive with a Game 5 win.

The Golden State Warriors held off the Oklahoma City Thunder in an elimination Game 5 for a 120-111 win and bring the West finals score to 3-2.

With their backs against the wall, the Warriors got back on track in Game 5, with Steph Curry scoring 31 points and Golden State topping Oklahoma City 120-111.
Playoff Series
CHA leads 3-1
2015-2016 Atlantic Standings