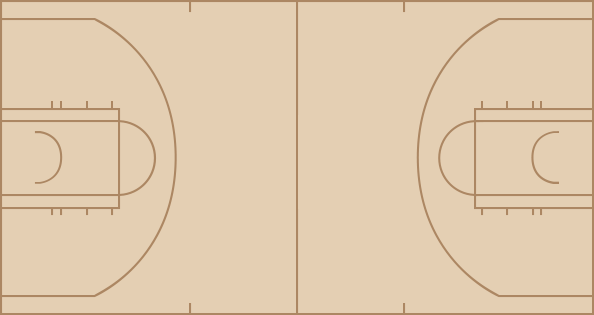 Clippers
time
TEAM
PLAY
SCORE
12:00
Start of the 1st Quarter.
0 - 0
12:00
Jumpball. Sean Rooks vs. Raef LaFrentz. Corey Maggette gains possession.
0 - 0
11:45
Elton Brand 3 second
0 - 0
11:30
Michael Finley missed Two Point Shot.
0 - 0
11:26
Eric Piatkowski Defensive Rebound.
0 - 0
11:15
Elton Brand made Layup.
2 - 0
11:03
Nick Van Exel Bad Pass. Stolen by Elton Brand.
2 - 0
10:52
Raef LaFrentz Shooting Foul
2 - 0
10:52
Jeff McInnis made Free Throw 1 of 2.
3 - 0
10:52
Jeff McInnis made Free Throw 2 of 2.
4 - 0
10:37
Raef LaFrentz missed 15 ft Jumper.
4 - 0
10:36
Eric Piatkowski Defensive Rebound.
4 - 0
10:26
Sean Rooks made Layup. Assisted by Elton Brand.
6 - 0
10:07
Dirk Nowitzki made 15 ft Two Point Shot.
6 - 2
10:00
Michael Finley Personal Foul
6 - 2
9:48
Elton Brand missed Layup.
6 - 2
9:48
Elton Brand Offensive Rebound.
6 - 2
9:45
Elton Brand made Layup.
8 - 2
9:37
Steve Nash missed 22 ft Jumper.
8 - 2
9:34
Jeff McInnis Defensive Rebound.
8 - 2
9:32
Corey Maggette made Two Point Shot.
10 - 2
9:29
Dallas Full Timeout.
10 - 2
9:15
Eric Piatkowski Personal Foul
10 - 2
9:03
Dirk Nowitzki Bad Pass. Stolen by Corey Maggette.
10 - 2
8:59
Elton Brand Offensive Goaltending
10 - 2
8:48
Raef LaFrentz missed 24 ft Three Point Jumper.
10 - 2
8:45
Dirk Nowitzki Offensive Rebound.
10 - 2
8:44
Dirk Nowitzki Bad Pass. Stolen by Eric Piatkowski.
10 - 2
8:38
Jeff McInnis made 21 ft Jumper.
12 - 2
8:18
Sean Rooks Personal Foul
12 - 2
8:18
Greg Buckner enters the game for Nick Van Exel.
12 - 2
8:11
Steve Nash made 21 ft Jumper.
12 - 4
7:58
Corey Maggette missed 25 ft Three Point Jumper.
12 - 4
7:56
Michael Finley Defensive Rebound.
12 - 4
7:41
Michael Finley missed 20 ft Jumper.
12 - 4
7:41
Dallas Defensive Rebound.
12 - 4
7:31
Eric Piatkowski missed Two Point Shot. Blocked by Dirk Nowitzki.
12 - 4
7:30
Greg Buckner Defensive Rebound.
12 - 4
7:22
Greg Buckner made 9 ft Jumper. Assisted by Michael Finley.
12 - 6
7:07
Sean Rooks missed 21 ft Jumper.
12 - 6
7:05
Steve Nash Defensive Rebound.
12 - 6
7:00
Raef LaFrentz made Two Point Shot. Assisted by Michael Finley.
12 - 8
6:54
Sean Rooks Bad Pass. Stolen by Dirk Nowitzki.
12 - 8
6:47
Michael Finley made Two Point Shot.
12 - 10
6:28
Jeff McInnis made Two Point Shot.
14 - 10
6:13
Dirk Nowitzki made 13 ft Jumper. Assisted by Steve Nash.
14 - 12
6:03
Sean Rooks missed 20 ft Jumper.
14 - 12
5:58
Dirk Nowitzki Defensive Rebound.
14 - 12
5:50
Raef LaFrentz Bad Pass
14 - 12
5:37
Greg Buckner Shooting Foul
14 - 12
5:37
Elton Brand made Free Throw 1 of 2.
15 - 12
5:37
Elton Brand made Free Throw 2 of 2.
16 - 12
5:24
Raef LaFrentz missed 23 ft Jumper.
16 - 12
5:22
Dallas Defensive Rebound.
16 - 12
5:09
Eric Piatkowski missed 25 ft Three Point Jumper.
16 - 12
5:05
Dirk Nowitzki Defensive Rebound.
16 - 12
5:01
Michael Finley made Two Point Shot. Assisted by Dirk Nowitzki.
16 - 14
4:39
Sean Rooks missed 17 ft Jumper.
16 - 14
4:37
Raef LaFrentz Defensive Rebound.
16 - 14
4:26
Michael Finley missed 26 ft Three Point Jumper.
16 - 14
4:24
Greg Buckner Offensive Rebound.
16 - 14
4:22
Sean Rooks Shooting Foul
16 - 14
4:22
Michael Olowokandi enters the game for Sean Rooks.
16 - 14
4:22
Greg Buckner made Free Throw 1 of 2.
16 - 15
4:22
Greg Buckner missed Free Throw 2 of 2.
16 - 15
4:22
Elton Brand Defensive Rebound.
16 - 15
4:07
Corey Maggette made Two Point Shot.
18 - 15
4:07
Raef LaFrentz Shooting Foul
18 - 15
4:07
Evan Eschmeyer enters the game for Raef LaFrentz.
18 - 15
4:07
Corey Maggette made Free Throw 1 of 1.
19 - 15
3:58
Steve Nash Bad Pass. Stolen by Jeff McInnis.
19 - 15
3:43
Michael Olowokandi made Layup. Assisted by Corey Maggette.
21 - 15
3:33
Steve Nash Bad Pass. Stolen by Jeff McInnis.
21 - 15
3:29
Corey Maggette made Two Point Shot. Assisted by Jeff McInnis.
23 - 15
3:29
Steve Nash Shooting Foul
23 - 15
3:29
Nick Van Exel enters the game for Steve Nash.
23 - 15
3:29
Corey Maggette made Free Throw 1 of 1.
24 - 15
3:11
Michael Finley missed 16 ft Jumper.
24 - 15
3:09
Eric Piatkowski Defensive Rebound.
24 - 15
2:56
Michael Olowokandi made 6 ft Jumper.
26 - 15
2:41
Michael Finley missed Three Point Jumper.
26 - 15
2:36
Eric Piatkowski Defensive Rebound.
26 - 15
2:29
Michael Olowokandi Traveling
26 - 15
2:29
Los Angeles Full Timeout.
26 - 15
2:15
Nick Van Exel missed Layup.
26 - 15
2:14
Evan Eschmeyer Offensive Rebound.
26 - 15
2:13
Evan Eschmeyer missed Layup. Blocked by Elton Brand.
26 - 15
2:11
Evan Eschmeyer Offensive Rebound.
26 - 15
2:10
Evan Eschmeyer made Layup.
26 - 17
1:46
Corey Maggette missed 17 ft Jumper. Blocked by Greg Buckner.
26 - 17
1:44
Greg Buckner Defensive Rebound.
26 - 17
1:37
Dirk Nowitzki missed 18 ft Jumper.
26 - 17
1:35
Jeff McInnis Defensive Rebound.
26 - 17
1:23
Michael Olowokandi missed 11 ft Jumper.
26 - 17
1:20
Nick Van Exel Defensive Rebound.
26 - 17
1:16
Nick Van Exel missed Layup.
26 - 17
1:14
Elton Brand Defensive Rebound.
26 - 17
0:54
Jeff McInnis missed Layup.
26 - 17
0:53
Evan Eschmeyer Defensive Rebound.
26 - 17
0:43
Michael Finley missed Three Point Jumper.
26 - 17
0:41
Nick Van Exel Offensive Rebound.
26 - 17
0:40
Greg Buckner made Layup. Assisted by Nick Van Exel.
26 - 19
0:32
Los Angeles 20 Second Timeou.
26 - 19
0:32
Earl Boykins enters the game for Jeff McInnis.
26 - 19
0:32
Adrian Griffin enters the game for Michael Finley.
26 - 19
0:22
Adrian Griffin Shooting Foul
26 - 19
0:22
Corey Maggette missed Free Throw 1 of 2.
26 - 19
0:22
Los Angeles Offensive Rebound.
26 - 19
0:22
Corey Maggette made Free Throw 2 of 2.
27 - 19
0:00
Dirk Nowitzki made 14 ft Jumper.
27 - 21
0:00
End of the 1st Quarter.
27 - 21

time
TEAM
PLAY
SCORE
12:00
Start of the 2nd Quarter.
27 - 21
11:38
Nick Van Exel missed 22 ft Jumper.
27 - 21
11:37
Michael Olowokandi Defensive Rebound.
27 - 21
11:19
Michael Olowokandi missed 7 ft Hook Shot.
27 - 21
11:18
Evan Eschmeyer Defensive Rebound.
27 - 21
11:10
Dirk Nowitzki missed 21 ft Jumper.
27 - 21
11:07
Michael Olowokandi Defensive Rebound.
27 - 21
10:49
Evan Eschmeyer Personal Foul
27 - 21
10:41
Michael Olowokandi missed Layup.
27 - 21
10:40
Dirk Nowitzki Defensive Rebound.
27 - 21
10:30
Dirk Nowitzki missed 10 ft Jumper.
27 - 21
10:27
Evan Eschmeyer Offensive Rebound.
27 - 21
10:18
Greg Buckner Lost Ball. Stolen by Quentin Richardson.
27 - 21
10:15
Quentin Richardson missed 24 ft Three Point Jumper.
27 - 21
10:11
Dirk Nowitzki Defensive Rebound.
27 - 21
10:04
Adrian Griffin made 13 ft Jumper.
27 - 23
9:51
Earl Boykins made Two Point Shot.
29 - 23
9:34
Dirk Nowitzki made Slam Dunk.
29 - 25
9:19
Corey Maggette missed 24 ft Three Point Jumper.
29 - 25
9:17
Nick Van Exel Defensive Rebound.
29 - 25
9:12
Darius Miles Personal Foul
29 - 25
9:04
Dirk Nowitzki made 17 ft Jumper.
29 - 27
8:37
Corey Maggette missed Three Point Jumper.
29 - 27
8:34
Evan Eschmeyer Defensive Rebound.
29 - 27
8:32
Greg Buckner made Two Point Shot. Assisted by Evan Eschmeyer.
29 - 29
8:14
Quentin Richardson made Layup. Assisted by Darius Miles.
31 - 29
7:52
Greg Buckner missed 10 ft Jumper.
31 - 29
7:50
Darius Miles Defensive Rebound.
31 - 29
7:47
Greg Buckner Personal Foul
31 - 29
7:47
Official Timeout.
31 - 29
7:47
Elton Brand enters the game for Corey Maggette.
31 - 29
7:37
Earl Boykins Bad Pass. Stolen by Dirk Nowitzki.
31 - 29
7:20
Nick Van Exel missed 8 ft Jumper.
31 - 29
7:18
Darius Miles Defensive Rebound.
31 - 29
7:01
Michael Olowokandi made Slam Dunk. Assisted by Quentin Richardson.
33 - 29
6:41
Adrian Griffin missed 21 ft Jumper.
33 - 29
6:39
Darius Miles Defensive Rebound.
33 - 29
6:28
Darius Miles made 16 ft Jumper. Assisted by Earl Boykins.
35 - 29
6:18
Nick Van Exel made 6 ft Jumper.
35 - 31
5:56
Quentin Richardson missed 7 ft Jumper.
35 - 31
5:54
Elton Brand Offensive Rebound.
35 - 31
5:52
Evan Eschmeyer Personal Foul
35 - 31
5:52
Dallas Full Timeout.
35 - 31
5:52
Jeff McInnis enters the game for Earl Boykins.
35 - 31
5:52
Michael Finley enters the game for Greg Buckner.
35 - 31
5:52
Raef LaFrentz enters the game for Evan Eschmeyer.
35 - 31
5:39
Michael Olowokandi made 5 ft Jumper.
37 - 31
5:16
Nick Van Exel made Layup. Assisted by Michael Finley.
37 - 33
4:58
Michael Olowokandi made 7 ft Two Point Shot.
39 - 33
4:37
Michael Finley made Layup. Assisted by Nick Van Exel.
39 - 35
4:37
Defensive Goaltending
39 - 35
4:30
Raef LaFrentz Shooting Foul
39 - 35
4:30
Steve Nash enters the game for Dirk Nowitzki.
39 - 35
4:30
Eduardo Najera enters the game for Nick Van Exel.
39 - 35
4:30
Elton Brand made Free Throw 1 of 2.
40 - 35
4:30
Shawn Bradley enters the game for Raef LaFrentz.
40 - 35
4:30
Elton Brand missed Free Throw 2 of 2.
40 - 35
4:28
Adrian Griffin Defensive Rebound.
40 - 35
4:16
Steve Nash missed 25 ft Three Point Jumper.
40 - 35
4:13
Darius Miles Defensive Rebound.
40 - 35
4:09
Shawn Bradley Personal Foul
40 - 35
4:09
Michael Olowokandi missed Free Throw 1 of 2.
40 - 35
4:09
Los Angeles Offensive Rebound.
40 - 35
4:09
Michael Olowokandi made Free Throw 2 of 2.
41 - 35
3:55
Michael Finley made 12 ft Jumper. Assisted by Steve Nash.
41 - 37
3:45
Michael Olowokandi Offensive Foul
41 - 37
3:45
Michael Olowokandi Foul
41 - 37
3:24
Michael Olowokandi Illegal Defense Foul
41 - 37
3:24
Steve Nash made Technical Free Throw.
41 - 38
3:16
Shawn Bradley missed Two Point Shot. Blocked by Michael Olowokandi.
41 - 38
3:15
Shawn Bradley Offensive Rebound.
41 - 38
3:15
Shawn Bradley missed Layup.
41 - 38
3:13
Michael Olowokandi Defensive Rebound.
41 - 38
3:13
Michael Olowokandi Lost Ball
41 - 38
3:06
Michael Finley missed 20 ft Jumper.
41 - 38
3:03
Quentin Richardson Defensive Rebound.
41 - 38
2:58
Jeff McInnis missed 17 ft Jumper.
41 - 38
2:55
Adrian Griffin Defensive Rebound.
41 - 38
2:36
Jeff McInnis Personal Foul
41 - 38
2:36
Los Angeles Full Timeout.
41 - 38
2:24
Eduardo Najera made 8 ft Jumper. Assisted by Adrian Griffin.
41 - 40
2:02
Michael Olowokandi made 6 ft Jumper.
43 - 40
1:49
Steve Nash made 12 ft Two Point Shot.
43 - 42
1:31
Michael Olowokandi Traveling
43 - 42
1:14
Michael Finley missed 16 ft Jumper.
43 - 42
1:10
Jeff McInnis Defensive Rebound.
43 - 42
0:44
Adrian Griffin missed 18 ft Jumper.
43 - 42
0:42
Jeff McInnis Defensive Rebound.
43 - 42
0:29
Michael Olowokandi Traveling
43 - 42
0:29
Delay of Game
43 - 42
0:04
Steve Nash made Two Point Shot.
43 - 44
0:00
Jeff McInnis missed 27 ft Three Point Jumper.
43 - 44
0:00
Elton Brand Offensive Rebound.
43 - 44
0:00
End of the 2nd Quarter.
43 - 44

time
TEAM
PLAY
SCORE
12:00
Start of the 3rd Quarter.
43 - 44
11:37
Raef LaFrentz made Two Point Shot. Assisted by Steve Nash.
43 - 46
11:15
Eric Piatkowski made 23 ft Jumper. Assisted by Corey Maggette.
45 - 46
10:59
Steve Nash Bad Pass
45 - 46
10:45
Eric Piatkowski missed 17 ft Jumper.
45 - 46
10:42
Dirk Nowitzki Defensive Rebound.
45 - 46
10:34
Steve Nash made 17 ft Jumper.
45 - 48
10:15
Jeff McInnis made 25 ft Three Point Jumper. Assisted by Elton Brand.
48 - 48
10:03
Steve Nash Lost Ball. Stolen by Michael Olowokandi.
48 - 48
9:47
Jeff McInnis Bad Pass. Stolen by Greg Buckner.
48 - 48
9:47
Jeff McInnis Loose Ball Foul
48 - 48
9:37
Greg Buckner Out of Bounds
48 - 48
9:26
Elton Brand missed 6 ft Jumper.
48 - 48
9:25
Michael Olowokandi Offensive Rebound.
48 - 48
9:23
Michael Finley Shooting Foul
48 - 48
9:23
Michael Olowokandi missed Free Throw 1 of 2.
48 - 48
9:23
Los Angeles Offensive Rebound.
48 - 48
9:23
Michael Olowokandi made Free Throw 2 of 2.
49 - 48
9:11
Elton Brand Shooting Foul
49 - 48
9:11
Dirk Nowitzki made Free Throw 1 of 2.
49 - 49
9:11
Dirk Nowitzki made Free Throw 2 of 2.
49 - 50
8:49
Elton Brand missed 14 ft Jumper.
49 - 50
8:48
Raef LaFrentz Defensive Rebound.
49 - 50
8:41
Dirk Nowitzki made 17 ft Jumper. Assisted by Michael Finley.
49 - 52
8:18
Michael Olowokandi Lost Ball. Stolen by Michael Finley.
49 - 52
8:12
Michael Finley made Two Point Shot. Assisted by Steve Nash.
49 - 54
8:06
Los Angeles Full Timeout.
49 - 54
7:56
Michael Olowokandi missed 17 ft Jumper.
49 - 54
7:54
Elton Brand Offensive Rebound.
49 - 54
7:52
Elton Brand made Layup.
51 - 54
7:33
Greg Buckner made Layup.
51 - 56
7:16
Jeff McInnis missed 24 ft Three Point Jumper.
51 - 56
7:15
Dirk Nowitzki Defensive Rebound.
51 - 56
7:07
Michael Finley Offensive Foul
51 - 56
7:07
Michael Finley Foul
51 - 56
6:52
Corey Maggette missed 23 ft Jumper.
51 - 56
6:48
Elton Brand Offensive Rebound.
51 - 56
6:48
Elton Brand missed 6 ft Jumper.
51 - 56
6:46
Eric Piatkowski Offensive Rebound.
53 - 56
6:46
Eric Piatkowski made Tip Shot.
53 - 56
6:33
Raef LaFrentz missed 24 ft Three Point Jumper.
53 - 56
6:28
Michael Olowokandi Defensive Rebound.
53 - 56
6:26
Corey Maggette made Two Point Shot.
55 - 56
6:11
Steve Nash missed Layup. Blocked by Elton Brand.
55 - 56
6:09
Dallas Offensive Rebound.
55 - 56
6:05
Dirk Nowitzki made 25 ft Three Point Jumper. Assisted by Steve Nash.
55 - 59
5:47
Corey Maggette missed 24 ft Three Point Jumper.
55 - 59
5:45
Michael Olowokandi Offensive Rebound.
55 - 59
5:41
Eric Piatkowski missed Three Point Jumper.
55 - 59
5:39
Greg Buckner Defensive Rebound.
55 - 59
5:35
Michael Olowokandi Shooting Foul
55 - 59
5:35
Dirk Nowitzki made Free Throw 1 of 2.
55 - 60
5:35
Dirk Nowitzki made Free Throw 2 of 2.
55 - 61
5:26
Corey Maggette missed Two Point Shot.
55 - 61
5:24
Raef LaFrentz Defensive Rebound.
55 - 61
5:20
Dirk Nowitzki made Slam Dunk.
55 - 63
5:03
Los Angeles 20 Second Timeou.
55 - 63
4:50
Jeff McInnis made 24 ft Three Point Jumper. Assisted by Michael Olowokandi.
58 - 63
4:31
Raef LaFrentz missed Layup.
58 - 63
4:31
Raef LaFrentz Offensive Rebound.
58 - 63
4:31
Raef LaFrentz missed Layup.
58 - 63
4:28
Raef LaFrentz Offensive Rebound.
58 - 63
4:28
Raef LaFrentz missed Layup. Blocked by Michael Olowokandi.
58 - 63
4:26
Michael Olowokandi Defensive Rebound.
58 - 63
4:22
Jeff McInnis missed 12 ft Jumper.
58 - 63
4:16
Elton Brand made Layup.
60 - 63
4:01
Jeff McInnis Shooting Foul
60 - 63
4:01
Raef LaFrentz missed Free Throw 1 of 2.
60 - 63
4:01
Dallas Offensive Rebound.
60 - 63
4:01
Adrian Griffin enters the game for Michael Finley.
60 - 63
4:01
Raef LaFrentz made Free Throw 2 of 2.
60 - 64
3:43
Raef LaFrentz Shooting Foul
60 - 64
3:43
Corey Maggette made Free Throw 1 of 2.
61 - 64
3:43
Corey Maggette made Free Throw 2 of 2.
62 - 64
3:30
Raef LaFrentz made 24 ft Three Point Jumper. Assisted by Steve Nash.
62 - 67
3:11
Michael Olowokandi made 9 ft Two Point Shot.
64 - 67
2:53
Corey Maggette Personal Foul
64 - 67
2:53
Dallas Full Timeout.
64 - 67
2:53
Quentin Richardson enters the game for Corey Maggette.
64 - 67
2:53
Raef LaFrentz missed Free Throw 1 of 2.
64 - 67
2:53
Dallas Offensive Rebound.
64 - 67
2:53
Raef LaFrentz made Free Throw 2 of 2.
64 - 68
2:36
Eric Piatkowski missed 21 ft Jumper.
64 - 68
2:35
Raef LaFrentz Defensive Rebound.
64 - 68
2:25
Steve Nash made 12 ft Jumper.
64 - 70
2:11
Adrian Griffin Personal Foul
64 - 70
1:55
Jeff McInnis made 24 ft Three Point Jumper. Assisted by Michael Olowokandi.
67 - 70
1:42
Greg Buckner made Layup. Assisted by Steve Nash.
67 - 72
1:25
Raef LaFrentz Shooting Foul
67 - 72
1:25
Michael Olowokandi missed Free Throw 1 of 2.
67 - 72
1:25
Los Angeles Offensive Rebound.
67 - 72
1:25
Nick Van Exel enters the game for Steve Nash.
67 - 72
1:25
Evan Eschmeyer enters the game for Raef LaFrentz.
67 - 72
1:25
Michael Olowokandi missed Free Throw 2 of 2.
67 - 72
1:25
Evan Eschmeyer Defensive Rebound.
67 - 72
1:02
Greg Buckner made 18 ft Jumper. Assisted by Adrian Griffin.
67 - 74
0:43
Quentin Richardson missed Layup.
67 - 74
0:42
Evan Eschmeyer Defensive Rebound.
67 - 74
0:36
Adrian Griffin made Two Point Shot. Assisted by Nick Van Exel.
67 - 76
0:27
Evan Eschmeyer Personal Foul
67 - 76
0:27
Michael Olowokandi missed Free Throw 1 of 2.
67 - 76
0:27
Los Angeles Offensive Rebound.
67 - 76
0:27
Michael Olowokandi made Free Throw 2 of 2.
68 - 76
0:05
Adrian Griffin missed 24 ft Three Point Jumper.
68 - 76
0:02
Evan Eschmeyer Offensive Rebound.
68 - 76
0:02
Evan Eschmeyer missed Layup.
68 - 76
0:02
Evan Eschmeyer Offensive Rebound.
68 - 78
0:02
Evan Eschmeyer made Layup.
68 - 78
0:00
Jeff McInnis missed 42 ft Three Point Jumper.
68 - 78
0:00
Los Angeles Offensive Rebound.
68 - 78
0:00
End of the 3rd Quarter.
68 - 78

time
TEAM
PLAY
SCORE
12:00
Start of the 4th Quarter.
68 - 78
11:48
Darius Miles made 19 ft Jumper. Assisted by Jeff McInnis.
70 - 78
11:30
Dirk Nowitzki missed 24 ft Three Point Jumper.
70 - 78
11:30
Dallas Defensive Rebound.
70 - 78
11:18
Adrian Griffin Shooting Foul
70 - 78
11:18
Darius Miles missed Free Throw 1 of 2.
70 - 78
11:18
Los Angeles Offensive Rebound.
70 - 78
11:18
Darius Miles made Free Throw 2 of 2.
71 - 78
11:00
Dirk Nowitzki missed Two Point Shot.
71 - 78
10:59
Quentin Richardson Defensive Rebound.
71 - 78
10:52
Eric Piatkowski missed 26 ft Three Point Jumper.
71 - 78
10:51
Quentin Richardson Offensive Rebound.
71 - 78
10:42
Eric Piatkowski missed 26 ft Three Point Jumper. Blocked by Greg Buckner.
71 - 78
10:41
Elton Brand Offensive Rebound.
71 - 78
10:41
Dirk Nowitzki Shooting Foul
71 - 78
10:41
Michael Finley enters the game for Greg Buckner.
71 - 78
10:41
Elton Brand made Free Throw 1 of 2.
72 - 78
10:41
Elton Brand made Free Throw 2 of 2.
73 - 78
10:23
Nick Van Exel missed 19 ft Jumper.
73 - 78
10:22
Eduardo Najera Offensive Rebound.
73 - 78
10:22
Eduardo Najera missed Layup.
73 - 78
10:21
Darius Miles Defensive Rebound.
73 - 78
10:11
Quentin Richardson missed 24 ft Three Point Jumper.
73 - 78
10:10
Adrian Griffin Defensive Rebound.
73 - 78
9:59
Adrian Griffin made Layup. Assisted by Dirk Nowitzki.
73 - 80
9:59
Eric Piatkowski Shooting Foul
73 - 80
9:59
Adrian Griffin made Free Throw 1 of 1.
73 - 81
9:45
Jeff McInnis made 14 ft Jumper. Assisted by Quentin Richardson.
75 - 81
9:29
Nick Van Exel made 24 ft Three Point Jumper.
75 - 84
9:08
Quentin Richardson made Layup. Assisted by Elton Brand.
77 - 84
8:52
Dirk Nowitzki made 25 ft Three Point Jumper. Assisted by Michael Finley.
77 - 87
8:30
Quentin Richardson missed Layup.
77 - 87
8:30
Eduardo Najera Defensive Rebound.
77 - 87
8:22
Nick Van Exel missed Two Point Shot.
77 - 87
8:21
Adrian Griffin Offensive Rebound.
77 - 89
8:21
Adrian Griffin made Tip Shot.
77 - 89
8:11
Los Angeles Full Timeout.
77 - 89
8:11
Corey Maggette enters the game for Elton Brand.
77 - 89
8:11
Michael Olowokandi enters the game for Eric Piatkowski.
77 - 89
8:11
Greg Buckner enters the game for Adrian Griffin.
77 - 89
8:11
Evan Eschmeyer enters the game for Eduardo Najera.
77 - 89
8:03
Jeff McInnis missed 11 ft Jumper. Blocked by Nick Van Exel.
77 - 89
8:00
Michael Olowokandi Offensive Rebound.
77 - 89
8:00
Michael Olowokandi made Layup.
79 - 89
7:41
Michael Finley made 11 ft Two Point Shot.
79 - 91
7:26
Quentin Richardson missed 6 ft Jumper.
79 - 91
7:24
Greg Buckner Defensive Rebound.
79 - 91
7:13
Michael Finley missed 22 ft Three Point Jumper.
79 - 91
7:11
Dirk Nowitzki Offensive Rebound.
79 - 91
7:07
Nick Van Exel made Two Point Shot.
79 - 93
6:56
Jeff McInnis missed Two Point Shot. Blocked by Evan Eschmeyer.
79 - 93
6:54
Michael Finley Defensive Rebound.
79 - 93
6:48
Nick Van Exel made 24 ft Three Point Jumper.
79 - 96
6:37
Corey Maggette Backcourt
79 - 96
6:37
Earl Boykins enters the game for Jeff McInnis.
79 - 99
6:26
Michael Finley made Two Point Shot.
79 - 98
6:26
Corey Maggette Shooting Foul
79 - 98
6:26
Doug Overton Technical Foul
79 - 98
6:26
Dirk Nowitzki made Technical Free Throw.
79 - 99
6:26
Michael Finley missed Free Throw 1 of 1.
79 - 99
6:26
Darius Miles Defensive Rebound.
79 - 99
6:20
Los Angeles Full Timeout.
79 - 99
6:20
Eduardo Najera enters the game for Dirk Nowitzki.
79 - 99
6:09
Corey Maggette made Three Point Jumper. Assisted by Quentin Richardson.
82 - 99
5:46
Nick Van Exel missed 16 ft Jumper.
82 - 99
5:43
Corey Maggette Defensive Rebound.
82 - 99
5:39
Earl Boykins missed 9 ft Jumper. Blocked by Greg Buckner.
82 - 99
5:37
Eduardo Najera Defensive Rebound.
82 - 99
5:31
Michael Finley made 21 ft Jumper. Assisted by Nick Van Exel.
82 - 101
5:15
Evan Eschmeyer Personal Foul
82 - 101
5:15
Avery Johnson enters the game for Nick Van Exel.
82 - 101
5:07
Michael Olowokandi missed 9 ft Jumper.
82 - 101
5:07
Darius Miles Offensive Rebound.
82 - 101
4:54
Darius Miles Offensive Goaltending
82 - 101
4:48
Michael Finley made Slam Dunk. Assisted by Greg Buckner.
82 - 103
4:31
Michael Olowokandi missed 8 ft Jumper.
82 - 103
4:28
Avery Johnson Defensive Rebound.
82 - 103
4:20
Shawn Bradley enters the game for Evan Eschmeyer.
82 - 103
4:15
Eduardo Najera made Two Point Shot.
82 - 105
3:55
ZhiZhi Wang enters the game for Greg Buckner.
82 - 105
3:51
Michael Olowokandi Bad Pass. Stolen by Eduardo Najera.
82 - 105
3:47
Avery Johnson missed Layup.
82 - 105
3:47
Eduardo Najera missed Layup.
82 - 105
3:47
Michael Finley Offensive Rebound.
84 - 109
3:46
Michael Finley Offensive Rebound.
82 - 105
3:44
Michael Finley made 8 ft Two Point Shot.
82 - 107
3:18
Earl Boykins made 10 ft Jumper. Assisted by Michael Olowokandi.
84 - 107
3:00
Avery Johnson made 14 ft Jumper.
84 - 109
2:43
Earl Boykins made Layup.
86 - 109
2:17
Avery Johnson made Layup.
86 - 111
2:05
Shawn Bradley Shooting Foul
86 - 111
2:05
Official Timeout.
86 - 111
2:05
Doug Overton enters the game for Michael Olowokandi.
86 - 111
2:05
Harold Jamison enters the game for Quentin Richardson.
86 - 111
2:05
Darius Miles made Free Throw 1 of 2.
87 - 111
2:05
Darius Miles made Free Throw 2 of 2.
88 - 111
1:43
Avery Johnson missed Two Point Shot.
88 - 111
1:39
Shawn Bradley Offensive Rebound.
88 - 111
1:38
ZhiZhi Wang made Two Point Shot. Assisted by Shawn Bradley.
88 - 113
1:29
Harold Jamison missed Layup. Blocked by Shawn Bradley.
88 - 113
1:27
Eduardo Najera Defensive Rebound.
88 - 113
1:12
Avery Johnson missed 19 ft Jumper.
88 - 113
1:10
Harold Jamison Defensive Rebound.
88 - 113
0:54
Earl Boykins missed Two Point Shot.
88 - 113
0:54
Darius Miles Offensive Rebound.
90 - 113
0:54
Darius Miles made Slam Dunk.
90 - 113
0:48
Earl Boykins Personal Foul
90 - 113
0:48
Tremaine Fowlke enters the game for Darius Miles.
90 - 113
0:34
ZhiZhi Wang missed 12 ft Jumper.
90 - 113
0:32
Shawn Bradley Offensive Rebound.
90 - 113
0:32
Eduardo Najera made Layup. Assisted by Shawn Bradley.
90 - 115
0:17
Doug Overton missed 23 ft Three Point Jumper. Blocked by Michael Finley.
90 - 115
0:13
Avery Johnson Defensive Rebound.
90 - 115
0:00
End of the 4th Quarter.
90 - 115
0:00
End Game
90 - 115
0:00
End Game
90 - 115
0:00
End Game
90 - 115
Dwight Howard opted out of his contract Tuesday, likely ending his time with the Houston Rockets. Will this be the 30-year-old's last big contract?

Two courts, 24 teams, 11 days of action. Las Vegas offers a first look at many of the incoming NBA rookies for the 2016-17 season.

LeBron James has long dreamed of bringing a victory parade to Cleveland and he'll be joined by former Brown Bernie Kosar, a guest of the team.
Regular Season Series
Series tied 2-2
2015-2016 Pacific Standings