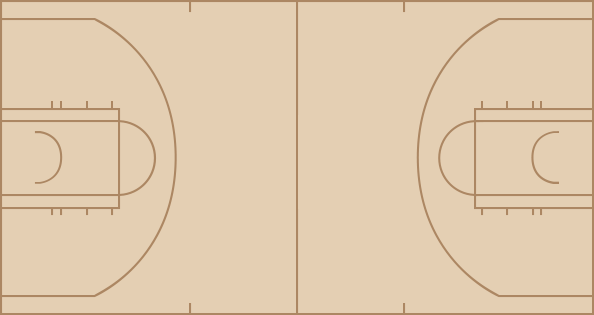 Bucks
time
TEAM
PLAY
SCORE
12:00
Start of the 1st Quarter.
0 - 0
12:00
Jumpball. Joel Przybilla vs. Dikembe Mutombo. Sam Cassell gains possession.
0 - 0
11:41
Ray Allen made 14 ft Jumper. Assisted by Glenn Robinson.
2 - 0
11:22
Dikembe Mutombo missed 13 ft Jumper.
2 - 0
11:21
Glenn Robinson Defensive Rebound.
2 - 0
11:00
Glenn Robinson Lost Ball. Stolen by Derrick Coleman.
2 - 0
10:37
Matt Harpring missed 14 ft Jumper.
2 - 0
10:34
Anthony Mason Defensive Rebound.
2 - 0
10:23
Glenn Robinson made Two Point Shot. Assisted by Anthony Mason.
4 - 0
10:02
Matt Harpring made Layup. Assisted by Derrick Coleman.
4 - 2
9:41
Anthony Mason missed 8 ft Jumper.
4 - 2
9:38
Dikembe Mutombo Defensive Rebound.
4 - 2
9:26
Derrick Coleman made 21 ft Jumper. Assisted by Eric Snow.
4 - 4
9:04
Anthony Mason missed 6 ft Jumper.
4 - 4
9:03
Derrick Coleman Defensive Rebound.
4 - 4
8:53
Joel Przybilla Personal Foul
4 - 4
8:48
Derrick Coleman missed Layup. Blocked by Joel Przybilla.
4 - 4
8:45
Derrick Coleman Offensive Rebound.
4 - 4
8:45
Derrick Coleman missed Layup. Blocked by Joel Przybilla.
4 - 4
8:41
Glenn Robinson Defensive Rebound.
4 - 4
8:37
Ray Allen made 26 ft Three Point Jumper. Assisted by Glenn Robinson.
7 - 4
8:17
Dikembe Mutombo made Two Point Shot.
7 - 6
8:02
Ray Allen made 27 ft Three Point Jumper. Assisted by Sam Cassell.
10 - 6
7:48
Eric Snow Bad Pass
10 - 6
7:33
Anthony Mason Bad Pass
10 - 6
7:20
Dikembe Mutombo missed Layup.
10 - 6
7:18
Anthony Mason Defensive Rebound.
10 - 6
7:09
Anthony Mason made Two Point Shot. Assisted by Glenn Robinson.
12 - 6
6:48
Matt Harpring missed 24 ft Three Point Jumper.
12 - 6
6:47
Ray Allen Defensive Rebound.
12 - 6
6:35
Anthony Mason Lost Ball
12 - 6
6:35
Philadelphia Full Timeout.
12 - 6
6:18
Joel Przybilla Shooting Foul
12 - 6
6:18
Eric Snow made Free Throw 1 of 2.
12 - 7
6:18
Ervin Johnson enters the game for Joel Przybilla.
12 - 7
6:18
Eric Snow made Free Throw 2 of 2.
12 - 8
6:09
Ray Allen missed 14 ft Jumper.
12 - 8
6:07
Ray Allen Offensive Rebound.
12 - 8
6:05
Ray Allen missed 9 ft Jumper.
12 - 8
6:03
Matt Harpring Defensive Rebound.
12 - 8
5:54
Ervin Johnson Shooting Foul
12 - 8
5:54
Raja Bell made Free Throw 1 of 2.
12 - 9
5:54
Raja Bell made Free Throw 2 of 2.
12 - 10
5:45
Matt Harpring Personal Foul
12 - 10
5:35
Glenn Robinson made 8 ft Jumper. Assisted by Sam Cassell.
14 - 10
5:22
Matt Harpring Double Technical Foul. Glenn Robinson gains possession.
14 - 10
5:22
Ray Allen Personal Foul
14 - 10
5:20
Raja Bell made Layup. Assisted by Eric Snow.
14 - 12
5:01
Sam Cassell missed 16 ft Jumper.
14 - 12
5:00
Anthony Mason Offensive Rebound.
14 - 12
4:54
Glenn Robinson made 6 ft Two Point Shot. Assisted by Anthony Mason.
16 - 12
4:33
Dikembe Mutombo Traveling
16 - 12
4:33
Tim Thomas enters the game for Ray Allen.
16 - 12
4:13
Matt Harpring Personal Foul
16 - 12
4:13
Derrick McKey enters the game for Matt Harpring.
16 - 12
4:01
Tim Thomas made 26 ft Three Point Jumper. Assisted by Glenn Robinson.
19 - 12
3:47
Raja Bell missed 17 ft Jumper.
19 - 12
3:45
Anthony Mason Defensive Rebound.
19 - 12
3:29
Anthony Mason Offensive Foul
19 - 12
3:29
Anthony Mason Foul
19 - 12
3:29
Aaron McKie enters the game for Raja Bell.
19 - 12
3:09
Derrick Coleman made 6 ft Two Point Shot. Assisted by Eric Snow.
19 - 14
2:54
Ervin Johnson missed 14 ft Jumper.
19 - 14
2:51
Derrick Coleman Defensive Rebound.
19 - 14
2:38
Dikembe Mutombo made Layup. Assisted by Aaron McKie.
19 - 16
2:24
Sam Cassell made 18 ft Jumper.
21 - 16
2:03
Eric Snow made 16 ft Jumper. Assisted by Aaron McKie.
21 - 18
1:52
Sam Cassell Bad Pass. Stolen by Eric Snow.
21 - 18
1:46
Derrick McKey made Layup. Assisted by Eric Snow.
21 - 20
1:22
Anthony Mason missed 10 ft Jumper. Blocked by Derrick Coleman.
21 - 20
1:20
Milwaukee Defensive Rebound.
21 - 20
1:20
Milwaukee Full Timeout.
21 - 20
1:20
Alvin Jones enters the game for Dikembe Mutombo.
21 - 20
1:20
Vonteego Cummings enters the game for Eric Snow.
21 - 20
1:07
Derrick Coleman missed Jumper.
21 - 20
1:05
Ervin Johnson Defensive Rebound.
21 - 20
0:56
Sam Cassell made 12 ft Two Point Shot.
23 - 20
0:44
Vonteego Cummings made 12 ft Two Point Shot. Assisted by Derrick McKey.
23 - 22
0:33
Vonteego Cummings Personal Foul
23 - 22
0:33
Greg Anthony enters the game for Sam Cassell.
23 - 22
0:26
Glenn Robinson made 18 ft Jumper. Assisted by Anthony Mason.
25 - 22
0:06
Tim Thomas Personal Foul
25 - 22
0:06
Aaron McKie missed Free Throw 1 of 2.
25 - 22
0:06
Corie Blount enters the game for Derrick Coleman.
25 - 22
0:06
Philadelphia Offensive Rebound.
25 - 22
0:06
Darvin Ham enters the game for Anthony Mason.
25 - 22
0:06
Aaron McKie made Free Throw 2 of 2.
25 - 23
0:04
Corie Blount Personal Foul
25 - 23
0:04
Darvin Ham made Free Throw 1 of 2.
26 - 23
0:04
Eric Snow enters the game for Alvin Jones.
26 - 23
0:04
Darvin Ham missed Free Throw 2 of 2.
26 - 23
0:03
Vonteego Cummings Defensive Rebound.
26 - 23
0:00
Vonteego Cummings made Two Point Shot.
26 - 25
0:00
End of the 1st Quarter.
26 - 25

time
TEAM
PLAY
SCORE
12:00
Start of the 2nd Quarter.
26 - 25
11:40
Vonteego Cummings missed 26 ft Three Point Jumper.
26 - 25
11:38
Corie Blount Offensive Rebound.
26 - 25
11:25
Vonteego Cummings made Two Point Shot. Assisted by Corie Blount.
26 - 27
11:04
Tim Thomas made 26 ft Three Point Jumper. Assisted by Greg Anthony.
29 - 27
10:56
Tim Thomas Personal Foul
29 - 27
10:49
Aaron McKie missed Jumper.
29 - 27
10:48
Philadelphia Defensive Rebound.
29 - 27
10:34
Glenn Robinson missed 17 ft Jumper.
29 - 27
10:33
Corie Blount Defensive Rebound.
29 - 27
10:29
Ervin Johnson Personal Foul
29 - 27
10:29
Ray Allen enters the game for Glenn Robinson.
29 - 27
10:29
Sam Cassell enters the game for Tim Thomas.
29 - 27
10:15
Derrick McKey missed 14 ft Jumper.
29 - 27
10:12
Corie Blount Offensive Rebound.
29 - 27
9:55
Derrick McKey made Two Point Shot. Assisted by Alvin Jones.
29 - 29
9:38
Darvin Ham made Two Point Shot. Assisted by Ray Allen.
31 - 29
9:15
Corie Blount missed 17 ft Jumper.
31 - 29
9:15
Sam Cassell Defensive Rebound.
31 - 29
9:00
Aaron McKie Personal Foul
31 - 29
8:47
24 second
31 - 29
8:47
Official Timeout.
31 - 29
8:34
Aaron McKie Bad Pass. Stolen by Ray Allen.
31 - 29
8:30
Ray Allen Lost Ball. Stolen by Derrick McKey.
31 - 29
8:23
Vonteego Cummings missed Layup. Blocked by Darvin Ham.
31 - 29
8:22
Alvin Jones Offensive Rebound.
31 - 31
8:22
Alvin Jones made Dunk.
31 - 31
8:02
Greg Anthony missed 23 ft Three Point Jumper.
31 - 31
8:00
Darvin Ham Offensive Rebound.
31 - 31
7:54
Ray Allen made 15 ft Two Point Shot.
33 - 31
7:54
Aaron McKie Shooting Foul
33 - 31
7:54
Anthony Mason enters the game for Ervin Johnson.
33 - 31
7:54
Ray Allen made Free Throw 1 of 1.
34 - 31
7:41
Vonteego Cummings made 16 ft Jumper.
34 - 33
7:26
Vonteego Cummings Personal Foul
34 - 33
7:26
Eric Snow enters the game for Aaron McKie.
34 - 33
7:26
Derrick Coleman enters the game for Alvin Jones.
34 - 33
7:24
Ray Allen made 25 ft Three Point Jumper. Assisted by Sam Cassell.
37 - 33
7:07
Vonteego Cummings missed 21 ft Jumper.
37 - 33
7:05
Darvin Ham Defensive Rebound.
37 - 33
7:05
Corie Blount Personal Foul
37 - 33
6:52
Sam Cassell missed 27 ft Three Point Jumper.
37 - 33
6:50
Vonteego Cummings Defensive Rebound.
37 - 33
6:37
Corie Blount made Layup. Assisted by Vonteego Cummings.
37 - 35
6:07
Sam Cassell made 11 ft Jumper.
39 - 35
5:48
Corie Blount made 6 ft Two Point Shot. Assisted by Eric Snow.
39 - 37
5:31
Ray Allen missed 24 ft Three Point Jumper.
39 - 37
5:28
Milwaukee Offensive Rebound.
39 - 37
5:28
Philadelphia Full Timeout.
39 - 37
5:28
Aaron McKie enters the game for Vonteego Cummings.
39 - 37
5:28
Dikembe Mutombo enters the game for Corie Blount.
39 - 37
5:28
Ervin Johnson enters the game for Darvin Ham.
39 - 37
5:18
Ray Allen missed 26 ft Three Point Jumper.
39 - 37
5:16
Derrick Coleman Defensive Rebound.
39 - 37
5:05
Dikembe Mutombo made Layup. Assisted by Eric Snow.
39 - 39
4:46
Sam Cassell made 7 ft Jumper.
41 - 39
4:28
Derrick McKey made Two Point Shot. Assisted by Eric Snow.
41 - 41
4:16
Ervin Johnson made 11 ft Jumper. Assisted by Sam Cassell.
43 - 41
3:51
Dikembe Mutombo missed Layup.
43 - 41
3:50
Ray Allen Defensive Rebound.
43 - 41
3:44
Milwaukee Full Timeout.
43 - 41
3:44
Tim Thomas enters the game for Ray Allen.
43 - 41
3:44
Glenn Robinson enters the game for Greg Anthony.
43 - 41
3:33
Glenn Robinson missed 13 ft Jumper.
43 - 41
3:31
Anthony Mason Offensive Rebound.
43 - 41
3:17
Ervin Johnson missed Jumper.
43 - 41
3:16
Eric Snow Defensive Rebound.
43 - 41
2:54
Dikembe Mutombo missed 11 ft Jumper.
43 - 41
2:53
Glenn Robinson Defensive Rebound.
43 - 41
2:36
Ervin Johnson missed Layup. Blocked by Dikembe Mutombo.
43 - 41
2:34
Anthony Mason Offensive Rebound.
43 - 41
2:32
Anthony Mason made 4 ft Hook Shot.
45 - 41
2:17
Derrick Coleman Offensive Foul
45 - 41
2:17
Derrick Coleman Foul
45 - 41
2:05
Derrick McKey Personal Foul
45 - 41
2:05
Sam Cassell made Free Throw 1 of 2.
46 - 41
2:05
Sam Cassell made Free Throw 2 of 2.
47 - 41
1:45
Derrick Coleman missed 14 ft Jumper.
47 - 41
1:40
Eric Snow Offensive Rebound.
47 - 41
1:32
Aaron McKie missed 26 ft Three Point Jumper.
47 - 41
1:30
Derrick Coleman Offensive Rebound.
47 - 41
1:28
Sam Cassell Personal Foul
47 - 41
1:28
Raja Bell enters the game for Derrick McKey.
47 - 41
1:19
Aaron McKie made 9 ft Two Point Shot. Assisted by Eric Snow.
47 - 43
0:57
Ervin Johnson made 6 ft Two Point Shot.
49 - 43
0:44
Raja Bell made Jumper. Assisted by Eric Snow.
49 - 45
0:22
Ervin Johnson 3 second
49 - 45
0:22
Vonteego Cummings enters the game for Dikembe Mutombo.
49 - 45
0:22
Darvin Ham enters the game for Glenn Robinson.
49 - 45
0:22
Greg Anthony enters the game for Ervin Johnson.
49 - 45
0:22
Joel Przybilla enters the game for Tim Thomas.
49 - 45
0:09
Joel Przybilla Shooting Foul
49 - 45
0:09
Aaron McKie missed Free Throw 1 of 2.
49 - 45
0:09
Philadelphia Offensive Rebound.
49 - 45
0:09
Derrick McKey enters the game for Vonteego Cummings.
49 - 45
0:09
Corie Blount enters the game for Derrick Coleman.
49 - 45
0:09
Glenn Robinson enters the game for Joel Przybilla.
49 - 45
0:09
Aaron McKie made Free Throw 2 of 2.
49 - 46
0:03
Darvin Ham made Two Point Shot.
51 - 46
0:00
Eric Snow made 21 ft Jumper.
51 - 48
0:00
End of the 2nd Quarter.
51 - 48

time
TEAM
PLAY
SCORE
12:00
Start of the 3rd Quarter.
51 - 48
11:41
Derrick Coleman missed 15 ft Jumper.
51 - 48
11:38
Anthony Mason Defensive Rebound.
51 - 48
11:29
Sam Cassell made 11 ft Two Point Shot.
53 - 48
11:14
Matt Harpring made Jumper. Assisted by Eric Snow.
53 - 50
10:57
Dikembe Mutombo Illegal Defense Foul
53 - 50
10:57
Glenn Robinson made Technical Free Throw.
54 - 50
10:45
Glenn Robinson missed 14 ft Jumper.
54 - 50
10:45
Matt Harpring Defensive Rebound.
54 - 50
10:33
Eric Snow made Two Point Shot. Assisted by Dikembe Mutombo.
54 - 52
10:33
Joel Przybilla Shooting Foul
54 - 52
10:33
Eric Snow missed Free Throw 1 of 1.
54 - 52
10:32
Glenn Robinson Defensive Rebound.
54 - 52
10:18
Glenn Robinson missed 27 ft Three Point Jumper.
54 - 52
10:15
Derrick Coleman Defensive Rebound.
54 - 52
10:11
Matt Harpring made Two Point Shot. Assisted by Eric Snow.
54 - 54
9:48
Anthony Mason missed 10 ft Jumper.
54 - 54
9:45
Derrick Coleman Defensive Rebound.
54 - 54
9:41
Matt Harpring missed Jumper.
54 - 54
9:38
Anthony Mason Defensive Rebound.
54 - 54
9:38
Raja Bell Loose Ball Foul
54 - 54
9:23
Glenn Robinson missed 7 ft Jumper.
54 - 54
9:22
Eric Snow Defensive Rebound.
54 - 54
9:18
Matt Harpring made Dunk. Assisted by Eric Snow.
54 - 56
9:15
Milwaukee Full Timeout.
54 - 56
9:15
Joel Przybilla Bad Pass. Stolen by Matt Harpring.
54 - 56
9:11
Eric Snow made 18 ft Jumper. Assisted by Matt Harpring.
54 - 58
8:56
Ray Allen made 25 ft Three Point Jumper. Assisted by Anthony Mason.
57 - 58
8:37
Raja Bell missed 26 ft Three Point Jumper.
57 - 58
8:36
Glenn Robinson Defensive Rebound.
57 - 58
8:19
Glenn Robinson missed Jumper.
57 - 58
8:18
Matt Harpring Defensive Rebound.
57 - 58
7:56
Derrick Coleman missed 26 ft Three Point Jumper.
57 - 58
7:54
Anthony Mason Defensive Rebound.
57 - 58
7:52
Anthony Mason Bad Pass. Stolen by Derrick Coleman.
57 - 58
7:41
Derrick Coleman Lost Ball. Stolen by Ray Allen.
57 - 58
7:39
Derrick Coleman Flagrant Foul Type 1
57 - 58
7:39
Ray Allen missed Flagrant Free Throw 1 of 2.
57 - 58
7:39
Milwaukee Offensive Rebound.
57 - 58
7:39
Ray Allen made Flagrant Free Throw 2 of 2.
58 - 58
7:26
Ray Allen missed 25 ft Three Point Jumper.
58 - 58
7:24
Joel Przybilla Offensive Rebound.
58 - 58
7:18
Sam Cassell made 18 ft Jumper. Assisted by Glenn Robinson.
60 - 58
7:00
Dikembe Mutombo Offensive Foul
60 - 58
7:00
Dikembe Mutombo Foul
60 - 58
6:41
Raja Bell Shooting Foul
60 - 58
6:41
Ray Allen made Free Throw 1 of 2.
61 - 58
6:41
Ray Allen made Free Throw 2 of 2.
62 - 58
6:18
Derrick Coleman missed 20 ft Jumper.
62 - 58
6:18
Philadelphia Offensive Rebound.
62 - 58
6:18
Dikembe Mutombo Double Personal Foul. Joel Przybilla gains possession.
62 - 58
6:18
Ervin Johnson enters the game for Joel Przybilla.
62 - 58
6:07
Eric Snow made Two Point Shot.
62 - 60
5:39
Ray Allen missed 25 ft Three Point Jumper.
62 - 60
5:39
Derrick Coleman Defensive Rebound.
62 - 60
5:28
Glenn Robinson Personal Foul
62 - 60
5:28
Greg Anthony enters the game for Ray Allen.
62 - 60
5:24
Sam Cassell Personal Foul
62 - 60
5:16
Ervin Johnson Flagrant Foul Type 1
62 - 60
5:16
Dikembe Mutombo made Flagrant Free Throw 1 of 2.
62 - 61
5:16
Aaron McKie enters the game for Raja Bell.
62 - 61
5:16
Dikembe Mutombo made Flagrant Free Throw 2 of 2.
62 - 62
5:03
Derrick Coleman missed Jumper.
62 - 62
5:00
Glenn Robinson Defensive Rebound.
62 - 62
4:52
Sam Cassell missed 13 ft Jumper.
62 - 62
4:48
Ervin Johnson Offensive Rebound.
64 - 62
4:48
Ervin Johnson made Layup.
64 - 62
4:33
Aaron McKie made Jumper. Assisted by Eric Snow.
64 - 64
4:07
Sam Cassell missed 23 ft Jumper.
64 - 64
4:05
Derrick Coleman Defensive Rebound.
64 - 64
3:51
Dikembe Mutombo missed Layup.
64 - 64
3:49
Ervin Johnson Defensive Rebound.
64 - 64
3:44
Anthony Mason Bad Pass
64 - 64
3:44
Philadelphia Full Timeout.
64 - 64
3:44
Alvin Jones enters the game for Dikembe Mutombo.
64 - 64
3:23
Glenn Robinson Personal Foul
64 - 64
3:23
Alvin Jones made Free Throw 1 of 2.
64 - 65
3:23
Alvin Jones made Free Throw 2 of 2.
64 - 66
3:06
Matt Harpring Personal Foul
64 - 66
3:06
Vonteego Cummings enters the game for Eric Snow.
64 - 66
3:06
Tim Thomas enters the game for Glenn Robinson.
64 - 66
3:00
Tim Thomas missed 13 ft Jumper.
64 - 66
2:57
Anthony Mason Offensive Rebound.
64 - 66
2:51
Vonteego Cummings Personal Foul
64 - 66
2:51
Sam Cassell missed Free Throw 1 of 2.
64 - 66
2:51
Milwaukee Offensive Rebound.
64 - 66
2:51
Sam Cassell made Free Throw 2 of 2.
65 - 66
2:34
Alvin Jones missed 12 ft Jumper.
65 - 66
2:32
Sam Cassell Defensive Rebound.
65 - 66
2:27
Sam Cassell missed 10 ft Jumper.
65 - 66
2:25
Alvin Jones Defensive Rebound.
65 - 66
2:08
Ervin Johnson Illegal Defense Foul
65 - 66
2:08
Derrick Coleman made Technical Free Throw.
65 - 67
2:08
Corie Blount enters the game for Alvin Jones.
65 - 67
1:58
Aaron McKie missed Jumper.
65 - 67
1:55
Sam Cassell Defensive Rebound.
65 - 67
1:52
Greg Anthony missed 9 ft Jumper.
65 - 67
1:50
Derrick Coleman Defensive Rebound.
65 - 67
1:38
Derrick Coleman made 16 ft Jumper.
65 - 69
1:08
Sam Cassell made 22 ft Jumper. Assisted by Tim Thomas.
67 - 69
0:47
Vonteego Cummings missed Layup.
67 - 69
0:45
Sam Cassell Defensive Rebound.
67 - 69
0:39
Tim Thomas made 25 ft Three Point Jumper. Assisted by Sam Cassell.
70 - 69
0:20
Vonteego Cummings missed 14 ft Jumper.
70 - 69
0:18
Tim Thomas Defensive Rebound.
70 - 69
0:13
Tim Thomas missed 25 ft Three Point Jumper.
70 - 69
0:12
Sam Cassell Offensive Rebound.
70 - 69
0:03
Sam Cassell missed 15 ft Jumper.
70 - 69
0:01
Aaron McKie Defensive Rebound.
70 - 69
0:00
Aaron McKie missed 45 ft Three Point Jumper.
70 - 69
0:00
Philadelphia Defensive Rebound.
70 - 69
0:00
End of the 3rd Quarter.
70 - 69

time
TEAM
PLAY
SCORE
12:00
Start of the 4th Quarter.
70 - 69
11:45
Corie Blount Personal Foul
70 - 69
11:38
Sam Cassell missed 13 ft Jumper.
70 - 69
11:37
Aaron McKie Defensive Rebound.
70 - 69
11:22
Aaron McKie Bad Pass
70 - 69
11:22
Glenn Robinson enters the game for Sam Cassell.
70 - 69
11:08
Corie Blount Personal Foul
70 - 69
10:59
Greg Anthony made 16 ft Jumper. Assisted by Glenn Robinson.
72 - 69
10:41
Aaron McKie missed Jumper.
72 - 69
10:40
Glenn Robinson Defensive Rebound.
72 - 69
10:29
Greg Anthony missed 19 ft Jumper.
72 - 69
10:26
Aaron McKie Defensive Rebound.
72 - 69
10:21
Aaron McKie missed 16 ft Jumper.
72 - 69
10:18
Tim Thomas Defensive Rebound.
72 - 69
10:07
Eric Snow enters the game for Aaron McKie.
72 - 69
10:07
Jumpball. Anthony Mason vs. Derrick McKey. Greg Anthony gains possession.
72 - 69
10:07
Raja Bell enters the game for Vonteego Cummings.
72 - 69
9:51
Greg Anthony missed 26 ft Three Point Jumper.
72 - 69
9:48
Ervin Johnson Offensive Rebound.
72 - 69
9:37
Anthony Mason made 9 ft Two Point Shot.
74 - 69
9:22
Eric Snow made 8 ft Two Point Shot.
74 - 71
9:03
Glenn Robinson Lost Ball. Stolen by Eric Snow.
74 - 71
8:48
Corie Blount missed 17 ft Jumper.
74 - 71
8:42
Tim Thomas Defensive Rebound.
74 - 71
8:33
Glenn Robinson missed 25 ft Three Point Jumper.
74 - 71
8:30
Raja Bell Defensive Rebound.
74 - 71
8:18
Eric Snow Bad Pass. Stolen by Greg Anthony.
74 - 71
8:07
Anthony Mason Bad Pass. Stolen by Corie Blount.
74 - 71
7:56
Tim Thomas Personal Foul
74 - 71
7:56
Official Timeout.
74 - 71
7:41
Dikembe Mutombo missed Layup. Blocked by Ervin Johnson.
74 - 71
7:41
Dikembe Mutombo Offensive Rebound.
74 - 71
7:41
Ervin Johnson Shooting Foul
74 - 71
7:41
Dikembe Mutombo made Free Throw 1 of 2.
74 - 72
7:41
Matt Harpring enters the game for Corie Blount.
74 - 72
7:41
Dikembe Mutombo made Free Throw 2 of 2.
74 - 73
7:22
Eric Snow Shooting Foul
74 - 73
7:22
Greg Anthony made Free Throw 1 of 2.
75 - 73
7:22
Aaron McKie enters the game for Raja Bell.
75 - 73
7:22
Derrick Coleman enters the game for Dikembe Mutombo.
75 - 73
7:22
Darvin Ham enters the game for Ervin Johnson.
75 - 73
7:22
Greg Anthony made Free Throw 2 of 2.
76 - 73
7:00
Aaron McKie made Jumper.
76 - 75
6:37
Derrick Coleman Personal Foul
76 - 75
6:37
Sam Cassell enters the game for Tim Thomas.
76 - 75
6:28
Greg Anthony missed 25 ft Three Point Jumper.
76 - 75
6:26
Matt Harpring Defensive Rebound.
76 - 75
6:16
Aaron McKie missed 27 ft Three Point Jumper.
76 - 75
6:15
Greg Anthony Defensive Rebound.
76 - 75
6:01
Glenn Robinson missed Layup. Blocked by Derrick McKey.
76 - 75
6:00
Matt Harpring Defensive Rebound.
76 - 75
5:56
Aaron McKie made Layup. Assisted by Matt Harpring.
76 - 77
5:56
Sam Cassell Shooting Foul
76 - 77
5:56
Philadelphia Full Timeout.
76 - 77
5:56
Aaron McKie made Free Throw 1 of 1.
76 - 78
5:56
Ray Allen enters the game for Greg Anthony.
76 - 78
5:46
Ray Allen missed 27 ft Three Point Jumper.
76 - 78
5:45
Derrick McKey Defensive Rebound.
76 - 78
5:30
Derrick McKey made 13 ft Two Point Shot. Assisted by Eric Snow.
76 - 80
5:07
Glenn Robinson missed 26 ft Three Point Jumper.
76 - 80
5:03
Darvin Ham Offensive Rebound.
76 - 80
4:50
Anthony Mason made Layup. Assisted by Sam Cassell.
78 - 80
4:30
Aaron McKie made Layup. Assisted by Derrick Coleman.
78 - 82
4:13
Sam Cassell made 14 ft Jumper.
80 - 82
3:48
Eric Snow missed 13 ft Jumper.
80 - 82
3:46
Glenn Robinson Defensive Rebound.
80 - 82
3:30
Ray Allen missed 28 ft Three Point Jumper.
80 - 82
3:28
Darvin Ham Offensive Rebound.
80 - 82
3:25
Ray Allen made Three Point Jumper. Assisted by Darvin Ham.
83 - 82
3:11
Darvin Ham Personal Foul
83 - 82
3:11
Ervin Johnson enters the game for Darvin Ham.
83 - 82
3:11
Dikembe Mutombo enters the game for Matt Harpring.
83 - 82
3:05
Aaron McKie made 5 ft Two Point Shot.
83 - 84
2:36
24 second
83 - 84
2:36
Milwaukee Full Timeout.
83 - 84
2:19
Ervin Johnson Shooting Foul
83 - 84
2:19
Derrick Coleman made Free Throw 1 of 2.
83 - 85
2:19
Derrick Coleman made Free Throw 2 of 2.
83 - 86
1:57
Ray Allen missed 12 ft Jumper.
83 - 86
1:54
Anthony Mason Offensive Rebound.
83 - 86
1:50
Ray Allen missed 27 ft Three Point Jumper.
83 - 86
1:47
Eric Snow Defensive Rebound.
83 - 86
1:27
Derrick Coleman missed 25 ft Three Point Jumper.
83 - 86
1:24
Ray Allen Defensive Rebound.
83 - 86
1:09
Sam Cassell missed 26 ft Three Point Jumper.
83 - 86
1:07
Dikembe Mutombo Defensive Rebound.
83 - 86
0:46
Derrick McKey made 17 ft Jumper. Assisted by Aaron McKie.
83 - 88
0:45
Milwaukee Full Timeout.
83 - 88
0:45
Tim Thomas enters the game for Ervin Johnson.
83 - 88
0:45
Matt Harpring enters the game for Dikembe Mutombo.
83 - 88
0:38
Ray Allen made Two Point Shot.
85 - 88
0:17
Aaron McKie missed 12 ft Jumper.
85 - 88
0:12
Tim Thomas Defensive Rebound.
85 - 88
0:11
Milwaukee Full Timeout.
85 - 88
0:06
Tim Thomas made Two Point Shot.
87 - 88
0:05
Sam Cassell Personal Foul
87 - 88
0:05
Eric Snow missed Free Throw 1 of 2.
87 - 88
0:05
Philadelphia Offensive Rebound.
87 - 88
0:05
Dikembe Mutombo enters the game for Matt Harpring.
87 - 88
0:05
Ervin Johnson enters the game for Ray Allen.
87 - 88
0:05
Eric Snow made Free Throw 2 of 2.
87 - 89
0:05
Milwaukee 20 Second Timeou.
87 - 89
0:05
Ray Allen enters the game for Ervin Johnson.
87 - 89
0:05
Matt Harpring enters the game for Dikembe Mutombo.
87 - 89
0:01
Ray Allen missed 27 ft Three Point Jumper.
87 - 89
0:00
Anthony Mason Offensive Rebound.
87 - 89
0:00
End of the 4th Quarter.
87 - 89
Antonio Davis offers his evaluation of how LeBron James, Kyrie Irving and Kevin Love are playing together after the Cavaliers' Game 1 victory over the Hawks.

Even though the Cavs let the Hawks back in the game after holding an 18-point lead, LeBron James proved to be too much for Atlanta down the stretch.

Antonio Davis breaks down why the Hawks need Kyle Korver to step up, shoot more and help spread the floor to give the Hawks a chance to defeat the Cavaliers.
Regular Season Series
PHI wins series 3-1
2015-2016 Central Standings
2015-2016 Atlantic Standings