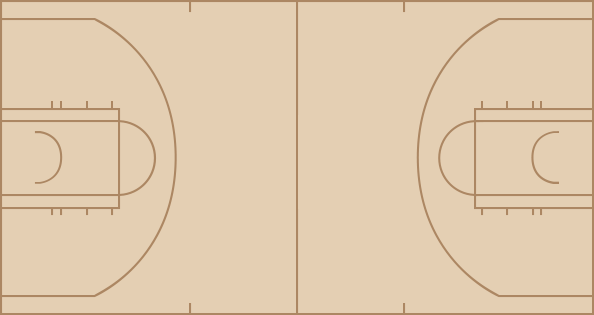 Mavericks
time
TEAM
PLAY
SCORE
12:00
Start of the 1st Quarter.
0 - 0
12:00
null
0 - 0
12:00
Jump Ball
0 - 0
11:52
Raef LaFrentz made 24 ft Three Point Jumper. Assisted by Steve Nash.
3 - 0
11:30
Jarron Collins missed Layup. Blocked by Dirk Nowitzki.
3 - 0
11:29
Raef LaFrentz Defensive Rebound.
3 - 0
11:21
Steve Nash missed Layup. Blocked by John Stockton.
3 - 0
11:18
Eduardo Najera Offensive Rebound.
3 - 0
11:15
Michael Finley missed 21 ft Jumper.
3 - 0
11:12
Bryon Russell Defensive Rebound.
3 - 0
11:08
John Stockton made Two Point Shot.
3 - 2
11:08
Steve Nash Shooting Foul
3 - 2
11:08
John Stockton made Free Throw 1 of 1.
3 - 3
10:49
Michael Finley missed 7 ft Two Point Shot.
3 - 3
10:48
Dallas Offensive Rebound.
3 - 3
10:37
Dirk Nowitzki made 21 ft Jumper.
5 - 3
10:18
Karl Malone Bad Pass. Stolen by Michael Finley.
5 - 3
10:11
Michael Finley missed 15 ft Jumper.
5 - 3
10:10
Eduardo Najera Offensive Rebound.
5 - 3
10:03
Eduardo Najera made 17 ft Jumper. Assisted by Dirk Nowitzki.
7 - 3
9:45
Karl Malone made Layup. Assisted by John Stockton.
7 - 5
9:34
Steve Nash made 6 ft Two Point Shot.
9 - 5
9:23
Jarron Collins Personal Foul
9 - 5
9:23
Jarron Collins Lost Ball
16 - 13
9:15
Michael Finley Lost Ball. Stolen by Karl Malone.
9 - 5
9:11
Andrei Kirilenko made Dunk. Assisted by Karl Malone.
9 - 7
9:11
Dirk Nowitzki Shooting Foul
9 - 7
9:11
Andrei Kirilenko missed Free Throw 1 of 1.
9 - 7
9:08
Dirk Nowitzki Defensive Rebound.
9 - 7
8:56
Steve Nash missed Two Point Shot.
9 - 7
8:55
Jarron Collins Defensive Rebound.
9 - 7
8:44
Karl Malone missed 19 ft Jumper.
9 - 7
8:41
Eduardo Najera Defensive Rebound.
9 - 7
8:27
Raef LaFrentz missed 25 ft Three Point Jumper.
9 - 7
8:22
John Stockton Defensive Rebound.
9 - 7
8:18
Karl Malone made 20 ft Jumper. Assisted by John Stockton.
9 - 9
7:56
Michael Finley made Jumper.
11 - 9
7:31
Andrei Kirilenko missed Layup.
11 - 9
7:28
Raef LaFrentz Defensive Rebound.
11 - 9
7:24
Eduardo Najera Bad Pass
11 - 9
7:09
Jarron Collins made Jumper. Assisted by John Stockton.
11 - 11
6:52
Steve Nash made 23 ft Jumper.
13 - 11
6:33
Bryon Russell missed Layup.
13 - 11
6:31
Bryon Russell Offensive Rebound.
13 - 13
6:31
Bryon Russell made Tip Shot.
13 - 13
6:28
Steve Nash made 24 ft Three Point Jumper. Assisted by Michael Finley.
16 - 13
6:03
Karl Malone Bad Pass. Stolen by Steve Nash.
16 - 13
5:58
Dirk Nowitzki missed 25 ft Three Point Jumper.
16 - 13
5:56
Andrei Kirilenko Defensive Rebound.
16 - 13
5:45
Andrei Kirilenko missed 23 ft Jumper.
16 - 13
5:41
Raef LaFrentz Defensive Rebound.
16 - 13
5:39
John Stockton Personal Foul
16 - 13
5:28
Steve Nash missed 17 ft Jumper.
16 - 13
5:26
Steve Nash Offensive Rebound.
16 - 13
5:24
Steve Nash made 25 ft Three Point Jumper.
19 - 13
5:05
Bryon Russell missed 9 ft Jumper.
19 - 13
5:03
Eduardo Najera Defensive Rebound.
19 - 13
4:56
Eduardo Najera missed 19 ft Jumper.
19 - 13
4:54
Bryon Russell Defensive Rebound.
19 - 13
4:35
Jarron Collins made 17 ft Jumper. Assisted by John Stockton.
19 - 15
4:07
Dirk Nowitzki missed 26 ft Three Point Jumper.
19 - 15
4:05
Jarron Collins Defensive Rebound.
19 - 15
3:57
Bryon Russell made 24 ft Three Point Jumper.
19 - 18
3:49
Raef LaFrentz Bad Pass
19 - 18
3:49
DeShawn Stevenson enters the game for John Stockton.
19 - 18
3:49
Donyell Marshall enters the game for Jarron Collins.
19 - 18
3:49
Nick Van Exel enters the game for Steve Nash.
19 - 18
3:39
Karl Malone made Layup. Assisted by Bryon Russell.
19 - 20
3:29
Nick Van Exel missed Two Point Shot.
19 - 20
3:28
Donyell Marshall Defensive Rebound.
19 - 20
3:15
Andrei Kirilenko missed Layup. Blocked by Nick Van Exel.
19 - 20
3:13
Andrei Kirilenko Offensive Rebound.
19 - 22
3:13
Andrei Kirilenko made Layup.
19 - 22
3:10
Nick Van Exel Bad Pass. Stolen by Donyell Marshall.
19 - 22
3:00
Raef LaFrentz Shooting Foul
19 - 22
3:00
Shawn Bradley enters the game for Raef LaFrentz.
19 - 22
3:00
Andrei Kirilenko made Free Throw 1 of 2.
19 - 23
3:00
Greg Buckner enters the game for Michael Finley.
19 - 23
3:00
Adrian Griffin enters the game for Eduardo Najera.
19 - 23
3:00
Andrei Kirilenko made Free Throw 2 of 2.
19 - 24
2:47
Dirk Nowitzki missed 21 ft Jumper.
19 - 24
2:44
Shawn Bradley Offensive Rebound.
21 - 24
2:44
Shawn Bradley made Layup.
21 - 24
2:31
Andrei Kirilenko Lost Ball. Stolen by Nick Van Exel.
21 - 24
2:26
Dirk Nowitzki made 16 ft Jumper. Assisted by Greg Buckner.
23 - 24
2:00
Dirk Nowitzki Shooting Foul
23 - 24
2:00
Karl Malone made Free Throw 1 of 2.
23 - 25
2:00
Karl Malone missed Free Throw 2 of 2.
23 - 25
2:00
Dirk Nowitzki Defensive Rebound.
23 - 25
1:39
Shawn Bradley missed 18 ft Jumper. Blocked by Karl Malone.
23 - 25
1:36
Donyell Marshall Defensive Rebound.
23 - 25
1:25
DeShawn Stevenson missed 19 ft Jumper.
23 - 25
1:23
Andrei Kirilenko Offensive Rebound.
23 - 27
1:23
Andrei Kirilenko made Slam Dunk.
23 - 27
1:07
Adrian Griffin made 20 ft Jumper. Assisted by Nick Van Exel.
25 - 27
0:52
Shawn Bradley Shooting Foul
25 - 27
0:52
Andrei Kirilenko made Free Throw 1 of 2.
25 - 28
0:52
Andrei Kirilenko missed Free Throw 2 of 2.
25 - 28
0:52
Shawn Bradley Defensive Rebound.
25 - 28
0:33
Nick Van Exel missed 8 ft Jumper.
25 - 28
0:31
Donyell Marshall Defensive Rebound.
25 - 28
0:08
Karl Malone missed 19 ft Jumper.
25 - 28
0:07
Utah Defensive Rebound.
25 - 28
0:07
Andrei Kirilenko Loose Ball Foul
25 - 28
0:07
Scott Padgett enters the game for Andrei Kirilenko.
25 - 28
0:07
Steve Nash enters the game for Shawn Bradley.
25 - 28
0:02
Greg Buckner made Layup. Assisted by Steve Nash.
27 - 28
0:00
DeShawn Stevenson missed 53 ft Three Point Jumper.
27 - 28
0:00
Utah Offensive Rebound.
27 - 28
0:00
End of the 1st Quarter.
27 - 28

time
TEAM
PLAY
SCORE
12:00
Start of the 2nd Quarter.
27 - 28
11:38
Rusty LaRue made 25 ft Three Point Jumper. Assisted by Scott Padgett.
27 - 31
11:22
Dirk Nowitzki made Two Point Shot.
29 - 31
11:02
Rusty LaRue Bad Pass. Stolen by Dirk Nowitzki.
29 - 31
10:48
Dirk Nowitzki made 18 ft Jumper. Assisted by Nick Van Exel.
31 - 31
10:34
Donyell Marshall Offensive Foul
31 - 31
10:34
Donyell Marshall Foul
31 - 31
10:34
Michael Finley enters the game for Shawn Bradley.
31 - 31
10:19
Dirk Nowitzki Traveling
31 - 31
10:04
DeShawn Stevenson made Layup. Assisted by Donyell Marshall.
31 - 33
9:55
Greg Buckner missed 9 ft Jumper. Blocked by Scott Padgett.
31 - 33
9:55
Greg Buckner Offensive Rebound.
31 - 33
9:45
Michael Finley missed 14 ft Jumper.
31 - 33
9:41
Greg Buckner Offensive Rebound.
31 - 33
9:41
Greg Buckner missed Layup.
31 - 33
9:38
Michael Finley Offensive Rebound.
31 - 33
9:37
Michael Finley missed Layup. Blocked by DeShawn Stevenson.
31 - 33
9:36
Michael Finley Offensive Rebound.
31 - 33
9:34
Michael Finley missed Layup.
31 - 33
9:33
Bryon Russell Defensive Rebound.
31 - 33
9:26
Bryon Russell made 9 ft Jumper.
31 - 35
9:12
Nick Van Exel missed 8 ft Jumper.
31 - 35
9:11
Dirk Nowitzki Offensive Rebound.
31 - 35
9:08
Dirk Nowitzki made 18 ft Jumper.
33 - 35
8:45
Donyell Marshall missed Jumper.
33 - 35
8:45
Utah Offensive Rebound.
33 - 35
8:45
Adrian Griffin Loose Ball Foul
33 - 35
8:45
Official Timeout.
33 - 35
8:45
Andrei Kirilenko enters the game for Bryon Russell.
33 - 35
8:45
Raef LaFrentz enters the game for Dirk Nowitzki.
33 - 35
8:45
Steve Nash enters the game for Greg Buckner.
33 - 35
8:36
Scott Padgett made Two Point Shot.
33 - 37
8:36
Steve Nash Shooting Foul
33 - 37
8:36
Eduardo Najera enters the game for Michael Finley.
33 - 37
8:36
Scott Padgett made Free Throw 1 of 1.
33 - 38
8:19
Nick Van Exel made 12 ft Two Point Shot.
35 - 38
8:07
Raef LaFrentz Shooting Foul
35 - 38
8:07
Donyell Marshall made Free Throw 1 of 2.
35 - 39
8:07
Donyell Marshall made Free Throw 2 of 2.
35 - 40
7:46
Nick Van Exel missed Jumper. Blocked by DeShawn Stevenson.
35 - 40
7:43
Eduardo Najera Offensive Rebound.
35 - 40
7:43
Eduardo Najera missed Layup.
35 - 40
7:39
Raef LaFrentz Offensive Rebound.
37 - 40
7:39
Raef LaFrentz made Layup.
37 - 40
7:30
Andrei Kirilenko missed Layup.
37 - 40
7:28
Donyell Marshall Offensive Rebound.
37 - 42
7:28
Donyell Marshall made Dunk.
37 - 42
7:11
DeShawn Stevenson Shooting Foul
37 - 42
7:11
Nick Van Exel made Free Throw 1 of 2.
38 - 42
7:11
Nick Van Exel made Free Throw 2 of 2.
39 - 42
6:52
Rusty LaRue missed 17 ft Jumper.
39 - 42
6:52
Utah Defensive Rebound.
39 - 42
6:39
Nick Van Exel made 13 ft Jumper.
41 - 42
6:28
Rusty LaRue Bad Pass. Stolen by Adrian Griffin.
41 - 42
6:22
Raef LaFrentz made Two Point Shot. Assisted by Nick Van Exel.
43 - 42
6:03
Andrei Kirilenko made Jumper.
43 - 44
5:54
Eduardo Najera made Dunk. Assisted by Adrian Griffin.
45 - 44
5:35
Scott Padgett missed Layup.
45 - 44
5:33
Donyell Marshall Offensive Rebound.
45 - 44
5:33
Donyell Marshall missed Layup. Blocked by Eduardo Najera.
45 - 44
5:31
Eduardo Najera Defensive Rebound.
45 - 44
5:20
Nick Van Exel missed 5 ft Jumper.
45 - 44
5:15
Scott Padgett Defensive Rebound.
45 - 44
5:11
Rusty LaRue missed 21 ft Jumper.
45 - 44
5:11
Adrian Griffin Defensive Rebound.
45 - 44
5:11
DeShawn Stevenson Loose Ball Foul
45 - 44
5:11
Utah Full Timeout.
45 - 44
5:11
Karl Malone enters the game for Scott Padgett.
45 - 44
5:11
John Stockton enters the game for DeShawn Stevenson.
45 - 44
5:11
Nick Van Exel Technical Foul
45 - 44
5:11
Rusty LaRue made Technical Free Throw.
45 - 45
5:11
Bryon Russell enters the game for Donyell Marshall.
45 - 45
5:00
Steve Nash missed 24 ft Three Point Jumper.
45 - 45
4:58
Karl Malone Defensive Rebound.
45 - 45
4:37
Nick Van Exel Shooting Foul
45 - 45
4:37
Andrei Kirilenko made Free Throw 1 of 2.
45 - 46
4:37
Andrei Kirilenko made Free Throw 2 of 2.
45 - 47
4:26
Steve Nash missed 14 ft Jumper.
45 - 47
4:24
Bryon Russell Defensive Rebound.
45 - 47
4:16
John Stockton made 17 ft Jumper.
45 - 49
3:58
Steve Nash missed Two Point Shot. Blocked by Andrei Kirilenko.
45 - 49
3:56
Steve Nash Offensive Rebound.
45 - 49
3:56
Bryon Russell Shooting Foul
45 - 49
3:56
Eduardo Najera missed Free Throw 1 of 2.
45 - 49
3:56
Dallas Offensive Rebound.
45 - 49
3:56
Shawn Bradley enters the game for Raef LaFrentz.
45 - 49
3:56
Eduardo Najera made Free Throw 2 of 2.
46 - 49
3:39
Andrei Kirilenko missed Layup.
46 - 49
3:38
Karl Malone Offensive Rebound.
46 - 49
3:38
Karl Malone missed Tip Shot.
46 - 49
3:36
Steve Nash Defensive Rebound.
46 - 49
3:33
Rusty LaRue Shooting Foul
46 - 49
3:33
Michael Finley enters the game for Eduardo Najera.
46 - 49
3:33
Adrian Griffin made Free Throw 1 of 2.
47 - 49
3:33
Adrian Griffin made Free Throw 2 of 2.
48 - 49
3:21
Bryon Russell missed 22 ft Jumper.
48 - 49
3:18
Shawn Bradley Defensive Rebound.
48 - 49
3:03
Steve Nash made 18 ft Two Point Shot.
50 - 49
2:46
John Stockton missed 20 ft Jumper.
50 - 49
2:44
Michael Finley Defensive Rebound.
50 - 49
2:39
Steve Nash Bad Pass
50 - 49
2:39
Dallas Full Timeout.
50 - 49
2:39
Greg Ostertag enters the game for Rusty LaRue.
50 - 49
2:39
Dirk Nowitzki enters the game for Adrian Griffin.
50 - 49
2:21
Bryon Russell missed 21 ft Jumper.
50 - 49
2:20
Steve Nash Defensive Rebound.
50 - 49
2:09
Shawn Bradley missed Layup. Blocked by Bryon Russell.
50 - 49
2:08
Greg Ostertag Defensive Rebound.
50 - 49
1:54
Greg Ostertag made Dunk. Assisted by John Stockton.
50 - 51
1:54
Shawn Bradley Shooting Foul
50 - 51
1:54
Eduardo Najera enters the game for Dirk Nowitzki.
50 - 51
1:54
Greg Ostertag Lane Violation
50 - 51
1:54
Greg Ostertag missed Free Throw 1 of 1.
51 - 51
1:54
Utah Offensive Rebound.
54 - 52
1:44
Steve Nash missed 25 ft Three Point Jumper.
50 - 51
1:42
Eduardo Najera Offensive Rebound.
50 - 51
1:27
Nick Van Exel missed Jumper.
50 - 51
1:27
Dallas Offensive Rebound.
50 - 51
1:27
Karl Malone Loose Ball Foul
50 - 51
1:27
Karl Malone Technical Foul
50 - 51
1:27
Steve Nash made Technical Free Throw.
51 - 51
1:27
Eduardo Najera made Free Throw 1 of 2.
52 - 51
1:27
Eduardo Najera missed Free Throw 2 of 2.
52 - 51
1:27
Karl Malone Defensive Rebound.
52 - 51
1:19
Shawn Bradley Illegal Defense Foul
52 - 51
1:19
Raef LaFrentz enters the game for Eduardo Najera.
52 - 51
1:19
John Stockton made Technical Free Throw.
52 - 52
1:19
Karl Malone Bad Pass
52 - 52
1:06
Steve Nash missed Three Point Jumper.
52 - 52
1:05
John Stockton Defensive Rebound.
52 - 52
0:51
Greg Ostertag missed 12 ft Two Point Shot.
52 - 52
0:49
Nick Van Exel Defensive Rebound.
52 - 52
0:43
Michael Finley made 17 ft Jumper. Assisted by Nick Van Exel.
54 - 52
0:27
John Stockton made Jumper. Assisted by Karl Malone.
54 - 54
0:08
Andrei Kirilenko Shooting Foul
54 - 54
0:08
Nick Van Exel made Free Throw 1 of 2.
55 - 54
0:08
Avery Johnson enters the game for Steve Nash.
55 - 54
0:08
Rusty LaRue enters the game for Greg Ostertag.
55 - 54
0:08
DeShawn Stevenson enters the game for Andrei Kirilenko.
55 - 54
0:08
Adrian Griffin enters the game for Shawn Bradley.
55 - 54
0:08
Nick Van Exel made Free Throw 2 of 2.
56 - 54
0:01
Raef LaFrentz Shooting Foul
56 - 54
0:01
Karl Malone made Free Throw 1 of 3.
56 - 55
0:01
Karl Malone made Free Throw 2 of 3.
56 - 56
0:01
Karl Malone made Free Throw 3 of 3.
56 - 57
0:00
End of the 2nd Quarter.
56 - 57

time
TEAM
PLAY
SCORE
12:00
Start of the 3rd Quarter.
56 - 57
11:47
Bryon Russell missed 19 ft Jumper.
56 - 57
11:45
Shawn Bradley Defensive Rebound.
56 - 57
11:36
Jarron Collins Personal Foul
56 - 57
11:22
Shawn Bradley Traveling
56 - 57
11:08
John Stockton made 17 ft Jumper. Assisted by Andrei Kirilenko.
56 - 59
10:49
Steve Nash Kicked Ball
56 - 59
10:36
John Stockton missed 15 ft Jumper.
56 - 59
10:34
Utah Offensive Rebound.
56 - 59
10:30
Michael Finley Personal Foul
56 - 59
10:23
Karl Malone made 22 ft Jumper.
56 - 61
10:17
Steve Nash missed 21 ft Jumper.
56 - 61
10:15
Jarron Collins Defensive Rebound.
56 - 61
10:06
John Stockton Bad Pass
56 - 61
10:06
Karl Malone Loose Ball Foul
56 - 61
9:51
Raef LaFrentz missed 24 ft Three Point Jumper.
56 - 61
9:48
John Stockton Defensive Rebound.
56 - 61
9:30
Jarron Collins Lost Ball
56 - 61
9:19
Eduardo Najera Offensive Foul
56 - 61
9:19
Eduardo Najera Foul
56 - 61
9:06
Andrei Kirilenko missed Jumper.
56 - 61
9:03
Michael Finley Defensive Rebound.
56 - 61
8:52
Michael Finley made 20 ft Jumper. Assisted by Steve Nash.
58 - 61
8:47
Eduardo Najera Shooting Foul
58 - 61
8:47
Andrei Kirilenko missed Free Throw 1 of 2.
58 - 61
8:47
Utah Offensive Rebound.
58 - 61
8:47
Andrei Kirilenko made Free Throw 2 of 2.
58 - 62
8:30
Shawn Bradley made Dunk. Assisted by Steve Nash.
60 - 62
8:11
Karl Malone missed Jumper.
60 - 62
8:10
Raef LaFrentz Defensive Rebound.
60 - 62
7:50
Shawn Bradley missed 18 ft Jumper.
60 - 62
7:50
Bryon Russell Defensive Rebound.
60 - 62
7:35
John Stockton made Two Point Shot.
60 - 64
7:22
Steve Nash made 21 ft Jumper.
62 - 64
7:03
Karl Malone missed 14 ft Jumper.
62 - 64
7:01
Eduardo Najera Defensive Rebound.
62 - 64
6:54
Michael Finley made 20 ft Jumper. Assisted by Steve Nash.
64 - 64
6:37
Eduardo Najera Personal Foul
64 - 64
6:37
ZhiZhi Wang enters the game for Shawn Bradley.
64 - 64
6:37
Greg Buckner enters the game for Eduardo Najera.
64 - 64
6:26
Karl Malone missed 17 ft Jumper.
64 - 64
6:24
ZhiZhi Wang Defensive Rebound.
64 - 64
6:18
Michael Finley made 21 ft Jumper.
66 - 64
5:56
Michael Finley Shooting Foul
66 - 64
5:56
Utah Full Timeout.
66 - 64
5:56
Jarron Collins missed Free Throw 1 of 2.
66 - 64
5:56
Utah Offensive Rebound.
66 - 64
5:56
Jarron Collins made Free Throw 2 of 2.
66 - 65
5:41
Steve Nash missed Layup. Blocked by Andrei Kirilenko.
66 - 65
5:39
Andrei Kirilenko Defensive Rebound.
66 - 65
5:28
Karl Malone missed 16 ft Two Point Shot.
66 - 65
5:26
ZhiZhi Wang Defensive Rebound.
66 - 65
5:15
Michael Finley missed 19 ft Jumper.
66 - 65
5:13
Karl Malone Defensive Rebound.
66 - 65
5:07
Andrei Kirilenko missed Layup. Blocked by Greg Buckner.
66 - 65
5:03
Steve Nash Defensive Rebound.
66 - 65
4:56
Dallas 20 Second Timeou.
66 - 65
4:56
Nick Van Exel enters the game for Michael Finley.
66 - 65
4:56
Donyell Marshall enters the game for Jarron Collins.
66 - 65
4:48
Steve Nash Bad Pass. Stolen by Bryon Russell.
66 - 65
4:43
Bryon Russell made Dunk.
66 - 67
4:31
Greg Buckner missed 20 ft Jumper.
66 - 67
4:28
Andrei Kirilenko Defensive Rebound.
66 - 67
4:16
John Stockton missed Layup. Blocked by Raef LaFrentz.
66 - 67
4:13
ZhiZhi Wang Defensive Rebound.
66 - 67
4:13
ZhiZhi Wang Bad Pass. Stolen by Karl Malone.
66 - 67
4:07
Karl Malone Bad Pass
66 - 67
4:07
DeShawn Stevenson enters the game for John Stockton.
66 - 67
4:07
Adrian Griffin enters the game for Steve Nash.
66 - 67
3:53
Nick Van Exel Bad Pass. Stolen by Andrei Kirilenko.
66 - 67
3:35
ZhiZhi Wang Personal Foul
66 - 67
3:35
Donyell Marshall made Free Throw 1 of 2.
66 - 68
3:35
Eduardo Najera enters the game for Raef LaFrentz.
66 - 68
3:35
Donyell Marshall made Free Throw 2 of 2.
66 - 69
3:16
Adrian Griffin missed Hook Shot.
66 - 69
3:15
Donyell Marshall Defensive Rebound.
66 - 69
3:04
Donyell Marshall Lost Ball. Stolen by Eduardo Najera.
66 - 69
2:54
ZhiZhi Wang made 17 ft Jumper. Assisted by Nick Van Exel.
68 - 69
2:30
DeShawn Stevenson missed 19 ft Jumper.
68 - 69
2:28
ZhiZhi Wang Defensive Rebound.
68 - 69
2:19
Eduardo Najera made Dunk. Assisted by Nick Van Exel.
70 - 69
2:01
Greg Buckner Personal Foul
70 - 69
2:01
Dallas Full Timeout.
70 - 69
2:01
Scott Padgett enters the game for Karl Malone.
70 - 69
2:01
Bryon Russell made Free Throw 1 of 2.
70 - 70
2:01
Bryon Russell made Free Throw 2 of 2.
70 - 71
1:45
Eduardo Najera made Two Point Shot.
72 - 71
1:28
DeShawn Stevenson Bad Pass
72 - 71
1:28
John Amaechi enters the game for Andrei Kirilenko.
72 - 71
1:07
Adrian Griffin made 16 ft Jumper.
74 - 71
0:52
Donyell Marshall made Layup. Assisted by DeShawn Stevenson.
74 - 73
0:40
ZhiZhi Wang made 24 ft Three Point Jumper. Assisted by Nick Van Exel.
77 - 73
0:27
DeShawn Stevenson made 21 ft Jumper.
77 - 75
0:05
Adrian Griffin missed 24 ft Three Point Jumper.
77 - 75
0:04
Dallas Defensive Rebound.
77 - 75
0:00
DeShawn Stevenson missed 20 ft Jumper.
77 - 75
0:00
Utah Offensive Rebound.
77 - 75
0:00
End of the 3rd Quarter.
77 - 75

time
TEAM
PLAY
SCORE
12:00
Start of the 4th Quarter.
77 - 75
11:41
Adrian Griffin missed 13 ft Jumper. Blocked by John Amaechi.
77 - 75
11:37
Donyell Marshall Defensive Rebound.
77 - 75
11:18
Rusty LaRue missed 25 ft Three Point Jumper.
77 - 75
11:15
John Amaechi Offensive Rebound.
77 - 75
11:12
DeShawn Stevenson Traveling
77 - 75
10:56
Nick Van Exel made 25 ft Three Point Jumper. Assisted by Adrian Griffin.
80 - 75
10:30
Scott Padgett missed Layup. Blocked by Eduardo Najera.
80 - 75
10:26
Eduardo Najera Defensive Rebound.
80 - 75
10:17
Michael Finley made 19 ft Jumper. Assisted by Adrian Griffin.
82 - 75
10:14
Utah Full Timeout.
82 - 75
10:14
John Stockton enters the game for DeShawn Stevenson.
82 - 75
10:14
Karl Malone enters the game for Scott Padgett.
82 - 75
9:55
Donyell Marshall made Three Point Jumper. Assisted by John Stockton.
82 - 78
9:41
Nick Van Exel made 15 ft Jumper.
84 - 78
9:22
Karl Malone 3 second
84 - 78
9:22
Steve Nash enters the game for Adrian Griffin.
84 - 78
9:00
ZhiZhi Wang missed 25 ft Three Point Jumper.
84 - 78
8:57
Karl Malone Defensive Rebound.
84 - 78
8:41
Rusty LaRue missed 25 ft Three Point Jumper.
84 - 78
8:38
Nick Van Exel Defensive Rebound.
84 - 78
8:33
Steve Nash missed 14 ft Jumper.
84 - 78
8:32
John Stockton Defensive Rebound.
84 - 78
8:26
John Amaechi Lost Ball
84 - 78
8:26
Greg Buckner enters the game for Eduardo Najera.
84 - 78
8:06
ZhiZhi Wang Lost Ball. Stolen by Karl Malone.
84 - 78
8:00
John Stockton made 24 ft Three Point Jumper. Assisted by Karl Malone.
84 - 81
7:43
Michael Finley made 21 ft Jumper. Assisted by Steve Nash.
86 - 81
7:26
Karl Malone made Layup. Assisted by John Stockton.
86 - 83
7:11
John Amaechi Personal Foul
86 - 83
7:11
Bryon Russell enters the game for Rusty LaRue.
86 - 83
7:11
Andrei Kirilenko enters the game for John Amaechi.
86 - 83
7:11
Shawn Bradley enters the game for ZhiZhi Wang.
86 - 83
7:01
Nick Van Exel made 14 ft Two Point Shot.
88 - 83
6:37
Bryon Russell made Three Point Jumper. Assisted by John Stockton.
88 - 86
6:18
Bryon Russell Personal Foul
88 - 86
6:07
Michael Finley missed 19 ft Jumper.
88 - 86
6:05
John Stockton Defensive Rebound.
88 - 86
6:05
Michael Finley Personal Foul
88 - 86
5:52
John Stockton made 18 ft Jumper.
88 - 88
5:35
Nick Van Exel made 28 ft Three Point Jumper.
91 - 88
5:13
Bryon Russell missed 24 ft Three Point Jumper.
91 - 88
5:13
Utah Offensive Rebound.
91 - 88
5:13
Official Timeout.
91 - 88
5:01
Donyell Marshall Lost Ball. Stolen by Greg Buckner.
91 - 88
4:56
Michael Finley made 22 ft Jumper. Assisted by Nick Van Exel.
93 - 88
4:43
Shawn Bradley Personal Foul
93 - 88
4:39
Karl Malone made 22 ft Jumper. Assisted by Andrei Kirilenko.
93 - 90
4:24
Greg Buckner made Jumper.
95 - 90
4:09
Nick Van Exel Personal Foul
95 - 90
4:05
Shawn Bradley Shooting Foul
95 - 90
4:05
Karl Malone made Free Throw 1 of 2.
95 - 91
4:05
Karl Malone made Free Throw 2 of 2.
95 - 92
3:47
Steve Nash missed 24 ft Three Point Jumper.
95 - 92
3:46
Greg Buckner Offensive Rebound.
95 - 92
3:43
Michael Finley made 23 ft Jumper. Assisted by Steve Nash.
97 - 92
3:20
John Stockton missed 25 ft Three Point Jumper.
97 - 92
3:17
Greg Buckner Defensive Rebound.
97 - 92
3:01
Bryon Russell Personal Foul
97 - 92
3:01
Raef LaFrentz enters the game for Shawn Bradley.
97 - 92
2:47
Greg Buckner missed 17 ft Jumper.
97 - 92
2:47
Dallas Offensive Rebound.
97 - 92
2:47
Dallas Full Timeout.
97 - 92
2:42
Donyell Marshall Shooting Foul
97 - 92
2:42
Nick Van Exel made Free Throw 1 of 2.
98 - 92
2:42
Nick Van Exel made Free Throw 2 of 2.
99 - 92
2:27
Karl Malone missed 2 ft Hook Shot.
99 - 92
2:26
Karl Malone Offensive Rebound.
99 - 92
2:26
Greg Buckner Shooting Foul
99 - 92
2:26
Karl Malone made Free Throw 1 of 2.
99 - 93
2:26
Karl Malone made Free Throw 2 of 2.
99 - 94
2:11
Michael Finley missed 15 ft Jumper.
99 - 94
2:08
Donyell Marshall Defensive Rebound.
99 - 94
2:02
Karl Malone missed 14 ft Jumper.
99 - 94
2:00
Karl Malone Offensive Rebound.
99 - 96
2:00
Karl Malone made 10 ft Jumper.
99 - 96
1:38
Greg Buckner made Layup. Assisted by Steve Nash.
101 - 96
1:24
Bryon Russell missed 24 ft Three Point Jumper.
101 - 96
1:22
Karl Malone Offensive Rebound.
101 - 96
1:22
Karl Malone missed Layup. Blocked by Raef LaFrentz.
101 - 96
1:20
Steve Nash Defensive Rebound.
101 - 96
1:00
Steve Nash missed 27 ft Three Point Jumper.
101 - 96
0:58
Donyell Marshall Defensive Rebound.
101 - 96
0:47
Bryon Russell missed Three Point Jumper.
101 - 96
0:47
Utah Defensive Rebound.
101 - 96
0:25
Nick Van Exel missed Three Point Jumper.
101 - 96
0:24
Raef LaFrentz Offensive Rebound.
101 - 96
0:22
Raef LaFrentz missed 3 ft Jumper.
101 - 96
0:21
Michael Finley Offensive Rebound.
101 - 96
0:21
Michael Finley made Tip Shot.
103 - 96
0:19
Donyell Marshall missed 26 ft Three Point Jumper.
103 - 96
0:16
Steve Nash Defensive Rebound.
103 - 96
0:16
Kicked Ball
103 - 96
0:15
Bryon Russell Personal Foul
103 - 96
0:15
Steve Nash made Free Throw 1 of 2.
104 - 96
0:15
Steve Nash made Free Throw 2 of 2.
105 - 96
0:10
Andrei Kirilenko missed 24 ft Three Point Jumper.
105 - 96
0:07
Donyell Marshall Offensive Rebound.
105 - 96
0:07
Donyell Marshall missed Layup.
105 - 96
0:05
Michael Finley Defensive Rebound.
105 - 96
0:00
End of the 4th Quarter.
105 - 96
0:00
End Game
105 - 96
NBA free agency is almost here. With a huge salary cap jump expected, who are the top available players this year? Can the Cavs add a piece for a second title run? Our NBA experts go 5-on-5.

President Barack Obama called Cavs coach Tyronn Lue to congratulate him on the team's title -- and to joke about Cleveland's players going shirtless during celebrations.

LeBron James returns to Akron as an NBA champion and shares what winning a title with the Cavaliers means to him and the city.
Regular Season Series
DAL wins series 3-1