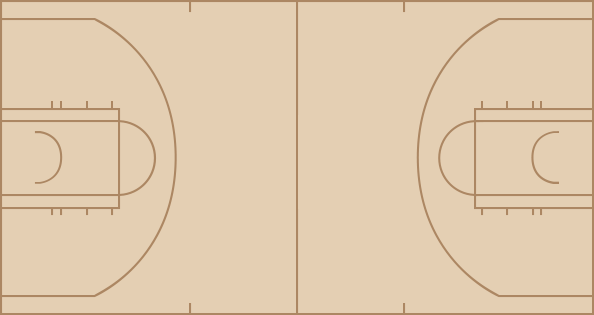 Spurs
time
TEAM
PLAY
SCORE
12:00
Start of the 1st Quarter.
0 - 0
12:00
Jumpball. Tim Duncan vs. Jarron Collins. Bryon Russell gains possession.
0 - 0
11:49
Tony Parker Personal Foul
0 - 0
11:41
Bryon Russell made 24 ft Three Point Jumper. Assisted by John Stockton.
0 - 3
11:18
Tony Parker missed 10 ft Jumper. Blocked by Jarron Collins.
0 - 3
11:15
Tony Parker Offensive Rebound.
0 - 3
11:14
24 second
0 - 3
10:52
Andrei Kirilenko missed Jumper.
0 - 3
10:51
Tim Duncan Defensive Rebound.
0 - 3
10:40
Mark Bryant missed 15 ft Jumper.
0 - 3
10:38
John Stockton Defensive Rebound.
0 - 3
10:22
Jarron Collins Bad Pass. Stolen by Tony Parker.
0 - 3
10:18
Tony Parker Lost Ball. Stolen by John Stockton.
0 - 3
10:00
Andrei Kirilenko missed Two Point Shot. Blocked by Tim Duncan.
0 - 3
9:56
Tim Duncan Defensive Rebound.
0 - 3
9:51
Steve Smith Bad Pass
0 - 3
9:34
John Stockton made 7 ft Two Point Shot.
0 - 5
9:12
Bruce Bowen missed 7 ft Jumper. Blocked by Bryon Russell.
0 - 5
9:08
Bryon Russell Defensive Rebound.
0 - 5
9:04
Mark Bryant Shooting Foul
0 - 5
9:04
Karl Malone made Free Throw 1 of 2.
0 - 6
9:04
Karl Malone made Free Throw 2 of 2.
0 - 7
8:48
Tim Duncan missed 6 ft Jumper.
0 - 7
8:45
Karl Malone Defensive Rebound.
0 - 7
8:45
Charles Smith Technical Foul
0 - 7
8:45
John Stockton made Technical Free Throw.
0 - 8
8:34
Bryon Russell made Layup. Assisted by John Stockton.
0 - 10
8:18
Tim Duncan made Two Point Shot.
2 - 10
8:18
Jarron Collins Shooting Foul
2 - 10
8:18
Tim Duncan made Free Throw 1 of 1.
3 - 10
8:00
Bryon Russell Traveling
3 - 10
7:41
Tony Parker Bad Pass. Stolen by Karl Malone.
3 - 10
7:39
Tony Parker Personal Foul
3 - 10
7:30
Andrei Kirilenko missed 24 ft Three Point Jumper.
3 - 10
7:28
Tim Duncan Defensive Rebound.
3 - 10
7:13
Mark Bryant made 6 ft Jumper. Assisted by Tim Duncan.
5 - 10
6:54
Karl Malone made 6 ft Two Point Shot. Assisted by John Stockton.
5 - 12
6:37
Tim Duncan made 4 ft Jumper.
7 - 12
6:16
Bryon Russell missed 15 ft Jumper.
7 - 12
6:15
Andrei Kirilenko Offensive Rebound.
7 - 12
6:13
Andrei Kirilenko missed Layup.
7 - 12
6:11
Tim Duncan Defensive Rebound.
7 - 12
6:03
Steve Smith missed 6 ft Jumper. Blocked by Andrei Kirilenko.
7 - 12
6:01
Bryon Russell Defensive Rebound.
7 - 12
5:56
Mark Bryant Personal Foul
7 - 12
5:56
Utah Full Timeout.
7 - 12
5:56
Malik Rose enters the game for Mark Bryant.
7 - 12
5:56
Terry Porter enters the game for Tony Parker.
7 - 12
5:41
John Stockton made 22 ft Jumper.
7 - 14
5:24
Terry Porter made 22 ft Three Point Jumper. Assisted by Bruce Bowen.
10 - 14
4:54
Andrei Kirilenko missed 5 ft Jumper.
10 - 14
4:52
Utah Offensive Rebound.
10 - 14
4:39
Terry Porter Personal Foul
10 - 14
4:39
Karl Malone made Free Throw 1 of 2.
10 - 15
4:39
Karl Malone made Free Throw 2 of 2.
10 - 16
4:28
Tim Duncan made Two Point Shot. Assisted by Malik Rose.
12 - 16
4:20
Bryon Russell Offensive Foul
12 - 16
4:20
Bryon Russell Foul
12 - 16
4:05
Tim Duncan missed 5 ft Jumper.
12 - 16
4:05
San Antonio Offensive Rebound.
12 - 16
4:05
Jarron Collins Loose Ball Foul
12 - 16
4:05
Greg Ostertag enters the game for Jarron Collins.
22 - 16
3:49
Terry Porter made 28 ft Three Point Jumper. Assisted by Tim Duncan.
15 - 16
3:36
John Stockton missed 21 ft Jumper.
15 - 16
3:34
Malik Rose Defensive Rebound.
15 - 16
3:31
Tim Duncan made Two Point Shot. Assisted by Terry Porter.
17 - 16
3:31
John Stockton Shooting Foul
17 - 16
3:31
DeShawn Stevenson enters the game for John Stockton.
17 - 16
3:31
Tim Duncan made Free Throw 1 of 1.
18 - 16
3:15
DeShawn Stevenson missed Jumper. Blocked by Terry Porter.
18 - 16
3:12
Malik Rose Defensive Rebound.
18 - 16
3:04
Malik Rose made Layup. Assisted by Tim Duncan.
20 - 16
2:47
DeShawn Stevenson missed 4 ft Jumper. Blocked by Tim Duncan.
20 - 16
2:44
Terry Porter Defensive Rebound.
20 - 16
2:38
Malik Rose made 18 ft Jumper.
22 - 16
2:30
Utah Full Timeout.
22 - 16
2:18
Steve Smith Personal Foul
22 - 16
2:18
Danny Ferry enters the game for Bruce Bowen.
22 - 16
2:18
Andrei Kirilenko missed Free Throw 1 of 2.
22 - 16
2:18
Utah Offensive Rebound.
22 - 16
2:18
Andrei Kirilenko made Free Throw 2 of 2.
22 - 17
2:00
Tim Duncan Offensive Foul
22 - 17
2:00
Tim Duncan Foul
22 - 17
1:45
Karl Malone made 17 ft Two Point Shot.
22 - 19
1:25
Terry Porter Bad Pass. Stolen by Karl Malone.
22 - 19
1:20
Karl Malone missed 18 ft Jumper.
22 - 19
1:19
Andrei Kirilenko Offensive Rebound.
22 - 19
1:16
Karl Malone missed 19 ft Jumper.
22 - 19
1:16
Utah Defensive Rebound.
22 - 19
1:04
Greg Ostertag Personal Foul
22 - 19
1:04
John Stockton enters the game for DeShawn Stevenson.
22 - 19
1:04
Donyell Marshall enters the game for Andrei Kirilenko.
22 - 19
1:04
Scott Padgett enters the game for Karl Malone.
22 - 19
0:51
Steve Smith made 9 ft Jumper.
24 - 19
0:51
Greg Ostertag Shooting Foul
24 - 19
0:51
Steve Smith made Free Throw 1 of 1.
25 - 19
0:36
Donyell Marshall missed 16 ft Jumper.
25 - 19
0:33
Terry Porter Defensive Rebound.
25 - 19
0:27
Terry Porter missed 18 ft Jumper.
25 - 19
0:25
Scott Padgett Defensive Rebound.
25 - 19
0:03
24 second
25 - 19
0:03
Antonio Daniels enters the game for Steve Smith.
25 - 19
0:03
John Amaechi enters the game for Greg Ostertag.
25 - 19
0:00
Danny Ferry Lost Ball. Stolen by Bryon Russell.
25 - 19
0:00
End of the 1st Quarter.
25 - 19

time
TEAM
PLAY
SCORE
12:00
Start of the 2nd Quarter.
25 - 19
11:42
Tim Duncan made 5 ft Two Point Shot.
27 - 19
11:26
John Starks missed 20 ft Jumper.
27 - 19
11:23
Tim Duncan Defensive Rebound.
27 - 19
11:18
Malik Rose Bad Pass
27 - 19
10:56
Donyell Marshall missed 12 ft Jumper.
27 - 19
10:53
Tim Duncan Defensive Rebound.
27 - 19
10:48
Danny Ferry missed 21 ft Jumper.
27 - 19
10:48
Tim Duncan Offensive Rebound.
27 - 19
10:44
Terry Porter made 24 ft Three Point Jumper. Assisted by Tim Duncan.
30 - 19
10:23
Malik Rose Personal Foul
30 - 19
10:23
Tony Parker enters the game for Terry Porter.
30 - 19
10:23
Mark Bryant enters the game for Tim Duncan.
30 - 19
10:14
Malik Rose Personal Foul
30 - 19
10:07
John Amaechi missed Layup.
30 - 19
10:04
Malik Rose Defensive Rebound.
30 - 19
9:52
Malik Rose missed Layup. Blocked by Donyell Marshall.
30 - 19
9:51
Donyell Marshall Defensive Rebound.
30 - 19
9:45
John Stockton missed 20 ft Jumper.
30 - 19
9:44
John Amaechi Offensive Rebound.
30 - 19
9:30
Donyell Marshall made Layup. Assisted by Scott Padgett.
30 - 21
9:15
John Starks Shooting Foul
30 - 21
9:15
Antonio Daniels missed Free Throw 1 of 2.
30 - 21
9:15
San Antonio Offensive Rebound.
30 - 21
9:15
Antonio Daniels missed Free Throw 2 of 2.
30 - 21
9:14
Scott Padgett Defensive Rebound.
30 - 21
9:00
John Amaechi missed Jumper.
30 - 21
8:57
Malik Rose Defensive Rebound.
30 - 21
8:49
Mark Bryant missed 8 ft Jumper.
30 - 21
8:48
Donyell Marshall Defensive Rebound.
30 - 21
8:40
Donyell Marshall made Layup. Assisted by Scott Padgett.
30 - 23
8:26
San Antonio Full Timeout.
30 - 23
8:26
Karl Malone enters the game for John Amaechi.
30 - 23
8:26
Bryon Russell enters the game for John Starks.
30 - 23
8:26
Tim Duncan enters the game for Mark Bryant.
30 - 23
8:19
Tim Duncan missed Two Point Shot.
30 - 23
8:18
Karl Malone Defensive Rebound.
30 - 23
8:04
Bryon Russell missed 8 ft Jumper.
30 - 23
8:03
Bryon Russell Offensive Rebound.
30 - 25
8:03
Bryon Russell made Layup.
30 - 25
7:48
Donyell Marshall Shooting Foul
30 - 25
7:48
Tim Duncan missed Free Throw 1 of 2.
30 - 25
7:48
San Antonio Offensive Rebound.
30 - 25
7:48
Tim Duncan made Free Throw 2 of 2.
31 - 25
7:35
Scott Padgett made Layup. Assisted by Karl Malone.
31 - 27
7:16
John Stockton Personal Foul
31 - 27
7:16
Steve Smith enters the game for Danny Ferry.
31 - 27
7:03
Karl Malone Shooting Foul
31 - 27
7:03
Tim Duncan made Free Throw 1 of 2.
32 - 27
7:03
DeShawn Stevenson enters the game for John Stockton.
32 - 27
7:03
Tim Duncan made Free Throw 2 of 2.
33 - 27
6:52
Tim Duncan Personal Foul
33 - 27
6:37
DeShawn Stevenson missed 17 ft Jumper.
33 - 27
6:37
Donyell Marshall Offensive Rebound.
33 - 27
6:26
Karl Malone made 22 ft Jumper. Assisted by DeShawn Stevenson.
33 - 29
6:07
Tony Parker made Two Point Shot.
35 - 29
5:50
DeShawn Stevenson missed 18 ft Jumper.
35 - 29
5:50
Utah Defensive Rebound.
35 - 29
5:50
Official Timeout.
35 - 29
5:50
John Stockton enters the game for DeShawn Stevenson.
35 - 29
5:33
Steve Smith missed 11 ft Jumper. Blocked by Donyell Marshall.
35 - 29
5:31
Bryon Russell Defensive Rebound.
35 - 29
5:28
Scott Padgett made Two Point Shot. Assisted by John Stockton.
35 - 31
5:15
Tony Parker missed 20 ft Jumper.
35 - 31
5:11
Scott Padgett Defensive Rebound.
35 - 31
4:56
Karl Malone missed 18 ft Jumper.
35 - 31
4:54
Tim Duncan Defensive Rebound.
35 - 31
4:41
Antonio Daniels made 25 ft Three Point Jumper.
38 - 31
4:22
Donyell Marshall missed 16 ft Jumper.
38 - 31
4:20
Antonio Daniels Defensive Rebound.
38 - 31
4:01
Tim Duncan made Two Point Shot. Assisted by Tony Parker.
40 - 31
4:01
Donyell Marshall Shooting Foul
40 - 31
4:01
Bruce Bowen enters the game for Antonio Daniels.
40 - 31
4:01
Andrei Kirilenko enters the game for Donyell Marshall.
40 - 31
4:01
Tim Duncan made Free Throw 1 of 1.
41 - 31
3:55
Bryon Russell missed Layup.
41 - 31
3:54
Andrei Kirilenko Offensive Rebound.
41 - 31
3:45
Malik Rose Shooting Foul
41 - 31
3:45
Karl Malone made Free Throw 1 of 2.
41 - 32
3:45
Danny Ferry enters the game for Malik Rose.
41 - 32
3:45
Karl Malone made Free Throw 2 of 2.
41 - 33
3:30
Steve Smith missed 20 ft Jumper.
41 - 33
3:28
Bryon Russell Defensive Rebound.
41 - 33
3:21
Tony Parker Shooting Foul
41 - 33
3:21
John Stockton made Free Throw 1 of 2.
41 - 34
3:21
Terry Porter enters the game for Tony Parker.
41 - 34
3:21
John Stockton made Free Throw 2 of 2.
41 - 35
3:03
Bruce Bowen made 20 ft Jumper. Assisted by Tim Duncan.
43 - 35
2:47
Tim Duncan Shooting Foul
43 - 35
2:47
Utah Full Timeout.
43 - 35
2:47
Mark Bryant enters the game for Tim Duncan.
43 - 35
2:47
Karl Malone made Free Throw 1 of 2.
43 - 36
2:47
Karl Malone missed Free Throw 2 of 2.
43 - 36
2:46
Danny Ferry Defensive Rebound.
43 - 36
2:35
Terry Porter missed 17 ft Jumper.
43 - 36
2:33
Bryon Russell Defensive Rebound.
43 - 36
2:24
Scott Padgett made 20 ft Jumper. Assisted by John Stockton.
43 - 38
2:04
Danny Ferry missed 25 ft Three Point Jumper.
43 - 38
1:58
Bruce Bowen Offensive Rebound.
43 - 38
1:58
Bruce Bowen missed Layup. Blocked by Andrei Kirilenko.
43 - 38
1:54
Karl Malone Defensive Rebound.
43 - 38
1:50
John Stockton missed Layup. Blocked by Danny Ferry.
43 - 38
1:47
Terry Porter Defensive Rebound.
43 - 38
1:42
Steve Smith missed Three Point Jumper.
43 - 38
1:40
John Stockton Defensive Rebound.
43 - 38
1:34
John Stockton missed Layup.
43 - 38
1:32
Andrei Kirilenko Offensive Rebound.
43 - 38
1:32
Steve Smith Shooting Foul
43 - 38
1:32
Andrei Kirilenko made Free Throw 1 of 2.
43 - 39
1:32
Andrei Kirilenko missed Free Throw 2 of 2.
43 - 39
1:31
Mark Bryant Defensive Rebound.
43 - 39
1:12
Mark Bryant Traveling
43 - 39
0:59
Mark Bryant Shooting Foul
43 - 39
0:59
Mark Bryant Technical Foul
43 - 39
0:59
John Stockton made Technical Free Throw.
43 - 40
0:59
Karl Malone made Free Throw 1 of 2.
43 - 41
0:59
Karl Malone made Free Throw 2 of 2.
43 - 42
0:44
Bruce Bowen made Three Point Jumper. Assisted by Terry Porter.
46 - 42
0:31
Scott Padgett missed 25 ft Three Point Jumper.
46 - 42
0:28
Mark Bryant Defensive Rebound.
46 - 42
0:22
Bruce Bowen missed 24 ft Three Point Jumper.
46 - 42
0:20
Scott Padgett Defensive Rebound.
46 - 42
0:00
Bryon Russell missed 23 ft Three Point Jumper. Blocked by Danny Ferry.
46 - 42
0:00
Utah Offensive Rebound.
46 - 42
0:00
End of the 2nd Quarter.
46 - 42

time
TEAM
PLAY
SCORE
12:00
Start of the 3rd Quarter.
46 - 42
11:37
Tim Duncan made Layup. Assisted by Steve Smith.
48 - 42
11:19
John Stockton missed Jumper.
48 - 42
11:15
Tony Parker Defensive Rebound.
48 - 42
11:14
Tony Parker missed Layup. Blocked by Karl Malone.
48 - 42
11:11
Jarron Collins Defensive Rebound.
48 - 42
11:00
John Stockton Lost Ball. Stolen by Bruce Bowen.
48 - 42
10:53
Tony Parker Bad Pass. Stolen by Bryon Russell.
48 - 42
10:49
John Stockton missed Layup.
48 - 42
10:48
Andrei Kirilenko Offensive Rebound.
48 - 42
10:45
Andrei Kirilenko Lost Ball. Stolen by Tony Parker.
48 - 42
10:29
Bryon Russell Personal Foul
48 - 42
10:22
Steve Smith made 21 ft Jumper. Assisted by Tim Duncan.
50 - 42
10:04
Tony Parker Shooting Foul
50 - 42
10:04
John Stockton made Free Throw 1 of 2.
50 - 43
10:04
Terry Porter enters the game for Tony Parker.
50 - 43
10:04
John Stockton made Free Throw 2 of 2.
50 - 44
9:52
Steve Smith made 22 ft Jumper.
52 - 44
9:29
Karl Malone missed 22 ft Jumper.
52 - 44
9:26
Andrei Kirilenko Offensive Rebound.
52 - 44
9:22
Jarron Collins missed Layup. Blocked by Tim Duncan.
52 - 44
9:19
Tim Duncan Defensive Rebound.
52 - 44
9:18
Tim Duncan Lost Ball. Stolen by Andrei Kirilenko.
52 - 44
9:15
Andrei Kirilenko made Layup.
52 - 46
9:08
Terry Porter Bad Pass. Stolen by Karl Malone.
52 - 46
9:07
John Stockton made Two Point Shot. Assisted by Karl Malone.
52 - 48
8:48
Terry Porter Traveling
52 - 48
8:27
Bryon Russell missed Layup. Blocked by Tim Duncan.
52 - 48
8:27
Utah Offensive Rebound.
52 - 48
8:26
Bryon Russell missed Layup.
52 - 48
8:23
Bryon Russell Offensive Rebound.
52 - 48
8:23
Mark Bryant Personal Foul
52 - 48
8:11
Jarron Collins made 7 ft Jumper. Assisted by John Stockton.
52 - 50
7:48
Bryon Russell Shooting Foul
52 - 50
7:48
Mark Bryant made Free Throw 1 of 2.
53 - 50
7:48
Mark Bryant missed Free Throw 2 of 2.
53 - 50
7:48
Andrei Kirilenko Defensive Rebound.
53 - 50
7:39
Karl Malone missed 21 ft Jumper.
53 - 50
7:37
Bryon Russell Offensive Rebound.
53 - 50
7:24
Bryon Russell missed 21 ft Jumper.
53 - 50
7:22
Tim Duncan Defensive Rebound.
53 - 50
7:09
Steve Smith Lost Ball. Stolen by John Stockton.
53 - 50
7:05
Steve Smith Personal Foul
53 - 50
6:47
John Stockton missed Layup.
53 - 50
6:47
Utah Defensive Rebound.
53 - 50
6:47
Jarron Collins Loose Ball Foul
53 - 50
6:31
Tim Duncan missed 8 ft Jumper. Blocked by Andrei Kirilenko.
53 - 50
6:28
Mark Bryant Offensive Rebound.
55 - 50
6:28
Mark Bryant made Layup.
55 - 50
6:09
Bryon Russell missed 21 ft Jumper.
55 - 50
6:07
Steve Smith Defensive Rebound.
55 - 50
6:01
Steve Smith made Two Point Shot.
57 - 50
5:58
Utah Full Timeout.
57 - 50
5:58
Malik Rose enters the game for Mark Bryant.
57 - 50
5:43
Karl Malone missed 14 ft Jumper.
57 - 50
5:41
Malik Rose Defensive Rebound.
57 - 50
5:35
Tim Duncan made 4 ft Jumper. Assisted by Terry Porter.
59 - 50
5:22
Scott Padgett enters the game for Andrei Kirilenko.
59 - 50
5:15
Karl Malone missed 13 ft Jumper.
59 - 50
5:13
Tim Duncan Defensive Rebound.
59 - 50
5:01
DeShawn Stevenson enters the game for John Stockton.
59 - 50
4:54
Steve Smith missed Jumper.
59 - 50
4:52
Karl Malone Defensive Rebound.
59 - 50
4:43
Karl Malone missed 4 ft Jumper. Blocked by Tim Duncan.
59 - 50
4:41
Utah Offensive Rebound.
59 - 50
4:41
Antonio Daniels enters the game for Terry Porter.
59 - 50
4:39
Jarron Collins made Layup. Assisted by Bryon Russell.
59 - 52
4:39
Antonio Daniels Shooting Foul
59 - 52
4:39
Jarron Collins missed Free Throw 1 of 1.
59 - 52
4:35
Tim Duncan Defensive Rebound.
59 - 52
4:22
Tim Duncan made 14 ft Jumper.
61 - 52
4:05
Karl Malone Bad Pass. Stolen by Bruce Bowen.
61 - 52
4:01
Bruce Bowen Bad Pass
61 - 52
3:54
Bryon Russell missed 23 ft Three Point Jumper.
61 - 52
3:49
Scott Padgett Offensive Rebound.
61 - 52
3:47
Scott Padgett made Layup. Assisted by DeShawn Stevenson.
61 - 54
3:47
San Antonio Full Timeout.
61 - 54
3:47
Danny Ferry enters the game for Malik Rose.
61 - 54
3:29
Danny Ferry made 22 ft Jumper. Assisted by Bruce Bowen.
63 - 54
3:00
DeShawn Stevenson missed 17 ft Jumper. Blocked by Bruce Bowen.
63 - 54
2:59
Bruce Bowen Defensive Rebound.
63 - 54
2:54
Bryon Russell Personal Foul
63 - 54
2:54
Antonio Daniels made Free Throw 1 of 2.
64 - 54
2:54
Antonio Daniels made Free Throw 2 of 2.
65 - 54
2:36
Jarron Collins made Layup. Assisted by Karl Malone.
65 - 56
2:20
Antonio Daniels missed Two Point Shot.
65 - 56
2:18
Karl Malone Defensive Rebound.
65 - 56
2:02
Bryon Russell missed 26 ft Three Point Jumper.
65 - 56
2:00
Tim Duncan Defensive Rebound.
65 - 56
1:54
Danny Ferry made Jumper. Assisted by Antonio Daniels.
67 - 56
1:40
John Stockton enters the game for DeShawn Stevenson.
67 - 56
1:40
Quincy Lewis enters the game for Bryon Russell.
67 - 56
1:40
Donyell Marshall enters the game for Karl Malone.
67 - 56
1:28
Donyell Marshall made 17 ft Jumper.
67 - 58
1:07
Tim Duncan missed Two Point Shot.
67 - 58
1:04
Quincy Lewis Defensive Rebound.
67 - 58
0:56
Quincy Lewis made Two Point Shot.
67 - 60
0:56
San Antonio Full Timeout.
67 - 60
0:56
Charles Smith enters the game for Bruce Bowen.
67 - 60
0:45
Antonio Daniels missed 19 ft Jumper.
67 - 60
0:43
Scott Padgett Defensive Rebound.
67 - 60
0:34
John Stockton missed 19 ft Jumper.
67 - 60
0:32
Charles Smith Defensive Rebound.
67 - 60
0:21
Tim Duncan missed Hook Shot.
67 - 60
0:19
Scott Padgett Defensive Rebound.
67 - 60
0:17
Quincy Lewis made Layup. Assisted by John Stockton.
67 - 62
0:00
End of the 3rd Quarter.
67 - 62

time
TEAM
PLAY
SCORE
12:00
Start of the 4th Quarter.
67 - 62
11:45
Jarron Collins missed 15 ft Jumper.
67 - 62
11:42
Danny Ferry Defensive Rebound.
67 - 62
11:26
Tony Parker made 21 ft Jumper.
69 - 62
11:08
Tony Parker Shooting Foul
69 - 62
11:08
Karl Malone enters the game for Jarron Collins.
69 - 62
11:08
John Stockton missed Free Throw 1 of 2.
69 - 62
11:08
Utah Offensive Rebound.
69 - 62
11:08
Terry Porter enters the game for Tony Parker.
69 - 62
11:08
John Stockton made Free Throw 2 of 2.
69 - 63
10:48
Terry Porter missed Jumper.
69 - 63
10:47
Karl Malone Defensive Rebound.
69 - 63
10:40
Tim Duncan Illegal Defense Foul
69 - 63
10:40
John Stockton made Technical Free Throw.
69 - 64
10:33
Quincy Lewis made 21 ft Jumper. Assisted by John Stockton.
69 - 66
10:19
Donyell Marshall Personal Foul
69 - 66
10:08
Tim Duncan missed Layup. Blocked by Donyell Marshall.
69 - 66
10:06
Scott Padgett Defensive Rebound.
69 - 66
10:00
Donyell Marshall missed Layup. Blocked by Tim Duncan.
69 - 66
10:00
Antonio Daniels Defensive Rebound.
69 - 66
9:48
Danny Ferry made Three Point Jumper. Assisted by Terry Porter.
72 - 66
9:32
Quincy Lewis made 21 ft Jumper.
72 - 68
9:07
Antonio Daniels missed 24 ft Three Point Jumper.
72 - 68
9:06
Donyell Marshall Defensive Rebound.
72 - 68
9:00
Quincy Lewis missed Jumper.
72 - 68
8:56
Antonio Daniels Defensive Rebound.
72 - 68
8:53
Donyell Marshall Shooting Foul
72 - 68
8:53
Official Timeout.
72 - 68
8:53
Andrei Kirilenko enters the game for Donyell Marshall.
72 - 68
8:53
Antonio Daniels made Free Throw 1 of 2.
73 - 68
8:53
Antonio Daniels made Free Throw 2 of 2.
74 - 68
8:38
Scott Padgett missed 8 ft Jumper.
74 - 68
8:37
Tim Duncan Defensive Rebound.
74 - 68
8:26
Charles Smith missed 6 ft Jumper. Blocked by Andrei Kirilenko.
74 - 68
8:25
Quincy Lewis Defensive Rebound.
74 - 68
8:18
Quincy Lewis made 17 ft Jumper. Assisted by John Stockton.
74 - 70
7:54
Quincy Lewis Illegal Defense Foul
74 - 70
7:54
Danny Ferry made Technical Free Throw.
75 - 70
7:46
Danny Ferry missed 19 ft Jumper.
75 - 70
7:43
Tim Duncan Offensive Rebound.
75 - 70
7:35
Charles Smith missed Jumper.
75 - 70
7:35
Karl Malone Defensive Rebound.
75 - 70
7:35
Tim Duncan Loose Ball Foul
75 - 70
7:35
Steve Smith enters the game for Charles Smith.
75 - 70
7:24
John Stockton Bad Pass. Stolen by Terry Porter.
75 - 70
7:20
Antonio Daniels made Layup. Assisted by Terry Porter.
77 - 70
7:20
Defensive Goaltending
77 - 70
7:05
John Stockton missed Jumper.
77 - 70
7:05
Utah Offensive Rebound.
77 - 70
7:03
Danny Ferry Shooting Foul
77 - 70
7:03
Andrei Kirilenko missed Free Throw 1 of 2.
77 - 70
7:03
Utah Offensive Rebound.
77 - 70
7:03
Andrei Kirilenko made Free Throw 2 of 2.
77 - 71
6:50
Terry Porter missed Two Point Shot. Blocked by Andrei Kirilenko.
77 - 71
6:48
Quincy Lewis Defensive Rebound.
77 - 71
6:41
John Stockton made 23 ft Jumper. Assisted by Quincy Lewis.
77 - 73
6:20
Karl Malone Shooting Foul
77 - 73
6:20
Tim Duncan missed Free Throw 1 of 2.
77 - 73
6:20
San Antonio Offensive Rebound.
77 - 73
6:20
Tim Duncan made Free Throw 2 of 2.
78 - 73
6:07
Danny Ferry Personal Foul
78 - 73
6:07
Bruce Bowen enters the game for Antonio Daniels.
78 - 73
5:56
Scott Padgett Bad Pass. Stolen by Terry Porter.
78 - 73
5:41
Karl Malone Shooting Foul
78 - 73
5:41
Utah Full Timeout.
78 - 73
5:41
Tim Duncan made Free Throw 1 of 2.
79 - 73
5:41
Tim Duncan missed Free Throw 2 of 2.
79 - 73
5:41
Andrei Kirilenko Defensive Rebound.
79 - 73
5:24
Scott Padgett Lost Ball. Stolen by Bruce Bowen.
79 - 73
5:03
Steve Smith missed 17 ft Jumper.
79 - 73
5:03
San Antonio Offensive Rebound.
79 - 73
5:01
Danny Ferry made 18 ft Jumper. Assisted by Bruce Bowen.
81 - 73
4:47
Terry Porter Personal Foul
81 - 73
4:47
John Stockton made Free Throw 1 of 2.
81 - 74
4:47
Donyell Marshall enters the game for Scott Padgett.
81 - 74
4:47
John Stockton made Free Throw 2 of 2.
81 - 75
4:28
Tim Duncan missed 10 ft Jumper.
81 - 75
4:24
Danny Ferry Offensive Rebound.
81 - 75
4:24
Terry Porter missed 24 ft Three Point Jumper.
81 - 75
4:22
San Antonio Defensive Rebound.
81 - 75
4:05
John Stockton made Three Point Jumper. Assisted by Karl Malone.
81 - 78
3:50
Quincy Lewis Personal Foul
81 - 78
3:50
Bruce Bowen made Free Throw 1 of 2.
82 - 78
3:50
Tony Parker enters the game for Terry Porter.
82 - 78
3:50
Bruce Bowen missed Free Throw 2 of 2.
82 - 78
3:49
Andrei Kirilenko Defensive Rebound.
82 - 78
3:31
Karl Malone missed 14 ft Jumper.
82 - 78
3:30
Steve Smith Defensive Rebound.
82 - 78
3:13
Bruce Bowen missed 23 ft Three Point Jumper.
82 - 78
3:11
Karl Malone Defensive Rebound.
82 - 78
2:57
Andrei Kirilenko missed Layup. Blocked by Tim Duncan.
82 - 78
2:56
Tony Parker Defensive Rebound.
82 - 78
2:32
24 second
82 - 78
2:32
San Antonio Full Timeout.
82 - 78
2:32
Bryon Russell enters the game for Quincy Lewis.
82 - 78
2:18
Andrei Kirilenko made Dunk. Assisted by John Stockton.
82 - 80
1:54
John Stockton Shooting Foul
82 - 80
1:54
Tony Parker made Free Throw 1 of 2.
83 - 80
1:54
Tony Parker made Free Throw 2 of 2.
84 - 80
1:32
John Stockton made 10 ft Two Point Shot.
84 - 82
1:15
Tim Duncan missed 13 ft Jumper. Blocked by Karl Malone.
84 - 82
1:10
Donyell Marshall Defensive Rebound.
84 - 82
0:53
Bryon Russell made Jumper.
84 - 84
0:33
Tony Parker missed 21 ft Jumper.
84 - 84
0:32
Bryon Russell Defensive Rebound.
84 - 84
0:09
Karl Malone missed 17 ft Jumper.
84 - 84
0:07
Tim Duncan Defensive Rebound.
84 - 84
0:02
Tony Parker made Two Point Shot.
86 - 84
0:02
Utah Full Timeout.
86 - 84
0:02
Scott Padgett enters the game for Donyell Marshall.
86 - 84
0:00
Bryon Russell missed 28 ft Three Point Jumper.
86 - 84
0:00
Utah Offensive Rebound.
86 - 84
0:00
End of the 4th Quarter.
86 - 84
0:00
End Game
86 - 84
0:00
End Game
86 - 84
Atlanta makes 14 3-pointers and outscore Boston by 32 points in the middle two quarters to win 110-83 and take a 3-2 series lead. Isaiah Thomas leaves the game in the fourth quarter after suffering a left ankle sprain.

Isaiah Thomas awkwardly lands on his left ankle after making a layup and intentionally fouls a Hawks player to run straight to the locker room.

Kent Bazemore sparked a stunning turnaround with three straight 3-pointers in the second quarter, and the Hawks reclaimed the upper hand in their playoff series against the Celtics.
Regular Season Series
SA wins series 4-0