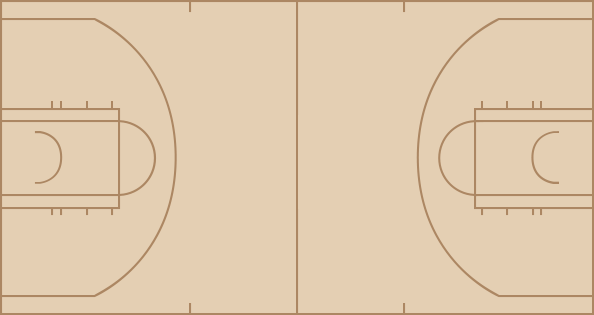 Bulls
time
TEAM
PLAY
SCORE
12:00
Start of the 1st Quarter.
0 - 0
12:00
Jumpball. Tyson Chandler vs. Theo Ratliff. Shareef Abdur-Rahim gains possession.
0 - 0
11:45
Glenn Robinson missed Three Point Jumper.
0 - 0
11:41
Jay Williams Defensive Rebound.
0 - 0
11:37
Jay Williams missed Layup.
0 - 0
11:36
Trenton Hassell Offensive Rebound.
2 - 0
11:36
Trenton Hassell made Layup.
2 - 0
11:30
Theo Ratliff made Dunk. Assisted by Glenn Robinson.
2 - 2
11:06
Eddy Curry missed 7 ft Jumper. Blocked by Theo Ratliff.
2 - 2
11:03
Shareef Abdur-Rahim Defensive Rebound.
2 - 2
10:59
Ira Newble made Layup. Assisted by Theo Ratliff.
2 - 4
10:41
Jalen Rose missed 7 ft Jumper.
2 - 4
10:38
Eddy Curry Offensive Rebound.
4 - 4
10:38
Eddy Curry made Tip Shot.
4 - 4
10:33
Jay Williams Personal Foul
4 - 4
10:25
Shareef Abdur-Rahim missed Layup. Blocked by Tyson Chandler.
4 - 4
10:22
Eddy Curry Defensive Rebound.
4 - 4
10:15
Theo Ratliff Shooting Foul
4 - 4
10:15
Jalen Rose missed Free Throw 1 of 2.
4 - 4
10:15
Chicago Offensive Rebound.
4 - 4
10:15
Jalen Rose made Free Throw 2 of 2.
5 - 4
9:52
Glenn Robinson made Layup. Assisted by Theo Ratliff.
5 - 6
9:34
Eddy Curry missed Layup. Blocked by Theo Ratliff.
5 - 6
9:32
Tyson Chandler Offensive Rebound.
5 - 6
9:30
Tyson Chandler missed 5 ft Jumper.
5 - 6
9:29
Theo Ratliff Defensive Rebound.
5 - 6
9:26
Jason Terry missed Layup.
5 - 6
9:25
Eddy Curry Defensive Rebound.
5 - 6
9:19
Jalen Rose missed Jumper.
5 - 6
9:18
Shareef Abdur-Rahim Defensive Rebound.
5 - 6
9:11
Glenn Robinson missed 8 ft Jumper.
5 - 6
9:08
Jay Williams Defensive Rebound.
5 - 6
9:00
Eddy Curry Lost Ball. Stolen by Shareef Abdur-Rahim.
5 - 6
8:53
Ira Newble made Dunk. Assisted by Theo Ratliff.
5 - 8
8:30
Tyson Chandler missed 14 ft Jumper.
5 - 8
8:27
Theo Ratliff Defensive Rebound.
5 - 8
8:18
Jason Terry missed Three Point Jumper.
5 - 8
8:17
Trenton Hassell Defensive Rebound.
5 - 8
8:15
Jay Williams Traveling
5 - 8
8:11
Shareef Abdur-Rahim made Jumper.
5 - 10
8:11
Tyson Chandler Shooting Foul
5 - 10
8:11
Shareef Abdur-Rahim missed Free Throw 1 of 1.
5 - 10
8:11
Eddy Curry Defensive Rebound.
5 - 10
7:50
Jay Williams missed 16 ft Jumper.
5 - 10
7:48
Jalen Rose Offensive Rebound.
5 - 10
7:37
Jalen Rose missed 26 ft Three Point Jumper.
5 - 10
7:35
Tyson Chandler Offensive Rebound.
5 - 10
7:31
Jay Williams missed 26 ft Three Point Jumper.
5 - 10
7:28
Glenn Robinson Defensive Rebound.
5 - 10
7:15
Jason Terry made Two Point Shot.
5 - 12
6:58
Jalen Rose made Two Point Shot.
7 - 12
6:48
Glenn Robinson made 8 ft Jumper. Assisted by Jason Terry.
7 - 14
6:30
Jalen Rose made Two Point Shot.
9 - 14
6:13
Ira Newble made Dunk. Assisted by Shareef Abdur-Rahim.
9 - 16
5:58
Jalen Rose made 17 ft Jumper. Assisted by Jay Williams.
11 - 16
5:39
Glenn Robinson made 13 ft Jumper. Assisted by Jason Terry.
11 - 18
5:26
Jalen Rose made 17 ft Two Point Shot.
13 - 18
5:16
Atlanta Full Timeout.
13 - 18
5:16
Alan Henderson enters the game for Shareef Abdur-Rahim.
13 - 18
5:11
Theo Ratliff missed 7 ft Jumper.
13 - 18
5:07
Theo Ratliff Offensive Rebound.
13 - 18
5:07
Theo Ratliff missed 4 ft Jumper.
13 - 18
5:07
Trenton Hassell Defensive Rebound.
13 - 18
4:48
Jalen Rose missed 8 ft Jumper. Blocked by Theo Ratliff.
13 - 18
4:46
Ira Newble Defensive Rebound.
13 - 18
4:43
Trenton Hassell Shooting Foul
13 - 18
4:43
Ira Newble made Free Throw 1 of 2.
13 - 19
4:43
Donyell Marshall enters the game for Eddy Curry.
13 - 19
4:43
Ira Newble missed Free Throw 2 of 2.
13 - 19
4:41
Donyell Marshall Defensive Rebound.
13 - 19
4:22
Tyson Chandler missed Layup.
13 - 19
4:20
Chicago Defensive Rebound.
13 - 19
4:11
Jason Terry Bad Pass
13 - 19
3:53
Tyson Chandler missed 12 ft Jumper.
13 - 19
3:50
Jason Terry Defensive Rebound.
13 - 19
3:44
Glenn Robinson made 16 ft Jumper. Assisted by Jason Terry.
13 - 21
3:31
Jay Williams missed 4 ft Jumper.
13 - 21
3:30
Theo Ratliff Defensive Rebound.
13 - 21
3:21
Glenn Robinson missed 7 ft Jumper. Blocked by Tyson Chandler.
13 - 21
3:19
Donyell Marshall Defensive Rebound.
13 - 21
3:16
Ira Newble Personal Foul
13 - 21
3:16
Marcus Fizer enters the game for Tyson Chandler.
13 - 21
3:16
Antonio Harvey enters the game for Theo Ratliff.
13 - 21
3:16
Emanual Davis enters the game for Ira Newble.
13 - 21
3:12
Emanual Davis Shooting Foul
13 - 21
3:12
Jalen Rose made Free Throw 1 of 2.
14 - 21
3:12
Jalen Rose made Free Throw 2 of 2.
15 - 21
3:03
Alan Henderson Offensive Foul
15 - 21
3:03
Alan Henderson Foul
15 - 21
2:48
Jay Williams Bad Pass. Stolen by Emanual Davis.
15 - 21
2:42
Glenn Robinson made 13 ft Jumper. Assisted by Emanual Davis.
15 - 23
2:18
Jalen Rose missed 6 ft Jumper.
15 - 23
2:16
Alan Henderson Defensive Rebound.
15 - 23
2:14
Alan Henderson Bad Pass. Stolen by Donyell Marshall.
15 - 23
2:12
Donyell Marshall made Layup.
17 - 23
2:00
Jason Terry missed 6 ft Jumper.
17 - 23
1:57
Alan Henderson Offensive Rebound.
17 - 23
1:57
Alan Henderson missed Layup. Blocked by Donyell Marshall.
17 - 23
1:54
Jay Williams Defensive Rebound.
17 - 23
1:47
Donyell Marshall made Dunk. Assisted by Trenton Hassell.
19 - 23
1:31
Jason Terry made Two Point Shot.
19 - 25
1:05
Chicago Full Timeout.
19 - 25
1:05
Jamal Crawford enters the game for Jay Williams.
19 - 25
1:00
Donyell Marshall missed 13 ft Jumper.
19 - 25
0:59
Glenn Robinson Defensive Rebound.
19 - 25
0:53
Emanual Davis made 24 ft Three Point Jumper. Assisted by Glenn Robinson.
19 - 28
0:37
Trenton Hassell Bad Pass. Stolen by Emanual Davis.
19 - 28
0:32
Emanual Davis Traveling
19 - 28
0:32
Eddie Robinson enters the game for Trenton Hassell.
19 - 28
0:16
Defensive Goaltending
21 - 28
0:16
Donyell Marshall made Layup.
21 - 28
0:06
Jamal Crawford Personal Foul
21 - 28
0:00
Emanual Davis missed 23 ft Jumper.
21 - 28
0:00
Atlanta Defensive Rebound.
21 - 28
0:00
End of the 1st Quarter.
21 - 28

time
TEAM
PLAY
SCORE
12:00
Start of the 2nd Quarter.
21 - 28
11:45
Eddie Robinson missed 7 ft Jumper.
21 - 28
11:44
Alan Henderson Defensive Rebound.
21 - 28
11:26
Dan Dickau missed 18 ft Jumper.
21 - 28
11:25
Alan Henderson Offensive Rebound.
21 - 28
11:18
Darvin Ham missed Jumper. Blocked by Donyell Marshall.
21 - 28
11:15
Alan Henderson Offensive Rebound.
21 - 30
11:15
Alan Henderson made Dunk.
21 - 30
10:56
Eddie Robinson missed Layup.
21 - 30
10:56
Emanual Davis Defensive Rebound.
21 - 30
10:55
Marcus Fizer Personal Foul
21 - 30
10:45
Dan Dickau missed Three Point Jumper.
21 - 30
10:42
Jamal Crawford Defensive Rebound.
21 - 30
10:40
Emanual Davis Shooting Foul
21 - 30
10:40
Eddie Robinson missed Free Throw 1 of 2.
21 - 30
10:40
Chicago Offensive Rebound.
21 - 30
10:40
Eddie Robinson made Free Throw 2 of 2.
22 - 30
10:22
Dan Dickau Lost Ball. Stolen by Marcus Fizer.
22 - 30
10:14
Fred Hoiberg made 18 ft Jumper. Assisted by Jamal Crawford.
24 - 30
9:59
Shareef Abdur-Rahim made Jumper. Assisted by Emanual Davis.
24 - 32
9:47
Marcus Fizer missed 15 ft Jumper.
24 - 32
9:45
Alan Henderson Defensive Rebound.
24 - 32
9:30
Alan Henderson missed 10 ft Jumper.
24 - 32
9:27
Donyell Marshall Defensive Rebound.
24 - 32
9:22
Dan Dickau Personal Foul
24 - 32
9:17
Jamal Crawford made 14 ft Two Point Shot.
26 - 32
9:04
Darvin Ham missed 17 ft Jumper.
26 - 32
9:03
Jamal Crawford Defensive Rebound.
26 - 32
8:59
Dan Dickau Shooting Foul
26 - 32
8:59
Official Timeout.
26 - 32
8:59
Dion Glover enters the game for Alan Henderson.
26 - 32
8:59
Jason Terry enters the game for Emanual Davis.
26 - 32
8:59
Theo Ratliff enters the game for Dan Dickau.
26 - 32
8:59
Jamal Crawford made Free Throw 1 of 2.
27 - 32
8:59
Jamal Crawford made Free Throw 2 of 2.
28 - 32
8:38
Eddie Robinson Shooting Foul
28 - 32
8:38
Shareef Abdur-Rahim made Free Throw 1 of 2.
28 - 33
8:38
Shareef Abdur-Rahim made Free Throw 2 of 2.
28 - 34
8:21
Donyell Marshall missed 14 ft Jumper.
28 - 34
8:18
Shareef Abdur-Rahim Defensive Rebound.
28 - 34
8:14
Eddie Robinson Personal Foul
28 - 34
8:00
Shareef Abdur-Rahim made Dunk. Assisted by Theo Ratliff.
28 - 36
7:37
Marcus Fizer missed 8 ft Jumper. Blocked by Theo Ratliff.
28 - 36
7:35
Shareef Abdur-Rahim Defensive Rebound.
28 - 36
7:30
Shareef Abdur-Rahim made 25 ft Three Point Jumper. Assisted by Jason Terry.
28 - 39
7:01
Marcus Fizer made 21 ft Jumper. Assisted by Jamal Crawford.
30 - 39
6:54
Jason Terry Bad Pass. Stolen by Fred Hoiberg.
30 - 39
6:48
Jamal Crawford Out of Bounds
30 - 39
6:39
Dion Glover missed 16 ft Jumper.
30 - 39
6:37
Eddie Robinson Defensive Rebound.
30 - 39
6:33
Donyell Marshall Out of Bounds
30 - 39
6:18
Jason Terry made 17 ft Jumper.
30 - 41
6:05
Chicago Full Timeout.
30 - 41
6:05
Glenn Robinson enters the game for Darvin Ham.
30 - 41
6:05
Ira Newble enters the game for Dion Glover.
30 - 41
6:05
Jalen Rose enters the game for Marcus Fizer.
30 - 41
6:05
Corie Blount enters the game for Eddie Robinson.
30 - 41
5:54
Fred Hoiberg missed 20 ft Jumper.
30 - 41
5:54
Corie Blount Offensive Rebound.
30 - 41
5:41
Donyell Marshall missed 16 ft Jumper.
30 - 41
5:39
Jason Terry Defensive Rebound.
30 - 41
5:35
Jalen Rose Shooting Foul
30 - 41
5:35
Theo Ratliff made Free Throw 1 of 2.
30 - 42
5:35
Theo Ratliff missed Free Throw 2 of 2.
30 - 42
5:35
Atlanta Defensive Rebound.
30 - 42
5:35
Shareef Abdur-Rahim Loose Ball Foul
30 - 42
5:22
Corie Blount Bad Pass
30 - 42
5:01
Jalen Rose Shooting Foul
30 - 42
5:01
Glenn Robinson made Free Throw 1 of 2.
30 - 43
5:01
Trenton Hassell enters the game for Fred Hoiberg.
30 - 43
5:01
Glenn Robinson made Free Throw 2 of 2.
30 - 44
4:46
Corie Blount Traveling
30 - 44
4:30
Donyell Marshall Shooting Foul
30 - 44
4:30
Theo Ratliff missed Free Throw 1 of 2.
30 - 44
4:30
Atlanta Offensive Rebound.
30 - 44
4:30
Alan Henderson enters the game for Shareef Abdur-Rahim.
30 - 44
4:30
Theo Ratliff made Free Throw 2 of 2.
30 - 45
4:11
Corie Blount missed 16 ft Jumper.
30 - 45
4:09
Ira Newble Defensive Rebound.
30 - 45
4:03
Jason Terry missed 19 ft Jumper.
30 - 45
4:01
Jalen Rose Defensive Rebound.
30 - 45
3:56
Jalen Rose missed 5 ft Jumper.
30 - 45
3:54
Donyell Marshall Offensive Rebound.
32 - 45
3:54
Donyell Marshall made Layup.
32 - 45
3:43
Donyell Marshall Shooting Foul
32 - 45
3:43
Jason Terry made Free Throw 1 of 2.
32 - 46
3:43
Jay Williams enters the game for Jamal Crawford.
32 - 46
3:43
Jason Terry made Free Throw 2 of 2.
32 - 47
3:23
Corie Blount made 15 ft Two Point Shot. Assisted by Jay Williams.
34 - 47
3:00
Glenn Robinson made 13 ft Jumper.
34 - 49
2:36
Trenton Hassell made Three Point Jumper. Assisted by Jalen Rose.
37 - 49
2:28
Corie Blount Personal Foul
37 - 49
2:28
Atlanta Full Timeout.
37 - 49
2:28
Antonio Harvey enters the game for Theo Ratliff.
37 - 49
2:28
Jason Terry made Free Throw 1 of 2.
37 - 50
2:28
Jason Terry made Free Throw 2 of 2.
37 - 51
2:12
Jalen Rose made 6 ft Jumper.
39 - 51
1:46
Glenn Robinson missed 6 ft Jumper. Blocked by Trenton Hassell.
39 - 51
1:45
Atlanta Offensive Rebound.
39 - 51
1:44
Glenn Robinson made 17 ft Jumper. Assisted by Ira Newble.
39 - 53
1:25
Jalen Rose made 11 ft Jumper. Assisted by Jay Williams.
41 - 53
1:25
Glenn Robinson Shooting Foul
41 - 53
1:25
Jalen Rose missed Free Throw 1 of 1.
41 - 53
1:15
Antonio Harvey Defensive Rebound.
41 - 53
1:15
Antonio Harvey Bad Pass. Stolen by Jay Williams.
44 - 55
0:58
Jay Williams missed Jumper.
41 - 53
0:55
Antonio Harvey Defensive Rebound.
41 - 53
0:54
Ira Newble missed Two Point Shot.
44 - 55
0:52
Alan Henderson Offensive Rebound.
44 - 57
0:52
Alan Henderson made Two Point Shot.
44 - 57
0:34
Glenn Robinson Traveling
41 - 53
0:32
Jason Terry Personal Foul
41 - 53
0:32
Jay Williams made Free Throw 1 of 2.
42 - 53
0:32
Jay Williams made Free Throw 2 of 2.
43 - 53
0:18
Jay Williams Shooting Foul
43 - 53
0:18
Glenn Robinson made Free Throw 1 of 2.
43 - 54
0:18
Fred Hoiberg enters the game for Corie Blount.
43 - 54
0:18
Emanual Davis enters the game for Jason Terry.
43 - 54
0:18
Darvin Ham enters the game for Antonio Harvey.
43 - 54
0:18
Glenn Robinson made Free Throw 2 of 2.
43 - 55
0:02
Alan Henderson Shooting Foul
43 - 55
0:02
Donyell Marshall missed Free Throw 1 of 2.
43 - 55
0:02
Chicago Offensive Rebound.
43 - 55
0:02
Donyell Marshall made Free Throw 2 of 2.
44 - 55
0:02
Darvin Ham Bad Pass. Stolen by Fred Hoiberg.
44 - 55
0:00
End of the 2nd Quarter.
44 - 57

time
TEAM
PLAY
SCORE
12:00
Start of the 3rd Quarter.
44 - 57
12:00
Start of the 3rd Quarter.
44 - 57
11:37
Jalen Rose missed 14 ft Jumper.
44 - 57
11:36
Glenn Robinson Defensive Rebound.
44 - 57
11:27
Theo Ratliff made 14 ft Jumper. Assisted by Glenn Robinson.
44 - 59
11:17
Eddy Curry Offensive Foul
44 - 59
11:17
Eddy Curry Foul
44 - 59
11:03
Theo Ratliff missed Layup.
44 - 59
11:02
Tyson Chandler Defensive Rebound.
44 - 59
10:45
Jay Williams missed 25 ft Three Point Jumper.
44 - 59
10:42
Chicago Defensive Rebound.
44 - 59
10:32
Jason Terry missed 25 ft Three Point Jumper.
44 - 59
10:30
Tyson Chandler Defensive Rebound.
44 - 59
10:22
Eddy Curry made Two Point Shot.
46 - 59
10:03
Shareef Abdur-Rahim Bad Pass. Stolen by Trenton Hassell.
46 - 59
9:57
Trenton Hassell made Dunk.
48 - 59
9:48
Theo Ratliff made 19 ft Jumper. Assisted by Ira Newble.
48 - 61
9:26
Eddy Curry missed Layup.
48 - 61
9:26
Chicago Defensive Rebound.
48 - 61
9:14
Jason Terry made 18 ft Jumper.
48 - 63
8:56
Tyson Chandler missed 7 ft Jumper.
48 - 63
8:53
Glenn Robinson Defensive Rebound.
48 - 63
8:51
Glenn Robinson Discontinue Dribble
48 - 63
8:33
Jalen Rose made 18 ft Jumper.
50 - 63
8:15
Glenn Robinson missed 18 ft Jumper.
50 - 63
8:12
Tyson Chandler Defensive Rebound.
50 - 63
8:04
Ira Newble Personal Foul
50 - 63
7:58
Jalen Rose made 13 ft Two Point Shot.
52 - 63
7:48
Jason Terry missed 13 ft Jumper.
52 - 63
7:45
Glenn Robinson Offensive Rebound.
52 - 63
7:45
Glenn Robinson missed 9 ft Jumper.
52 - 63
7:43
Eddy Curry Defensive Rebound.
52 - 63
7:35
Trenton Hassell missed 13 ft Jumper.
52 - 63
7:33
Chicago Offensive Rebound.
52 - 63
7:31
Jalen Rose missed 14 ft Jumper.
52 - 63
7:30
Theo Ratliff Defensive Rebound.
52 - 63
7:28
Theo Ratliff Bad Pass. Stolen by Jalen Rose.
52 - 63
7:24
Jay Williams missed Layup. Blocked by Theo Ratliff.
52 - 63
7:22
Glenn Robinson Defensive Rebound.
52 - 63
7:18
Jason Terry made 13 ft Jumper. Assisted by Shareef Abdur-Rahim.
52 - 65
6:58
Eddy Curry made Layup. Assisted by Jay Williams.
54 - 65
6:58
Shareef Abdur-Rahim Shooting Foul
54 - 65
6:58
Eddy Curry made Free Throw 1 of 1.
55 - 65
6:43
Shareef Abdur-Rahim missed 20 ft Jumper.
55 - 65
6:41
Tyson Chandler Defensive Rebound.
55 - 65
6:28
Eddy Curry Traveling
55 - 65
6:13
Jason Terry missed 25 ft Three Point Jumper.
55 - 65
6:11
Trenton Hassell Defensive Rebound.
55 - 65
5:58
Eddy Curry missed Jumper.
55 - 65
5:56
Trenton Hassell Offensive Rebound.
55 - 65
5:54
Shareef Abdur-Rahim Shooting Foul
55 - 65
5:54
Atlanta Full Timeout.
55 - 65
5:54
Alan Henderson enters the game for Shareef Abdur-Rahim.
55 - 65
5:54
Donyell Marshall enters the game for Eddy Curry.
55 - 65
5:54
Tyson Chandler missed Free Throw 1 of 2.
55 - 65
5:54
Chicago Offensive Rebound.
55 - 65
5:54
Tyson Chandler missed Free Throw 2 of 2.
55 - 65
5:52
Alan Henderson Defensive Rebound.
55 - 65
5:33
Glenn Robinson missed 13 ft Jumper.
55 - 65
5:31
Jalen Rose Defensive Rebound.
55 - 65
5:22
Jay Williams missed 26 ft Three Point Jumper.
55 - 65
5:20
Tyson Chandler Offensive Rebound.
55 - 65
5:20
Tyson Chandler missed 4 ft Jumper.
55 - 65
5:18
Ira Newble Defensive Rebound.
55 - 65
5:13
Alan Henderson Lost Ball
55 - 65
5:01
Ira Newble Shooting Foul
55 - 65
5:01
Jalen Rose made Free Throw 1 of 2.
56 - 65
5:01
Jalen Rose made Free Throw 2 of 2.
57 - 65
4:46
Theo Ratliff 3 second
57 - 65
4:26
Donyell Marshall missed Layup. Blocked by Theo Ratliff.
57 - 65
4:24
Glenn Robinson Defensive Rebound.
57 - 65
4:20
Glenn Robinson made 24 ft Three Point Jumper. Assisted by Jason Terry.
57 - 68
4:03
Jay Williams made Two Point Shot.
59 - 68
3:57
Jalen Rose Personal Foul
59 - 68
3:54
Ira Newble missed Layup.
59 - 68
3:51
Alan Henderson Offensive Rebound.
59 - 68
3:51
Alan Henderson missed Layup. Blocked by Tyson Chandler.
59 - 68
3:51
Atlanta Offensive Rebound.
59 - 68
3:45
Jason Terry made 6 ft Two Point Shot.
59 - 70
3:28
Trenton Hassell made Two Point Shot.
61 - 70
3:05
Theo Ratliff missed Layup. Blocked by Tyson Chandler.
61 - 70
3:02
Theo Ratliff Offensive Rebound.
61 - 70
3:00
Theo Ratliff missed 16 ft Jumper. Blocked by Donyell Marshall.
61 - 70
2:58
Jay Williams Defensive Rebound.
61 - 70
2:56
Donyell Marshall made Layup. Assisted by Jalen Rose.
63 - 70
2:38
Atlanta 20 Sec. Timeout.
63 - 70
2:38
Chicago Full Timeout.
63 - 70
2:38
Darvin Ham enters the game for Theo Ratliff.
63 - 70
2:27
Glenn Robinson made 13 ft Jumper. Assisted by Jason Terry.
63 - 72
2:05
Donyell Marshall missed 28 ft Three Point Jumper.
63 - 72
2:03
Chicago Defensive Rebound.
63 - 72
1:44
Glenn Robinson missed 13 ft Jumper.
63 - 72
1:42
Ira Newble Offensive Rebound.
63 - 72
1:34
Jason Terry missed 18 ft Jumper.
63 - 72
1:32
Ira Newble Offensive Rebound.
63 - 72
1:15
Trenton Hassell Shooting Foul
63 - 72
1:15
Glenn Robinson made Free Throw 1 of 2.
63 - 73
1:15
Emanual Davis enters the game for Jason Terry.
63 - 73
1:15
Glenn Robinson missed Free Throw 2 of 2.
63 - 73
1:15
Tyson Chandler Defensive Rebound.
63 - 73
1:04
Tyson Chandler Lost Ball
63 - 73
1:04
Jamal Crawford enters the game for Jay Williams.
63 - 73
1:04
Marcus Fizer enters the game for Tyson Chandler.
63 - 73
0:43
Emanual Davis missed 16 ft Jumper.
63 - 73
0:42
Atlanta Offensive Rebound.
63 - 73
0:40
Alan Henderson missed Jumper.
63 - 73
0:38
Donyell Marshall Defensive Rebound.
63 - 73
0:26
Darvin Ham Shooting Foul
63 - 73
0:26
Marcus Fizer made Free Throw 1 of 2.
64 - 73
0:26
Jason Terry enters the game for Ira Newble.
64 - 73
0:26
Marcus Fizer made Free Throw 2 of 2.
65 - 73
0:09
Jamal Crawford Personal Foul
65 - 73
0:09
Jason Terry made Free Throw 1 of 2.
65 - 74
0:09
Ira Newble enters the game for Glenn Robinson.
65 - 74
0:09
Jason Terry missed Free Throw 2 of 2.
65 - 74
0:08
Alan Henderson Offensive Rebound.
65 - 74
0:05
Jason Terry missed Jumper.
65 - 74
0:04
Marcus Fizer Defensive Rebound.
65 - 74
0:00
Donyell Marshall missed 25 ft Three Point Jumper.
65 - 74
0:00
Chicago Defensive Rebound.
65 - 74
0:00
End of the 3rd Quarter.
65 - 74

time
TEAM
PLAY
SCORE
12:00
Start of the 4th Quarter.
65 - 74
11:41
Shareef Abdur-Rahim missed 6 ft Jumper.
65 - 74
11:40
Donyell Marshall Defensive Rebound.
65 - 74
11:30
Jalen Rose missed 18 ft Jumper.
65 - 74
11:29
Emanual Davis Defensive Rebound.
65 - 74
11:11
Darvin Ham made Dunk. Assisted by Dion Glover.
65 - 76
10:47
Marcus Fizer missed 15 ft Jumper.
65 - 76
10:45
Ira Newble Defensive Rebound.
65 - 76
10:41
Emanual Davis Bad Pass
65 - 76
10:26
Shareef Abdur-Rahim Shooting Foul
65 - 76
10:26
Donyell Marshall missed Free Throw 1 of 2.
65 - 76
10:26
Chicago Offensive Rebound.
65 - 76
10:26
Donyell Marshall missed Free Throw 2 of 2.
65 - 76
10:25
Emanual Davis Defensive Rebound.
65 - 76
10:07
Emanual Davis Bad Pass. Stolen by Marcus Fizer.
65 - 76
10:03
Jamal Crawford missed Layup. Blocked by Emanual Davis.
65 - 76
10:02
Ira Newble Defensive Rebound.
65 - 76
9:57
Jalen Rose Flagrant Foul Type 1
65 - 76
9:57
Dion Glover made Flagrant Free Throw 1 of 2.
65 - 77
9:57
Dion Glover made Flagrant Free Throw 2 of 2.
65 - 78
9:45
Dion Glover made 19 ft Jumper. Assisted by Ira Newble.
65 - 80
9:26
Dion Glover Illegal Defense Foul
65 - 80
9:26
Jalen Rose made Technical Free Throw.
66 - 80
9:15
Donyell Marshall missed Layup. Blocked by Ira Newble.
66 - 80
9:15
Chicago Offensive Rebound.
66 - 80
9:10
Jalen Rose missed Jumper.
66 - 80
9:08
Chicago Offensive Rebound.
66 - 80
9:03
Marcus Fizer made 10 ft Jumper.
68 - 80
8:37
Shareef Abdur-Rahim missed 20 ft Jumper.
68 - 80
8:37
Eddie Robinson Defensive Rebound.
68 - 80
8:30
Jalen Rose missed 26 ft Three Point Jumper.
68 - 80
8:29
Shareef Abdur-Rahim Defensive Rebound.
68 - 80
8:18
Dion Glover Traveling
68 - 80
8:18
Official Timeout.
68 - 80
8:18
Fred Hoiberg enters the game for Jalen Rose.
68 - 80
8:18
Glenn Robinson enters the game for Ira Newble.
68 - 80
8:18
Alan Henderson enters the game for Darvin Ham.
68 - 80
8:06
Alan Henderson Shooting Foul
68 - 80
8:06
Marcus Fizer made Free Throw 1 of 2.
69 - 80
8:06
Marcus Fizer made Free Throw 2 of 2.
70 - 80
7:48
Shareef Abdur-Rahim missed 13 ft Jumper.
70 - 80
7:47
Atlanta Defensive Rebound.
70 - 80
7:31
Marcus Fizer made Jumper. Assisted by Eddie Robinson.
72 - 80
7:11
Dion Glover missed 16 ft Jumper. Blocked by Marcus Fizer.
72 - 80
7:07
Fred Hoiberg Defensive Rebound.
72 - 80
6:58
Donyell Marshall made 7 ft Jumper.
74 - 80
6:50
Emanual Davis Lost Ball. Stolen by Jamal Crawford.
74 - 80
6:43
Eddie Robinson missed 8 ft Jumper.
74 - 80
6:43
Chicago Offensive Rebound.
74 - 80
6:43
Jason Terry enters the game for Shareef Abdur-Rahim.
74 - 80
6:43
Ira Newble enters the game for Emanual Davis.
74 - 80
6:43
Theo Ratliff enters the game for Dion Glover.
74 - 80
6:30
Jamal Crawford missed Layup.
74 - 80
6:28
Donyell Marshall Offensive Rebound.
76 - 80
6:28
Donyell Marshall made Tip Shot.
76 - 80
6:05
Glenn Robinson missed 13 ft Jumper.
76 - 80
6:03
Theo Ratliff Offensive Rebound.
76 - 80
5:48
Glenn Robinson made Layup.
76 - 82
5:20
Marcus Fizer missed 13 ft Jumper.
76 - 82
5:18
Chicago Defensive Rebound.
76 - 82
5:18
Atlanta Full Timeout.
76 - 82
5:18
Shareef Abdur-Rahim enters the game for Alan Henderson.
76 - 82
5:18
Trenton Hassell enters the game for Eddie Robinson.
76 - 82
5:18
Jalen Rose enters the game for Fred Hoiberg.
76 - 82
4:43
Jamal Crawford Offensive Rebound.
76 - 82
4:43
Jamal Crawford missed 18 ft Jumper.
76 - 82
4:41
Shareef Abdur-Rahim Defensive Rebound.
76 - 82
4:33
Jason Terry Bad Pass. Stolen by Jamal Crawford.
76 - 82
4:13
Glenn Robinson missed Layup. Blocked by Donyell Marshall.
76 - 82
4:11
Trenton Hassell Defensive Rebound.
76 - 82
4:03
Trenton Hassell missed 27 ft Three Point Jumper.
76 - 82
4:01
Theo Ratliff Defensive Rebound.
76 - 82
3:49
Marcus Fizer Personal Foul
76 - 82
3:49
Jay Williams enters the game for Jamal Crawford.
76 - 82
3:49
Corie Blount enters the game for Donyell Marshall.
76 - 82
3:47
Marcus Fizer Personal Foul
76 - 82
3:40
Shareef Abdur-Rahim missed 14 ft Jumper.
76 - 82
3:38
Corie Blount Defensive Rebound.
76 - 82
3:33
Jay Williams made Layup.
78 - 82
3:33
Defensive Goaltending
78 - 82
3:33
Jason Terry Shooting Foul
78 - 82
3:33
Jay Williams made Free Throw 1 of 1.
79 - 82
3:12
Jason Terry missed Jumper.
79 - 82
3:10
Jason Terry Offensive Rebound.
79 - 82
3:10
Corie Blount Shooting Foul
79 - 82
3:10
Theo Ratliff made Free Throw 1 of 2.
79 - 83
3:10
Theo Ratliff made Free Throw 2 of 2.
79 - 84
2:51
Jalen Rose missed Layup.
79 - 84
2:50
Marcus Fizer Offensive Rebound.
79 - 84
2:50
Marcus Fizer Offensive Goaltending
79 - 84
2:50
Chicago Full Timeout.
79 - 84
2:50
Donyell Marshall enters the game for Corie Blount.
79 - 84
2:34
Jay Williams Personal Foul
79 - 84
2:34
Glenn Robinson made Free Throw 1 of 2.
79 - 85
2:34
Glenn Robinson made Free Throw 2 of 2.
79 - 86
2:20
Theo Ratliff Shooting Foul
79 - 86
2:20
Jalen Rose made Free Throw 1 of 2.
80 - 86
2:20
Jalen Rose made Free Throw 2 of 2.
81 - 86
2:11
Jay Williams Personal Foul
81 - 86
2:11
Jason Terry made Free Throw 1 of 2.
81 - 87
2:11
Jason Terry made Free Throw 2 of 2.
81 - 88
1:52
Marcus Fizer made Layup. Assisted by Jay Williams.
83 - 88
1:38
Theo Ratliff made Layup. Assisted by Shareef Abdur-Rahim.
83 - 90
1:27
Jalen Rose missed Three Point Jumper.
83 - 90
1:27
Chicago Defensive Rebound.
83 - 90
1:12
Shareef Abdur-Rahim Traveling
83 - 90
1:07
Chicago Full Timeout.
83 - 90
0:55
Trenton Hassell missed 23 ft Three Point Jumper.
83 - 90
0:53
Marcus Fizer Offensive Rebound.
83 - 90
0:53
Marcus Fizer made Layup.
85 - 90
0:34
Shareef Abdur-Rahim made Jumper. Assisted by Jason Terry.
85 - 92
0:26
Jay Williams missed Layup.
85 - 92
0:25
Ira Newble Defensive Rebound.
85 - 92
0:22
Ira Newble Bad Pass. Stolen by Trenton Hassell.
85 - 92
0:20
Trenton Hassell made Two Point Shot.
87 - 92
0:18
Trenton Hassell Personal Foul
87 - 92
0:18
Glenn Robinson made Free Throw 1 of 2.
87 - 93
0:18
Darvin Ham enters the game for Shareef Abdur-Rahim.
87 - 93
0:18
Glenn Robinson made Free Throw 2 of 2.
87 - 94
0:18
Chicago Full Timeout.
87 - 94
0:18
Eddie Robinson enters the game for Donyell Marshall.
87 - 94
0:13
Jay Williams made 25 ft Three Point Jumper. Assisted by Marcus Fizer.
90 - 94
0:12
Atlanta Full Timeout.
90 - 94
0:12
Donyell Marshall enters the game for Eddie Robinson.
90 - 94
0:12
Emanual Davis enters the game for Darvin Ham.
90 - 94
0:09
Jay Williams Personal Foul
90 - 94
0:09
Jason Terry made Free Throw 1 of 2.
90 - 95
0:09
Jason Terry made Free Throw 2 of 2.
90 - 96
0:09
Chicago Full Timeout.
90 - 96
0:09
Darvin Ham enters the game for Theo Ratliff.
90 - 96
0:01
Jalen Rose missed Jumper.
90 - 96
0:01
Marcus Fizer Offensive Rebound.
90 - 96
0:00
Marcus Fizer missed Layup.
90 - 96
0:00
Donyell Marshall Offensive Rebound.
90 - 96
0:00
End of the 4th Quarter.
90 - 96
0:00
End Game
90 - 96
0:00
End Game
90 - 96
TNT's sideline reporter and ABC's special guest Craig Sager brought magic to Cleveland with an incredible performance by LeBron James and the Cavaliers to force Game 7 in Golden State.

A second straight 41-point performance by the Cavs' cornerstone led Cleveland to a 115-101 Game 6 win against Stephen Curry and the Warriors.

Brian Windhorst joins SVP and provides his insight on how the NBA will handle Steph Curry throwing his mouthguard into the stands and hitting the Cavaliers minority owner' son.
Regular Season Series
Series tied 2-2