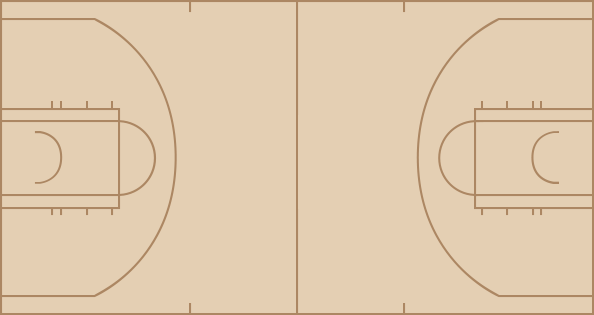 Kings
time
TEAM
PLAY
SCORE
12:00
Start of the 1st Quarter.
0 - 0
12:00
Jumpball. Keon Clark vs. Pau Gasol. Lorenzen Wright gains possession.
0 - 0
11:38
Pau Gasol made Two Point Shot.
0 - 2
11:22
Vlade Divac Bad Pass. Stolen by Pau Gasol.
0 - 2
11:15
Lorenzen Wright made Dunk. Assisted by Jason Williams.
0 - 4
11:07
Bobby Jackson missed 8 ft Jumper.
0 - 4
11:02
Lorenzen Wright Defensive Rebound.
0 - 4
10:56
Lorenzen Wright missed Two Point Shot. Blocked by Keon Clark.
0 - 4
10:51
Jason Williams Offensive Rebound.
0 - 4
10:44
Jason Williams made 26 ft Three Point Jumper. Assisted by Gordan Giricek.
0 - 7
10:23
Keon Clark Lost Ball
0 - 7
10:03
Pau Gasol missed Two Point Shot. Blocked by Keon Clark.
0 - 7
10:00
Doug Christie Defensive Rebound.
0 - 7
9:52
Kicked Ball
0 - 7
9:44
Lorenzen Wright Personal Foul
0 - 7
9:40
Keon Clark made Dunk. Assisted by Doug Christie.
2 - 7
9:23
Jason Williams missed 26 ft Three Point Jumper.
2 - 7
9:22
Vlade Divac Defensive Rebound.
2 - 7
9:22
Jason Williams Personal Foul
2 - 7
9:08
Doug Christie made 14 ft Jumper. Assisted by Bobby Jackson.
4 - 7
8:57
Bobby Jackson Personal Foul
4 - 7
8:52
Gordan Giricek missed 22 ft Jumper.
4 - 7
8:49
Bobby Jackson Defensive Rebound.
4 - 7
8:41
Predrag Stojakovic missed Two Point Shot.
4 - 7
8:18
Bobby Jackson missed 21 ft Jumper.
4 - 7
8:15
Gordan Giricek Defensive Rebound.
4 - 7
8:12
Memphis Offensive Rebound.
4 - 7
8:07
Pau Gasol made Slam Dunk. Assisted by Jason Williams.
4 - 9
7:50
Bobby Jackson made Layup.
6 - 9
7:50
Jason Williams Shooting Foul
6 - 9
7:50
Bobby Jackson missed Free Throw 1 of 1.
6 - 9
7:48
Lorenzen Wright Defensive Rebound.
6 - 9
7:33
Lorenzen Wright missed 13 ft Two Point Shot.
6 - 9
7:30
Doug Christie Defensive Rebound.
6 - 9
7:20
Predrag Stojakovic missed 18 ft Jumper.
6 - 9
7:18
Pau Gasol Defensive Rebound.
6 - 9
7:03
Lorenzen Wright made Layup. Assisted by Pau Gasol.
6 - 11
6:52
Lorenzen Wright Personal Foul
6 - 11
6:47
Vlade Divac made Hook Shot. Assisted by Bobby Jackson.
8 - 11
6:28
Pau Gasol Bad Pass
8 - 11
6:28
Stromile Swift enters the game for Lorenzen Wright.
8 - 11
6:11
Bobby Jackson missed 8 ft Two Point Shot. Blocked by Stromile Swift.
8 - 11
6:11
Sacramento Offensive Rebound.
8 - 11
6:11
Wesley Person enters the game for Gordan Giricek.
8 - 11
6:03
Stromile Swift Defensive Rebound.
8 - 11
6:03
Keon Clark missed Two Point Shot.
8 - 11
5:58
Doug Christie Personal Foul
8 - 11
5:58
Memphis Full Timeout.
8 - 11
5:48
Stromile Swift missed 18 ft Jumper.
8 - 11
5:43
Predrag Stojakovic Defensive Rebound.
8 - 11
5:31
Predrag Stojakovic missed 25 ft Three Point Jumper.
8 - 11
5:28
Stromile Swift Defensive Rebound.
8 - 11
5:20
Pau Gasol missed 6 ft Two Point Shot.
8 - 11
5:16
Vlade Divac Defensive Rebound.
8 - 11
5:11
Keon Clark missed 14 ft Jumper.
8 - 11
5:07
Stromile Swift Defensive Rebound.
8 - 11
5:01
Jason Williams missed 19 ft Jumper.
8 - 11
4:58
Vlade Divac Defensive Rebound.
8 - 11
4:50
Stromile Swift Shooting Foul
8 - 11
4:50
Vlade Divac missed Free Throw 1 of 2.
8 - 11
4:50
Sacramento Offensive Rebound.
8 - 11
4:50
Brevin Knight enters the game for Jason Williams.
8 - 11
4:50
Vlade Divac made Free Throw 2 of 2.
9 - 11
4:35
Keon Clark Shooting Foul
9 - 11
4:35
Shane Battier made Free Throw 1 of 2.
9 - 12
4:35
Shane Battier made Free Throw 2 of 2.
9 - 13
4:24
Predrag Stojakovic missed 16 ft Jumper.
9 - 13
4:22
Pau Gasol Defensive Rebound.
9 - 13
4:22
Keon Clark Loose Ball Foul
9 - 13
4:22
Lawrence Funderburke enters the game for Keon Clark.
9 - 13
4:05
Stromile Swift missed 5 ft Two Point Shot.
9 - 13
4:01
Pau Gasol Offensive Rebound.
9 - 13
4:01
Pau Gasol made Jumper.
9 - 15
3:49
Vlade Divac Offensive Foul
9 - 15
3:49
Vlade Divac Foul
9 - 15
3:35
Pau Gasol Bad Pass. Stolen by Doug Christie.
9 - 15
3:30
Bobby Jackson made Layup. Assisted by Doug Christie.
11 - 15
3:15
Pau Gasol made 7 ft Two Point Shot.
11 - 17
3:09
Stromile Swift Personal Foul
11 - 17
3:09
Vlade Divac made Free Throw 1 of 2.
12 - 17
3:09
Vlade Divac made Free Throw 2 of 2.
13 - 17
2:55
Stromile Swift Traveling
13 - 17
2:55
Sacramento Full Timeout.
13 - 17
2:36
Vlade Divac missed Layup.
13 - 17
2:32
Brevin Knight Defensive Rebound.
13 - 17
2:31
Shane Battier missed Layup.
13 - 17
2:28
Pau Gasol Offensive Rebound.
13 - 17
2:24
Pau Gasol Bad Pass. Stolen by Doug Christie.
13 - 17
2:24
Vlade Divac made Layup. Assisted by Doug Christie.
15 - 17
2:24
Vlade Divac Technical Foul
15 - 17
2:24
Wesley Person missed Technical Free Throw.
15 - 17
2:24
Memphis Offensive Rebound.
15 - 17
2:13
Brevin Knight Bad Pass
15 - 17
2:06
Vlade Divac Bad Pass. Stolen by Brevin Knight.
15 - 17
2:00
Wesley Person made Layup. Assisted by Brevin Knight.
15 - 19
1:54
Shane Battier Personal Foul
15 - 19
1:54
Vlade Divac made Free Throw 1 of 2.
16 - 19
1:54
Hidayet Turkoglu enters the game for Predrag Stojakovic.
16 - 19
1:54
Vlade Divac made Free Throw 2 of 2.
17 - 19
1:43
Stromile Swift missed Dunk. Blocked by Lawrence Funderburke.
17 - 19
1:39
Bobby Jackson Defensive Rebound.
17 - 19
1:39
Brevin Knight Shooting Foul
17 - 19
1:39
Bobby Jackson made Free Throw 1 of 2.
18 - 19
1:39
Bobby Jackson made Free Throw 2 of 2.
19 - 19
1:34
Memphis 20 Sec. Timeout.
19 - 19
1:23
Stromile Swift missed Two Point Shot. Blocked by Vlade Divac.
19 - 19
1:22
Memphis Offensive Rebound.
19 - 19
1:19
Brevin Knight made 20 ft Jumper. Assisted by Wesley Person.
19 - 21
0:57
Vlade Divac missed 21 ft Jumper.
19 - 21
0:55
Pau Gasol Defensive Rebound.
19 - 21
0:42
Wesley Person made 25 ft Three Point Jumper. Assisted by Shane Battier.
19 - 24
0:24
Hidayet Turkoglu missed 21 ft Jumper.
19 - 24
0:20
Wesley Person Defensive Rebound.
19 - 24
0:02
Shane Battier made 19 ft Jumper. Assisted by Brevin Knight.
19 - 26
0:00
End of the 1st Quarter.
19 - 26

time
TEAM
PLAY
SCORE
12:00
Start of the 2nd Quarter.
19 - 26
11:48
Hidayet Turkoglu made 18 ft Jumper. Assisted by Doug Christie.
21 - 26
11:30
Brevin Knight missed 17 ft Jumper.
21 - 26
11:27
Hidayet Turkoglu Defensive Rebound.
21 - 26
11:21
Gerald Wallace missed Two Point Shot.
21 - 26
11:17
Lawrence Funderburke Offensive Rebound.
23 - 26
11:17
Lawrence Funderburke made Tip Shot.
23 - 26
11:00
Stromile Swift made Dunk.
23 - 28
10:45
Gerald Wallace missed Dunk.
23 - 28
10:41
Stromile Swift Defensive Rebound.
23 - 28
10:38
Gordan Giricek made Layup. Assisted by Brevin Knight.
23 - 30
10:23
Hidayet Turkoglu made 21 ft Jumper. Assisted by Lawrence Funderburke.
25 - 30
10:08
Drew Gooden missed 7 ft Two Point Shot.
25 - 30
10:07
Hidayet Turkoglu Defensive Rebound.
25 - 30
10:02
Drew Gooden Personal Foul
25 - 30
10:02
Predrag Stojakovic enters the game for Doug Christie.
25 - 30
9:57
Drew Gooden Shooting Foul
25 - 30
9:57
Hidayet Turkoglu made Free Throw 1 of 2.
26 - 30
9:57
Hidayet Turkoglu made Free Throw 2 of 2.
27 - 30
9:48
Stromile Swift made Slam Dunk. Assisted by Brevin Knight.
27 - 32
9:33
Hidayet Turkoglu missed 20 ft Jumper.
27 - 32
9:30
Brevin Knight Defensive Rebound.
27 - 32
9:22
Brevin Knight Bad Pass. Stolen by Damon Jones.
27 - 32
9:18
Gerald Wallace made Dunk. Assisted by Damon Jones.
29 - 32
9:10
Lawrence Funderburke Illegal Defense Foul
29 - 32
9:10
Gordan Giricek made Technical Free Throw.
29 - 33
8:57
Wesley Person missed Two Point Shot.
29 - 33
8:55
Stromile Swift Offensive Rebound.
29 - 33
8:49
Lawrence Funderburke Personal Foul
29 - 33
8:49
Official Timeout.
29 - 33
8:49
Keon Clark enters the game for Lawrence Funderburke.
29 - 33
8:42
Stromile Swift Lost Ball
29 - 33
8:30
Gordan Giricek Personal Foul
29 - 33
8:30
Jason Williams enters the game for Brevin Knight.
29 - 33
8:26
Hidayet Turkoglu made 26 ft Three Point Jumper. Assisted by Gerald Wallace.
32 - 33
8:10
Drew Gooden missed 9 ft Two Point Shot.
32 - 33
8:03
Predrag Stojakovic Defensive Rebound.
32 - 33
8:02
Predrag Stojakovic missed 16 ft Jumper.
32 - 33
7:58
Wesley Person Defensive Rebound.
32 - 33
7:54
Jason Williams missed 20 ft Jumper.
32 - 33
7:52
Keon Clark Defensive Rebound.
32 - 33
7:43
Damon Jones missed 25 ft Three Point Jumper.
32 - 33
7:41
Keon Clark Offensive Rebound.
32 - 33
7:39
Predrag Stojakovic missed 21 ft Jumper.
32 - 33
7:37
Wesley Person Defensive Rebound.
32 - 33
7:28
Hidayet Turkoglu Shooting Foul
32 - 33
7:28
Stromile Swift made Free Throw 1 of 2.
32 - 34
7:28
Stromile Swift made Free Throw 2 of 2.
32 - 35
7:15
Drew Gooden Personal Foul
32 - 35
7:15
Pau Gasol enters the game for Drew Gooden.
32 - 35
7:15
Shane Battier enters the game for Wesley Person.
32 - 35
7:07
Damon Jones made 24 ft Three Point Jumper. Assisted by Gerald Wallace.
35 - 35
6:58
Pau Gasol Offensive Foul
35 - 35
6:58
Pau Gasol Foul
35 - 35
6:46
Hidayet Turkoglu missed 27 ft Three Point Jumper.
35 - 35
6:43
Pau Gasol Defensive Rebound.
35 - 35
6:24
Memphis Full Timeout.
35 - 35
6:20
24 second
35 - 35
6:09
Predrag Stojakovic made 22 ft Jumper. Assisted by Gerald Wallace.
37 - 35
5:52
Shane Battier missed 8 ft Two Point Shot.
37 - 35
5:48
Predrag Stojakovic Defensive Rebound.
37 - 35
5:45
Damon Jones missed 23 ft Three Point Jumper.
37 - 35
5:41
Keon Clark Offensive Rebound.
37 - 35
5:37
Predrag Stojakovic missed 25 ft Three Point Jumper.
37 - 35
5:37
Stromile Swift Defensive Rebound.
37 - 35
5:37
Keon Clark Loose Ball Foul
37 - 35
5:37
Vlade Divac enters the game for Keon Clark.
37 - 35
5:37
Lorenzen Wright enters the game for Stromile Swift.
37 - 35
5:26
Jason Williams missed 5 ft Jumper.
37 - 35
5:24
Hidayet Turkoglu Defensive Rebound.
37 - 35
5:24
Lorenzen Wright Loose Ball Foul
37 - 35
5:24
Hidayet Turkoglu made Free Throw 1 of 2.
38 - 35
5:24
Hidayet Turkoglu made Free Throw 2 of 2.
39 - 35
5:09
Gordan Giricek missed 25 ft Three Point Jumper.
39 - 35
5:07
Gerald Wallace Defensive Rebound.
39 - 35
4:56
Gerald Wallace made 21 ft Jumper. Assisted by Hidayet Turkoglu.
41 - 35
4:43
Jason Williams missed 25 ft Three Point Jumper.
41 - 35
4:43
Gerald Wallace Defensive Rebound.
41 - 35
4:33
Gordan Giricek Shooting Foul
41 - 35
4:33
Gerald Wallace made Free Throw 1 of 2.
42 - 35
4:33
Wesley Person enters the game for Gordan Giricek.
42 - 35
4:33
Drew Gooden enters the game for Lorenzen Wright.
42 - 35
4:33
Gerald Wallace made Free Throw 2 of 2.
43 - 35
4:28
Memphis Full Timeout.
43 - 35
4:28
Bobby Jackson enters the game for Damon Jones.
43 - 35
4:18
Drew Gooden made 5 ft Two Point Shot. Assisted by Jason Williams.
43 - 37
4:00
Gerald Wallace missed 8 ft Jumper. Blocked by Shane Battier.
43 - 37
3:56
Predrag Stojakovic Offensive Rebound.
43 - 37
3:51
Jason Williams Defensive Rebound.
43 - 37
3:48
Pau Gasol made Dunk. Assisted by Jason Williams.
43 - 39
3:34
Predrag Stojakovic missed 21 ft Jumper.
43 - 39
3:32
Wesley Person Defensive Rebound.
43 - 39
3:24
Drew Gooden made 12 ft Jumper. Assisted by Wesley Person.
43 - 41
3:11
Pau Gasol Personal Foul
43 - 41
3:11
Doug Christie enters the game for Gerald Wallace.
43 - 41
3:11
Vlade Divac missed Free Throw 1 of 2.
43 - 41
3:11
Sacramento Offensive Rebound.
43 - 41
3:11
Vlade Divac made Free Throw 2 of 2.
44 - 41
2:56
Jason Williams Bad Pass. Stolen by Predrag Stojakovic.
44 - 41
2:49
Predrag Stojakovic Bad Pass. Stolen by Shane Battier.
44 - 41
2:46
Shane Battier missed 7 ft Jumper.
44 - 41
2:44
Doug Christie Defensive Rebound.
44 - 41
2:41
Vlade Divac 3 second
44 - 41
2:27
Drew Gooden Bad Pass. Stolen by Vlade Divac.
44 - 41
2:16
Drew Gooden Shooting Foul
44 - 41
2:16
Hidayet Turkoglu made Free Throw 1 of 2.
45 - 41
2:16
Gordan Giricek enters the game for Drew Gooden.
45 - 41
2:16
Hidayet Turkoglu made Free Throw 2 of 2.
46 - 41
2:01
Vlade Divac Shooting Foul
46 - 41
2:01
Pau Gasol missed Free Throw 1 of 2.
46 - 41
2:01
Memphis Offensive Rebound.
46 - 41
2:01
Pau Gasol missed Free Throw 2 of 2.
46 - 41
2:00
Hidayet Turkoglu Defensive Rebound.
46 - 41
1:47
Bobby Jackson missed 17 ft Jumper.
46 - 41
1:46
Bobby Jackson Offensive Rebound.
46 - 41
1:44
Bobby Jackson missed Layup.
46 - 41
1:40
Vlade Divac Offensive Rebound.
48 - 41
1:40
Vlade Divac made Tip Shot.
48 - 41
1:31
Jason Williams made Two Point Shot.
48 - 43
1:25
Bobby Jackson made Layup. Assisted by Vlade Divac.
50 - 43
1:14
Jason Williams made 21 ft Jumper.
50 - 45
1:00
Pau Gasol Personal Foul
50 - 45
1:00
Vlade Divac missed Free Throw 1 of 2.
50 - 45
1:00
Sacramento Offensive Rebound.
50 - 45
1:00
Stromile Swift enters the game for Pau Gasol.
50 - 45
1:00
Vlade Divac made Free Throw 2 of 2.
51 - 45
0:52
Jason Williams Bad Pass. Stolen by Doug Christie.
51 - 45
0:48
Bobby Jackson made Layup. Assisted by Doug Christie.
53 - 45
0:36
Stromile Swift made Layup. Assisted by Wesley Person.
53 - 47
0:23
Vlade Divac missed Layup.
53 - 47
0:23
Stromile Swift Shooting Foul
53 - 47
0:23
Vlade Divac made Free Throw 1 of 2.
54 - 47
0:23
Vlade Divac made Free Throw 2 of 2.
55 - 47
0:01
Stromile Swift Lost Ball. Stolen by Bobby Jackson.
55 - 47
0:00
Hidayet Turkoglu missed 47 ft Three Point Jumper.
55 - 47
0:00
Sacramento Offensive Rebound.
55 - 47
0:00
End of the 2nd Quarter.
55 - 47

time
TEAM
PLAY
SCORE
12:00
Start of the 3rd Quarter.
55 - 47
11:48
Keon Clark made Slam Dunk.
57 - 47
11:26
Lorenzen Wright missed 11 ft Jumper. Blocked by Doug Christie.
57 - 47
11:22
Bobby Jackson Defensive Rebound.
57 - 47
11:19
Predrag Stojakovic made Layup. Assisted by Bobby Jackson.
59 - 47
11:07
Pau Gasol made 21 ft Jumper.
59 - 49
10:49
Predrag Stojakovic made Layup. Assisted by Vlade Divac.
61 - 49
10:42
Memphis 20 Sec. Timeout.
61 - 49
10:29
Gordan Giricek missed 11 ft Two Point Shot. Blocked by Doug Christie.
61 - 49
10:25
Shane Battier Offensive Rebound.
61 - 49
10:23
Pau Gasol missed 9 ft Jumper. Blocked by Keon Clark.
61 - 49
10:22
Memphis Offensive Rebound.
61 - 49
10:22
24 second
61 - 49
10:08
Doug Christie missed 19 ft Jumper.
61 - 49
10:06
Lorenzen Wright Defensive Rebound.
61 - 49
10:02
Kicked Ball
61 - 49
9:52
Lorenzen Wright made 6 ft Jumper. Assisted by Pau Gasol.
61 - 51
9:32
Keon Clark Bad Pass. Stolen by Pau Gasol.
61 - 51
9:32
Bobby Jackson Loose Ball Foul
61 - 51
9:23
Jason Williams missed 18 ft Jumper.
61 - 51
9:19
Keon Clark Defensive Rebound.
61 - 51
9:12
Vlade Divac missed 18 ft Jumper. Blocked by Gordan Giricek.
61 - 51
8:53
Bobby Jackson made 26 ft Three Pointer. Assisted by Doug Christie.
64 - 51
8:48
Gordan Giricek missed 25 ft Three Point Jumper.
64 - 51
8:32
Predrag Stojakovic Bad Pass. Stolen by Jason Williams.
64 - 51
8:27
Lorenzen Wright made Layup. Assisted by Jason Williams.
64 - 53
8:27
Bobby Jackson Shooting Foul
64 - 53
8:27
Lorenzen Wright made Free Throw 1 of 1.
64 - 54
8:15
Vlade Divac made Layup.
66 - 54
8:15
Pau Gasol Shooting Foul
66 - 54
8:15
Vlade Divac made Free Throw 1 of 1.
67 - 54
7:58
Lorenzen Wright made 16 ft Two Point Shot.
67 - 56
7:37
Keon Clark made 19 ft Jumper. Assisted by Bobby Jackson.
69 - 56
7:24
Shane Battier Lost Ball
69 - 56
7:09
Bobby Jackson made Layup. Assisted by Vlade Divac.
71 - 56
6:48
Gordan Giricek missed Layup.
71 - 56
6:48
Pau Gasol Offensive Rebound.
71 - 56
6:48
Vlade Divac Shooting Foul
71 - 56
6:48
Pau Gasol made Free Throw 1 of 2.
71 - 57
6:48
Pau Gasol made Free Throw 2 of 2.
71 - 58
6:28
Keon Clark made Slam Dunk. Assisted by Vlade Divac.
73 - 58
6:15
Gordan Giricek made 26 ft Three Point Jumper. Assisted by Jason Williams.
73 - 61
6:01
Bobby Jackson missed Two Point Shot.
73 - 61
5:56
Gordan Giricek Defensive Rebound.
73 - 61
5:54
Gordan Giricek missed 25 ft Three Point Jumper.
73 - 61
5:50
Keon Clark Defensive Rebound.
73 - 61
5:43
Bobby Jackson missed 23 ft Three Point Jumper.
73 - 61
5:41
Doug Christie Offensive Rebound.
73 - 61
5:39
Memphis Full Timeout.
73 - 61
5:33
Bobby Jackson made 23 ft Jumper. Assisted by Vlade Divac.
75 - 61
5:11
Pau Gasol missed 7 ft Two Point Shot.
75 - 61
5:09
Keon Clark Defensive Rebound.
75 - 61
5:03
Predrag Stojakovic made Layup.
77 - 61
4:54
Memphis Full Timeout.
77 - 61
4:54
Wesley Person enters the game for Shane Battier.
77 - 61
4:46
Pau Gasol Traveling
77 - 61
4:24
Bobby Jackson Lost Ball. Stolen by Jason Williams.
77 - 61
4:18
Wesley Person missed 26 ft Three Point Jumper.
77 - 61
4:15
Doug Christie Defensive Rebound.
77 - 61
4:09
Predrag Stojakovic made Layup.
79 - 61
3:53
Lorenzen Wright missed 20 ft Jumper.
79 - 61
3:50
Keon Clark Defensive Rebound.
79 - 61
3:40
Vlade Divac missed 4 ft Jumper.
79 - 61
3:38
Vlade Divac Offensive Rebound.
79 - 61
3:35
Vlade Divac made Layup.
81 - 61
3:21
Wesley Person missed 17 ft Jumper.
81 - 61
3:18
Keon Clark Defensive Rebound.
81 - 61
3:14
Predrag Stojakovic Offensive Foul
81 - 61
3:14
Predrag Stojakovic Foul
81 - 61
3:14
Stromile Swift enters the game for Pau Gasol.
81 - 61
3:14
Drew Gooden enters the game for Lorenzen Wright.
81 - 61
3:00
Jason Williams Bad Pass
81 - 61
3:00
Sacramento Full Timeout.
81 - 61
3:00
Brevin Knight enters the game for Jason Williams.
81 - 61
3:00
Earl Watson enters the game for Gordan Giricek.
81 - 61
2:45
Stromile Swift Shooting Foul
81 - 61
2:45
Predrag Stojakovic missed Free Throw 1 of 2.
81 - 61
2:45
Sacramento Offensive Rebound.
81 - 61
2:45
Predrag Stojakovic made Free Throw 2 of 2.
82 - 61
2:32
Stromile Swift missed Jumper.
82 - 61
2:30
Bobby Jackson Defensive Rebound.
82 - 61
2:26
Doug Christie missed Layup.
82 - 61
2:21
Keon Clark Offensive Rebound.
82 - 61
2:13
Predrag Stojakovic made 22 ft Jumper.
84 - 61
2:00
Wesley Person made Layup. Assisted by Brevin Knight.
84 - 63
1:45
Bobby Jackson made Layup. Assisted by Keon Clark.
86 - 63
1:31
Drew Gooden missed 20 ft Jumper.
86 - 63
1:31
Memphis Defensive Rebound.
86 - 63
1:31
Damon Jones enters the game for Predrag Stojakovic.
86 - 63
1:20
Damon Jones made Layup. Assisted by Vlade Divac.
88 - 63
0:57
Drew Gooden missed 17 ft Jumper.
88 - 63
0:54
Damon Jones Defensive Rebound.
88 - 63
0:42
Keon Clark missed 17 ft Two Point Shot.
88 - 63
0:38
Drew Gooden Defensive Rebound.
88 - 63
0:32
Doug Christie Personal Foul
88 - 63
0:20
Drew Gooden missed Layup. Blocked by Keon Clark.
88 - 63
0:16
Damon Jones Defensive Rebound.
88 - 63
0:07
Doug Christie Bad Pass. Stolen by Stromile Swift.
88 - 63
0:03
Stromile Swift made Two Point Shot. Assisted by Earl Watson.
88 - 65
0:01
Vlade Divac missed 32 ft Three Point Jumper.
88 - 65
0:00
Sacramento Offensive Rebound.
88 - 65
0:00
End of the 3rd Quarter.
88 - 65

time
TEAM
PLAY
SCORE
12:00
Start of the 4th Quarter.
88 - 65
12:00
Start of the 4th Quarter.
88 - 65
11:44
Mike Batiste made 17 ft Two Point Shot.
88 - 67
11:44
Damon Jones Shooting Foul
88 - 67
11:44
Mike Batiste made Free Throw 1 of 1.
88 - 68
11:27
Doug Christie missed 8 ft Two Point Shot.
88 - 68
11:23
Keon Clark Offensive Rebound.
88 - 68
11:22
Doug Christie made Layup.
90 - 68
11:15
Doug Christie Personal Foul
90 - 68
11:06
Drew Gooden made Layup.
90 - 70
10:48
Hidayet Turkoglu Lost Ball. Stolen by Brevin Knight.
90 - 70
10:42
Brevin Knight Bad Pass
90 - 70
10:29
Keon Clark made Two Point Shot.
92 - 70
10:17
Earl Watson made 16 ft Jumper. Assisted by Mike Batiste.
92 - 72
10:08
Damon Jones missed 16 ft Jumper.
92 - 72
10:06
Mike Batiste Defensive Rebound.
92 - 72
9:56
Drew Gooden missed 15 ft Two Point Shot.
92 - 72
9:53
Memphis Offensive Rebound.
92 - 72
9:52
Hidayet Turkoglu Personal Foul
92 - 72
9:45
Brevin Knight missed 7 ft Two Point Shot. Blocked by Keon Clark.
92 - 72
9:41
Gerald Wallace Defensive Rebound.
92 - 72
9:34
Hidayet Turkoglu made 26 ft Three Point Jumper. Assisted by Doug Christie.
95 - 72
9:26
Earl Watson made 25 ft Three Point Jumper. Assisted by Mike Batiste.
95 - 75
9:11
Doug Christie made 26 ft Three Point Jumper. Assisted by Damon Jones.
98 - 75
9:06
Gerald Wallace Personal Foul
98 - 75
9:06
Bobby Jackson enters the game for Doug Christie.
98 - 75
9:06
Pau Gasol enters the game for Drew Gooden.
98 - 75
8:56
Stromile Swift made Layup.
98 - 77
8:33
Hidayet Turkoglu missed 20 ft Jumper.
98 - 77
8:30
Mike Batiste Defensive Rebound.
98 - 77
8:22
Keon Clark Shooting Foul
98 - 77
8:22
Official Timeout.
98 - 77
8:22
Jason Williams enters the game for Brevin Knight.
98 - 77
8:22
Vlade Divac enters the game for Keon Clark.
98 - 77
8:22
Pau Gasol made Free Throw 1 of 2.
98 - 78
8:22
Pau Gasol made Free Throw 2 of 2.
98 - 79
8:07
Vlade Divac made 7 ft Two Point Shot.
100 - 79
7:52
Vlade Divac Shooting Foul
100 - 79
7:52
Pau Gasol made Free Throw 1 of 2.
100 - 80
7:52
Pau Gasol made Free Throw 2 of 2.
100 - 81
7:31
Gerald Wallace made Jumper. Assisted by Damon Jones.
102 - 81
7:13
Mike Batiste missed 28 ft Three Point Jumper.
102 - 81
7:11
Bobby Jackson Defensive Rebound.
102 - 81
7:07
Gerald Wallace missed 18 ft Jumper.
102 - 81
7:03
Earl Watson Defensive Rebound.
102 - 81
7:00
Earl Watson Bad Pass. Stolen by Gerald Wallace.
102 - 81
6:43
Bobby Jackson missed Layup. Blocked by Mike Batiste.
102 - 81
6:37
Stromile Swift Defensive Rebound.
102 - 81
6:31
Mike Batiste missed 26 ft Three Point Jumper.
102 - 81
6:28
Gerald Wallace Defensive Rebound.
102 - 81
6:05
24 second
102 - 81
6:05
Gordan Giricek enters the game for Mike Batiste.
102 - 81
6:05
Predrag Stojakovic enters the game for Damon Jones.
102 - 81
5:50
Stromile Swift missed 15 ft Two Point Shot.
102 - 81
5:47
Vlade Divac Defensive Rebound.
102 - 81
5:28
Hidayet Turkoglu missed Jumper. Blocked by Stromile Swift.
102 - 81
5:24
Vlade Divac Offensive Rebound.
102 - 81
5:22
Vlade Divac made Layup.
104 - 81
5:01
Jason Williams missed 27 ft Three Point Jumper.
104 - 81
5:00
Earl Watson Offensive Rebound.
104 - 81
4:48
Earl Watson made Two Point Shot. Assisted by Pau Gasol.
104 - 83
4:24
Predrag Stojakovic missed 24 ft Three Point Jumper.
104 - 83
4:22
Earl Watson Defensive Rebound.
104 - 83
4:15
Gordan Giricek made 6 ft Two Point Shot.
104 - 85
3:48
Hidayet Turkoglu made 26 ft Three Point Jumper. Assisted by Vlade Divac.
107 - 85
3:36
Pau Gasol made 20 ft Jumper.
107 - 87
3:15
Bobby Jackson made Layup. Assisted by Vlade Divac.
109 - 87
3:01
Earl Watson Bad Pass. Stolen by Vlade Divac.
109 - 87
3:00
Bobby Jackson made Layup. Assisted by Vlade Divac.
111 - 87
2:56
Memphis Full Timeout.
111 - 87
2:56
Lawrence Funderburke enters the game for Bobby Jackson.
111 - 87
2:56
Damon Jones enters the game for Vlade Divac.
111 - 87
2:56
Drew Gooden enters the game for Stromile Swift.
111 - 87
2:56
Mike Batiste enters the game for Pau Gasol.
111 - 87
2:38
Mike Batiste made 14 ft Jumper. Assisted by Earl Watson.
111 - 89
2:24
Gerald Wallace Offensive Foul
111 - 89
2:24
Gerald Wallace Foul
111 - 89
2:24
Sacramento Full Timeout.
111 - 89
2:10
Mike Batiste made 21 ft Jumper.
111 - 91
1:54
Lawrence Funderburke missed 17 ft Jumper.
111 - 91
1:50
Drew Gooden Defensive Rebound.
111 - 91
1:45
Drew Gooden made 15 ft Two Point Shot. Assisted by Jason Williams.
111 - 93
1:25
Hidayet Turkoglu made 25 ft Three Point Jumper. Assisted by Predrag Stojakovic.
114 - 93
1:08
Drew Gooden missed 21 ft Jumper.
114 - 93
1:07
Damon Jones Defensive Rebound.
114 - 93
1:07
Mike Batiste Loose Ball Foul
114 - 93
0:58
Predrag Stojakovic missed 26 ft Three Point Jumper.
114 - 93
0:55
Mike Batiste Defensive Rebound.
114 - 93
0:48
Gordan Giricek made Layup.
114 - 95
0:25
Gerald Wallace made Layup.
116 - 95
0:10
Mike Batiste missed 26 ft Three Point Jumper.
116 - 95
0:09
Memphis Defensive Rebound.
116 - 95
0:00
End of the 4th Quarter.
116 - 95
0:00
End Game
116 - 95
0:00
End Game
116 - 95
Because Anthony Davis wasn't selected to one of the three All-NBA teams, his contract will be worth just over $120 million instead of $145 million.

Reese Waters breaks down why he thinks Toronto Raptors fans should ignore their instincts and embrace their inner "Philly fan".

Stephen Curry (unanimous selection), LeBron James, Russell Westbrook, Kawhi Leonard and DeAndre Jordan have made the All-NBA First Team, the league announced Thursday.
Regular Season Series
SAC wins series 4-0
2015-2016 Pacific Standings