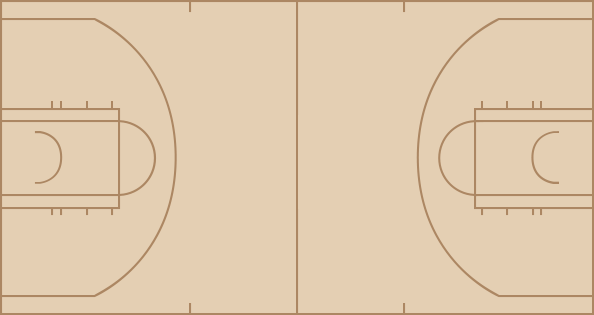 Hawks
time
TEAM
PLAY
SCORE
12:00
Start of the 1st Quarter.
0 - 0
12:00
null
0 - 0
11:44
Theo Ratliff made Two Point Shot.
2 - 0
11:25
Tom Gugliotta missed Jumper.
2 - 0
11:22
Theo Ratliff Defensive Rebound.
2 - 0
11:11
Ira Newble made 15 ft Jumper. Assisted by Shareef Abdur-Rahim.
4 - 0
11:02
Stephon Marbury missed 20 ft Jumper.
4 - 0
11:00
Tom Gugliotta Offensive Rebound.
4 - 0
10:55
Kicked Ball
4 - 0
10:48
Anfernee Hardaway missed Jumper.
4 - 0
10:45
Ira Newble Defensive Rebound.
4 - 0
10:22
Ira Newble missed Layup.
4 - 0
10:21
Shawn Marion Defensive Rebound.
4 - 0
10:15
Iakovos Tsakalidis made Dunk. Assisted by Tom Gugliotta.
4 - 2
9:59
Shareef Abdur-Rahim missed 17 ft Jumper.
4 - 2
9:57
Theo Ratliff Offensive Rebound.
4 - 2
9:57
Anfernee Hardaway Shooting Foul
4 - 2
9:57
Theo Ratliff made Free Throw 1 of 2.
5 - 2
9:57
Theo Ratliff made Free Throw 2 of 2.
6 - 2
9:42
Shawn Marion missed 13 ft Jumper.
6 - 2
9:41
Phoenix Offensive Rebound.
6 - 2
9:41
Shareef Abdur-Rahim Loose Ball Foul
6 - 2
9:26
Shawn Marion missed 6 ft Jumper.
6 - 2
9:25
Ira Newble Defensive Rebound.
6 - 2
9:22
Ira Newble Lost Ball. Stolen by Stephon Marbury.
6 - 2
9:21
Shawn Marion made Dunk. Assisted by Stephon Marbury.
6 - 4
9:00
Glenn Robinson missed 25 ft Three Point Jumper.
6 - 4
8:59
Iakovos Tsakalidis Defensive Rebound.
6 - 4
8:45
Shawn Marion made Layup. Assisted by Iakovos Tsakalidis.
6 - 6
8:26
Jason Terry made 25 ft Three Point Jumper. Assisted by Glenn Robinson.
9 - 6
8:14
Shawn Marion missed 21 ft Jumper.
9 - 6
8:11
Jason Terry Defensive Rebound.
9 - 6
8:07
Glenn Robinson made 15 ft Two Point Shot. Assisted by Jason Terry.
11 - 6
7:46
Iakovos Tsakalidis missed Layup. Blocked by Theo Ratliff.
11 - 6
7:46
Jumpball. Theo Ratliff vs. Iakovos Tsakalidis. Shawn Marion gains possession.
11 - 6
7:46
Phoenix Offensive Rebound.
11 - 6
7:37
Theo Ratliff Personal Foul
11 - 6
7:31
Anfernee Hardaway made 19 ft Jumper. Assisted by Stephon Marbury.
11 - 8
7:24
Jason Terry Bad Pass. Stolen by Shawn Marion.
11 - 8
7:18
Shawn Marion made Dunk. Assisted by Anfernee Hardaway.
11 - 10
6:58
Ira Newble made 17 ft Jumper.
13 - 10
6:47
Iakovos Tsakalidis missed Layup. Blocked by Ira Newble.
13 - 10
6:43
Iakovos Tsakalidis Offensive Rebound.
13 - 10
6:43
Iakovos Tsakalidis missed Dunk.
13 - 10
6:43
Shareef Abdur-Rahim Defensive Rebound.
13 - 10
6:35
Glenn Robinson made Jumper. Assisted by Theo Ratliff.
15 - 10
6:20
Stephon Marbury Lost Ball
15 - 10
5:58
Glenn Robinson Bad Pass. Stolen by Tom Gugliotta.
15 - 10
5:56
Theo Ratliff Personal Foul
15 - 10
5:56
Phoenix Full Timeout.
15 - 10
5:56
Alan Henderson enters the game for Theo Ratliff.
15 - 10
5:56
Amare Stoudemire enters the game for Iakovos Tsakalidis.
15 - 10
5:39
Tom Gugliotta made 17 ft Jumper. Assisted by Stephon Marbury.
15 - 12
5:24
Jason Terry made 14 ft Jumper. Assisted by Shareef Abdur-Rahim.
17 - 12
5:07
Tom Gugliotta missed 16 ft Jumper.
17 - 12
5:05
Amare Stoudemire Offensive Rebound.
17 - 12
5:05
Amare Stoudemire missed Layup.
17 - 12
5:03
Glenn Robinson Defensive Rebound.
17 - 12
5:00
Glenn Robinson Lost Ball. Stolen by Amare Stoudemire.
17 - 12
4:54
Tom Gugliotta Bad Pass. Stolen by Jason Terry.
17 - 12
4:47
Glenn Robinson made Layup. Assisted by Shareef Abdur-Rahim.
19 - 12
4:20
Shawn Marion missed 7 ft Jumper.
19 - 12
4:18
Shareef Abdur-Rahim Defensive Rebound.
19 - 12
4:07
Alan Henderson Traveling
19 - 12
3:57
Stephon Marbury missed Layup.
19 - 12
3:56
Glenn Robinson Defensive Rebound.
19 - 12
3:48
Shareef Abdur-Rahim missed Layup.
19 - 12
3:47
Shareef Abdur-Rahim Offensive Rebound.
21 - 12
3:47
Shareef Abdur-Rahim made Dunk.
21 - 12
3:25
Anfernee Hardaway missed Jumper.
21 - 12
3:24
Amare Stoudemire Offensive Rebound.
21 - 14
3:24
Amare Stoudemire made Dunk.
21 - 14
2:57
Jason Terry missed 25 ft Three Point Jumper.
21 - 14
2:55
Anfernee Hardaway Defensive Rebound.
21 - 14
2:50
Jason Terry Shooting Foul
21 - 14
2:50
Atlanta Full Timeout.
21 - 14
2:50
Amal McCaskill enters the game for Shareef Abdur-Rahim.
21 - 14
2:50
Shawn Marion made Free Throw 1 of 2.
21 - 15
2:50
Shawn Marion made Free Throw 2 of 2.
21 - 16
2:42
Ira Newble missed 17 ft Jumper.
21 - 16
2:40
Tom Gugliotta Defensive Rebound.
21 - 16
2:33
Shawn Marion missed Layup. Blocked by Jason Terry.
21 - 16
2:31
Ira Newble Defensive Rebound.
21 - 16
2:30
Jason Terry made Layup. Assisted by Glenn Robinson.
23 - 16
2:11
Amal McCaskill Illegal Defense Foul
23 - 16
2:11
Shawn Marion made Technical Free Throw.
23 - 17
2:11
Emanual Davis enters the game for Jason Terry.
23 - 17
1:59
Amare Stoudemire missed 6 ft Jumper.
23 - 17
1:57
Glenn Robinson Defensive Rebound.
23 - 17
1:52
Glenn Robinson made 14 ft Jumper.
25 - 17
1:31
Stephon Marbury made Layup. Assisted by Tom Gugliotta.
25 - 19
1:23
Glenn Robinson missed 16 ft Jumper.
25 - 19
1:22
Tom Gugliotta Defensive Rebound.
25 - 19
1:15
Stephon Marbury missed Layup.
25 - 19
1:14
Amal McCaskill Defensive Rebound.
25 - 19
0:59
Alan Henderson missed Layup.
25 - 19
0:58
Anfernee Hardaway Defensive Rebound.
25 - 19
0:53
Amare Stoudemire made Layup. Assisted by Stephon Marbury.
25 - 21
0:53
Amal McCaskill Shooting Foul
25 - 21
0:53
Bo Outlaw enters the game for Tom Gugliotta.
25 - 21
0:53
Amare Stoudemire missed Free Throw 1 of 1.
25 - 21
0:52
Amal McCaskill Defensive Rebound.
25 - 21
0:34
Glenn Robinson missed 25 ft Three Point Jumper.
25 - 21
0:31
Alan Henderson Offensive Rebound.
25 - 21
0:17
Glenn Robinson missed 16 ft Jumper.
25 - 21
0:15
Shawn Marion Defensive Rebound.
25 - 21
0:02
Shawn Marion missed Three Point Jumper.
25 - 21
0:00
Glenn Robinson Defensive Rebound.
25 - 21
0:00
Glenn Robinson Traveling
25 - 21
0:00
Anfernee Hardaway Bad Pass. Stolen by Emanual Davis.
25 - 21
0:00
End of the 1st Quarter.
0 - 0
0:00
End of the 1st Quarter.
25 - 21

time
TEAM
PLAY
SCORE
12:00
Start of the 2nd Quarter.
25 - 21
11:48
Amare Stoudemire made Layup. Assisted by Anfernee Hardaway.
25 - 23
11:48
Amal McCaskill Shooting Foul
25 - 23
11:48
Amare Stoudemire made Free Throw 1 of 1.
25 - 24
11:32
Stephon Marbury Personal Foul
25 - 24
11:32
Joe Johnson enters the game for Stephon Marbury.
25 - 24
11:19
Dion Glover missed 18 ft Jumper.
25 - 24
11:18
Shawn Marion Defensive Rebound.
25 - 24
11:02
Anfernee Hardaway made 5 ft Jumper.
25 - 26
10:36
Emanual Davis Bad Pass. Stolen by Amare Stoudemire.
25 - 26
10:30
Joe Johnson Lost Ball
25 - 26
10:12
Emanual Davis made 25 ft Three Point Jumper. Assisted by Amal McCaskill.
28 - 26
10:02
Shawn Marion made Dunk. Assisted by Amare Stoudemire.
28 - 28
9:48
Emanual Davis made 16 ft Jumper. Assisted by Darvin Ham.
30 - 28
9:25
Bo Outlaw made Layup. Assisted by Anfernee Hardaway.
30 - 30
9:10
Dion Glover missed 25 ft Three Point Jumper.
30 - 30
9:07
Shawn Marion Defensive Rebound.
30 - 30
9:00
Amare Stoudemire made Layup. Assisted by Shawn Marion.
30 - 32
8:41
Darvin Ham Offensive Foul
30 - 32
8:41
Darvin Ham Foul
30 - 32
8:41
Full Timeout.
30 - 32
8:41
Jason Terry enters the game for Amal McCaskill.
30 - 32
8:41
Theo Ratliff enters the game for Dion Glover.
30 - 32
8:27
Amare Stoudemire Lost Ball. Stolen by Theo Ratliff.
30 - 32
8:04
Shareef Abdur-Rahim missed 13 ft Jumper. Blocked by Bo Outlaw.
30 - 32
8:03
Theo Ratliff Offensive Rebound.
30 - 32
8:03
24 second
30 - 32
7:50
Anfernee Hardaway missed Jumper.
30 - 32
7:48
Shareef Abdur-Rahim Defensive Rebound.
30 - 32
7:33
Anfernee Hardaway Shooting Foul
30 - 32
7:33
Stephon Marbury enters the game for Anfernee Hardaway.
30 - 32
7:33
Jason Terry made Free Throw 1 of 2.
31 - 32
7:33
Jason Terry made Free Throw 2 of 2.
32 - 32
7:16
Bo Outlaw missed Layup. Blocked by Theo Ratliff.
32 - 32
7:15
Theo Ratliff Defensive Rebound.
32 - 32
7:09
Shareef Abdur-Rahim made Layup. Assisted by Jason Terry.
34 - 32
6:54
Stephon Marbury missed 16 ft Jumper.
34 - 32
6:52
Theo Ratliff Defensive Rebound.
34 - 32
6:37
Shareef Abdur-Rahim made Dunk.
36 - 32
6:30
Phoenix Full Timeout.
36 - 32
6:30
Tom Gugliotta enters the game for Amare Stoudemire.
36 - 32
6:30
Scott Williams enters the game for Bo Outlaw.
36 - 32
6:24
Joe Johnson Bad Pass. Stolen by Jason Terry.
36 - 32
6:20
Jason Terry made Layup.
38 - 32
6:01
Emanual Davis Shooting Foul
38 - 32
6:01
Tom Gugliotta made Free Throw 1 of 2.
38 - 33
6:01
Dan Langhi enters the game for Shawn Marion.
38 - 33
6:01
Tom Gugliotta made Free Throw 2 of 2.
38 - 34
5:43
Jason Terry missed 25 ft Three Point Jumper.
38 - 34
5:41
Theo Ratliff Offensive Rebound.
38 - 34
5:30
Theo Ratliff made Layup. Assisted by Shareef Abdur-Rahim.
40 - 34
5:18
Dan Langhi made 15 ft Jumper.
40 - 36
5:03
Shareef Abdur-Rahim made 18 ft Jumper. Assisted by Jason Terry.
42 - 36
4:52
Stephon Marbury missed Layup. Blocked by Shareef Abdur-Rahim.
42 - 36
4:52
Phoenix Offensive Rebound.
42 - 36
4:52
Casey Jacobsen enters the game for Joe Johnson.
42 - 36
4:52
Atlanta 20 Sec. Timeout.
42 - 36
4:52
Glenn Robinson enters the game for Emanual Davis.
42 - 36
4:39
Dan Langhi made 16 ft Jumper. Assisted by Stephon Marbury.
42 - 38
4:24
Stephon Marbury Personal Foul
42 - 38
4:22
Glenn Robinson Traveling
42 - 38
4:09
Stephon Marbury missed Layup. Blocked by Theo Ratliff.
42 - 38
4:07
Dan Langhi Offensive Rebound.
42 - 38
4:05
Dan Langhi made 16 ft Jumper.
42 - 40
3:50
Darvin Ham missed Layup.
42 - 40
3:49
Dan Langhi Defensive Rebound.
42 - 40
3:43
Casey Jacobsen made 24 ft Three Point Jumper. Assisted by Stephon Marbury.
42 - 43
3:31
Scott Williams Shooting Foul
42 - 43
3:31
Shareef Abdur-Rahim made Free Throw 1 of 2.
43 - 43
3:31
Shareef Abdur-Rahim missed Free Throw 2 of 2.
43 - 43
3:31
Stephon Marbury Defensive Rebound.
43 - 43
3:17
Theo Ratliff Shooting Foul
43 - 43
3:17
Scott Williams made Free Throw 1 of 2.
43 - 44
3:17
Alan Henderson enters the game for Theo Ratliff.
43 - 44
3:17
Ira Newble enters the game for Darvin Ham.
43 - 44
3:17
Scott Williams missed Free Throw 2 of 2.
43 - 44
3:17
Shareef Abdur-Rahim Defensive Rebound.
43 - 44
3:02
Kicked Ball
43 - 44
3:01
Glenn Robinson Bad Pass. Stolen by Stephon Marbury.
43 - 44
2:56
Casey Jacobsen missed 25 ft Three Point Jumper.
43 - 44
2:54
Alan Henderson Defensive Rebound.
43 - 44
2:47
Jason Terry missed 23 ft Jumper.
43 - 44
2:47
Tom Gugliotta Defensive Rebound.
43 - 44
2:41
Stephon Marbury Lost Ball. Stolen by Jason Terry.
43 - 44
2:36
Shareef Abdur-Rahim Lost Ball. Stolen by Scott Williams.
43 - 44
2:31
Casey Jacobsen made Layup. Assisted by Stephon Marbury.
43 - 46
2:25
Atlanta Full Timeout.
43 - 46
2:10
Glenn Robinson missed 14 ft Jumper. Blocked by Scott Williams.
43 - 46
2:06
Tom Gugliotta Defensive Rebound.
43 - 46
1:58
Scott Williams missed Dunk.
43 - 46
1:57
Alan Henderson Defensive Rebound.
43 - 46
1:47
Glenn Robinson missed 16 ft Jumper.
43 - 46
1:46
Alan Henderson Offensive Rebound.
43 - 46
1:43
Glenn Robinson made 25 ft Three Point Jumper. Assisted by Alan Henderson.
46 - 46
1:19
Tom Gugliotta missed Jumper.
46 - 46
1:17
Ira Newble Defensive Rebound.
46 - 46
1:13
Shawn Marion enters the game for Scott Williams.
46 - 46
0:57
Shareef Abdur-Rahim missed 15 ft Jumper.
46 - 46
0:56
Stephon Marbury Defensive Rebound.
46 - 46
0:51
Dan Langhi missed 16 ft Jumper.
46 - 46
0:49
Jason Terry Defensive Rebound.
46 - 46
0:42
Glenn Robinson missed 26 ft Three Point Jumper.
46 - 46
0:42
Alan Henderson Offensive Rebound.
46 - 46
0:41
Dan Langhi Shooting Foul
46 - 46
0:41
Alan Henderson missed Free Throw 1 of 2.
46 - 46
0:41
Atlanta Offensive Rebound.
46 - 46
0:41
Alan Henderson made Free Throw 2 of 2.
47 - 46
0:29
Stephon Marbury Bad Pass. Stolen by Glenn Robinson.
47 - 46
0:05
Jason Terry missed 25 ft Three Point Jumper.
47 - 46
0:03
Glenn Robinson Offensive Rebound.
47 - 46
0:01
Glenn Robinson missed Three Point Jumper.
47 - 46
0:01
Tom Gugliotta Defensive Rebound.
47 - 46
0:00
End of the 2nd Quarter.
47 - 46

time
TEAM
PLAY
SCORE
12:00
Start of the 3rd Quarter.
47 - 46
11:48
Tom Gugliotta Traveling
47 - 46
11:40
Jason Terry Bad Pass. Stolen by Shawn Marion.
47 - 46
11:37
Shawn Marion made Dunk. Assisted by Stephon Marbury.
47 - 48
11:15
Shareef Abdur-Rahim missed 17 ft Jumper.
47 - 48
11:14
Ira Newble Offensive Rebound.
47 - 48
11:11
Ira Newble missed Layup.
47 - 48
11:11
Theo Ratliff Offensive Rebound.
47 - 48
11:07
Glenn Robinson missed 16 ft Jumper.
47 - 48
11:03
Atlanta Offensive Rebound.
47 - 48
10:59
Ira Newble made Layup. Assisted by Glenn Robinson.
49 - 48
10:38
Iakovos Tsakalidis missed Layup.
49 - 48
10:34
Ira Newble Defensive Rebound.
49 - 48
10:30
Glenn Robinson Bad Pass. Stolen by Stephon Marbury.
49 - 48
10:25
Stephon Marbury made Layup. Assisted by Shawn Marion.
49 - 50
10:02
Ira Newble made 19 ft Jumper. Assisted by Shareef Abdur-Rahim.
51 - 50
9:47
Tom Gugliotta made 18 ft Jumper. Assisted by Stephon Marbury.
51 - 52
9:26
Theo Ratliff made 13 ft Two Point Shot.
53 - 52
9:10
Iakovos Tsakalidis missed 4 ft Hook Shot.
53 - 52
9:08
Jason Terry Defensive Rebound.
53 - 52
9:00
Shareef Abdur-Rahim made Layup. Assisted by Jason Terry.
55 - 52
8:44
Stephon Marbury missed 20 ft Jumper.
55 - 52
8:41
Ira Newble Defensive Rebound.
55 - 52
8:37
Amare Stoudemire enters the game for Iakovos Tsakalidis.
55 - 52
8:29
Ira Newble missed Three Point Jumper.
55 - 52
8:26
Amare Stoudemire Defensive Rebound.
55 - 52
8:17
Tom Gugliotta made 20 ft Jumper. Assisted by Stephon Marbury.
55 - 54
8:03
Glenn Robinson missed Three Point Jumper.
55 - 54
8:00
Anfernee Hardaway Defensive Rebound.
55 - 54
7:54
Stephon Marbury made Layup. Assisted by Tom Gugliotta.
55 - 56
7:45
Atlanta Full Timeout.
55 - 56
7:26
Jason Terry made 25 ft Three Point Jumper. Assisted by Theo Ratliff.
58 - 56
7:05
Stephon Marbury missed 25 ft Three Point Jumper.
58 - 56
7:03
Ira Newble Defensive Rebound.
58 - 56
6:46
Kicked Ball
58 - 56
6:41
Glenn Robinson missed 15 ft Jumper.
58 - 56
6:39
Anfernee Hardaway Defensive Rebound.
58 - 56
6:28
Anfernee Hardaway Bad Pass. Stolen by Theo Ratliff.
58 - 56
6:22
Tom Gugliotta Shooting Foul
58 - 56
6:22
Ira Newble made Free Throw 1 of 2.
59 - 56
6:22
Ira Newble made Free Throw 2 of 2.
60 - 56
6:09
Amare Stoudemire missed Jumper.
60 - 56
6:09
Glenn Robinson Defensive Rebound.
60 - 56
5:47
Glenn Robinson missed 15 ft Jumper.
60 - 56
5:45
Tom Gugliotta Defensive Rebound.
60 - 56
5:33
Stephon Marbury Bad Pass. Stolen by Jason Terry.
60 - 56
5:30
Shareef Abdur-Rahim made Layup. Assisted by Jason Terry.
62 - 56
5:18
Phoenix Full Timeout.
62 - 56
5:18
Nazr Mohammed Technical Foul
62 - 56
5:18
Shawn Marion made Technical Free Throw.
62 - 57
5:09
Shawn Marion made 16 ft Jumper. Assisted by Stephon Marbury.
62 - 59
4:56
Ira Newble missed Layup. Blocked by Amare Stoudemire.
62 - 59
4:56
Shareef Abdur-Rahim Offensive Rebound.
64 - 59
4:56
Shareef Abdur-Rahim made Layup.
64 - 59
4:48
Shawn Marion Bad Pass
64 - 59
4:31
Glenn Robinson missed Layup. Blocked by Amare Stoudemire.
64 - 59
4:31
Atlanta Offensive Rebound.
64 - 59
4:31
Bo Outlaw enters the game for Tom Gugliotta.
64 - 59
4:24
Jason Terry made 24 ft Three Point Jumper.
67 - 59
4:05
Bo Outlaw missed Layup. Blocked by Ira Newble.
67 - 59
4:03
Glenn Robinson Defensive Rebound.
67 - 59
3:55
Shareef Abdur-Rahim missed Layup. Blocked by Bo Outlaw.
67 - 59
3:53
Anfernee Hardaway Defensive Rebound.
67 - 59
3:42
Shawn Marion missed 18 ft Jumper.
67 - 59
3:41
Shawn Marion Offensive Rebound.
67 - 59
3:38
Shawn Marion Lost Ball. Stolen by Glenn Robinson.
67 - 59
3:16
Ira Newble Bad Pass
67 - 59
3:16
Alan Henderson enters the game for Shareef Abdur-Rahim.
67 - 59
3:16
Dion Glover enters the game for Glenn Robinson.
67 - 59
3:05
Amare Stoudemire missed Layup.
67 - 59
3:04
Theo Ratliff Defensive Rebound.
67 - 59
2:48
Jason Terry missed Three Point Jumper.
67 - 59
2:47
Shawn Marion Defensive Rebound.
67 - 59
2:43
Amare Stoudemire Bad Pass. Stolen by Dion Glover.
67 - 59
2:20
Ira Newble made 20 ft Jumper. Assisted by Jason Terry.
69 - 59
2:13
Dion Glover Personal Foul
69 - 59
2:13
Darvin Ham enters the game for Theo Ratliff.
69 - 59
2:04
Anfernee Hardaway missed 17 ft Jumper.
69 - 59
2:02
Phoenix Defensive Rebound.
69 - 59
1:40
Ira Newble made 18 ft Jumper. Assisted by Jason Terry.
71 - 59
1:35
Alan Henderson Personal Foul
71 - 59
1:30
Anfernee Hardaway missed 15 ft Jumper.
71 - 59
1:28
Amare Stoudemire Offensive Rebound.
71 - 61
1:28
Amare Stoudemire made Tip Shot.
71 - 61
1:09
Ira Newble missed 17 ft Jumper.
71 - 61
1:07
Alan Henderson Offensive Rebound.
71 - 61
0:49
Dion Glover missed Layup.
71 - 61
0:48
Alan Henderson Offensive Rebound.
71 - 61
0:46
Alan Henderson made Dunk.
73 - 61
0:36
Amare Stoudemire Bad Pass. Stolen by Dion Glover.
73 - 61
0:32
Bo Outlaw Shooting Foul
73 - 61
0:32
Dion Glover made Free Throw 1 of 2.
74 - 61
0:32
Casey Jacobsen enters the game for Stephon Marbury.
74 - 61
0:32
Amal McCaskill enters the game for Ira Newble.
74 - 61
0:32
Dion Glover made Free Throw 2 of 2.
75 - 61
0:19
Casey Jacobsen made 25 ft Three Point Jumper. Assisted by Shawn Marion.
75 - 64
0:00
End of the 3rd Quarter.
75 - 64

time
TEAM
PLAY
SCORE
12:00
Start of the 4th Quarter.
75 - 64
11:42
Darvin Ham Traveling
75 - 64
11:33
Anfernee Hardaway Lost Ball. Stolen by Emanual Davis.
75 - 64
11:18
Darvin Ham Bad Pass
75 - 64
11:04
Anfernee Hardaway made 25 ft Three Point Jumper. Assisted by Shawn Marion.
75 - 67
10:52
Darvin Ham Lost Ball. Stolen by Shawn Marion.
75 - 67
10:45
Anfernee Hardaway made 24 ft Three Point Jumper. Assisted by Bo Outlaw.
75 - 70
10:30
Bo Outlaw Personal Foul
75 - 70
10:22
Glenn Robinson Lost Ball. Stolen by Anfernee Hardaway.
75 - 70
10:15
Shawn Marion missed 9 ft Jumper. Blocked by Darvin Ham.
75 - 70
10:11
Phoenix Defensive Rebound.
75 - 70
9:55
Emanual Davis missed Three Point Jumper.
75 - 70
9:52
Shawn Marion Defensive Rebound.
75 - 70
9:45
Anfernee Hardaway made Layup. Assisted by Shawn Marion.
75 - 72
9:26
Anfernee Hardaway Personal Foul
75 - 72
9:18
Glenn Robinson missed 11 ft Jumper.
75 - 72
9:17
Alan Henderson Offensive Rebound.
75 - 72
9:14
Alan Henderson 3 second
75 - 72
8:57
Casey Jacobsen missed 23 ft Three Point Jumper.
75 - 72
8:56
Emanual Davis Defensive Rebound.
75 - 72
8:40
Bo Outlaw Illegal Defense Foul
75 - 72
8:40
Full Timeout.
75 - 72
8:40
Jason Terry enters the game for Darvin Ham.
75 - 72
8:40
Shareef Abdur-Rahim enters the game for Alan Henderson.
75 - 72
8:40
Theo Ratliff enters the game for Emanual Davis.
75 - 72
8:40
Glenn Robinson made Technical Free Throw.
76 - 72
8:25
Jason Terry missed Three Point Jumper.
76 - 72
8:22
Amare Stoudemire Defensive Rebound.
76 - 72
8:04
Casey Jacobsen made 25 ft Three Point Jumper. Assisted by Anfernee Hardaway.
76 - 75
7:56
Atlanta Full Timeout.
76 - 75
7:33
Jason Terry missed Two Point Shot.
76 - 75
7:31
Shareef Abdur-Rahim Offensive Rebound.
76 - 75
7:16
Jason Terry made Two Point Shot.
78 - 75
6:54
Amare Stoudemire missed Jumper.
78 - 75
6:52
Amare Stoudemire Offensive Rebound.
78 - 75
6:50
Shawn Marion missed Jumper.
78 - 75
6:48
Casey Jacobsen Offensive Rebound.
78 - 75
6:46
Anfernee Hardaway made 24 ft Three Point Jumper. Assisted by Casey Jacobsen.
78 - 78
6:20
Bo Outlaw Personal Foul
78 - 78
6:20
Ira Newble enters the game for Glenn Robinson.
78 - 78
6:13
Jason Terry missed Layup.
78 - 78
6:09
Anfernee Hardaway Defensive Rebound.
78 - 78
6:03
Shawn Marion made 16 ft Jumper. Assisted by Anfernee Hardaway.
78 - 80
5:58
Jason Terry Offensive Foul
78 - 80
5:58
Jason Terry Foul
78 - 80
5:58
Phoenix Full Timeout.
78 - 80
5:46
Shawn Marion made Layup. Assisted by Anfernee Hardaway.
78 - 82
5:46
Defensive Goaltending
78 - 82
5:31
Jason Terry made 24 ft Three Point Jumper.
81 - 82
5:13
Anfernee Hardaway made 15 ft Jumper. Assisted by Amare Stoudemire.
81 - 84
5:01
Shareef Abdur-Rahim missed 25 ft Three Point Jumper.
81 - 84
5:00
Amare Stoudemire Defensive Rebound.
81 - 84
4:50
Theo Ratliff Personal Foul
81 - 84
4:43
Shawn Marion missed 13 ft Jumper.
81 - 84
4:41
Theo Ratliff Defensive Rebound.
81 - 84
4:35
Shareef Abdur-Rahim made Dunk. Assisted by Jason Terry.
83 - 84
4:22
Bo Outlaw Offensive Foul
83 - 84
4:22
Bo Outlaw Foul
83 - 84
4:01
Shareef Abdur-Rahim missed 7 ft Jumper.
83 - 84
4:00
Theo Ratliff Offensive Rebound.
83 - 84
4:00
Theo Ratliff missed Layup.
83 - 84
3:57
Amare Stoudemire Defensive Rebound.
83 - 84
3:49
Shawn Marion Bad Pass. Stolen by Ira Newble.
83 - 84
3:47
Atlanta 20 Sec. Timeout.
83 - 84
3:30
Casey Jacobsen Shooting Foul
83 - 84
3:30
Dion Glover missed Free Throw 1 of 2.
83 - 84
3:30
Atlanta Offensive Rebound.
83 - 84
3:30
Dion Glover missed Free Throw 2 of 2.
83 - 84
3:30
Shawn Marion Defensive Rebound.
83 - 84
3:18
Shawn Marion made Jumper.
83 - 86
3:06
Glenn Robinson enters the game for Dion Glover.
83 - 86
2:48
24 second
83 - 86
2:32
Amare Stoudemire missed 13 ft Jumper.
83 - 86
2:31
Glenn Robinson Defensive Rebound.
83 - 86
2:15
Jason Terry missed 25 ft Three Point Jumper.
83 - 86
2:14
Bo Outlaw Defensive Rebound.
83 - 86
2:04
Anfernee Hardaway missed Jumper.
83 - 86
2:00
Glenn Robinson Defensive Rebound.
83 - 86
1:54
Jason Terry Traveling
83 - 86
1:54
Phoenix Full Timeout.
83 - 86
1:42
Shareef Abdur-Rahim Personal Foul
83 - 86
1:34
Kicked Ball
83 - 86
1:25
Shawn Marion missed 6 ft Jumper.
83 - 86
1:23
Jason Terry Defensive Rebound.
83 - 86
1:05
Ira Newble missed Layup. Blocked by Amare Stoudemire.
83 - 86
1:02
Anfernee Hardaway Defensive Rebound.
83 - 86
0:43
Shawn Marion made 17 ft Jumper.
83 - 88
0:43
Atlanta Full Timeout.
83 - 88
0:36
Shawn Marion Personal Foul
83 - 88
0:36
Glenn Robinson made Free Throw 1 of 2.
84 - 88
0:36
Glenn Robinson missed Free Throw 2 of 2.
84 - 88
0:36
Shawn Marion Defensive Rebound.
84 - 88
0:35
Phoenix 20 Sec. Timeout.
84 - 88
0:30
Shareef Abdur-Rahim Personal Foul
84 - 88
0:30
Anfernee Hardaway made Free Throw 1 of 2.
84 - 89
0:30
Anfernee Hardaway missed Free Throw 2 of 2.
84 - 89
0:30
Amare Stoudemire Offensive Rebound.
84 - 89
0:27
Jason Terry Personal Foul
84 - 89
0:27
Anfernee Hardaway made Free Throw 1 of 2.
84 - 90
0:27
Anfernee Hardaway made Free Throw 2 of 2.
84 - 91
0:27
Atlanta Full Timeout.
84 - 91
0:22
Glenn Robinson made 12 ft Jumper.
86 - 91
0:13
Ira Newble Personal Foul
86 - 91
0:13
Shawn Marion made Free Throw 1 of 2.
86 - 92
0:13
Shawn Marion made Free Throw 2 of 2.
86 - 93
0:07
Shareef Abdur-Rahim made Dunk.
88 - 93
0:00
End of the 4th Quarter.
88 - 93
0:00
End Game
88 - 93
0:00
End Game
88 - 93
Adam Silver says the NBA wants to be as transparent as possible in determining whether refs are making the right key calls despite the fact they get them right a "vast majority of the time."

Despite its pivotal nature, Game 5 wasn't one LeBron James said he approached with trepidation, and his calm translated to the Cavs' winning effort.

SVP, Stanford Steve and Brendan Haywood, explain how they tried to spice up the fourth quarter of the Cavaliers' blowout victory over the Raptors in Game 5.
Regular Season Series
PHX wins series 2-0
2015-2016 Central Standings
2015-2016 Pacific Standings