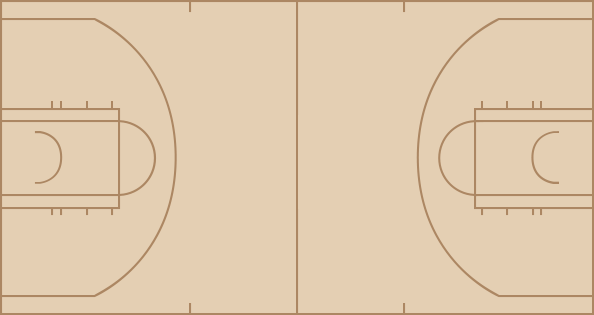 Grizzlies
time
TEAM
PLAY
SCORE
12:00
Start of the 1st Quarter.
0 - 0

time
TEAM
PLAY
SCORE
6:58
Emanuel Ginobili made 3 ft Two Point Shot. Assisted by Malik Rose.
0 - 2
6:37
Mike Batiste made 22 ft Three Point Jumper. Assisted by Drew Gooden.
3 - 2
6:18
Malik Rose missed 15 ft Jumper.
3 - 2
6:16
Stephen Jackson missed Two Point Shot.
3 - 2
6:16
Stephen Jackson Offensive Rebound.
3 - 2
6:15
Drew Gooden Defensive Rebound.
3 - 2
6:07
Mike Batiste made Two Point Shot.
5 - 2
5:58
Kevin Willis Offensive Foul
5 - 2
5:58
Kevin Willis Foul
5 - 2
5:58
San Antonio Full Timeout.
5 - 2
5:48
Stephen Jackson Personal Foul
5 - 2
5:39
Pau Gasol Bad Pass. Stolen by Stephen Jackson.
5 - 2
5:35
Stephen Jackson made Two Point Shot. Assisted by Emanuel Ginobili.
5 - 4
5:18
Anthony Goldwire enters the game for Steve Kerr.
5 - 4
5:13
Drew Gooden missed 26 ft Three Point Jumper.
5 - 4
5:11
Kevin Willis Defensive Rebound.
5 - 4
4:58
Kevin Willis missed 10 ft Two Point Shot.
5 - 4
4:56
Drew Gooden Defensive Rebound.
5 - 4
4:52
Mike Batiste made 3 ft Two Point Shot. Assisted by Earl Watson.
7 - 4
4:35
Stephen Jackson 3 second
7 - 4
4:35
Danny Ferry enters the game for Malik Rose.
7 - 4
4:22
Drew Gooden Lost Ball. Stolen by Stephen Jackson.
7 - 4
4:20
Stephen Jackson made Dunk.
7 - 6
4:16
Memphis Full Timeout.
7 - 6
4:00
Drew Gooden missed Layup.
7 - 6
3:58
Kevin Willis Defensive Rebound.
7 - 6
3:47
Earl Watson Personal Foul
7 - 6
3:32
Anthony Goldwire missed 21 ft Jumper.
7 - 6
3:30
Danny Ferry Offensive Rebound.
7 - 6
3:29
Danny Ferry missed 12 ft Jumper.
7 - 6
3:29
San Antonio Offensive Rebound.
7 - 6
3:29
Gordan Giricek Loose Ball Foul
7 - 6
3:29
Emanuel Ginobili missed Free Throw 1 of 2.
7 - 6
3:29
San Antonio Offensive Rebound.
7 - 6
3:29
Emanuel Ginobili made Free Throw 2 of 2.
7 - 7
3:29
Shane Battier enters the game for Drew Gooden.
9 - 7
3:18
Gordan Giricek made 19 ft Jumper. Assisted by Pau Gasol.
9 - 7
2:58
Danny Ferry missed 15 ft Jumper.
9 - 7
2:54
Earl Watson Defensive Rebound.
9 - 7
2:47
Mike Batiste made 2 ft Two Point Shot. Assisted by Shane Battier.
11 - 7
2:31
Danny Ferry missed 18 ft Jumper.
11 - 7
2:28
Stephen Jackson Offensive Rebound.
11 - 7
2:28
Pau Gasol Shooting Foul
11 - 7
2:28
Cezary Trybanski enters the game for Pau Gasol.
11 - 7
2:28
Stephen Jackson made Free Throw 1 of 2.
11 - 8
2:28
Stephen Jackson made Free Throw 2 of 2.
11 - 9
2:12
Mike Batiste made 24 ft Three Point Jumper. Assisted by Gordan Giricek.
14 - 9
1:51
Kevin Willis missed 15 ft Jumper.
14 - 9
1:47
Gordan Giricek Defensive Rebound.
14 - 9
1:29
Stephen Jackson Shooting Foul
14 - 9
1:29
Shane Battier made Free Throw 1 of 2.
15 - 9
1:29
Shane Battier made Free Throw 2 of 2.
16 - 9
1:27
Danny Ferry Bad Pass. Stolen by Earl Watson.
16 - 9
1:25
Danny Ferry Shooting Foul
16 - 9
1:25
Earl Watson made Free Throw 1 of 2.
17 - 9
1:25
Earl Watson made Free Throw 2 of 2.
18 - 9
1:13
Emanuel Ginobili missed 15 ft Jumper. Blocked by Cezary Trybanski.
18 - 9
1:09
Mike Batiste Defensive Rebound.
18 - 9
0:59
Shane Battier made Dunk. Assisted by Earl Watson.
20 - 9
0:49
Stephen Jackson Lost Ball. Stolen by Mike Batiste.
20 - 9
0:49
Stephen Jackson Loose Ball Foul
20 - 9
0:49
Mike Batiste made Free Throw 1 of 2.
21 - 9
0:49
Tony Parker enters the game for Emanuel Ginobili.
21 - 9
0:49
Mike Batiste made Free Throw 2 of 2.
22 - 9
0:33
Anthony Goldwire missed 23 ft Three Point Jumper.
22 - 9
0:31
Kevin Willis Offensive Rebound.
22 - 9
0:27
Anthony Goldwire made 17 ft Jumper. Assisted by Kevin Willis.
22 - 11
0:18
Shane Battier made Layup. Assisted by Earl Watson.
24 - 11
0:00
End of the 4th Quarter.
24 - 11
0:00
End Game
24 - 11
0:00
End Game
24 - 11
Follow our #NBArank countdown of the best playoff Vines in NBA history. Here's No. 9.

Michael Smith and Jemele Hill share their opinions on Bill Walton telling his son, Luke, to avoid the Lakers coaching job if offered to him.

Jalen Rose tells Dan Le Batard that Shaquille O'Neal did a good job leading the Lakers' teams during the 2000s.
Regular Season Series
SA wins series 3-1