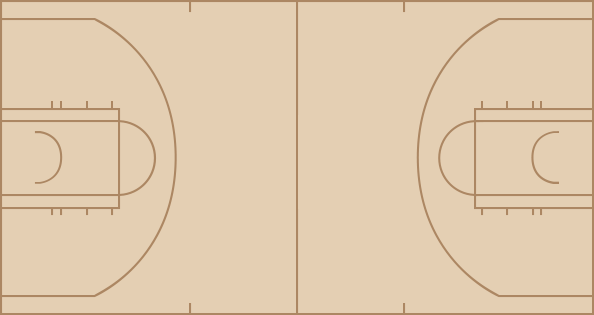 Raptors
time
TEAM
PLAY
SCORE
12:00
Start of the 1st Quarter.
0 - 0
12:00
Jumpball. Antonio Davis vs. Tony Battie. Eric Williams gains possession.
0 - 0
11:49
Antoine Walker Lost Ball. Stolen by Alvin Williams.
0 - 0
11:45
Alvin Williams made 1 ft Two Point Shot.
2 - 0
11:33
Vince Carter Shooting Foul
2 - 0
11:33
Antoine Walker made Free Throw 1 of 2.
2 - 1
11:33
Antoine Walker missed Free Throw 2 of 2.
2 - 1
11:33
Paul Pierce Offensive Rebound.
2 - 1
11:30
Paul Pierce missed 6 ft Jumper.
2 - 1
11:27
Alvin Williams Defensive Rebound.
2 - 1
11:22
Vince Carter made 25 ft Three Point Jumper. Assisted by Alvin Williams.
5 - 1
11:10
Paul Pierce missed 25 ft Three Point Jumper.
5 - 1
11:07
Morris Peterson Defensive Rebound.
5 - 1
10:55
Vince Carter missed 26 ft Three Point Jumper.
5 - 1
10:52
Alvin Williams Offensive Rebound.
5 - 1
10:45
Greg Foster missed 15 ft Jumper.
5 - 1
10:44
Paul Pierce Defensive Rebound.
5 - 1
10:30
Tony Battie made 15 ft Jumper. Assisted by Paul Pierce.
5 - 3
10:11
Antonio Davis missed 14 ft Jumper.
5 - 3
10:10
Antoine Walker Defensive Rebound.
5 - 3
10:03
Greg Foster Personal Foul
5 - 3
9:49
Paul Pierce missed 27 ft Three Point Jumper.
5 - 3
9:47
Greg Foster Defensive Rebound.
5 - 3
9:42
Vince Carter missed 18 ft Jumper.
5 - 3
9:41
Antonio Davis Offensive Rebound.
5 - 3
9:29
Antonio Davis Bad Pass. Stolen by Eric Williams.
5 - 3
9:23
Paul Pierce made 1 ft Two Point Shot. Assisted by Tony Delk.
5 - 5
9:03
Morris Peterson missed 15 ft Jumper.
5 - 5
8:56
Paul Pierce Defensive Rebound.
5 - 5
8:53
Paul Pierce missed Layup.
5 - 5
8:52
Morris Peterson Defensive Rebound.
5 - 5
8:34
Antonio Davis missed 14 ft Jumper.
5 - 5
8:33
Eric Williams Defensive Rebound.
5 - 5
8:22
Antoine Walker made 26 ft Three Point Jumper. Assisted by Tony Delk.
5 - 8
8:03
Tony Delk Personal Foul
5 - 8
7:54
Alvin Williams missed 27 ft Three Point Jumper.
5 - 8
7:52
Eric Williams Defensive Rebound.
5 - 8
7:39
Tony Battie missed 13 ft Jumper.
5 - 8
7:35
Greg Foster Defensive Rebound.
5 - 8
7:33
Morris Peterson made Layup. Assisted by Alvin Williams.
7 - 8
7:16
Eric Williams missed Jumper. Blocked by Morris Peterson.
7 - 8
7:13
Greg Foster Defensive Rebound.
7 - 8
7:09
Vince Carter made Slam Dunk. Assisted by Alvin Williams.
9 - 8
6:48
Eric Williams Lost Ball. Stolen by Morris Peterson.
9 - 8
6:47
Paul Pierce Shooting Foul
9 - 8
6:47
Alvin Williams missed Free Throw 1 of 2.
9 - 8
6:47
Toronto Offensive Rebound.
9 - 8
6:47
Alvin Williams made Free Throw 2 of 2.
10 - 8
6:28
Antoine Walker made Two Point Shot.
10 - 10
6:09
Vince Carter made 17 ft Jumper.
12 - 10
5:52
Antoine Walker made 26 ft Three Point Jumper. Assisted by Paul Pierce.
12 - 13
5:37
Morris Peterson made 17 ft Jumper. Assisted by Alvin Williams.
14 - 13
5:20
Eric Williams Offensive Foul
14 - 13
5:20
Eric Williams Foul
14 - 13
5:20
Boston Full Timeout.
14 - 13
5:20
Walter McCarty enters the game for Eric Williams.
14 - 13
5:20
Shammond Williams enters the game for Tony Delk.
14 - 13
5:03
Morris Peterson made Layup. Assisted by Antonio Davis.
16 - 13
4:47
Tony Battie made Hook Shot. Assisted by Antoine Walker.
16 - 15
4:33
Antonio Davis missed 17 ft Jumper.
16 - 15
4:33
Walter McCarty Defensive Rebound.
16 - 15
4:31
Walter McCarty Lost Ball
16 - 15
4:22
Vince Carter made 18 ft Jumper.
18 - 15
4:03
Antoine Walker made 9 ft Hook Shot.
18 - 17
3:49
Walter McCarty Personal Foul
18 - 17
3:49
Jelani McCoy enters the game for Greg Foster.
18 - 17
3:42
Vince Carter made 16 ft Two Point Shot.
20 - 17
3:21
Shammond Williams made Three Point Jumper. Assisted by Paul Pierce.
20 - 20
3:01
Alvin Williams missed 12 ft Jumper.
20 - 20
3:00
Walter McCarty Defensive Rebound.
20 - 20
2:53
Antoine Walker missed Layup.
20 - 20
2:50
Morris Peterson Defensive Rebound.
20 - 20
2:47
Morris Peterson made Two Point Shot.
22 - 20
2:47
Paul Pierce Shooting Foul
22 - 20
2:47
Toronto Full Timeout.
22 - 20
2:47
Jermaine Jackson enters the game for Alvin Williams.
22 - 20
2:47
Vin Baker enters the game for Tony Battie.
22 - 20
2:47
Tony Delk enters the game for Paul Pierce.
22 - 20
2:47
Eric Williams enters the game for Walter McCarty.
22 - 20
2:47
Morris Peterson made Free Throw 1 of 1.
23 - 20
2:33
Eric Williams missed Layup.
23 - 20
2:31
Jelani McCoy Defensive Rebound.
23 - 20
2:13
Jermaine Jackson made 1 ft Two Point Shot.
25 - 20
1:44
Antoine Walker missed 6 ft Jumper. Blocked by Jelani McCoy.
25 - 20
1:44
Boston Offensive Rebound.
25 - 20
1:42
Tony Delk missed 20 ft Jumper. Blocked by Vince Carter.
25 - 20
1:40
Boston Offensive Rebound.
25 - 20
1:40
24 second
25 - 20
1:25
Vince Carter made 25 ft Three Point Jumper.
28 - 20
1:06
Antoine Walker made 10 ft Hook Shot.
28 - 22
0:44
Vince Carter made 19 ft Jumper. Assisted by Morris Peterson.
30 - 22
0:30
Eric Williams made Jumper.
30 - 24
0:21
Antonio Davis made 14 ft Jumper. Assisted by Morris Peterson.
32 - 24
0:03
Antonio Davis Personal Foul
32 - 24
0:00
Antoine Walker missed 27 ft Three Point Jumper.
32 - 24
0:00
Boston Offensive Rebound.
32 - 24
0:00
End of the 1st Quarter.
32 - 24

time
TEAM
PLAY
SCORE
12:00
Start of the 2nd Quarter.
32 - 24
11:36
Morris Peterson made 10 ft Jumper.
34 - 24
11:22
Vin Baker Offensive Foul
34 - 24
11:22
Vin Baker Foul
34 - 24
11:22
Delay of Game
34 - 24
11:07
Shammond Williams Personal Foul
34 - 24
10:52
Morris Peterson missed 16 ft Jumper.
34 - 24
10:51
Walter McCarty Defensive Rebound.
34 - 24
10:47
Voshon Lenard Shooting Foul
34 - 24
10:47
Tony Delk made Free Throw 1 of 2.
34 - 25
10:47
Alvin Williams enters the game for Morris Peterson.
34 - 25
10:47
Tony Delk missed Free Throw 2 of 2.
34 - 25
10:45
Jelani McCoy Defensive Rebound.
34 - 25
10:25
Jermaine Jackson missed Jumper.
34 - 25
10:22
Jelani McCoy Offensive Rebound.
34 - 25
10:18
Michael Bradley made Layup. Assisted by Alvin Williams.
36 - 25
10:03
Jelani McCoy Personal Foul
36 - 25
9:48
Eric Williams made 5 ft Hook Shot.
36 - 27
9:38
Jelani McCoy Offensive Foul
36 - 27
9:38
Jelani McCoy Foul
36 - 27
9:30
Voshon Lenard Personal Foul
36 - 27
9:22
Shammond Williams made 14 ft Jumper.
36 - 29
9:07
Voshon Lenard missed 24 ft Three Point Jumper.
36 - 29
9:06
Michael Bradley Offensive Rebound.
36 - 29
9:03
Jermaine Jackson made Two Point Shot. Assisted by Michael Bradley.
38 - 29
9:03
Vin Baker Shooting Foul
38 - 29
9:03
Jermaine Jackson made Free Throw 1 of 1.
39 - 29
8:48
Vin Baker missed Layup.
39 - 29
8:47
Tony Delk Offensive Rebound.
39 - 29
8:45
Tony Delk Bad Pass. Stolen by Jermaine Jackson.
39 - 29
8:44
Alvin Williams Offensive Foul
39 - 29
8:44
Alvin Williams Foul
39 - 29
8:44
Official Timeout.
39 - 29
8:44
Antoine Walker enters the game for Eric Williams.
39 - 29
8:44
Tony Battie enters the game for Vin Baker.
39 - 29
8:26
Antoine Walker missed Jumper. Blocked by Michael Bradley.
39 - 29
8:21
Antoine Walker Offensive Rebound.
39 - 29
8:18
Antoine Walker made Hook Shot.
39 - 31
8:04
Jelani McCoy made 9 ft Jumper.
41 - 31
7:48
Antoine Walker missed Jumper.
41 - 31
7:47
Tony Battie Offensive Rebound.
41 - 31
7:43
Tony Battie made Slam Dunk.
41 - 33
7:28
Michael Bradley Bad Pass. Stolen by Tony Battie.
41 - 33
7:18
Antoine Walker made 26 ft Three Point Jumper. Assisted by Walter McCarty.
41 - 36
6:52
Voshon Lenard made Two Point Shot. Assisted by Jermaine Jackson.
43 - 36
6:41
Antoine Walker missed 11 ft Jumper.
43 - 36
6:37
Walter McCarty Offensive Rebound.
43 - 36
6:35
Walter McCarty made Tip Shot.
43 - 38
6:20
Michael Bradley missed Jumper.
43 - 38
6:18
Walter McCarty Defensive Rebound.
43 - 38
6:11
Antoine Walker made 26 ft Three Point Jumper.
43 - 41
6:07
Toronto Full Timeout.
43 - 41
6:07
Greg Foster enters the game for Jelani McCoy.
43 - 41
6:07
Vince Carter enters the game for Jermaine Jackson.
43 - 41
6:07
Antonio Davis enters the game for Michael Bradley.
43 - 41
6:07
Paul Pierce enters the game for Tony Delk.
43 - 41
5:48
Antoine Walker Personal Foul
43 - 41
5:33
Greg Foster missed 21 ft Jumper.
43 - 41
5:31
Antoine Walker Defensive Rebound.
43 - 41
5:26
Paul Pierce missed 25 ft Three Point Jumper.
43 - 41
5:24
Alvin Williams Defensive Rebound.
43 - 41
5:16
Antonio Davis made 13 ft Jumper. Assisted by Alvin Williams.
45 - 41
5:01
Shammond Williams made 26 ft Three Point Jumper.
45 - 44
4:45
Vince Carter missed 26 ft Three Point Jumper.
45 - 44
4:41
Paul Pierce Defensive Rebound.
45 - 44
4:28
Antonio Davis Personal Foul
45 - 44
4:28
Morris Peterson enters the game for Voshon Lenard.
45 - 44
4:20
Antoine Walker missed 11 ft Jumper.
45 - 44
4:18
Walter McCarty Offensive Rebound.
45 - 44
4:11
Antoine Walker missed 26 ft Three Point Jumper.
45 - 44
4:09
Greg Foster Defensive Rebound.
45 - 44
4:01
Vince Carter missed 11 ft Jumper.
45 - 44
3:58
Tony Battie Defensive Rebound.
45 - 44
3:54
Paul Pierce missed Layup.
45 - 44
3:53
Paul Pierce Offensive Rebound.
45 - 44
3:49
Paul Pierce made Layup.
45 - 46
3:20
Morris Peterson missed Jumper.
45 - 46
3:18
Antonio Davis Offensive Rebound.
45 - 46
3:08
Vince Carter Bad Pass. Stolen by Shammond Williams.
45 - 46
2:57
Antoine Walker missed 21 ft Jumper.
45 - 46
2:57
Boston Defensive Rebound.
45 - 46
2:57
Boston Full Timeout.
45 - 46
2:57
Tony Delk enters the game for Paul Pierce.
45 - 46
2:57
Vin Baker enters the game for Tony Battie.
45 - 46
2:41
Morris Peterson missed Layup.
45 - 46
2:39
Vin Baker Defensive Rebound.
45 - 46
2:31
Antoine Walker made Two Point Shot. Assisted by Tony Delk.
45 - 48
2:31
Greg Foster Shooting Foul
45 - 48
2:31
Antoine Walker missed Free Throw 1 of 1.
45 - 48
2:29
Antonio Davis Defensive Rebound.
45 - 48
2:15
Alvin Williams made 16 ft Jumper.
47 - 48
1:59
Shammond Williams Bad Pass
47 - 48
1:45
Antonio Davis missed 13 ft Jumper.
47 - 48
1:43
Vin Baker Defensive Rebound.
47 - 48
1:29
Vin Baker 3 second
47 - 48
1:08
Antonio Davis missed Layup. Blocked by Vin Baker.
47 - 48
1:06
Tony Delk Defensive Rebound.
47 - 48
1:00
Walter McCarty made Jumper. Assisted by Tony Delk.
47 - 50
0:44
Alvin Williams made 17 ft Jumper. Assisted by Morris Peterson.
49 - 50
0:23
Tony Delk Offensive Foul
49 - 50
0:23
Tony Delk Foul
49 - 50
0:23
Toronto 20 Sec. Timeout.
94 - 92
0:23
Tony Battie enters the game for Vin Baker.
49 - 50
0:23
J.R. Bremer enters the game for Tony Delk.
49 - 50
0:09
Walter McCarty Personal Foul
49 - 50
0:00
Alvin Williams missed 16 ft Jumper.
49 - 50
0:00
Toronto Defensive Rebound.
49 - 50
0:00
End of the 2nd Quarter.
49 - 50

time
TEAM
PLAY
SCORE
12:00
Start of the 3rd Quarter.
49 - 50
11:45
Antonio Davis made 6 ft Jumper.
51 - 50
11:33
Morris Peterson Personal Foul
51 - 50
11:19
Tony Battie made Slam Dunk. Assisted by Tony Delk.
51 - 52
11:02
Tony Battie Shooting Foul
51 - 52
11:02
Antonio Davis made Free Throw 1 of 2.
52 - 52
11:02
Antonio Davis missed Free Throw 2 of 2.
52 - 52
11:00
Antoine Walker Defensive Rebound.
52 - 52
10:41
Tony Delk made 26 ft Three Point Jumper. Assisted by Antoine Walker.
52 - 55
10:15
Morris Peterson made 25 ft Three Point Jumper. Assisted by Greg Foster.
55 - 55
9:55
Tony Delk made 7 ft Jumper.
55 - 57
9:30
Vince Carter made Jumper.
57 - 57
9:12
Eric Williams missed 6 ft Jumper.
57 - 57
9:11
Vince Carter Defensive Rebound.
57 - 57
9:02
Morris Peterson made Three Point Jumper. Assisted by Alvin Williams.
60 - 57
8:44
Antoine Walker missed 11 ft Jumper.
60 - 57
8:41
Greg Foster Defensive Rebound.
60 - 57
8:33
Antoine Walker Personal Foul
60 - 57
8:27
Tony Battie Shooting Foul
60 - 57
8:27
Greg Foster made Free Throw 1 of 2.
61 - 57
8:27
Greg Foster made Free Throw 2 of 2.
62 - 57
8:08
Antoine Walker missed Jumper.
62 - 57
8:07
Greg Foster Defensive Rebound.
62 - 57
7:54
Morris Peterson made 23 ft Three Point Jumper. Assisted by Alvin Williams.
65 - 57
7:43
Vince Carter Shooting Foul
65 - 57
7:43
Paul Pierce made Free Throw 1 of 2.
65 - 58
7:43
Walter McCarty enters the game for Eric Williams.
65 - 58
7:43
Vin Baker enters the game for Tony Battie.
65 - 58
7:43
Paul Pierce made Free Throw 2 of 2.
65 - 59
7:24
Vince Carter missed 26 ft Three Point Jumper.
65 - 59
7:22
Antoine Walker Defensive Rebound.
65 - 59
7:13
Morris Peterson Personal Foul
65 - 59
7:05
Paul Pierce missed 7 ft Jumper.
65 - 59
7:03
Alvin Williams Defensive Rebound.
65 - 59
6:39
Alvin Williams missed 14 ft Jumper.
65 - 59
6:39
Toronto Offensive Rebound.
65 - 59
6:39
24 second
65 - 59
6:28
Paul Pierce missed Jumper.
65 - 59
6:26
Morris Peterson Defensive Rebound.
65 - 59
6:20
Antonio Davis missed 14 ft Jumper.
65 - 59
6:18
Vin Baker Defensive Rebound.
65 - 59
6:13
Vince Carter Shooting Foul
65 - 59
6:13
Paul Pierce missed Free Throw 1 of 2.
65 - 59
6:13
Boston Offensive Rebound.
65 - 59
6:13
Paul Pierce made Free Throw 2 of 2.
65 - 60
6:00
Greg Foster made 14 ft Jumper. Assisted by Vince Carter.
67 - 60
5:41
Paul Pierce Bad Pass. Stolen by Vince Carter.
67 - 60
5:30
Morris Peterson made 22 ft Jumper. Assisted by Alvin Williams.
69 - 60
5:30
Boston Full Timeout.
69 - 60
5:30
Shammond Williams enters the game for Tony Delk.
69 - 60
5:13
Antoine Walker missed Jumper.
69 - 60
5:11
Walter McCarty Offensive Rebound.
69 - 60
5:07
Walter McCarty missed Layup.
69 - 60
5:05
Morris Peterson Defensive Rebound.
69 - 60
4:56
Vince Carter missed 9 ft Jumper.
69 - 60
4:56
Shammond Williams Defensive Rebound.
69 - 60
4:56
Shammond Williams Lost Ball
69 - 60
4:52
Antonio Davis Lost Ball. Stolen by Shammond Williams.
69 - 60
4:47
Antoine Walker missed Layup.
69 - 60
4:46
Boston Defensive Rebound.
69 - 60
4:46
Jermaine Jackson enters the game for Alvin Williams.
69 - 60
4:33
Vince Carter missed 27 ft Three Point Jumper.
69 - 60
4:30
Vin Baker Defensive Rebound.
69 - 60
4:18
Walter McCarty missed 25 ft Three Point Jumper.
69 - 60
4:15
Jermaine Jackson Defensive Rebound.
69 - 60
4:01
Vince Carter missed 25 ft Three Point Jumper.
69 - 60
3:59
Greg Foster Offensive Rebound.
69 - 60
3:57
Morris Peterson missed 23 ft Three Point Jumper.
69 - 60
3:55
Shammond Williams Defensive Rebound.
69 - 60
3:49
Morris Peterson Shooting Foul
69 - 60
3:49
Vin Baker made Free Throw 1 of 2.
69 - 61
3:49
Jelani McCoy enters the game for Greg Foster.
69 - 61
3:49
Vin Baker made Free Throw 2 of 2.
69 - 62
3:38
Vince Carter made 27 ft Three Point Jumper. Assisted by Jermaine Jackson.
72 - 62
3:23
Shammond Williams missed 17 ft Jumper.
72 - 62
3:20
Jelani McCoy Defensive Rebound.
72 - 62
3:14
Antonio Davis made 13 ft Jumper. Assisted by Jermaine Jackson.
74 - 62
2:57
Walter McCarty made Slam Dunk. Assisted by Antoine Walker.
74 - 64
2:57
Jelani McCoy Shooting Foul
74 - 64
2:57
Toronto Full Timeout.
74 - 64
2:57
Tony Battie enters the game for Vin Baker.
74 - 64
2:57
Walter McCarty made Free Throw 1 of 1.
74 - 65
2:47
Shammond Williams Personal Foul
74 - 65
2:33
Antonio Davis Traveling
74 - 65
2:20
Vince Carter Shooting Foul
74 - 65
2:20
Tony Battie missed Free Throw 1 of 2.
74 - 65
2:20
Boston Offensive Rebound.
74 - 65
2:20
Voshon Lenard enters the game for Vince Carter.
74 - 65
2:20
Tony Battie missed Free Throw 2 of 2.
74 - 65
2:18
Paul Pierce Offensive Rebound.
74 - 65
2:18
Paul Pierce made Layup.
74 - 67
2:18
Antonio Davis Shooting Foul
74 - 67
2:18
Paul Pierce made Free Throw 1 of 1.
74 - 68
2:01
Antonio Davis missed Layup.
74 - 68
2:00
Antoine Walker Defensive Rebound.
74 - 68
1:53
Walter McCarty made 26 ft Three Point Jumper. Assisted by Paul Pierce.
74 - 71
1:28
Antonio Davis missed 11 ft Jumper.
74 - 71
1:23
Paul Pierce Defensive Rebound.
74 - 71
1:17
Shammond Williams made 25 ft Three Point Jumper. Assisted by Paul Pierce.
74 - 74
1:15
Toronto 20 Sec. Timeout.
74 - 74
1:00
Antonio Davis missed 14 ft Jumper.
74 - 74
1:00
Walter McCarty Defensive Rebound.
74 - 74
0:50
Tony Battie made Slam Dunk. Assisted by Antoine Walker.
74 - 76
0:45
Paul Pierce Personal Foul
74 - 74
0:45
Morris Peterson made Free Throw 1 of 2.
75 - 76
0:45
Morris Peterson made Free Throw 2 of 2.
76 - 76
0:23
Antoine Walker made 14 ft Jumper.
76 - 78
0:00
Morris Peterson made 15 ft Jumper.
78 - 78
0:00
End of the 3rd Quarter.
78 - 78

time
TEAM
PLAY
SCORE
12:00
Start of the 4th Quarter.
78 - 78
11:44
Antoine Walker missed 5 ft Jumper.
78 - 78
11:41
Morris Peterson Defensive Rebound.
78 - 78
11:30
Jelani McCoy Offensive Foul
78 - 78
11:30
Jelani McCoy Foul
78 - 78
11:30
Alvin Williams enters the game for Jermaine Jackson.
78 - 78
11:19
Paul Pierce made Slam Dunk.
78 - 80
10:59
Paul Pierce Personal Foul
78 - 80
10:59
Greg Foster enters the game for Jelani McCoy.
78 - 80
10:41
Morris Peterson made 23 ft Three Point Jumper. Assisted by Voshon Lenard.
81 - 80
10:23
Antoine Walker missed Jumper.
81 - 80
10:22
Tony Battie Offensive Rebound.
81 - 80
10:19
Tony Battie missed 5 ft Jumper.
81 - 80
10:18
Boston Offensive Rebound.
81 - 80
10:11
Paul Pierce made Layup.
81 - 82
9:45
Voshon Lenard made 19 ft Jumper. Assisted by Alvin Williams.
83 - 82
9:30
Voshon Lenard Shooting Foul
83 - 82
9:30
Tony Battie missed Free Throw 1 of 2.
83 - 82
9:30
Boston Offensive Rebound.
83 - 82
9:30
Tony Battie made Free Throw 2 of 2.
83 - 83
9:15
Alvin Williams made Jumper.
85 - 83
9:15
Tony Battie Shooting Foul
85 - 83
9:15
Alvin Williams made Free Throw 1 of 1.
86 - 83
9:07
Paul Pierce Lost Ball
86 - 83
8:56
Antoine Walker Personal Foul
86 - 83
8:56
Official Timeout.
86 - 83
8:56
Vince Carter enters the game for Voshon Lenard.
86 - 83
8:41
Greg Foster made 18 ft Jumper. Assisted by Morris Peterson.
88 - 83
8:22
Antoine Walker missed 7 ft Jumper.
88 - 83
8:22
Boston Defensive Rebound.
88 - 83
8:22
Tony Battie Loose Ball Foul
88 - 83
8:10
Vince Carter missed 16 ft Jumper.
88 - 83
8:07
Tony Delk Defensive Rebound.
88 - 83
7:54
Paul Pierce missed 25 ft Three Point Jumper.
88 - 83
7:52
Alvin Williams Defensive Rebound.
88 - 83
7:39
Vince Carter Bad Pass. Stolen by Antoine Walker.
88 - 83
7:35
Antoine Walker Offensive Foul
88 - 83
7:35
Antoine Walker Foul
88 - 83
7:18
Antonio Davis made 15 ft Jumper. Assisted by Alvin Williams.
90 - 83
7:00
Alvin Williams Personal Foul
90 - 83
6:54
Paul Pierce made Slam Dunk. Assisted by Antoine Walker.
90 - 85
6:28
Greg Foster missed 16 ft Jumper.
90 - 85
6:26
Tony Battie Defensive Rebound.
90 - 85
6:20
Paul Pierce missed 10 ft Jumper.
90 - 85
6:18
Tony Battie Offensive Rebound.
90 - 85
6:18
Greg Foster Shooting Foul
90 - 85
6:18
Tony Battie made Free Throw 1 of 2.
90 - 86
6:18
Eric Williams enters the game for Antoine Walker.
90 - 86
6:18
Tony Battie made Free Throw 2 of 2.
90 - 87
6:03
Vince Carter Bad Pass. Stolen by Tony Battie.
90 - 87
5:54
Boston Full Timeout.
90 - 87
5:54
Antoine Walker enters the game for Eric Williams.
90 - 87
5:41
Tony Delk missed 23 ft Three Point Jumper.
90 - 87
5:37
Tony Battie Offensive Rebound.
90 - 87
5:35
Tony Battie made Tip Shot.
90 - 89
5:13
Morris Peterson made Layup. Assisted by Antonio Davis.
92 - 89
4:56
Walter McCarty missed 24 ft Three Point Jumper.
92 - 89
4:54
Tony Battie Offensive Rebound.
92 - 89
4:45
Walter McCarty missed 24 ft Three Point Jumper.
92 - 89
4:41
Antonio Davis Defensive Rebound.
92 - 89
4:18
Antonio Davis missed 17 ft Jumper.
92 - 89
4:16
Antoine Walker Defensive Rebound.
92 - 89
4:07
Greg Foster Shooting Foul
92 - 89
4:07
Antoine Walker made Free Throw 1 of 2.
92 - 90
4:07
Antoine Walker missed Free Throw 2 of 2.
92 - 90
4:07
Greg Foster Defensive Rebound.
92 - 90
3:55
Tony Battie Shooting Foul
92 - 90
3:55
Vince Carter made Free Throw 1 of 2.
93 - 90
3:55
Vince Carter made Free Throw 2 of 2.
94 - 90
3:35
Tony Delk missed 23 ft Three Point Jumper.
94 - 90
3:33
Antonio Davis Defensive Rebound.
94 - 90
3:15
Alvin Williams missed 25 ft Three Point Jumper.
94 - 90
3:13
Alvin Williams Offensive Rebound.
94 - 90
3:02
Vince Carter Bad Pass. Stolen by Antoine Walker.
94 - 90
3:00
Greg Foster Shooting Foul
94 - 90
3:00
Antoine Walker made Free Throw 1 of 2.
94 - 91
3:00
Antoine Walker made Free Throw 2 of 2.
94 - 92
3:00
Toronto Full Timeout.
94 - 92
2:39
Vince Carter missed Layup.
94 - 92
2:38
Greg Foster Offensive Rebound.
94 - 92
2:38
Greg Foster Offensive Goaltending
94 - 92
2:28
Paul Pierce missed Jumper. Blocked by Greg Foster.
94 - 92
2:24
Paul Pierce Offensive Rebound.
94 - 92
2:21
Paul Pierce Lost Ball. Stolen by Alvin Williams.
94 - 92
2:05
Morris Peterson missed 26 ft Three Point Jumper.
94 - 92
2:02
Tony Delk Defensive Rebound.
94 - 92
1:52
Antoine Walker missed Layup.
94 - 92
1:50
Alvin Williams Defensive Rebound.
94 - 92
1:39
Alvin Williams missed 17 ft Jumper.
94 - 92
1:37
Paul Pierce Defensive Rebound.
94 - 92
1:20
Paul Pierce missed 19 ft Jumper.
94 - 92
1:19
Vince Carter Defensive Rebound.
94 - 92
0:56
Vince Carter missed 16 ft Jumper.
94 - 92
0:53
Paul Pierce Defensive Rebound.
94 - 92
0:39
Tony Delk missed Three Point Jumper.
94 - 92
0:38
Antonio Davis Defensive Rebound.
94 - 92
0:31
Toronto Full Timeout.
94 - 92
0:22
Walter McCarty Shooting Foul
94 - 92
0:22
Antonio Davis made Free Throw 1 of 2.
95 - 92
0:22
Antonio Davis made Free Throw 2 of 2.
96 - 92
0:22
Boston Full Timeout.
96 - 92
0:16
Paul Pierce missed 4 ft Jumper. Blocked by Vince Carter.
96 - 92
0:14
Boston Offensive Rebound.
96 - 92
0:14
Boston 20 Sec. Timeout.
96 - 92
0:10
Antoine Walker made 24 ft Three Point Jumper. Assisted by Tony Battie.
96 - 95
0:10
Toronto Full Timeout.
96 - 95
0:08
Tony Delk Personal Foul
96 - 95
0:08
Alvin Williams made Free Throw 1 of 2.
97 - 95
0:08
Alvin Williams made Free Throw 2 of 2.
98 - 95
0:08
Boston Full Timeout.
98 - 95
0:08
Eric Williams enters the game for Walter McCarty.
98 - 95
0:08
Shammond Williams enters the game for Tony Battie.
98 - 95
0:08
Jermaine Jackson enters the game for Greg Foster.
98 - 95
0:05
Paul Pierce missed 26 ft Three Point Jumper.
98 - 95
0:03
Tony Delk Offensive Rebound.
98 - 95
0:00
End of the 4th Quarter.
98 - 95
After a testing season of off-court matters, the Oklahoma City Thunder are on the verge of returning to the NBA Finals. Also today, another issue at the University of Minnesota, this time a legendary coach taking a drug investigation into his own hands.

Brad Daugherty analyzes Kevin Love's inconsistent performance in the Eastern Conference finals and explains how Love can replicate his Game 5 success going forward.

Long before the Warriors, Bill Russell's San Francisco Dons thrilled Bay Area fans. Today, those USF players see themselves in Steph Curry & Co., writes Baxter Holmes.
2015-2016 Central Standings
2015-2016 Atlantic Standings