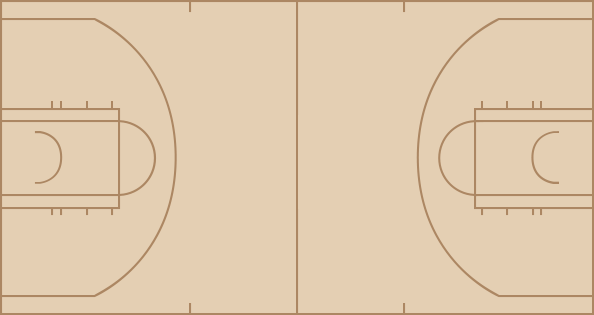 Heat
time
TEAM
PLAY
SCORE
12:00
Start of the 1st Quarter.
0 - 0
12:00
Jumpball. Brian Grant vs. Rasheed Wallace. Scottie Pippen gains possession.
0 - 0
11:49
Travis Best Personal Foul
0 - 0
11:42
Dale Davis made Two Point Shot. Assisted by Bonzi Wells.
0 - 2
11:15
Eddie Jones missed 25 ft Three Point Jumper.
0 - 2
11:12
Scottie Pippen Defensive Rebound.
0 - 2
11:03
Derek Anderson Bad Pass. Stolen by Caron Butler.
0 - 2
10:56
Brian Grant Offensive Rebound.
0 - 2
10:47
Caron Butler missed 18 ft Jumper.
0 - 2
10:45
Brian Grant Offensive Rebound.
0 - 2
10:42
Brian Grant made Layup.
2 - 2
10:27
Brian Grant Shooting Foul
2 - 2
10:27
Rasheed Wallace made Free Throw 1 of 2.
2 - 3
10:27
Rasheed Wallace missed Free Throw 2 of 2.
2 - 3
10:26
Malik Allen Defensive Rebound.
2 - 3
10:10
Brian Grant missed Jumper.
2 - 3
10:07
Dale Davis Defensive Rebound.
2 - 3
9:59
Malik Allen Illegal Defense Foul
2 - 3
9:59
Derek Anderson made Technical Free Throw.
2 - 4
9:49
Rasheed Wallace missed 24 ft Three Point Jumper.
2 - 4
9:48
Caron Butler Defensive Rebound.
2 - 4
9:32
Malik Allen missed 4 ft Hook Shot.
2 - 4
9:30
Brian Grant Offensive Rebound.
2 - 4
9:30
Brian Grant missed Layup.
2 - 4
9:29
Dale Davis Defensive Rebound.
2 - 4
9:23
Scottie Pippen missed Jumper.
2 - 4
9:22
Rasheed Wallace Offensive Rebound.
2 - 4
9:22
Eddie Jones Shooting Foul
2 - 4
9:22
Rasheed Wallace made Free Throw 1 of 2.
2 - 5
9:22
Rasheed Wallace made Free Throw 2 of 2.
2 - 6
9:06
Eddie Jones missed 18 ft Jumper.
2 - 6
9:04
Derek Anderson Defensive Rebound.
2 - 6
8:53
Dale Davis made Dunk. Assisted by Rasheed Wallace.
2 - 8
8:36
Brian Grant Bad Pass. Stolen by Scottie Pippen.
2 - 8
8:32
Derek Anderson made Layup. Assisted by Scottie Pippen.
2 - 10
8:15
Travis Best missed 24 ft Jumper.
2 - 10
8:14
Bonzi Wells Defensive Rebound.
2 - 10
7:56
Malik Allen Shooting Foul
2 - 10
7:56
Dale Davis made Free Throw 1 of 2.
2 - 11
7:56
Dale Davis missed Free Throw 2 of 2.
2 - 11
7:54
Dale Davis Offensive Rebound.
2 - 11
7:46
Bonzi Wells made 22 ft Jumper. Assisted by Rasheed Wallace.
2 - 13
7:31
Miami Full Timeout.
2 - 13
7:18
Caron Butler missed 17 ft Jumper.
2 - 13
7:16
Dale Davis Defensive Rebound.
2 - 13
6:56
Derek Anderson made 22 ft Three Point Jumper. Assisted by Rasheed Wallace.
2 - 16
6:43
Travis Best missed 18 ft Jumper.
2 - 16
6:41
Miami Offensive Rebound.
2 - 16
6:35
Malik Allen Offensive Foul
2 - 16
6:35
Malik Allen Foul
2 - 16
6:18
Dale Davis made Dunk. Assisted by Scottie Pippen.
2 - 18
5:58
Brian Grant missed 8 ft Jumper.
2 - 18
5:56
Rasheed Wallace Defensive Rebound.
2 - 18
5:52
Scottie Pippen made Two Point Shot.
2 - 20
5:37
Eddie Jones missed 18 ft Jumper.
2 - 20
5:37
Miami Defensive Rebound.
2 - 20
5:37
Brian Grant Loose Ball Foul
2 - 20
5:37
Mike James enters the game for Caron Butler.
2 - 20
5:37
Vladimir Stepania enters the game for Malik Allen.
2 - 20
5:37
Rasual Butler enters the game for Travis Best.
2 - 20
5:37
Damon Stoudamire enters the game for Scottie Pippen.
2 - 20
5:37
Dale Davis made Free Throw 1 of 2.
2 - 21
5:37
Dale Davis missed Free Throw 2 of 2.
2 - 21
5:37
Vladimir Stepania Defensive Rebound.
2 - 21
5:13
Rasual Butler missed 20 ft Jumper.
2 - 21
5:11
Rasheed Wallace Defensive Rebound.
2 - 21
5:05
Vladimir Stepania Shooting Foul
2 - 21
5:05
Dale Davis missed Free Throw 1 of 2.
2 - 21
5:05
Portland Offensive Rebound.
2 - 21
5:05
Dale Davis made Free Throw 2 of 2.
2 - 22
4:47
Brian Grant missed Layup. Blocked by Rasheed Wallace.
2 - 22
4:43
Damon Stoudamire Defensive Rebound.
2 - 22
4:41
Rasheed Wallace Offensive Foul
2 - 22
4:41
Rasheed Wallace Foul
2 - 22
4:28
Vladimir Stepania made Two Point Shot. Assisted by Mike James.
4 - 22
4:28
Rasheed Wallace Shooting Foul
4 - 22
4:28
Vladimir Stepania made Free Throw 1 of 1.
5 - 22
4:05
Damon Stoudamire Bad Pass. Stolen by Eddie Jones.
5 - 22
4:01
Mike James Lost Ball
5 - 22
4:01
Portland Full Timeout.
5 - 22
4:01
Zachary Randolph enters the game for Dale Davis.
5 - 22
4:01
Arvydas Sabonis enters the game for Rasheed Wallace.
5 - 22
3:45
Bonzi Wells missed Jumper.
5 - 22
3:42
Mike James Defensive Rebound.
5 - 22
3:33
Vladimir Stepania made 19 ft Jumper. Assisted by Rasual Butler.
7 - 22
3:13
Zachary Randolph missed 14 ft Two Point Shot.
7 - 22
3:09
Portland Defensive Rebound.
7 - 22
2:55
Mike James Lost Ball. Stolen by Arvydas Sabonis.
7 - 22
2:29
24 second
7 - 22
2:17
Scottie Pippen enters the game for Derek Anderson.
7 - 22
2:17
Eddie House enters the game for Eddie Jones.
7 - 22
2:06
Rasual Butler missed 23 ft Three Point Jumper.
7 - 22
2:05
Damon Stoudamire Defensive Rebound.
7 - 22
1:58
Bonzi Wells made Two Point Shot. Assisted by Arvydas Sabonis.
7 - 24
1:34
Eddie House missed 21 ft Jumper.
7 - 24
1:32
Miami Offensive Rebound.
7 - 24
1:31
Ruben Patterson enters the game for Zachary Randolph.
7 - 24
1:31
LaPhonso Ellis enters the game for Brian Grant.
7 - 24
1:23
Mike James missed 19 ft Jumper.
7 - 24
1:21
Damon Stoudamire Defensive Rebound.
7 - 24
1:15
Scottie Pippen made 18 ft Jumper. Assisted by Damon Stoudamire.
7 - 26
0:55
Rasual Butler made Hook Shot.
9 - 26
0:55
Ruben Patterson Shooting Foul
9 - 26
0:55
Rasual Butler missed Free Throw 1 of 1.
9 - 26
0:55
Arvydas Sabonis Defensive Rebound.
9 - 26
0:37
Arvydas Sabonis missed Two Point Shot.
9 - 26
0:35
LaPhonso Ellis Defensive Rebound.
9 - 26
0:24
Mike James missed 24 ft Three Point Jumper.
9 - 26
0:22
Bonzi Wells Defensive Rebound.
9 - 26
0:19
Bonzi Wells Bad Pass
9 - 26
0:03
Rasual Butler made 15 ft Jumper. Assisted by Eddie House.
11 - 26
0:00
Scottie Pippen missed 50 ft Three Point Jumper.
11 - 26
0:00
Portland Offensive Rebound.
11 - 26
0:00
End of the 1st Quarter.
11 - 26

time
TEAM
PLAY
SCORE
12:00
Start of the 2nd Quarter.
11 - 26
11:36
24 second
11 - 26
11:22
Bonzi Wells Lost Ball. Stolen by Eddie House.
11 - 26
11:14
LaPhonso Ellis missed 23 ft Jumper.
11 - 26
11:11
Bonzi Wells Defensive Rebound.
11 - 26
11:00
Damon Stoudamire missed 18 ft Jumper.
11 - 26
10:57
Portland Offensive Rebound.
11 - 26
10:45
Vladimir Stepania Shooting Foul
11 - 26
10:45
Ruben Patterson missed Free Throw 1 of 2.
11 - 26
10:45
Portland Offensive Rebound.
11 - 26
10:45
Ruben Patterson made Free Throw 2 of 2.
11 - 27
10:29
Bonzi Wells Personal Foul
11 - 27
10:29
Derek Anderson enters the game for Bonzi Wells.
11 - 27
10:22
LaPhonso Ellis missed 21 ft Jumper.
11 - 27
10:21
Derek Anderson Defensive Rebound.
11 - 27
10:15
Derek Anderson made Two Point Shot. Assisted by Scottie Pippen.
11 - 29
9:56
Mike James made 24 ft Three Point Jumper. Assisted by Eddie House.
14 - 29
9:41
Arvydas Sabonis missed Layup. Blocked by Rasual Butler.
14 - 29
9:41
Mike James Defensive Rebound.
14 - 29
9:37
Mike James Offensive Foul
14 - 29
9:37
Mike James Foul
14 - 29
9:23
Ruben Patterson Lost Ball
14 - 29
9:07
Rasual Butler Bad Pass. Stolen by Damon Stoudamire.
14 - 29
9:00
Damon Stoudamire made 25 ft Three Point Jumper. Assisted by Derek Anderson.
14 - 32
8:49
Miami Full Timeout.
14 - 32
8:38
Ruben Patterson Personal Foul
14 - 32
8:34
Eddie House missed 22 ft Jumper.
14 - 32
8:33
Ruben Patterson Defensive Rebound.
14 - 32
8:22
Damon Stoudamire missed 9 ft Two Point Shot.
14 - 32
8:21
Vladimir Stepania Defensive Rebound.
14 - 32
8:03
Rasual Butler missed 25 ft Three Point Jumper.
14 - 32
8:03
Derek Anderson Defensive Rebound.
14 - 32
7:58
Rasheed Wallace enters the game for Ruben Patterson.
14 - 32
7:58
Eddie Jones enters the game for Rasual Butler.
14 - 32
7:50
Arvydas Sabonis missed Layup.
14 - 32
7:48
Arvydas Sabonis Offensive Rebound.
14 - 32
7:48
Arvydas Sabonis made Layup.
14 - 34
7:31
Mike James missed 25 ft Three Point Jumper.
14 - 34
7:28
Rasheed Wallace Defensive Rebound.
14 - 34
7:16
Damon Stoudamire missed 22 ft Jumper.
14 - 34
7:13
Vladimir Stepania Defensive Rebound.
14 - 34
7:01
Eddie House made Three Point Jumper. Assisted by Mike James.
17 - 34
6:48
Arvydas Sabonis Bad Pass. Stolen by Eddie Jones.
17 - 34
6:31
Brian Grant enters the game for Vladimir Stepania.
17 - 34
6:31
Bonzi Wells enters the game for Damon Stoudamire.
17 - 34
6:31
Dale Davis enters the game for Arvydas Sabonis.
17 - 34
6:31
Mike James Bad Pass. Stolen by Scottie Pippen.
17 - 34
6:28
Scottie Pippen made Two Point Shot.
17 - 36
6:20
Eddie House Bad Pass. Stolen by Scottie Pippen.
17 - 36
6:13
Scottie Pippen made Layup. Assisted by Rasheed Wallace.
17 - 38
5:52
Eddie House made Three Point Jumper. Assisted by Eddie Jones.
20 - 38
5:37
Derek Anderson missed 21 ft Jumper.
20 - 38
5:35
Brian Grant Defensive Rebound.
20 - 38
5:31
Brian Grant Bad Pass
20 - 38
5:31
Official Timeout.
20 - 38
5:31
Travis Best enters the game for Eddie House.
20 - 38
5:31
Caron Butler enters the game for Mike James.
20 - 38
5:18
Scottie Pippen missed 22 ft Jumper.
20 - 38
5:13
Portland Offensive Rebound.
20 - 38
5:05
Eddie Jones Shooting Foul
20 - 38
5:05
Bonzi Wells made Free Throw 1 of 2.
20 - 39
5:05
Bonzi Wells made Free Throw 2 of 2.
20 - 40
4:45
Bonzi Wells Personal Foul
20 - 40
4:45
Vladimir Stepania enters the game for LaPhonso Ellis.
20 - 40
4:31
Eddie Jones Bad Pass. Stolen by Derek Anderson.
20 - 40
4:26
Derek Anderson made Layup. Assisted by Scottie Pippen.
20 - 42
3:57
Eddie Jones missed 25 ft Three Point Jumper.
20 - 42
3:56
Scottie Pippen Defensive Rebound.
20 - 42
3:50
Bonzi Wells missed 5 ft Jumper.
20 - 42
3:48
Brian Grant Defensive Rebound.
20 - 42
3:43
Vladimir Stepania missed Two Point Shot. Blocked by Rasheed Wallace.
20 - 42
3:42
Rasheed Wallace Defensive Rebound.
20 - 42
3:29
Derek Anderson missed Two Point Shot.
20 - 42
3:28
Brian Grant Defensive Rebound.
20 - 42
3:23
Brian Grant Lost Ball
20 - 42
3:23
Brian Grant Loose Ball Foul
20 - 42
3:23
Portland Full Timeout.
20 - 42
3:10
Dale Davis made 12 ft Two Point Shot. Assisted by Rasheed Wallace.
20 - 44
3:04
Eddie Jones Bad Pass. Stolen by Bonzi Wells.
20 - 44
3:00
Bonzi Wells Bad Pass. Stolen by Travis Best.
20 - 44
2:36
Caron Butler Bad Pass. Stolen by Scottie Pippen.
20 - 44
2:34
Travis Best Personal Foul
20 - 44
2:34
Zachary Randolph enters the game for Rasheed Wallace.
20 - 44
2:34
Damon Stoudamire enters the game for Scottie Pippen.
20 - 44
2:19
Bonzi Wells missed 12 ft Jumper.
20 - 44
2:17
Eddie Jones Defensive Rebound.
20 - 44
2:08
Vladimir Stepania Bad Pass
20 - 44
1:49
Derek Anderson made 8 ft Jumper. Assisted by Dale Davis.
20 - 46
1:25
Vladimir Stepania missed Jumper.
20 - 46
1:23
Dale Davis Defensive Rebound.
20 - 46
1:15
Bonzi Wells made 19 ft Jumper. Assisted by Derek Anderson.
20 - 48
0:57
Caron Butler made 9 ft Jumper.
22 - 48
0:33
Zachary Randolph missed Jumper.
22 - 48
0:31
Dale Davis Offensive Rebound.
22 - 48
0:17
Zachary Randolph missed 3 ft Jumper.
22 - 48
0:16
Portland Offensive Rebound.
22 - 48
0:16
Ruben Patterson enters the game for Bonzi Wells.
22 - 48
0:00
Derek Anderson missed Jumper.
22 - 48
0:00
Vladimir Stepania Defensive Rebound.
22 - 48
0:00
End of the 2nd Quarter.
22 - 48

time
TEAM
PLAY
SCORE
12:00
Start of the 3rd Quarter.
22 - 48
11:41
Malik Allen missed 18 ft Jumper.
22 - 48
11:37
Miami Offensive Rebound.
22 - 48
11:25
Caron Butler Lost Ball. Stolen by Bonzi Wells.
22 - 48
11:11
Rasheed Wallace made 20 ft Jumper.
22 - 50
10:53
Travis Best missed 24 ft Three Point Jumper.
22 - 50
10:52
Derek Anderson Defensive Rebound.
22 - 50
10:37
Scottie Pippen Bad Pass. Stolen by Brian Grant.
22 - 50
10:18
Malik Allen missed Hook Shot.
22 - 50
10:15
Caron Butler Offensive Rebound.
22 - 50
10:06
Malik Allen made 17 ft Jumper. Assisted by Eddie Jones.
24 - 50
9:48
Malik Allen Shooting Foul
24 - 50
9:48
Bonzi Wells made Free Throw 1 of 2.
24 - 51
9:48
Bonzi Wells missed Free Throw 2 of 2.
24 - 51
9:47
Eddie Jones Defensive Rebound.
24 - 51
9:33
Travis Best missed 20 ft Jumper.
24 - 51
9:30
Brian Grant Offensive Rebound.
24 - 51
9:19
Malik Allen made 20 ft Jumper.
26 - 51
9:08
Rasheed Wallace missed 17 ft Jumper.
26 - 51
9:07
Derek Anderson Offensive Rebound.
26 - 51
9:07
Derek Anderson made Layup.
26 - 53
8:45
Caron Butler made 20 ft Jumper.
28 - 53
8:33
Rasheed Wallace missed 25 ft Three Point Jumper.
28 - 53
8:33
Portland Defensive Rebound.
28 - 53
8:25
Caron Butler Lost Ball. Stolen by Scottie Pippen.
28 - 53
8:06
Derek Anderson missed 24 ft Three Point Jumper.
28 - 53
8:04
Brian Grant Defensive Rebound.
28 - 53
7:50
Derek Anderson Personal Foul
28 - 53
7:35
Eddie Jones missed Three Point Jumper.
28 - 53
7:33
Bonzi Wells Defensive Rebound.
28 - 53
7:28
Brian Grant Personal Foul
28 - 53
7:18
Dale Davis missed Two Point Shot.
28 - 53
7:18
Malik Allen Defensive Rebound.
28 - 53
7:13
Travis Best Bad Pass
28 - 53
7:13
Portland Full Timeout.
28 - 53
6:56
Derek Anderson missed 24 ft Three Point Jumper.
28 - 53
6:52
Bonzi Wells Offensive Rebound.
28 - 55
6:52
Bonzi Wells made 4 ft Jumper.
28 - 55
6:28
Malik Allen missed Jumper.
28 - 55
6:26
Travis Best Offensive Rebound.
28 - 55
6:16
Travis Best made 8 ft Jumper.
30 - 55
5:48
Scottie Pippen missed 10 ft Jumper.
30 - 55
5:47
Eddie Jones Defensive Rebound.
30 - 55
5:39
Brian Grant made 19 ft Jumper. Assisted by Eddie Jones.
32 - 55
5:18
Bonzi Wells missed Two Point Shot.
32 - 55
5:18
Brian Grant Defensive Rebound.
32 - 55
5:13
Rasheed Wallace Shooting Foul
32 - 55
5:13
Damon Stoudamire enters the game for Scottie Pippen.
32 - 55
5:13
Zachary Randolph enters the game for Rasheed Wallace.
32 - 55
5:13
Eddie Jones missed Free Throw 1 of 2.
32 - 55
5:13
Miami Offensive Rebound.
32 - 55
5:13
Eddie Jones made Free Throw 2 of 2.
33 - 55
4:56
Zachary Randolph made 8 ft Jumper. Assisted by Dale Davis.
33 - 57
4:33
Caron Butler made Two Point Shot.
35 - 57
4:13
Bonzi Wells missed 18 ft Jumper. Blocked by Caron Butler.
35 - 57
4:11
Damon Stoudamire Offensive Rebound.
35 - 57
4:11
Damon Stoudamire missed 6 ft Jumper. Blocked by Malik Allen.
35 - 57
4:09
Bonzi Wells Offensive Rebound.
35 - 57
4:07
Bonzi Wells missed 20 ft Jumper.
35 - 57
4:07
Brian Grant Defensive Rebound.
35 - 57
4:07
Brian Grant Lost Ball
35 - 57
3:50
Caron Butler Shooting Foul
35 - 57
3:50
Bonzi Wells made Free Throw 1 of 2.
35 - 58
3:50
Bonzi Wells made Free Throw 2 of 2.
35 - 59
3:26
Malik Allen made 8 ft Jumper. Assisted by Caron Butler.
37 - 59
3:13
Bonzi Wells missed Two Point Shot.
37 - 59
3:11
Bonzi Wells Offensive Rebound.
37 - 59
3:11
Caron Butler Personal Foul
37 - 59
3:11
Mike James enters the game for Travis Best.
37 - 59
3:11
Ruben Patterson enters the game for Dale Davis.
37 - 59
3:11
Bonzi Wells missed Free Throw 1 of 2.
37 - 59
3:11
Portland Offensive Rebound.
37 - 59
3:11
Eddie House enters the game for Eddie Jones.
37 - 59
3:11
Bonzi Wells missed Free Throw 2 of 2.
37 - 59
3:11
Brian Grant Defensive Rebound.
37 - 59
2:47
Malik Allen missed Layup.
37 - 59
2:46
Miami Defensive Rebound.
37 - 59
2:46
Brian Grant Loose Ball Foul
37 - 59
2:46
Miami Full Timeout.
37 - 59
2:46
Zachary Randolph missed Free Throw 1 of 2.
37 - 59
2:46
Portland Offensive Rebound.
37 - 59
2:46
Zachary Randolph made Free Throw 2 of 2.
37 - 60
2:28
Malik Allen made Jumper. Assisted by Mike James.
39 - 60
2:05
Derek Anderson missed Two Point Shot.
39 - 60
2:03
Derek Anderson Offensive Rebound.
39 - 60
2:03
Derek Anderson missed Tip Shot.
39 - 60
2:02
Zachary Randolph Offensive Rebound.
39 - 60
2:01
Zachary Randolph made Layup.
39 - 62
1:39
Mike James Lost Ball
39 - 62
1:17
Derek Anderson made 21 ft Jumper. Assisted by Ruben Patterson.
39 - 64
0:52
Malik Allen Bad Pass
39 - 64
0:42
Caron Butler Shooting Foul
39 - 64
0:42
Bonzi Wells made Free Throw 1 of 2.
39 - 65
0:42
Rasual Butler enters the game for Caron Butler.
39 - 65
0:42
Bonzi Wells made Free Throw 2 of 2.
39 - 66
0:27
Bonzi Wells Personal Foul
39 - 66
0:14
Malik Allen made 12 ft Two Point Shot.
41 - 66
0:03
Derek Anderson missed 18 ft Jumper.
41 - 66
0:00
Brian Grant Defensive Rebound.
41 - 66
0:00
End of the 3rd Quarter.
41 - 66

time
TEAM
PLAY
SCORE
12:00
Start of the 4th Quarter.
41 - 66
11:36
Bonzi Wells made 19 ft Jumper. Assisted by Damon Stoudamire.
41 - 68
11:19
Malik Allen made 19 ft Jumper. Assisted by Mike James.
43 - 68
11:00
Rasual Butler Personal Foul
43 - 68
11:00
Sean Lampley enters the game for Brian Grant.
43 - 68
11:00
Scottie Pippen enters the game for Derek Anderson.
43 - 68
11:00
Rasheed Wallace enters the game for Bonzi Wells.
43 - 68
10:52
Damon Stoudamire missed Two Point Shot.
43 - 68
10:48
Zachary Randolph Offensive Rebound.
43 - 70
10:48
Zachary Randolph made Layup.
43 - 70
10:33
Malik Allen made 8 ft Two Point Shot. Assisted by Eddie House.
45 - 70
10:11
Mike James Personal Foul
45 - 70
10:07
Ruben Patterson Offensive Foul
45 - 70
10:07
Ruben Patterson Foul
45 - 70
9:49
Rasual Butler missed 25 ft Three Point Jumper.
45 - 70
9:48
Scottie Pippen Defensive Rebound.
45 - 70
9:37
Zachary Randolph missed 6 ft Jumper.
45 - 70
9:34
Ruben Patterson Offensive Rebound.
45 - 70
9:34
Ruben Patterson missed Layup. Blocked by Malik Allen.
45 - 70
9:30
Eddie House Defensive Rebound.
45 - 70
9:19
Sean Lampley made Dunk. Assisted by Malik Allen.
47 - 70
9:00
Scottie Pippen missed 23 ft Jumper.
47 - 70
8:56
Rasheed Wallace Offensive Rebound.
47 - 70
8:42
Damon Stoudamire made Jumper.
47 - 72
8:26
Eddie House missed 18 ft Jumper.
47 - 72
8:25
Malik Allen Offensive Rebound.
47 - 72
8:25
Zachary Randolph Personal Foul
47 - 72
8:25
Official Timeout.
47 - 72
8:25
Vladimir Stepania enters the game for Malik Allen.
47 - 72
8:18
Damon Stoudamire Shooting Foul
47 - 72
8:18
Eddie House made Free Throw 1 of 2.
48 - 72
8:18
Eddie House made Free Throw 2 of 2.
49 - 72
8:04
Rasual Butler Shooting Foul
49 - 72
8:04
Jeff McInnis enters the game for Scottie Pippen.
49 - 72
8:04
Ruben Patterson made Free Throw 1 of 2.
49 - 73
8:04
Ruben Patterson made Free Throw 2 of 2.
49 - 74
7:50
Vladimir Stepania missed Jumper. Blocked by Rasheed Wallace.
49 - 74
7:48
Jeff McInnis Defensive Rebound.
49 - 74
7:28
Damon Stoudamire missed 25 ft Three Point Jumper.
49 - 74
7:26
Rasheed Wallace Offensive Rebound.
49 - 76
7:26
Rasheed Wallace made Tip Shot.
49 - 76
7:09
Eddie House missed 22 ft Three Point Jumper.
49 - 76
7:07
Vladimir Stepania Offensive Rebound.
49 - 76
7:05
Vladimir Stepania missed Layup.
49 - 76
7:05
Sean Lampley Offensive Rebound.
51 - 76
7:05
Sean Lampley made Layup.
51 - 76
7:05
Zachary Randolph Shooting Foul
51 - 76
7:05
Qyntel Woods enters the game for Rasheed Wallace.
51 - 76
7:05
Sean Lampley made Free Throw 1 of 1.
52 - 76
6:58
Sean Lampley Shooting Foul
52 - 76
6:58
Ruben Patterson missed Free Throw 1 of 2.
52 - 76
6:58
Portland Offensive Rebound.
52 - 76
6:58
Ruben Patterson made Free Throw 2 of 2.
52 - 77
6:41
Sean Lampley missed 8 ft Jumper.
52 - 77
6:39
Zachary Randolph Defensive Rebound.
52 - 77
6:31
Damon Stoudamire missed 24 ft Three Point Jumper.
52 - 77
6:30
Vladimir Stepania Defensive Rebound.
52 - 77
6:22
Antonio Daniels enters the game for Ruben Patterson.
52 - 77
6:18
Vladimir Stepania made 3 ft Hook Shot. Assisted by Mike James.
54 - 77
5:50
Zachary Randolph missed 18 ft Jumper.
54 - 77
5:50
Sean Lampley Defensive Rebound.
54 - 77
5:48
Mike James made Two Point Shot.
56 - 77
5:43
Jeff McInnis missed Two Point Shot. Blocked by Rasual Butler.
56 - 77
5:41
Damon Stoudamire Offensive Rebound.
56 - 77
5:37
Qyntel Woods missed 24 ft Three Point Jumper.
56 - 77
5:35
Zachary Randolph Offensive Rebound.
56 - 77
5:35
Vladimir Stepania Shooting Foul
56 - 77
5:35
Portland Full Timeout.
56 - 77
5:35
Zachary Randolph made Free Throw 1 of 2.
56 - 78
5:35
Zachary Randolph made Free Throw 2 of 2.
56 - 79
5:20
Zachary Randolph Shooting Foul
56 - 79
5:20
Vladimir Stepania Foul
56 - 79
5:20
Sean Lampley made Free Throw 1 of 2.
57 - 79
5:20
Sean Lampley missed Free Throw 2 of 2.
57 - 79
5:20
Qyntel Woods Defensive Rebound.
57 - 79
5:13
Jeff McInnis missed 20 ft Jumper.
57 - 79
5:09
Eddie House Defensive Rebound.
57 - 79
5:07
Eddie House Lost Ball
57 - 79
4:52
Jeff McInnis missed 17 ft Jumper.
57 - 79
4:50
Vladimir Stepania Defensive Rebound.
57 - 79
4:35
Qyntel Woods Shooting Foul
57 - 79
4:35
Sean Lampley made Free Throw 1 of 2.
58 - 79
4:35
Sean Lampley made Free Throw 2 of 2.
59 - 79
4:09
Antonio Daniels missed 25 ft Three Point Jumper.
59 - 79
4:09
Portland Defensive Rebound.
59 - 79
4:09
Zachary Randolph Loose Ball Foul
59 - 79
4:09
Vladimir Stepania made Free Throw 1 of 2.
60 - 79
4:09
Vladimir Stepania missed Free Throw 2 of 2.
60 - 79
4:09
Zachary Randolph Defensive Rebound.
60 - 79
3:54
Damon Stoudamire missed 23 ft Jumper.
60 - 79
3:51
Eddie House Defensive Rebound.
60 - 79
3:30
Mike James missed 21 ft Jumper.
60 - 79
3:29
Qyntel Woods Defensive Rebound.
60 - 79
3:18
Jeff McInnis made 9 ft Jumper. Assisted by Zachary Randolph.
60 - 81
3:02
Rasual Butler missed Layup. Blocked by Antonio Daniels.
60 - 81
3:00
Damon Stoudamire Defensive Rebound.
60 - 81
2:57
Mike James Shooting Foul
60 - 81
2:57
Miami Full Timeout.
60 - 81
2:57
Damon Stoudamire made Free Throw 1 of 2.
60 - 82
2:57
Damon Stoudamire missed Free Throw 2 of 2.
60 - 82
2:57
Vladimir Stepania Defensive Rebound.
60 - 82
2:42
Vladimir Stepania missed Two Point Shot. Blocked by Damon Stoudamire.
60 - 82
2:42
Jumpball. Vladimir Stepania vs. Damon Stoudamire. Mike James gains possession.
60 - 82
2:42
Miami Offensive Rebound.
60 - 82
2:36
Eddie House made 22 ft Jumper. Assisted by Mike James.
62 - 82
2:21
Antonio Daniels Bad Pass
62 - 82
2:04
Vladimir Stepania made Jumper. Assisted by Mike James.
64 - 82
1:52
Antonio Daniels made Two Point Shot.
64 - 84
1:40
Eddie House missed 18 ft Jumper.
64 - 84
1:39
Miami Defensive Rebound.
64 - 84
1:30
Jeff McInnis made 6 ft Two Point Shot.
64 - 86
1:14
Sean Lampley missed 17 ft Jumper.
64 - 86
1:10
Rasual Butler Offensive Rebound.
64 - 86
1:10
Rasual Butler missed Layup.
64 - 86
1:07
Zachary Randolph Defensive Rebound.
64 - 86
1:00
Qyntel Woods missed Two Point Shot.
64 - 86
1:00
Zachary Randolph Offensive Rebound.
64 - 88
1:00
Zachary Randolph made Two Point Shot.
64 - 88
0:47
Mike James missed Two Point Shot.
64 - 88
0:46
Qyntel Woods Defensive Rebound.
64 - 88
0:42
Qyntel Woods Bad Pass
64 - 88
0:32
Eddie House made 17 ft Jumper. Assisted by Mike James.
66 - 88
0:08
Damon Stoudamire missed 16 ft Jumper.
66 - 88
0:06
Mike James Defensive Rebound.
66 - 88
0:00
Eddie House made 23 ft Three Point Jumper. Assisted by Mike James.
69 - 88
0:00
End of the 4th Quarter.
69 - 88
0:00
End Game
69 - 88
0:00
End Game
69 - 88
0:00
End Game
69 - 88
Russell Westbrook and Draymond Green go back-and-forth on if Green intentionally kicked Steven Adams in the groin in Game 3 of the Western Conference finals.

Here is a side-by-side comparison of Draymond Green's and Dahntay Jones' low blows and analysis of whether they merit disciplinary action.

Celtics executive Danny Ainge laid out a roadmap for the future that avoids shortcuts that are not in the best long-term interest of the club.
Regular Season Series
POR wins series 2-0
2015-2016 Atlantic Standings
2015-2016 Pacific Standings