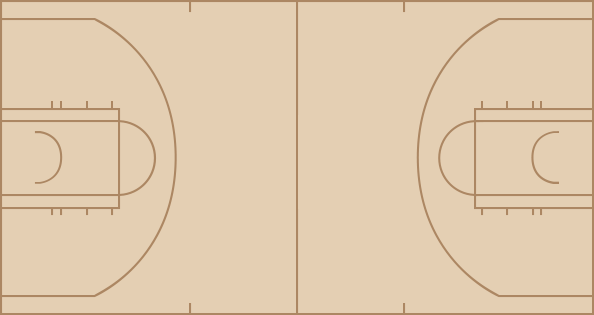 Mavericks
time
TEAM
PLAY
SCORE
12:00
Start of the 1st Quarter.
0 - 0
12:00
Jumpball. Shawn Bradley vs. Erick Dampier. Antawn Jamison gains possession.
0 - 0
11:37
Antawn Jamison missed 21 ft Jumper.
0 - 0
11:37
Gilbert Arenas Offensive Rebound.
0 - 0
11:23
Troy Murphy missed 16 ft Jumper.
0 - 0
11:22
Shawn Bradley Defensive Rebound.
0 - 0
11:15
Erick Dampier Shooting Foul
0 - 0
11:15
Michael Finley made Free Throw 1 of 2.
1 - 0
11:15
Michael Finley missed Free Throw 2 of 2.
1 - 0
11:12
Gilbert Arenas Defensive Rebound.
1 - 0
11:02
Jumpball. Michael Finley vs. Erick Dampier. Steve Nash gains possession.
1 - 0
11:02
Erick Dampier Lost Ball. Stolen by Michael Finley.
1 - 0
10:55
Michael Finley missed Layup.
1 - 0
10:53
Antawn Jamison Defensive Rebound.
1 - 0
10:48
Jason Richardson made 14 ft Jumper. Assisted by Antawn Jamison.
1 - 2
10:25
Jason Richardson Shooting Foul
1 - 2
10:25
Dirk Nowitzki made Free Throw 1 of 2.
2 - 2
10:25
Dirk Nowitzki made Free Throw 2 of 2.
3 - 2
10:11
Jason Richardson made 18 ft Jumper. Assisted by Gilbert Arenas.
3 - 4
9:59
Steve Nash missed Layup. Blocked by Erick Dampier.
3 - 4
9:56
Gilbert Arenas Defensive Rebound.
3 - 4
9:52
Troy Murphy made 16 ft Jumper. Assisted by Gilbert Arenas.
3 - 6
9:40
Adrian Griffin missed 27 ft Three Point Jumper.
3 - 6
9:37
Antawn Jamison Defensive Rebound.
3 - 6
9:33
Antawn Jamison missed 5 ft Jumper. Blocked by Shawn Bradley.
3 - 6
9:32
Troy Murphy Offensive Rebound.
3 - 6
9:25
Adrian Griffin Shooting Foul
3 - 6
9:25
Erick Dampier made Free Throw 1 of 2.
3 - 7
9:25
Erick Dampier made Free Throw 2 of 2.
3 - 8
9:14
Dirk Nowitzki missed 24 ft Three Point Jumper.
3 - 8
9:11
Erick Dampier Defensive Rebound.
3 - 8
8:57
Troy Murphy made Two Point Shot. Assisted by Antawn Jamison.
3 - 10
8:48
Steve Nash made 25 ft Three Point Jumper. Assisted by Dirk Nowitzki.
6 - 10
8:29
Antawn Jamison made 17 ft Two Point Shot. Assisted by Gilbert Arenas.
6 - 12
8:11
Michael Finley made 16 ft Two Point Shot.
8 - 12
7:56
Erick Dampier Bad Pass. Stolen by Adrian Griffin.
8 - 12
7:50
Adrian Griffin made Two Point Shot. Assisted by Michael Finley.
10 - 12
7:31
Erick Dampier missed 4 ft Jumper. Blocked by Shawn Bradley.
10 - 12
7:30
Shawn Bradley Defensive Rebound.
10 - 12
7:18
Dirk Nowitzki made Two Point Shot.
12 - 12
6:48
Jason Richardson missed 18 ft Jumper.
12 - 12
6:47
Steve Nash Defensive Rebound.
12 - 12
6:43
Erick Dampier Flagrant Foul Type 1
12 - 12
6:43
Dirk Nowitzki made Flagrant Free Throw 1 of 2.
13 - 12
6:43
Dirk Nowitzki made Flagrant Free Throw 2 of 2.
14 - 12
6:43
Adonal Foyle enters the game for Erick Dampier.
14 - 12
6:35
Gilbert Arenas Personal Foul
14 - 12
6:28
Dirk Nowitzki Bad Pass
14 - 12
6:24
Antawn Jamison made 17 ft Jumper. Assisted by Gilbert Arenas.
14 - 14
6:09
Adrian Griffin missed Three Point Jumper.
14 - 14
6:07
Adonal Foyle Defensive Rebound.
14 - 14
5:52
Jason Richardson missed 25 ft Three Point Jumper.
14 - 14
5:50
Shawn Bradley Defensive Rebound.
14 - 14
5:43
Michael Finley missed 18 ft Jumper.
14 - 14
5:43
Jason Richardson Defensive Rebound.
14 - 14
5:39
Gilbert Arenas Traveling
14 - 14
5:39
Golden State Full Timeout.
14 - 14
5:39
Mike Dunleavy enters the game for Jason Richardson.
14 - 14
5:26
Steve Nash missed 19 ft Jumper.
14 - 14
5:24
Shawn Bradley Offensive Rebound.
14 - 14
5:22
Shawn Bradley missed 5 ft Hook Shot.
14 - 14
5:20
Troy Murphy Defensive Rebound.
14 - 14
5:11
Troy Murphy missed 18 ft Jumper.
14 - 14
5:09
Shawn Bradley Defensive Rebound.
14 - 14
5:03
Shawn Bradley missed 4 ft Jumper.
14 - 14
5:01
Michael Finley Offensive Rebound.
14 - 14
4:54
Dirk Nowitzki missed 21 ft Jumper.
14 - 14
4:52
Adrian Griffin Offensive Rebound.
14 - 14
4:41
Shawn Bradley missed 13 ft Jumper.
14 - 14
4:39
Troy Murphy Defensive Rebound.
14 - 14
4:24
Adonal Foyle made 3 ft Two Point Shot. Assisted by Gilbert Arenas.
14 - 16
4:18
Raef Lafrentz enters the game for Shawn Bradley.
14 - 16
4:18
Nick Van Exel enters the game for Michael Finley.
14 - 16
4:18
Chris Mills enters the game for Antawn Jamison.
14 - 16
4:11
Raef Lafrentz missed 3 ft Two Point Shot.
14 - 16
4:09
Troy Murphy Defensive Rebound.
14 - 16
3:54
Mike Dunleavy made Two Point Shot.
14 - 18
3:42
Steve Nash missed 17 ft Jumper.
14 - 18
3:41
Adonal Foyle Defensive Rebound.
14 - 18
3:15
Chris Mills made 23 ft Jumper. Assisted by Mike Dunleavy.
14 - 20
3:05
Raef Lafrentz missed 4 ft Jumper. Blocked by Adonal Foyle.
14 - 20
3:03
Raef Lafrentz Offensive Rebound.
14 - 20
3:02
Raef Lafrentz missed Layup.
14 - 20
3:02
Dallas Offensive Rebound.
14 - 20
2:54
Adrian Griffin made 9 ft Two Point Shot.
16 - 20
2:38
Raef Lafrentz Illegal Defense Foul
16 - 20
2:38
Dallas Full Timeout.
16 - 20
2:38
Avery Johnson enters the game for Steve Nash.
16 - 20
2:38
Gilbert Arenas made Technical Free Throw.
16 - 21
2:26
Chris Mills missed 4 ft Jumper. Blocked by Dirk Nowitzki.
16 - 21
2:24
Nick Van Exel Defensive Rebound.
16 - 21
2:19
Nick Van Exel missed 4 ft Jumper.
16 - 21
2:19
Dallas Defensive Rebound.
16 - 21
2:19
Adrian Griffin Loose Ball Foul
16 - 21
2:19
Earl Boykins enters the game for Gilbert Arenas.
16 - 21
2:01
Mike Dunleavy missed 20 ft Jumper.
16 - 21
2:00
Chris Mills Offensive Rebound.
16 - 21
1:59
Chris Mills missed Layup.
16 - 21
1:57
Dirk Nowitzki Defensive Rebound.
16 - 21
1:51
Nick Van Exel made 25 ft Three Point Jumper. Assisted by Avery Johnson.
19 - 21
1:30
Earl Boykins missed 4 ft Jumper. Blocked by Dirk Nowitzki.
19 - 21
1:30
Golden State Offensive Rebound.
19 - 21
1:30
Jason Richardson enters the game for Mike Dunleavy.
19 - 21
1:30
Michael Finley enters the game for Adrian Griffin.
19 - 21
1:27
Jason Richardson missed 25 ft Three Point Jumper.
19 - 21
1:24
Dirk Nowitzki Defensive Rebound.
19 - 21
1:23
Dirk Nowitzki Bad Pass. Stolen by Jason Richardson.
19 - 21
1:19
Troy Murphy missed Jumper.
19 - 21
1:16
Raef Lafrentz Defensive Rebound.
19 - 21
1:09
Michael Finley missed 19 ft Jumper.
19 - 21
1:07
Troy Murphy Defensive Rebound.
19 - 21
0:55
Earl Boykins made 6 ft Two Point Shot.
19 - 23
0:42
Nick Van Exel missed 8 ft Two Point Shot.
19 - 23
0:40
Adonal Foyle Defensive Rebound.
19 - 23
0:26
Earl Boykins missed 6 ft Jumper.
19 - 23
0:25
Troy Murphy Offensive Rebound.
19 - 23
0:25
Troy Murphy missed Tip Shot.
19 - 23
0:24
Chris Mills Offensive Rebound.
19 - 23
0:24
Nick Van Exel Shooting Foul
19 - 23
0:24
Chris Mills made Free Throw 1 of 2.
19 - 24
0:24
Mike Dunleavy enters the game for Troy Murphy.
19 - 24
0:24
Chris Mills made Free Throw 2 of 2.
19 - 25
0:05
Raef Lafrentz made 21 ft Jumper. Assisted by Avery Johnson.
21 - 25
0:00
Mike Dunleavy missed 26 ft Three Point Jumper.
21 - 25
0:00
Adonal Foyle Offensive Rebound.
21 - 25
0:00
End of the 1st Quarter.
21 - 25

time
TEAM
PLAY
SCORE
12:00
Start of the 2nd Quarter.
21 - 25
11:45
Nick Van Exel made 5 ft Hook Shot.
23 - 25
11:29
Raef Lafrentz Shooting Foul
23 - 25
11:29
Antawn Jamison missed Free Throw 1 of 2.
23 - 25
11:29
Golden State Offensive Rebound.
23 - 25
11:29
Antawn Jamison made Free Throw 2 of 2.
23 - 26
11:14
Dirk Nowitzki made Slam Dunk. Assisted by Nick Van Exel.
25 - 26
10:51
Mike Dunleavy missed 4 ft Jumper. Blocked by Michael Finley.
25 - 26
10:49
Golden State Offensive Rebound.
25 - 26
10:45
Earl Boykins made 27 ft Three Point Jumper. Assisted by Jason Richardson.
25 - 29
10:26
Avery Johnson made 4 ft Two Point Shot.
27 - 29
10:26
Earl Boykins Shooting Foul
27 - 29
10:26
Avery Johnson made Free Throw 1 of 1.
28 - 29
10:11
Mike Dunleavy made 24 ft Three Point Jumper. Assisted by Earl Boykins.
28 - 32
9:56
Avery Johnson Bad Pass
28 - 32
9:56
Avery Johnson Personal Foul
28 - 32
9:45
Avery Johnson Shooting Foul
28 - 32
9:45
Earl Boykins made Free Throw 1 of 2.
28 - 33
9:45
Earl Boykins made Free Throw 2 of 2.
28 - 34
9:34
Earl Boykins Personal Foul
28 - 34
9:30
Jason Richardson Shooting Foul
28 - 34
9:30
Avery Johnson made Free Throw 1 of 2.
29 - 34
9:30
Gilbert Arenas enters the game for Jason Richardson.
29 - 34
9:30
Shawn Bradley enters the game for Dirk Nowitzki.
29 - 34
9:30
Avery Johnson made Free Throw 2 of 2.
30 - 34
9:22
Shawn Bradley Personal Foul
30 - 34
9:18
Mike Dunleavy made 25 ft Three Point Jumper. Assisted by Gilbert Arenas.
30 - 37
9:00
Steve Nash enters the game for Avery Johnson.
30 - 37
8:59
Danny Fortson Personal Foul
30 - 37
8:59
Official Timeout.
30 - 37
8:52
Michael Finley made Two Point Shot.
32 - 37
8:38
Shawn Bradley Personal Foul
32 - 37
8:38
Antawn Jamison made Free Throw 1 of 2.
32 - 38
8:38
Antawn Jamison missed Free Throw 2 of 2.
32 - 38
8:37
Golden State Defensive Rebound.
32 - 38
8:37
Danny Fortson Loose Ball Foul
32 - 38
8:37
Raef Lafrentz made Free Throw 1 of 2.
33 - 38
8:37
Raef Lafrentz made Free Throw 2 of 2.
34 - 38
8:19
Earl Boykins made 24 ft Three Point Jumper. Assisted by Mike Dunleavy.
34 - 41
8:07
Steve Nash Bad Pass. Stolen by Mike Dunleavy.
34 - 41
8:00
Gilbert Arenas made Two Point Shot. Assisted by Earl Boykins.
34 - 43
7:48
Raef Lafrentz made 6 ft Jumper. Assisted by Steve Nash.
36 - 43
7:37
Antawn Jamison missed 26 ft Three Point Jumper.
36 - 43
7:35
Raef Lafrentz Defensive Rebound.
36 - 43
7:26
Steve Nash Bad Pass. Stolen by Gilbert Arenas.
36 - 43
7:20
Mike Dunleavy missed 9 ft Two Point Shot.
36 - 43
7:18
Shawn Bradley Defensive Rebound.
36 - 43
7:13
Steve Nash missed 4 ft Jumper.
36 - 43
7:09
Antawn Jamison Defensive Rebound.
36 - 43
7:09
Nick Van Exel Personal Foul
36 - 43
7:09
Popeye Jones enters the game for Raef Lafrentz.
36 - 43
7:09
Adonal Foyle enters the game for Danny Fortson.
36 - 43
7:09
Earl Boykins missed Free Throw 1 of 2.
36 - 43
7:09
Golden State Offensive Rebound.
36 - 43
7:09
Dirk Nowitzki enters the game for Michael Finley.
36 - 43
7:09
Earl Boykins made Free Throw 2 of 2.
36 - 44
6:50
Shawn Bradley made Dunk. Assisted by Dirk Nowitzki.
38 - 44
6:35
Gilbert Arenas missed 18 ft Jumper.
38 - 44
6:33
Shawn Bradley Defensive Rebound.
38 - 44
6:26
Adonal Foyle Loose Ball Foul
38 - 44
6:26
Popeye Jones made Free Throw 1 of 2.
39 - 44
6:26
Popeye Jones missed Free Throw 2 of 2.
39 - 44
6:24
Antawn Jamison Defensive Rebound.
39 - 44
6:18
Gilbert Arenas Out of Bounds
39 - 44
6:05
Dirk Nowitzki Bad Pass
39 - 44
5:43
Earl Boykins missed 16 ft Jumper.
39 - 44
5:41
Popeye Jones Defensive Rebound.
39 - 44
5:35
Steve Nash made 26 ft Three Point Jumper.
42 - 44
5:11
Gilbert Arenas made 22 ft Jumper. Assisted by Mike Dunleavy.
42 - 46
4:54
Dirk Nowitzki made 18 ft Two Point Shot.
44 - 46
4:41
Gilbert Arenas missed 22 ft Three Point Jumper.
44 - 46
4:39
Dirk Nowitzki Defensive Rebound.
44 - 46
4:33
Nick Van Exel missed 25 ft Three Point Jumper.
44 - 46
4:31
Adonal Foyle Defensive Rebound.
44 - 46
4:26
Mike Dunleavy made Dunk. Assisted by Gilbert Arenas.
44 - 48
4:07
Dirk Nowitzki made 14 ft Two Point Shot.
46 - 48
3:42
Mike Dunleavy missed 18 ft Jumper.
46 - 48
3:40
Gilbert Arenas Offensive Rebound.
46 - 50
3:40
Gilbert Arenas made Layup.
46 - 50
3:26
Shawn Bradley made Slam Dunk. Assisted by Dirk Nowitzki.
48 - 50
2:58
Mike Dunleavy missed 25 ft Three Point Jumper.
48 - 50
2:56
Adonal Foyle Offensive Rebound.
48 - 50
2:55
Earl Boykins made 4 ft Jumper. Assisted by Adonal Foyle.
48 - 52
2:39
Mike Dunleavy Shooting Foul
48 - 52
2:39
Golden State Full Timeout.
48 - 52
2:39
Troy Murphy enters the game for Adonal Foyle.
48 - 52
2:39
Raja Bell enters the game for Popeye Jones.
48 - 52
2:39
Shawn Bradley made Free Throw 1 of 2.
49 - 52
2:39
Shawn Bradley made Free Throw 2 of 2.
50 - 52
2:28
Raja Bell Personal Foul
50 - 52
2:28
Dallas Full Timeout.
50 - 52
2:28
Antawn Jamison missed Free Throw 1 of 2.
50 - 52
2:28
Golden State Offensive Rebound.
50 - 52
2:28
Antawn Jamison made Free Throw 2 of 2.
50 - 53
2:16
Nick Van Exel Bad Pass
50 - 53
1:54
Earl Boykins made 24 ft Three Point Jumper. Assisted by Mike Dunleavy.
50 - 56
1:39
Troy Murphy Shooting Foul
50 - 56
1:39
Nick Van Exel made Free Throw 1 of 2.
51 - 56
1:39
Raef Lafrentz enters the game for Shawn Bradley.
51 - 56
1:39
Adrian Griffin enters the game for Raja Bell.
51 - 56
1:39
Nick Van Exel made Free Throw 2 of 2.
52 - 56
1:25
Gilbert Arenas made 17 ft Two Point Shot. Assisted by Earl Boykins.
52 - 58
1:07
Adrian Griffin missed 23 ft Three Point Jumper.
52 - 58
1:05
Antawn Jamison Defensive Rebound.
52 - 58
0:57
Steve Nash Personal Foul
52 - 58
0:57
Antawn Jamison made Free Throw 1 of 2.
52 - 59
0:57
Antawn Jamison made Free Throw 2 of 2.
52 - 60
0:41
Raef Lafrentz made 15 ft Jumper. Assisted by Nick Van Exel.
54 - 60
0:30
Troy Murphy missed 6 ft Jumper.
54 - 60
0:28
Antawn Jamison Offensive Rebound.
54 - 60
0:28
Antawn Jamison missed Tip Shot.
54 - 60
0:27
Adrian Griffin Defensive Rebound.
54 - 60
0:07
Nick Van Exel Lost Ball. Stolen by Earl Boykins.
54 - 60
0:05
Earl Boykins made Two Point Shot.
54 - 62
0:00
Steve Nash missed Jumper.
54 - 62
0:00
Mike Dunleavy Defensive Rebound.
54 - 62
0:00
End of the 2nd Quarter.
54 - 62

time
TEAM
PLAY
SCORE
12:00
Start of the 3rd Quarter.
54 - 62
11:47
Dirk Nowitzki made Two Point Shot. Assisted by Michael Finley.
56 - 62
11:29
Raef Lafrentz Personal Foul
56 - 62
11:18
Erick Dampier missed Dunk.
56 - 62
11:18
Shawn Bradley Defensive Rebound.
56 - 62
11:08
Shawn Bradley made 17 ft Jumper. Assisted by Steve Nash.
58 - 62
10:56
Steve Nash Personal Foul
58 - 62
10:45
Jason Richardson made 25 ft Three Point Jumper. Assisted by Antawn Jamison.
58 - 65
10:27
Gilbert Arenas Personal Foul
58 - 65
10:19
Dirk Nowitzki made Two Point Shot.
60 - 65
10:10
Gilbert Arenas Bad Pass. Stolen by Dirk Nowitzki.
60 - 65
10:04
Jason Richardson Personal Foul
60 - 65
9:56
Michael Finley missed 7 ft Two Point Shot.
60 - 65
9:55
Jason Richardson Defensive Rebound.
60 - 65
9:40
Erick Dampier Bad Pass. Stolen by Dirk Nowitzki.
60 - 65
9:36
Dirk Nowitzki missed Two Point Shot.
60 - 65
9:34
Antawn Jamison Defensive Rebound.
60 - 65
9:30
Raef Lafrentz Technical Foul
60 - 65
9:30
Raef Lafrentz Technical Foul
60 - 65
9:30
null
60 - 65
9:30
Gilbert Arenas made Technical Free Throw.
60 - 66
9:30
Gilbert Arenas missed Technical Free Throw.
60 - 66
9:30
Golden State Offensive Rebound.
60 - 66
9:15
Dirk Nowitzki Personal Foul
60 - 66
9:14
Jason Richardson made 26 ft Three Point Jumper. Assisted by Gilbert Arenas.
60 - 69
8:52
Dirk Nowitzki made 16 ft Jumper. Assisted by Steve Nash.
62 - 69
8:52
Gilbert Arenas Shooting Foul
62 - 69
8:52
Dirk Nowitzki made Free Throw 1 of 1.
63 - 69
8:42
Shawn Bradley Shooting Foul
63 - 69
8:42
Troy Murphy made Free Throw 1 of 2.
63 - 70
8:42
Troy Murphy made Free Throw 2 of 2.
63 - 71
8:29
Dirk Nowitzki missed 5 ft Jumper. Blocked by Erick Dampier.
63 - 71
8:26
Erick Dampier Defensive Rebound.
63 - 71
8:22
Antawn Jamison made 5 ft Two Point Shot. Assisted by Gilbert Arenas.
63 - 73
8:00
Steve Nash made 19 ft Jumper.
65 - 73
7:52
Erick Dampier Lost Ball. Stolen by Shawn Bradley.
65 - 73
7:47
Steve Nash missed 21 ft Jumper.
65 - 73
7:45
Troy Murphy Defensive Rebound.
65 - 73
7:33
Antawn Jamison made 26 ft Three Point Jumper. Assisted by Erick Dampier.
65 - 76
7:18
Michael Finley missed 16 ft Jumper.
65 - 76
7:16
Erick Dampier Defensive Rebound.
65 - 76
7:11
Raef Lafrentz Shooting Foul
65 - 76
7:11
Nick Van Exel enters the game for Shawn Bradley.
65 - 76
7:11
Jason Richardson made Free Throw 1 of 2.
65 - 77
7:11
Chris Mills enters the game for Antawn Jamison.
65 - 77
7:11
Jason Richardson made Free Throw 2 of 2.
65 - 78
6:54
Nick Van Exel missed 7 ft Two Point Shot.
65 - 78
6:52
Troy Murphy Defensive Rebound.
65 - 78
6:41
Jason Richardson made 10 ft Two Point Shot. Assisted by Gilbert Arenas.
65 - 80
6:31
Michael Finley made 12 ft Jumper.
67 - 80
6:05
Troy Murphy missed Layup.
67 - 80
6:05
Erick Dampier made Slam Dunk.
67 - 82
6:05
Erick Dampier Offensive Rebound.
67 - 82
6:00
Michael Finley made 25 ft Three Point Jumper. Assisted by Steve Nash.
70 - 82
5:50
Gilbert Arenas missed 4 ft Jumper.
70 - 82
5:50
Erick Dampier made Tip Shot.
70 - 84
5:50
Erick Dampier Offensive Rebound.
70 - 84
5:50
Dallas Full Timeout.
70 - 84
5:39
Nick Van Exel made 9 ft Jumper.
72 - 84
5:22
Jason Richardson missed 19 ft Jumper.
72 - 84
5:20
Dirk Nowitzki Defensive Rebound.
72 - 84
5:11
Chris Mills Shooting Foul
72 - 84
5:11
Raef Lafrentz made Free Throw 1 of 2.
73 - 84
5:11
Raef Lafrentz made Free Throw 2 of 2.
74 - 84
5:03
Chris Mills Offensive Foul
74 - 84
5:03
Chris Mills Foul
74 - 84
5:03
Antawn Jamison enters the game for Chris Mills.
74 - 84
4:41
Michael Finley missed 19 ft Jumper.
74 - 84
4:39
Antawn Jamison Defensive Rebound.
74 - 84
4:24
Troy Murphy Lost Ball. Stolen by Nick Van Exel.
74 - 84
4:18
Nick Van Exel made Two Point Shot.
76 - 84
4:00
Jason Richardson made 5 ft Two Point Shot.
76 - 86
4:00
Steve Nash Shooting Foul
76 - 86
4:00
Adrian Griffin enters the game for Steve Nash.
76 - 86
4:00
Jason Richardson made Free Throw 1 of 1.
76 - 87
3:47
Erick Dampier Illegal Defense Foul
76 - 87
3:41
Nick Van Exel made Two Point Shot.
78 - 87
3:21
Adrian Griffin Personal Foul
78 - 87
3:21
Erick Dampier missed Free Throw 1 of 2.
78 - 87
3:21
Golden State Offensive Rebound.
78 - 87
3:21
Erick Dampier missed Free Throw 2 of 2.
78 - 87
3:20
Golden State Defensive Rebound.
78 - 87
3:20
Troy Murphy Loose Ball Foul
78 - 87
3:20
Dirk Nowitzki made Free Throw 1 of 2.
79 - 87
3:20
Dirk Nowitzki missed Free Throw 2 of 2.
79 - 87
3:19
Troy Murphy Defensive Rebound.
79 - 87
3:00
Antawn Jamison missed 6 ft Jumper.
79 - 87
2:58
Troy Murphy Offensive Rebound.
79 - 87
2:56
Troy Murphy missed 4 ft Jumper.
79 - 87
2:55
Golden State Offensive Rebound.
79 - 87
2:55
Golden State Full Timeout.
79 - 87
2:47
Nick Van Exel Shooting Foul
79 - 87
2:47
Earl Boykins made Free Throw 1 of 2.
79 - 88
2:47
Earl Boykins made Free Throw 2 of 2.
79 - 89
2:31
Adrian Griffin Bad Pass. Stolen by Earl Boykins.
79 - 89
2:31
Earl Boykins Out of Bounds
79 - 89
2:17
Michael Finley missed Jumper.
79 - 89
2:15
Troy Murphy Defensive Rebound.
79 - 89
2:10
Antawn Jamison made 3 ft Two Point Shot. Assisted by Earl Boykins.
79 - 91
1:57
Michael Finley missed Layup.
79 - 91
1:54
Raef Lafrentz Offensive Rebound.
81 - 91
1:54
Raef Lafrentz made Tip Shot.
81 - 91
1:31
Antawn Jamison missed 23 ft Three Point Jumper.
81 - 91
1:29
Raef Lafrentz Defensive Rebound.
81 - 91
1:19
Shawn Bradley enters the game for Raef Lafrentz.
81 - 91
1:19
null
81 - 91
1:07
Nick Van Exel missed 11 ft Jumper.
81 - 91
1:05
Adrian Griffin Offensive Rebound.
81 - 91
1:01
Dirk Nowitzki missed 16 ft Jumper.
81 - 91
1:00
Antawn Jamison Defensive Rebound.
81 - 91
0:54
Antawn Jamison missed 11 ft Jumper.
81 - 91
0:53
Shawn Bradley Defensive Rebound.
81 - 91
0:36
Jumpball. Adrian Griffin vs. Earl Boykins. Nick Van Exel gains possession.
81 - 91
0:28
Nick Van Exel missed 8 ft Jumper.
81 - 91
0:26
Erick Dampier Defensive Rebound.
81 - 91
0:05
Earl Boykins made 25 ft Three Point Jumper.
81 - 94
0:00
Antawn Jamison Shooting Foul
81 - 94
0:00
Nick Van Exel made Free Throw 1 of 3.
82 - 94
0:00
Nick Van Exel made Free Throw 2 of 3.
83 - 94
0:00
Nick Van Exel made Free Throw 3 of 3.
84 - 94
0:00
End of the 3rd Quarter.
84 - 94

time
TEAM
PLAY
SCORE
12:00
Start of the 4th Quarter.
84 - 94
11:45
Erick Dampier Bad Pass. Stolen by Steve Nash.
84 - 94
11:33
Troy Murphy Personal Foul
84 - 94
11:33
Mike Dunleavy enters the game for Erick Dampier.
84 - 94
11:29
Dirk Nowitzki Offensive Foul
84 - 94
11:29
Dirk Nowitzki Foul
84 - 94
11:07
Antawn Jamison missed 22 ft Three Point Jumper.
84 - 94
11:04
Troy Murphy Offensive Rebound.
84 - 94
11:04
Steve Nash Shooting Foul
84 - 94
11:04
Troy Murphy made Free Throw 1 of 2.
84 - 95
11:04
Troy Murphy made Free Throw 2 of 2.
84 - 96
10:45
Dirk Nowitzki missed 26 ft Three Point Jumper.
84 - 96
10:40
Adrian Griffin Offensive Rebound.
84 - 96
10:33
Steve Nash made Two Point Shot.
86 - 96
10:12
Troy Murphy made Two Point Shot. Assisted by Earl Boykins.
86 - 98
9:56
Adrian Griffin made Two Point Shot.
88 - 98
9:56
Mike Dunleavy Shooting Foul
88 - 98
9:56
Adrian Griffin made Free Throw 1 of 1.
89 - 98
9:41
Earl Boykins missed 13 ft Jumper.
89 - 98
9:40
Shawn Bradley Defensive Rebound.
89 - 98
9:23
Dirk Nowitzki missed 20 ft Jumper.
89 - 98
9:22
Troy Murphy Defensive Rebound.
89 - 98
9:11
Jason Richardson made 5 ft Two Point Shot. Assisted by Earl Boykins.
89 - 100
8:59
Steve Nash made 9 ft Two Point Shot.
91 - 100
8:45
Mike Dunleavy Bad Pass
91 - 100
8:45
Official Timeout.
91 - 100
8:22
Dirk Nowitzki made 11 ft Two Point Shot. Assisted by Nick Van Exel.
93 - 100
8:22
Jason Richardson Shooting Foul
93 - 100
8:22
Dirk Nowitzki made Free Throw 1 of 1.
94 - 100
8:08
Shawn Bradley Shooting Foul
94 - 100
8:08
Gilbert Arenas enters the game for Jason Richardson.
94 - 100
8:08
Antawn Jamison made Free Throw 1 of 2.
94 - 101
8:08
Antawn Jamison made Free Throw 2 of 2.
94 - 102
7:54
Shawn Bradley made Two Point Shot. Assisted by Nick Van Exel.
96 - 102
7:54
Antawn Jamison Shooting Foul
96 - 102
7:54
Shawn Bradley made Free Throw 1 of 1.
97 - 102
7:35
Gilbert Arenas missed Jumper.
97 - 102
7:33
Dirk Nowitzki Defensive Rebound.
97 - 102
7:26
Steve Nash missed 11 ft Two Point Shot.
97 - 102
7:24
Antawn Jamison Defensive Rebound.
97 - 102
7:18
Antawn Jamison made 8 ft Two Point Shot. Assisted by Gilbert Arenas.
97 - 104
6:56
Nick Van Exel missed 25 ft Three Point Jumper.
97 - 104
6:54
Adrian Griffin Offensive Rebound.
97 - 104
6:52
Dirk Nowitzki made 25 ft Three Point Jumper. Assisted by Adrian Griffin.
100 - 104
6:33
Earl Boykins Bad Pass
100 - 104
6:33
Adonal Foyle enters the game for Mike Dunleavy.
100 - 104
6:20
Troy Murphy Personal Foul
100 - 104
6:20
Dirk Nowitzki made Free Throw 1 of 2.
101 - 104
6:20
Dirk Nowitzki made Free Throw 2 of 2.
102 - 104
6:18
Adrian Griffin Personal Foul
102 - 104
6:18
Michael Finley enters the game for Adrian Griffin.
102 - 104
6:05
Antawn Jamison Bad Pass. Stolen by Nick Van Exel.
102 - 104
6:00
Nick Van Exel made 7 ft Two Point Shot.
104 - 104
5:45
Earl Boykins missed 5 ft Jumper. Blocked by Shawn Bradley.
104 - 104
5:43
Earl Boykins Offensive Rebound.
104 - 104
5:37
Gilbert Arenas made 25 ft Three Point Jumper. Assisted by Earl Boykins.
104 - 107
5:26
Earl Boykins Personal Foul
104 - 107
5:26
Golden State Full Timeout.
104 - 107
5:26
Steve Nash made Free Throw 1 of 2.
105 - 107
5:26
Steve Nash made Free Throw 2 of 2.
106 - 107
5:07
Earl Boykins missed 17 ft Jumper.
106 - 107
5:05
Adonal Foyle Offensive Rebound.
106 - 107
5:05
Adonal Foyle missed Tip Shot.
106 - 107
5:05
Dirk Nowitzki Defensive Rebound.
106 - 107
4:56
Shawn Bradley made Layup. Assisted by Nick Van Exel.
108 - 107
4:48
Shawn Bradley Personal Foul
108 - 107
4:48
Jason Richardson enters the game for Earl Boykins.
108 - 107
4:48
Adrian Griffin enters the game for Steve Nash.
108 - 107
4:39
Antawn Jamison missed 6 ft Two Point Shot.
108 - 107
4:37
Nick Van Exel Defensive Rebound.
108 - 107
4:22
Dirk Nowitzki made Two Point Shot.
110 - 107
4:01
Antawn Jamison made Two Point Shot. Assisted by Jason Richardson.
110 - 109
3:40
Adrian Griffin made 11 ft Jumper. Assisted by Dirk Nowitzki.
112 - 109
3:15
Gilbert Arenas missed 14 ft Jumper.
112 - 109
3:13
Gilbert Arenas Offensive Rebound.
112 - 109
3:09
Antawn Jamison missed 25 ft Three Point Jumper.
112 - 109
3:06
Dirk Nowitzki Defensive Rebound.
112 - 109
2:43
Dirk Nowitzki missed 18 ft Two Point Shot.
112 - 109
2:42
Adonal Foyle Defensive Rebound.
112 - 109
2:31
Antawn Jamison missed Three Point Jumper.
112 - 109
2:31
Golden State Defensive Rebound.
112 - 109
2:31
Dallas Full Timeout.
112 - 109
2:31
Mike Dunleavy enters the game for Adonal Foyle.
112 - 109
2:31
Steve Nash enters the game for Adrian Griffin.
112 - 109
2:13
Dirk Nowitzki made Two Point Shot.
114 - 109
1:54
Troy Murphy missed 6 ft Jumper.
114 - 109
1:54
Antawn Jamison Offensive Rebound.
114 - 109
1:54
Antawn Jamison missed Tip Shot.
114 - 109
1:53
Jason Richardson Offensive Rebound.
114 - 109
1:50
Jason Richardson missed 8 ft Jumper.
114 - 109
1:49
Dirk Nowitzki Defensive Rebound.
114 - 109
1:28
Nick Van Exel missed 28 ft Three Point Jumper.
114 - 109
1:25
Antawn Jamison Defensive Rebound.
114 - 109
1:12
Mike Dunleavy missed 26 ft Three Point Jumper.
114 - 109
1:09
Gilbert Arenas Offensive Rebound.
114 - 109
1:07
Gilbert Arenas missed 18 ft Jumper.
114 - 109
1:05
Michael Finley Defensive Rebound.
114 - 109
0:44
Nick Van Exel missed Layup.
114 - 109
0:42
Shawn Bradley Offensive Rebound.
114 - 109
0:42
Shawn Bradley missed Tip Shot.
114 - 109
0:42
Dallas Defensive Rebound.
114 - 109
0:35
Antawn Jamison made 15 ft Jumper. Assisted by Mike Dunleavy.
114 - 111
0:32
Jason Richardson Personal Foul
114 - 111
0:32
Nick Van Exel made Free Throw 1 of 2.
115 - 111
0:32
Raja Bell enters the game for Shawn Bradley.
115 - 111
0:32
Adrian Griffin enters the game for Steve Nash.
115 - 111
0:32
Nick Van Exel missed Free Throw 2 of 2.
115 - 111
0:30
Dallas Defensive Rebound.
115 - 111
0:30
Golden State Full Timeout.
115 - 111
0:28
Gilbert Arenas missed 23 ft Three Point Jumper.
115 - 111
0:26
Antawn Jamison Offensive Rebound.
115 - 111
0:26
Antawn Jamison missed Tip Shot.
115 - 111
0:24
Antawn Jamison Offensive Rebound.
115 - 113
0:24
Antawn Jamison made Layup.
115 - 113
0:23
Mike Dunleavy Personal Foul
115 - 113
0:23
Dirk Nowitzki made Free Throw 1 of 2.
116 - 113
0:23
Dirk Nowitzki made Free Throw 2 of 2.
117 - 113
0:23
Golden State Full Timeout.
117 - 113
0:23
Golden State 20 Sec. Timeout.
117 - 113
0:18
Jason Richardson missed 28 ft Three Point Jumper.
117 - 113
0:16
Raja Bell Defensive Rebound.
117 - 113
0:16
Troy Murphy Loose Ball Foul
117 - 113
0:16
Raja Bell missed Free Throw 1 of 2.
117 - 113
0:16
Dallas Offensive Rebound.
117 - 113
0:16
Raja Bell made Free Throw 2 of 2.
118 - 113
0:11
Gilbert Arenas missed 25 ft Three Point Jumper.
118 - 113
0:09
Jason Richardson Offensive Rebound.
118 - 113
0:07
Jason Richardson made 26 ft Three Point Jumper.
118 - 116
0:05
Mike Dunleavy Personal Foul
118 - 116
0:05
Michael Finley made Free Throw 1 of 2.
119 - 116
0:05
Michael Finley made Free Throw 2 of 2.
120 - 116
0:03
Antawn Jamison Bad Pass. Stolen by Michael Finley.
120 - 116
0:00
End of the 4th Quarter.
120 - 116
0:00
End Game
120 - 116
0:00
End Game
120 - 116
0:00
End Game
120 - 116
17 things you patently missed that time Steph Curry dribbled Chris Paul into the floor

Michael Smith and Jemele Hill share their thoughts on what the Lakers should do with their draft pick if they happen to win the lottery and get No. 1.

Jemele Hill and Michael Smith react to former Lakers coach Byron Scott explaining that he was shocked when Los Angeles fired him.
Regular Season Series
DAL wins series 4-0
2015-2016 Pacific Standings