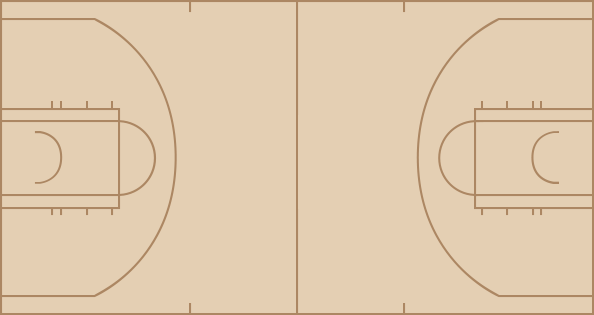 76ers
time
TEAM
PLAY
SCORE
12:00
Start of the 1st Quarter.
0 - 0
12:00
Jumpball. Keith Van Horn vs. Yao Ming. Glen Rice gains possession.
0 - 0
11:44
Kenny Thomas made 7 ft Two Point Shot.
0 - 2
11:22
Monty Williams missed Two Point Shot.
0 - 2
11:19
Yao Ming Defensive Rebound.
0 - 2
11:15
Glen Rice made 20 ft Jumper. Assisted by Kenny Thomas.
0 - 4
10:56
Allen Iverson missed 25 ft Three Point Jumper.
0 - 4
10:53
Glen Rice Defensive Rebound.
0 - 4
10:52
Steve Francis Bad Pass
0 - 4
10:36
Todd MacCulloch made 9 ft Two Point Shot. Assisted by Eric Snow.
2 - 4
10:18
Kenny Thomas missed 6 ft Two Point Shot.
2 - 4
10:17
Keith Van Horn Defensive Rebound.
2 - 4
10:11
Eric Snow made Layup.
4 - 4
9:48
Yao Ming missed Hook Shot.
4 - 4
9:47
Yao Ming Offensive Rebound.
4 - 4
9:47
Todd MacCulloch Shooting Foul
4 - 4
9:47
Yao Ming missed Free Throw 1 of 2.
4 - 4
9:47
Houston Offensive Rebound.
4 - 4
9:47
Yao Ming made Free Throw 2 of 2.
4 - 5
9:33
Todd MacCulloch Lost Ball
4 - 5
9:19
Yao Ming Lost Ball. Stolen by Allen Iverson.
4 - 5
9:15
Glen Rice Personal Foul
4 - 5
9:00
Allen Iverson missed 22 ft Jumper.
4 - 5
8:59
Keith Van Horn Offensive Rebound.
4 - 5
8:57
Keith Van Horn missed Layup.
4 - 5
8:56
Todd MacCulloch Offensive Rebound.
4 - 5
8:56
Yao Ming Shooting Foul
4 - 5
8:56
Todd MacCulloch missed Free Throw 1 of 2.
4 - 5
8:56
Philadelphia Offensive Rebound.
4 - 5
8:56
Todd MacCulloch made Free Throw 2 of 2.
5 - 5
8:45
Glen Rice made 25 ft Three Point Jumper. Assisted by Kenny Thomas.
5 - 8
8:21
Allen Iverson made 25 ft Three Point Jumper. Assisted by Eric Snow.
8 - 8
8:02
Kenny Thomas missed Layup.
8 - 8
8:00
Eric Snow Defensive Rebound.
8 - 8
7:54
Monty Williams Out of Bounds
8 - 8
7:39
Glen Rice missed 22 ft Jumper.
8 - 8
7:37
Allen Iverson Defensive Rebound.
8 - 8
7:31
Allen Iverson missed 12 ft Jumper.
8 - 8
7:30
Kenny Thomas Defensive Rebound.
8 - 8
7:24
Cuttino Mobley made Two Point Shot. Assisted by Steve Francis.
8 - 10
7:05
Todd MacCulloch made Dunk. Assisted by Keith Van Horn.
10 - 10
6:43
Glen Rice made 11 ft Two Point Shot.
10 - 12
6:31
Eric Snow Bad Pass. Stolen by Cuttino Mobley.
10 - 12
6:22
Glen Rice made 25 ft Three Point Jumper. Assisted by Kenny Thomas.
10 - 15
6:05
Monty Williams missed Layup. Blocked by Yao Ming.
10 - 15
6:03
Monty Williams Offensive Rebound.
12 - 15
6:01
Monty Williams made Layup.
12 - 15
5:56
Houston Full Timeout.
12 - 15
5:48
Yao Ming made Two Point Shot. Assisted by Cuttino Mobley.
12 - 17
5:30
Keith Van Horn made Layup. Assisted by Monty Williams.
14 - 17
5:13
Monty Williams Personal Foul
14 - 17
5:09
Glen Rice missed 17 ft Jumper.
14 - 17
5:07
Houston Defensive Rebound.
14 - 17
4:52
Monty Williams made Jumper. Assisted by Allen Iverson.
16 - 17
4:37
Yao Ming missed Layup.
16 - 17
4:35
Houston Defensive Rebound.
16 - 17
4:35
Yao Ming Loose Ball Foul
16 - 17
4:35
Kelvin Cato enters the game for Yao Ming.
16 - 17
4:15
Todd MacCulloch made 9 ft Hook Shot. Assisted by Allen Iverson.
18 - 17
4:15
Cuttino Mobley Shooting Foul
18 - 17
4:15
Allen Iverson Lane Violation
18 - 17
4:01
Kenny Thomas missed 9 ft Jumper.
18 - 17
3:59
Todd MacCulloch Defensive Rebound.
18 - 17
3:55
Allen Iverson Lost Ball
18 - 17
3:43
Cuttino Mobley missed 21 ft Jumper.
18 - 17
3:41
Monty Williams Defensive Rebound.
18 - 17
3:36
Kelvin Cato Shooting Foul
18 - 17
3:36
Keith Van Horn made Free Throw 1 of 2.
19 - 17
3:36
Aaron McKie enters the game for Eric Snow.
19 - 17
3:36
Greg Buckner enters the game for Monty Williams.
19 - 17
3:36
Keith Van Horn missed Free Throw 2 of 2.
19 - 17
3:36
Kenny Thomas Defensive Rebound.
19 - 17
3:14
Cuttino Mobley missed 15 ft Two Point Shot.
19 - 17
3:12
Houston Offensive Rebound.
19 - 17
3:12
24 second
19 - 17
3:00
Allen Iverson missed 25 ft Three Point Jumper.
19 - 17
2:58
Kenny Thomas Defensive Rebound.
19 - 17
2:45
Steve Francis made Jumper.
19 - 19
2:44
Delay of Game
19 - 19
2:31
Aaron McKie made 8 ft Two Point Shot.
21 - 19
2:16
Greg Buckner Personal Foul
21 - 19
2:16
Philadelphia Full Timeout.
21 - 19
2:16
Derrick Coleman enters the game for Todd MacCulloch.
21 - 19
2:08
Kelvin Cato made Two Point Shot. Assisted by Kenny Thomas.
21 - 21
1:52
Greg Buckner missed 10 ft Hook Shot.
21 - 21
1:50
Kenny Thomas Defensive Rebound.
21 - 21
1:42
Glen Rice missed 26 ft Three Point Jumper.
21 - 21
1:39
Steve Francis Offensive Rebound.
21 - 21
1:25
Greg Buckner Personal Foul
21 - 21
1:16
Cuttino Mobley missed 14 ft Jumper.
21 - 21
1:15
Derrick Coleman Defensive Rebound.
21 - 21
1:00
Keith Van Horn 3 second
21 - 21
0:47
Steve Francis missed Jumper.
21 - 21
0:45
Aaron McKie Defensive Rebound.
21 - 21
0:38
Aaron McKie Bad Pass. Stolen by Steve Francis.
21 - 21
0:19
Cuttino Mobley made Two Point Shot. Assisted by Steve Francis.
21 - 23
0:03
Allen Iverson made 8 ft Jumper.
23 - 23
0:00
End of the 1st Quarter.
23 - 23

time
TEAM
PLAY
SCORE
12:00
Start of the 2nd Quarter.
23 - 23
11:41
Allen Iverson missed Layup.
23 - 23
11:40
Keith Van Horn Offensive Rebound.
23 - 23
11:38
Keith Van Horn missed Tip Shot.
23 - 23
11:37
Keith Van Horn Offensive Rebound.
23 - 23
11:22
Greg Buckner missed Layup. Blocked by Eddie Griffin.
23 - 23
11:21
Cuttino Mobley Defensive Rebound.
23 - 23
10:57
Steve Francis made 25 ft Three Point Jumper. Assisted by Cuttino Mobley.
23 - 26
10:40
Allen Iverson Lost Ball. Stolen by Terence Morris.
23 - 26
10:33
Steve Francis missed Layup.
23 - 26
10:32
Keith Van Horn Defensive Rebound.
23 - 26
10:29
Derrick Coleman made Dunk. Assisted by Allen Iverson.
25 - 26
10:03
Eddie Griffin made 16 ft Jumper. Assisted by Terence Morris.
25 - 28
9:49
Keith Van Horn made 6 ft Jumper. Assisted by Aaron McKie.
27 - 28
9:26
Cuttino Mobley Bad Pass. Stolen by Greg Buckner.
27 - 28
9:21
Allen Iverson made 18 ft Jumper. Assisted by Aaron McKie.
29 - 28
9:00
Eddie Griffin made 26 ft Three Point Jumper. Assisted by Terence Morris.
29 - 31
8:45
Keith Van Horn missed 6 ft Hook Shot.
29 - 31
8:42
Greg Buckner Offensive Rebound.
29 - 31
8:30
Keith Van Horn missed 25 ft Three Point Jumper.
29 - 31
8:27
Eddie Griffin Defensive Rebound.
29 - 31
8:08
Steve Francis Out of Bounds
29 - 31
8:08
Official Timeout.
29 - 31
8:08
Eric Snow enters the game for Keith Van Horn.
29 - 31
8:08
Brian Skinner enters the game for Greg Buckner.
29 - 31
8:08
Juaquin Hawkins enters the game for Steve Francis.
29 - 31
7:54
Kelvin Cato Personal Foul
29 - 31
7:43
Aaron McKie missed 16 ft Jumper.
29 - 31
7:41
Eddie Griffin Defensive Rebound.
29 - 31
7:30
Eddie Griffin Lost Ball. Stolen by Allen Iverson.
29 - 31
7:18
Brian Skinner missed 4 ft Two Point Shot. Blocked by Eddie Griffin.
29 - 31
7:16
Philadelphia Defensive Rebound.
29 - 31
7:01
Terence Morris missed Layup. Blocked by Derrick Coleman.
29 - 31
7:00
Eric Snow Defensive Rebound.
29 - 31
6:54
Allen Iverson missed 16 ft Jumper.
29 - 31
6:52
Cuttino Mobley Defensive Rebound.
29 - 31
6:45
Juaquin Hawkins made 20 ft Jumper. Assisted by Terence Morris.
29 - 33
6:28
Derrick Coleman missed 9 ft Jumper.
29 - 33
6:26
Eddie Griffin Defensive Rebound.
29 - 33
6:11
Terence Morris Bad Pass. Stolen by Allen Iverson.
29 - 33
6:07
Derrick Coleman made Layup. Assisted by Eric Snow.
31 - 33
6:03
Houston Full Timeout.
31 - 33
6:03
Monty Williams enters the game for Allen Iverson.
31 - 33
5:50
Cuttino Mobley made Two Point Shot. Assisted by Eddie Griffin.
31 - 35
5:50
Derrick Coleman Shooting Foul
31 - 35
5:50
Cuttino Mobley missed Free Throw 1 of 1.
31 - 35
5:50
Brian Skinner Defensive Rebound.
31 - 35
5:35
Brian Skinner made 8 ft Jumper. Assisted by Monty Williams.
33 - 35
5:18
Cuttino Mobley made 13 ft Jumper.
33 - 37
5:03
Derrick Coleman missed 6 ft Jumper.
33 - 37
5:01
Brian Skinner Offensive Rebound.
33 - 37
5:00
Brian Skinner missed Tip Shot.
33 - 37
4:58
Eddie Griffin Defensive Rebound.
33 - 37
4:54
Eric Snow Shooting Foul
33 - 37
4:54
Keith Van Horn enters the game for Derrick Coleman.
33 - 37
4:54
Yao Ming enters the game for Kelvin Cato.
33 - 37
4:54
Todd MacCulloch enters the game for Brian Skinner.
33 - 37
4:54
Cuttino Mobley made Free Throw 1 of 2.
33 - 38
4:54
Cuttino Mobley missed Free Throw 2 of 2.
33 - 38
4:54
Cuttino Mobley made Free Throw 2 of 2.
33 - 39
4:39
Todd MacCulloch missed Layup.
33 - 39
4:37
Yao Ming Defensive Rebound.
33 - 39
4:33
Cuttino Mobley missed 25 ft Three Point Jumper.
33 - 39
4:31
Yao Ming Offensive Rebound.
33 - 39
4:24
Cuttino Mobley made Two Point Shot.
33 - 41
4:01
Eric Snow made Two Point Shot.
35 - 41
4:01
Juaquin Hawkins Shooting Foul
35 - 41
4:01
Eric Snow made Free Throw 1 of 1.
36 - 41
3:49
Terence Morris Bad Pass
36 - 41
3:29
Aaron McKie made 20 ft Jumper. Assisted by Eric Snow.
38 - 41
3:08
Yao Ming missed 13 ft Two Point Shot.
38 - 41
3:05
Keith Van Horn Defensive Rebound.
38 - 41
3:00
Steve Francis enters the game for Juaquin Hawkins.
40 - 41
2:54
Aaron McKie missed 17 ft Jumper.
38 - 41
2:51
Eddie Griffin Defensive Rebound.
38 - 41
2:49
Cuttino Mobley Offensive Foul
38 - 41
2:49
Cuttino Mobley Foul
38 - 41
2:49
Philadelphia Full Timeout.
38 - 41
2:49
Delay of Game Technical
38 - 41
2:49
Cuttino Mobley Technical Foul
38 - 41
2:49
Eric Snow made Technical Free Throw.
39 - 41
2:49
Eric Snow made Technical Free Throw.
40 - 41
2:49
Allen Iverson enters the game for Aaron McKie.
40 - 41
2:41
Keith Van Horn missed 26 ft Three Point Jumper.
40 - 41
2:39
Glen Rice Defensive Rebound.
40 - 41
2:33
Steve Francis missed 20 ft Jumper.
40 - 41
2:31
Allen Iverson Defensive Rebound.
40 - 41
2:26
Keith Van Horn missed 10 ft Jumper.
40 - 41
2:24
Steve Francis Defensive Rebound.
40 - 41
2:17
Eddie Griffin made 8 ft Two Point Shot. Assisted by Glen Rice.
40 - 43
2:00
Allen Iverson missed 20 ft Jumper.
40 - 43
1:58
Terence Morris Defensive Rebound.
40 - 43
1:54
Terence Morris missed 11 ft Jumper.
40 - 43
1:50
Allen Iverson Defensive Rebound.
40 - 43
1:50
Allen Iverson Bad Pass
40 - 43
1:39
Yao Ming made Dunk. Assisted by Eddie Griffin.
40 - 45
1:39
Todd MacCulloch Shooting Foul
40 - 45
1:39
Yao Ming made Free Throw 1 of 1.
40 - 46
1:25
Eric Snow missed 9 ft Jumper.
40 - 46
1:23
Eric Snow Offensive Rebound.
40 - 46
1:09
Allen Iverson missed Two Point Shot.
40 - 46
1:07
Yao Ming Defensive Rebound.
40 - 46
1:05
Glen Rice Bad Pass
40 - 46
0:52
Allen Iverson missed 18 ft Jumper.
40 - 46
0:50
Glen Rice Defensive Rebound.
40 - 46
0:44
Houston 20 Sec. Timeout.
40 - 46
0:39
Eddie Griffin missed 25 ft Three Point Jumper.
40 - 46
0:37
Houston Defensive Rebound.
40 - 46
0:37
Yao Ming Loose Ball Foul
40 - 46
0:37
Kelvin Cato enters the game for Yao Ming.
40 - 46
0:29
Allen Iverson Bad Pass
40 - 46
0:10
Eddie Griffin missed 27 ft Three Point Jumper.
40 - 46
0:08
Kelvin Cato Offensive Rebound.
40 - 46
0:07
Todd MacCulloch Shooting Foul
40 - 46
0:07
Kelvin Cato made Free Throw 1 of 2.
40 - 47
0:07
Aaron McKie enters the game for Todd MacCulloch.
40 - 47
0:07
Kelvin Cato made Free Throw 2 of 2.
40 - 48
0:01
Keith Van Horn missed 9 ft Hook Shot.
40 - 48
0:00
Philadelphia Offensive Rebound.
40 - 48
0:00
End of the 2nd Quarter.
40 - 48

time
TEAM
PLAY
SCORE
12:00
Start of the 3rd Quarter.
40 - 48
11:40
Monty Williams missed Layup.
40 - 48
11:37
Philadelphia Defensive Rebound.
40 - 48
11:37
Todd MacCulloch Loose Ball Foul
40 - 48
11:23
Kenny Thomas missed 17 ft Jumper.
40 - 48
11:22
Allen Iverson Defensive Rebound.
40 - 48
11:19
Allen Iverson Lost Ball. Stolen by Steve Francis.
40 - 48
11:11
Kenny Thomas Traveling
40 - 48
11:02
Keith Van Horn Bad Pass. Stolen by Yao Ming.
40 - 48
10:49
Steve Francis missed Jumper.
40 - 48
10:48
Allen Iverson Defensive Rebound.
40 - 48
10:40
Allen Iverson made 18 ft Jumper.
42 - 48
10:18
Yao Ming made 14 ft Two Point Shot.
42 - 50
10:02
Allen Iverson missed 24 ft Three Point Jumper.
42 - 50
10:00
Philadelphia Defensive Rebound.
42 - 50
10:00
Todd MacCulloch Loose Ball Foul
42 - 50
10:00
Derrick Coleman enters the game for Todd MacCulloch.
42 - 50
9:44
Kenny Thomas Traveling
42 - 50
9:33
Derrick Coleman made Dunk. Assisted by Monty Williams.
44 - 50
9:12
Steve Francis missed 19 ft Jumper.
44 - 50
9:11
Kenny Thomas Offensive Rebound.
44 - 50
9:08
Kenny Thomas Lost Ball
44 - 50
9:00
Keith Van Horn made Three Point Jumper. Assisted by Eric Snow.
47 - 50
8:57
Kenny Thomas Technical Foul
47 - 50
8:57
Allen Iverson missed Technical Free Throw.
47 - 50
8:57
Houston Offensive Rebound.
47 - 50
8:45
Steve Francis made Jumper.
47 - 52
8:30
Keith Van Horn made Layup. Assisted by Allen Iverson.
49 - 52
8:15
Steve Francis missed 25 ft Three Point Jumper.
49 - 52
8:14
Yao Ming Offensive Rebound.
49 - 52
8:10
Eric Snow Shooting Foul
49 - 52
8:10
Kenny Thomas made Free Throw 1 of 2.
49 - 53
8:10
Kenny Thomas made Free Throw 2 of 2.
49 - 54
7:54
Allen Iverson Lost Ball. Stolen by Steve Francis.
49 - 54
7:50
Cuttino Mobley made Two Point Shot. Assisted by Kenny Thomas.
49 - 56
7:24
Eric Snow missed 9 ft Jumper.
49 - 56
7:22
Steve Francis Defensive Rebound.
49 - 56
7:16
Cuttino Mobley made Layup. Assisted by Steve Francis.
49 - 58
6:52
Keith Van Horn made Layup. Assisted by Eric Snow.
51 - 58
6:31
Steve Francis made Two Point Shot.
51 - 60
6:13
Keith Van Horn made 13 ft Jumper.
53 - 60
6:13
Kenny Thomas Shooting Foul
53 - 60
6:13
Aaron McKie enters the game for Monty Williams.
53 - 60
6:13
Keith Van Horn made Free Throw 1 of 1.
54 - 60
6:00
Aaron McKie Personal Foul
54 - 60
6:00
Houston Full Timeout.
54 - 60
5:50
Steve Francis missed Jumper.
54 - 60
5:48
Derrick Coleman Defensive Rebound.
54 - 60
5:39
Keith Van Horn missed 13 ft Two Point Shot.
54 - 60
5:37
Yao Ming Defensive Rebound.
54 - 60
5:24
Kenny Thomas missed Layup.
54 - 60
5:22
Yao Ming Offensive Rebound.
54 - 62
5:20
Yao Ming made Layup.
54 - 62
5:03
Derrick Coleman made 18 ft Jumper.
56 - 62
4:50
Glen Rice Offensive Foul
56 - 62
4:50
Glen Rice Foul
56 - 62
4:50
Art Long enters the game for Keith Van Horn.
56 - 62
4:26
Art Long made 8 ft Two Point Shot. Assisted by Eric Snow.
58 - 62
4:05
Yao Ming made Jumper. Assisted by Glen Rice.
58 - 64
3:50
Cuttino Mobley Personal Foul
58 - 64
3:44
Allen Iverson missed 25 ft Three Point Jumper.
58 - 64
3:40
Yao Ming Defensive Rebound.
58 - 64
3:34
Steve Francis made 26 ft Three Point Jumper. Assisted by Cuttino Mobley.
58 - 67
3:06
24 second
58 - 67
3:06
Terence Morris enters the game for Glen Rice.
58 - 67
2:43
Terence Morris missed 22 ft Jumper.
58 - 67
2:41
Steve Francis Offensive Rebound.
58 - 67
2:34
Steve Francis Bad Pass. Stolen by Aaron McKie.
58 - 67
2:28
Allen Iverson missed 22 ft Jumper.
58 - 67
2:08
Allen Iverson Shooting Foul
58 - 67
2:08
Philadelphia Full Timeout.
58 - 67
2:08
Greg Buckner enters the game for Eric Snow.
58 - 67
2:08
Kenny Thomas missed Free Throw 1 of 2.
58 - 67
2:08
Houston Offensive Rebound.
58 - 67
2:08
Kenny Thomas made Free Throw 2 of 2.
58 - 68
1:52
Yao Ming Shooting Foul
58 - 68
1:52
Derrick Coleman made Free Throw 1 of 2.
59 - 68
1:52
Kelvin Cato enters the game for Yao Ming.
59 - 68
1:52
Derrick Coleman made Free Throw 2 of 2.
60 - 68
1:32
Steve Francis Lost Ball. Stolen by Allen Iverson.
60 - 68
1:28
Allen Iverson missed Layup. Blocked by Cuttino Mobley.
60 - 68
1:25
Greg Buckner Offensive Rebound.
60 - 68
1:23
Greg Buckner Bad Pass
60 - 68
1:04
Steve Francis missed 22 ft Jumper.
60 - 68
1:01
Art Long Defensive Rebound.
60 - 68
0:45
Aaron McKie missed 16 ft Jumper.
60 - 68
0:45
Philadelphia Defensive Rebound.
60 - 68
0:45
Art Long Loose Ball Foul
60 - 68
0:45
Kelvin Cato missed Free Throw 1 of 2.
60 - 68
0:45
Houston Offensive Rebound.
60 - 68
0:45
Kelvin Cato missed Free Throw 2 of 2.
60 - 68
0:45
Aaron McKie Defensive Rebound.
60 - 68
0:35
Allen Iverson Lost Ball. Stolen by Terence Morris.
60 - 68
0:31
Kenny Thomas made Dunk. Assisted by Terence Morris.
60 - 70
0:31
Derrick Coleman Shooting Foul
60 - 70
0:31
Kenny Thomas made Free Throw 1 of 1.
60 - 71
0:15
Art Long made 18 ft Jumper. Assisted by Aaron McKie.
62 - 71
0:01
Terence Morris missed 18 ft Jumper.
62 - 71
0:00
Houston Offensive Rebound.
62 - 71
0:00
End of the 3rd Quarter.
62 - 71

time
TEAM
PLAY
SCORE
12:00
Start of the 4th Quarter.
62 - 71
11:44
Kenny Thomas made 20 ft Jumper. Assisted by Steve Francis.
62 - 73
11:30
Keith Van Horn 3 second
62 - 73
11:17
Cuttino Mobley Out of Bounds
62 - 73
11:00
Art Long missed 21 ft Jumper.
62 - 73
10:59
Kelvin Cato Defensive Rebound.
62 - 73
10:41
Kenny Thomas made Layup. Assisted by Steve Francis.
62 - 75
10:26
Eric Snow made 7 ft Jumper.
64 - 75
10:26
Terence Morris Shooting Foul
64 - 75
10:26
Allen Iverson enters the game for Aaron McKie.
64 - 75
10:26
Brian Skinner enters the game for Art Long.
64 - 75
10:26
Eric Snow made Free Throw 1 of 1.
65 - 75
10:07
Terence Morris made 19 ft Jumper. Assisted by Steve Francis.
65 - 77
9:53
Eric Snow Bad Pass
65 - 77
9:30
Cuttino Mobley missed 25 ft Three Point Jumper.
65 - 77
9:29
Kelvin Cato Offensive Rebound.
65 - 77
9:26
Kelvin Cato missed Layup.
65 - 77
9:26
Allen Iverson Defensive Rebound.
65 - 77
9:22
Kelvin Cato Shooting Foul
65 - 77
9:22
Brian Skinner missed Free Throw 1 of 2.
65 - 77
9:22
Philadelphia Offensive Rebound.
65 - 77
9:22
Aaron McKie enters the game for Eric Snow.
65 - 77
9:22
Brian Skinner missed Free Throw 2 of 2.
65 - 77
9:22
Philadelphia Defensive Rebound.
65 - 77
9:03
Greg Buckner Shooting Foul
65 - 77
9:03
Steve Francis made Free Throw 1 of 2.
65 - 78
9:03
Steve Francis made Free Throw 2 of 2.
65 - 79
9:00
Philadelphia Full Timeout.
65 - 79
8:56
Aaron McKie Bad Pass. Stolen by Kenny Thomas.
65 - 79
8:36
Cuttino Mobley missed 20 ft Jumper.
65 - 79
8:33
Keith Van Horn Defensive Rebound.
65 - 79
8:26
Allen Iverson missed 12 ft Jumper.
65 - 79
8:23
Cuttino Mobley Defensive Rebound.
65 - 79
8:10
Steve Francis made 23 ft Three Point Jumper. Assisted by Cuttino Mobley.
65 - 82
7:50
Kenny Thomas Personal Foul
65 - 82
7:50
Yao Ming enters the game for Kelvin Cato.
65 - 82
7:50
Derrick Coleman enters the game for Brian Skinner.
65 - 82
7:50
Eric Snow enters the game for Greg Buckner.
65 - 82
7:43
Keith Van Horn missed Layup.
65 - 82
7:41
Yao Ming Defensive Rebound.
65 - 82
7:18
Yao Ming made Jumper. Assisted by Kenny Thomas.
65 - 84
7:03
Allen Iverson made Jumper. Assisted by Aaron McKie.
67 - 84
6:43
Terence Morris Traveling
67 - 84
6:43
John Salmons enters the game for Aaron McKie.
67 - 84
6:28
Allen Iverson Lost Ball. Stolen by Terence Morris.
67 - 84
6:09
Kenny Thomas made 17 ft Jumper.
67 - 86
6:00
Philadelphia Full Timeout.
67 - 86
6:00
Monty Williams enters the game for Keith Van Horn.
67 - 86
6:00
Art Long enters the game for Allen Iverson.
67 - 86
5:58
Terence Morris Personal Foul
67 - 86
5:50
Kenny Thomas Shooting Foul
67 - 86
5:50
Monty Williams missed Free Throw 1 of 2.
67 - 86
5:50
Philadelphia Offensive Rebound.
67 - 86
5:50
Monty Williams made Free Throw 2 of 2.
68 - 86
5:30
Terence Morris missed 24 ft Three Point Jumper.
68 - 86
5:28
Steve Francis Offensive Rebound.
68 - 86
5:28
Houston Full Timeout.
68 - 86
5:24
Steve Francis made 27 ft Three Point Jumper. Assisted by Terence Morris.
68 - 89
5:01
Art Long missed 8 ft Jumper.
68 - 89
4:58
Philadelphia Defensive Rebound.
68 - 89
4:58
Art Long Loose Ball Foul
68 - 89
4:43
Steve Francis missed Dunk.
68 - 89
4:41
Yao Ming Offensive Rebound.
68 - 91
4:41
Yao Ming made Two Point Shot.
68 - 91
4:31
Monty Williams missed Layup.
68 - 91
4:30
Yao Ming Defensive Rebound.
68 - 91
4:22
Mark Bryant enters the game for Art Long.
68 - 91
4:22
Greg Buckner enters the game for Eric Snow.
68 - 91
4:18
Monty Williams Personal Foul
68 - 91
4:07
Yao Ming made 8 ft Hook Shot. Assisted by Steve Francis.
68 - 93
3:47
Monty Williams missed 9 ft Two Point Shot.
68 - 93
3:45
Kenny Thomas Defensive Rebound.
68 - 93
3:25
Steve Francis missed Layup. Blocked by Derrick Coleman.
68 - 93
3:25
Houston Offensive Rebound.
68 - 93
3:25
Eddie Griffin enters the game for Kenny Thomas.
68 - 93
3:25
Moochie Norris enters the game for Steve Francis.
68 - 93
3:25
Bostjan Nachbar enters the game for Cuttino Mobley.
68 - 93
3:21
Bostjan Nachbar missed Jumper.
68 - 93
3:19
Moochie Norris Offensive Rebound.
68 - 93
3:14
John Salmons missed Layup.
68 - 93
3:11
Greg Buckner Offensive Rebound.
70 - 93
3:11
Greg Buckner made Layup.
70 - 93
2:47
Terence Morris missed Jumper.
70 - 93
2:46
Moochie Norris Offensive Rebound.
70 - 93
2:46
Moochie Norris made Free Throw 1 of 2.
70 - 94
2:46
Kelvin Cato enters the game for Yao Ming.
70 - 94
2:46
Moochie Norris missed Free Throw 2 of 2.
70 - 94
2:46
Monty Williams Defensive Rebound.
70 - 94
2:31
Derrick Coleman Lost Ball
70 - 94
2:12
Terence Morris Lost Ball. Stolen by Monty Williams.
70 - 94
2:08
Monty Williams missed Layup.
70 - 94
2:05
Moochie Norris Defensive Rebound.
70 - 94
1:51
Eddie Griffin Bad Pass
70 - 94
1:37
Derrick Coleman missed 25 ft Three Point Jumper.
70 - 94
1:35
Monty Williams Offensive Rebound.
70 - 94
1:31
Monty Williams missed Layup.
70 - 94
1:30
Kelvin Cato Defensive Rebound.
70 - 94
1:10
Moochie Norris made 24 ft Three Point Jumper. Assisted by Terence Morris.
70 - 97
0:49
Eddie Griffin Shooting Foul
70 - 97
0:49
John Salmons made Free Throw 1 of 2.
71 - 97
0:49
John Salmons made Free Throw 2 of 2.
72 - 97
0:31
Kelvin Cato missed 13 ft Jumper.
72 - 97
0:29
Greg Buckner Defensive Rebound.
72 - 97
0:28
Greg Buckner Bad Pass. Stolen by Terence Morris.
72 - 97
0:05
Terence Morris missed Layup.
72 - 97
0:04
Monty Williams Defensive Rebound.
72 - 97
0:00
Monty Williams missed 26 ft Three Point Jumper.
72 - 97
0:00
Philadelphia Offensive Rebound.
72 - 97
0:00
End of the 4th Quarter.
72 - 97
0:00
End Game
72 - 97
0:00
End Game
72 - 97
Already snubbed by Kevin Durant, Mitch Kupchak and the Lakers are preparing to miss landing a major free agent for the fourth straight year.

Jimmy Butler had a feeling that he or Derrick Rose would be traded from the Chicago Bulls. But now that Rose is gone, Butler isn't sure he's staying.

Brian Windhorst looks at Mike Conley reported to be meeting with the Mavericks, but that doesn't mean he's on his way out of Memphis just yet.
Regular Season Series
HOU wins series 2-0
2015-2016 Atlantic Standings