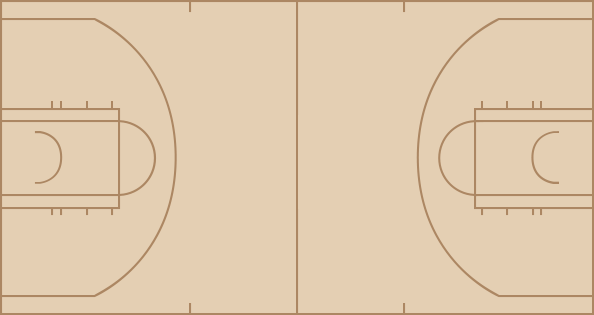 Hornets
time
TEAM
PLAY
SCORE
12:00
Start of the 1st Quarter.
0 - 0
12:00
Jumpball. Jamaal Magloire vs. Joel Przybilla. P.J. Brown gains possession.
0 - 0
11:47
David Wesley Bad Pass. Stolen by Anthony Mason.
0 - 0
11:42
Tim Thomas missed Layup.
0 - 0
11:41
P.J. Brown Defensive Rebound.
0 - 0
11:26
Jamaal Magloire missed Jumper.
0 - 0
11:25
Ray Allen Defensive Rebound.
0 - 0
11:18
Ray Allen Out of Bounds
0 - 0
11:00
Jamal Mashburn missed 26 ft Three Point Jumper.
0 - 0
10:59
Anthony Mason Defensive Rebound.
0 - 0
10:38
Tim Thomas missed 17 ft Jumper.
0 - 0
10:37
Milwaukee Offensive Rebound.
0 - 0
10:30
Tim Thomas missed 19 ft Jumper.
0 - 0
10:27
Anthony Mason Offensive Rebound.
0 - 0
10:23
Anthony Mason made Two Point Shot.
0 - 2
10:12
Joel Przybilla Personal Foul
0 - 2
10:04
P.J. Brown made 15 ft Jumper. Assisted by David Wesley.
2 - 2
9:44
Anthony Mason missed Layup.
2 - 2
9:42
Anthony Mason Offensive Rebound.
2 - 2
9:42
P.J. Brown Shooting Foul
2 - 2
9:42
Anthony Mason made Free Throw 1 of 2.
2 - 3
9:42
Anthony Mason missed Free Throw 2 of 2.
2 - 3
9:41
Jamaal Magloire Defensive Rebound.
2 - 3
9:29
David Wesley made 27 ft Three Point Jumper. Assisted by Jamal Mashburn.
5 - 3
9:08
Anthony Mason missed 10 ft Jumper.
5 - 3
9:07
Jamal Mashburn Defensive Rebound.
5 - 3
8:48
Ray Allen Shooting Foul
5 - 3
8:48
Baron Davis made Free Throw 1 of 2.
6 - 3
8:48
Baron Davis made Free Throw 2 of 2.
7 - 3
8:33
Anthony Mason missed Jumper.
7 - 3
8:30
P.J. Brown Defensive Rebound.
7 - 3
8:07
Jamal Mashburn missed 8 ft Jumper.
7 - 3
8:06
Jamaal Magloire Offensive Rebound.
7 - 3
8:04
Jamaal Magloire missed Dunk.
7 - 3
8:02
Anthony Mason Defensive Rebound.
7 - 3
7:52
Ray Allen made 26 ft Three Point Jumper. Assisted by Anthony Mason.
7 - 6
7:45
Joel Przybilla Shooting Foul
7 - 6
7:45
Baron Davis missed Free Throw 1 of 2.
7 - 6
7:45
New Orleans Offensive Rebound.
7 - 6
7:45
Baron Davis made Free Throw 2 of 2.
8 - 6
7:28
Ray Allen missed 15 ft Jumper.
8 - 6
7:26
David Wesley Defensive Rebound.
8 - 6
7:22
David Wesley Bad Pass
8 - 6
7:05
Kevin Ollie made 19 ft Jumper. Assisted by Anthony Mason.
8 - 8
6:43
P.J. Brown missed Layup. Blocked by Joel Przybilla.
8 - 8
6:41
Tim Thomas Defensive Rebound.
8 - 8
6:35
Ray Allen made 26 ft Three Point Jumper. Assisted by Anthony Mason.
8 - 11
6:20
Jamaal Magloire missed 18 ft Jumper.
8 - 11
6:18
P.J. Brown Offensive Rebound.
8 - 11
6:03
Jamaal Magloire missed 7 ft Two Point Shot.
8 - 11
6:01
New Orleans Offensive Rebound.
8 - 11
5:58
Baron Davis missed 18 ft Jumper.
8 - 11
5:56
Tim Thomas Defensive Rebound.
8 - 11
5:54
Kevin Ollie made Layup. Assisted by Tim Thomas.
8 - 13
5:35
Jamal Mashburn Lost Ball. Stolen by Tim Thomas.
8 - 13
5:30
Tim Thomas made Two Point Shot. Assisted by Kevin Ollie.
8 - 15
5:24
New Orleans Full Timeout.
8 - 15
5:24
Elden Campbell enters the game for Jamaal Magloire.
8 - 15
5:09
Baron Davis missed 26 ft Three Point Jumper.
8 - 15
5:07
Joel Przybilla Defensive Rebound.
8 - 15
4:48
Tim Thomas made 25 ft Three Point Jumper. Assisted by Anthony Mason.
8 - 18
4:35
Tim Thomas Personal Foul
8 - 18
4:20
Elden Campbell missed 12 ft Jumper.
8 - 18
4:18
Kevin Ollie Defensive Rebound.
8 - 18
4:01
Tim Thomas made 25 ft Three Point Jumper. Assisted by Kevin Ollie.
8 - 21
3:34
Jamal Mashburn missed 13 ft Jumper.
8 - 21
3:33
Joel Przybilla Defensive Rebound.
8 - 21
3:33
David Wesley Personal Foul
8 - 21
3:33
Stacey Augmon enters the game for David Wesley.
8 - 21
3:17
Ray Allen Bad Pass. Stolen by P.J. Brown.
8 - 21
3:02
Elden Campbell made 11 ft Jumper. Assisted by Stacey Augmon.
10 - 21
2:40
Anthony Mason made 6 ft Hook Shot.
10 - 23
2:26
Stacey Augmon made 9 ft Jumper.
12 - 23
2:10
Anthony Mason made 9 ft Jumper. Assisted by Ray Allen.
12 - 25
1:54
Kevin Ollie Personal Foul
12 - 25
1:54
Milwaukee Full Timeout.
12 - 25
1:54
Ervin Johnson enters the game for Joel Przybilla.
12 - 25
1:54
Michael Redd enters the game for Ray Allen.
12 - 25
1:54
Courtney Alexander enters the game for Jamal Mashburn.
12 - 25
1:54
P.J. Brown made Free Throw 1 of 2.
13 - 25
1:54
P.J. Brown made Free Throw 2 of 2.
14 - 25
1:35
Kevin Ollie made 18 ft Jumper. Assisted by Anthony Mason.
14 - 27
1:19
P.J. Brown made Dunk. Assisted by Elden Campbell.
16 - 27
0:56
Kevin Ollie missed 17 ft Jumper.
16 - 27
0:55
Ervin Johnson Offensive Rebound.
16 - 27
0:49
Michael Redd made 17 ft Jumper. Assisted by Ervin Johnson.
16 - 29
0:37
Stacey Augmon missed 10 ft Jumper.
16 - 29
0:35
Anthony Mason Defensive Rebound.
16 - 29
0:27
Tim Thomas Lost Ball. Stolen by Baron Davis.
16 - 29
0:05
Ervin Johnson Shooting Foul
16 - 29
0:05
Baron Davis made Free Throw 1 of 2.
17 - 29
0:05
Baron Davis made Free Throw 2 of 2.
18 - 29
0:01
Tim Thomas missed Layup.
18 - 29
0:00
Kevin Ollie Offensive Rebound.
18 - 31
0:00
Kevin Ollie made Tip Shot.
18 - 31
0:00
End of the 1st Quarter.
18 - 31

time
TEAM
PLAY
SCORE
12:00
Start of the 2nd Quarter.
18 - 31
11:37
Tim Thomas missed 10 ft Jumper.
18 - 31
11:34
George Lynch Defensive Rebound.
18 - 31
11:26
George Lynch made Layup. Assisted by Courtney Alexander.
20 - 31
11:12
Ervin Johnson Bad Pass
20 - 31
11:12
Jason Caffey enters the game for Anthony Mason.
20 - 31
11:03
Baron Davis Lost Ball. Stolen by Michael Redd.
20 - 31
10:57
Michael Redd Lost Ball. Stolen by Courtney Alexander.
20 - 31
10:48
Stacey Augmon Lost Ball. Stolen by Tim Thomas.
20 - 31
10:42
Jason Caffey made Layup. Assisted by Kevin Ollie.
20 - 33
10:22
Jason Caffey Personal Foul
20 - 33
10:22
Ray Allen enters the game for Kevin Ollie.
20 - 33
10:22
Marcus Haislip enters the game for Tim Thomas.
20 - 33
10:10
Baron Davis made 26 ft Three Point Jumper.
23 - 33
9:55
Ervin Johnson missed 16 ft Jumper.
23 - 33
9:52
Stacey Augmon Defensive Rebound.
23 - 33
9:37
Elden Campbell missed Layup.
23 - 33
9:36
New Orleans Defensive Rebound.
23 - 33
9:36
Jamal Mashburn enters the game for Stacey Augmon.
23 - 33
9:22
Ray Allen made Layup.
23 - 35
9:03
Courtney Alexander missed 23 ft Three Point Jumper.
23 - 35
9:02
Ervin Johnson Defensive Rebound.
23 - 35
8:53
Ray Allen Offensive Foul
23 - 35
8:53
Ray Allen Foul
23 - 35
8:53
Official Timeout.
23 - 35
8:53
David Wesley enters the game for Baron Davis.
23 - 35
8:41
Marcus Haislip Personal Foul
23 - 35
8:33
Elden Campbell made 10 ft Jumper. Assisted by Jamal Mashburn.
25 - 35
8:10
Jason Caffey missed Jumper.
25 - 35
8:07
Elden Campbell Defensive Rebound.
25 - 35
7:54
Elden Campbell missed 4 ft Jumper.
25 - 35
7:52
Michael Redd Defensive Rebound.
25 - 35
7:43
Ervin Johnson made Dunk. Assisted by Michael Redd.
25 - 37
7:30
David Wesley missed 19 ft Jumper.
25 - 37
7:28
Jason Caffey Defensive Rebound.
25 - 37
7:24
Michael Redd Bad Pass
25 - 37
7:24
Jamaal Magloire enters the game for Elden Campbell.
25 - 37
7:03
Courtney Alexander missed 20 ft Jumper.
25 - 37
7:01
Jason Caffey Defensive Rebound.
25 - 37
6:46
Ray Allen Bad Pass
25 - 37
6:39
Jamal Mashburn made 4 ft Jumper.
27 - 37
6:18
George Lynch Shooting Foul
27 - 37
6:18
Michael Redd made Free Throw 1 of 2.
27 - 38
6:18
Michael Redd made Free Throw 2 of 2.
27 - 39
6:03
Ervin Johnson Personal Foul
27 - 39
6:03
Baron Davis enters the game for Courtney Alexander.
27 - 39
5:56
Jamal Mashburn missed 9 ft Jumper.
27 - 39
5:54
Ervin Johnson Defensive Rebound.
27 - 39
5:47
Ray Allen made 12 ft Jumper.
27 - 41
5:28
Milwaukee Full Timeout.
27 - 41
5:16
Ray Allen missed 23 ft Three Point Jumper.
27 - 41
5:13
George Lynch Defensive Rebound.
27 - 41
5:01
Jamaal Magloire missed Layup.
27 - 41
5:00
Ray Allen Defensive Rebound.
27 - 41
4:54
Ray Allen missed 26 ft Three Point Jumper.
27 - 41
4:52
Marcus Haislip Offensive Rebound.
27 - 41
4:48
Ray Allen made 24 ft Three Point Jumper. Assisted by Marcus Haislip.
27 - 44
4:24
David Wesley missed Layup.
27 - 44
4:22
New Orleans Offensive Rebound.
27 - 44
4:20
P.J. Brown enters the game for George Lynch.
27 - 44
4:20
Anthony Mason enters the game for Ervin Johnson.
27 - 44
4:15
Jason Caffey Personal Foul
27 - 44
4:00
Jamal Mashburn made 11 ft Jumper. Assisted by David Wesley.
29 - 44
3:45
Jamaal Magloire Shooting Foul
29 - 44
3:45
Marcus Haislip missed Free Throw 1 of 2.
29 - 44
3:45
Milwaukee Offensive Rebound.
29 - 44
3:45
Marcus Haislip made Free Throw 2 of 2.
29 - 45
3:32
Jamal Mashburn missed Layup.
29 - 45
3:32
New Orleans Offensive Rebound.
29 - 45
3:32
Tim Thomas enters the game for Marcus Haislip.
29 - 45
3:20
David Wesley missed 19 ft Jumper.
29 - 45
3:18
Tim Thomas Defensive Rebound.
29 - 45
3:11
Michael Redd made 26 ft Three Point Jumper. Assisted by Tim Thomas.
29 - 48
2:48
Jamaal Magloire missed Jumper.
29 - 48
2:47
Anthony Mason Defensive Rebound.
29 - 48
2:32
Kicked Ball
29 - 48
2:32
New Orleans Full Timeout.
29 - 48
2:32
Elden Campbell enters the game for Jamaal Magloire.
29 - 48
2:32
Courtney Alexander enters the game for David Wesley.
29 - 48
2:21
Jason Caffey missed 6 ft Jumper.
29 - 48
2:19
Elden Campbell Defensive Rebound.
29 - 48
2:04
Elden Campbell missed 10 ft Jumper.
29 - 48
2:01
Jason Caffey Defensive Rebound.
29 - 48
1:52
Anthony Mason made Layup. Assisted by Ray Allen.
29 - 50
1:25
Baron Davis made 28 ft Three Point Jumper. Assisted by Jamal Mashburn.
32 - 50
1:07
Michael Redd missed 26 ft Three Point Jumper.
32 - 50
1:07
Milwaukee Defensive Rebound.
32 - 50
1:07
Kevin Ollie enters the game for Ray Allen.
32 - 50
0:56
Courtney Alexander made 8 ft Jumper. Assisted by Elden Campbell.
34 - 50
0:41
Tim Thomas Bad Pass. Stolen by Elden Campbell.
34 - 50
0:20
Jamal Mashburn missed 26 ft Three Point Jumper.
34 - 50
0:19
Anthony Mason Defensive Rebound.
34 - 50
0:01
Tim Thomas missed 9 ft Jumper. Blocked by Elden Campbell.
34 - 50
0:00
P.J. Brown Defensive Rebound.
34 - 50
0:00
End of the 2nd Quarter.
34 - 50

time
TEAM
PLAY
SCORE
12:00
Start of the 3rd Quarter.
34 - 50
11:37
Kevin Ollie made 15 ft Jumper.
34 - 52
11:22
P.J. Brown made Jumper. Assisted by David Wesley.
36 - 52
11:03
Anthony Mason missed 13 ft Jumper.
36 - 52
11:00
Jamaal Magloire Defensive Rebound.
36 - 52
10:52
David Wesley Bad Pass. Stolen by Ray Allen.
36 - 52
10:37
Tim Thomas made 16 ft Jumper. Assisted by Kevin Ollie.
36 - 54
10:27
New Orleans Full Timeout.
36 - 54
10:18
Baron Davis missed Layup. Blocked by Joel Przybilla.
36 - 54
10:15
Jamaal Magloire Offensive Rebound.
36 - 54
10:15
Jamaal Magloire made Layup.
38 - 54
9:53
Ray Allen made 14 ft Jumper.
38 - 56
9:33
David Wesley missed 27 ft Three Point Jumper.
38 - 56
9:30
Baron Davis Offensive Rebound.
38 - 56
9:19
Kevin Ollie Shooting Foul
38 - 56
9:19
Jamaal Magloire made Free Throw 1 of 2.
39 - 56
9:19
Jamaal Magloire made Free Throw 2 of 2.
40 - 56
9:03
Ray Allen missed 24 ft Three Point Jumper.
40 - 56
9:00
Jamal Mashburn Defensive Rebound.
40 - 56
8:52
P.J. Brown made 13 ft Jumper. Assisted by Jamal Mashburn.
42 - 56
8:32
Ray Allen made Jumper.
42 - 58
8:25
Ray Allen Shooting Foul
42 - 58
8:25
David Wesley made Free Throw 1 of 2.
43 - 58
8:25
David Wesley made Free Throw 2 of 2.
44 - 58
8:08
Ray Allen made 26 ft Three Point Jumper. Assisted by Anthony Mason.
44 - 61
7:45
David Wesley made 26 ft Three Point Jumper. Assisted by P.J. Brown.
47 - 61
7:28
Tim Thomas Bad Pass
47 - 61
7:15
Jamal Mashburn made 15 ft Jumper.
49 - 61
6:58
Kevin Ollie missed 20 ft Jumper.
49 - 61
6:56
P.J. Brown Defensive Rebound.
49 - 61
6:45
Baron Davis made 25 ft Three Point Jumper. Assisted by David Wesley.
52 - 61
6:24
Anthony Mason missed Layup.
52 - 61
6:24
Milwaukee Defensive Rebound.
52 - 61
6:24
Joel Przybilla Loose Ball Foul
52 - 61
6:13
P.J. Brown made 9 ft Jumper. Assisted by Jamal Mashburn.
54 - 61
6:05
Milwaukee Full Timeout.
54 - 61
5:48
Ray Allen made 12 ft Jumper.
54 - 63
5:31
Jamaal Magloire missed 4 ft Hook Shot.
54 - 63
5:28
Kevin Ollie Defensive Rebound.
54 - 63
5:18
Tim Thomas made 18 ft Jumper. Assisted by Kevin Ollie.
54 - 65
5:00
Jamal Mashburn made Layup.
56 - 65
4:35
Ray Allen missed Jumper.
56 - 65
4:35
Milwaukee Defensive Rebound.
56 - 65
4:18
Jamal Mashburn made 7 ft Jumper.
58 - 65
3:58
Jamal Mashburn Shooting Foul
58 - 65
3:58
Michael Redd enters the game for Tim Thomas.
58 - 65
3:58
Kevin Ollie made Free Throw 1 of 2.
58 - 66
3:58
Kevin Ollie made Free Throw 2 of 2.
58 - 67
3:47
Jamal Mashburn missed 27 ft Three Point Jumper.
58 - 67
3:46
Jamaal Magloire Offensive Rebound.
58 - 67
3:46
Kevin Ollie Personal Foul
58 - 67
3:40
Anthony Mason Personal Foul
58 - 67
3:40
Jamaal Magloire missed Free Throw 1 of 2.
58 - 67
3:40
New Orleans Offensive Rebound.
58 - 67
3:40
Jamaal Magloire made Free Throw 2 of 2.
59 - 67
3:27
Baron Davis Shooting Foul
59 - 67
3:27
Joel Przybilla missed Free Throw 1 of 2.
59 - 67
3:27
Milwaukee Offensive Rebound.
59 - 67
3:27
Joel Przybilla made Free Throw 2 of 2.
59 - 68
3:13
Jamal Mashburn missed 26 ft Three Point Jumper.
59 - 68
3:11
Ray Allen Defensive Rebound.
59 - 68
3:05
Baron Davis Personal Foul
59 - 68
2:47
Michael Redd missed 16 ft Jumper.
59 - 68
2:47
Milwaukee Defensive Rebound.
59 - 68
2:31
Ray Allen Personal Foul
59 - 68
2:31
David Wesley made Free Throw 1 of 2.
60 - 68
2:31
David Wesley made Free Throw 2 of 2.
61 - 68
2:14
Anthony Mason missed Layup. Blocked by P.J. Brown.
61 - 68
2:12
Jamaal Magloire Defensive Rebound.
61 - 68
2:12
Joel Przybilla Personal Foul
61 - 68
2:12
Ervin Johnson enters the game for Joel Przybilla.
61 - 68
2:12
Jamaal Magloire missed Free Throw 1 of 2.
61 - 68
2:12
New Orleans Offensive Rebound.
61 - 68
2:12
Jamaal Magloire made Free Throw 2 of 2.
62 - 68
1:57
Anthony Mason made Layup. Assisted by Michael Redd.
62 - 70
1:40
Baron Davis made 26 ft Three Point Jumper. Assisted by David Wesley.
65 - 70
1:30
Jamal Mashburn Personal Foul
65 - 70
1:20
Ervin Johnson missed Layup.
65 - 70
1:17
Jamaal Magloire Defensive Rebound.
65 - 70
1:10
Jamal Mashburn made 25 ft Three Point Jumper. Assisted by David Wesley.
68 - 70
0:55
Kevin Ollie missed Layup.
68 - 70
0:53
Anthony Mason Offensive Rebound.
68 - 70
0:51
Michael Redd made 25 ft Three Point Jumper. Assisted by Anthony Mason.
68 - 73
0:35
Jamal Mashburn missed 14 ft Jumper.
68 - 73
0:33
Jamal Mashburn Offensive Rebound.
68 - 73
0:09
Baron Davis missed 26 ft Three Point Jumper.
68 - 73
0:07
New Orleans Defensive Rebound.
68 - 73
0:07
Jason Caffey enters the game for Ervin Johnson.
68 - 73
0:07
Tim Thomas enters the game for Anthony Mason.
68 - 73
0:00
Kevin Ollie missed 18 ft Jumper. Blocked by Jamaal Magloire.
68 - 73
0:00
Milwaukee Offensive Rebound.
68 - 73
0:00
End of the 3rd Quarter.
68 - 73

time
TEAM
PLAY
SCORE
12:00
Start of the 4th Quarter.
68 - 73
11:44
Jamal Mashburn made 7 ft Jumper.
70 - 73
11:25
Michael Redd made 26 ft Three Point Jumper. Assisted by Kevin Ollie.
70 - 76
11:04
Jason Caffey Shooting Foul
70 - 76
11:04
P.J. Brown made Free Throw 1 of 2.
71 - 76
11:04
P.J. Brown made Free Throw 2 of 2.
72 - 76
10:48
Jason Caffey made Dunk. Assisted by Kevin Ollie.
72 - 78
10:30
Jamal Mashburn missed 9 ft Jumper.
72 - 78
10:26
New Orleans Offensive Rebound.
72 - 78
10:26
Courtney Alexander enters the game for David Wesley.
72 - 78
10:26
Jumpball. P.J. Brown vs. Kevin Ollie. Baron Davis gains possession.
72 - 78
10:15
Tim Thomas Shooting Foul
72 - 78
10:15
Jamal Mashburn made Free Throw 1 of 2.
73 - 78
10:15
Jamal Mashburn made Free Throw 2 of 2.
74 - 78
9:57
Michael Redd missed 8 ft Jumper.
74 - 78
9:56
Jamal Mashburn Defensive Rebound.
74 - 78
9:41
P.J. Brown made 9 ft Jumper.
76 - 78
9:19
Jason Caffey Bad Pass. Stolen by Courtney Alexander.
76 - 78
9:15
Baron Davis missed 15 ft Jumper.
76 - 78
9:12
Michael Redd Defensive Rebound.
76 - 78
9:11
Courtney Alexander Shooting Foul
76 - 78
9:11
Kevin Ollie missed Free Throw 1 of 2.
76 - 78
9:11
Milwaukee Offensive Rebound.
76 - 78
9:11
Kevin Ollie missed Free Throw 2 of 2.
76 - 78
9:10
Jamaal Magloire Defensive Rebound.
76 - 78
8:52
Tim Thomas Shooting Foul
76 - 78
8:52
Official Timeout.
76 - 78
8:52
Ray Allen enters the game for Kevin Ollie.
76 - 78
8:52
Elden Campbell enters the game for Jamaal Magloire.
76 - 78
8:52
Jamal Mashburn made Free Throw 1 of 2.
77 - 78
8:52
Jamal Mashburn made Free Throw 2 of 2.
78 - 78
8:33
Ray Allen missed 11 ft Jumper.
78 - 78
8:30
Jamal Mashburn Defensive Rebound.
78 - 78
8:26
Courtney Alexander missed 26 ft Three Point Jumper.
78 - 78
8:22
Michael Redd Defensive Rebound.
78 - 78
8:17
Tim Thomas missed 15 ft Jumper.
78 - 78
8:15
Elden Campbell Defensive Rebound.
78 - 78
7:52
Jason Caffey Shooting Foul
78 - 78
7:52
Anthony Mason enters the game for Ervin Johnson.
78 - 78
7:52
P.J. Brown made Free Throw 1 of 2.
79 - 78
7:52
P.J. Brown made Free Throw 2 of 2.
80 - 78
7:39
Tim Thomas missed 9 ft Jumper.
80 - 78
7:37
P.J. Brown Defensive Rebound.
80 - 78
7:18
Anthony Mason Shooting Foul
80 - 78
7:18
Jamal Mashburn made Free Throw 1 of 2.
81 - 78
7:18
Jamal Mashburn made Free Throw 2 of 2.
82 - 78
7:09
Ray Allen Bad Pass. Stolen by P.J. Brown.
82 - 78
6:50
Baron Davis Lost Ball. Stolen by Ray Allen.
82 - 78
6:43
P.J. Brown Personal Foul
82 - 78
6:43
Kevin Ollie enters the game for Michael Redd.
82 - 78
6:31
Tim Thomas Offensive Foul
82 - 78
6:31
Tim Thomas Foul
82 - 78
6:22
Anthony Mason Shooting Foul
82 - 78
6:22
Elden Campbell made Free Throw 1 of 2.
83 - 78
6:22
Elden Campbell made Free Throw 2 of 2.
84 - 78
6:05
Ray Allen made 13 ft Jumper. Assisted by Kevin Ollie.
84 - 80
5:50
Courtney Alexander missed Layup.
84 - 80
5:48
Anthony Mason Defensive Rebound.
84 - 80
5:41
Ray Allen made 25 ft Three Point Jumper. Assisted by Anthony Mason.
84 - 83
5:24
Jason Caffey Shooting Foul
84 - 83
5:24
Milwaukee Full Timeout.
84 - 83
5:24
Ervin Johnson enters the game for Jason Caffey.
84 - 83
5:24
Baron Davis made Free Throw 1 of 2.
85 - 83
5:24
Baron Davis made Free Throw 2 of 2.
86 - 83
5:03
Ray Allen missed Jumper.
86 - 83
5:03
Jamal Mashburn Defensive Rebound.
86 - 83
4:45
P.J. Brown made Two Point Shot. Assisted by Courtney Alexander.
88 - 83
4:26
Ray Allen missed 26 ft Three Point Jumper.
88 - 83
4:24
Elden Campbell Defensive Rebound.
88 - 83
4:03
Jamal Mashburn missed 17 ft Jumper.
88 - 83
4:01
Tim Thomas Defensive Rebound.
88 - 83
3:57
Courtney Alexander Personal Foul
88 - 83
3:57
New Orleans Full Timeout.
88 - 83
3:38
Tim Thomas missed 5 ft Jumper.
88 - 83
3:34
Elden Campbell Defensive Rebound.
88 - 83
3:15
Baron Davis missed 26 ft Three Point Jumper.
88 - 83
3:13
Tim Thomas Defensive Rebound.
88 - 83
3:02
Kevin Ollie Lost Ball. Stolen by Baron Davis.
88 - 83
3:02
Kevin Ollie Personal Foul
88 - 83
3:02
Baron Davis made Free Throw 1 of 2.
89 - 83
3:02
Baron Davis missed Free Throw 2 of 2.
89 - 83
3:01
Anthony Mason Defensive Rebound.
89 - 83
2:36
Anthony Mason missed Layup.
89 - 83
2:34
Kevin Ollie Offensive Rebound.
89 - 83
2:29
Elden Campbell Shooting Foul
89 - 83
2:29
Ray Allen made Free Throw 1 of 2.
89 - 84
2:29
Ray Allen made Free Throw 2 of 2.
89 - 85
2:05
Jamal Mashburn missed 7 ft Jumper.
89 - 85
2:02
Elden Campbell Offensive Rebound.
91 - 85
2:02
Elden Campbell made Tip Shot.
91 - 85
1:39
Ray Allen missed 17 ft Jumper.
91 - 85
1:38
Baron Davis Defensive Rebound.
91 - 85
1:31
P.J. Brown missed Jumper.
91 - 85
1:30
Ervin Johnson Defensive Rebound.
91 - 85
1:21
Anthony Mason missed 15 ft Jumper.
91 - 85
1:20
Milwaukee Offensive Rebound.
91 - 85
1:20
Milwaukee Full Timeout.
91 - 85
1:20
Michael Redd enters the game for Ervin Johnson.
91 - 85
1:16
Ray Allen missed 23 ft Three Point Jumper.
91 - 85
1:15
Jamal Mashburn Defensive Rebound.
91 - 85
0:55
Jamal Mashburn missed 14 ft Jumper.
91 - 85
0:53
Anthony Mason Defensive Rebound.
91 - 85
0:47
Tim Thomas missed 25 ft Three Point Jumper.
91 - 85
0:44
Elden Campbell Defensive Rebound.
91 - 85
0:22
Baron Davis missed 26 ft Three Point Jumper.
91 - 85
0:21
Elden Campbell Offensive Rebound.
91 - 85
0:21
Anthony Mason Shooting Foul
91 - 85
0:21
Elden Campbell missed Free Throw 1 of 2.
91 - 85
0:21
New Orleans Offensive Rebound.
91 - 85
0:21
Elden Campbell made Free Throw 2 of 2.
92 - 85
0:21
Milwaukee Full Timeout.
92 - 85
0:15
Michael Redd made 27 ft Three Point Jumper. Assisted by Ray Allen.
92 - 88
0:15
Kevin Ollie Personal Foul
92 - 88
0:15
Jamal Mashburn made Free Throw 1 of 2.
93 - 88
0:15
Jamal Mashburn made Free Throw 2 of 2.
94 - 88
0:15
Milwaukee 20 Sec. Timeout.
94 - 88
0:11
Ray Allen Bad Pass
94 - 88
0:00
Michael Redd missed Free Throw 1 of 2.
94 - 88
0:00
End of the 4th Quarter.
94 - 88
0:00
End Game
94 - 88
0:00
End Game
94 - 88
Who are the best NBA prospects in the 2017 draft class? Chad Ford gives his top five and previews the big storylines to watch for next year.

John Salley says on Mike & Mike that Len Bias would have won five championships with the Celtics and would have been the greatest basketball player who ever played.

The latest notes, updates and analysis on the Warriors from around the web.
Regular Season Series
Series tied 2-2