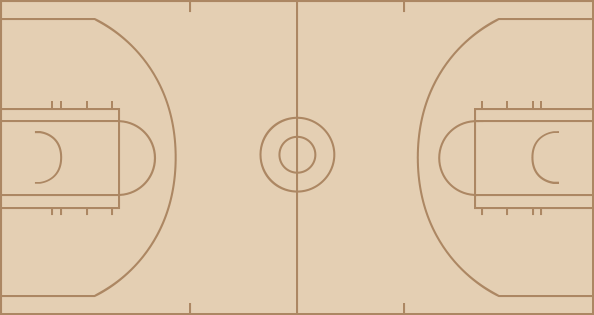 Trail Blazers
time
TEAM
PLAY
SCORE
12:00
Start of the 1st Quarter.
0 - 0
12:00
Jumpball. Rasheed Wallace vs. Jason Collins. Kenyon Martin gains possession.
0 - 0
11:45
Kenyon Martin missed Two Point Shot.
0 - 0
11:44
Dale Davis Defensive Rebound.
0 - 0
11:29
Dale Davis Bad Pass. Stolen by Jason Collins.
0 - 0
11:17
Lucious Harris missed 25 ft Three Point Jumper.
0 - 0
11:15
Bonzi Wells Defensive Rebound.
0 - 0
11:04
Scottie Pippen missed Two Point Shot.
0 - 0
11:03
Lucious Harris Defensive Rebound.
0 - 0
10:56
Richard Jefferson missed 14 ft Two Point Shot.
0 - 0
10:53
Bonzi Wells Defensive Rebound.
0 - 0
10:38
Rasheed Wallace missed 6 ft Two Point Shot.
0 - 0
10:37
Kenyon Martin Defensive Rebound.
0 - 0
10:30
Jason Collins missed Layup.
0 - 0
10:29
New Jersey Offensive Rebound.
0 - 0
10:29
Rasheed Wallace Loose Ball Foul
0 - 0
10:19
Jason Kidd made 16 ft Jumper.
0 - 2
10:03
Scottie Pippen missed 8 ft Hook Shot.
0 - 2
10:00
Richard Jefferson Defensive Rebound.
0 - 2
9:52
Jason Kidd missed 24 ft Three Point Jumper.
0 - 2
9:49
Jason Collins Offensive Rebound.
0 - 2
9:41
Jason Kidd missed Jumper.
0 - 2
9:40
Jason Kidd Offensive Rebound.
0 - 2
9:34
Jason Collins 3 second
0 - 2
9:22
Rasheed Wallace missed Layup.
0 - 2
9:22
Portland Defensive Rebound.
0 - 2
9:22
Dale Davis Loose Ball Foul
0 - 2
9:22
Rasheed Wallace Technical Foul
0 - 2
9:22
Dale Davis Technical Foul
0 - 2
9:22
Jason Kidd made Technical Free Throw.
0 - 3
9:22
Jason Kidd missed Technical Free Throw.
0 - 3
9:22
New Jersey Offensive Rebound.
0 - 3
9:11
Richard Jefferson Lost Ball
0 - 3
9:00
Jason Collins Shooting Foul
0 - 3
9:00
Bonzi Wells made Free Throw 1 of 2.
1 - 3
9:00
Bonzi Wells missed Free Throw 2 of 2.
1 - 3
8:59
Rasheed Wallace Offensive Rebound.
1 - 3
8:49
Bonzi Wells missed Layup. Blocked by Richard Jefferson.
1 - 3
8:48
Portland Offensive Rebound.
1 - 3
8:38
Bonzi Wells Lost Ball. Stolen by Kenyon Martin.
1 - 3
8:36
Kenyon Martin made Two Point Shot.
1 - 5
8:18
Dale Davis made Jumper.
3 - 5
8:00
Jason Collins missed 13 ft Two Point Shot.
3 - 5
7:58
Bonzi Wells Defensive Rebound.
3 - 5
7:48
Kenyon Martin Personal Foul
3 - 5
7:41
Scottie Pippen Lost Ball. Stolen by Jason Kidd.
3 - 5
7:35
Jason Kidd missed 24 ft Three Point Jumper.
3 - 5
7:33
Derek Anderson Defensive Rebound.
3 - 5
7:31
Jason Collins Personal Foul
3 - 5
7:31
Aaron Williams enters the game for Jason Collins.
3 - 5
7:26
Scottie Pippen missed 15 ft Jumper.
3 - 5
7:24
Kenyon Martin Defensive Rebound.
3 - 5
7:16
Aaron Williams missed Layup. Blocked by Scottie Pippen.
3 - 5
7:13
Dale Davis Defensive Rebound.
3 - 5
7:07
Bonzi Wells missed 10 ft Jumper. Blocked by Richard Jefferson.
3 - 5
7:05
Bonzi Wells Offensive Rebound.
3 - 5
6:58
Dale Davis missed 16 ft Two Point Shot.
3 - 5
6:56
Richard Jefferson Defensive Rebound.
3 - 5
6:50
Lucious Harris made 20 ft Jumper. Assisted by Jason Kidd.
3 - 7
6:35
Scottie Pippen made 7 ft Hook Shot. Assisted by Dale Davis.
5 - 7
6:22
Kenyon Martin missed Layup.
5 - 7
6:20
Rasheed Wallace Defensive Rebound.
5 - 7
6:13
Scottie Pippen made 25 ft Three Point Jumper.
8 - 7
5:52
Lucious Harris made 19 ft Jumper.
8 - 9
5:35
Scottie Pippen missed 25 ft Three Point Jumper.
8 - 9
5:33
Richard Jefferson Defensive Rebound.
8 - 9
5:28
New Jersey Full Timeout.
8 - 9
5:16
Bonzi Wells Shooting Foul
8 - 9
5:16
Richard Jefferson made Free Throw 1 of 2.
8 - 10
5:16
Richard Jefferson made Free Throw 2 of 2.
8 - 11
4:58
Derek Anderson missed 19 ft Jumper.
8 - 11
4:56
Richard Jefferson Defensive Rebound.
8 - 11
4:52
Jason Kidd made 18 ft Jumper. Assisted by Lucious Harris.
8 - 13
4:35
Bonzi Wells Lost Ball. Stolen by Richard Jefferson.
8 - 13
4:30
Kenyon Martin Offensive Goaltending
8 - 13
4:30
Rodney Rogers enters the game for Richard Jefferson.
8 - 13
4:13
Bonzi Wells missed 15 ft Jumper.
8 - 13
4:11
Jason Kidd Defensive Rebound.
8 - 13
4:09
Bonzi Wells Shooting Foul
8 - 13
4:09
Jason Kidd made Free Throw 1 of 2.
8 - 14
4:09
Ruben Patterson enters the game for Bonzi Wells.
8 - 14
4:09
Jason Kidd made Free Throw 2 of 2.
8 - 15
3:55
Derek Anderson missed 12 ft Two Point Shot.
8 - 15
3:53
Dale Davis Offensive Rebound.
8 - 15
3:50
Dale Davis missed Tip Shot.
8 - 15
3:49
Aaron Williams Defensive Rebound.
8 - 15
3:47
Aaron Williams Bad Pass. Stolen by Dale Davis.
8 - 15
3:44
Dale Davis made Two Point Shot. Assisted by Derek Anderson.
10 - 15
3:29
Kenyon Martin missed 20 ft Jumper.
10 - 15
3:26
Dale Davis Defensive Rebound.
10 - 15
3:17
Ruben Patterson made Two Point Shot.
12 - 15
3:03
Lucious Harris missed 10 ft Jumper. Blocked by Dale Davis.
12 - 15
3:01
Kenyon Martin Offensive Rebound.
12 - 15
3:00
Kenyon Martin missed 6 ft Hook Shot.
12 - 15
2:58
Lucious Harris Offensive Rebound.
12 - 15
2:57
Lucious Harris made Layup.
12 - 17
2:40
Scottie Pippen made 19 ft Jumper. Assisted by Ruben Patterson.
14 - 17
2:25
Rodney Rogers missed 14 ft Jumper.
14 - 17
2:24
Kenyon Martin Offensive Rebound.
14 - 17
2:23
Kenyon Martin missed Tip Shot.
14 - 17
2:21
New Jersey Defensive Rebound.
14 - 17
2:21
Portland Full Timeout.
14 - 17
2:21
Tamar Slay enters the game for Lucious Harris.
14 - 17
2:21
Damon Stoudamire enters the game for Derek Anderson.
14 - 17
2:12
Rodney Rogers Shooting Foul
14 - 17
2:12
Scottie Pippen made Free Throw 1 of 2.
15 - 17
2:12
Scottie Pippen made Free Throw 2 of 2.
16 - 17
2:00
Kenyon Martin missed Two Point Shot.
16 - 17
1:59
Kenyon Martin Offensive Rebound.
16 - 17
1:58
Kenyon Martin Out of Bounds
16 - 17
1:47
Scottie Pippen made 22 ft Jumper.
18 - 17
1:32
Kenyon Martin Bad Pass. Stolen by Scottie Pippen.
18 - 17
1:30
Ruben Patterson made Layup. Assisted by Scottie Pippen.
20 - 17
1:07
Rodney Rogers made 17 ft Jumper.
20 - 19
0:52
Ruben Patterson Bad Pass. Stolen by Rodney Rogers.
20 - 19
0:47
Jason Kidd made Two Point Shot.
20 - 21
0:47
Damon Stoudamire Shooting Foul
20 - 21
0:47
Jason Kidd made Free Throw 1 of 1.
20 - 22
0:27
Dale Davis missed 15 ft Jumper.
20 - 22
0:25
Ruben Patterson Offensive Rebound.
20 - 22
0:23
Aaron Williams Shooting Foul
20 - 22
0:23
Ruben Patterson missed Free Throw 1 of 2.
20 - 22
0:23
Portland Offensive Rebound.
20 - 22
0:23
Zachary Randolph enters the game for Rasheed Wallace.
20 - 22
0:23
Ruben Patterson made Free Throw 2 of 2.
21 - 22
0:04
Kenyon Martin made Two Point Shot. Assisted by Jason Kidd.
21 - 24
0:04
Ruben Patterson Shooting Foul
21 - 24
0:04
Kenyon Martin missed Free Throw 1 of 1.
21 - 24
0:03
Zachary Randolph Defensive Rebound.
21 - 24
0:01
Ruben Patterson missed 55 ft Three Point Jumper.
21 - 24
0:00
Portland Offensive Rebound.
21 - 24
0:00
End of the 1st Quarter.
21 - 24

time
TEAM
PLAY
SCORE
12:00
Start of the 2nd Quarter.
21 - 24
11:41
Ruben Patterson missed Two Point Shot.
21 - 24
11:40
Richard Jefferson Defensive Rebound.
21 - 24
11:36
Tamar Slay made Two Point Shot. Assisted by Richard Jefferson.
21 - 26
11:25
Tamar Slay Personal Foul
21 - 26
11:25
Derek Anderson enters the game for Scottie Pippen.
21 - 26
11:12
Arvydas Sabonis made 19 ft Jumper. Assisted by Derek Anderson.
23 - 26
10:59
Aaron Williams made Layup. Assisted by Richard Jefferson.
23 - 28
10:45
Ruben Patterson made Layup. Assisted by Arvydas Sabonis.
25 - 28
10:26
Tamar Slay missed Jumper.
25 - 28
10:25
Zachary Randolph Defensive Rebound.
25 - 28
10:17
Derek Anderson made 24 ft Three Point Jumper. Assisted by Damon Stoudamire.
28 - 28
10:04
Aaron Williams made Layup. Assisted by Rodney Rogers.
28 - 30
9:55
Derek Anderson Bad Pass. Stolen by Richard Jefferson.
28 - 30
9:44
Tamar Slay Bad Pass. Stolen by Arvydas Sabonis.
28 - 30
9:30
Arvydas Sabonis Offensive Foul
28 - 30
9:30
Arvydas Sabonis Foul
28 - 30
9:17
Aaron Williams made Two Point Shot. Assisted by Richard Jefferson.
28 - 32
9:11
Portland Full Timeout.
28 - 32
9:03
Ruben Patterson made 6 ft Jumper. Assisted by Arvydas Sabonis.
30 - 32
9:03
Richard Jefferson Shooting Foul
30 - 32
9:03
Ruben Patterson made Free Throw 1 of 1.
31 - 32
8:59
Anthony Johnson Lost Ball. Stolen by Derek Anderson.
31 - 32
8:55
Derek Anderson missed 22 ft Three Point Jumper.
31 - 32
8:52
Zachary Randolph Offensive Rebound.
31 - 32
8:48
Damon Stoudamire missed 23 ft Three Point Jumper.
31 - 32
8:47
Aaron Williams Defensive Rebound.
31 - 32
8:42
Richard Jefferson made Slam Dunk. Assisted by Tamar Slay.
31 - 34
8:26
Ruben Patterson missed Layup.
31 - 34
8:23
Aaron Williams Defensive Rebound.
31 - 34
8:22
Ruben Patterson Personal Foul
31 - 34
8:22
Bonzi Wells enters the game for Ruben Patterson.
31 - 34
8:22
Rasheed Wallace enters the game for Zachary Randolph.
31 - 34
8:11
Richard Jefferson missed Two Point Shot.
31 - 34
8:10
Aaron Williams Offensive Rebound.
31 - 34
8:08
Aaron Williams missed Tip Shot.
31 - 34
8:07
Arvydas Sabonis Defensive Rebound.
31 - 34
7:56
Derek Anderson made 19 ft Two Point Shot. Assisted by Arvydas Sabonis.
33 - 34
7:39
Rodney Rogers made 19 ft Jumper. Assisted by Anthony Johnson.
33 - 36
7:33
Lucious Harris enters the game for Tamar Slay.
33 - 36
7:26
Rasheed Wallace Bad Pass. Stolen by Rodney Rogers.
33 - 36
7:07
Rasheed Wallace Personal Foul
33 - 36
7:00
Lucious Harris made Layup. Assisted by Richard Jefferson.
33 - 38
6:41
Rasheed Wallace made Two Point Shot. Assisted by Arvydas Sabonis.
35 - 38
6:37
Delay of Game
35 - 38
6:26
Rodney Rogers made 23 ft Three Point Jumper. Assisted by Aaron Williams.
35 - 41
6:13
Anthony Johnson Shooting Foul
35 - 41
6:13
Jason Kidd enters the game for Anthony Johnson.
35 - 41
6:13
Damon Stoudamire made Free Throw 1 of 2.
36 - 41
6:13
Damon Stoudamire made Free Throw 2 of 2.
37 - 41
5:56
Jason Kidd made 17 ft Jumper. Assisted by Aaron Williams.
37 - 43
5:41
Bonzi Wells missed Two Point Shot.
37 - 43
5:41
Lucious Harris Defensive Rebound.
37 - 43
5:35
Rodney Rogers made Layup. Assisted by Jason Kidd.
37 - 45
5:24
Aaron Williams Personal Foul
37 - 45
5:24
Official Timeout.
37 - 45
5:24
Kenyon Martin enters the game for Rodney Rogers.
37 - 45
5:24
Jason Collins enters the game for Aaron Williams.
37 - 45
5:09
Derek Anderson missed 15 ft Jumper.
37 - 45
5:07
Richard Jefferson Defensive Rebound.
37 - 45
5:03
Derek Anderson Shooting Foul
37 - 45
5:03
Lucious Harris made Free Throw 1 of 2.
37 - 46
5:03
Scottie Pippen enters the game for Damon Stoudamire.
37 - 46
5:03
Lucious Harris made Free Throw 2 of 2.
37 - 47
4:39
Scottie Pippen missed 20 ft Jumper.
37 - 47
4:37
Jason Kidd Defensive Rebound.
37 - 47
4:35
Richard Jefferson made Two Point Shot. Assisted by Jason Kidd.
37 - 49
4:16
Jason Collins Shooting Foul
37 - 49
4:16
Aaron Williams enters the game for Jason Collins.
37 - 49
4:16
Dale Davis enters the game for Arvydas Sabonis.
37 - 49
4:16
Bonzi Wells missed Free Throw 1 of 2.
37 - 49
4:16
Portland Offensive Rebound.
37 - 49
4:16
Bonzi Wells made Free Throw 2 of 2.
38 - 49
3:58
Lucious Harris made 19 ft Jumper. Assisted by Jason Kidd.
38 - 51
3:42
Scottie Pippen missed 26 ft Three Point Jumper.
38 - 51
3:38
Jumpball. Dale Davis vs. Aaron Williams. Bonzi Wells gains possession.
38 - 51
3:38
Portland Offensive Rebound.
38 - 51
3:29
Rasheed Wallace missed Layup.
38 - 51
3:27
Rasheed Wallace Offensive Rebound.
38 - 51
3:26
Rasheed Wallace missed Tip Shot.
38 - 51
3:25
Richard Jefferson Defensive Rebound.
38 - 51
3:13
Kenyon Martin missed 20 ft Jumper.
38 - 51
3:11
Scottie Pippen Defensive Rebound.
38 - 51
2:53
Bonzi Wells made 16 ft Jumper.
40 - 51
2:43
New Jersey Full Timeout.
40 - 51
2:32
Scottie Pippen Shooting Foul
40 - 51
2:32
Jason Kidd made Free Throw 1 of 2.
40 - 52
2:32
Jason Kidd made Free Throw 2 of 2.
40 - 53
2:24
Rasheed Wallace missed Three Point Jumper.
40 - 53
2:21
Jason Kidd Defensive Rebound.
40 - 53
2:17
Kenyon Martin Lost Ball. Stolen by Derek Anderson.
40 - 53
2:00
Bonzi Wells made Two Point Shot. Assisted by Scottie Pippen.
42 - 53
1:39
Kenyon Martin Lost Ball
42 - 53
1:19
Scottie Pippen Lost Ball. Stolen by Richard Jefferson.
42 - 53
1:15
Rasheed Wallace Shooting Foul
42 - 53
1:15
Zachary Randolph enters the game for Rasheed Wallace.
42 - 53
1:15
Jason Kidd made Free Throw 1 of 2.
42 - 54
1:15
Jason Kidd made Free Throw 2 of 2.
42 - 55
1:04
Zachary Randolph Bad Pass. Stolen by Kenyon Martin.
42 - 55
0:59
Richard Jefferson made Two Point Shot.
42 - 57
0:59
Scottie Pippen Shooting Foul
42 - 57
0:59
Scottie Pippen Technical Foul
42 - 57
0:59
Jason Kidd made Technical Free Throw.
42 - 58
0:59
Richard Jefferson made Free Throw 1 of 1.
42 - 59
0:52
Aaron Williams Shooting Foul
42 - 59
0:52
Scottie Pippen missed Free Throw 1 of 2.
42 - 59
0:52
Portland Offensive Rebound.
42 - 59
0:52
Rodney Rogers enters the game for Aaron Williams.
42 - 59
0:52
Scottie Pippen made Free Throw 2 of 2.
43 - 59
0:38
Jason Kidd Bad Pass. Stolen by Dale Davis.
43 - 59
0:31
Jason Kidd Personal Foul
43 - 59
0:31
Scottie Pippen made Free Throw 1 of 2.
44 - 59
0:31
Ruben Patterson enters the game for Dale Davis.
44 - 59
0:31
Scottie Pippen made Free Throw 2 of 2.
45 - 59
0:13
Jason Kidd missed 18 ft Jumper.
45 - 59
0:11
Rodney Rogers Offensive Rebound.
45 - 59
0:10
Rodney Rogers missed Tip Shot.
45 - 59
0:09
Scottie Pippen Defensive Rebound.
45 - 59
0:07
Ruben Patterson made Two Point Shot. Assisted by Scottie Pippen.
47 - 59
0:01
Richard Jefferson missed Jumper.
47 - 59
0:00
New Jersey Offensive Rebound.
47 - 59
0:00
End of the 2nd Quarter.
47 - 59

time
TEAM
PLAY
SCORE
12:00
Start of the 3rd Quarter.
47 - 59
11:41
Rasheed Wallace Lost Ball. Stolen by Richard Jefferson.
47 - 59
11:18
Richard Jefferson Lost Ball. Stolen by Scottie Pippen.
47 - 59
11:11
Rasheed Wallace made 24 ft Jumper. Assisted by Scottie Pippen.
49 - 59
10:45
Kenyon Martin missed 18 ft Jumper.
49 - 59
10:42
Bonzi Wells Defensive Rebound.
49 - 59
10:27
Derek Anderson missed 20 ft Jumper.
49 - 59
10:26
Jason Collins Defensive Rebound.
49 - 59
10:22
Kenyon Martin Traveling
49 - 59
10:11
Scottie Pippen made Two Point Shot.
51 - 59
9:52
Richard Jefferson made 17 ft Jumper. Assisted by Jason Collins.
51 - 61
9:33
Dale Davis missed Layup. Blocked by Jason Kidd.
51 - 61
9:32
Portland Defensive Rebound.
51 - 61
9:25
Jason Kidd missed Jumper.
51 - 61
9:22
Derek Anderson Defensive Rebound.
51 - 61
9:18
Derek Anderson made Dunk. Assisted by Rasheed Wallace.
53 - 61
8:53
Kenyon Martin missed 19 ft Jumper.
53 - 61
8:52
Richard Jefferson Offensive Rebound.
53 - 61
8:51
Richard Jefferson missed Tip Shot.
53 - 61
8:49
Bonzi Wells Defensive Rebound.
53 - 61
8:47
Bonzi Wells missed Two Point Shot. Blocked by Kenyon Martin.
53 - 61
8:45
Portland Offensive Rebound.
53 - 61
8:30
Dale Davis made 9 ft Two Point Shot.
55 - 61
8:14
Dale Davis Personal Foul
55 - 61
8:00
Jason Collins missed Layup.
55 - 61
7:58
Rasheed Wallace Defensive Rebound.
55 - 61
7:52
Scottie Pippen missed 18 ft Jumper.
55 - 61
7:50
Portland Offensive Rebound.
55 - 61
7:50
Jason Collins Loose Ball Foul
55 - 61
7:43
Bonzi Wells missed 25 ft Three Point Jumper.
55 - 61
7:41
Lucious Harris Defensive Rebound.
55 - 61
7:26
Kenyon Martin Offensive Foul
55 - 61
7:26
Kenyon Martin Foul
55 - 61
7:01
Dale Davis made 13 ft Two Point Shot.
57 - 61
6:58
New Jersey Full Timeout.
57 - 61
6:41
Jason Collins made Layup. Assisted by Richard Jefferson.
57 - 63
6:39
Jason Collins Technical Foul
57 - 63
6:39
Derek Anderson made Technical Free Throw.
58 - 63
6:16
Rasheed Wallace Lost Ball
58 - 63
6:03
Richard Jefferson made 17 ft Jumper. Assisted by Jason Kidd.
58 - 65
5:48
Bonzi Wells made 17 ft Jumper. Assisted by Derek Anderson.
60 - 65
5:26
Jason Kidd missed 17 ft Jumper.
60 - 65
5:26
New Jersey Offensive Rebound.
60 - 65
5:07
Jason Kidd made 18 ft Jumper. Assisted by Richard Jefferson.
60 - 67
4:39
Scottie Pippen missed Three Point Jumper.
60 - 67
4:39
Dale Davis Offensive Rebound.
60 - 67
4:30
Richard Jefferson Personal Foul
60 - 67
4:30
Rodney Rogers enters the game for Kenyon Martin.
60 - 67
4:22
Rasheed Wallace missed 24 ft Three Point Jumper.
60 - 67
4:20
Jason Collins Defensive Rebound.
60 - 67
4:13
Bonzi Wells Personal Foul
60 - 67
4:09
Bonzi Wells Personal Foul
60 - 67
4:09
Ruben Patterson enters the game for Bonzi Wells.
60 - 67
4:05
Jason Kidd made 18 ft Two Point Shot. Assisted by Rodney Rogers.
60 - 69
3:49
Derek Anderson missed 22 ft Jumper.
60 - 69
3:47
Derek Anderson Offensive Rebound.
60 - 69
3:46
Jason Collins Shooting Foul
60 - 69
3:46
Aaron Williams enters the game for Jason Collins.
60 - 69
3:46
Dale Davis made Free Throw 1 of 2.
61 - 69
3:46
Dale Davis made Free Throw 2 of 2.
62 - 69
3:31
Jason Kidd missed Two Point Shot.
62 - 69
3:30
Richard Jefferson Offensive Rebound.
62 - 69
3:28
Richard Jefferson made Tip Shot.
62 - 71
3:19
Derek Anderson missed 16 ft Jumper.
62 - 71
3:17
Aaron Williams Defensive Rebound.
62 - 71
3:11
Lucious Harris made 24 ft Three Point Jumper. Assisted by Jason Kidd.
62 - 74
3:06
Portland Full Timeout.
62 - 74
3:06
Damon Stoudamire enters the game for Scottie Pippen.
62 - 74
2:59
Richard Jefferson Personal Foul
62 - 74
2:50
Rasheed Wallace missed 25 ft Three Point Jumper.
62 - 74
2:47
Ruben Patterson Offensive Rebound.
62 - 74
2:43
Ruben Patterson missed Layup. Blocked by Richard Jefferson.
62 - 74
2:41
Damon Stoudamire Offensive Rebound.
62 - 74
2:30
Ruben Patterson missed Layup.
62 - 74
2:29
Portland Offensive Rebound.
62 - 74
2:15
Derek Anderson missed 25 ft Three Point Jumper.
62 - 74
2:14
Damon Stoudamire Offensive Rebound.
62 - 74
2:11
Damon Stoudamire missed Jumper.
62 - 74
2:09
Jason Kidd Defensive Rebound.
62 - 74
2:05
Richard Jefferson made Two Point Shot. Assisted by Jason Kidd.
62 - 76
1:54
Derek Anderson made Two Point Shot.
64 - 76
1:37
Rodney Rogers missed 19 ft Jumper.
64 - 76
1:35
Derek Anderson Defensive Rebound.
64 - 76
1:16
Ruben Patterson made Jumper. Assisted by Derek Anderson.
66 - 76
1:02
Lucious Harris made Layup. Assisted by Jason Kidd.
66 - 78
0:44
Ruben Patterson Bad Pass
66 - 78
0:44
Arvydas Sabonis enters the game for Dale Davis.
66 - 78
0:44
Zachary Randolph enters the game for Rasheed Wallace.
66 - 78
0:32
Richard Jefferson missed 21 ft Jumper.
66 - 78
0:30
Arvydas Sabonis Defensive Rebound.
66 - 78
0:11
Ruben Patterson made Jumper.
68 - 78
0:03
Damon Stoudamire Personal Foul
68 - 78
0:00
Jason Kidd missed 24 ft Three Pointer.
68 - 78
0:00
New Jersey Offensive Rebound.
68 - 78
0:00
End of the 3rd Quarter.
68 - 78

time
TEAM
PLAY
SCORE
12:00
Start of the 4th Quarter.
68 - 78
11:48
Aaron Williams made Slam Dunk. Assisted by Rodney Rogers.
68 - 80
11:30
Zachary Randolph made 6 ft Jumper. Assisted by Arvydas Sabonis.
70 - 80
11:14
Lucious Harris made 19 ft Jumper. Assisted by Jason Kidd.
70 - 82
10:56
Damon Stoudamire missed 19 ft Jumper.
70 - 82
10:53
Ruben Patterson Offensive Rebound.
70 - 82
10:33
Derek Anderson missed 25 ft Three Point Jumper.
70 - 82
10:32
Arvydas Sabonis Offensive Rebound.
70 - 82
10:30
Kenyon Martin Shooting Foul
70 - 82
10:30
Derek Anderson made Free Throw 1 of 2.
71 - 82
10:30
Derek Anderson made Free Throw 2 of 2.
72 - 82
10:19
Jason Kidd made Layup. Assisted by Rodney Rogers.
72 - 84
10:00
Arvydas Sabonis missed 11 ft Two Point Shot.
72 - 84
9:59
Zachary Randolph Offensive Rebound.
72 - 84
9:57
Zachary Randolph made Layup.
74 - 84
9:52
Lucious Harris missed 24 ft Three Point Jumper.
74 - 84
9:51
New Jersey Defensive Rebound.
74 - 84
9:40
Damon Stoudamire missed Two Point Shot. Blocked by Aaron Williams.
74 - 84
9:38
Portland Offensive Rebound.
74 - 84
9:29
Damon Stoudamire made 25 ft Three Point Jumper. Assisted by Derek Anderson.
77 - 84
9:10
Aaron Williams made 17 ft Jumper.
77 - 86
8:48
Ruben Patterson made Layup. Assisted by Arvydas Sabonis.
79 - 86
8:48
Kenyon Martin Shooting Foul
79 - 86
8:48
Official Timeout.
79 - 86
8:48
Ruben Patterson made Free Throw 1 of 1.
80 - 86
8:33
Rodney Rogers missed 24 ft Three Point Jumper.
80 - 86
8:30
Arvydas Sabonis Defensive Rebound.
80 - 86
8:22
Zachary Randolph made Layup. Assisted by Derek Anderson.
82 - 86
8:07
Aaron Williams made 18 ft Jumper. Assisted by Kenyon Martin.
82 - 88
7:54
Rodney Rogers Shooting Foul
82 - 88
7:54
Zachary Randolph made Free Throw 1 of 2.
83 - 88
7:54
Zachary Randolph missed Free Throw 2 of 2.
83 - 88
7:52
Aaron Williams Defensive Rebound.
83 - 88
7:37
Jason Kidd missed 9 ft Two Point Shot.
83 - 88
7:35
Arvydas Sabonis Defensive Rebound.
83 - 88
7:18
Zachary Randolph missed 15 ft Jumper.
83 - 88
7:16
Kenyon Martin Defensive Rebound.
83 - 88
7:09
Zachary Randolph Personal Foul
83 - 88
7:09
Richard Jefferson enters the game for Rodney Rogers.
83 - 88
7:05
Kenyon Martin made Two Point Shot. Assisted by Jason Kidd.
83 - 90
6:50
Damon Stoudamire missed 20 ft Jumper.
83 - 90
6:48
Richard Jefferson Defensive Rebound.
83 - 90
6:26
Kenyon Martin made 24 ft Three Point Jumper. Assisted by Lucious Harris.
83 - 93
6:20
Portland Full Timeout.
83 - 93
6:20
Rasheed Wallace enters the game for Zachary Randolph.
83 - 93
6:20
Bonzi Wells enters the game for Derek Anderson.
83 - 93
6:07
Richard Jefferson Shooting Foul
83 - 93
6:07
Ruben Patterson made Free Throw 1 of 2.
84 - 93
6:07
Ruben Patterson made Free Throw 2 of 2.
85 - 93
5:52
Arvydas Sabonis Shooting Foul
85 - 93
5:52
Kenyon Martin made Free Throw 1 of 2.
85 - 94
5:52
Kenyon Martin missed Free Throw 2 of 2.
85 - 94
5:52
Richard Jefferson Offensive Rebound.
85 - 94
5:50
New Jersey 20 Sec. Timeout.
85 - 94
5:35
Lucious Harris Lost Ball. Stolen by Ruben Patterson.
85 - 94
5:33
Aaron Williams Shooting Foul
85 - 94
5:33
Ruben Patterson missed Free Throw 1 of 2.
85 - 94
5:33
Portland Offensive Rebound.
85 - 94
5:33
Ruben Patterson missed Free Throw 2 of 2.
85 - 94
5:31
Richard Jefferson Defensive Rebound.
85 - 94
5:20
Jason Kidd missed 15 ft Two Point Shot.
85 - 94
5:18
Kenyon Martin Offensive Rebound.
85 - 94
5:16
Kenyon Martin missed Tip Shot.
85 - 94
5:16
Richard Jefferson Offensive Rebound.
85 - 94
5:15
Richard Jefferson made Layup.
85 - 96
5:03
Lucious Harris Personal Foul
85 - 96
5:03
Bonzi Wells made Free Throw 1 of 2.
86 - 96
5:03
Zachary Randolph enters the game for Arvydas Sabonis.
86 - 96
5:03
Bonzi Wells missed Free Throw 2 of 2.
86 - 96
5:01
Kenyon Martin Defensive Rebound.
86 - 96
4:54
Lucious Harris Lost Ball. Stolen by Bonzi Wells.
86 - 96
4:48
Bonzi Wells made Two Point Shot. Assisted by Ruben Patterson.
88 - 96
4:24
Bonzi Wells Shooting Foul
88 - 96
4:24
Richard Jefferson made Free Throw 1 of 2.
88 - 97
4:24
Richard Jefferson missed Free Throw 2 of 2.
88 - 97
4:24
Zachary Randolph Defensive Rebound.
88 - 97
4:07
Rasheed Wallace missed 20 ft Jumper.
88 - 97
4:07
Portland Defensive Rebound.
88 - 97
4:07
Ruben Patterson Loose Ball Foul
88 - 97
3:50
Jason Kidd made Layup. Assisted by Richard Jefferson.
88 - 99
3:38
Ruben Patterson made 24 ft Three Point Jumper. Assisted by Damon Stoudamire.
91 - 99
3:20
Jason Kidd made 17 ft Jumper.
91 - 101
3:04
Bonzi Wells missed Layup. Blocked by Aaron Williams.
91 - 101
3:03
Zachary Randolph Offensive Rebound.
91 - 101
3:02
Zachary Randolph missed Layup. Blocked by Kenyon Martin.
91 - 101
3:01
Portland Offensive Rebound.
91 - 101
2:50
Bonzi Wells made 8 ft Jumper.
93 - 101
2:42
New Jersey Full Timeout.
93 - 101
2:33
Jason Kidd missed Layup.
93 - 101
2:32
Richard Jefferson Offensive Rebound.
93 - 101
2:31
Richard Jefferson missed Tip Shot.
93 - 101
2:31
Bonzi Wells Defensive Rebound.
93 - 101
2:15
Damon Stoudamire made 24 ft Three Point Jumper. Assisted by Zachary Randolph.
96 - 101
1:54
Lucious Harris Bad Pass. Stolen by Zachary Randolph.
96 - 101
1:49
Ruben Patterson made Dunk. Assisted by Damon Stoudamire.
98 - 101
1:40
Richard Jefferson Lost Ball
98 - 101
1:28
Damon Stoudamire missed 22 ft Jumper.
98 - 101
1:25
Kenyon Martin Defensive Rebound.
98 - 101
1:13
Richard Jefferson made Two Point Shot. Assisted by Jason Kidd.
98 - 103
1:01
Jason Kidd Personal Foul
98 - 103
1:01
Rasheed Wallace missed Free Throw 1 of 2.
98 - 103
1:01
Portland Offensive Rebound.
98 - 103
1:01
Rasheed Wallace missed Free Throw 2 of 2.
98 - 103
1:00
Richard Jefferson Defensive Rebound.
98 - 103
0:38
Jason Kidd missed 9 ft Two Point Shot.
98 - 103
0:36
Zachary Randolph Defensive Rebound.
98 - 103
0:32
Rasheed Wallace made 24 ft Three Point Jumper. Assisted by Damon Stoudamire.
101 - 103
0:31
New Jersey Full Timeout.
101 - 103
0:31
Scottie Pippen enters the game for Damon Stoudamire.
101 - 103
0:12
Jason Kidd missed 25 ft Three Point Jumper.
101 - 103
0:10
New Jersey Offensive Rebound.
101 - 103
0:10
New Jersey Full Timeout.
101 - 103
0:10
Ruben Patterson Personal Foul
101 - 103
0:10
Jason Kidd missed Free Throw 1 of 2.
101 - 103
0:10
New Jersey Offensive Rebound.
101 - 103
0:10
Arvydas Sabonis enters the game for Zachary Randolph.
101 - 103
0:10
Jason Kidd missed Free Throw 2 of 2.
101 - 103
0:09
Scottie Pippen Defensive Rebound.
101 - 103
0:08
Portland Full Timeout.
101 - 103
0:08
Rodney Rogers enters the game for Aaron Williams.
101 - 103
0:08
Derek Anderson enters the game for Ruben Patterson.
101 - 103
0:08
Damon Stoudamire enters the game for Scottie Pippen.
101 - 103
0:06
Derek Anderson Bad Pass. Stolen by Rodney Rogers.
101 - 103
0:00
Damon Stoudamire Personal Foul
101 - 103
0:00
Lucious Harris made Free Throw 1 of 2.
101 - 104
0:00
Lucious Harris made Free Throw 2 of 2.
101 - 105
0:00
Portland Full Timeout.
101 - 105
0:00
Damon Stoudamire made 27 ft Three Point Jumper. Assisted by Bonzi Wells.
104 - 105
0:00
End of the 4th Quarter.
104 - 105
NBA free agency is almost here. With a huge salary cap jump expected, who are the top available players this year? Can the Cavs add a piece for a second title run? Our NBA experts go 5-on-5.

Tim Legler and Brad Daugherty analyze Ben Simmons and Brandon Ingram, the top two picks in the NBA draft, and agree that Simmons will have a more immediate impact.

Jorge Sedano breaks down how the Magic could use Serge Ibaka, saying it might not be as a starter.
2015-2016 Pacific Standings