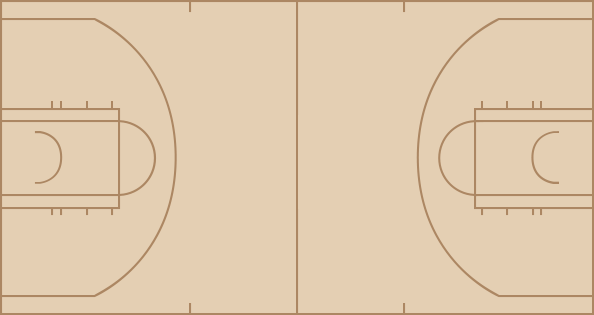 Hornets
time
TEAM
PLAY
SCORE
12:00
Start of the 1st Quarter.
0 - 0
12:00
Jumpball. Jamaal Magloire vs. Shaquille O'Neal. Derek Fisher gains possession.
0 - 0
11:51
Derek Fisher made Two Point Shot. Assisted by Rick Fox.
0 - 2
11:36
Jamaal Magloire made 9 ft Hook Shot. Assisted by David Wesley.
2 - 2
11:21
Shaquille O'Neal made Slam Dunk. Assisted by Kobe Bryant.
2 - 4
11:04
Baron Davis missed 26 ft Three Point Jumper.
2 - 4
11:03
Shaquille O'Neal Defensive Rebound.
2 - 4
10:52
Kobe Bryant made Slam Dunk.
2 - 6
10:45
Baron Davis Offensive Foul
2 - 6
10:45
Baron Davis Foul
2 - 6
10:29
Shaquille O'Neal missed 9 ft Jumper.
2 - 6
10:26
Jamal Mashburn Defensive Rebound.
2 - 6
10:19
P.J. Brown missed 8 ft Jumper.
2 - 6
10:18
Samaki Walker Defensive Rebound.
2 - 6
10:03
Jamaal Magloire Shooting Foul
2 - 6
10:03
Shaquille O'Neal made Free Throw 1 of 2.
2 - 7
10:03
Shaquille O'Neal made Free Throw 2 of 2.
2 - 8
9:52
Kicked Ball
2 - 8
9:49
Rick Fox Personal Foul
2 - 8
9:38
Jamal Mashburn made 15 ft Two Point Shot.
4 - 8
9:22
Shaquille O'Neal Offensive Foul
4 - 8
9:22
Shaquille O'Neal Foul
4 - 8
9:11
Jamaal Magloire missed 9 ft Hook Shot.
4 - 8
9:07
Shaquille O'Neal Defensive Rebound.
4 - 8
9:03
Derek Fisher made 17 ft Two Point Shot.
4 - 10
8:47
David Wesley Offensive Foul
4 - 10
8:47
David Wesley Foul
4 - 10
8:34
Samaki Walker missed 19 ft Jumper.
4 - 10
8:33
Jamal Mashburn Defensive Rebound.
4 - 10
8:25
Jamaal Magloire made 16 ft Jumper. Assisted by Jamal Mashburn.
6 - 10
8:11
Shaquille O'Neal made Layup. Assisted by Derek Fisher.
6 - 12
7:50
Jamal Mashburn missed 9 ft Jumper. Blocked by Shaquille O'Neal.
6 - 12
7:48
Derek Fisher Defensive Rebound.
6 - 12
7:37
Kobe Bryant missed Two Point Shot.
6 - 12
7:35
Samaki Walker Offensive Rebound.
6 - 14
7:35
Samaki Walker made Tip Shot.
6 - 14
7:26
Jamal Mashburn missed 5 ft Jumper. Blocked by Samaki Walker.
6 - 14
7:22
Shaquille O'Neal Defensive Rebound.
6 - 14
7:20
Rick Fox Bad Pass. Stolen by David Wesley.
6 - 14
7:18
Jamaal Magloire made Two Point Shot. Assisted by Baron Davis.
8 - 14
7:18
Derek Fisher Shooting Foul
8 - 14
7:18
Jamaal Magloire missed Free Throw 1 of 1.
8 - 14
7:16
Samaki Walker Defensive Rebound.
8 - 14
6:54
Samaki Walker Bad Pass. Stolen by Jamal Mashburn.
8 - 14
6:47
Jamaal Magloire missed Two Point Shot.
8 - 14
6:46
New Orleans Defensive Rebound.
8 - 14
6:30
Derek Fisher missed Three Point Jumper.
8 - 14
6:26
Jamal Mashburn Defensive Rebound.
8 - 14
6:22
Baron Davis made Slam Dunk. Assisted by Jamal Mashburn.
10 - 14
6:11
Shaquille O'Neal made Slam Dunk.
10 - 16
6:11
Jamaal Magloire Shooting Foul
10 - 16
6:11
Elden Campbell enters the game for Jamaal Magloire.
10 - 16
6:11
Shaquille O'Neal made Free Throw 1 of 1.
10 - 17
5:58
Jamal Mashburn made Two Point Shot.
12 - 17
5:58
Rick Fox Shooting Foul
12 - 17
5:58
Los Angeles Full Timeout.
12 - 17
5:58
Devean George enters the game for Rick Fox.
12 - 17
5:58
Jamal Mashburn made Free Throw 1 of 1.
13 - 17
5:48
Shaquille O'Neal Bad Pass. Stolen by David Wesley.
13 - 17
5:43
Jamal Mashburn made Two Point Shot. Assisted by Baron Davis.
15 - 17
5:20
Derek Fisher Bad Pass. Stolen by Elden Campbell.
15 - 17
5:05
Elden Campbell made 17 ft Jumper. Assisted by Baron Davis.
17 - 17
4:39
Samaki Walker Bad Pass. Stolen by David Wesley.
17 - 17
4:33
Baron Davis missed 26 ft Three Point Jumper.
17 - 17
4:31
Devean George Defensive Rebound.
17 - 17
4:20
Shaquille O'Neal made 2 ft Hook Shot. Assisted by Derek Fisher.
17 - 19
4:20
P.J. Brown Shooting Foul
17 - 19
4:20
Robert Horry enters the game for Samaki Walker.
17 - 19
4:20
Shaquille O'Neal made Free Throw 1 of 1.
17 - 20
4:05
Robert Horry Shooting Foul
17 - 20
4:05
Elden Campbell missed Free Throw 1 of 2.
17 - 20
4:05
Elden Campbell missed Free Throw 2 of 2.
17 - 20
4:05
Shaquille O'Neal Defensive Rebound.
17 - 20
4:05
New Orleans Offensive Rebound.
17 - 20
3:44
Shaquille O'Neal made 11 ft Two Point Shot.
17 - 22
3:20
Devean George Shooting Foul
17 - 22
3:20
Jamal Mashburn made Free Throw 1 of 2.
18 - 22
3:20
Jamal Mashburn made Free Throw 2 of 2.
19 - 22
3:09
Shaquille O'Neal made Two Point Shot. Assisted by Derek Fisher.
19 - 24
2:53
Jamal Mashburn made 17 ft Two Point Shot.
21 - 24
2:31
Elden Campbell Personal Foul
21 - 24
2:31
New Orleans Full Timeout.
21 - 24
2:23
Derek Fisher made 16 ft Jumper. Assisted by Shaquille O'Neal.
21 - 26
2:02
Elden Campbell made 13 ft Two Point Shot. Assisted by Baron Davis.
23 - 26
1:44
Shaquille O'Neal missed Jumper.
23 - 26
1:43
P.J. Brown Defensive Rebound.
23 - 26
1:28
David Wesley made 26 ft Three Point Jumper. Assisted by Jamal Mashburn.
26 - 26
1:01
Derek Fisher missed 8 ft Jumper.
26 - 26
1:01
Los Angeles Defensive Rebound.
26 - 26
1:01
Derek Fisher Loose Ball Foul
26 - 26
1:01
Samaki Walker enters the game for Shaquille O'Neal.
26 - 26
1:01
P.J. Brown missed Free Throw 1 of 2.
26 - 26
1:01
New Orleans Offensive Rebound.
26 - 26
1:01
Brian Shaw enters the game for Derek Fisher.
26 - 26
1:01
P.J. Brown made Free Throw 2 of 2.
27 - 26
0:43
Kobe Bryant missed 5 ft Jumper. Blocked by Elden Campbell.
27 - 26
0:41
Jamal Mashburn Defensive Rebound.
27 - 26
0:34
Elden Campbell missed Slam Dunk.
27 - 26
0:33
New Orleans Defensive Rebound.
27 - 26
0:18
Devean George Lost Ball. Stolen by Baron Davis.
27 - 26
0:14
Jamal Mashburn made Slam Dunk. Assisted by David Wesley.
29 - 26
0:00
Kobe Bryant made 22 ft Jumper.
29 - 28
0:00
End of the 1st Quarter.
29 - 28

time
TEAM
PLAY
SCORE
12:00
Start of the 2nd Quarter.
29 - 28
11:44
Elden Campbell missed 5 ft Hook Shot.
29 - 28
11:42
Robert Horry Defensive Rebound.
29 - 28
11:22
Robert Horry 3 second
29 - 28
11:11
Elden Campbell Offensive Foul
29 - 28
11:11
Elden Campbell Foul
29 - 28
11:11
Jamaal Magloire enters the game for Elden Campbell.
29 - 28
11:00
Kobe Bryant made Two Point Shot. Assisted by Brian Shaw.
29 - 30
10:41
Jamal Mashburn made 20 ft Jumper. Assisted by George Lynch.
31 - 30
10:23
Robert Horry missed 17 ft Jumper.
31 - 30
10:22
Baron Davis Defensive Rebound.
31 - 30
10:15
Baron Davis made 11 ft Two Point Shot.
33 - 30
9:56
Devean George missed 26 ft Three Point Jumper.
33 - 30
9:53
Devean George Offensive Rebound.
33 - 30
9:41
Brian Shaw made 27 ft Three Point Jumper. Assisted by Kobe Bryant.
33 - 33
9:26
Jamaal Magloire made 8 ft Two Point Shot. Assisted by Courtney Alexander.
35 - 33
9:11
Devean George made 19 ft Jumper. Assisted by Brian Shaw.
35 - 35
8:47
Jamal Mashburn missed 14 ft Jumper.
35 - 35
8:45
Samaki Walker Defensive Rebound.
35 - 35
8:37
Courtney Alexander Personal Foul
35 - 35
8:37
Official Timeout.
35 - 35
8:37
Stacey Augmon enters the game for Jamal Mashburn.
35 - 35
8:37
Shaquille O'Neal enters the game for Samaki Walker.
35 - 35
8:30
Shaquille O'Neal Offensive Foul
35 - 35
8:30
Shaquille O'Neal Foul
35 - 35
8:18
Courtney Alexander missed 20 ft Jumper.
35 - 35
8:17
New Orleans Defensive Rebound.
35 - 35
7:54
Shaquille O'Neal missed 8 ft Jumper.
35 - 35
7:52
George Lynch Defensive Rebound.
35 - 35
7:45
Baron Davis made Two Point Shot.
37 - 35
7:45
Kobe Bryant Shooting Foul
37 - 35
7:45
Baron Davis made Free Throw 1 of 1.
38 - 35
7:33
Devean George made 19 ft Jumper. Assisted by Kobe Bryant.
38 - 37
7:18
George Lynch made 10 ft Jumper. Assisted by Jamaal Magloire.
40 - 37
6:56
Devean George missed 22 ft Jumper.
40 - 37
6:54
George Lynch Defensive Rebound.
40 - 37
6:45
Stacey Augmon missed Layup. Blocked by Shaquille O'Neal.
40 - 37
6:45
Jumpball. Stacey Augmon vs. Shaquille O'Neal. Devean George gains possession.
40 - 37
6:45
New Orleans Defensive Rebound.
40 - 37
6:31
Devean George made Slam Dunk. Assisted by Shaquille O'Neal.
40 - 39
6:20
Baron Davis made 14 ft Two Point Shot.
42 - 39
6:11
Robert Horry Bad Pass. Stolen by Jamaal Magloire.
42 - 39
6:03
Courtney Alexander made 26 ft Three Point Jumper. Assisted by Baron Davis.
45 - 39
5:43
Brian Shaw missed 28 ft Three Point Jumper.
45 - 39
5:41
Jamaal Magloire Defensive Rebound.
45 - 39
5:35
Courtney Alexander made Two Point Shot. Assisted by Baron Davis.
47 - 39
5:28
Los Angeles Full Timeout.
47 - 39
5:28
Derek Fisher enters the game for Kobe Bryant.
47 - 39
5:28
Rick Fox enters the game for Devean George.
47 - 39
5:09
Shaquille O'Neal made Slam Dunk.
47 - 41
4:52
Jamaal Magloire Offensive Foul
47 - 41
4:52
Jamaal Magloire Foul
47 - 41
4:52
Elden Campbell enters the game for Jamaal Magloire.
47 - 41
4:35
Rick Fox Lost Ball. Stolen by George Lynch.
47 - 41
4:28
Baron Davis missed 26 ft Three Point Jumper.
47 - 41
4:26
George Lynch Offensive Rebound.
47 - 41
4:26
New Orleans Full Timeout.
47 - 41
4:18
Baron Davis missed 27 ft Three Point Jumper.
47 - 41
4:16
Stacey Augmon Offensive Rebound.
47 - 41
4:11
Elden Campbell made Slam Dunk. Assisted by Baron Davis.
49 - 41
3:53
Derek Fisher missed 14 ft Jumper.
49 - 41
3:49
George Lynch Defensive Rebound.
49 - 41
3:44
Courtney Alexander missed 7 ft Jumper. Blocked by Brian Shaw.
49 - 41
3:39
George Lynch Offensive Rebound.
51 - 41
3:39
George Lynch made Tip Shot.
51 - 41
3:19
Rick Fox missed 14 ft Jumper.
51 - 41
3:17
Brian Shaw Offensive Rebound.
51 - 41
3:15
Brian Shaw missed Jumper.
51 - 41
3:15
Los Angeles Offensive Rebound.
51 - 41
3:15
24 second
51 - 41
2:59
Courtney Alexander made 19 ft Jumper.
53 - 41
2:43
Derek Fisher Bad Pass. Stolen by George Lynch.
53 - 41
2:34
Courtney Alexander missed 25 ft Three Point Jumper.
53 - 41
2:32
Rick Fox Defensive Rebound.
53 - 41
2:17
Rick Fox missed 7 ft Jumper. Blocked by Stacey Augmon.
53 - 41
2:15
Robert Horry Offensive Rebound.
53 - 41
2:14
Stacey Augmon Shooting Foul
53 - 41
2:14
Brian Shaw missed Free Throw 1 of 2.
53 - 41
2:14
Los Angeles Offensive Rebound.
53 - 41
2:14
Kobe Bryant enters the game for Derek Fisher.
53 - 41
2:14
Brian Shaw missed Free Throw 2 of 2.
53 - 41
2:13
George Lynch Defensive Rebound.
53 - 41
1:54
Elden Campbell missed Jumper.
53 - 41
1:53
Courtney Alexander Offensive Rebound.
53 - 41
1:52
Courtney Alexander made 6 ft Jumper.
55 - 41
1:37
Stacey Augmon Shooting Foul
55 - 41
1:37
Shaquille O'Neal made Free Throw 1 of 2.
55 - 42
1:37
Derek Fisher enters the game for Brian Shaw.
55 - 42
1:37
Mark Madsen enters the game for Robert Horry.
55 - 42
1:37
Lane Violation
55 - 42
1:37
Shaquille O'Neal missed Free Throw 2 of 2.
55 - 42
1:34
Derek Fisher Offensive Rebound.
55 - 42
1:31
Derek Fisher missed 16 ft Jumper.
55 - 42
1:29
Mark Madsen Offensive Rebound.
55 - 42
1:23
Shaquille O'Neal made 5 ft Hook Shot. Assisted by Derek Fisher.
55 - 44
1:06
Courtney Alexander missed 18 ft Jumper.
55 - 44
1:04
New Orleans Defensive Rebound.
55 - 44
0:44
Kobe Bryant made Slam Dunk.
55 - 46
0:30
Baron Davis made 26 ft Three Point Jumper.
58 - 46
0:10
Derek Fisher missed 21 ft Jumper.
58 - 46
0:08
Rick Fox Offensive Rebound.
58 - 46
0:08
Rick Fox made Layup.
58 - 48
0:00
Baron Davis made 17 ft Jumper.
60 - 48
0:00
End of the 2nd Quarter.
60 - 48

time
TEAM
PLAY
SCORE
12:00
Start of the 3rd Quarter.
60 - 48
11:42
P.J. Brown missed 15 ft Jumper.
60 - 48
11:40
Samaki Walker Defensive Rebound.
60 - 48
11:19
Kobe Bryant missed 19 ft Jumper.
60 - 48
11:17
Elden Campbell Defensive Rebound.
60 - 48
11:15
Shaquille O'Neal Shooting Foul
60 - 48
11:15
Elden Campbell made Free Throw 1 of 2.
61 - 48
11:15
Elden Campbell made Free Throw 2 of 2.
62 - 48
10:56
Rick Fox made 19 ft Jumper.
62 - 50
10:42
Elden Campbell missed 19 ft Jumper.
62 - 50
10:41
Shaquille O'Neal Defensive Rebound.
62 - 50
10:30
Rick Fox made 17 ft Two Point Shot.
62 - 52
10:07
Elden Campbell made 15 ft Jumper. Assisted by Jamal Mashburn.
64 - 52
9:45
Kobe Bryant missed Two Point Shot.
64 - 52
9:45
Los Angeles Offensive Rebound.
64 - 52
9:45
Elden Campbell Loose Ball Foul
64 - 52
9:34
Derek Fisher made 21 ft Jumper.
64 - 54
9:21
Baron Davis missed 27 ft Three Point Jumper.
64 - 54
9:18
P.J. Brown Offensive Rebound.
64 - 54
9:17
Samaki Walker Shooting Foul
64 - 54
9:17
P.J. Brown made Free Throw 1 of 2.
65 - 54
9:17
P.J. Brown made Free Throw 2 of 2.
66 - 54
9:03
Rick Fox made 12 ft Jumper. Assisted by Derek Fisher.
66 - 56
8:41
David Wesley missed 17 ft Jumper.
66 - 56
8:38
Samaki Walker Defensive Rebound.
66 - 56
8:32
Derek Fisher missed 17 ft Jumper.
66 - 56
8:30
Los Angeles Defensive Rebound.
66 - 56
8:15
Baron Davis missed 16 ft Jumper.
66 - 56
8:12
Kobe Bryant Defensive Rebound.
66 - 56
8:02
Samaki Walker missed Layup.
66 - 56
8:00
Elden Campbell Defensive Rebound.
66 - 56
7:54
David Wesley missed 25 ft Three Point Jumper.
66 - 56
7:52
Jamal Mashburn Offensive Rebound.
66 - 56
7:33
Elden Campbell made 17 ft Jumper. Assisted by David Wesley.
68 - 56
7:16
Shaquille O'Neal made 8 ft Two Point Shot. Assisted by Rick Fox.
68 - 58
6:54
Baron Davis missed 28 ft Three Point Jumper.
68 - 58
6:52
Elden Campbell Offensive Rebound.
68 - 58
6:50
Derek Fisher Shooting Foul
68 - 58
6:50
P.J. Brown made Free Throw 1 of 2.
69 - 58
6:50
P.J. Brown made Free Throw 2 of 2.
70 - 58
6:35
P.J. Brown Shooting Foul
70 - 58
6:35
Shaquille O'Neal missed Free Throw 1 of 2.
70 - 58
6:35
Los Angeles Offensive Rebound.
70 - 58
6:35
Shaquille O'Neal made Free Throw 2 of 2.
70 - 59
6:24
David Wesley made 16 ft Two Point Shot. Assisted by Jamal Mashburn.
72 - 59
6:01
Rick Fox missed 8 ft Jumper.
72 - 59
5:58
Jamal Mashburn Defensive Rebound.
72 - 59
5:48
David Wesley missed 27 ft Three Point Jumper.
72 - 59
5:47
New Orleans Defensive Rebound.
72 - 59
5:46
Los Angeles Full Timeout.
72 - 59
5:46
Jamaal Magloire enters the game for Elden Campbell.
72 - 59
5:26
Rick Fox missed Layup.
72 - 59
5:26
Samaki Walker Offensive Rebound.
72 - 59
5:26
Samaki Walker missed Tip Shot.
72 - 59
5:22
Baron Davis Defensive Rebound.
72 - 59
5:09
Jamal Mashburn missed 16 ft Jumper.
72 - 59
5:09
P.J. Brown Offensive Rebound.
72 - 59
5:05
P.J. Brown made 8 ft Jumper.
74 - 59
4:45
Shaquille O'Neal made Two Point Shot. Assisted by Kobe Bryant.
74 - 61
4:26
David Wesley missed 16 ft Jumper.
74 - 61
4:24
Samaki Walker Defensive Rebound.
74 - 61
4:13
Derek Fisher missed Three Point Jumper.
74 - 61
4:11
Jamal Mashburn Defensive Rebound.
74 - 61
4:05
David Wesley missed Layup.
74 - 61
4:03
Rick Fox Defensive Rebound.
74 - 61
3:58
Kobe Bryant made Two Point Shot. Assisted by Derek Fisher.
74 - 63
3:50
Baron Davis missed 14 ft Jumper.
74 - 63
3:47
Jamaal Magloire Offensive Rebound.
74 - 63
3:47
Jamaal Magloire missed Tip Shot.
74 - 63
3:44
Shaquille O'Neal Defensive Rebound.
74 - 63
3:36
Samaki Walker made Two Point Shot. Assisted by Kobe Bryant.
74 - 65
3:34
New Orleans Full Timeout.
74 - 65
3:34
Robert Horry enters the game for Samaki Walker.
74 - 65
3:17
David Wesley made 14 ft Jumper. Assisted by P.J. Brown.
76 - 65
2:57
Derek Fisher missed Layup.
76 - 65
2:55
P.J. Brown Defensive Rebound.
76 - 65
2:43
Jamal Mashburn missed 27 ft Three Point Jumper.
76 - 65
2:41
Rick Fox Defensive Rebound.
76 - 65
2:29
Robert Horry missed 27 ft Three Point Jumper.
76 - 65
2:28
Jamal Mashburn Defensive Rebound.
76 - 65
2:21
Robert Horry Personal Foul
76 - 65
2:15
Kicked Ball
76 - 65
2:00
Jamal Mashburn missed 16 ft Jumper.
76 - 65
2:00
P.J. Brown Offensive Rebound.
76 - 65
1:54
David Wesley missed 25 ft Three Point Jumper.
76 - 65
1:53
Robert Horry Defensive Rebound.
76 - 65
1:42
Baron Davis Personal Foul
76 - 65
1:34
David Wesley Personal Foul
76 - 65
1:34
Kobe Bryant missed Free Throw 1 of 2.
76 - 65
1:34
Los Angeles Offensive Rebound.
76 - 65
1:34
Kobe Bryant made Free Throw 2 of 2.
76 - 66
1:17
Robert Horry Shooting Foul
76 - 66
1:17
P.J. Brown made Free Throw 1 of 2.
77 - 66
1:17
Courtney Alexander enters the game for David Wesley.
77 - 66
1:17
P.J. Brown made Free Throw 2 of 2.
78 - 66
1:00
Kobe Bryant Lost Ball
78 - 66
0:51
Courtney Alexander Offensive Foul
78 - 66
0:51
Courtney Alexander Foul
78 - 66
0:38
Shaquille O'Neal Bad Pass. Stolen by P.J. Brown.
78 - 66
0:25
Baron Davis missed 22 ft Jumper.
78 - 66
0:23
Shaquille O'Neal Defensive Rebound.
78 - 66
0:04
Derek Fisher missed 22 ft Jumper.
78 - 66
0:02
Derek Fisher Offensive Rebound.
78 - 66
0:00
Derek Fisher missed 9 ft Jumper.
78 - 66
0:00
Los Angeles Offensive Rebound.
78 - 66
0:00
End of the 3rd Quarter.
78 - 66

time
TEAM
PLAY
SCORE
12:00
Start of the 4th Quarter.
78 - 66
11:47
Kobe Bryant missed 16 ft Jumper.
78 - 66
11:45
Jamal Mashburn Defensive Rebound.
78 - 66
11:32
Baron Davis Bad Pass. Stolen by Kobe Bryant.
78 - 66
11:26
Brian Shaw missed 15 ft Jumper.
78 - 66
11:23
Los Angeles Offensive Rebound.
78 - 66
11:19
Kobe Bryant missed 9 ft Jumper.
78 - 66
11:18
P.J. Brown Defensive Rebound.
78 - 66
11:00
Baron Davis missed 19 ft Jumper.
78 - 66
11:00
New Orleans Defensive Rebound.
78 - 66
10:36
Kobe Bryant missed 21 ft Jumper.
78 - 66
10:34
Los Angeles Defensive Rebound.
78 - 66
10:22
Devean George Personal Foul
78 - 66
10:22
Shaquille O'Neal enters the game for Stanislav Medvedenko.
78 - 66
10:14
Jamal Mashburn made Jumper.
80 - 66
9:56
Kobe Bryant made Slam Dunk.
80 - 68
9:38
Devean George Personal Foul
80 - 68
9:27
Jamal Mashburn missed 15 ft Jumper.
80 - 68
9:26
Courtney Alexander Offensive Rebound.
80 - 68
9:11
Baron Davis missed 5 ft Jumper.
80 - 68
9:08
Shaquille O'Neal Defensive Rebound.
80 - 68
8:57
Shaquille O'Neal missed 4 ft Hook Shot.
80 - 68
8:52
P.J. Brown Defensive Rebound.
80 - 68
8:37
Jamaal Magloire missed Jumper.
80 - 68
8:37
New Orleans Offensive Rebound.
80 - 68
8:37
Official Timeout.
80 - 68
8:37
George Lynch enters the game for P.J. Brown.
80 - 68
8:33
24 second
80 - 68
8:22
Jamal Mashburn Shooting Foul
80 - 68
8:22
Robert Horry made Free Throw 1 of 2.
80 - 69
8:22
Robert Horry missed Free Throw 2 of 2.
80 - 69
8:19
Devean George Offensive Rebound.
80 - 69
8:12
Shaquille O'Neal missed 5 ft Two Point Shot.
80 - 69
8:11
George Lynch Defensive Rebound.
80 - 69
7:50
George Lynch made Three Point Jumper. Assisted by Jamal Mashburn.
83 - 69
7:35
Brian Shaw made Three Point Jumper. Assisted by Devean George.
83 - 72
7:13
Baron Davis missed Two Point Shot.
83 - 72
7:11
Jamaal Magloire Offensive Rebound.
83 - 72
7:03
Jamal Mashburn made Two Point Shot.
85 - 72
7:03
Robert Horry Shooting Foul
85 - 72
7:03
Jamal Mashburn missed Free Throw 1 of 1.
85 - 72
7:01
Shaquille O'Neal Defensive Rebound.
85 - 72
6:41
Shaquille O'Neal made Two Point Shot.
85 - 74
6:26
Jamal Mashburn made 11 ft Two Point Shot.
87 - 74
6:03
Devean George missed 18 ft Jumper.
87 - 74
6:01
Courtney Alexander Defensive Rebound.
87 - 74
5:56
George Lynch Traveling
87 - 74
5:56
Los Angeles Full Timeout.
87 - 74
5:56
Rick Fox enters the game for Devean George.
87 - 74
5:41
Shaquille O'Neal missed 11 ft Hook Shot.
87 - 74
5:41
Los Angeles Offensive Rebound.
87 - 74
5:35
Kobe Bryant missed 13 ft Jumper.
87 - 74
5:35
Los Angeles Defensive Rebound.
87 - 74
5:35
Shaquille O'Neal Loose Ball Foul
87 - 74
5:11
Baron Davis made Two Point Shot.
89 - 74
4:54
Kobe Bryant Bad Pass. Stolen by Baron Davis.
89 - 74
4:50
Courtney Alexander made Slam Dunk. Assisted by Baron Davis.
91 - 74
4:48
Los Angeles Full Timeout.
91 - 74
4:48
Derek Fisher enters the game for Robert Horry.
91 - 74
4:48
Tracy Murray enters the game for Brian Shaw.
91 - 74
4:43
Courtney Alexander Personal Foul
91 - 74
4:37
George Lynch Shooting Foul
91 - 74
4:37
Kobe Bryant made Free Throw 1 of 2.
91 - 75
4:37
Kobe Bryant missed Free Throw 2 of 2.
91 - 75
4:35
Shaquille O'Neal Offensive Rebound.
91 - 75
4:33
Jamaal Magloire Shooting Foul
91 - 75
4:33
Shaquille O'Neal missed Free Throw 1 of 2.
91 - 75
4:33
Los Angeles Offensive Rebound.
91 - 75
4:33
Elden Campbell enters the game for Jamaal Magloire.
91 - 75
4:33
Shaquille O'Neal missed Free Throw 2 of 2.
91 - 75
4:31
Elden Campbell Defensive Rebound.
91 - 75
4:22
Shaquille O'Neal Shooting Foul
91 - 75
4:22
Baron Davis made Free Throw 1 of 2.
92 - 75
4:22
Baron Davis made Free Throw 2 of 2.
93 - 75
4:01
Kobe Bryant missed 16 ft Jumper.
93 - 75
4:00
Jamal Mashburn Defensive Rebound.
93 - 75
3:55
George Lynch missed 8 ft Jumper.
93 - 75
3:53
Kobe Bryant Defensive Rebound.
93 - 75
3:47
Kobe Bryant missed 13 ft Jumper.
93 - 75
3:36
Courtney Alexander Defensive Rebound.
93 - 75
3:30
Courtney Alexander made Layup.
95 - 75
3:30
Defensive Goaltending
95 - 75
3:30
Rick Fox Shooting Foul
95 - 75
3:30
Courtney Alexander made Free Throw 1 of 1.
96 - 75
3:18
Rick Fox missed 26 ft Three Point Jumper.
96 - 75
3:17
Jamal Mashburn Defensive Rebound.
96 - 75
2:55
Courtney Alexander missed 25 ft Three Point Jumper.
96 - 75
2:55
New Orleans Offensive Rebound.
96 - 75
2:47
24 second
96 - 75
2:47
George Lynch Shooting Foul
96 - 75
2:47
Kobe Bryant made Free Throw 1 of 2.
96 - 76
2:47
Mark Madsen enters the game for Shaquille O'Neal.
96 - 76
2:47
Kobe Bryant made Free Throw 2 of 2.
96 - 77
2:25
Baron Davis missed 26 ft Three Point Jumper.
96 - 77
2:23
Tracy Murray Defensive Rebound.
96 - 77
2:15
Jamal Mashburn Shooting Foul
96 - 77
2:15
Rick Fox made Free Throw 1 of 2.
96 - 78
2:15
Kareem Rush enters the game for Kobe Bryant.
96 - 78
2:15
Rick Fox missed Free Throw 2 of 2.
96 - 78
2:15
George Lynch Defensive Rebound.
96 - 78
1:54
Elden Campbell made 8 ft Two Point Shot.
98 - 78
1:43
Rick Fox missed 25 ft Three Point Jumper.
98 - 78
1:42
Courtney Alexander Defensive Rebound.
98 - 78
1:17
24 second
98 - 78
1:09
Tracy Murray missed 26 ft Three Point Jumper.
98 - 78
1:07
George Lynch Defensive Rebound.
98 - 78
0:43
24 second
98 - 78
0:34
Mark Madsen made Slam Dunk. Assisted by Kareem Rush.
98 - 80
0:12
Elden Campbell missed 24 ft Three Point Jumper.
98 - 80
0:11
Rick Fox Defensive Rebound.
98 - 80
0:08
Tracy Murray made Slam Dunk. Assisted by Rick Fox.
98 - 82
0:00
End of the 4th Quarter.
98 - 82
0:00
End Game
98 - 82
0:00
End Game
98 - 82
0:00
End Game
98 - 82
Kelly Olynyk's shoulder injury turned out to be a bigger problem for the Celtics than anyone expected, but it shouldn't overshadow his huge strides.

Dave Tuley gives his best bets for Sunday's Game 7 between the Raptors and Pacers.

Heat center Hassan Whiteside blocks Hornets center Al Jefferson's shot, which is then picked up by Goran Dragic, who makes a terrific spin off his defender in transition leading to an easy layup.
2015-2016 Pacific Standings