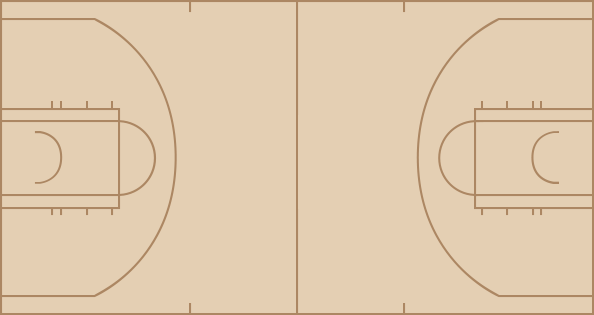 Rockets
time
TEAM
PLAY
SCORE
12:00
Start of the 1st Quarter.
0 - 0
12:00
Jumpball. Yao Ming vs. Pau Gasol. Wesley Person gains possession.
0 - 0
11:44
Drew Gooden missed 17 ft Jumper.
0 - 0
11:41
Yao Ming Defensive Rebound.
0 - 0
11:30
Kenny Thomas missed 8 ft Two Point Shot.
0 - 0
11:26
Drew Gooden Defensive Rebound.
0 - 0
11:07
Jason Williams missed 24 ft Three Point Jumper.
0 - 0
11:06
Kenny Thomas Defensive Rebound.
0 - 0
10:55
Yao Ming Bad Pass
0 - 0
10:41
Jason Williams Bad Pass
0 - 0
10:30
Yao Ming made 5 ft Hook Shot.
2 - 0
10:07
Lorenzen Wright made 17 ft Jumper. Assisted by Jason Williams.
2 - 2
9:57
Steve Francis made 15 ft Jumper.
4 - 2
9:41
Glen Rice Shooting Foul
4 - 2
9:41
Drew Gooden made Free Throw 1 of 2.
4 - 3
9:41
Drew Gooden made Free Throw 2 of 2.
4 - 4
9:26
Kenny Thomas missed 11 ft Hook Shot.
4 - 4
9:22
Lorenzen Wright Defensive Rebound.
4 - 4
9:19
Jason Williams missed Layup. Blocked by Kenny Thomas.
4 - 4
9:17
Steve Francis Defensive Rebound.
4 - 4
9:14
Glen Rice missed 25 ft Three Point Jumper.
4 - 4
9:11
Drew Gooden Defensive Rebound.
4 - 4
9:06
Wesley Person made Three Point Jumper. Assisted by Jason Williams.
4 - 7
8:48
Jason Williams Personal Foul
4 - 7
8:41
Glen Rice made 25 ft Three Point Jumper. Assisted by Steve Francis.
7 - 7
8:22
Drew Gooden Lost Ball. Stolen by Steve Francis.
7 - 7
8:22
Drew Gooden Loose Ball Foul
7 - 7
8:08
Steve Francis missed Two Point Shot.
7 - 7
8:07
Yao Ming Offensive Rebound.
7 - 7
8:07
Lorenzen Wright Loose Ball Foul
7 - 7
7:58
Cuttino Mobley Bad Pass. Stolen by Lorenzen Wright.
7 - 7
7:54
Pau Gasol made Slam Dunk. Assisted by Jason Williams.
7 - 9
7:28
Cuttino Mobley missed 19 ft Jumper.
7 - 9
7:24
Drew Gooden Defensive Rebound.
7 - 9
7:20
Jason Williams missed 22 ft Jumper.
7 - 9
7:18
Pau Gasol Offensive Rebound.
7 - 9
7:11
Yao Ming Shooting Foul
7 - 9
7:11
Pau Gasol made Free Throw 1 of 2.
7 - 10
7:11
Pau Gasol made Free Throw 2 of 2.
7 - 11
6:52
Glen Rice made 25 ft Three Point Jumper. Assisted by Cuttino Mobley.
10 - 11
6:30
Kenny Thomas Shooting Foul
10 - 11
6:30
Pau Gasol made Free Throw 1 of 2.
10 - 12
6:30
Pau Gasol made Free Throw 2 of 2.
10 - 13
6:16
Steve Francis made 21 ft Jumper. Assisted by Yao Ming.
12 - 13
5:54
Drew Gooden missed 26 ft Three Point Jumper.
12 - 13
5:52
Steve Francis Defensive Rebound.
12 - 13
5:47
Cuttino Mobley made Layup. Assisted by Steve Francis.
14 - 13
5:26
Pau Gasol missed Two Point Shot.
14 - 13
5:24
Yao Ming Defensive Rebound.
14 - 13
5:20
Kenny Thomas made Layup. Assisted by Steve Francis.
16 - 13
5:18
Memphis Full Timeout.
16 - 13
5:05
Lorenzen Wright Lost Ball. Stolen by Steve Francis.
16 - 13
4:58
Steve Francis missed 16 ft Jumper.
16 - 13
4:56
Pau Gasol Defensive Rebound.
16 - 13
4:33
Jason Williams missed 27 ft Three Point Jumper.
16 - 13
4:31
Yao Ming Defensive Rebound.
16 - 13
4:09
Glen Rice missed 20 ft Jumper.
16 - 13
4:07
Kenny Thomas Offensive Rebound.
16 - 13
4:03
Lorenzen Wright Shooting Foul
16 - 13
4:03
Kenny Thomas made Free Throw 1 of 2.
17 - 13
4:03
Stromile Swift enters the game for Lorenzen Wright.
17 - 13
4:03
Kenny Thomas made Free Throw 2 of 2.
18 - 13
3:47
Stromile Swift missed 18 ft Jumper.
18 - 13
3:46
Kenny Thomas Defensive Rebound.
18 - 13
3:29
Kenny Thomas made Layup.
20 - 13
3:06
Pau Gasol missed 6 ft Hook Shot.
20 - 13
3:03
Pau Gasol Offensive Rebound.
20 - 13
3:01
Wesley Person made 26 ft Three Point Jumper. Assisted by Jason Williams.
20 - 16
2:47
Houston Full Timeout.
20 - 16
2:39
Cuttino Mobley missed 25 ft Three Point Jumper.
20 - 16
2:36
Pau Gasol Defensive Rebound.
20 - 16
2:31
Wesley Person made 26 ft Three Point Jumper. Assisted by Jason Williams.
20 - 19
2:15
Cuttino Mobley missed 21 ft Jumper.
20 - 19
2:09
Pau Gasol Defensive Rebound.
20 - 19
2:04
Jason Williams made 26 ft Three Point Jumper.
20 - 22
1:44
Glen Rice missed 23 ft Three Point Jumper.
20 - 22
1:40
Pau Gasol Defensive Rebound.
20 - 22
1:34
Pau Gasol made 19 ft Jumper. Assisted by Jason Williams.
20 - 24
1:31
Houston 20 Sec. Timeout.
20 - 24
1:09
Steve Francis missed Jumper.
20 - 24
1:08
Houston Offensive Rebound.
20 - 24
1:08
Earl Watson enters the game for Drew Gooden.
20 - 24
1:08
Mike Batiste enters the game for Pau Gasol.
20 - 24
1:08
Gordan Giricek enters the game for Jason Williams.
20 - 24
1:08
Shane Battier enters the game for Wesley Person.
20 - 24
1:01
Stromile Swift Personal Foul
20 - 24
1:01
Yao Ming made Free Throw 1 of 2.
21 - 24
1:01
Yao Ming made Free Throw 2 of 2.
22 - 24
0:43
Mike Batiste missed 15 ft Jumper.
22 - 24
0:40
Yao Ming Defensive Rebound.
22 - 24
0:39
Yao Ming Lost Ball. Stolen by Stromile Swift.
22 - 24
0:32
Shane Battier made Layup.
22 - 26
0:16
Yao Ming missed Two Point Shot. Blocked by Stromile Swift.
22 - 26
0:12
Earl Watson Defensive Rebound.
22 - 26
0:09
Gordan Giricek missed Jumper.
22 - 26
0:07
Yao Ming Defensive Rebound.
22 - 26
0:00
Steve Francis made 25 ft Three Point Jumper.
25 - 26
0:00
End of the 1st Quarter.
25 - 26

time
TEAM
PLAY
SCORE
12:00
Start of the 2nd Quarter.
25 - 26
11:38
Steve Francis missed 4 ft Two Point Shot.
25 - 26
11:34
Eddie Griffin Offensive Rebound.
25 - 26
11:32
Eddie Griffin made 4 ft Hook Shot.
27 - 26
11:11
Gordan Giricek made 23 ft Three Point Jumper. Assisted by Earl Watson.
27 - 29
10:56
Cuttino Mobley missed 25 ft Three Point Jumper.
27 - 29
10:53
Shane Battier Defensive Rebound.
27 - 29
10:42
Mike Batiste made Dunk. Assisted by Earl Watson.
27 - 31
10:26
Stromile Swift Personal Foul
27 - 31
10:15
Terence Morris Bad Pass. Stolen by Earl Watson.
27 - 31
10:11
Earl Watson Bad Pass. Stolen by Cuttino Mobley.
27 - 31
10:08
Cuttino Mobley made Layup.
29 - 31
10:08
Earl Watson Shooting Foul
29 - 31
10:08
Cuttino Mobley made Free Throw 1 of 1.
30 - 31
9:51
Mike Batiste missed 22 ft Jumper.
30 - 31
9:48
Steve Francis Defensive Rebound.
30 - 31
9:37
Cuttino Mobley made 25 ft Three Point Jumper. Assisted by Terence Morris.
33 - 31
9:19
Mike Batiste Bad Pass. Stolen by Eddie Griffin.
33 - 31
9:10
Cuttino Mobley missed Two Point Shot.
33 - 31
9:07
Stromile Swift Defensive Rebound.
33 - 31
9:00
Earl Watson made 11 ft Jumper.
33 - 33
8:41
Gordan Giricek Personal Foul
33 - 33
8:41
Official Timeout.
33 - 33
8:33
Terence Morris made 26 ft Three Point Jumper. Assisted by Cuttino Mobley.
36 - 33
8:11
Shane Battier missed Three Point Jumper.
36 - 33
8:08
Kelvin Cato Defensive Rebound.
36 - 33
8:04
Steve Francis missed 25 ft Three Point Jumper.
36 - 33
8:03
Gordan Giricek Defensive Rebound.
36 - 33
7:56
Kelvin Cato Shooting Foul
36 - 33
7:56
Stromile Swift made Free Throw 1 of 2.
36 - 34
7:56
Stromile Swift made Free Throw 2 of 2.
36 - 35
7:41
Earl Watson Shooting Foul
36 - 35
7:41
Glen Rice enters the game for Steve Francis.
36 - 35
7:41
Terence Morris missed Free Throw 1 of 2.
36 - 35
7:41
Houston Offensive Rebound.
36 - 35
7:41
Jason Williams enters the game for Earl Watson.
36 - 35
7:41
Pau Gasol enters the game for Mike Batiste.
36 - 35
7:41
Terence Morris made Free Throw 2 of 2.
37 - 35
7:31
Stromile Swift missed Layup. Blocked by Eddie Griffin.
37 - 35
7:28
Terence Morris Defensive Rebound.
37 - 35
7:22
Kelvin Cato made 13 ft Two Point Shot. Assisted by Glen Rice.
39 - 35
7:05
Pau Gasol missed Dunk.
39 - 35
7:01
Shane Battier Offensive Rebound.
39 - 35
6:56
Wesley Person enters the game for Gordan Giricek.
39 - 35
6:56
Lorenzen Wright enters the game for Stromile Swift.
39 - 35
6:56
Jumpball. Terence Morris vs. Shane Battier. Pau Gasol gains possession.
39 - 35
6:46
Pau Gasol missed Layup. Blocked by Eddie Griffin.
39 - 35
6:41
Eddie Griffin Defensive Rebound.
39 - 35
6:37
Terence Morris missed 22 ft Jumper.
39 - 35
6:33
Wesley Person Defensive Rebound.
39 - 35
6:26
Jason Williams made 15 ft Jumper.
39 - 37
6:09
Terence Morris Bad Pass
39 - 37
6:09
Drew Gooden enters the game for Shane Battier.
39 - 37
5:52
Lorenzen Wright missed 17 ft Jumper.
39 - 37
5:50
Memphis Offensive Rebound.
39 - 37
5:50
Memphis Full Timeout.
39 - 37
5:46
Lorenzen Wright Bad Pass. Stolen by Eddie Griffin.
39 - 37
5:35
Terence Morris Bad Pass
39 - 37
5:18
Pau Gasol made 4 ft Hook Shot. Assisted by Drew Gooden.
39 - 39
5:03
Cuttino Mobley missed 19 ft Jumper.
39 - 39
5:01
Jason Williams Defensive Rebound.
39 - 39
4:56
Jason Williams made 21 ft Jumper.
39 - 41
4:39
Terence Morris made Two Point Shot.
41 - 41
4:31
Jason Williams missed 8 ft Two Point Shot.
41 - 41
4:28
Eddie Griffin Defensive Rebound.
41 - 41
4:24
Lorenzen Wright Shooting Foul
41 - 41
4:24
Steve Francis enters the game for Cuttino Mobley.
41 - 41
4:24
Yao Ming enters the game for Kelvin Cato.
41 - 41
4:24
Terence Morris made Free Throw 1 of 2.
42 - 41
4:07
Yao Ming Shooting Foul
42 - 41
4:07
Stromile Swift made Free Throw 1 of 2.
42 - 42
4:07
Stromile Swift missed Free Throw 2 of 2.
42 - 42
4:05
Steve Francis Defensive Rebound.
42 - 42
4:01
Yao Ming made Dunk. Assisted by Steve Francis.
44 - 42
3:45
Pau Gasol missed Dunk.
44 - 42
3:43
Terence Morris Defensive Rebound.
44 - 42
3:40
Steve Francis made Dunk. Assisted by Terence Morris.
46 - 42
3:36
Memphis 20 Sec. Timeout.
46 - 42
3:24
Pau Gasol made Two Point Shot.
46 - 44
3:24
Eddie Griffin Shooting Foul
46 - 44
3:24
Pau Gasol made Free Throw 1 of 1.
46 - 45
3:11
Yao Ming missed 9 ft Two Point Shot.
46 - 45
3:10
Houston Defensive Rebound.
46 - 45
2:56
Wesley Person missed 21 ft Jumper.
46 - 45
2:54
Pau Gasol Offensive Rebound.
46 - 45
2:38
Pau Gasol made Two Point Shot.
46 - 47
2:38
Eddie Griffin Shooting Foul
46 - 47
2:38
Houston Full Timeout.
46 - 47
2:38
Kenny Thomas enters the game for Eddie Griffin.
46 - 47
2:38
Pau Gasol made Free Throw 1 of 1.
46 - 48
2:24
Glen Rice made 5 ft Two Point Shot.
48 - 48
2:06
Stromile Swift made 3 ft Two Point Shot. Assisted by Wesley Person.
48 - 50
2:01
Glen Rice Bad Pass
48 - 50
1:54
Stromile Swift made 12 ft Jumper. Assisted by Jason Williams.
48 - 52
1:38
Yao Ming Bad Pass. Stolen by Jason Williams.
48 - 52
1:35
Steve Francis Personal Foul
48 - 52
1:35
Pau Gasol missed Free Throw 1 of 2.
48 - 52
1:35
Memphis Offensive Rebound.
48 - 52
1:35
Moochie Norris enters the game for Yao Ming.
48 - 52
1:35
Pau Gasol made Free Throw 2 of 2.
48 - 53
1:22
Glen Rice missed 22 ft Three Point Jumper.
48 - 53
1:17
Kenny Thomas Offensive Rebound.
48 - 53
1:10
Glen Rice made 20 ft Jumper. Assisted by Terence Morris.
50 - 53
0:53
Drew Gooden made 15 ft Two Point Shot. Assisted by Jason Williams.
50 - 55
0:44
Pau Gasol Illegal Defense Foul
50 - 55
0:44
Glen Rice made Technical Free Throw.
51 - 55
0:29
Terence Morris missed 20 ft Jumper.
51 - 55
0:26
Stromile Swift Defensive Rebound.
51 - 55
0:21
Wesley Person missed 23 ft Three Point Jumper.
51 - 55
0:18
Glen Rice Defensive Rebound.
51 - 55
0:03
Steve Francis made 25 ft Three Point Jumper.
54 - 55
0:00
Jason Williams missed 30 ft Three Point Jumper.
54 - 55
0:00
Memphis Offensive Rebound.
54 - 55
0:00
End of the 2nd Quarter.
54 - 55

time
TEAM
PLAY
SCORE
12:00
Start of the 3rd Quarter.
54 - 55
11:41
Pau Gasol Shooting Foul
54 - 55
11:41
Yao Ming made Free Throw 1 of 2.
55 - 55
11:41
Yao Ming made Free Throw 2 of 2.
56 - 55
11:30
Jason Williams made 23 ft Three Point Jumper.
56 - 58
11:08
Yao Ming missed 7 ft Two Point Shot.
56 - 58
11:04
Lorenzen Wright Defensive Rebound.
56 - 58
10:48
Jason Williams made Two Point Shot. Assisted by Pau Gasol.
56 - 60
10:37
Steve Francis Traveling
56 - 60
10:19
Lorenzen Wright made 14 ft Jumper. Assisted by Jason Williams.
56 - 62
9:56
Steve Francis made 27 ft Three Point Jumper. Assisted by Yao Ming.
59 - 62
9:41
Drew Gooden Lost Ball. Stolen by Glen Rice.
59 - 62
9:33
Steve Francis made Dunk. Assisted by Glen Rice.
61 - 62
9:22
Drew Gooden made 17 ft Jumper. Assisted by Pau Gasol.
61 - 64
9:04
Glen Rice made 25 ft Three Point Jumper. Assisted by Cuttino Mobley.
64 - 64
8:49
Jason Williams made 25 ft Three Point Jumper.
64 - 67
8:33
Cuttino Mobley made Two Point Shot.
66 - 67
8:10
Drew Gooden missed 22 ft Jumper.
66 - 67
8:07
Kenny Thomas Defensive Rebound.
66 - 67
7:52
Kenny Thomas missed Two Point Shot. Blocked by Lorenzen Wright.
66 - 67
7:48
Lorenzen Wright Defensive Rebound.
66 - 67
7:45
Jason Williams made Two Point Shot.
66 - 69
7:22
Yao Ming Lost Ball. Stolen by Jason Williams.
66 - 69
7:18
Lorenzen Wright made Slam Dunk. Assisted by Jason Williams.
66 - 71
7:16
Houston Full Timeout.
66 - 71
6:58
Cuttino Mobley missed 23 ft Jumper.
66 - 71
6:56
Kenny Thomas Offensive Rebound.
66 - 71
6:54
Yao Ming made Layup. Assisted by Kenny Thomas.
68 - 71
6:33
Lorenzen Wright missed 11 ft Two Point Shot.
68 - 71
6:30
Steve Francis Defensive Rebound.
68 - 71
6:26
Glen Rice missed 25 ft Three Point Jumper.
68 - 71
6:22
Lorenzen Wright Defensive Rebound.
68 - 71
6:15
Jason Williams made 18 ft Jumper.
68 - 73
5:58
Yao Ming made 10 ft Two Point Shot. Assisted by Steve Francis.
70 - 73
5:39
Wesley Person made 25 ft Three Point Jumper. Assisted by Jason Williams.
70 - 76
5:18
Drew Gooden Shooting Foul
70 - 76
5:18
Glen Rice made Free Throw 1 of 2.
71 - 76
5:18
Glen Rice made Free Throw 2 of 2.
72 - 76
4:58
Jason Williams missed Two Point Shot.
72 - 76
4:56
Steve Francis Defensive Rebound.
72 - 76
4:54
Wesley Person Personal Foul
72 - 76
4:43
Glen Rice missed Two Point Shot. Blocked by Lorenzen Wright.
72 - 76
4:39
Glen Rice Offensive Rebound.
72 - 76
4:37
Glen Rice missed 6 ft Jumper.
72 - 76
4:35
Yao Ming Offensive Rebound.
72 - 76
4:30
Steve Francis made 20 ft Jumper.
74 - 76
4:15
Lorenzen Wright missed 17 ft Jumper.
74 - 76
4:13
Drew Gooden Offensive Rebound.
74 - 76
4:11
Drew Gooden missed 6 ft Hook Shot.
74 - 76
4:11
Memphis Defensive Rebound.
74 - 76
4:11
Drew Gooden Loose Ball Foul
74 - 76
3:58
Yao Ming Bad Pass
74 - 76
3:46
Drew Gooden missed 26 ft Three Point Jumper.
74 - 76
3:44
Kenny Thomas Defensive Rebound.
74 - 76
3:39
Drew Gooden Shooting Foul
74 - 76
3:39
Steve Francis made Free Throw 1 of 2.
75 - 76
3:39
Shane Battier enters the game for Drew Gooden.
75 - 76
3:39
Stromile Swift enters the game for Lorenzen Wright.
75 - 76
3:39
Steve Francis missed Free Throw 2 of 2.
75 - 76
3:34
Shane Battier Defensive Rebound.
75 - 76
3:11
Pau Gasol missed Jumper.
75 - 76
3:10
Memphis Offensive Rebound.
75 - 76
3:10
24 second
75 - 76
3:00
Cuttino Mobley missed 23 ft Jumper.
75 - 76
2:58
Yao Ming Offensive Rebound.
75 - 76
2:50
Steve Francis made 24 ft Three Point Jumper.
78 - 76
2:42
Memphis Full Timeout.
78 - 76
2:42
Earl Watson enters the game for Pau Gasol.
78 - 76
2:42
Gordan Giricek enters the game for Jason Williams.
78 - 76
2:42
Mike Batiste enters the game for Wesley Person.
78 - 76
2:42
Kelvin Cato enters the game for Yao Ming.
78 - 76
2:32
Kelvin Cato Shooting Foul
78 - 76
2:32
Gordan Giricek missed Free Throw 1 of 2.
78 - 76
2:32
Memphis Offensive Rebound.
78 - 76
2:32
Gordan Giricek made Free Throw 2 of 2.
78 - 77
2:15
Steve Francis missed Two Point Shot.
78 - 77
2:13
Glen Rice Offensive Rebound.
78 - 77
2:02
Kenny Thomas Traveling
78 - 77
1:53
Gordan Giricek missed 25 ft Three Point Jumper.
78 - 77
1:50
Kenny Thomas Defensive Rebound.
78 - 77
1:43
Kelvin Cato missed Two Point Shot.
78 - 77
1:39
Kenny Thomas Offensive Rebound.
78 - 77
1:38
Kenny Thomas Bad Pass. Stolen by Shane Battier.
78 - 77
1:31
Mike Batiste missed 12 ft Jumper.
78 - 77
1:29
Glen Rice Defensive Rebound.
78 - 77
1:24
Shane Battier Shooting Foul
78 - 77
1:24
Kenny Thomas missed Free Throw 1 of 2.
78 - 77
1:24
Houston Offensive Rebound.
78 - 77
1:24
Kenny Thomas made Free Throw 2 of 2.
79 - 77
1:08
Gordan Giricek missed 21 ft Jumper.
79 - 77
1:07
Steve Francis Defensive Rebound.
79 - 77
0:55
Kenny Thomas made 10 ft Two Point Shot. Assisted by Steve Francis.
81 - 77
0:37
Mike Batiste made Two Point Shot. Assisted by Earl Watson.
81 - 79
0:18
Glen Rice missed 25 ft Three Point Jumper.
81 - 79
0:16
Mike Batiste Defensive Rebound.
81 - 79
0:16
Kelvin Cato Personal Foul
81 - 79
0:16
Terence Morris enters the game for Glen Rice.
81 - 79
0:00
Gordan Giricek missed 26 ft Three Point Jumper.
81 - 79
0:00
Memphis Offensive Rebound.
81 - 79
0:00
End of the 3rd Quarter.
81 - 79

time
TEAM
PLAY
SCORE
12:00
Start of the 4th Quarter.
81 - 79
11:45
Gordan Giricek Bad Pass. Stolen by Kelvin Cato.
81 - 79
11:30
Shane Battier Personal Foul
81 - 79
11:22
Gordan Giricek Illegal Defense Foul
81 - 79
11:22
Cuttino Mobley made Technical Free Throw.
82 - 79
11:11
Steve Francis missed 17 ft Jumper.
82 - 79
11:11
Kelvin Cato Offensive Rebound.
82 - 79
11:11
Mike Batiste Loose Ball Foul
82 - 79
11:03
Cuttino Mobley missed 26 ft Three Point Jumper.
82 - 79
11:03
Earl Watson Defensive Rebound.
82 - 79
11:03
Steve Francis Loose Ball Foul
82 - 79
10:52
Stromile Swift Lost Ball. Stolen by Kelvin Cato.
82 - 79
10:33
Kelvin Cato missed 6 ft Hook Shot.
82 - 79
10:30
Mike Batiste Defensive Rebound.
82 - 79
10:23
Stromile Swift made Two Point Shot. Assisted by Earl Watson.
82 - 81
9:59
Cuttino Mobley made Three Point Jumper. Assisted by Eddie Griffin.
85 - 81
9:36
Earl Watson made 7 ft Two Point Shot.
85 - 83
9:18
Eddie Griffin missed 20 ft Jumper. Blocked by Stromile Swift.
85 - 83
9:15
Gordan Giricek Defensive Rebound.
85 - 83
9:15
Eddie Griffin Personal Foul
85 - 83
9:03
Stromile Swift missed 18 ft Jumper.
85 - 83
9:02
Kelvin Cato Defensive Rebound.
85 - 83
8:53
Mike Batiste Personal Foul
85 - 83
8:53
Official Timeout.
85 - 83
8:53
Jason Williams enters the game for Earl Watson.
85 - 83
8:53
Pau Gasol enters the game for Mike Batiste.
85 - 83
8:45
Cuttino Mobley made Three Point Jumper. Assisted by Steve Francis.
88 - 83
8:22
Gordan Giricek missed 19 ft Jumper.
88 - 83
8:18
Stromile Swift Offensive Rebound.
88 - 83
8:15
Kelvin Cato Shooting Foul
88 - 83
8:15
Stromile Swift made Free Throw 1 of 2.
88 - 84
8:15
Wesley Person enters the game for Gordan Giricek.
88 - 84
8:15
Drew Gooden enters the game for Shane Battier.
88 - 84
8:15
Stromile Swift made Free Throw 2 of 2.
88 - 85
7:58
Cuttino Mobley missed Two Point Shot.
88 - 85
7:50
Pau Gasol Defensive Rebound.
88 - 85
7:48
Pau Gasol Lost Ball. Stolen by Steve Francis.
88 - 85
7:45
Wesley Person Shooting Foul
88 - 85
7:45
Cuttino Mobley made Free Throw 1 of 2.
89 - 85
7:45
Cuttino Mobley made Free Throw 2 of 2.
90 - 85
7:31
Pau Gasol missed 6 ft Jumper. Blocked by Eddie Griffin.
90 - 85
7:24
Pau Gasol Offensive Rebound.
90 - 85
7:22
Pau Gasol made 5 ft Hook Shot.
90 - 87
7:13
Drew Gooden Personal Foul
90 - 87
7:13
Steve Francis missed Free Throw 1 of 2.
90 - 87
7:13
Houston Offensive Rebound.
90 - 87
7:13
Steve Francis made Free Throw 2 of 2.
91 - 87
6:52
Lorenzen Wright missed Layup. Blocked by Eddie Griffin.
91 - 87
6:48
Drew Gooden Offensive Rebound.
91 - 87
6:46
Jason Williams missed 28 ft Three Point Jumper.
91 - 87
6:43
Kelvin Cato Shooting Foul
91 - 87
6:43
Pau Gasol made Free Throw 1 of 2.
91 - 88
6:43
Pau Gasol made Free Throw 2 of 2.
91 - 89
6:43
Yao Ming enters the game for Kelvin Cato.
91 - 89
6:22
Jason Williams missed 5 ft Two Point Shot.
91 - 89
6:18
Yao Ming Defensive Rebound.
91 - 89
6:13
Cuttino Mobley made Two Point Shot.
93 - 89
6:07
Memphis Full Timeout.
93 - 89
5:48
Steve Francis missed 25 ft Three Point Jumper.
93 - 89
5:43
Yao Ming Offensive Rebound.
93 - 89
5:33
Yao Ming missed 5 ft Hook Shot.
93 - 89
5:31
Lorenzen Wright Defensive Rebound.
93 - 89
5:20
Wesley Person made 18 ft Jumper. Assisted by Jason Williams.
93 - 91
5:01
Cuttino Mobley made Two Point Shot.
95 - 91
4:43
Jason Williams made 14 ft Jumper.
95 - 93
4:24
Cuttino Mobley missed 20 ft Jumper.
95 - 93
4:22
Terence Morris Offensive Rebound.
95 - 93
4:11
Drew Gooden Shooting Foul
95 - 93
4:11
Shane Battier enters the game for Drew Gooden.
95 - 93
4:11
Cuttino Mobley missed Free Throw 1 of 2.
95 - 93
4:11
Houston Offensive Rebound.
95 - 93
4:11
Cuttino Mobley missed Free Throw 2 of 2.
95 - 93
4:11
Lorenzen Wright Defensive Rebound.
95 - 93
3:56
Jason Williams missed Three Point Jumper.
95 - 93
3:54
Shane Battier Offensive Rebound.
95 - 93
3:50
Wesley Person made 14 ft Jumper. Assisted by Shane Battier.
95 - 95
3:28
Jason Williams Shooting Foul
95 - 95
3:28
Steve Francis made Free Throw 1 of 2.
96 - 95
3:28
Glen Rice enters the game for Terence Morris.
96 - 95
3:28
Steve Francis made Free Throw 2 of 2.
97 - 95
3:17
Lorenzen Wright missed Two Point Shot. Blocked by Eddie Griffin.
97 - 95
3:17
Memphis Offensive Rebound.
97 - 95
3:13
Eddie Griffin Personal Foul
97 - 95
3:13
Pau Gasol made Free Throw 1 of 2.
97 - 96
3:13
Kenny Thomas enters the game for Eddie Griffin.
97 - 96
3:13
Pau Gasol made Free Throw 2 of 2.
97 - 97
2:58
Kenny Thomas missed Two Point Shot. Blocked by Pau Gasol.
97 - 97
2:58
Pau Gasol Defensive Rebound.
97 - 97
2:58
Yao Ming Loose Ball Foul
97 - 97
2:58
Houston Full Timeout.
97 - 97
2:58
Pau Gasol made Free Throw 1 of 2.
97 - 98
2:58
Pau Gasol made Free Throw 2 of 2.
97 - 99
2:40
Yao Ming missed Layup.
97 - 99
2:35
Yao Ming Offensive Rebound.
99 - 99
2:35
Yao Ming made Two Point Shot.
99 - 99
2:20
Wesley Person missed 9 ft Two Point Shot.
99 - 99
2:15
Yao Ming Defensive Rebound.
99 - 99
1:57
Steve Francis Traveling
99 - 99
1:38
Shane Battier made Jumper.
99 - 101
1:38
Glen Rice Shooting Foul
99 - 101
1:38
Lane Violation
99 - 101
1:38
Shane Battier missed Free Throw 1 of 1.
101 - 105
1:38
Houston Full Timeout.
99 - 101
1:25
Steve Francis Traveling
99 - 101
1:07
Wesley Person missed 25 ft Three Point Jumper.
99 - 101
1:05
Shane Battier Offensive Rebound.
99 - 101
0:51
Yao Ming Shooting Foul
99 - 101
0:51
Pau Gasol made Free Throw 1 of 2.
99 - 102
0:51
Pau Gasol made Free Throw 2 of 2.
99 - 103
0:32
Lorenzen Wright Shooting Foul
99 - 103
0:32
Steve Francis missed Free Throw 1 of 2.
99 - 103
0:32
Houston Offensive Rebound.
99 - 103
0:32
Steve Francis missed Free Throw 2 of 2.
99 - 103
0:31
Yao Ming Offensive Rebound.
99 - 103
0:29
Yao Ming made Hook Shot.
101 - 103
0:29
Memphis Full Timeout.
101 - 103
0:07
Jason Williams made Two Point Shot.
101 - 105
0:07
Houston Full Timeout.
101 - 105
0:07
Mike Batiste enters the game for Lorenzen Wright.
101 - 105
0:02
Steve Francis made 26 ft Three Point Jumper. Assisted by Yao Ming.
104 - 105
0:02
Memphis Full Timeout.
104 - 105
0:02
Lorenzen Wright enters the game for Mike Batiste.
104 - 105
0:00
End of the 4th Quarter.
104 - 105

time
TEAM
PLAY
SCORE
5:00
Start of the 1st Overtime.
104 - 105
5:00
Jumpball. Yao Ming vs. Pau Gasol. Lorenzen Wright gains possession.
104 - 105
4:41
Pau Gasol Offensive Foul
104 - 105
4:41
Pau Gasol Foul
104 - 105
4:26
Yao Ming Offensive Foul
104 - 105
4:26
Yao Ming Foul
104 - 105
4:13
Lorenzen Wright missed 8 ft Jumper.
104 - 105
4:09
Glen Rice Defensive Rebound.
104 - 105
3:55
Glen Rice missed 10 ft Two Point Shot.
104 - 105
3:51
Pau Gasol Defensive Rebound.
104 - 105
3:45
Wesley Person missed 25 ft Three Point Jumper.
104 - 105
3:43
Kenny Thomas Defensive Rebound.
104 - 105
3:29
Steve Francis missed 26 ft Three Point Jumper.
104 - 105
3:27
Yao Ming Offensive Rebound.
104 - 105
3:27
Yao Ming missed 5 ft Jumper. Blocked by Lorenzen Wright.
104 - 105
3:27
Lorenzen Wright Defensive Rebound.
104 - 105
3:27
Jumpball. Yao Ming vs. Lorenzen Wright. Shane Battier gains possession.
104 - 105
3:08
Shane Battier missed Three Point Jumper.
104 - 105
3:03
Yao Ming Defensive Rebound.
104 - 105
2:48
Steve Francis missed Layup. Blocked by Pau Gasol.
104 - 105
2:46
Pau Gasol Defensive Rebound.
104 - 105
2:24
Pau Gasol Lost Ball. Stolen by Kenny Thomas.
104 - 105
2:19
Cuttino Mobley made Layup. Assisted by Steve Francis.
106 - 105
2:12
Memphis Full Timeout.
106 - 105
2:03
Jason Williams missed 21 ft Jumper.
106 - 105
2:00
Jason Williams Offensive Rebound.
106 - 105
1:52
Pau Gasol made 4 ft Two Point Shot.
106 - 107
1:40
Jason Williams Personal Foul
106 - 107
1:40
Houston Full Timeout.
106 - 107
1:40
Eddie Griffin enters the game for Kenny Thomas.
106 - 107
1:37
Steve Francis missed 7 ft Two Point Shot.
106 - 107
1:30
Lorenzen Wright Defensive Rebound.
106 - 107
1:15
Jason Williams made 19 ft Two Point Shot.
106 - 109
0:57
Yao Ming made 8 ft Two Point Shot. Assisted by Steve Francis.
108 - 109
0:35
Wesley Person made 26 ft Three Point Jumper. Assisted by Shane Battier.
108 - 112
0:31
Houston Full Timeout.
108 - 112
0:18
Steve Francis missed 26 ft Three Point Jumper.
108 - 112
0:17
Shane Battier Defensive Rebound.
108 - 112
0:17
Steve Francis Personal Foul
108 - 112
0:14
Cuttino Mobley Away From Ball Foul
108 - 112
0:14
Wesley Person made Free Throw 1 of 1.
108 - 113
0:13
Cuttino Mobley Personal Foul
108 - 113
0:13
Wesley Person made Free Throw 1 of 2.
108 - 114
0:13
Wesley Person missed Free Throw 2 of 2.
108 - 114
0:12
Eddie Griffin Defensive Rebound.
108 - 114
0:07
Cuttino Mobley missed 27 ft Three Point Jumper.
108 - 114
0:01
Shane Battier Defensive Rebound.
108 - 114
0:00
End of the 1st Overtime.
108 - 114
0:00
End Game
108 - 114
0:00
End Game
108 - 114
Brian Windhorst reports from Las Vegas where Kevin Durant took the court with his new Warriors' teammates in Team USA's exhibition win over Argentina and Paul George shined in his return.

After suffering a gruesome leg injury two years ago, Paul George makes his return to Team USA and scores 18 points in the win over Argentina. Carmelo Anthony credits communication and Kevin Durant is happy to be playing with such a talented group.

Rachel Nichols explains the circumstances that led the NBA to relocate the 2017 All-Star Game from Charlotte.
Regular Season Series
HOU wins series 3-1