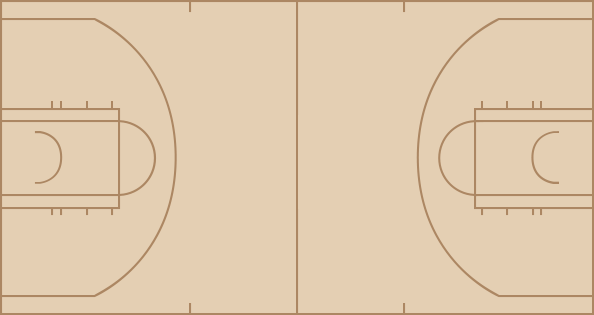 Spurs
time
TEAM
PLAY
SCORE
12:00
Start of the 1st Quarter.
0 - 0
12:00
Jumpball. David Robinson vs. Michael Olowokandi. Tony Parker gains possession.
0 - 0
11:42
Tim Duncan missed 8 ft Jumper.
0 - 0
11:38
David Robinson Offensive Rebound.
2 - 0
11:38
David Robinson made Tip Shot.
2 - 0
11:23
Michael Olowokandi missed 6 ft Jumper.
2 - 0
11:22
Steve Smith Defensive Rebound.
2 - 0
11:14
Tony Parker Lost Ball. Stolen by Andre Miller.
2 - 0
11:08
Tremaine Fowlke made Two Point Shot. Assisted by Marko Jaric.
2 - 2
10:44
Tim Duncan made 14 ft Jumper. Assisted by Tony Parker.
4 - 2
10:21
Tremaine Fowlke made Two Point Shot.
4 - 4
10:06
Steve Smith missed Layup. Blocked by Michael Olowokandi.
4 - 4
10:03
Marko Jaric Defensive Rebound.
4 - 4
9:41
Andre Miller made 21 ft Jumper.
4 - 6
9:26
Steve Smith missed 18 ft Jumper.
4 - 6
9:23
Michael Olowokandi Defensive Rebound.
4 - 6
9:18
Tony Parker Shooting Foul
4 - 6
9:18
Andre Miller made Free Throw 1 of 2.
4 - 7
9:18
Andre Miller made Free Throw 2 of 2.
4 - 8
8:59
Tim Duncan missed 7 ft Jumper. Blocked by Michael Olowokandi.
4 - 8
8:56
Tony Parker Offensive Rebound.
4 - 8
8:55
Tony Parker missed Layup.
4 - 8
8:53
David Robinson Offensive Rebound.
4 - 8
8:36
Tony Parker missed Layup. Blocked by Elton Brand.
4 - 8
8:33
David Robinson Offensive Rebound.
4 - 8
8:32
David Robinson made 6 ft Jumper.
6 - 8
8:18
Marko Jaric missed Layup.
6 - 8
8:17
Tim Duncan Defensive Rebound.
6 - 8
8:08
Steve Smith Out of Bounds
6 - 8
7:58
Andre Miller made 25 ft Three Point Jumper. Assisted by Marko Jaric.
6 - 11
7:41
Tim Duncan made Hook Shot.
8 - 11
7:39
Marko Jaric Double Technical Foul. Bruce Bowen gains possession.
8 - 11
7:35
Marko Jaric Offensive Foul
8 - 11
7:35
Marko Jaric Foul
8 - 11
7:24
Steve Smith made 9 ft Two Point Shot.
10 - 11
7:11
Marko Jaric missed Two Point Shot. Blocked by Tim Duncan.
10 - 11
7:09
David Robinson Defensive Rebound.
10 - 11
7:01
Bruce Bowen Bad Pass
10 - 11
6:52
David Robinson Shooting Foul
10 - 11
6:52
Elton Brand missed Free Throw 1 of 2.
10 - 11
6:52
Los Angeles Offensive Rebound.
10 - 11
6:52
Elton Brand made Free Throw 2 of 2.
10 - 12
6:35
Michael Olowokandi Personal Foul
10 - 12
6:28
Tim Duncan made 13 ft Two Point Shot.
12 - 12
6:05
Tremaine Fowlke Lost Ball. Stolen by Tony Parker.
12 - 12
6:03
Steve Smith missed 26 ft Three Point Jumper.
12 - 12
6:00
Steve Smith Offensive Rebound.
12 - 12
5:58
Tony Parker missed 26 ft Three Point Jumper.
12 - 12
5:56
Marko Jaric Defensive Rebound.
12 - 12
5:52
Marko Jaric Lost Ball. Stolen by Tony Parker.
12 - 12
5:48
Tony Parker made Two Point Shot.
14 - 12
5:35
Elton Brand made Two Point Shot. Assisted by Andre Miller.
14 - 14
5:18
Tim Duncan made 8 ft Two Point Shot. Assisted by Tony Parker.
16 - 14
5:09
Los Angeles Full Timeout.
16 - 14
4:56
Andre Miller Bad Pass
16 - 14
4:39
Tim Duncan missed 9 ft Jumper.
16 - 14
4:37
Marko Jaric Defensive Rebound.
16 - 14
4:28
Michael Olowokandi made 6 ft Hook Shot. Assisted by Marko Jaric.
16 - 16
4:09
David Robinson missed 9 ft Jumper.
16 - 16
4:09
San Antonio Offensive Rebound.
16 - 16
4:09
Andre Miller Loose Ball Foul
16 - 16
4:09
Stephen Jackson enters the game for Steve Smith.
16 - 16
4:09
Kevin Willis enters the game for David Robinson.
16 - 16
3:56
Tim Duncan made Two Point Shot.
18 - 16
3:39
Michael Olowokandi made 7 ft Hook Shot.
18 - 18
3:27
Bruce Bowen missed Three Point Jumper.
18 - 18
3:24
Tremaine Fowlke Defensive Rebound.
18 - 18
3:21
Tremaine Fowlke Bad Pass. Stolen by Tony Parker.
18 - 18
3:21
Tremaine Fowlke Personal Foul
18 - 18
3:21
Danny Ferry Technical Foul
18 - 18
3:21
Tony Parker made Technical Free Throw.
19 - 18
3:12
Stephen Jackson made Two Point Shot.
21 - 18
3:12
Defensive Goaltending
21 - 18
2:55
Michael Olowokandi missed 10 ft Jumper.
21 - 18
2:53
Kevin Willis Defensive Rebound.
21 - 18
2:41
Kevin Willis Offensive Foul
21 - 18
2:41
Kevin Willis Foul
21 - 18
2:41
San Antonio Full Timeout.
21 - 18
2:19
Marko Jaric made Three Point Jumper. Assisted by Michael Olowokandi.
21 - 21
2:02
Tim Duncan made 15 ft Jumper.
23 - 21
1:53
Andre Miller missed 7 ft Jumper.
23 - 21
1:50
Kevin Willis Defensive Rebound.
23 - 21
1:49
null
23 - 21
1:49
Danny Ferry Technical Foul
23 - 21
1:49
Tony Parker made Technical Free Throw.
24 - 21
1:39
Tim Duncan missed 7 ft Jumper.
24 - 21
1:38
Kevin Willis Offensive Rebound.
24 - 21
1:30
Kevin Willis made 6 ft Hook Shot.
26 - 21
1:10
Michael Olowokandi missed 5 ft Jumper.
26 - 21
1:08
Stephen Jackson Defensive Rebound.
26 - 21
0:52
Tim Duncan missed 7 ft Jumper.
26 - 21
0:51
Michael Olowokandi Defensive Rebound.
26 - 21
0:40
Elton Brand missed 6 ft Jumper.
26 - 21
0:38
Tim Duncan Defensive Rebound.
26 - 21
0:38
Tremaine Fowlke Personal Foul
26 - 21
0:38
Ruben Boumtje-Boumtje enters the game for Elton Brand.
26 - 21
0:26
Tim Duncan made 13 ft Jumper. Assisted by Tony Parker.
28 - 21
0:03
Michael Olowokandi Offensive Rebound.
28 - 21
0:02
Michael Olowokandi made 4 ft Hook Shot.
28 - 23
0:00
Tony Parker missed 41 ft Three Point Jumper.
28 - 23
0:00
San Antonio Offensive Rebound.
28 - 23
0:00
End of the 1st Quarter.
28 - 23

time
TEAM
PLAY
SCORE
12:00
Start of the 2nd Quarter.
28 - 23
11:48
Marko Jaric missed Two Point Shot.
28 - 23
11:45
Stephen Jackson Defensive Rebound.
28 - 23
11:34
Tony Parker missed 12 ft Jumper.
28 - 23
11:33
Kevin Willis Offensive Rebound.
28 - 23
11:32
Kevin Willis missed Layup. Blocked by Michael Olowokandi.
28 - 23
11:30
Michael Olowokandi Defensive Rebound.
28 - 23
11:22
Kevin Willis Personal Foul
28 - 23
11:14
Marko Jaric missed 27 ft Three Point Jumper.
28 - 23
11:11
Los Angeles Defensive Rebound.
28 - 23
11:02
Keyon Dooling enters the game for Marko Jaric.
28 - 23
11:02
Steve Kerr enters the game for Tony Parker.
28 - 23
10:55
Stephen Jackson missed 21 ft Jumper.
28 - 23
10:52
Michael Olowokandi Defensive Rebound.
28 - 23
10:42
Andre Miller made 3 ft Two Point Shot. Assisted by Quentin Richardson.
28 - 25
10:23
Kevin Willis missed 8 ft Hook Shot.
28 - 25
10:23
San Antonio Defensive Rebound.
28 - 25
10:23
Stephen Jackson Loose Ball Foul
28 - 25
10:23
David Robinson enters the game for Tim Duncan.
28 - 25
9:57
Stephen Jackson Defensive Rebound.
28 - 25
9:49
Stephen Jackson missed 19 ft Jumper.
28 - 25
9:48
Michael Olowokandi Defensive Rebound.
28 - 25
9:41
David Robinson Personal Foul
28 - 25
9:41
Malik Rose enters the game for Kevin Willis.
28 - 25
9:41
Steve Smith enters the game for Bruce Bowen.
28 - 25
9:41
Elton Brand enters the game for Michael Olowokandi.
28 - 25
9:30
Quentin Richardson missed 19 ft Jumper.
28 - 25
9:29
Stephen Jackson Defensive Rebound.
28 - 25
9:17
Stephen Jackson made Two Point Shot. Assisted by Malik Rose.
30 - 25
8:57
Quentin Richardson made Two Point Shot.
30 - 27
8:37
Malik Rose made 18 ft Jumper. Assisted by Steve Smith.
32 - 27
8:18
Quentin Richardson Offensive Foul
32 - 27
8:18
Quentin Richardson Foul
32 - 27
8:18
Official Timeout.
32 - 27
8:18
Michael Olowokandi enters the game for Ruben Boumtje-Boumtje.
32 - 27
8:04
Michael Olowokandi Personal Foul
32 - 27
7:58
Steve Kerr made 16 ft Jumper.
34 - 27
7:46
Keyon Dooling missed 21 ft Jumper.
34 - 27
7:43
Michael Olowokandi Offensive Rebound.
34 - 27
7:33
Michael Olowokandi made 9 ft Two Point Shot.
34 - 29
7:20
David Robinson missed Hook Shot.
34 - 29
7:20
Michael Olowokandi Defensive Rebound.
34 - 29
7:20
Stephen Jackson Personal Foul
34 - 29
6:54
Andre Miller missed 9 ft Jumper.
34 - 29
6:52
Elton Brand Offensive Rebound.
34 - 29
6:43
Malik Rose Personal Foul
34 - 29
6:43
Michael Olowokandi missed Free Throw 1 of 2.
34 - 29
6:43
Los Angeles Offensive Rebound.
34 - 29
6:43
Tony Parker enters the game for Stephen Jackson.
34 - 29
6:43
Michael Olowokandi made Free Throw 2 of 2.
34 - 30
6:24
Malik Rose Lost Ball. Stolen by Elton Brand.
34 - 30
6:20
Michael Olowokandi made Slam Dunk. Assisted by Andre Miller.
34 - 32
6:03
Tony Parker made Two Point Shot.
36 - 32
5:48
Michael Olowokandi made 7 ft Two Point Shot.
36 - 34
5:28
Malik Rose missed Layup. Blocked by Elton Brand.
36 - 34
5:26
Andre Miller Defensive Rebound.
36 - 34
5:22
Elton Brand made 14 ft Jumper. Assisted by Andre Miller.
36 - 36
5:01
Tony Parker missed 4 ft Jumper. Blocked by Keyon Dooling.
36 - 36
5:00
Michael Olowokandi Defensive Rebound.
36 - 36
4:54
Keyon Dooling made 24 ft Three Point Jumper. Assisted by Andre Miller.
36 - 39
4:52
San Antonio Full Timeout.
36 - 39
4:52
Bruce Bowen enters the game for David Robinson.
36 - 39
4:52
Tim Duncan enters the game for Steve Smith.
36 - 39
4:39
Michael Olowokandi Illegal Defense Foul
36 - 39
4:39
Steve Kerr made Technical Free Throw.
37 - 39
4:35
Steve Kerr missed 17 ft Jumper.
37 - 39
4:33
Michael Olowokandi Defensive Rebound.
37 - 39
4:16
Quentin Richardson made 28 ft Three Point Jumper. Assisted by Michael Olowokandi.
37 - 42
3:59
Tony Parker missed Three Point Jumper.
37 - 42
3:57
Michael Olowokandi Defensive Rebound.
37 - 42
3:49
Elton Brand missed Jumper.
37 - 42
3:48
Malik Rose Defensive Rebound.
37 - 42
3:35
Tim Duncan made 7 ft Jumper.
39 - 42
3:35
Defensive Goaltending
39 - 42
3:14
Andre Miller missed Jumper.
39 - 42
3:14
Los Angeles Defensive Rebound.
39 - 42
3:14
Andre Miller Loose Ball Foul
39 - 42
3:14
Melvin Ely enters the game for Michael Olowokandi.
39 - 42
3:02
Elton Brand Personal Foul
39 - 42
3:02
Marko Jaric enters the game for Andre Miller.
39 - 42
2:54
Malik Rose missed 13 ft Jumper.
39 - 42
2:50
Elton Brand Defensive Rebound.
39 - 42
2:47
Keyon Dooling Bad Pass. Stolen by Tony Parker.
39 - 42
2:41
Steve Kerr missed 28 ft Three Point Jumper.
39 - 42
2:40
Keyon Dooling Defensive Rebound.
39 - 42
2:29
Bruce Bowen Personal Foul
39 - 42
2:29
Los Angeles Full Timeout.
39 - 42
2:29
Kevin Willis enters the game for Steve Kerr.
39 - 42
2:29
Steve Smith enters the game for Malik Rose.
39 - 42
2:29
Quentin Richardson made Free Throw 1 of 2.
39 - 43
2:29
Quentin Richardson made Free Throw 2 of 2.
39 - 44
2:05
Tony Parker missed 18 ft Jumper.
39 - 44
2:03
Tony Parker Offensive Rebound.
39 - 44
1:51
Melvin Ely Personal Foul
39 - 44
1:38
Tim Duncan made 15 ft Two Point Shot.
41 - 44
1:17
Quentin Richardson made 5 ft Two Point Shot.
41 - 46
1:06
Kevin Willis missed 14 ft Jumper.
41 - 46
1:05
Elton Brand Defensive Rebound.
41 - 46
0:43
Keyon Dooling made 26 ft Three Point Jumper.
41 - 49
0:32
Tony Parker made 17 ft Jumper.
43 - 49
0:26
Los Angeles 20 Sec. Timeout.
43 - 49
0:11
Keyon Dooling missed Two Point Shot. Blocked by Tim Duncan.
43 - 49
0:08
Tony Parker Defensive Rebound.
43 - 49
0:02
Tim Duncan missed 10 ft Jumper.
43 - 49
0:00
Marko Jaric Defensive Rebound.
43 - 49
0:00
End of the 2nd Quarter.
43 - 49

time
TEAM
PLAY
SCORE
12:00
Start of the 3rd Quarter.
43 - 49
11:37
Tremaine Fowlke missed 17 ft Jumper.
43 - 49
11:37
Jumpball. David Robinson vs. Michael Olowokandi. Tony Parker gains possession.
43 - 49
11:37
Los Angeles Defensive Rebound.
43 - 49
11:22
Tim Duncan missed 7 ft Hook Shot.
43 - 49
11:19
Tremaine Fowlke Defensive Rebound.
43 - 49
11:07
Elton Brand made 9 ft Two Point Shot.
43 - 51
10:51
Tony Parker Bad Pass. Stolen by Michael Olowokandi.
43 - 51
10:44
Marko Jaric Offensive Foul
43 - 51
10:44
Marko Jaric Foul
43 - 51
10:32
David Robinson made Jumper. Assisted by Tony Parker.
45 - 51
10:19
Elton Brand missed 15 ft Jumper.
45 - 51
10:18
David Robinson Defensive Rebound.
45 - 51
10:03
Bruce Bowen missed Jumper.
45 - 51
10:02
Michael Olowokandi Defensive Rebound.
45 - 51
9:44
Marko Jaric missed Three Point Jumper.
45 - 51
9:41
Tremaine Fowlke Offensive Rebound.
45 - 51
9:29
Michael Olowokandi Bad Pass. Stolen by Bruce Bowen.
45 - 51
9:21
Bruce Bowen missed Three Point Jumper.
45 - 51
9:18
Elton Brand Defensive Rebound.
45 - 51
9:03
Marko Jaric made Jumper.
45 - 53
8:40
Tim Duncan Lost Ball
45 - 53
8:19
Elton Brand made Layup. Assisted by Marko Jaric.
45 - 55
8:18
San Antonio Full Timeout.
45 - 55
8:04
Bruce Bowen missed Dunk. Blocked by Michael Olowokandi.
45 - 55
8:02
Tremaine Fowlke Defensive Rebound.
45 - 55
7:47
David Robinson Shooting Foul
45 - 55
7:47
Tremaine Fowlke made Free Throw 1 of 2.
45 - 56
7:47
Stephen Jackson enters the game for Steve Smith.
45 - 56
7:47
Tremaine Fowlke made Free Throw 2 of 2.
45 - 57
7:31
Stephen Jackson missed Three Point Jumper.
45 - 57
7:28
Marko Jaric Defensive Rebound.
45 - 57
7:24
Tremaine Fowlke made Slam Dunk. Assisted by Marko Jaric.
45 - 59
7:09
Tony Parker missed 15 ft Jumper.
45 - 59
7:07
Michael Olowokandi Defensive Rebound.
45 - 59
7:03
Andre Miller Bad Pass. Stolen by Bruce Bowen.
45 - 59
6:56
Michael Olowokandi Shooting Foul
45 - 59
6:56
Bruce Bowen missed Free Throw 1 of 2.
45 - 59
6:56
San Antonio Offensive Rebound.
45 - 59
6:56
Bruce Bowen made Free Throw 2 of 2.
46 - 59
6:48
Los Angeles Full Timeout.
46 - 59
6:48
Danny Ferry enters the game for Bruce Bowen.
46 - 59
6:37
Marko Jaric made 24 ft Three Point Jumper. Assisted by Tremaine Fowlke.
46 - 62
6:13
David Robinson 3 second
46 - 62
5:58
Michael Olowokandi missed Jumper. Blocked by David Robinson.
46 - 62
5:56
Elton Brand Offensive Rebound.
46 - 64
5:56
Elton Brand made Tip Shot.
46 - 64
5:43
Elton Brand Shooting Foul
46 - 64
5:43
Stephen Jackson made Free Throw 1 of 2.
47 - 64
5:43
Stephen Jackson missed Free Throw 2 of 2.
47 - 64
5:41
Tim Duncan Offensive Rebound.
47 - 64
5:33
Tony Parker made 21 ft Jumper. Assisted by Tim Duncan.
49 - 64
5:18
David Robinson Shooting Foul
49 - 64
5:18
Elton Brand missed Free Throw 1 of 2.
49 - 64
5:18
Los Angeles Offensive Rebound.
49 - 64
5:18
Kevin Willis enters the game for David Robinson.
49 - 64
5:18
Elton Brand missed Free Throw 2 of 2.
49 - 64
5:16
Kevin Willis Defensive Rebound.
49 - 64
5:05
Stephen Jackson missed 8 ft Jumper. Blocked by Elton Brand.
49 - 64
5:05
San Antonio Offensive Rebound.
49 - 64
5:00
Stephen Jackson missed Jumper.
49 - 64
4:58
Elton Brand Defensive Rebound.
49 - 64
4:43
Tony Parker Personal Foul
49 - 64
4:37
Andre Miller made 17 ft Jumper.
49 - 66
4:20
Tim Duncan missed Layup.
49 - 66
4:18
Kevin Willis Offensive Rebound.
51 - 66
4:18
Kevin Willis made Tip Shot.
51 - 66
4:13
Elton Brand made Two Point Shot. Assisted by Andre Miller.
51 - 68
3:56
Kevin Willis 3 second
51 - 68
3:43
Marko Jaric Bad Pass. Stolen by Stephen Jackson.
51 - 68
3:39
Tony Parker made Two Point Shot.
53 - 68
3:24
Elton Brand Out of Bounds
53 - 68
3:09
Tim Duncan made Two Point Shot.
55 - 68
2:54
Kevin Willis Personal Foul
55 - 68
2:54
Quentin Richardson enters the game for Tremaine Fowlke.
55 - 68
2:42
Andre Miller missed Layup.
55 - 68
2:40
Tim Duncan Defensive Rebound.
55 - 68
2:33
Stephen Jackson missed 15 ft Jumper.
55 - 68
2:31
Elton Brand Defensive Rebound.
55 - 68
2:15
Elton Brand missed 15 ft Jumper.
55 - 68
2:14
Michael Olowokandi Offensive Rebound.
55 - 68
2:03
Quentin Richardson Lost Ball
55 - 68
1:43
Tony Parker missed 15 ft Jumper.
55 - 68
1:42
Tim Duncan Offensive Rebound.
55 - 68
1:39
Tim Duncan made Layup.
57 - 68
1:15
Marko Jaric missed 15 ft Jumper.
57 - 68
1:13
Tim Duncan Defensive Rebound.
57 - 68
1:13
Tony Parker Traveling
57 - 68
1:13
Keyon Dooling enters the game for Marko Jaric.
57 - 68
1:00
Michael Olowokandi made 7 ft Two Point Shot. Assisted by Andre Miller.
57 - 70
0:43
Tim Duncan missed 8 ft Jumper.
57 - 70
0:42
Quentin Richardson Defensive Rebound.
57 - 70
0:30
Danny Ferry Shooting Foul
57 - 70
0:30
Quentin Richardson made Free Throw 1 of 2.
57 - 71
0:30
Melvin Ely enters the game for Michael Olowokandi.
57 - 71
0:30
Quentin Richardson missed Free Throw 2 of 2.
57 - 71
0:29
Melvin Ely Offensive Rebound.
57 - 71
0:10
Elton Brand made Two Point Shot. Assisted by Andre Miller.
57 - 73
0:01
Tony Parker Bad Pass. Stolen by Andre Miller.
57 - 73
0:00
End of the 3rd Quarter.
57 - 73

time
TEAM
PLAY
SCORE
12:00
Start of the 4th Quarter.
57 - 73
11:44
Steve Smith missed 12 ft Jumper.
57 - 73
11:44
San Antonio Defensive Rebound.
57 - 73
11:32
Kevin Willis Personal Foul
57 - 73
11:27
Kevin Willis Shooting Foul
57 - 73
11:27
Elton Brand missed Free Throw 1 of 2.
57 - 73
11:27
Los Angeles Offensive Rebound.
57 - 73
11:27
David Robinson enters the game for Kevin Willis.
57 - 73
11:27
Marko Jaric enters the game for Andre Miller.
57 - 73
11:27
Elton Brand made Free Throw 2 of 2.
57 - 74
11:15
Jumpball. David Robinson vs. Elton Brand. Stephen Jackson gains possession.
57 - 74
11:04
Tim Duncan made Layup.
59 - 74
10:47
Elton Brand missed 16 ft Jumper.
59 - 74
10:45
Steve Kerr Defensive Rebound.
59 - 74
10:37
Steve Smith made Two Point Shot.
61 - 74
10:17
Keyon Dooling missed 25 ft Three Point Jumper.
61 - 74
10:14
David Robinson Defensive Rebound.
61 - 74
10:04
Steve Smith missed 13 ft Jumper.
61 - 74
10:03
Quentin Richardson Defensive Rebound.
61 - 74
9:57
Melvin Ely made Slam Dunk. Assisted by Marko Jaric.
61 - 76
9:33
Elton Brand Personal Foul
61 - 76
9:33
Michael Olowokandi enters the game for Elton Brand.
61 - 76
9:25
Steve Smith missed 13 ft Jumper.
61 - 76
9:22
Michael Olowokandi Defensive Rebound.
61 - 76
9:11
Michael Olowokandi Offensive Foul
61 - 76
9:11
Michael Olowokandi Foul
61 - 76
8:53
Steve Kerr made 21 ft Jumper. Assisted by David Robinson.
63 - 76
8:34
Steve Smith Shooting Foul
63 - 76
8:34
Official Timeout.
63 - 76
8:34
Tony Parker enters the game for Steve Smith.
63 - 76
8:34
Danny Ferry enters the game for Stephen Jackson.
63 - 76
8:34
Quentin Richardson made Free Throw 1 of 2.
63 - 77
8:34
Quentin Richardson missed Free Throw 2 of 2.
63 - 77
8:33
Tim Duncan Defensive Rebound.
63 - 77
8:18
Steve Kerr made 20 ft Jumper. Assisted by David Robinson.
65 - 77
8:02
Melvin Ely missed Layup. Blocked by David Robinson.
65 - 77
8:00
David Robinson Defensive Rebound.
65 - 77
7:45
Tim Duncan missed 2 ft Hook Shot.
65 - 77
7:43
Tim Duncan Offensive Rebound.
67 - 77
7:43
Tim Duncan made Tip Shot.
67 - 77
7:20
Michael Olowokandi made 5 ft Two Point Shot. Assisted by Marko Jaric.
67 - 79
7:07
Tony Parker Offensive Foul
67 - 79
7:07
Tony Parker Foul
67 - 79
7:07
Andre Miller enters the game for Melvin Ely.
67 - 79
7:07
Elton Brand enters the game for Marko Jaric.
67 - 79
6:48
Keyon Dooling Lost Ball. Stolen by Steve Kerr.
67 - 79
6:33
Tim Duncan missed Layup.
67 - 79
6:31
Andre Miller Defensive Rebound.
67 - 79
6:15
Quentin Richardson missed 18 ft Jumper.
67 - 79
6:11
David Robinson Defensive Rebound.
67 - 79
6:05
Tim Duncan made Layup. Assisted by Danny Ferry.
69 - 79
6:01
Andre Miller Offensive Foul
69 - 79
6:01
Andre Miller Foul
69 - 79
5:56
Tim Duncan Offensive Foul
69 - 79
5:56
Tim Duncan Foul
69 - 79
5:56
Tim Duncan Technical Foul
69 - 79
5:56
Los Angeles Full Timeout.
69 - 79
5:56
Andre Miller made Technical Free Throw.
69 - 80
5:35
Quentin Richardson made 26 ft Three Point Jumper. Assisted by Andre Miller.
69 - 83
5:18
Tim Duncan missed 7 ft Two Point Shot.
69 - 83
5:16
Michael Olowokandi Defensive Rebound.
69 - 83
5:01
Elton Brand Bad Pass. Stolen by David Robinson.
69 - 83
4:54
Michael Olowokandi Shooting Foul
69 - 83
4:54
David Robinson made Free Throw 1 of 2.
70 - 83
4:54
David Robinson made Free Throw 2 of 2.
71 - 83
4:33
Elton Brand missed 11 ft Jumper.
71 - 83
4:31
Tim Duncan Defensive Rebound.
71 - 83
4:24
Steve Kerr missed 18 ft Jumper.
71 - 83
4:24
Michael Olowokandi Defensive Rebound.
71 - 83
4:09
Danny Ferry Shooting Foul
71 - 83
4:09
Quentin Richardson made Free Throw 1 of 2.
71 - 84
4:09
Quentin Richardson made Free Throw 2 of 2.
71 - 85
4:09
Danny Ferry Technical Foul
71 - 85
4:09
Quentin Richardson made Technical Free Throw.
71 - 86
4:01
Tony Parker missed 20 ft Jumper.
71 - 86
4:01
Michael Olowokandi Defensive Rebound.
71 - 86
3:47
Quentin Richardson made 15 ft Jumper.
71 - 88
3:34
Tim Duncan made Two Point Shot. Assisted by Steve Kerr.
73 - 88
3:12
Quentin Richardson made 4 ft Two Point Shot.
73 - 90
2:54
Tim Duncan missed Layup.
73 - 90
2:53
Tim Duncan Offensive Rebound.
75 - 90
2:53
Tim Duncan made Layup.
75 - 90
2:28
Keyon Dooling missed 19 ft Jumper.
75 - 90
2:26
Tim Duncan Defensive Rebound.
75 - 90
2:15
David Robinson made Jumper. Assisted by Tony Parker.
77 - 90
1:54
Michael Olowokandi Offensive Foul
77 - 90
1:54
Michael Olowokandi Foul
77 - 90
1:54
San Antonio Full Timeout.
77 - 90
1:54
Melvin Ely enters the game for Michael Olowokandi.
77 - 90
1:38
Steve Kerr Lost Ball. Stolen by Elton Brand.
77 - 90
1:22
Keyon Dooling Bad Pass
77 - 90
1:22
Anthony Goldwire enters the game for Tim Duncan.
77 - 90
1:22
Malik Rose enters the game for David Robinson.
77 - 90
1:22
Mengke Bateer enters the game for Tony Parker.
77 - 90
1:00
Mengke Bateer made Layup.
79 - 90
0:40
Mengke Bateer Shooting Foul
79 - 90
0:40
Melvin Ely missed Free Throw 1 of 2.
79 - 90
0:40
Los Angeles Offensive Rebound.
79 - 90
0:40
Melvin Ely made Free Throw 2 of 2.
79 - 91
0:27
Danny Ferry missed 10 ft Two Point Shot.
79 - 91
0:24
Elton Brand Defensive Rebound.
79 - 91
0:03
Keyon Dooling missed 22 ft Jumper.
79 - 91
0:03
Los Angeles Defensive Rebound.
79 - 91
0:00
Steve Kerr missed 25 ft Three Point Jumper.
79 - 91
0:00
San Antonio Offensive Rebound.
79 - 91
0:00
End of the 4th Quarter.
79 - 91
0:00
End Game
79 - 91
0:00
End Game
79 - 91
Tom Haberstroh shows that the problem is they're just not going in.

Ohm Youngmisuk examines LeBron James' tendencies to praise Kyrie Irving and Kevin Love and whether this is a way to help build them up for the NBA Finals.

Tom Haberstroh uses SportVU data to show that even if Steph Curry is playing hurt, he isn't playing slower -- he's actually going faster.
Regular Season Series
SA wins series 3-1
2015-2016 Pacific Standings