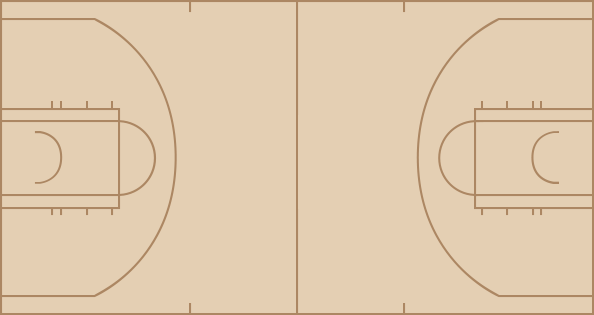 Hornets
time
TEAM
PLAY
SCORE
12:00
Start of the 1st Quarter.
0 - 0
12:00
Jumpball. Jamaal Magloire vs. Rasheed Wallace. Scottie Pippen gains possession.
0 - 0
11:48
Bonzi Wells made 5 ft Jumper. Assisted by Scottie Pippen.
0 - 2
11:29
Jamaal Magloire missed Layup. Blocked by Rasheed Wallace.
0 - 2
11:27
Rasheed Wallace Defensive Rebound.
0 - 2
11:03
Dale Davis made Layup. Assisted by Scottie Pippen.
0 - 4
10:52
P.J. Brown made Layup. Assisted by Jamaal Magloire.
2 - 4
10:41
Baron Davis Personal Foul
2 - 4
10:40
Jamal Mashburn Defensive Rebound.
2 - 4
10:18
David Wesley missed 21 ft Jumper.
2 - 4
10:17
P.J. Brown missed Two Point Shot.
2 - 4
10:15
Rasheed Wallace Defensive Rebound.
2 - 4
10:08
Scottie Pippen Bad Pass
2 - 4
10:08
Jamaal Magloire made 5 ft Hook Shot. Assisted by Baron Davis.
4 - 4
9:55
Dale Davis missed 12 ft Jumper.
4 - 4
9:52
Dale Davis Offensive Rebound.
4 - 4
9:34
Scottie Pippen made 8 ft Two Point Shot.
4 - 6
9:26
David Wesley made 18 ft Jumper. Assisted by Baron Davis.
6 - 6
9:10
Dale Davis Lost Ball. Stolen by Baron Davis.
6 - 6
9:06
David Wesley missed 23 ft Three Point Jumper.
6 - 6
9:04
Dale Davis Defensive Rebound.
6 - 6
8:57
Jamal Mashburn Shooting Foul
6 - 6
8:57
Bonzi Wells made Free Throw 1 of 2.
6 - 7
8:57
Bonzi Wells made Free Throw 2 of 2.
6 - 8
8:57
Dale Davis Shooting Foul
6 - 8
8:57
Jamaal Magloire made Free Throw 1 of 2.
7 - 8
8:57
Jamaal Magloire made Free Throw 2 of 2.
8 - 8
8:57
Dale Davis Lost Ball. Stolen by Baron Davis.
8 - 8
8:37
Jamal Mashburn made 21 ft Jumper. Assisted by P.J. Brown.
10 - 8
8:21
Rasheed Wallace made 9 ft Two Point Shot. Assisted by Bonzi Wells.
10 - 10
8:14
David Wesley made Two Point Shot. Assisted by Baron Davis.
12 - 10
8:02
Scottie Pippen made 7 ft Jumper. Assisted by Derek Anderson.
12 - 12
7:48
Dale Davis Illegal Defense Foul
12 - 12
7:48
Jamal Mashburn made Technical Free Throw.
13 - 12
7:48
Jamal Mashburn missed 16 ft Two Point Shot.
13 - 12
7:47
Scottie Pippen Defensive Rebound.
13 - 12
7:35
Derek Anderson made 21 ft Jumper. Assisted by Scottie Pippen.
13 - 14
7:18
Jamaal Magloire made Two Point Shot.
15 - 14
6:26
Bonzi Wells missed 19 ft Jumper.
15 - 14
6:26
Baron Davis Defensive Rebound.
15 - 14
6:24
Scottie Pippen Personal Foul
15 - 14
6:09
Jamal Mashburn missed 25 ft Three Point Jumper.
15 - 14
6:09
Dale Davis Defensive Rebound.
15 - 14
5:54
Bonzi Wells made 10 ft Jumper.
15 - 16
5:31
Baron Davis Lost Ball. Stolen by Derek Anderson.
15 - 16
5:24
Derek Anderson made Two Point Shot. Assisted by Rasheed Wallace.
15 - 18
5:05
Jamal Mashburn missed Layup. Blocked by Rasheed Wallace.
15 - 18
5:05
Dale Davis Defensive Rebound.
15 - 18
4:58
Derek Anderson missed 24 ft Three Point Jumper.
15 - 18
4:54
Portland Defensive Rebound.
15 - 18
4:54
Portland Full Timeout.
15 - 18
4:35
Jamal Mashburn missed 6 ft Jumper. Blocked by Bonzi Wells.
15 - 18
4:33
Scottie Pippen Defensive Rebound.
15 - 18
4:20
Bonzi Wells missed Two Point Shot.
15 - 18
4:20
David Wesley Defensive Rebound.
15 - 18
4:13
Baron Davis made 24 ft Three Point Jumper.
18 - 18
3:47
Baron Davis Defensive Rebound.
18 - 18
3:45
Derek Anderson missed 21 ft Jumper.
18 - 18
3:44
Jamal Mashburn Defensive Rebound.
18 - 18
3:43
Baron Davis made Two Point Shot. Assisted by David Wesley.
20 - 18
3:27
Rasheed Wallace made 6 ft Jumper.
20 - 20
3:06
P.J. Brown made Jumper. Assisted by Jamal Mashburn.
22 - 20
2:48
Rasheed Wallace missed 10 ft Jumper.
22 - 20
2:47
Jamaal Magloire Defensive Rebound.
22 - 20
2:42
Baron Davis made Two Point Shot. Assisted by Jamal Mashburn.
24 - 20
2:27
Scottie Pippen made Two Point Shot.
24 - 22
2:21
Jamal Mashburn made Two Point Shot. Assisted by David Wesley.
26 - 22
1:55
Rasheed Wallace missed 22 ft Jumper.
26 - 22
1:54
Bonzi Wells Offensive Rebound.
26 - 24
1:54
Bonzi Wells made Layup.
26 - 24
1:31
New Orleans Full Timeout.
26 - 24
1:31
Jeff McInnis enters the game for Scottie Pippen.
26 - 24
1:31
Baron Davis missed Jumper.
26 - 24
1:31
Dale Davis Defensive Rebound.
26 - 24
1:07
P.J. Brown Shooting Foul
26 - 24
1:07
Rasheed Wallace missed Free Throw 1 of 2.
26 - 24
1:07
Portland Offensive Rebound.
26 - 24
1:07
Rasheed Wallace made Free Throw 2 of 2.
26 - 25
0:48
Jamaal Magloire made Dunk. Assisted by Baron Davis.
28 - 25
0:33
P.J. Brown Personal Foul
28 - 25
0:33
Robert Traylor enters the game for P.J. Brown.
28 - 25
0:33
Zachary Randolph enters the game for Dale Davis.
28 - 25
0:33
Rasheed Wallace missed Free Throw 1 of 2.
28 - 25
0:33
Portland Offensive Rebound.
28 - 25
0:33
Rasheed Wallace missed Free Throw 2 of 2.
28 - 25
0:33
Jamal Mashburn Defensive Rebound.
28 - 25
0:17
Robert Traylor missed 10 ft Two Point Shot.
28 - 25
0:15
Rasheed Wallace Defensive Rebound.
28 - 25
0:00
Bonzi Wells missed 25 ft Three Point Jumper.
28 - 25
0:00
Rasheed Wallace Offensive Rebound.
28 - 25
0:00
Rasheed Wallace missed 15 ft Two Point Shot.
28 - 25
0:00
Portland Offensive Rebound.
28 - 25
0:00
End of the 1st Quarter.
28 - 25

time
TEAM
PLAY
SCORE
12:00
Start of the 2nd Quarter.
28 - 25
11:51
Bonzi Wells Personal Foul
28 - 25
11:51
Baron Davis missed 12 ft Two Point Shot.
28 - 25
11:49
Derek Anderson Defensive Rebound.
28 - 25
11:41
Robert Traylor Shooting Foul
28 - 25
11:41
Ruben Patterson enters the game for Derek Anderson.
28 - 25
11:41
Arvydas Sabonis made Free Throw 1 of 2.
28 - 26
11:41
Arvydas Sabonis missed Free Throw 2 of 2.
28 - 26
11:41
Arvydas Sabonis Offensive Rebound.
28 - 26
11:41
Jeff McInnis Bad Pass
28 - 26
11:41
Elden Campbell Bad Pass. Stolen by Zachary Randolph.
28 - 26
11:22
Bonzi Wells made Slam Dunk. Assisted by Ruben Patterson.
28 - 28
11:10
Elden Campbell made Two Point Shot.
30 - 28
11:07
Delay of Game
30 - 28
10:18
Elden Campbell Personal Foul
30 - 28
10:18
George Lynch enters the game for Jamal Mashburn.
30 - 28
10:07
Arvydas Sabonis missed Jumper.
30 - 28
10:07
Elden Campbell Defensive Rebound.
30 - 28
9:52
Courtney Alexander made 16 ft Jumper. Assisted by Elden Campbell.
32 - 28
9:34
Arvydas Sabonis missed 18 ft Jumper.
32 - 28
9:32
Portland Defensive Rebound.
32 - 28
9:15
Arvydas Sabonis Personal Foul
32 - 28
9:02
Elden Campbell missed 20 ft Jumper.
32 - 28
9:00
George Lynch Offensive Rebound.
34 - 28
9:00
George Lynch made Tip Shot.
34 - 28
8:45
Zachary Randolph missed Layup.
34 - 28
8:44
Zachary Randolph Offensive Rebound.
34 - 28
8:42
Zachary Randolph missed Layup. Blocked by Elden Campbell.
34 - 28
8:41
Zachary Randolph Offensive Rebound.
34 - 30
8:41
Zachary Randolph made Layup.
34 - 30
8:41
Robert Traylor Shooting Foul
34 - 30
8:41
Official Timeout.
34 - 30
8:41
Derek Anderson enters the game for Bonzi Wells.
34 - 30
8:41
Zachary Randolph made Free Throw 1 of 1.
34 - 31
8:21
Courtney Alexander missed 22 ft Jumper.
34 - 31
8:19
Jeff McInnis Defensive Rebound.
34 - 31
8:07
Zachary Randolph missed 17 ft Jumper.
34 - 31
8:06
Robert Traylor Defensive Rebound.
34 - 31
7:58
Arvydas Sabonis Illegal Defense Foul
34 - 31
7:58
Courtney Alexander made Technical Free Throw.
35 - 31
7:58
Scottie Pippen enters the game for Jeff McInnis.
35 - 31
7:58
Rasheed Wallace enters the game for Arvydas Sabonis.
35 - 31
7:58
Elden Campbell missed 4 ft Jumper.
35 - 31
7:58
Rasheed Wallace Defensive Rebound.
35 - 31
7:39
Zachary Randolph missed 10 ft Two Point Shot.
35 - 31
7:39
Robert Traylor Defensive Rebound.
35 - 31
7:22
George Lynch missed Jumper.
35 - 31
7:22
Zachary Randolph Defensive Rebound.
35 - 31
7:11
Derek Anderson missed 22 ft Three Point Jumper.
35 - 31
7:09
Rasheed Wallace Offensive Rebound.
35 - 31
7:09
Elden Campbell Personal Foul
35 - 31
7:09
Rasheed Wallace made Free Throw 1 of 2.
35 - 32
7:09
P.J. Brown enters the game for Robert Traylor.
35 - 32
7:09
Dale Davis enters the game for Zachary Randolph.
35 - 32
7:09
Rasheed Wallace made Free Throw 2 of 2.
35 - 33
6:52
Baron Davis missed 23 ft Three Point Jumper.
35 - 33
6:50
Scottie Pippen Defensive Rebound.
35 - 33
6:41
George Lynch Shooting Foul
35 - 33
6:41
Ruben Patterson made Free Throw 1 of 2.
35 - 34
6:41
Ruben Patterson made Free Throw 2 of 2.
35 - 35
6:22
Ruben Patterson Shooting Foul
35 - 35
6:22
Elden Campbell made Free Throw 1 of 2.
36 - 35
6:22
Elden Campbell made Free Throw 2 of 2.
37 - 35
6:11
Scottie Pippen Bad Pass
37 - 35
6:11
Jamal Mashburn enters the game for George Lynch.
37 - 35
6:11
David Wesley enters the game for Baron Davis.
37 - 35
5:52
P.J. Brown missed Layup. Blocked by Rasheed Wallace.
37 - 35
5:50
Dale Davis Defensive Rebound.
37 - 35
5:41
Dale Davis made Two Point Shot. Assisted by Scottie Pippen.
37 - 37
5:24
Courtney Alexander missed Two Point Shot.
37 - 37
5:22
Derek Anderson Defensive Rebound.
37 - 37
5:15
Derek Anderson made 16 ft Jumper. Assisted by Scottie Pippen.
37 - 39
4:48
Elden Campbell missed Two Point Shot.
37 - 39
4:43
Elden Campbell Offensive Rebound.
37 - 39
4:43
New Orleans Full Timeout.
37 - 39
4:43
Stacey Augmon enters the game for Courtney Alexander.
37 - 39
4:31
Jamal Mashburn made 4 ft Jumper.
39 - 39
4:05
Scottie Pippen missed 15 ft Two Point Shot.
39 - 39
4:03
P.J. Brown Defensive Rebound.
39 - 39
3:48
P.J. Brown made 18 ft Jumper. Assisted by Jamal Mashburn.
41 - 39
3:31
Ruben Patterson missed Two Point Shot.
41 - 39
3:31
Elden Campbell Defensive Rebound.
41 - 39
3:20
Jamal Mashburn made 23 ft Three Point Jumper. Assisted by David Wesley.
44 - 39
3:02
Ruben Patterson made Layup. Assisted by Dale Davis.
44 - 41
2:47
Ruben Patterson Personal Foul
44 - 41
2:47
Portland Full Timeout.
44 - 41
2:47
Bonzi Wells enters the game for Ruben Patterson.
44 - 41
2:47
Jamaal Magloire enters the game for Elden Campbell.
44 - 41
2:40
Jamal Mashburn missed 16 ft Jumper.
44 - 41
2:38
New Orleans Offensive Rebound.
44 - 41
2:30
Jamal Mashburn missed 5 ft Jumper. Blocked by Dale Davis.
44 - 41
2:29
Bonzi Wells Defensive Rebound.
44 - 41
2:24
Bonzi Wells made Two Point Shot.
44 - 43
2:24
Jamal Mashburn Shooting Foul
44 - 43
2:24
Bonzi Wells made Free Throw 1 of 1.
44 - 44
2:03
Stacey Augmon made Jumper. Assisted by Jamal Mashburn.
46 - 44
1:39
Derek Anderson made 7 ft Two Point Shot. Assisted by Rasheed Wallace.
46 - 46
1:31
New Orleans 20 Sec. Timeout.
46 - 46
1:31
Baron Davis enters the game for David Wesley.
46 - 46
1:14
Jamal Mashburn made 5 ft Jumper.
48 - 46
0:56
Bonzi Wells missed 20 ft Jumper.
48 - 46
0:55
Baron Davis Defensive Rebound.
48 - 46
0:51
Baron Davis Lost Ball. Stolen by Bonzi Wells.
48 - 46
0:47
Rasheed Wallace made Two Point Shot. Assisted by Bonzi Wells.
48 - 48
0:26
Derek Anderson Personal Foul
48 - 48
0:26
Baron Davis made Free Throw 1 of 2.
49 - 48
0:26
Baron Davis missed Free Throw 2 of 2.
49 - 48
0:26
Rasheed Wallace Defensive Rebound.
49 - 48
0:22
Portland 20 Sec. Timeout.
49 - 48
0:04
Bonzi Wells made Two Point Shot.
49 - 50
0:00
Baron Davis Lost Ball
49 - 50
0:00
Derek Anderson missed 46 ft Three Point Jumper.
49 - 50
0:00
Portland Offensive Rebound.
49 - 50
0:00
End of the 2nd Quarter.
49 - 50

time
TEAM
PLAY
SCORE
12:00
Start of the 3rd Quarter.
49 - 50
11:37
Jamal Mashburn missed 11 ft Jumper.
49 - 50
11:37
P.J. Brown Offensive Rebound.
49 - 50
11:36
P.J. Brown made Layup.
51 - 50
11:36
Rasheed Wallace Shooting Foul
51 - 50
11:36
P.J. Brown made Free Throw 1 of 1.
52 - 50
11:21
Jamal Mashburn Shooting Foul
52 - 50
11:21
Bonzi Wells made Free Throw 1 of 2.
52 - 51
11:21
Bonzi Wells made Free Throw 2 of 2.
52 - 52
11:07
Baron Davis made Jumper.
54 - 52
10:51
Rasheed Wallace made 22 ft Jumper. Assisted by Scottie Pippen.
54 - 54
10:41
New Orleans Full Timeout.
54 - 54
10:26
David Wesley missed 21 ft Jumper.
54 - 54
10:23
New Orleans Defensive Rebound.
54 - 54
10:03
Bonzi Wells missed 8 ft Two Point Shot.
54 - 54
10:02
P.J. Brown Defensive Rebound.
54 - 54
9:52
Baron Davis made Three Point Jumper. Assisted by P.J. Brown.
57 - 54
9:27
Bonzi Wells made Jumper.
57 - 56
9:11
Dale Davis Shooting Foul
57 - 56
9:11
Jamaal Magloire made Free Throw 1 of 2.
58 - 56
9:11
Jamaal Magloire made Free Throw 2 of 2.
59 - 56
9:00
Derek Anderson made Layup. Assisted by Bonzi Wells.
59 - 58
8:44
Jamal Mashburn Bad Pass. Stolen by Scottie Pippen.
59 - 58
8:27
Rasheed Wallace made Two Point Shot.
59 - 60
8:11
Jamaal Magloire Offensive Foul
59 - 60
8:11
Jamaal Magloire Foul
59 - 60
7:54
David Wesley Shooting Foul
59 - 60
7:54
Derek Anderson made Free Throw 1 of 2.
59 - 61
7:54
Derek Anderson made Free Throw 2 of 2.
59 - 62
7:43
Dale Davis Personal Foul
59 - 62
7:33
Baron Davis missed 9 ft Jumper. Blocked by Bonzi Wells.
59 - 62
7:33
Rasheed Wallace Defensive Rebound.
59 - 62
7:33
Baron Davis Personal Foul
59 - 62
7:18
Bonzi Wells missed 7 ft Jumper.
59 - 62
7:16
Dale Davis Offensive Rebound.
59 - 62
7:16
David Wesley Shooting Foul
59 - 62
7:16
Dale Davis missed Free Throw 1 of 2.
59 - 62
7:16
Portland Offensive Rebound.
59 - 62
7:16
Dale Davis missed Free Throw 2 of 2.
59 - 62
7:16
Jamal Mashburn Defensive Rebound.
59 - 62
6:56
Jamaal Magloire made Layup.
61 - 62
6:41
Jamaal Magloire Personal Foul
61 - 62
6:41
Dale Davis made Free Throw 1 of 2.
61 - 63
6:41
Dale Davis missed Free Throw 2 of 2.
61 - 63
6:41
Portland Defensive Rebound.
61 - 63
6:22
Jamaal Magloire Traveling
61 - 63
6:07
Rasheed Wallace made 25 ft Three Point Jumper. Assisted by Scottie Pippen.
61 - 66
5:46
David Wesley made 17 ft Jumper.
63 - 66
5:35
Jamal Mashburn Personal Foul
63 - 66
5:35
Scottie Pippen made Free Throw 1 of 2.
63 - 67
5:35
Stacey Augmon enters the game for Jamal Mashburn.
63 - 67
5:35
Scottie Pippen made Free Throw 2 of 2.
63 - 68
5:26
Scottie Pippen Personal Foul
63 - 68
5:16
David Wesley made 25 ft Three Point Jumper. Assisted by Baron Davis.
66 - 68
5:03
Stacey Augmon Personal Foul
66 - 68
5:03
Dale Davis missed Free Throw 1 of 2.
66 - 68
5:03
Portland Offensive Rebound.
66 - 68
5:03
Dale Davis missed Free Throw 2 of 2.
66 - 68
5:03
P.J. Brown Defensive Rebound.
66 - 68
4:50
David Wesley missed 23 ft Jumper.
66 - 68
4:50
Bonzi Wells Defensive Rebound.
66 - 68
4:45
Portland Full Timeout.
66 - 68
4:26
Rasheed Wallace Lost Ball. Stolen by Stacey Augmon.
66 - 68
4:26
Kicked Ball
66 - 68
4:13
Stacey Augmon missed 7 ft Jumper.
66 - 68
4:11
Rasheed Wallace Defensive Rebound.
66 - 68
3:59
Scottie Pippen made 24 ft Three Point Jumper. Assisted by Derek Anderson.
66 - 71
3:32
David Wesley missed 23 ft Three Point Jumper.
66 - 71
3:31
Rasheed Wallace Defensive Rebound.
66 - 71
3:15
Rasheed Wallace missed Two Point Shot.
66 - 71
3:12
Derek Anderson Offensive Rebound.
66 - 71
3:00
Derek Anderson made Three Point Jumper. Assisted by Scottie Pippen.
66 - 74
2:58
New Orleans Full Timeout.
66 - 74
2:58
Arvydas Sabonis enters the game for Dale Davis.
66 - 74
2:40
Baron Davis missed Two Point Shot.
66 - 74
2:38
Scottie Pippen Defensive Rebound.
66 - 74
2:27
Bonzi Wells Bad Pass. Stolen by Baron Davis.
66 - 74
2:21
Baron Davis made Two Point Shot.
68 - 74
2:00
Arvydas Sabonis missed Two Point Shot.
68 - 74
1:58
Jamaal Magloire Defensive Rebound.
68 - 74
1:46
Baron Davis Lost Ball. Stolen by Scottie Pippen.
68 - 74
1:34
Scottie Pippen missed 24 ft Three Point Jumper.
68 - 74
1:31
Derek Anderson Offensive Rebound.
68 - 74
1:31
Derek Anderson missed Layup.
68 - 74
1:30
Jamaal Magloire Defensive Rebound.
68 - 74
1:07
Baron Davis missed Two Point Shot.
68 - 74
1:06
Arvydas Sabonis Defensive Rebound.
68 - 74
0:47
Jeff McInnis enters the game for Scottie Pippen.
68 - 74
0:47
Jamal Mashburn enters the game for Baron Davis.
68 - 74
0:45
Derek Anderson missed 22 ft Jumper.
68 - 74
0:42
Portland Defensive Rebound.
68 - 74
0:32
Stacey Augmon missed 20 ft Jumper.
68 - 74
0:32
New Orleans Defensive Rebound.
68 - 74
0:32
Jamaal Magloire Loose Ball Foul
68 - 74
0:32
Arvydas Sabonis made Free Throw 1 of 2.
68 - 75
0:32
Zachary Randolph enters the game for Rasheed Wallace.
68 - 75
0:32
Arvydas Sabonis made Free Throw 2 of 2.
68 - 76
0:13
Stacey Augmon missed Jumper. Blocked by Arvydas Sabonis.
68 - 76
0:11
Zachary Randolph Defensive Rebound.
68 - 76
0:06
Derek Anderson missed Two Point Shot.
68 - 76
0:04
Jamal Mashburn Defensive Rebound.
68 - 76
0:00
End of the 3rd Quarter.
68 - 76

time
TEAM
PLAY
SCORE
12:00
Start of the 4th Quarter.
68 - 76
11:41
Bonzi Wells made 19 ft Jumper. Assisted by Zachary Randolph.
68 - 78
11:22
Elden Campbell missed 12 ft Jumper.
68 - 78
11:21
Robert Traylor Offensive Rebound.
68 - 78
11:18
Ruben Patterson enters the game for Derek Anderson.
68 - 78
11:07
Jamal Mashburn made 17 ft Jumper.
70 - 78
11:07
Bonzi Wells Shooting Foul
70 - 78
11:07
Jamal Mashburn made Free Throw 1 of 1.
71 - 78
11:07
Jamal Mashburn missed Free Throw 1 of 2.
71 - 78
10:52
Zachary Randolph Offensive Rebound.
71 - 78
10:33
Stacey Augmon made Layup.
73 - 78
10:19
Bonzi Wells made 23 ft Three Point Jumper.
73 - 81
10:02
Jamal Mashburn Bad Pass. Stolen by Jeff McInnis.
73 - 81
9:57
Ruben Patterson made Layup. Assisted by Jeff McInnis.
73 - 83
9:44
Arvydas Sabonis Personal Foul
73 - 83
9:44
Baron Davis enters the game for Stacey Augmon.
73 - 83
9:32
Courtney Alexander missed 24 ft Three Point Jumper.
73 - 83
9:27
Arvydas Sabonis Defensive Rebound.
73 - 83
9:15
Zachary Randolph missed 16 ft Jumper.
73 - 83
9:15
Jamal Mashburn Defensive Rebound.
73 - 83
9:11
Jeff McInnis Shooting Foul
73 - 83
9:11
Robert Traylor missed Free Throw 1 of 2.
73 - 83
9:11
New Orleans Offensive Rebound.
73 - 83
9:11
Robert Traylor made Free Throw 2 of 2.
74 - 83
9:00
Zachary Randolph missed 15 ft Jumper.
74 - 83
8:57
Baron Davis Defensive Rebound.
74 - 83
8:51
Jamal Mashburn made 24 ft Three Point Jumper. Assisted by Baron Davis.
77 - 83
8:49
Portland Full Timeout.
77 - 83
8:49
Rasheed Wallace enters the game for Zachary Randolph.
77 - 83
8:33
Bonzi Wells missed 13 ft Jumper.
77 - 83
8:32
Jamal Mashburn Defensive Rebound.
77 - 83
8:26
Baron Davis missed 21 ft Jumper.
77 - 83
8:26
Arvydas Sabonis Defensive Rebound.
77 - 83
8:11
Courtney Alexander Personal Foul
77 - 83
8:11
Scottie Pippen enters the game for Jeff McInnis.
77 - 83
8:07
Robert Traylor Shooting Foul
77 - 83
8:07
Bonzi Wells made Free Throw 1 of 2.
77 - 84
8:07
Bonzi Wells missed Free Throw 2 of 2.
77 - 84
8:07
Robert Traylor Defensive Rebound.
77 - 84
7:45
Baron Davis made 24 ft Three Point Jumper. Assisted by Elden Campbell.
80 - 84
7:31
Courtney Alexander Personal Foul
80 - 84
7:28
Bonzi Wells made Layup. Assisted by Arvydas Sabonis.
80 - 86
7:13
Arvydas Sabonis Illegal Defense Foul
80 - 86
7:13
Jamal Mashburn missed Technical Free Throw.
80 - 86
7:13
New Orleans Offensive Rebound.
80 - 86
7:13
George Lynch enters the game for Courtney Alexander.
80 - 86
7:05
Jamal Mashburn missed 20 ft Jumper.
80 - 86
7:01
Rasheed Wallace Defensive Rebound.
80 - 86
6:46
Rasheed Wallace missed 5 ft Jumper. Blocked by Elden Campbell.
80 - 86
6:43
Rasheed Wallace Offensive Rebound.
80 - 86
6:41
Rasheed Wallace made Layup.
80 - 88
6:24
Arvydas Sabonis Shooting Foul
80 - 88
6:24
Robert Traylor missed Free Throw 1 of 2.
80 - 88
6:24
New Orleans Offensive Rebound.
80 - 88
6:24
Robert Traylor made Free Throw 2 of 2.
81 - 88
6:11
Bonzi Wells made Layup. Assisted by Arvydas Sabonis.
81 - 90
5:54
Ruben Patterson Personal Foul
81 - 90
5:54
Official Timeout.
81 - 90
5:54
David Wesley enters the game for George Lynch.
81 - 90
5:54
Jamal Mashburn made Free Throw 1 of 2.
82 - 90
5:54
Jamal Mashburn made Free Throw 2 of 2.
83 - 90
5:35
Robert Traylor Shooting Foul
83 - 90
5:35
Arvydas Sabonis missed Free Throw 1 of 2.
83 - 90
5:35
Portland Offensive Rebound.
83 - 90
5:35
Arvydas Sabonis made Free Throw 2 of 2.
83 - 91
5:18
Jamal Mashburn Lost Ball. Stolen by Arvydas Sabonis.
83 - 91
5:03
Scottie Pippen missed Jumper.
83 - 91
5:01
Elden Campbell Defensive Rebound.
83 - 91
4:58
Baron Davis Bad Pass. Stolen by Arvydas Sabonis.
83 - 91
4:37
Rasheed Wallace missed 23 ft Three Point Jumper.
83 - 91
4:35
Elden Campbell Defensive Rebound.
83 - 91
4:15
Elden Campbell missed Jumper.
83 - 91
4:13
Arvydas Sabonis Defensive Rebound.
83 - 91
4:01
Scottie Pippen missed Two Point Shot.
83 - 91
3:59
Arvydas Sabonis Offensive Rebound.
83 - 91
3:57
Arvydas Sabonis made Layup.
83 - 93
3:36
Ruben Patterson Personal Foul
83 - 93
3:36
Jamal Mashburn made Free Throw 1 of 2.
84 - 93
3:36
P.J. Brown enters the game for Robert Traylor.
84 - 93
3:36
Jamaal Magloire enters the game for Elden Campbell.
84 - 93
3:36
Jamal Mashburn made Free Throw 2 of 2.
85 - 93
3:26
P.J. Brown Shooting Foul
85 - 93
3:26
Rasheed Wallace missed Free Throw 1 of 2.
85 - 93
3:26
Portland Offensive Rebound.
85 - 93
3:26
Rasheed Wallace made Free Throw 2 of 2.
85 - 94
3:06
P.J. Brown missed 11 ft Jumper.
85 - 94
3:04
Arvydas Sabonis Defensive Rebound.
85 - 94
3:04
Jamaal Magloire Personal Foul
85 - 94
3:04
Arvydas Sabonis made Free Throw 1 of 2.
85 - 95
3:04
Arvydas Sabonis made Free Throw 2 of 2.
85 - 96
2:50
Jamal Mashburn missed 8 ft Jumper.
85 - 96
2:48
Arvydas Sabonis Defensive Rebound.
85 - 96
2:38
Ruben Patterson made Two Point Shot. Assisted by Bonzi Wells.
85 - 98
2:17
Baron Davis missed Two Point Shot.
85 - 98
2:15
Arvydas Sabonis Defensive Rebound.
85 - 98
2:08
New Orleans Full Timeout.
85 - 98
1:53
David Wesley missed 3 ft Two Point Shot.
85 - 98
1:51
Rasheed Wallace Defensive Rebound.
85 - 98
1:32
Rasheed Wallace made 25 ft Three Point Jumper. Assisted by Bonzi Wells.
85 - 101
1:23
Baron Davis missed 23 ft Three Point Jumper.
85 - 101
1:22
New Orleans Offensive Rebound.
85 - 101
1:22
Zachary Randolph enters the game for Arvydas Sabonis.
85 - 101
1:22
Qyntel Woods enters the game for Scottie Pippen.
85 - 101
1:22
Jeff McInnis enters the game for Rasheed Wallace.
85 - 101
1:15
Jamaal Magloire made Layup.
87 - 101
1:15
Zachary Randolph Shooting Foul
87 - 101
1:15
Jamaal Magloire made Free Throw 1 of 1.
88 - 101
0:58
Bonzi Wells missed Layup. Blocked by Jamaal Magloire.
88 - 101
0:56
David Wesley Defensive Rebound.
88 - 101
0:50
Baron Davis made 24 ft Three Point Jumper. Assisted by David Wesley.
91 - 101
0:32
David Wesley Personal Foul
91 - 101
0:32
Bonzi Wells made Free Throw 1 of 2.
91 - 102
0:32
Bonzi Wells missed Free Throw 2 of 2.
91 - 102
0:31
P.J. Brown Defensive Rebound.
91 - 102
0:21
David Wesley made Two Point Shot.
93 - 102
0:00
End of the 4th Quarter.
93 - 102
0:00
End Game
93 - 102
0:00
End Game
93 - 102
Tim Legler thinks the trade sending Victor Oladipo, Ersan Ilyasova and the rights to Domantas Sabonis to Oklahoma City is exactly what the Thunder needed to improve the team on both ends of the court.

Kris Dunn's journey to the NBA was not an easy one. He honors his mother after getting drafted by the Timberwolves.

NBA commissioner Adam Silver acting like a rock star at the 2016 NBA Draft, but don't forget the days of David Stern getting booed out of the building.
2015-2016 Pacific Standings