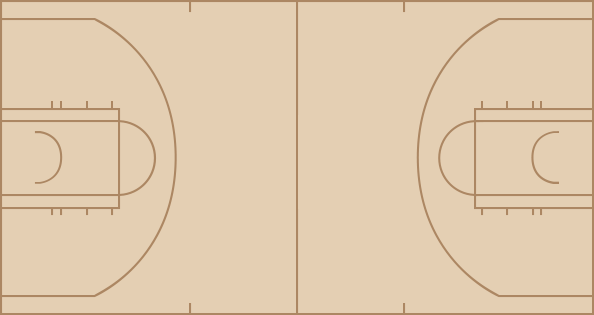 Jazz
time
TEAM
PLAY
SCORE
12:00
Start of the 1st Quarter.
0 - 0
12:00
Jumpball. Greg Ostertag vs. Pau Gasol. Lorenzen Wright gains possession.
0 - 0
11:51
Calbert Cheaney Personal Foul
0 - 0
11:38
Pau Gasol Lost Ball
0 - 0
11:18
Karl Malone made 16 ft Jumper. Assisted by John Stockton.
2 - 0
10:56
Jason Williams missed 25 ft Three Point Jumper.
2 - 0
10:55
Lorenzen Wright Offensive Rebound.
2 - 0
10:34
Pau Gasol Bad Pass. Stolen by John Stockton.
2 - 0
10:30
Matt Harpring made Layup. Assisted by John Stockton.
4 - 0
10:30
Defensive Goaltending
4 - 0
10:17
Lorenzen Wright Bad Pass. Stolen by John Stockton.
4 - 0
10:07
Calbert Cheaney missed 19 ft Jumper.
4 - 0
10:04
Lorenzen Wright Defensive Rebound.
4 - 0
9:53
Jason Williams missed 3 ft Jumper.
4 - 0
9:51
Matt Harpring Defensive Rebound.
4 - 0
9:45
John Stockton missed Layup.
4 - 0
9:44
Pau Gasol Defensive Rebound.
4 - 0
9:38
Jason Williams missed 17 ft Jumper.
4 - 0
9:37
Karl Malone Defensive Rebound.
4 - 0
9:12
Matt Harpring missed Layup. Blocked by Drew Gooden.
4 - 0
9:10
Drew Gooden Defensive Rebound.
4 - 0
9:06
Greg Ostertag Shooting Foul
4 - 0
9:06
Pau Gasol made Free Throw 1 of 2.
4 - 1
9:06
Pau Gasol missed Free Throw 2 of 2.
4 - 1
9:04
Karl Malone Defensive Rebound.
4 - 1
8:52
Karl Malone missed 5 ft Two Point Shot.
4 - 1
8:51
Utah Defensive Rebound.
4 - 1
8:37
Drew Gooden missed 13 ft Two Point Shot.
4 - 1
8:33
Karl Malone Defensive Rebound.
4 - 1
8:32
Jason Williams Shooting Foul
4 - 1
8:32
John Stockton made Free Throw 1 of 2.
5 - 1
8:32
John Stockton made Free Throw 2 of 2.
6 - 1
8:11
Karl Malone Loose Ball Foul
6 - 1
8:04
Jason Williams missed 25 ft Three Point Jumper.
6 - 1
8:02
Matt Harpring Defensive Rebound.
6 - 1
7:46
Karl Malone made Layup. Assisted by Matt Harpring.
8 - 1
7:31
Lorenzen Wright missed Layup. Blocked by Greg Ostertag.
8 - 1
7:28
Karl Malone Defensive Rebound.
8 - 1
7:24
Matt Harpring missed 12 ft Jumper.
8 - 1
7:22
Wesley Person Defensive Rebound.
8 - 1
7:16
Jason Williams missed 15 ft Jumper.
8 - 1
7:15
Karl Malone Defensive Rebound.
8 - 1
6:56
Matt Harpring Lost Ball. Stolen by Wesley Person.
8 - 1
6:48
Drew Gooden made 26 ft Three Point Jumper. Assisted by Jason Williams.
8 - 4
6:31
Jason Williams Personal Foul
8 - 4
6:31
Brevin Knight enters the game for Jason Williams.
8 - 4
6:24
Calbert Cheaney made Layup. Assisted by Karl Malone.
10 - 4
6:07
Pau Gasol made 5 ft Jumper. Assisted by Wesley Person.
10 - 6
5:52
Calbert Cheaney made Layup. Assisted by Greg Ostertag.
12 - 6
5:37
Drew Gooden missed 6 ft Hook Shot.
12 - 6
5:35
Greg Ostertag Defensive Rebound.
12 - 6
5:24
Matt Harpring missed Layup.
12 - 6
5:24
Utah Offensive Rebound.
12 - 6
5:24
Memphis Full Timeout.
12 - 6
5:24
Mark Jackson enters the game for John Stockton.
12 - 6
5:18
Greg Ostertag missed 9 ft Two Point Shot.
12 - 6
5:15
Lorenzen Wright Defensive Rebound.
12 - 6
5:13
Lorenzen Wright Bad Pass. Stolen by Karl Malone.
12 - 6
5:07
Karl Malone made 13 ft Jumper. Assisted by Mark Jackson.
14 - 6
4:43
Lorenzen Wright missed 14 ft Jumper. Blocked by Greg Ostertag.
14 - 6
4:41
Mark Jackson Defensive Rebound.
14 - 6
4:24
Calbert Cheaney missed 18 ft Jumper.
14 - 6
4:22
Greg Ostertag Offensive Rebound.
14 - 6
4:03
Drew Gooden Shooting Foul
14 - 6
4:03
Andrei Kirilenko enters the game for Calbert Cheaney.
14 - 6
4:03
Matt Harpring made Free Throw 1 of 2.
15 - 6
4:03
Matt Harpring made Free Throw 2 of 2.
16 - 6
3:51
Brevin Knight made 15 ft Jumper.
16 - 8
3:34
Mark Jackson Bad Pass
16 - 8
3:34
Stromile Swift enters the game for Drew Gooden.
16 - 8
3:34
Shane Battier enters the game for Wesley Person.
16 - 8
3:34
Gordan Giricek enters the game for Lorenzen Wright.
16 - 8
3:13
Pau Gasol missed Three Point Jumper.
16 - 8
3:10
Matt Harpring Defensive Rebound.
16 - 8
3:00
Greg Ostertag missed Layup.
16 - 8
2:59
Greg Ostertag Offensive Rebound.
16 - 8
2:41
Gordan Giricek Shooting Foul
16 - 8
2:41
Utah Full Timeout.
16 - 8
2:41
Matt Harpring missed Free Throw 1 of 2.
16 - 8
2:41
Utah Offensive Rebound.
16 - 8
2:41
Matt Harpring made Free Throw 2 of 2.
17 - 8
2:28
Brevin Knight missed Two Point Shot.
17 - 8
2:25
Mark Jackson Defensive Rebound.
17 - 8
2:02
Mark Jackson made 9 ft Two Point Shot.
19 - 8
1:46
Pau Gasol missed 5 ft Jumper.
19 - 8
1:43
Stromile Swift Offensive Rebound.
19 - 8
1:43
Stromile Swift missed Tip Shot.
19 - 8
1:43
Stromile Swift Offensive Rebound.
19 - 8
1:43
Greg Ostertag Loose Ball Foul
19 - 8
1:43
Tony Massenburg enters the game for Greg Ostertag.
19 - 8
1:23
Stromile Swift missed 12 ft Jumper.
19 - 8
1:20
Andrei Kirilenko Defensive Rebound.
19 - 8
1:05
Andrei Kirilenko missed Layup.
19 - 8
1:02
Andrei Kirilenko Offensive Rebound.
19 - 8
0:59
Andrei Kirilenko missed Layup. Blocked by Pau Gasol.
19 - 8
0:55
Tony Massenburg Offensive Rebound.
19 - 8
0:51
Tony Massenburg missed Layup.
19 - 8
0:51
Pau Gasol Defensive Rebound.
19 - 8
0:51
Mark Jackson Shooting Foul
19 - 8
0:51
Brevin Knight missed Free Throw 1 of 2.
19 - 8
0:51
Memphis Offensive Rebound.
19 - 8
0:51
Brevin Knight made Free Throw 2 of 2.
19 - 9
0:30
Andrei Kirilenko missed 21 ft Jumper.
19 - 9
0:28
Tony Massenburg Offensive Rebound.
19 - 9
0:26
Tony Massenburg missed Layup.
19 - 9
0:26
Matt Harpring Offensive Rebound.
19 - 9
0:26
Matt Harpring made Layup.
21 - 9
0:06
Gordan Giricek missed 23 ft Jumper.
21 - 9
0:04
Pau Gasol Offensive Rebound.
21 - 9
0:03
Tony Massenburg Shooting Foul
21 - 9
0:03
Stromile Swift missed Free Throw 1 of 2.
21 - 9
0:03
Memphis Offensive Rebound.
21 - 9
0:03
Stromile Swift made Free Throw 2 of 2.
21 - 10
0:03
Karl Malone Bad Pass
21 - 10
0:03
Scott Padgett enters the game for Karl Malone.
21 - 10
0:01
Andrei Kirilenko Shooting Foul
21 - 10
0:01
Pau Gasol missed Free Throw 1 of 2.
21 - 10
0:01
Memphis Offensive Rebound.
21 - 10
0:01
Pau Gasol made Free Throw 2 of 2.
21 - 11
0:00
Andrei Kirilenko missed 52 ft Three Point Jumper.
21 - 11
0:00
Utah Offensive Rebound.
21 - 11
0:00
End of the 1st Quarter.
21 - 11

time
TEAM
PLAY
SCORE
12:00
Start of the 2nd Quarter.
21 - 11
11:40
Tony Massenburg made 8 ft Two Point Shot. Assisted by Calbert Cheaney.
23 - 11
11:25
Gordan Giricek missed 16 ft Jumper.
23 - 11
11:22
Andrei Kirilenko Defensive Rebound.
23 - 11
11:18
Mark Jackson made Two Point Shot.
25 - 11
11:14
Memphis 20 Sec. Timeout.
25 - 11
11:03
Gordan Giricek missed Two Point Shot. Blocked by Scott Padgett.
25 - 11
10:59
Lorenzen Wright Offensive Rebound.
25 - 11
10:49
Brevin Knight missed Layup. Blocked by Tony Massenburg.
25 - 11
10:49
Memphis Offensive Rebound.
25 - 11
10:49
24 second
25 - 11
10:34
Scott Padgett Bad Pass
25 - 11
10:21
Lorenzen Wright missed Layup.
25 - 11
10:19
Stromile Swift Offensive Rebound.
25 - 11
10:17
Stromile Swift Lost Ball. Stolen by Andrei Kirilenko.
25 - 11
10:07
Calbert Cheaney Offensive Foul
25 - 11
10:07
Calbert Cheaney Foul
25 - 11
9:56
Lorenzen Wright made Two Point Shot. Assisted by Shane Battier.
25 - 13
9:41
Andrei Kirilenko made Two Point Shot. Assisted by Mark Jackson.
27 - 13
9:26
Shane Battier missed 19 ft Jumper.
27 - 13
9:25
Tony Massenburg Defensive Rebound.
27 - 13
9:21
Brevin Knight Personal Foul
27 - 13
9:10
Scott Padgett missed 26 ft Three Point Jumper.
27 - 13
9:07
Tony Massenburg Offensive Rebound.
27 - 13
9:04
Tony Massenburg Lost Ball. Stolen by Brevin Knight.
27 - 13
9:00
Shane Battier made Layup. Assisted by Brevin Knight.
27 - 15
8:42
Mark Jackson made 26 ft Three Point Jumper. Assisted by Calbert Cheaney.
30 - 15
8:26
Stromile Swift made 6 ft Two Point Shot. Assisted by Brevin Knight.
30 - 17
8:11
Tony Massenburg 3 second
30 - 17
8:11
Official Timeout.
30 - 17
8:11
John Stockton enters the game for Mark Jackson.
30 - 17
8:02
Shane Battier missed 17 ft Jumper.
30 - 17
7:58
Stromile Swift Offensive Rebound.
30 - 17
7:56
Shane Battier missed 8 ft Jumper.
30 - 17
7:56
Stromile Swift Offensive Rebound.
30 - 17
7:56
Calbert Cheaney Loose Ball Foul
30 - 17
7:56
Matt Harpring enters the game for Calbert Cheaney.
30 - 17
7:50
Gordan Giricek made 25 ft Three Point Jumper. Assisted by Brevin Knight.
30 - 20
7:37
Lorenzen Wright Illegal Defense Foul
30 - 20
7:37
Andrei Kirilenko made Technical Free Throw.
31 - 20
7:31
Lorenzen Wright Personal Foul
31 - 20
7:26
Matt Harpring Bad Pass. Stolen by Stromile Swift.
31 - 20
7:26
Matt Harpring Loose Ball Foul
31 - 20
7:18
Scott Padgett Personal Foul
31 - 20
7:18
Jason Williams enters the game for Brevin Knight.
31 - 20
7:18
Drew Gooden enters the game for Shane Battier.
31 - 20
7:18
Pau Gasol enters the game for Stromile Swift.
31 - 20
7:18
Karl Malone enters the game for Scott Padgett.
31 - 20
7:18
Greg Ostertag enters the game for Tony Massenburg.
31 - 20
7:09
Gordan Giricek Out of Bounds
31 - 20
6:50
Greg Ostertag made Jumper. Assisted by John Stockton.
33 - 20
6:30
Jason Williams missed 17 ft Jumper.
33 - 20
6:26
Drew Gooden Offensive Rebound.
33 - 20
6:24
Gordan Giricek missed 24 ft Three Point Jumper.
33 - 20
6:22
Karl Malone Defensive Rebound.
33 - 20
6:11
John Stockton made 19 ft Jumper. Assisted by Karl Malone.
35 - 20
5:54
Gordan Giricek missed Jumper.
35 - 20
5:52
Lorenzen Wright Offensive Rebound.
35 - 20
5:48
Drew Gooden missed 25 ft Three Point Jumper.
35 - 20
5:48
Greg Ostertag Defensive Rebound.
35 - 20
5:48
Pau Gasol Personal Foul
35 - 20
5:48
Memphis Full Timeout.
35 - 20
5:48
Wesley Person enters the game for Gordan Giricek.
35 - 20
5:35
Karl Malone made Layup. Assisted by John Stockton.
37 - 20
5:11
Wesley Person made 18 ft Jumper. Assisted by Jason Williams.
37 - 22
4:50
Lorenzen Wright Personal Foul
37 - 22
4:39
Matt Harpring made 10 ft Jumper. Assisted by John Stockton.
39 - 22
4:22
Drew Gooden Bad Pass. Stolen by Andrei Kirilenko.
39 - 22
4:15
Matt Harpring made Layup. Assisted by John Stockton.
41 - 22
4:13
Memphis Full Timeout.
41 - 22
3:53
Jason Williams missed 27 ft Three Point Jumper.
41 - 22
3:50
Karl Malone Defensive Rebound.
41 - 22
3:39
Andrei Kirilenko made Dunk. Assisted by John Stockton.
43 - 22
3:23
Lorenzen Wright made 14 ft Jumper. Assisted by Jason Williams.
43 - 24
3:02
Wesley Person Shooting Foul
43 - 24
3:02
John Amaechi enters the game for Greg Ostertag.
43 - 24
3:02
Andrei Kirilenko made Free Throw 1 of 2.
44 - 24
3:02
Andrei Kirilenko made Free Throw 2 of 2.
45 - 24
2:48
Drew Gooden Lost Ball. Stolen by Matt Harpring.
45 - 24
2:48
Drew Gooden Personal Foul
45 - 24
2:48
Matt Harpring made Free Throw 1 of 2.
46 - 24
2:48
Matt Harpring made Free Throw 2 of 2.
47 - 24
2:31
Matt Harpring Personal Foul
47 - 24
2:20
Lorenzen Wright made Jumper. Assisted by Jason Williams.
47 - 26
2:00
Andrei Kirilenko made 12 ft Jumper. Assisted by John Stockton.
49 - 26
1:40
Pau Gasol Lost Ball. Stolen by John Amaechi.
49 - 26
1:37
DeShawn Stevenson enters the game for Matt Harpring.
49 - 26
1:35
Andrei Kirilenko missed 16 ft Jumper.
49 - 26
1:31
Lorenzen Wright Defensive Rebound.
49 - 26
1:31
Andrei Kirilenko Personal Foul
49 - 26
1:31
Lorenzen Wright missed Free Throw 1 of 2.
49 - 26
1:31
Memphis Offensive Rebound.
49 - 26
1:31
Lorenzen Wright missed Free Throw 2 of 2.
49 - 26
1:30
Drew Gooden made Two Point Shot.
49 - 28
1:15
Karl Malone Offensive Rebound.
51 - 28
1:15
Karl Malone made 20 ft Jumper.
51 - 28
1:02
Drew Gooden Offensive Foul
51 - 28
1:02
Drew Gooden Foul
51 - 28
1:02
Shane Battier enters the game for Drew Gooden.
51 - 28
0:46
DeShawn Stevenson made 18 ft Jumper. Assisted by John Stockton.
53 - 28
0:33
Wesley Person missed 21 ft Jumper.
53 - 28
0:30
Karl Malone Defensive Rebound.
53 - 28
0:26
Pau Gasol Shooting Foul
53 - 28
0:26
Karl Malone made Free Throw 1 of 2.
54 - 28
0:26
Scott Padgett enters the game for Andrei Kirilenko.
54 - 28
0:26
Karl Malone missed Free Throw 2 of 2.
54 - 28
0:26
Utah Offensive Rebound.
54 - 28
0:26
Pau Gasol Loose Ball Foul
54 - 28
0:26
Stromile Swift enters the game for Pau Gasol.
54 - 28
0:26
Scott Padgett missed Free Throw 1 of 2.
54 - 28
0:26
Utah Offensive Rebound.
54 - 28
0:26
Scott Padgett missed Free Throw 2 of 2.
54 - 28
0:25
Lorenzen Wright Defensive Rebound.
54 - 28
0:05
Jason Williams made Three Point Jumper.
54 - 31
0:00
End of the 2nd Quarter.
54 - 31

time
TEAM
PLAY
SCORE
12:00
Start of the 3rd Quarter.
54 - 31
11:41
Jason Williams Shooting Foul
54 - 31
11:41
John Stockton made Free Throw 1 of 2.
55 - 31
11:41
John Stockton missed Free Throw 2 of 2.
55 - 31
11:40
Lorenzen Wright Defensive Rebound.
55 - 31
11:27
Jason Williams Bad Pass
55 - 31
11:26
Jason Williams Personal Foul
55 - 31
11:26
Brevin Knight enters the game for Jason Williams.
55 - 31
11:18
John Stockton missed 12 ft Jumper.
55 - 31
11:15
Lorenzen Wright Defensive Rebound.
55 - 31
10:55
Pau Gasol missed Layup.
55 - 31
10:52
Karl Malone Defensive Rebound.
55 - 31
10:42
Brevin Knight Shooting Foul
55 - 31
10:42
John Stockton made Free Throw 1 of 2.
56 - 31
10:42
John Stockton made Free Throw 2 of 2.
57 - 31
10:30
Lorenzen Wright Lost Ball. Stolen by John Stockton.
57 - 31
10:25
Matt Harpring missed Two Point Shot.
57 - 31
10:22
Drew Gooden Defensive Rebound.
57 - 31
10:18
Greg Ostertag Shooting Foul
57 - 31
10:18
Pau Gasol made Free Throw 1 of 2.
57 - 32
10:18
Pau Gasol made Free Throw 2 of 2.
57 - 33
9:59
Calbert Cheaney missed 10 ft Jumper.
57 - 33
9:56
Lorenzen Wright Defensive Rebound.
57 - 33
9:52
Drew Gooden Bad Pass. Stolen by John Stockton.
57 - 33
9:42
Calbert Cheaney Lost Ball. Stolen by Wesley Person.
57 - 33
9:26
Calbert Cheaney Personal Foul
57 - 33
9:26
Gordan Giricek enters the game for Wesley Person.
57 - 33
9:26
Andrei Kirilenko enters the game for Calbert Cheaney.
57 - 33
9:11
Gordan Giricek missed 19 ft Jumper.
57 - 33
9:08
Drew Gooden Offensive Rebound.
57 - 33
8:53
Brevin Knight made 18 ft Jumper. Assisted by Drew Gooden.
57 - 35
8:38
Andrei Kirilenko missed 20 ft Jumper.
57 - 35
8:37
Matt Harpring Offensive Rebound.
57 - 35
8:17
Matt Harpring Lost Ball. Stolen by Brevin Knight.
57 - 35
8:11
Gordan Giricek missed Jumper.
57 - 35
8:10
Memphis Defensive Rebound.
57 - 35
8:10
Earl Watson enters the game for Brevin Knight.
57 - 35
7:54
Lorenzen Wright Shooting Foul
57 - 35
7:54
Brevin Knight enters the game for Earl Watson.
57 - 35
7:54
Stromile Swift enters the game for Lorenzen Wright.
57 - 35
7:54
Karl Malone made Free Throw 1 of 2.
58 - 35
7:54
Karl Malone made Free Throw 2 of 2.
59 - 35
7:47
Greg Ostertag Shooting Foul
59 - 35
7:47
Tony Massenburg enters the game for Greg Ostertag.
59 - 35
7:47
Shane Battier enters the game for Drew Gooden.
59 - 35
7:47
Stromile Swift missed Free Throw 1 of 2.
59 - 35
7:47
Memphis Offensive Rebound.
59 - 35
7:47
Stromile Swift made Free Throw 2 of 2.
59 - 36
7:28
Gordan Giricek Personal Foul
59 - 36
7:28
John Stockton made Free Throw 1 of 2.
60 - 36
7:28
John Stockton missed Free Throw 2 of 2.
60 - 36
7:28
Pau Gasol Defensive Rebound.
60 - 36
7:28
Tony Massenburg Loose Ball Foul
60 - 36
7:05
Stromile Swift missed Layup.
60 - 36
7:03
Shane Battier Offensive Rebound.
60 - 36
7:03
24 second
60 - 36
7:00
Karl Malone Lost Ball. Stolen by Brevin Knight.
60 - 36
6:54
Brevin Knight Lost Ball. Stolen by Karl Malone.
60 - 36
6:54
Karl Malone made Layup.
62 - 36
6:54
Defensive Goaltending
62 - 36
6:41
Matt Harpring Personal Foul
62 - 36
6:41
Shane Battier made Free Throw 1 of 2.
62 - 37
6:41
Shane Battier missed Free Throw 2 of 2.
62 - 37
6:41
Karl Malone Defensive Rebound.
62 - 37
6:41
Pau Gasol Loose Ball Foul
62 - 37
6:41
Karl Malone made Free Throw 1 of 2.
63 - 37
6:41
Karl Malone made Free Throw 2 of 2.
64 - 37
6:33
Gordan Giricek Bad Pass. Stolen by Tony Massenburg.
64 - 37
6:11
Andrei Kirilenko missed 25 ft Three Point Jumper.
64 - 37
6:09
Pau Gasol Defensive Rebound.
64 - 37
6:05
Shane Battier missed Layup.
64 - 37
6:01
Karl Malone Defensive Rebound.
64 - 37
5:45
John Stockton Offensive Foul
64 - 37
5:45
John Stockton Foul
64 - 37
5:45
Memphis Full Timeout.
64 - 37
5:45
Mark Jackson enters the game for John Stockton.
64 - 37
5:35
Brevin Knight made 18 ft Jumper.
64 - 39
5:11
Matt Harpring missed 18 ft Jumper.
64 - 39
5:09
Tony Massenburg Offensive Rebound.
64 - 39
4:56
Tony Massenburg made 7 ft Hook Shot. Assisted by Mark Jackson.
66 - 39
4:41
Gordan Giricek Lost Ball. Stolen by Andrei Kirilenko.
66 - 39
4:35
Matt Harpring made 9 ft Jumper. Assisted by Mark Jackson.
68 - 39
4:11
Karl Malone Shooting Foul
68 - 39
4:11
Pau Gasol missed Free Throw 1 of 2.
68 - 39
4:11
Memphis Offensive Rebound.
68 - 39
4:11
Pau Gasol made Free Throw 2 of 2.
68 - 40
3:59
Tony Massenburg made Two Point Shot. Assisted by Karl Malone.
70 - 40
3:59
Brevin Knight Shooting Foul
70 - 40
3:59
Tony Massenburg made Free Throw 1 of 1.
71 - 40
3:50
Gordan Giricek Traveling
71 - 40
3:41
Brevin Knight Shooting Foul
71 - 40
3:41
Mark Jackson missed Free Throw 1 of 2.
71 - 40
3:41
Utah Offensive Rebound.
71 - 40
3:41
Earl Watson enters the game for Brevin Knight.
71 - 40
3:41
Mark Jackson made Free Throw 2 of 2.
72 - 40
3:21
Tony Massenburg Personal Foul
72 - 40
3:21
Stromile Swift missed Free Throw 1 of 2.
72 - 40
3:21
Memphis Offensive Rebound.
72 - 40
3:21
Stromile Swift made Free Throw 2 of 2.
72 - 41
3:03
Matt Harpring missed 18 ft Jumper.
72 - 41
3:00
Andrei Kirilenko Offensive Rebound.
72 - 41
2:49
Matt Harpring made Two Point Shot. Assisted by Karl Malone.
74 - 41
2:31
Pau Gasol made Two Point Shot.
74 - 43
2:11
Stromile Swift Shooting Foul
74 - 43
2:11
Utah Full Timeout.
74 - 43
2:11
Mike Batiste enters the game for Pau Gasol.
74 - 43
2:11
Tony Massenburg made Free Throw 1 of 2.
75 - 43
2:11
Tony Massenburg made Free Throw 2 of 2.
76 - 43
1:54
Karl Malone Personal Foul
76 - 43
1:54
Scott Padgett enters the game for Karl Malone.
76 - 43
1:54
Gordan Giricek made Free Throw 1 of 2.
76 - 44
1:54
Gordan Giricek made Free Throw 2 of 2.
76 - 45
1:39
Andrei Kirilenko missed 14 ft Jumper.
76 - 45
1:37
Matt Harpring Offensive Rebound.
76 - 45
1:31
Earl Watson Shooting Foul
76 - 45
1:31
Scott Padgett missed Free Throw 1 of 2.
76 - 45
1:31
Utah Offensive Rebound.
76 - 45
1:31
Scott Padgett made Free Throw 2 of 2.
77 - 45
1:16
Mike Batiste missed 17 ft Jumper.
77 - 45
1:15
Andrei Kirilenko Defensive Rebound.
77 - 45
1:02
Earl Watson Shooting Foul
77 - 45
1:02
Tony Massenburg made Free Throw 1 of 2.
78 - 45
1:02
Tony Massenburg made Free Throw 2 of 2.
79 - 45
0:52
Scott Padgett Shooting Foul
79 - 45
0:52
Stromile Swift missed Free Throw 1 of 2.
79 - 45
0:52
Memphis Offensive Rebound.
79 - 45
0:52
Stromile Swift made Free Throw 2 of 2.
79 - 46
0:38
Scott Padgett missed 25 ft Three Point Jumper.
79 - 46
0:36
Andrei Kirilenko Offensive Rebound.
79 - 46
0:35
Shane Battier Shooting Foul
79 - 46
0:35
Andrei Kirilenko made Free Throw 1 of 2.
80 - 46
0:35
Andrei Kirilenko made Free Throw 2 of 2.
81 - 46
0:19
Mike Batiste missed Jumper. Blocked by Andrei Kirilenko.
81 - 46
0:19
Memphis Offensive Rebound.
81 - 46
0:18
Mike Batiste made Layup. Assisted by Earl Watson.
81 - 48
0:18
Scott Padgett Shooting Foul
81 - 48
0:18
Mike Batiste missed Free Throw 1 of 1.
81 - 48
0:18
Andrei Kirilenko Defensive Rebound.
81 - 48
0:02
Mark Jackson missed Two Point Shot.
81 - 48
0:00
Stromile Swift Defensive Rebound.
81 - 48
0:00
End of the 3rd Quarter.
81 - 48

time
TEAM
PLAY
SCORE
12:00
Start of the 4th Quarter.
81 - 48
11:45
Mike Batiste made 19 ft Jumper. Assisted by Drew Gooden.
81 - 50
11:26
Tony Massenburg Traveling
81 - 50
11:14
Tony Massenburg Personal Foul
81 - 50
11:11
Stromile Swift made Dunk. Assisted by Jason Williams.
81 - 52
10:49
Scott Padgett made Dunk. Assisted by Mark Jackson.
83 - 52
10:26
Jason Williams missed 25 ft Three Point Jumper.
83 - 52
10:26
Memphis Defensive Rebound.
83 - 52
10:26
Mike Batiste Loose Ball Foul
83 - 52
10:15
Tony Massenburg Offensive Foul
83 - 52
10:15
Tony Massenburg Foul
83 - 52
10:15
John Amaechi enters the game for Tony Massenburg.
83 - 52
10:03
Mike Batiste made 5 ft Hook Shot. Assisted by Jason Williams.
83 - 54
9:45
Drew Gooden Personal Foul
83 - 54
9:38
John Amaechi made Layup. Assisted by Mark Jackson.
85 - 54
9:23
Scott Padgett Personal Foul
85 - 54
9:23
Carlos Arroyo enters the game for Calbert Cheaney.
85 - 54
9:18
Stromile Swift missed Layup.
85 - 54
9:15
Mike Batiste Offensive Rebound.
85 - 54
9:12
Andrei Kirilenko Shooting Foul
85 - 54
9:12
Earl Watson made Free Throw 1 of 2.
85 - 55
9:12
Earl Watson made Free Throw 2 of 2.
85 - 56
8:59
Mike Batiste Personal Foul
85 - 56
8:59
Official Timeout.
85 - 56
8:52
Andrei Kirilenko missed 15 ft Jumper.
85 - 56
8:49
Mike Batiste Defensive Rebound.
85 - 56
8:33
Drew Gooden missed Layup. Blocked by Andrei Kirilenko.
85 - 56
8:30
John Amaechi Defensive Rebound.
85 - 56
8:23
John Amaechi Lost Ball. Stolen by Mike Batiste.
85 - 56
8:19
Earl Watson Bad Pass
85 - 56
8:19
DeShawn Stevenson enters the game for Mark Jackson.
85 - 56
7:58
Jason Williams Personal Foul
85 - 56
7:50
DeShawn Stevenson made 16 ft Jumper. Assisted by Carlos Arroyo.
87 - 56
7:33
Drew Gooden Lost Ball. Stolen by Andrei Kirilenko.
87 - 56
7:28
Drew Gooden Shooting Foul
87 - 56
7:28
Shane Battier enters the game for Drew Gooden.
87 - 56
7:28
Andrei Kirilenko made Free Throw 1 of 2.
88 - 56
7:28
Andrei Kirilenko made Free Throw 2 of 2.
89 - 56
7:15
Mike Batiste missed Three Point Jumper.
89 - 56
7:13
John Amaechi Defensive Rebound.
89 - 56
6:56
John Amaechi made 6 ft Two Point Shot. Assisted by Andrei Kirilenko.
91 - 56
6:39
Mike Batiste made 8 ft Two Point Shot. Assisted by Earl Watson.
91 - 58
6:13
Carlos Arroyo Bad Pass. Stolen by Earl Watson.
91 - 58
6:09
Earl Watson made Layup. Assisted by Mike Batiste.
91 - 60
5:46
Scott Padgett missed Layup. Blocked by Shane Battier.
91 - 60
5:41
Earl Watson Defensive Rebound.
91 - 60
5:39
Stromile Swift missed Layup.
91 - 60
5:37
DeShawn Stevenson Defensive Rebound.
91 - 60
5:35
Andrei Kirilenko made Layup. Assisted by DeShawn Stevenson.
93 - 60
5:26
Memphis Full Timeout.
93 - 60
5:26
Tony Massenburg enters the game for Andrei Kirilenko.
93 - 60
5:26
Cezary Trybanski enters the game for Stromile Swift.
93 - 60
5:18
Shane Battier missed 6 ft Two Point Shot.
93 - 60
5:13
Carlos Arroyo Defensive Rebound.
93 - 60
5:11
Carlos Arroyo missed 10 ft Two Point Shot.
93 - 60
5:07
Earl Watson Defensive Rebound.
93 - 60
4:56
Mike Batiste missed 16 ft Jumper.
93 - 60
4:54
Memphis Defensive Rebound.
93 - 60
4:35
Carlos Arroyo made 20 ft Jumper.
95 - 60
4:11
Shane Battier missed 14 ft Jumper.
95 - 60
4:09
Tony Massenburg Defensive Rebound.
95 - 60
4:00
John Amaechi made Two Point Shot. Assisted by Scott Padgett.
97 - 60
4:00
Cezary Trybanski Shooting Foul
97 - 60
4:00
John Amaechi missed Free Throw 1 of 1.
97 - 60
3:56
Shane Battier Defensive Rebound.
97 - 60
3:47
Shane Battier made 26 ft Three Point Jumper. Assisted by Jason Williams.
97 - 63
3:20
Shane Battier Shooting Foul
97 - 63
3:20
DeShawn Stevenson made Free Throw 1 of 2.
98 - 63
3:20
DeShawn Stevenson made Free Throw 2 of 2.
99 - 63
3:10
Shane Battier made 23 ft Three Point Jumper. Assisted by Jason Williams.
99 - 66
2:51
Carlos Arroyo missed 17 ft Jumper.
99 - 66
2:49
Shane Battier Defensive Rebound.
99 - 66
2:40
Cezary Trybanski Lost Ball. Stolen by John Amaechi.
99 - 66
2:33
Carlos Arroyo made 14 ft Jumper. Assisted by DeShawn Stevenson.
101 - 66
2:12
Jason Williams made 19 ft Jumper.
101 - 68
1:47
DeShawn Stevenson missed Layup.
101 - 68
1:46
Tony Massenburg Offensive Rebound.
101 - 68
1:45
Tony Massenburg Bad Pass. Stolen by Earl Watson.
101 - 68
1:39
Earl Watson made Two Point Shot. Assisted by Jason Williams.
101 - 70
1:22
Carlos Arroyo missed 25 ft Three Point Jumper.
101 - 70
1:17
Mike Batiste Defensive Rebound.
101 - 70
1:13
Shane Battier missed 26 ft Three Point Jumper.
101 - 70
1:09
Carlos Arroyo Defensive Rebound.
101 - 70
1:08
DeShawn Stevenson made Dunk. Assisted by Carlos Arroyo.
103 - 70
0:49
Mike Batiste made Jumper. Assisted by Earl Watson.
103 - 72
0:29
John Amaechi missed 7 ft Two Point Shot.
103 - 72
0:26
Earl Watson Defensive Rebound.
103 - 72
0:22
Shane Battier made Two Point Shot. Assisted by Earl Watson.
103 - 74
0:00
End of the 4th Quarter.
103 - 74
0:00
End Game
103 - 74
0:00
End Game
103 - 74
We examine what the USA men's Olympic basketball team starting lineup would be if it was based on PER.

Bulls GM Gar Forman welcomed rookie Denzel Washington to the club Monday, and also acknowledged the end of an era in Chicago.

The wife of Rockets coach Mike D'Antoni was forced from her home and had to be rescued by boat during last week's floods in West Virginia.
Regular Season Series
UTAH wins series 3-1