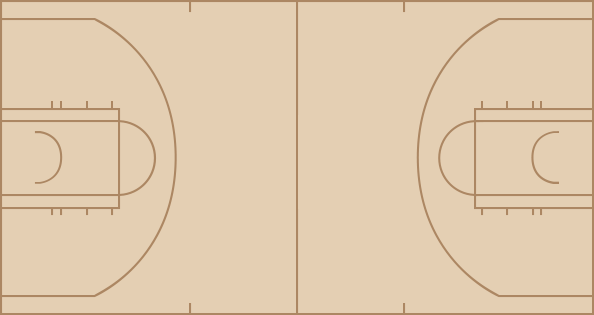 Kings
time
TEAM
PLAY
SCORE
12:00
Start of the 1st Quarter.
0 - 0
12:00
Jumpball. Vlade Divac vs. Kevin Garnett. Troy Hudson gains possession.
0 - 0
11:47
Joe Smith missed 18 ft Jumper.
0 - 0
11:45
Peja Stojakovic Defensive Rebound.
0 - 0
11:33
Vlade Divac Bad Pass
0 - 0
11:23
Kevin Garnett made 8 ft Two Point Shot. Assisted by Troy Hudson.
0 - 2
11:03
Chris Webber Bad Pass. Stolen by Radoslav Nesterovic.
0 - 2
10:57
Radoslav Nesterovic made Layup. Assisted by Troy Hudson.
0 - 4
10:42
Chris Webber made 19 ft Jumper. Assisted by Mike Bibby.
2 - 4
10:27
Joe Smith made Layup. Assisted by Kevin Garnett.
2 - 6
10:11
Doug Christie missed 21 ft Jumper.
2 - 6
10:07
Kevin Garnett Defensive Rebound.
2 - 6
10:00
Troy Hudson missed 22 ft Jumper.
2 - 6
9:57
Kevin Garnett Offensive Rebound.
2 - 6
9:56
Kevin Garnett missed Dunk.
2 - 6
9:56
Doug Christie Defensive Rebound.
2 - 6
9:47
Peja Stojakovic missed 24 ft Three Point Jumper.
2 - 6
9:45
Kendall Gill Defensive Rebound.
2 - 6
9:33
Troy Hudson Bad Pass. Stolen by Chris Webber.
2 - 6
9:27
Peja Stojakovic made Layup. Assisted by Mike Bibby.
4 - 6
9:06
Joe Smith made Layup. Assisted by Radoslav Nesterovic.
4 - 8
8:56
Peja Stojakovic made Two Point Shot. Assisted by Doug Christie.
6 - 8
8:41
Kendall Gill made 15 ft Jumper. Assisted by Radoslav Nesterovic.
6 - 10
8:29
Chris Webber missed 19 ft Jumper.
6 - 10
8:26
Kendall Gill Defensive Rebound.
6 - 10
8:22
Joe Smith made Layup. Assisted by Kevin Garnett.
6 - 12
8:04
Mike Bibby missed 17 ft Jumper.
6 - 12
8:03
Kendall Gill Defensive Rebound.
6 - 12
7:58
Troy Hudson made 13 ft Two Point Shot. Assisted by Kendall Gill.
6 - 14
7:43
Vlade Divac missed 6 ft Jumper.
6 - 14
7:41
Sacramento Defensive Rebound.
6 - 14
7:28
Kevin Garnett missed 7 ft Jumper.
6 - 14
7:28
Chris Webber Defensive Rebound.
6 - 14
7:20
Chris Webber missed 20 ft Jumper.
6 - 14
7:20
Kevin Garnett Defensive Rebound.
6 - 14
7:13
Minnesota Full Timeout.
6 - 14
6:58
Kendall Gill Lost Ball
6 - 14
6:48
Chris Webber made Two Point Shot. Assisted by Mike Bibby.
8 - 14
6:35
Kendall Gill made 17 ft Jumper.
8 - 16
6:22
Mike Bibby Bad Pass. Stolen by Troy Hudson.
8 - 16
6:16
Doug Christie Personal Foul
8 - 16
6:01
Joe Smith made 20 ft Jumper.
8 - 18
5:41
Peja Stojakovic made 19 ft Two Point Shot.
10 - 18
5:28
Kevin Garnett Traveling
10 - 18
5:13
Mike Bibby missed 7 ft Jumper.
10 - 18
5:13
Kevin Garnett Defensive Rebound.
10 - 18
5:05
Radoslav Nesterovic missed 14 ft Jumper.
10 - 18
5:03
Peja Stojakovic Defensive Rebound.
10 - 18
4:50
Chris Webber missed 19 ft Jumper.
10 - 18
4:48
Kevin Garnett Defensive Rebound.
10 - 18
4:39
Troy Hudson missed 25 ft Three Point Jumper.
10 - 18
4:37
Vlade Divac Defensive Rebound.
10 - 18
4:22
Peja Stojakovic made 20 ft Jumper.
12 - 18
4:05
Kendall Gill missed 20 ft Jumper.
12 - 18
4:03
Kendall Gill Offensive Rebound.
12 - 18
3:59
Radoslav Nesterovic made 8 ft Hook Shot. Assisted by Kendall Gill.
12 - 20
3:41
Vlade Divac made Layup. Assisted by Chris Webber.
14 - 20
3:23
Troy Hudson made 19 ft Jumper. Assisted by Kevin Garnett.
14 - 22
3:15
Kevin Garnett Personal Foul
14 - 22
3:02
Troy Hudson Personal Foul
14 - 22
2:55
Chris Webber missed 7 ft Jumper.
14 - 22
2:54
Sacramento Defensive Rebound.
14 - 22
2:54
Sacramento Full Timeout.
14 - 22
2:54
Keon Clark enters the game for Vlade Divac.
14 - 22
2:45
Troy Hudson missed Layup.
14 - 22
2:44
Radoslav Nesterovic Offensive Rebound.
14 - 22
2:41
Radoslav Nesterovic made 5 ft Jumper.
14 - 24
2:26
Mike Bibby missed 21 ft Jumper.
14 - 24
2:25
Radoslav Nesterovic Defensive Rebound.
14 - 24
2:16
Kevin Garnett Offensive Foul
14 - 24
2:16
Kevin Garnett Foul
14 - 24
2:16
Wally Szczerbiak enters the game for Kevin Garnett.
14 - 24
2:05
Chris Webber made 8 ft Two Point Shot.
16 - 24
1:38
Troy Hudson missed 21 ft Jumper.
16 - 24
1:36
Keon Clark Defensive Rebound.
16 - 24
1:30
Chris Webber made Two Point Shot. Assisted by Mike Bibby.
18 - 24
1:10
Radoslav Nesterovic Lost Ball. Stolen by Doug Christie.
18 - 24
1:07
Wally Szczerbiak Personal Foul
18 - 24
1:07
Jim Jackson enters the game for Peja Stojakovic.
18 - 24
1:00
Mike Bibby missed 20 ft Jumper.
18 - 24
0:59
Joe Smith Defensive Rebound.
18 - 24
0:48
Joe Smith made 20 ft Jumper. Assisted by Troy Hudson.
18 - 26
0:35
Mike Bibby Offensive Foul
18 - 26
0:35
Mike Bibby Foul
18 - 26
0:25
Wally Szczerbiak Offensive Foul
18 - 26
0:25
Wally Szczerbiak Foul
18 - 26
0:05
Joe Smith Shooting Foul
18 - 26
0:05
Mike Bibby missed Free Throw 1 of 2.
18 - 26
0:05
Sacramento Offensive Rebound.
18 - 26
0:05
Mike Bibby made Free Throw 2 of 2.
19 - 26
0:01
Kendall Gill missed 18 ft Jumper.
19 - 26
0:00
Minnesota Offensive Rebound.
19 - 26
0:00
End of the 1st Quarter.
19 - 26

time
TEAM
PLAY
SCORE
12:00
Start of the 2nd Quarter.
19 - 26
11:48
Jim Jackson Offensive Foul
19 - 26
11:48
Jim Jackson Foul
19 - 26
11:30
Marc Jackson made 13 ft Two Point Shot. Assisted by Troy Hudson.
19 - 28
11:12
Keon Clark made Two Point Shot. Assisted by Chris Webber.
21 - 28
10:57
Anthony Peeler Bad Pass. Stolen by Chris Webber.
21 - 28
10:42
Jim Jackson missed 21 ft Jumper.
21 - 28
10:41
Joe Smith Defensive Rebound.
21 - 28
10:18
Troy Hudson made 18 ft Jumper. Assisted by Anthony Peeler.
21 - 30
9:59
Chris Webber missed 6 ft Jumper.
21 - 30
9:56
Keon Clark Offensive Rebound.
23 - 30
9:56
Keon Clark made Tip Shot.
23 - 30
9:37
Marc Jackson missed 20 ft Jumper.
23 - 30
9:37
Jim Jackson Defensive Rebound.
23 - 30
9:26
Damon Jones made 22 ft Three Point Jumper. Assisted by Jim Jackson.
26 - 30
9:04
Joe Smith made 19 ft Jumper. Assisted by Troy Hudson.
26 - 32
8:47
Chris Webber missed Jumper.
26 - 32
8:45
Wally Szczerbiak Defensive Rebound.
26 - 32
8:22
Troy Hudson missed 25 ft Three Point Jumper.
26 - 32
8:19
Jim Jackson Defensive Rebound.
26 - 32
8:12
Chris Webber missed 17 ft Jumper.
26 - 32
8:11
Troy Hudson Defensive Rebound.
26 - 32
8:04
Minnesota Full Timeout.
26 - 32
8:04
Gary Trent enters the game for Joe Smith.
26 - 32
8:04
Rod Strickland enters the game for Troy Hudson.
26 - 32
8:04
Kevin Garnett enters the game for Wally Szczerbiak.
26 - 32
8:04
Hedo Turkoglu enters the game for Chris Webber.
26 - 32
8:04
Vlade Divac enters the game for Doug Christie.
26 - 32
7:56
Rod Strickland missed 9 ft Jumper.
26 - 32
7:54
Minnesota Defensive Rebound.
26 - 32
7:37
Keon Clark made Two Point Shot.
28 - 32
7:24
Kevin Garnett made 12 ft Two Point Shot. Assisted by Marc Jackson.
28 - 34
7:01
Jim Jackson missed 18 ft Jumper.
28 - 34
7:00
Marc Jackson Defensive Rebound.
28 - 34
6:35
Marc Jackson made 14 ft Two Point Shot.
28 - 36
6:20
Vlade Divac missed 6 ft Jumper.
28 - 36
6:18
Gary Trent Defensive Rebound.
28 - 36
6:05
Rod Strickland made 20 ft Jumper. Assisted by Kevin Garnett.
28 - 38
5:41
Vlade Divac missed 21 ft Jumper.
28 - 38
5:39
Gary Trent Defensive Rebound.
28 - 38
5:35
Vlade Divac Personal Foul
28 - 38
5:35
Full Timeout.
28 - 38
5:35
Mike Bibby enters the game for Jim Jackson.
28 - 38
5:35
Peja Stojakovic enters the game for Damon Jones.
28 - 38
5:20
Gary Trent missed Jumper.
28 - 38
5:18
Kevin Garnett Offensive Rebound.
28 - 40
5:18
Kevin Garnett made Tip Shot.
28 - 40
5:03
Mike Bibby missed 8 ft Jumper.
28 - 40
5:03
Gary Trent Defensive Rebound.
28 - 40
5:01
Gary Trent Lost Ball
28 - 40
4:54
Peja Stojakovic missed 10 ft Jumper.
28 - 40
4:52
Hedo Turkoglu Offensive Rebound.
28 - 40
4:48
Hedo Turkoglu missed Jumper.
28 - 40
4:46
Gary Trent Defensive Rebound.
28 - 40
4:31
Kevin Garnett missed 16 ft Jumper.
28 - 40
4:30
Vlade Divac Defensive Rebound.
28 - 40
4:20
Keon Clark made 18 ft Jumper. Assisted by Mike Bibby.
30 - 40
4:03
Rod Strickland made 18 ft Jumper.
30 - 42
3:46
Hedo Turkoglu missed Layup.
30 - 42
3:45
Kevin Garnett Defensive Rebound.
30 - 42
3:33
Anthony Peeler missed Jumper.
30 - 42
3:31
Marc Jackson Offensive Rebound.
30 - 42
3:31
Marc Jackson missed Layup. Blocked by Keon Clark.
30 - 42
3:29
Marc Jackson Offensive Rebound.
30 - 42
3:26
Marc Jackson missed Layup.
30 - 42
3:25
Marc Jackson Offensive Rebound.
30 - 44
3:25
Marc Jackson made Tip Shot.
30 - 44
3:18
Sacramento Full Timeout.
30 - 44
3:18
Chris Webber enters the game for Hedo Turkoglu.
30 - 44
3:18
Doug Christie enters the game for Vlade Divac.
30 - 44
3:06
Keon Clark missed 17 ft Jumper.
30 - 44
3:05
Rod Strickland Defensive Rebound.
30 - 44
2:53
Marc Jackson missed Layup.
30 - 44
2:51
Chris Webber Defensive Rebound.
30 - 44
2:47
Keon Clark made Layup. Assisted by Peja Stojakovic.
32 - 44
2:28
Gary Trent missed 16 ft Jumper.
32 - 44
2:26
Peja Stojakovic Defensive Rebound.
32 - 44
2:16
Chris Webber missed 21 ft Jumper.
32 - 44
2:15
Rod Strickland Defensive Rebound.
32 - 44
1:54
Marc Jackson made 16 ft Two Point Shot.
32 - 46
1:42
Peja Stojakovic missed 25 ft Three Point Jumper.
32 - 46
1:39
Chris Webber Offensive Rebound.
32 - 46
1:38
Chris Webber missed Jumper.
32 - 46
1:37
Keon Clark Offensive Rebound.
32 - 46
1:37
Keon Clark missed Layup.
32 - 46
1:36
Keon Clark Offensive Rebound.
32 - 46
1:36
Keon Clark missed Layup.
32 - 46
1:35
Peja Stojakovic Offensive Rebound.
32 - 46
1:35
Marc Jackson Shooting Foul
32 - 46
1:35
Troy Hudson enters the game for Rod Strickland.
32 - 46
1:35
Kendall Gill enters the game for Anthony Peeler.
32 - 46
1:35
Radoslav Nesterovic enters the game for Marc Jackson.
32 - 46
1:35
Peja Stojakovic made Free Throw 1 of 2.
33 - 46
1:35
Peja Stojakovic made Free Throw 2 of 2.
34 - 46
1:23
Radoslav Nesterovic missed 21 ft Jumper.
34 - 46
1:22
Gary Trent Offensive Rebound.
34 - 46
1:15
Radoslav Nesterovic missed 7 ft Jumper. Blocked by Chris Webber.
34 - 46
1:14
Minnesota Offensive Rebound.
34 - 46
1:13
Joe Smith enters the game for Kevin Garnett.
34 - 46
1:06
Radoslav Nesterovic Offensive Foul
34 - 46
1:06
Radoslav Nesterovic Foul
34 - 46
0:57
Mike Bibby missed 20 ft Jumper.
34 - 46
0:55
Gary Trent Defensive Rebound.
34 - 46
0:40
Radoslav Nesterovic Traveling
34 - 46
0:27
Doug Christie missed 26 ft Three Point Jumper.
34 - 46
0:25
Gary Trent Defensive Rebound.
34 - 46
0:16
Minnesota 20 Sec. Timeout.
34 - 46
0:16
Anthony Peeler enters the game for Gary Trent.
34 - 46
0:03
Radoslav Nesterovic missed 7 ft Jumper.
34 - 46
0:01
Peja Stojakovic Defensive Rebound.
34 - 46
0:00
Peja Stojakovic missed 54 ft Three Point Jumper.
34 - 46
0:00
Sacramento Offensive Rebound.
34 - 46
0:00
End of the 2nd Quarter.
34 - 46

time
TEAM
PLAY
SCORE
12:00
Start of the 3rd Quarter.
34 - 46
11:48
Mike Bibby missed 19 ft Jumper.
34 - 46
11:47
Kevin Garnett Defensive Rebound.
34 - 46
11:34
Troy Hudson Lost Ball. Stolen by Peja Stojakovic.
34 - 46
11:30
Radoslav Nesterovic Personal Foul
34 - 46
11:21
Vlade Divac missed 6 ft Jumper. Blocked by Joe Smith.
34 - 46
11:18
Joe Smith Defensive Rebound.
34 - 46
11:15
Mike Bibby Shooting Foul
34 - 46
11:15
Kendall Gill made Free Throw 1 of 2.
34 - 47
11:15
Kendall Gill missed Free Throw 2 of 2.
34 - 47
11:14
Chris Webber Defensive Rebound.
34 - 47
10:56
Peja Stojakovic made 24 ft Three Point Jumper. Assisted by Vlade Divac.
37 - 47
10:45
Kendall Gill missed 17 ft Jumper.
37 - 47
10:42
Chris Webber Defensive Rebound.
37 - 47
10:33
Doug Christie made Layup.
39 - 47
10:11
Joe Smith missed Layup. Blocked by Chris Webber.
39 - 47
10:08
Doug Christie Defensive Rebound.
39 - 47
10:06
Peja Stojakovic made Layup. Assisted by Mike Bibby.
41 - 47
9:57
Minnesota 20 Sec. Timeout.
41 - 47
9:45
Kevin Garnett Bad Pass. Stolen by Doug Christie.
41 - 47
9:42
Doug Christie made Dunk. Assisted by Peja Stojakovic.
43 - 47
9:25
Kevin Garnett made 18 ft Two Point Shot. Assisted by Kendall Gill.
43 - 49
9:15
Chris Webber missed 17 ft Jumper.
43 - 49
9:14
Troy Hudson Defensive Rebound.
43 - 49
9:04
Kendall Gill missed 18 ft Jumper.
43 - 49
9:03
Chris Webber Defensive Rebound.
43 - 49
8:59
Mike Bibby made Two Point Shot.
45 - 49
8:41
Radoslav Nesterovic made Hook Shot. Assisted by Joe Smith.
45 - 51
8:32
Joe Smith Shooting Foul
45 - 51
8:32
Chris Webber missed Free Throw 1 of 2.
45 - 51
8:32
Sacramento Offensive Rebound.
45 - 51
8:32
Chris Webber made Free Throw 2 of 2.
46 - 51
8:19
Troy Hudson missed 13 ft Jumper.
46 - 51
8:17
Vlade Divac Defensive Rebound.
46 - 51
8:12
Chris Webber made Dunk. Assisted by Mike Bibby.
48 - 51
7:54
Kevin Garnett made 11 ft Two Point Shot. Assisted by Troy Hudson.
48 - 53
7:43
Vlade Divac made Layup. Assisted by Mike Bibby.
50 - 53
7:28
Peja Stojakovic Illegal Defense Foul
50 - 53
7:28
Kevin Garnett missed Technical Free Throw.
50 - 53
7:28
Minnesota Offensive Rebound.
50 - 53
7:22
Radoslav Nesterovic missed 20 ft Jumper.
50 - 53
7:20
Mike Bibby Defensive Rebound.
50 - 53
7:18
Troy Hudson Shooting Foul
50 - 53
7:18
Chris Webber made Free Throw 1 of 2.
51 - 53
7:18
Minnesota Full Timeout.
51 - 53
7:18
Wally Szczerbiak enters the game for Kendall Gill.
51 - 53
7:18
Chris Webber made Free Throw 2 of 2.
52 - 53
7:01
Joe Smith made 18 ft Jumper. Assisted by Kevin Garnett.
52 - 55
6:48
Doug Christie missed 23 ft Three Point Jumper.
52 - 55
6:46
Radoslav Nesterovic Defensive Rebound.
52 - 55
6:35
Joe Smith missed 18 ft Jumper.
52 - 55
6:33
Mike Bibby Defensive Rebound.
52 - 55
6:31
Doug Christie made Two Point Shot. Assisted by Mike Bibby.
54 - 55
6:16
Chris Webber Shooting Foul
54 - 55
6:16
Radoslav Nesterovic made Free Throw 1 of 2.
54 - 56
6:16
Radoslav Nesterovic made Free Throw 2 of 2.
54 - 57
6:03
Wally Szczerbiak Shooting Foul
54 - 57
6:03
Vlade Divac made Free Throw 1 of 2.
55 - 57
6:03
Vlade Divac made Free Throw 2 of 2.
56 - 57
5:48
Kevin Garnett missed 13 ft Jumper.
56 - 57
5:45
Joe Smith Offensive Rebound.
56 - 59
5:45
Joe Smith made Tip Shot.
56 - 59
5:26
Peja Stojakovic missed 26 ft Three Point Jumper.
56 - 59
5:26
Joe Smith Defensive Rebound.
56 - 59
5:20
Peja Stojakovic Personal Foul
56 - 59
5:20
Kevin Garnett Double Technical Foul. Peja Stojakovic gains possession.
56 - 59
5:15
Chris Webber Shooting Foul
56 - 59
5:15
Radoslav Nesterovic made Free Throw 1 of 2.
56 - 60
5:15
Radoslav Nesterovic missed Free Throw 2 of 2.
56 - 60
5:13
Kevin Garnett Offensive Rebound.
56 - 60
5:13
Vlade Divac Shooting Foul
56 - 60
5:13
Kevin Garnett missed Free Throw 1 of 2.
56 - 60
5:13
Minnesota Offensive Rebound.
56 - 60
5:13
Kevin Garnett made Free Throw 2 of 2.
56 - 61
5:00
Peja Stojakovic made 26 ft Three Point Jumper. Assisted by Chris Webber.
59 - 61
4:46
Radoslav Nesterovic Lost Ball. Stolen by Chris Webber.
59 - 61
4:39
Peja Stojakovic made 23 ft Three Point Jumper. Assisted by Mike Bibby.
62 - 61
4:20
Peja Stojakovic Personal Foul
62 - 61
4:20
Rod Strickland enters the game for Troy Hudson.
62 - 61
4:20
Joe Smith made Free Throw 1 of 2.
62 - 62
4:20
Joe Smith made Free Throw 2 of 2.
62 - 63
4:07
Chris Webber missed 12 ft Jumper. Blocked by Joe Smith.
62 - 63
4:05
Radoslav Nesterovic Defensive Rebound.
62 - 63
4:03
Radoslav Nesterovic Bad Pass. Stolen by Chris Webber.
62 - 63
3:59
Mike Bibby missed 25 ft Three Point Jumper.
62 - 63
3:57
Radoslav Nesterovic Defensive Rebound.
62 - 63
3:48
Wally Szczerbiak made Jumper.
62 - 65
3:33
Joe Smith Shooting Foul
62 - 65
3:33
Chris Webber missed Free Throw 1 of 2.
62 - 65
3:33
Chris Webber missed Free Throw 1 of 2.
62 - 65
3:33
Sacramento Offensive Rebound.
62 - 65
3:33
Anthony Peeler enters the game for Joe Smith.
62 - 65
3:33
Chris Webber made Free Throw 2 of 2.
63 - 65
3:23
Rod Strickland Bad Pass. Stolen by Peja Stojakovic.
63 - 65
3:13
Rod Strickland Shooting Foul
63 - 65
3:13
Chris Webber missed Free Throw 1 of 2.
63 - 65
3:13
Sacramento Offensive Rebound.
63 - 65
3:13
Chris Webber missed Free Throw 2 of 2.
63 - 65
3:12
Kevin Garnett Defensive Rebound.
63 - 65
3:00
Anthony Peeler missed 19 ft Jumper.
63 - 65
2:57
Radoslav Nesterovic Offensive Rebound.
63 - 65
2:57
Radoslav Nesterovic missed Tip Shot.
63 - 65
2:56
Vlade Divac Defensive Rebound.
63 - 65
2:53
Chris Webber made Dunk. Assisted by Mike Bibby.
65 - 65
2:43
Kevin Garnett Lost Ball. Stolen by Mike Bibby.
65 - 65
2:35
Peja Stojakovic made Layup. Assisted by Doug Christie.
67 - 65
2:31
Minnesota Full Timeout.
67 - 65
2:31
Keon Clark enters the game for Vlade Divac.
67 - 65
2:21
Keon Clark Shooting Foul
67 - 65
2:21
Kevin Garnett made Free Throw 1 of 2.
67 - 66
2:21
Kevin Garnett made Free Throw 2 of 2.
67 - 67
2:13
Mike Bibby Lost Ball. Stolen by Anthony Peeler.
67 - 67
2:08
Wally Szczerbiak made Layup. Assisted by Rod Strickland.
67 - 69
1:47
Kendall Gill enters the game for Wally Szczerbiak.
67 - 69
1:47
Marc Jackson enters the game for Radoslav Nesterovic.
67 - 69
1:42
Chris Webber made Hook Shot. Assisted by Mike Bibby.
69 - 69
1:27
Rod Strickland made 14 ft Jumper.
69 - 71
1:02
Keon Clark made 12 ft Jumper.
71 - 71
0:49
Rod Strickland made 19 ft Jumper.
71 - 73
0:37
Marc Jackson Shooting Foul
71 - 73
0:37
Jim Jackson enters the game for Doug Christie.
71 - 73
0:37
Chris Webber missed Free Throw 1 of 2.
71 - 73
0:37
Sacramento Offensive Rebound.
71 - 73
0:37
Damon Jones enters the game for Mike Bibby.
71 - 73
0:37
Chris Webber missed Free Throw 2 of 2.
71 - 73
0:35
Sacramento Offensive Rebound.
71 - 73
0:22
Chris Webber made Layup.
73 - 73
0:02
Keon Clark Personal Foul
73 - 73
0:02
Keon Clark Technical Foul
73 - 73
0:02
Kevin Garnett missed Technical Free Throw.
73 - 73
0:02
Kevin Garnett missed Technical Free Throw.
73 - 73
0:02
Minnesota Offensive Rebound.
73 - 73
0:02
Kevin Garnett made Free Throw 1 of 2.
73 - 74
0:02
Kevin Garnett made Free Throw 2 of 2.
73 - 75
0:02
Keon Clark Bad Pass
73 - 75
0:00
Anthony Peeler made 19 ft Jumper. Assisted by Kendall Gill.
73 - 77
0:00
End of the 3rd Quarter.
73 - 77

time
TEAM
PLAY
SCORE
12:00
Start of the 4th Quarter.
73 - 77
11:45
Kevin Garnett missed 16 ft Jumper.
73 - 77
11:44
Chris Webber Defensive Rebound.
73 - 77
11:30
Keon Clark missed Layup. Blocked by Kevin Garnett.
73 - 77
11:29
Rod Strickland Defensive Rebound.
73 - 77
11:21
Kevin Garnett missed Dunk.
73 - 77
11:19
Peja Stojakovic Defensive Rebound.
73 - 77
11:15
Keon Clark made Dunk. Assisted by Chris Webber.
75 - 77
10:59
Rod Strickland made 22 ft Jumper.
75 - 79
10:42
Joe Smith enters the game for Kevin Garnett.
75 - 79
10:40
Chris Webber made 20 ft Jumper. Assisted by Peja Stojakovic.
77 - 79
10:23
Joe Smith made 20 ft Jumper. Assisted by Rod Strickland.
77 - 81
10:10
Anthony Peeler Personal Foul
77 - 81
10:04
Keon Clark missed 9 ft Jumper.
77 - 81
10:03
Sacramento Defensive Rebound.
77 - 81
10:03
Keon Clark Loose Ball Foul
77 - 81
9:48
Marc Jackson missed 18 ft Jumper.
77 - 81
9:47
Damon Jones Defensive Rebound.
77 - 81
9:41
Peja Stojakovic made 22 ft Three Point Jumper. Assisted by Damon Jones.
80 - 81
9:22
Marc Jackson Lost Ball. Stolen by Jim Jackson.
80 - 81
9:15
Marc Jackson Personal Foul
80 - 81
9:15
Troy Hudson enters the game for Rod Strickland.
80 - 81
9:15
Radoslav Nesterovic enters the game for Marc Jackson.
80 - 81
9:15
Wally Szczerbiak enters the game for Anthony Peeler.
80 - 81
9:11
Jim Jackson missed Jumper.
80 - 81
9:10
Joe Smith Defensive Rebound.
80 - 81
8:55
Wally Szczerbiak made 19 ft Two Point Shot.
80 - 83
8:41
Keon Clark made Two Point Shot. Assisted by Damon Jones.
82 - 83
8:26
Troy Hudson Bad Pass
82 - 83
8:26
Full Timeout.
82 - 83
8:26
Kevin Garnett enters the game for Kendall Gill.
82 - 83
8:11
Chris Webber made 5 ft Two Point Shot.
84 - 83
7:56
Keon Clark Shooting Foul
84 - 83
7:56
Troy Hudson made Free Throw 1 of 2.
84 - 84
7:56
Troy Hudson made Free Throw 2 of 2.
84 - 85
7:37
Chris Webber missed Layup. Blocked by Wally Szczerbiak.
84 - 85
7:35
Keon Clark Offensive Rebound.
84 - 85
7:33
Keon Clark made 7 ft Jumper.
86 - 85
7:16
Wally Szczerbiak made 23 ft Three Point Jumper. Assisted by Kevin Garnett.
86 - 88
6:58
Keon Clark missed 17 ft Jumper.
86 - 88
6:56
Troy Hudson Defensive Rebound.
86 - 88
6:52
Troy Hudson missed 22 ft Jumper.
86 - 88
6:48
Peja Stojakovic Defensive Rebound.
86 - 88
6:43
Damon Jones made 24 ft Three Point Jumper. Assisted by Peja Stojakovic.
89 - 88
6:18
Radoslav Nesterovic missed 19 ft Jumper.
89 - 88
6:16
Jim Jackson Defensive Rebound.
89 - 88
6:01
Jim Jackson missed 24 ft Three Point Jumper.
89 - 88
5:58
Keon Clark Offensive Rebound.
89 - 88
5:50
Peja Stojakovic missed 23 ft Jumper.
89 - 88
5:48
Joe Smith Defensive Rebound.
89 - 88
5:39
Minnesota Full Timeout.
89 - 88
5:39
Mike Bibby enters the game for Damon Jones.
89 - 88
5:28
Keon Clark Shooting Foul
89 - 88
5:28
Doug Christie enters the game for Jim Jackson.
89 - 88
5:28
Vlade Divac enters the game for Keon Clark.
89 - 88
5:28
Kevin Garnett made Free Throw 1 of 2.
89 - 89
5:28
Kendall Gill enters the game for Wally Szczerbiak.
89 - 89
5:28
Kevin Garnett missed Free Throw 2 of 2.
89 - 89
5:26
Chris Webber Defensive Rebound.
89 - 89
5:13
Mike Bibby Bad Pass. Stolen by Radoslav Nesterovic.
89 - 89
5:07
Joe Smith missed Layup.
89 - 89
5:05
Radoslav Nesterovic Offensive Rebound.
89 - 89
5:05
Radoslav Nesterovic missed Tip Shot.
89 - 89
5:03
Kevin Garnett Offensive Rebound.
89 - 89
5:03
Kevin Garnett missed Layup.
89 - 89
5:01
Joe Smith Offensive Rebound.
89 - 89
5:01
Chris Webber Shooting Foul
89 - 89
5:01
Joe Smith missed Free Throw 1 of 2.
89 - 89
5:01
Minnesota Offensive Rebound.
89 - 89
5:01
Rod Strickland enters the game for Troy Hudson.
89 - 89
5:01
Joe Smith made Free Throw 2 of 2.
89 - 90
4:43
Chris Webber made 20 ft Jumper. Assisted by Mike Bibby.
91 - 90
4:16
Kendall Gill made 18 ft Jumper.
91 - 92
3:57
Doug Christie made 22 ft Three Point Jumper. Assisted by Mike Bibby.
94 - 92
3:42
Kendall Gill missed 18 ft Jumper.
94 - 92
3:40
Mike Bibby Defensive Rebound.
94 - 92
3:32
Kendall Gill Shooting Foul
94 - 92
3:32
Sacramento Full Timeout.
94 - 92
3:32
Mike Bibby missed Free Throw 1 of 2.
94 - 92
3:32
Sacramento Offensive Rebound.
94 - 92
3:32
Mike Bibby made Free Throw 2 of 2.
95 - 92
3:21
Chris Webber Shooting Foul
95 - 92
3:21
Kevin Garnett made Free Throw 1 of 2.
95 - 93
3:21
Kevin Garnett made Free Throw 2 of 2.
95 - 94
3:04
Vlade Divac made 9 ft Two Point Shot. Assisted by Chris Webber.
97 - 94
2:42
Rod Strickland made 17 ft Jumper. Assisted by Kevin Garnett.
97 - 96
2:25
Chris Webber Bad Pass. Stolen by Kevin Garnett.
97 - 96
2:05
Kevin Garnett made 21 ft Jumper. Assisted by Rod Strickland.
97 - 98
1:59
Sacramento Full Timeout.
97 - 98
1:45
Chris Webber made 18 ft Jumper. Assisted by Vlade Divac.
99 - 98
1:36
Chris Webber Personal Foul
99 - 98
1:36
Kevin Garnett made Free Throw 1 of 2.
99 - 99
1:36
Kevin Garnett made Free Throw 2 of 2.
99 - 100
1:21
Kevin Garnett Personal Foul
99 - 100
1:14
Mike Bibby missed 18 ft Jumper.
99 - 100
1:10
Joe Smith Defensive Rebound.
99 - 100
0:53
Kendall Gill missed 25 ft Three Point Jumper.
99 - 100
0:51
Joe Smith Offensive Rebound.
99 - 102
0:51
Joe Smith made Tip Shot.
99 - 102
0:39
Chris Webber missed 18 ft Jumper.
99 - 102
0:38
Rod Strickland Defensive Rebound.
99 - 102
0:35
Doug Christie Personal Foul
99 - 102
0:35
Kendall Gill missed Free Throw 1 of 2.
99 - 102
0:35
Minnesota Offensive Rebound.
99 - 102
0:35
Kendall Gill made Free Throw 2 of 2.
99 - 103
0:35
Sacramento Full Timeout.
99 - 103
0:26
Kendall Gill Shooting Foul
99 - 103
0:26
Vlade Divac made Free Throw 1 of 2.
100 - 103
0:26
Wally Szczerbiak enters the game for Radoslav Nesterovic.
100 - 103
0:26
Troy Hudson enters the game for Kendall Gill.
100 - 103
0:26
Vlade Divac made Free Throw 2 of 2.
101 - 103
0:11
Kendall Gill enters the game for Troy Hudson.
101 - 103
0:11
Radoslav Nesterovic enters the game for Wally Szczerbiak.
101 - 103
0:11
Jumpball. Chris Webber vs. Rod Strickland. Peja Stojakovic gains possession.
101 - 103
0:11
Rod Strickland Lost Ball. Stolen by Chris Webber.
101 - 103
0:01
Chris Webber made Two Point Shot. Assisted by Mike Bibby.
103 - 103
0:01
Joe Smith Shooting Foul
103 - 103
0:01
Chris Webber missed Free Throw 1 of 1.
103 - 103
0:01
Kevin Garnett Defensive Rebound.
103 - 103
0:01
Minnesota Full Timeout.
103 - 103
0:01
Wally Szczerbiak enters the game for Joe Smith.
103 - 103
0:01
Troy Hudson enters the game for Kendall Gill.
103 - 103
0:00
End of the 4th Quarter.
103 - 103

time
TEAM
PLAY
SCORE
5:00
Start of the 1st Overtime.
103 - 103
5:00
Jumpball. Vlade Divac vs. Kevin Garnett. Rod Strickland gains possession.
103 - 103
4:46
Joe Smith missed Layup. Blocked by Vlade Divac.
103 - 103
4:45
Minnesota Offensive Rebound.
103 - 103
4:43
Kendall Gill made 16 ft Jumper. Assisted by Kevin Garnett.
103 - 105
4:26
Chris Webber missed Layup.
103 - 105
4:24
Sacramento Defensive Rebound.
103 - 105
4:24
Vlade Divac Loose Ball Foul
103 - 105
4:13
Rod Strickland Traveling
103 - 105
4:05
Mike Bibby missed Layup.
103 - 105
4:01
Sacramento Defensive Rebound.
103 - 105
3:47
Radoslav Nesterovic missed 18 ft Jumper.
103 - 105
3:46
Kevin Garnett Offensive Rebound.
103 - 105
3:34
Joe Smith missed 20 ft Jumper.
103 - 105
3:32
Rod Strickland Offensive Rebound.
103 - 105
3:24
Kevin Garnett made 10 ft Two Point Shot. Assisted by Kendall Gill.
103 - 107
3:13
Sacramento Full Timeout.
103 - 107
3:01
Vlade Divac Offensive Foul
103 - 107
3:01
Vlade Divac Foul
103 - 107
2:46
Joe Smith made Two Point Shot. Assisted by Rod Strickland.
103 - 109
2:25
Peja Stojakovic missed 24 ft Three Point Jumper.
103 - 109
2:23
Kevin Garnett Defensive Rebound.
103 - 109
2:03
Doug Christie Shooting Foul
103 - 109
2:03
Rod Strickland missed Free Throw 1 of 2.
103 - 109
2:03
Minnesota Offensive Rebound.
103 - 109
2:03
Rod Strickland made Free Throw 2 of 2.
103 - 110
1:51
Mike Bibby made 26 ft Three Point Jumper. Assisted by Chris Webber.
106 - 110
1:36
Radoslav Nesterovic made 7 ft Hook Shot. Assisted by Rod Strickland.
106 - 112
1:29
Chris Webber missed 25 ft Three Point Jumper.
106 - 112
1:28
Kevin Garnett Defensive Rebound.
106 - 112
1:07
Kendall Gill Lost Ball. Stolen by Doug Christie.
106 - 112
1:02
Doug Christie made Dunk. Assisted by Mike Bibby.
108 - 112
0:53
Brent Price Technical Foul
108 - 112
0:53
Peja Stojakovic made Technical Free Throw.
109 - 112
0:40
Rod Strickland missed 19 ft Jumper.
109 - 112
0:39
Minnesota Offensive Rebound.
109 - 112
0:18
Kevin Garnett missed 9 ft Jumper.
109 - 112
0:17
Radoslav Nesterovic Offensive Rebound.
109 - 114
0:17
Radoslav Nesterovic made Tip Shot.
109 - 114
0:17
Sacramento Full Timeout.
109 - 114
0:17
Delay of Game
109 - 114
0:14
Doug Christie missed Layup.
109 - 114
0:12
Sacramento Defensive Rebound.
109 - 114
0:09
Doug Christie Personal Foul
109 - 114
0:09
Wally Szczerbiak enters the game for Radoslav Nesterovic.
109 - 114
0:09
Troy Hudson enters the game for Kendall Gill.
109 - 114
0:09
Jim Jackson enters the game for Vlade Divac.
109 - 114
0:09
Minnesota Full Timeout.
109 - 114
0:07
Jim Jackson Personal Foul
109 - 114
0:07
Keon Clark enters the game for Chris Webber.
109 - 114
0:07
Wally Szczerbiak missed Free Throw 1 of 2.
109 - 114
0:07
Minnesota Offensive Rebound.
109 - 114
0:07
Wally Szczerbiak made Free Throw 2 of 2.
109 - 115
0:07
Sacramento Full Timeout.
109 - 115
0:05
Jim Jackson Bad Pass
109 - 115
0:00
End of the 1st Overtime.
109 - 115
0:00
End Game
109 - 115
0:00
End Game
109 - 115
Kevin Durant, the top prize of the 2016 free-agent market, will sit down first with the Warriors, Spurs and Thunder, sources said.

Jalen Rose and David Jacoby react to President Obama and Tyronn Lue's phone call in which the President urges Coach Lue to have his players keep their shirts on.

With their ugly 30-52 season behind them, the Pelicans are feeling good about landing upbeat scorer Buddy Hield with the No. 6 pick in the draft.
Regular Season Series
Series tied 2-2
2015-2016 Pacific Standings