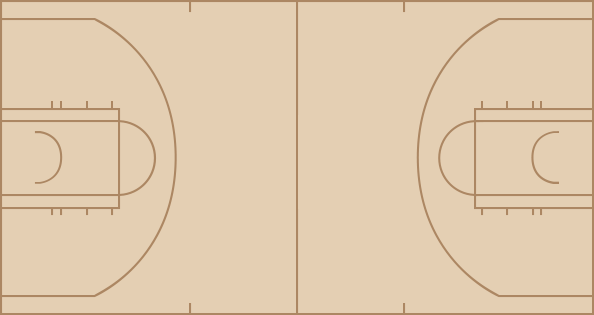 Knicks
time
TEAM
PLAY
SCORE
12:00
Start of the 1st Quarter.
0 - 0
12:00
Jumpball. Kurt Thomas vs. Keith Van Horn. Allen Iverson gains possession.
0 - 0
11:44
Eric Snow made Layup. Assisted by Derrick Coleman.
0 - 2
11:37
Allan Houston missed 26 ft Three Point Jumper.
0 - 2
11:34
Kenny Thomas Defensive Rebound.
0 - 2
11:26
Keith Van Horn made 3 ft Hook Shot. Assisted by Kenny Thomas.
0 - 4
11:00
Howard Eisley missed 26 ft Three Point Jumper.
0 - 4
10:59
Kenny Thomas Defensive Rebound.
0 - 4
10:45
Allen Iverson missed 14 ft Jumper.
0 - 4
10:45
Othella Harrington Defensive Rebound.
0 - 4
10:32
Latrell Sprewell missed 13 ft Jumper.
0 - 4
10:30
Keith Van Horn Defensive Rebound.
0 - 4
10:23
Kenny Thomas Lost Ball
0 - 4
10:11
Allan Houston missed 13 ft Jumper.
0 - 4
10:10
Allen Iverson Defensive Rebound.
0 - 4
9:57
Derrick Coleman missed Layup.
0 - 4
9:56
Derrick Coleman Offensive Rebound.
0 - 4
9:56
Derrick Coleman missed Layup.
0 - 4
9:56
Allan Houston Defensive Rebound.
0 - 4
9:44
Kurt Thomas made 11 ft Jumper. Assisted by Latrell Sprewell.
2 - 4
9:23
Eric Snow Bad Pass. Stolen by Latrell Sprewell.
2 - 4
9:18
Allan Houston missed Layup.
2 - 4
9:17
Derrick Coleman Defensive Rebound.
2 - 4
9:07
Keith Van Horn made Three Point Jumper. Assisted by Eric Snow.
2 - 7
8:59
New York 20 Sec. Timeout.
2 - 7
8:48
Latrell Sprewell made Three Point Jumper.
5 - 7
8:26
Kenny Thomas missed 17 ft Jumper.
5 - 7
8:25
Howard Eisley Defensive Rebound.
5 - 7
8:12
Kurt Thomas made 10 ft Jumper. Assisted by Latrell Sprewell.
7 - 7
7:48
Eric Snow missed 13 ft Jumper.
7 - 7
7:46
Othella Harrington Defensive Rebound.
7 - 7
7:22
Kurt Thomas made 7 ft Two Point Shot.
9 - 7
7:09
Keith Van Horn missed 13 ft Jumper.
9 - 7
7:05
Othella Harrington Defensive Rebound.
9 - 7
6:52
Howard Eisley missed 29 ft Three Point Jumper.
9 - 7
6:48
Kenny Thomas Defensive Rebound.
9 - 7
6:37
Kenny Thomas made 9 ft Jumper. Assisted by Keith Van Horn.
9 - 9
6:22
Othella Harrington missed 9 ft Jumper.
9 - 9
6:20
Allen Iverson Defensive Rebound.
9 - 9
6:15
Eric Snow made Layup. Assisted by Allen Iverson.
9 - 11
5:47
Howard Eisley missed 27 ft Three Point Jumper.
9 - 11
5:45
Derrick Coleman Defensive Rebound.
9 - 11
5:43
Allen Iverson made Two Point Shot. Assisted by Derrick Coleman.
9 - 13
5:24
Latrell Sprewell made 25 ft Three Point Jumper. Assisted by Howard Eisley.
12 - 13
5:03
Keith Van Horn made Two Point Shot. Assisted by Derrick Coleman.
12 - 15
4:41
Latrell Sprewell made 25 ft Three Point Jumper. Assisted by Howard Eisley.
15 - 15
4:13
Kenny Thomas missed 11 ft Jumper.
15 - 15
4:11
Othella Harrington Defensive Rebound.
15 - 15
4:05
Latrell Sprewell made 26 ft Three Point Jumper. Assisted by Howard Eisley.
18 - 15
3:58
Philadelphia Full Timeout.
18 - 15
3:51
Allen Iverson missed 12 ft Jumper.
18 - 15
3:49
Kenny Thomas Offensive Rebound.
18 - 15
3:43
Kenny Thomas made Layup. Assisted by Allen Iverson.
18 - 17
3:28
Howard Eisley missed 26 ft Three Point Jumper.
18 - 17
3:26
Keith Van Horn Defensive Rebound.
18 - 17
3:18
Allen Iverson missed Layup.
18 - 17
3:17
Keith Van Horn Offensive Rebound.
18 - 19
3:17
Keith Van Horn made Tip Shot.
18 - 19
3:04
Allan Houston made Three Point Jumper. Assisted by Kurt Thomas.
21 - 19
2:40
Keith Van Horn Lost Ball. Stolen by Othella Harrington.
21 - 19
2:26
Allen Iverson Personal Foul
21 - 19
2:26
New York Full Timeout.
21 - 19
2:26
Aaron McKie enters the game for Kenny Thomas.
21 - 19
2:23
Latrell Sprewell missed 27 ft Three Point Jumper.
21 - 19
2:20
Keith Van Horn Defensive Rebound.
21 - 19
2:16
Aaron McKie missed Layup. Blocked by Kurt Thomas.
21 - 19
2:15
Eric Snow Offensive Rebound.
21 - 19
2:11
Allen Iverson Lost Ball
21 - 19
1:54
Latrell Sprewell missed Layup.
21 - 19
1:52
Derrick Coleman Defensive Rebound.
21 - 19
1:44
Derrick Coleman Bad Pass. Stolen by Allan Houston.
21 - 19
1:39
Allan Houston made 27 ft Three Point Jumper.
24 - 19
1:23
Allen Iverson missed 28 ft Three Point Jumper.
24 - 19
1:21
Kurt Thomas Defensive Rebound.
24 - 19
1:10
Kurt Thomas missed 9 ft Jumper.
24 - 19
1:09
Derrick Coleman Defensive Rebound.
24 - 19
0:57
Eric Snow Bad Pass. Stolen by Howard Eisley.
24 - 19
0:53
Latrell Sprewell missed 19 ft Jumper.
24 - 19
0:51
Latrell Sprewell Offensive Rebound.
24 - 19
0:49
Latrell Sprewell missed Layup.
24 - 19
0:48
Othella Harrington Offensive Rebound.
24 - 19
0:48
Othella Harrington Traveling
24 - 19
0:48
Brian Skinner enters the game for Derrick Coleman.
24 - 19
0:48
Clarence Weatherspoon enters the game for Othella Harrington.
24 - 19
0:36
Allan Houston Personal Foul
24 - 19
0:29
Allen Iverson missed 27 ft Three Point Jumper.
24 - 19
0:27
Allan Houston Defensive Rebound.
24 - 19
0:09
Kurt Thomas made 18 ft Jumper. Assisted by Allan Houston.
26 - 19
0:00
End of the 1st Quarter.
26 - 19

time
TEAM
PLAY
SCORE
12:00
Start of the 2nd Quarter.
26 - 19
11:51
Shandon Anderson made 18 ft Jumper. Assisted by Charlie Ward.
28 - 19
11:30
Brian Skinner Traveling
28 - 19
11:19
Allan Houston missed 27 ft Three Point Jumper.
28 - 19
11:18
Kurt Thomas Offensive Rebound.
28 - 19
11:07
Shandon Anderson Lost Ball. Stolen by Aaron McKie.
28 - 19
11:02
Eric Snow made 14 ft Jumper.
28 - 21
11:00
Aaron McKie Offensive Rebound.
28 - 23
11:00
Aaron McKie made Tip Shot.
28 - 23
10:52
Kenny Thomas enters the game for Keith Van Horn.
28 - 23
10:52
Michael Doleac enters the game for Kurt Thomas.
28 - 23
10:49
Allan Houston made 27 ft Three Point Jumper. Assisted by Charlie Ward.
31 - 23
10:37
Eric Snow Lost Ball. Stolen by Charlie Ward.
31 - 23
10:22
Michael Doleac missed 11 ft Jumper.
31 - 23
10:21
Aaron McKie Defensive Rebound.
31 - 23
10:02
Aaron McKie made 18 ft Jumper. Assisted by Eric Snow.
31 - 25
9:45
Allan Houston missed 4 ft Jumper.
31 - 25
9:44
Kenny Thomas Defensive Rebound.
31 - 25
9:33
Aaron McKie made Two Point Shot.
31 - 27
9:14
Allan Houston made 11 ft Two Point Shot.
33 - 27
8:55
Aaron McKie Bad Pass. Stolen by Charlie Ward.
33 - 27
8:49
Allan Houston made Layup. Assisted by Charlie Ward.
35 - 27
8:32
Eric Snow made 6 ft Two Point Shot.
35 - 29
8:32
Michael Doleac Shooting Foul
35 - 29
8:32
Official Timeout.
35 - 29
8:32
Latrell Sprewell enters the game for Allan Houston.
35 - 29
8:32
Allen Iverson enters the game for Aaron McKie.
35 - 29
8:32
Todd MacCulloch enters the game for Brian Skinner.
35 - 29
8:32
Lane Violation
35 - 29
8:32
Eric Snow made Free Throw 1 of 1.
35 - 30
8:15
Shandon Anderson missed 6 ft Jumper.
35 - 30
8:14
Todd MacCulloch Defensive Rebound.
35 - 30
8:04
Charlie Ward Personal Foul
35 - 30
8:04
Aaron McKie enters the game for Eric Snow.
35 - 30
8:04
Todd MacCulloch missed Free Throw 1 of 2.
35 - 30
8:04
Philadelphia Offensive Rebound.
35 - 30
8:04
Todd MacCulloch made Free Throw 2 of 2.
35 - 31
7:50
Shandon Anderson made Two Point Shot. Assisted by Michael Doleac.
37 - 31
7:50
Kenny Thomas Shooting Foul
37 - 31
7:50
Shandon Anderson missed Free Throw 1 of 1.
37 - 31
7:48
Kenny Thomas Defensive Rebound.
37 - 31
7:31
Allen Iverson missed 10 ft Jumper.
37 - 31
7:31
Shandon Anderson Defensive Rebound.
37 - 31
7:09
Shandon Anderson missed 23 ft Three Point Jumper.
37 - 31
7:07
Allen Iverson Defensive Rebound.
37 - 31
7:01
Allen Iverson missed Layup.
37 - 31
7:00
Michael Doleac Defensive Rebound.
37 - 31
6:54
Latrell Sprewell missed 27 ft Three Point Jumper.
37 - 31
6:52
Clarence Weatherspoon Offensive Rebound.
37 - 31
6:43
Clarence Weatherspoon made Jumper. Assisted by Charlie Ward.
39 - 31
6:18
Allen Iverson made 25 ft Three Point Jumper. Assisted by Aaron McKie.
39 - 34
5:58
Aaron McKie Shooting Foul
39 - 34
5:58
Michael Doleac missed Free Throw 1 of 2.
39 - 34
5:58
New York Offensive Rebound.
39 - 34
5:58
Michael Doleac made Free Throw 2 of 2.
40 - 34
5:45
Allen Iverson missed Jumper.
40 - 34
5:43
Kenny Thomas Offensive Rebound.
40 - 34
5:33
Allen Iverson Bad Pass. Stolen by Shandon Anderson.
40 - 34
5:18
Charlie Ward missed 26 ft Three Point Jumper.
40 - 34
5:16
Kenny Thomas Defensive Rebound.
40 - 34
5:11
Aaron McKie made Two Point Shot.
40 - 36
5:01
Shandon Anderson missed Layup.
40 - 36
5:01
Todd MacCulloch Defensive Rebound.
40 - 36
4:48
Todd MacCulloch made Layup. Assisted by Allen Iverson.
40 - 38
4:30
Latrell Sprewell made 25 ft Three Point Jumper.
43 - 38
4:11
Allen Iverson Lost Ball. Stolen by Charlie Ward.
43 - 38
4:07
Latrell Sprewell Lost Ball. Stolen by Greg Buckner.
43 - 38
4:01
Aaron McKie made Layup. Assisted by Allen Iverson.
43 - 40
3:46
Latrell Sprewell Lost Ball. Stolen by Greg Buckner.
43 - 40
3:42
Todd MacCulloch missed Layup.
43 - 40
3:42
Greg Buckner Offensive Rebound.
43 - 40
3:42
Keith Van Horn enters the game for Kenny Thomas.
43 - 40
3:42
Greg Buckner Double Technical Foul. Latrell Sprewell gains possession.
43 - 40
3:42
Charlie Ward Shooting Foul
43 - 40
3:42
Greg Buckner made Free Throw 1 of 2.
43 - 41
3:42
Howard Eisley enters the game for Charlie Ward.
43 - 41
3:42
Allan Houston enters the game for Clarence Weatherspoon.
43 - 41
3:42
Greg Buckner made Free Throw 2 of 2.
43 - 42
3:27
Latrell Sprewell missed 10 ft Jumper.
43 - 42
3:25
Todd MacCulloch Defensive Rebound.
43 - 42
3:15
Keith Van Horn made 6 ft Two Point Shot. Assisted by Todd MacCulloch.
43 - 44
2:35
Howard Eisley Shooting Foul
43 - 44
2:35
Eric Snow enters the game for Greg Buckner.
43 - 44
2:35
Derrick Coleman enters the game for Todd MacCulloch.
43 - 44
2:35
Allen Iverson missed Free Throw 1 of 2.
43 - 44
2:35
Philadelphia Offensive Rebound.
43 - 44
2:35
Allen Iverson made Free Throw 2 of 2.
43 - 45
2:35
Jumpball. Kurt Thomas vs. Keith Van Horn. Keith Van Horn gains possession.
43 - 45
2:35
Howard Eisley Lost Ball. Stolen by Keith Van Horn.
43 - 45
2:27
Keith Van Horn made Layup. Assisted by Allen Iverson.
43 - 47
2:27
Michael Doleac Shooting Foul
43 - 47
2:27
Othella Harrington enters the game for Michael Doleac.
43 - 47
2:27
Keith Van Horn made Free Throw 1 of 1.
43 - 48
2:12
Othella Harrington made Two Point Shot. Assisted by Howard Eisley.
45 - 48
1:47
Keith Van Horn made 23 ft Three Point Jumper. Assisted by Eric Snow.
45 - 51
1:21
Latrell Sprewell missed 25 ft Three Point Jumper.
45 - 51
1:19
Othella Harrington Offensive Rebound.
45 - 51
1:15
Allan Houston made 23 ft Three Point Jumper. Assisted by Othella Harrington.
48 - 51
0:59
Allen Iverson made Two Point Shot.
48 - 53
0:41
Howard Eisley Out of Bounds
48 - 53
0:41
Philadelphia 20 Sec. Timeout.
48 - 53
0:34
Allen Iverson made 22 ft Jumper.
48 - 55
0:21
Allan Houston made Layup. Assisted by Latrell Sprewell.
50 - 55
0:03
Allen Iverson missed 17 ft Jumper.
50 - 55
0:01
Allan Houston Defensive Rebound.
50 - 55
0:00
End of the 2nd Quarter.
50 - 55

time
TEAM
PLAY
SCORE
12:00
Start of the 3rd Quarter.
50 - 55
11:44
Kurt Thomas missed 14 ft Jumper.
50 - 55
11:41
Kenny Thomas Defensive Rebound.
50 - 55
11:30
Kurt Thomas Personal Foul
50 - 55
11:30
Derrick Coleman made Free Throw 1 of 2.
50 - 56
11:30
Derrick Coleman made Free Throw 2 of 2.
50 - 57
11:18
Latrell Sprewell made Two Point Shot.
52 - 57
11:00
Kenny Thomas missed Layup. Blocked by Othella Harrington.
52 - 57
10:59
Howard Eisley Defensive Rebound.
52 - 57
10:56
Howard Eisley missed 28 ft Three Point Jumper.
52 - 57
10:53
New York Defensive Rebound.
52 - 57
10:53
Aaron McKie enters the game for Kenny Thomas.
52 - 57
10:40
Derrick Coleman missed Layup.
52 - 57
10:37
Derrick Coleman Offensive Rebound.
52 - 57
10:30
Allen Iverson missed 9 ft Jumper.
52 - 57
10:22
Howard Eisley Defensive Rebound.
52 - 57
10:18
Allan Houston missed 28 ft Three Point Jumper.
52 - 57
10:18
Keith Van Horn Defensive Rebound.
52 - 57
10:11
Allen Iverson made Two Point Shot.
52 - 59
9:52
Kurt Thomas missed 14 ft Jumper.
52 - 59
9:51
New York Defensive Rebound.
52 - 59
9:51
Derrick Coleman Double Personal Foul. Othella Harrington gains possession.
52 - 59
9:38
Othella Harrington Personal Foul
52 - 59
9:32
Keith Van Horn made 27 ft Three Point Jumper. Assisted by Allen Iverson.
52 - 62
9:14
Othella Harrington made Two Point Shot. Assisted by Kurt Thomas.
54 - 62
8:53
Derrick Coleman missed 25 ft Three Point Jumper.
54 - 62
8:52
Othella Harrington Defensive Rebound.
54 - 62
8:42
Keith Van Horn Personal Foul
54 - 62
8:37
Allan Houston made 16 ft Two Point Shot.
56 - 62
8:18
Keith Van Horn missed Jumper.
56 - 62
8:15
Allan Houston Defensive Rebound.
56 - 62
8:04
Allan Houston missed 15 ft Jumper.
56 - 62
8:03
Eric Snow Defensive Rebound.
56 - 62
7:56
Allen Iverson missed 6 ft Jumper.
56 - 62
7:56
Kurt Thomas Defensive Rebound.
56 - 62
7:48
Othella Harrington made 8 ft Two Point Shot. Assisted by Howard Eisley.
58 - 62
7:20
Eric Snow missed 13 ft Jumper.
58 - 62
7:20
Derrick Coleman Offensive Rebound.
58 - 62
7:11
Keith Van Horn made 25 ft Three Point Jumper. Assisted by Aaron McKie.
58 - 65
6:45
Derrick Coleman Shooting Foul
58 - 65
6:45
Othella Harrington made Free Throw 1 of 2.
59 - 65
6:45
Othella Harrington made Free Throw 2 of 2.
60 - 65
6:35
Howard Eisley Shooting Foul
60 - 65
6:35
Eric Snow made Free Throw 1 of 2.
60 - 66
6:35
Eric Snow made Free Throw 2 of 2.
60 - 67
6:18
Kurt Thomas made Two Point Shot. Assisted by Latrell Sprewell.
62 - 67
6:03
Othella Harrington Shooting Foul
62 - 67
6:03
Allen Iverson made Free Throw 1 of 2.
62 - 68
6:03
Greg Buckner enters the game for Eric Snow.
62 - 68
6:03
Allen Iverson made Free Throw 2 of 2.
62 - 69
5:41
Latrell Sprewell made 13 ft Two Point Shot.
64 - 69
5:16
Allen Iverson missed 15 ft Jumper.
64 - 69
5:15
Othella Harrington Defensive Rebound.
64 - 69
4:54
Kurt Thomas made Two Point Shot.
66 - 69
4:54
Defensive Goaltending
66 - 69
4:39
Howard Eisley Shooting Foul
66 - 69
4:39
Philadelphia Full Timeout.
66 - 69
4:39
Todd MacCulloch enters the game for Derrick Coleman.
66 - 69
4:39
Allen Iverson missed Free Throw 1 of 2.
66 - 69
4:39
Philadelphia Offensive Rebound.
66 - 69
4:39
Allen Iverson made Free Throw 2 of 2.
66 - 70
4:20
Allan Houston missed 15 ft Jumper.
66 - 70
4:18
Allen Iverson Defensive Rebound.
66 - 70
4:03
Keith Van Horn missed 27 ft Three Point Jumper.
66 - 70
4:01
Todd MacCulloch Offensive Rebound.
66 - 72
4:01
Todd MacCulloch made Tip Shot.
66 - 72
3:42
Howard Eisley made 26 ft Three Point Jumper. Assisted by Latrell Sprewell.
69 - 72
3:23
Allen Iverson made 14 ft Jumper.
69 - 74
3:04
Aaron McKie Shooting Foul
69 - 74
3:04
Latrell Sprewell made Free Throw 1 of 2.
70 - 74
3:04
Charlie Ward enters the game for Howard Eisley.
70 - 74
3:04
Clarence Weatherspoon enters the game for Allan Houston.
70 - 74
3:04
Shandon Anderson enters the game for Othella Harrington.
70 - 74
3:04
Latrell Sprewell made Free Throw 2 of 2.
71 - 74
2:51
Aaron McKie made Two Point Shot. Assisted by Allen Iverson.
71 - 76
2:34
Latrell Sprewell Traveling
71 - 76
2:34
New York Full Timeout.
71 - 76
2:34
Kenny Thomas enters the game for Keith Van Horn.
71 - 76
2:15
Allen Iverson made Two Point Shot. Assisted by Aaron McKie.
71 - 78
2:00
Kurt Thomas missed 17 ft Jumper.
71 - 78
1:58
Shandon Anderson Offensive Rebound.
71 - 78
1:51
Charlie Ward made 25 ft Three Point Jumper. Assisted by Latrell Sprewell.
74 - 78
1:35
Greg Buckner missed 13 ft Jumper.
74 - 78
1:34
Clarence Weatherspoon Defensive Rebound.
74 - 78
1:23
Kurt Thomas missed 16 ft Jumper.
74 - 78
1:22
Kenny Thomas Defensive Rebound.
74 - 78
1:06
Allen Iverson made 20 ft Jumper.
74 - 80
0:48
Latrell Sprewell made 25 ft Three Point Jumper.
77 - 80
0:35
Aaron McKie made Two Point Shot.
77 - 82
0:22
Latrell Sprewell missed Three Point Jumper.
77 - 82
0:20
Allen Iverson Defensive Rebound.
77 - 82
0:16
Kurt Thomas Shooting Foul
77 - 82
0:16
Todd MacCulloch made Free Throw 1 of 2.
77 - 83
0:16
Eric Snow enters the game for Aaron McKie.
77 - 83
0:16
Todd MacCulloch made Free Throw 2 of 2.
77 - 84
0:02
Latrell Sprewell made 11 ft Jumper.
79 - 84
0:00
Allen Iverson missed 42 ft Three Point Jumper.
79 - 84
0:00
Shandon Anderson Defensive Rebound.
79 - 84
0:00
End of the 3rd Quarter.
79 - 84

time
TEAM
PLAY
SCORE
12:00
Start of the 4th Quarter.
79 - 84
11:45
Kenny Thomas made 6 ft Two Point Shot.
79 - 86
11:25
Eric Snow Personal Foul
79 - 86
11:25
Othella Harrington enters the game for Michael Doleac.
79 - 86
11:18
Greg Buckner Shooting Foul
79 - 86
11:18
Allan Houston made Free Throw 1 of 2.
80 - 86
11:18
Allan Houston made Free Throw 2 of 2.
81 - 86
11:00
Kenny Thomas missed 18 ft Jumper.
81 - 86
10:59
Charlie Ward Defensive Rebound.
81 - 86
10:49
Charlie Ward Bad Pass. Stolen by Eric Snow.
81 - 86
10:44
Allen Iverson Lost Ball. Stolen by Charlie Ward.
81 - 86
10:41
Keith Van Horn Shooting Foul
81 - 86
10:41
Shandon Anderson missed Free Throw 1 of 2.
81 - 86
10:41
New York Offensive Rebound.
81 - 86
10:41
Shandon Anderson missed Free Throw 2 of 2.
81 - 86
10:41
Kenny Thomas Defensive Rebound.
81 - 86
10:27
Greg Buckner Traveling
81 - 86
10:12
Allan Houston Lost Ball. Stolen by Greg Buckner.
81 - 86
10:08
Allen Iverson missed Layup.
81 - 86
10:07
Kenny Thomas Offensive Rebound.
81 - 86
10:07
Kenny Thomas missed Layup.
81 - 86
10:06
Greg Buckner Offensive Rebound.
81 - 88
10:06
Greg Buckner made Layup.
81 - 88
9:51
Allan Houston made 13 ft Jumper.
83 - 88
9:37
Eric Snow made Layup. Assisted by Allen Iverson.
83 - 90
9:17
Charlie Ward missed 12 ft Jumper.
83 - 90
9:15
Othella Harrington Offensive Rebound.
83 - 90
9:12
Shandon Anderson missed 5 ft Jumper.
83 - 90
9:10
Clarence Weatherspoon Offensive Rebound.
83 - 90
9:08
Aaron McKie enters the game for Greg Buckner.
83 - 90
8:53
Allen Iverson missed 27 ft Three Point Jumper.
83 - 90
8:52
Shandon Anderson Defensive Rebound.
83 - 90
8:23
Aaron McKie made Layup. Assisted by Kenny Thomas.
83 - 92
8:21
New York Full Timeout.
83 - 92
8:21
Latrell Sprewell enters the game for Shandon Anderson.
83 - 92
8:00
Charlie Ward made 27 ft Three Point Jumper. Assisted by Latrell Sprewell.
86 - 92
7:35
Allen Iverson made 17 ft Jumper.
86 - 94
7:11
Latrell Sprewell missed 17 ft Jumper.
86 - 94
7:09
Eric Snow Defensive Rebound.
86 - 94
6:54
Kurt Thomas Shooting Foul
86 - 94
6:54
Kenny Thomas made Free Throw 1 of 2.
86 - 95
6:54
Derrick Coleman enters the game for Keith Van Horn.
86 - 95
6:54
Kenny Thomas made Free Throw 2 of 2.
86 - 96
6:37
Clarence Weatherspoon made 13 ft Jumper. Assisted by Allan Houston.
88 - 96
6:24
Charlie Ward Shooting Foul
88 - 96
6:24
Allen Iverson made Free Throw 1 of 2.
88 - 97
6:24
Allen Iverson made Free Throw 2 of 2.
88 - 98
6:15
Charlie Ward made Two Point Shot.
90 - 98
6:15
Defensive Goaltending
90 - 98
6:15
Derrick Coleman Shooting Foul
90 - 98
6:15
Charlie Ward made Free Throw 1 of 1.
91 - 98
5:58
Aaron McKie missed 26 ft Three Point Jumper.
91 - 98
5:56
Charlie Ward Defensive Rebound.
91 - 98
5:45
Kurt Thomas made Jumper. Assisted by Charlie Ward.
93 - 98
5:20
Aaron McKie made Layup. Assisted by Derrick Coleman.
93 - 100
5:01
Latrell Sprewell Lost Ball
93 - 100
5:01
Official Timeout.
93 - 100
4:46
Derrick Coleman Lost Ball. Stolen by Kurt Thomas.
93 - 100
4:39
Kurt Thomas missed Layup.
93 - 100
4:37
Derrick Coleman Defensive Rebound.
93 - 100
4:24
Allen Iverson missed 17 ft Jumper.
93 - 100
4:24
Kurt Thomas Defensive Rebound.
93 - 100
4:07
Allan Houston made 17 ft Jumper.
95 - 100
3:50
Allen Iverson made Two Point Shot.
95 - 102
3:32
Clarence Weatherspoon missed Layup.
95 - 102
3:30
Kurt Thomas Offensive Rebound.
95 - 102
3:26
Allan Houston made 27 ft Three Point Jumper. Assisted by Kurt Thomas.
98 - 102
3:08
Allen Iverson missed 21 ft Jumper.
98 - 102
3:05
Kurt Thomas Defensive Rebound.
98 - 102
3:00
Latrell Sprewell missed 26 ft Three Point Jumper.
98 - 102
2:59
Aaron McKie Defensive Rebound.
98 - 102
2:54
Latrell Sprewell Shooting Foul
98 - 102
2:54
Philadelphia Full Timeout.
98 - 102
2:54
Keith Van Horn enters the game for Derrick Coleman.
98 - 102
2:54
Eric Snow made Free Throw 1 of 2.
98 - 103
2:54
Eric Snow made Free Throw 2 of 2.
98 - 104
2:35
Charlie Ward made 20 ft Jumper.
100 - 104
2:18
Allen Iverson missed Layup. Blocked by Kurt Thomas.
100 - 104
2:16
Allan Houston Defensive Rebound.
100 - 104
2:11
Latrell Sprewell made 24 ft Three Point Jumper. Assisted by Charlie Ward.
103 - 104
1:51
Allen Iverson Bad Pass. Stolen by Clarence Weatherspoon.
103 - 104
1:46
Latrell Sprewell missed 28 ft Three Point Jumper.
103 - 104
1:44
Eric Snow Defensive Rebound.
103 - 104
1:25
Kenny Thomas made 7 ft Two Point Shot. Assisted by Eric Snow.
103 - 106
1:25
Clarence Weatherspoon Shooting Foul
103 - 106
1:25
Kenny Thomas made Free Throw 1 of 1.
103 - 107
1:10
Allan Houston Lost Ball. Stolen by Keith Van Horn.
103 - 107
0:52
Eric Snow made Jumper. Assisted by Allen Iverson.
103 - 109
0:52
New York Full Timeout.
103 - 109
0:52
Greg Buckner enters the game for Allen Iverson.
103 - 109
0:38
Latrell Sprewell missed Jumper.
103 - 109
0:35
Latrell Sprewell Offensive Rebound.
103 - 109
0:31
Charlie Ward made Three Point Jumper. Assisted by Latrell Sprewell.
106 - 109
0:31
Philadelphia Full Timeout.
106 - 109
0:31
Allen Iverson enters the game for Greg Buckner.
106 - 109
0:25
Clarence Weatherspoon Shooting Foul
106 - 109
0:25
Kenny Thomas missed Free Throw 1 of 2.
106 - 109
0:25
Philadelphia Offensive Rebound.
106 - 109
0:25
Kenny Thomas missed Free Throw 2 of 2.
106 - 109
0:24
Kurt Thomas Defensive Rebound.
106 - 109
0:24
Allen Iverson Personal Foul
106 - 109
0:24
Kurt Thomas made Free Throw 1 of 2.
107 - 109
0:24
Kurt Thomas missed Free Throw 2 of 2.
107 - 109
0:23
Kurt Thomas Offensive Rebound.
107 - 109
0:20
Kenny Thomas Personal Foul
107 - 109
0:20
Allan Houston made Free Throw 1 of 2.
108 - 109
0:20
Allan Houston made Free Throw 2 of 2.
109 - 109
0:20
Philadelphia Full Timeout.
109 - 109
0:20
Philadelphia 20 Sec. Timeout.
109 - 109
0:15
Clarence Weatherspoon Shooting Foul
109 - 109
0:15
Eric Snow made Free Throw 1 of 2.
109 - 110
0:15
Greg Buckner enters the game for Keith Van Horn.
109 - 110
0:15
Eric Snow made Free Throw 2 of 2.
109 - 111
0:15
New York Full Timeout.
109 - 111
0:15
Howard Eisley enters the game for Clarence Weatherspoon.
109 - 111
0:13
Greg Buckner Personal Foul
109 - 111
0:13
Charlie Ward missed Free Throw 1 of 2.
109 - 111
0:13
Keith Van Horn enters the game for Greg Buckner.
109 - 111
0:13
New York Offensive Rebound.
109 - 111
0:13
Shandon Anderson enters the game for Howard Eisley.
109 - 111
0:13
Charlie Ward made Free Throw 2 of 2.
110 - 111
0:08
Latrell Sprewell Personal Foul
110 - 111
0:08
Allen Iverson made Free Throw 1 of 2.
110 - 112
0:08
Greg Buckner enters the game for Keith Van Horn.
110 - 112
0:08
Clarence Weatherspoon enters the game for Shandon Anderson.
110 - 112
0:08
Allen Iverson made Free Throw 2 of 2.
110 - 113
0:08
New York 20 Sec. Timeout.
110 - 113
0:08
Howard Eisley enters the game for Clarence Weatherspoon.
110 - 113
0:06
Allen Iverson Personal Foul
110 - 113
0:06
Charlie Ward made Free Throw 1 of 2.
111 - 113
0:06
Charlie Ward made Free Throw 2 of 2.
112 - 113
0:06
Keith Van Horn enters the game for Kenny Thomas.
112 - 113
0:03
Charlie Ward Personal Foul
112 - 113
0:03
Allen Iverson made Free Throw 1 of 2.
112 - 114
0:03
Clarence Weatherspoon enters the game for Howard Eisley.
112 - 114
0:03
Allen Iverson missed Free Throw 2 of 2.
112 - 114
0:03
Kenny Thomas enters the game for Greg Buckner.
112 - 114
0:02
Allen Iverson Offensive Rebound.
112 - 114
0:00
End of the 4th Quarter.
112 - 114
0:00
End Game
112 - 114
Golden State Warriors teammates Kevin Durant and Draymond Green didn't receive the warmest of welcomes at LA's Staples Center during Team USA's 106-57 win over China.

It was not Andre Drummond's day as he was posterized twice in Drew League action by Sek Henry and Darnell Shumpert.

The U.S. team rolled to a second straight blowout exhibition basketball victory, 106-57 over China on Sunday night with Kevin Durant scoring 19 and Klay Thompson 17.
Regular Season Series
Series tied 2-2
2015-2016 Atlantic Standings