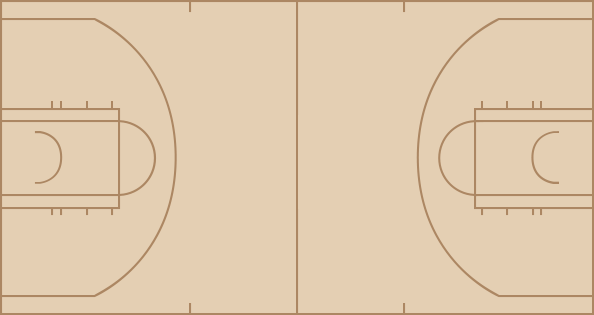 Spurs
time
TEAM
PLAY
SCORE
12:00
Start of the 1st Quarter.
0 - 0
12:00
Jumpball. Tim Duncan vs. Rasheed Wallace. Dale Davis gains possession.
0 - 0
11:45
Rasheed Wallace made 14 ft Jumper. Assisted by Bonzi Wells.
0 - 2
11:30
Malik Rose missed 4 ft Jumper. Blocked by Dale Davis.
0 - 2
11:29
Scottie Pippen Defensive Rebound.
0 - 2
11:25
Bonzi Wells missed 18 ft Jumper.
0 - 2
11:23
Tim Duncan Defensive Rebound.
0 - 2
11:07
Tony Parker missed Layup.
0 - 2
11:07
Tony Parker Offensive Rebound.
0 - 2
11:04
Malik Rose made Dunk. Assisted by Tony Parker.
2 - 2
10:47
Rasheed Wallace missed Jumper.
2 - 2
10:45
Dale Davis Offensive Rebound.
2 - 2
10:42
Tim Duncan Shooting Foul
2 - 2
10:42
Dale Davis missed Free Throw 1 of 2.
2 - 2
10:42
Portland Offensive Rebound.
2 - 2
10:42
Dale Davis made Free Throw 2 of 2.
2 - 3
10:25
Malik Rose missed 19 ft Jumper.
2 - 3
10:21
Stephen Jackson Offensive Rebound.
2 - 3
10:07
Tony Parker made 6 ft Jumper. Assisted by Tim Duncan.
4 - 3
9:48
Rasheed Wallace made 23 ft Jumper. Assisted by Dale Davis.
4 - 5
9:37
Tony Parker missed Two Point Shot.
4 - 5
9:37
Dale Davis Defensive Rebound.
4 - 5
9:21
Rasheed Wallace missed 22 ft Jumper.
4 - 5
9:18
Dale Davis Offensive Rebound.
4 - 5
9:18
Dale Davis made Layup.
4 - 7
9:18
Malik Rose Shooting Foul
4 - 7
9:18
Dale Davis made Free Throw 1 of 1.
4 - 8
9:10
Tim Duncan Lost Ball. Stolen by Scottie Pippen.
4 - 8
9:00
Rasheed Wallace made Two Point Shot. Assisted by Bonzi Wells.
4 - 10
8:52
Tony Parker made Two Point Shot.
6 - 10
8:34
Bonzi Wells missed Two Point Shot.
6 - 10
8:33
Tim Duncan Defensive Rebound.
6 - 10
8:23
Malik Rose made 16 ft Jumper. Assisted by Bruce Bowen.
8 - 10
8:03
Derek Anderson made 24 ft Three Point Jumper. Assisted by Scottie Pippen.
8 - 13
7:48
Rasheed Wallace Personal Foul
8 - 13
7:43
Tony Parker Bad Pass. Stolen by Derek Anderson.
8 - 13
7:37
Derek Anderson missed Two Point Shot.
8 - 13
7:35
Tim Duncan Defensive Rebound.
8 - 13
7:31
Tony Parker made Layup. Assisted by Stephen Jackson.
10 - 13
7:07
Dale Davis missed Two Point Shot.
10 - 13
7:03
Stephen Jackson Defensive Rebound.
10 - 13
6:56
Bruce Bowen made 22 ft Three Point Jumper. Assisted by Tony Parker.
13 - 13
6:41
Derek Anderson Bad Pass
13 - 13
6:28
Malik Rose made 20 ft Jumper. Assisted by Tony Parker.
15 - 13
6:22
Portland Full Timeout.
15 - 13
6:13
Derek Anderson missed 18 ft Jumper.
15 - 13
6:11
Malik Rose Defensive Rebound.
15 - 13
5:54
Tim Duncan made 5 ft Hook Shot.
17 - 13
5:41
Rasheed Wallace made Layup. Assisted by Bonzi Wells.
17 - 15
5:18
Tony Parker Lost Ball
17 - 15
5:11
Bonzi Wells made 13 ft Two Point Shot.
17 - 17
4:54
Stephen Jackson missed 24 ft Three Point Jumper.
17 - 17
4:52
Rasheed Wallace Defensive Rebound.
17 - 17
4:33
Scottie Pippen Lost Ball. Stolen by Tony Parker.
17 - 17
4:28
Tony Parker made Two Point Shot.
19 - 17
4:18
Bruce Bowen Personal Foul
19 - 17
4:18
Emanuel Ginobili enters the game for Stephen Jackson.
19 - 17
4:09
Bonzi Wells missed 8 ft Jumper.
19 - 17
4:07
Tim Duncan Defensive Rebound.
19 - 17
4:00
Tim Duncan missed 20 ft Jumper.
19 - 17
3:58
Bonzi Wells Defensive Rebound.
19 - 17
3:48
Scottie Pippen missed Layup. Blocked by Bruce Bowen.
19 - 17
3:47
Scottie Pippen Offensive Rebound.
19 - 17
3:47
Scottie Pippen missed Tip Shot.
19 - 17
3:47
Tim Duncan Defensive Rebound.
19 - 17
3:45
Scottie Pippen Personal Foul
19 - 17
3:34
Tim Duncan made Layup. Assisted by Tony Parker.
21 - 17
3:18
Dale Davis made 12 ft Jumper. Assisted by Bonzi Wells.
21 - 19
3:16
Delay of Game
21 - 19
2:55
Tim Duncan missed 7 ft Jumper.
21 - 19
2:53
Malik Rose Offensive Rebound.
21 - 19
2:53
Rasheed Wallace Shooting Foul
21 - 19
2:53
San Antonio Full Timeout.
21 - 19
2:53
Arvydas Sabonis enters the game for Rasheed Wallace.
21 - 19
2:53
Steve Smith enters the game for Bruce Bowen.
21 - 19
2:53
Malik Rose made Free Throw 1 of 2.
22 - 19
2:53
Malik Rose made Free Throw 2 of 2.
23 - 19
2:36
Scottie Pippen made 24 ft Three Point Jumper. Assisted by Bonzi Wells.
23 - 22
2:20
Tim Duncan made 9 ft Hook Shot.
25 - 22
2:02
Bonzi Wells missed Jumper.
25 - 22
2:01
Portland Offensive Rebound.
25 - 22
2:01
Kevin Willis enters the game for Malik Rose.
25 - 22
2:01
Zachary Randolph enters the game for Dale Davis.
25 - 22
2:01
Steve Kerr enters the game for Tony Parker.
25 - 22
1:52
Bonzi Wells missed 6 ft Jumper. Blocked by Tim Duncan.
25 - 22
1:51
Portland Offensive Rebound.
25 - 22
1:39
Scottie Pippen made 24 ft Three Point Jumper. Assisted by Bonzi Wells.
25 - 25
1:21
Tim Duncan Lost Ball. Stolen by Scottie Pippen.
25 - 25
1:15
Derek Anderson missed 24 ft Three Point Jumper.
25 - 25
1:14
Portland Offensive Rebound.
25 - 25
1:14
Kevin Willis Loose Ball Foul
25 - 25
1:06
Arvydas Sabonis missed Layup. Blocked by Tim Duncan.
25 - 25
1:06
Portland Offensive Rebound.
25 - 25
1:06
Malik Rose enters the game for Tim Duncan.
25 - 25
1:00
Arvydas Sabonis missed 21 ft Jumper.
25 - 25
0:59
Emanuel Ginobili Defensive Rebound.
25 - 25
0:55
Jeff McInnis enters the game for Scottie Pippen.
25 - 25
0:48
Malik Rose missed 18 ft Jumper.
25 - 25
0:46
Kevin Willis Offensive Rebound.
25 - 25
0:35
Bonzi Wells Shooting Foul
25 - 25
0:35
Steve Smith missed Free Throw 1 of 2.
25 - 25
0:35
San Antonio Offensive Rebound.
25 - 25
0:35
Steve Smith made Free Throw 2 of 2.
26 - 25
0:21
Derek Anderson made Two Point Shot.
26 - 27
0:03
Derek Anderson Shooting Foul
26 - 27
0:03
Malik Rose made Free Throw 1 of 2.
27 - 27
0:03
Malik Rose made Free Throw 2 of 2.
28 - 27
0:00
Jeff McInnis missed 25 ft Three Point Jumper. Blocked by Emanuel Ginobili.
28 - 27
0:00
Malik Rose Defensive Rebound.
28 - 27
0:00
End of the 1st Quarter.
28 - 27

time
TEAM
PLAY
SCORE
12:00
Start of the 2nd Quarter.
28 - 27
11:41
Steve Smith missed 20 ft Jumper.
28 - 27
11:38
Derek Anderson Defensive Rebound.
28 - 27
11:29
Arvydas Sabonis missed Two Point Shot.
28 - 27
11:27
Malik Rose Defensive Rebound.
28 - 27
11:19
Kevin Willis Lost Ball. Stolen by Arvydas Sabonis.
28 - 27
11:15
Bonzi Wells made Dunk. Assisted by Jeff McInnis.
28 - 29
10:53
Kevin Willis made 15 ft Jumper.
30 - 29
10:44
Ruben Patterson Offensive Foul
30 - 29
10:44
Ruben Patterson Foul
30 - 29
10:18
Emanuel Ginobili missed 23 ft Three Point Jumper.
30 - 29
10:17
Arvydas Sabonis Defensive Rebound.
30 - 29
10:11
Bonzi Wells missed Layup. Blocked by Emanuel Ginobili.
30 - 29
10:10
Bonzi Wells Offensive Rebound.
30 - 31
10:10
Bonzi Wells made Layup.
30 - 31
9:52
Steve Kerr made 21 ft Jumper.
32 - 31
9:47
Bonzi Wells Bad Pass
32 - 31
9:47
Antonio Daniels enters the game for Derek Anderson.
32 - 31
9:32
Kevin Willis missed Layup.
32 - 31
9:30
Bonzi Wells Defensive Rebound.
32 - 31
9:23
Antonio Daniels missed Jumper.
32 - 31
9:22
Malik Rose Defensive Rebound.
32 - 31
9:07
Malik Rose Lost Ball. Stolen by Bonzi Wells.
32 - 31
9:02
Emanuel Ginobili Shooting Foul
32 - 31
9:02
Antonio Daniels made Free Throw 1 of 2.
32 - 32
9:02
Zachary Randolph enters the game for Bonzi Wells.
32 - 32
9:02
Antonio Daniels made Free Throw 2 of 2.
32 - 33
8:47
Malik Rose missed 19 ft Jumper.
32 - 33
8:45
Ruben Patterson Defensive Rebound.
32 - 33
8:44
Emanuel Ginobili Shooting Foul
32 - 33
8:44
Official Timeout.
32 - 33
8:44
Tim Duncan enters the game for Kevin Willis.
32 - 33
8:44
Bruce Bowen enters the game for Steve Smith.
32 - 33
8:44
Stephen Jackson enters the game for Emanuel Ginobili.
32 - 33
8:44
Zachary Randolph made Free Throw 1 of 2.
32 - 34
8:44
Zachary Randolph missed Free Throw 2 of 2.
32 - 34
8:44
Tim Duncan Defensive Rebound.
32 - 34
8:34
Zachary Randolph Personal Foul
32 - 34
8:34
Dale Davis enters the game for Zachary Randolph.
32 - 34
8:34
Rasheed Wallace enters the game for Arvydas Sabonis.
32 - 34
8:30
Tim Duncan missed 9 ft Hook Shot.
32 - 34
8:29
Antonio Daniels Defensive Rebound.
32 - 34
8:15
Ruben Patterson made Two Point Shot.
32 - 36
7:58
Stephen Jackson made 15 ft Jumper.
34 - 36
7:41
Jeff McInnis made 19 ft Jumper.
34 - 38
7:24
Malik Rose made 18 ft Jumper.
36 - 38
7:03
Rasheed Wallace Offensive Foul
36 - 38
7:03
Rasheed Wallace Foul
36 - 38
7:03
Tony Parker enters the game for Steve Kerr.
36 - 38
7:03
Zachary Randolph enters the game for Rasheed Wallace.
36 - 38
6:48
Stephen Jackson missed 24 ft Three Point Jumper.
36 - 38
6:47
Ruben Patterson Defensive Rebound.
36 - 38
6:43
Ruben Patterson missed Two Point Shot.
36 - 38
6:41
Malik Rose Defensive Rebound.
36 - 38
6:31
Bruce Bowen made 6 ft Jumper.
38 - 38
6:09
Tim Duncan Illegal Defense Foul
38 - 38
6:09
Antonio Daniels made Technical Free Throw.
38 - 39
5:58
Dale Davis missed Two Point Shot.
38 - 39
5:56
Zachary Randolph Offensive Rebound.
38 - 41
5:56
Zachary Randolph made Layup.
38 - 41
5:33
Tony Parker missed Layup. Blocked by Antonio Daniels.
38 - 41
5:31
San Antonio Defensive Rebound.
38 - 41
5:31
Portland Full Timeout.
38 - 41
5:31
Scottie Pippen enters the game for Jeff McInnis.
38 - 41
5:31
Derek Anderson enters the game for Antonio Daniels.
38 - 41
5:09
Derek Anderson missed 13 ft Jumper.
38 - 41
5:07
Malik Rose Defensive Rebound.
38 - 41
4:58
Tim Duncan made Two Point Shot.
40 - 41
4:48
Scottie Pippen missed 25 ft Three Point Jumper.
40 - 41
4:47
Malik Rose Defensive Rebound.
40 - 41
4:39
Dale Davis Personal Foul
40 - 41
4:39
Bonzi Wells enters the game for Zachary Randolph.
40 - 41
4:31
Tim Duncan made Layup. Assisted by Stephen Jackson.
42 - 41
4:16
Scottie Pippen made 16 ft Jumper. Assisted by Derek Anderson.
42 - 43
3:54
Malik Rose missed 19 ft Jumper.
42 - 43
3:50
Bonzi Wells Defensive Rebound.
42 - 43
3:41
Bonzi Wells missed 22 ft Jumper.
42 - 43
3:39
Portland Defensive Rebound.
42 - 43
3:17
Bruce Bowen missed 11 ft Jumper.
42 - 43
3:15
Bruce Bowen Offensive Rebound.
42 - 43
3:15
Derek Anderson Personal Foul
42 - 43
3:10
Malik Rose made Slam Dunk.
44 - 43
2:38
Bonzi Wells missed 19 ft Jumper.
44 - 43
2:35
Portland Defensive Rebound.
44 - 43
2:35
San Antonio Full Timeout.
44 - 43
2:23
Stephen Jackson missed 22 ft Jumper.
44 - 43
2:20
Derek Anderson Defensive Rebound.
44 - 43
2:11
Ruben Patterson missed Layup.
44 - 43
2:10
Stephen Jackson Defensive Rebound.
44 - 43
2:05
Bruce Bowen missed Layup. Blocked by Scottie Pippen.
44 - 43
2:03
Tim Duncan Offensive Rebound.
46 - 43
2:03
Tim Duncan made Two Point Shot.
46 - 43
1:39
Bonzi Wells missed 3 ft Two Point Shot.
46 - 43
1:39
Tim Duncan Defensive Rebound.
46 - 43
1:34
Kicked Ball
46 - 43
1:19
Malik Rose missed Jumper.
46 - 43
1:16
Dale Davis Defensive Rebound.
46 - 43
1:13
Stephen Jackson Personal Foul
46 - 43
1:07
Scottie Pippen missed Two Point Shot.
46 - 43
1:07
Tim Duncan Defensive Rebound.
46 - 43
1:04
Tim Duncan Bad Pass
46 - 43
0:49
Bonzi Wells Offensive Foul
46 - 43
0:49
Bonzi Wells Foul
46 - 43
0:35
Tony Parker made 23 ft Three Point Jumper. Assisted by Bruce Bowen.
49 - 43
0:28
Ruben Patterson Double Technical Foul. Stephen Jackson gains possession.
49 - 43
0:28
Steve Smith enters the game for Stephen Jackson.
49 - 43
0:26
Scottie Pippen missed Layup.
49 - 43
0:25
Portland Offensive Rebound.
49 - 43
0:25
Malik Rose Loose Ball Foul
49 - 43
0:25
Bonzi Wells Technical Foul
49 - 43
0:25
Bonzi Wells Technical Foul
49 - 43
0:25
null
49 - 43
0:25
Zachary Randolph enters the game for Bonzi Wells.
49 - 43
0:25
Steve Smith made Technical Free Throw.
50 - 43
0:25
Steve Smith made Technical Free Throw.
51 - 43
0:25
Ruben Patterson missed Free Throw 1 of 2.
51 - 43
0:25
Portland Offensive Rebound.
51 - 43
0:25
Ruben Patterson made Free Throw 2 of 2.
51 - 44
0:12
Scottie Pippen Personal Foul
51 - 44
0:12
Antonio Daniels enters the game for Derek Anderson.
51 - 44
0:12
San Antonio 20 Sec. Timeout.
51 - 44
0:01
Tony Parker missed 18 ft Jumper.
51 - 44
0:00
San Antonio Defensive Rebound.
51 - 44
0:00
End of the 2nd Quarter.
51 - 44

time
TEAM
PLAY
SCORE
12:00
Start of the 3rd Quarter.
51 - 44
11:45
Tim Duncan made 14 ft Jumper. Assisted by Stephen Jackson.
53 - 44
11:26
Ruben Patterson missed 5 ft Two Point Shot. Blocked by Tim Duncan.
53 - 44
11:25
Ruben Patterson Offensive Rebound.
53 - 44
11:23
Malik Rose Shooting Foul
53 - 44
11:23
Ruben Patterson made Free Throw 1 of 2.
53 - 45
11:23
Ruben Patterson made Free Throw 2 of 2.
53 - 46
11:15
Tim Duncan made Dunk. Assisted by Tony Parker.
55 - 46
10:55
Dale Davis made Layup. Assisted by Rasheed Wallace.
55 - 48
10:37
Stephen Jackson made Dunk. Assisted by Tony Parker.
57 - 48
10:10
Rasheed Wallace missed 25 ft Three Point Jumper.
57 - 48
10:07
Ruben Patterson Offensive Rebound.
57 - 50
10:07
Ruben Patterson made Layup.
57 - 50
9:52
Tony Parker Lost Ball
57 - 50
9:51
Dale Davis made Two Point Shot. Assisted by Derek Anderson.
57 - 52
9:40
San Antonio Full Timeout.
57 - 52
9:33
Tony Parker missed 24 ft Three Point Jumper.
57 - 52
9:30
Ruben Patterson Defensive Rebound.
57 - 52
9:22
Tony Parker Shooting Foul
57 - 52
9:22
Derek Anderson made Free Throw 1 of 2.
57 - 53
9:22
Steve Kerr enters the game for Tony Parker.
57 - 53
9:22
Derek Anderson made Free Throw 2 of 2.
57 - 54
9:14
San Antonio 20 Sec. Timeout.
57 - 54
9:07
Ruben Patterson Shooting Foul
57 - 54
9:07
Tim Duncan made Free Throw 1 of 2.
58 - 54
9:07
Tim Duncan made Free Throw 2 of 2.
59 - 54
8:56
Rasheed Wallace made 4 ft Jumper. Assisted by Scottie Pippen.
59 - 56
8:56
Bruce Bowen Shooting Foul
59 - 56
8:56
Tony Parker enters the game for Steve Kerr.
59 - 56
8:56
Rasheed Wallace made Free Throw 1 of 1.
59 - 57
8:33
Malik Rose Lost Ball. Stolen by Scottie Pippen.
59 - 57
8:29
Ruben Patterson made Dunk. Assisted by Scottie Pippen.
59 - 59
8:00
Tim Duncan missed 17 ft Jumper. Blocked by Dale Davis.
59 - 59
7:58
Rasheed Wallace Defensive Rebound.
59 - 59
7:41
Derek Anderson missed Three Point Jumper.
59 - 59
7:39
Tony Parker Defensive Rebound.
59 - 59
7:30
Bruce Bowen made 23 ft Three Point Jumper. Assisted by Tim Duncan.
62 - 59
7:13
Dale Davis made 14 ft Two Point Shot. Assisted by Scottie Pippen.
62 - 61
7:01
Bruce Bowen made 24 ft Three Point Jumper. Assisted by Malik Rose.
65 - 61
6:50
Bruce Bowen Personal Foul
65 - 61
6:43
Derek Anderson made 4 ft Two Point Shot.
65 - 63
6:26
Kicked Ball
65 - 63
6:20
Stephen Jackson Lost Ball. Stolen by Derek Anderson.
65 - 63
6:16
Tim Duncan Shooting Foul
65 - 63
6:16
Ruben Patterson made Free Throw 1 of 2.
65 - 64
6:16
Ruben Patterson missed Free Throw 2 of 2.
65 - 64
6:16
Portland Defensive Rebound.
65 - 64
5:56
Stephen Jackson missed Three Point Jumper.
65 - 64
5:54
San Antonio Defensive Rebound.
65 - 64
5:33
Scottie Pippen missed 18 ft Jumper.
65 - 64
5:30
Malik Rose Defensive Rebound.
65 - 64
5:16
Tim Duncan Lost Ball. Stolen by Dale Davis.
65 - 64
5:11
Derek Anderson made Layup. Assisted by Scottie Pippen.
65 - 66
4:52
Tony Parker missed 25 ft Three Point Jumper. Blocked by Dale Davis.
65 - 66
4:48
Ruben Patterson Defensive Rebound.
65 - 66
4:46
Stephen Jackson Personal Foul
65 - 66
4:46
Emanuel Ginobili enters the game for Stephen Jackson.
65 - 66
4:46
Derek Anderson missed Free Throw 1 of 2.
65 - 66
4:46
Portland Offensive Rebound.
65 - 66
4:46
Derek Anderson made Free Throw 2 of 2.
65 - 67
4:24
Tim Duncan made 21 ft Jumper. Assisted by Emanuel Ginobili.
67 - 67
4:09
Rasheed Wallace missed 25 ft Three Point Jumper.
67 - 67
4:07
Bruce Bowen Defensive Rebound.
67 - 67
3:55
Malik Rose made 19 ft Jumper. Assisted by Tony Parker.
69 - 67
3:41
Rasheed Wallace made Two Point Shot.
69 - 69
3:15
Emanuel Ginobili Bad Pass. Stolen by Scottie Pippen.
69 - 69
3:12
Derek Anderson made Two Point Shot. Assisted by Scottie Pippen.
69 - 71
2:47
Dale Davis Shooting Foul
69 - 71
2:47
Portland Full Timeout.
69 - 71
2:47
Steve Kerr enters the game for Tony Parker.
69 - 71
2:47
Malik Rose made Free Throw 1 of 2.
70 - 71
2:47
Malik Rose made Free Throw 2 of 2.
71 - 71
2:38
Bruce Bowen Personal Foul
71 - 71
2:38
Kevin Willis enters the game for Malik Rose.
71 - 71
2:38
Rasheed Wallace made Free Throw 1 of 2.
71 - 72
2:38
Steve Smith enters the game for Bruce Bowen.
71 - 72
2:38
Rasheed Wallace made Free Throw 2 of 2.
71 - 73
2:16
Steve Smith missed 23 ft Three Point Jumper.
71 - 73
2:15
Scottie Pippen Defensive Rebound.
71 - 73
2:01
Scottie Pippen made Two Point Shot. Assisted by Ruben Patterson.
71 - 75
1:38
Tim Duncan made 5 ft Jumper.
73 - 75
1:38
Dale Davis Shooting Foul
73 - 75
1:38
Arvydas Sabonis enters the game for Dale Davis.
73 - 75
1:38
Tim Duncan made Free Throw 1 of 1.
74 - 75
1:23
Arvydas Sabonis Bad Pass. Stolen by Tim Duncan.
74 - 75
1:10
Tim Duncan missed Two Point Shot.
74 - 75
1:08
Ruben Patterson Defensive Rebound.
74 - 75
0:52
Ruben Patterson made Layup. Assisted by Arvydas Sabonis.
74 - 77
0:36
Tim Duncan made 4 ft Two Point Shot. Assisted by Steve Kerr.
76 - 77
0:30
Scottie Pippen missed 24 ft Three Point Jumper.
76 - 77
0:30
Portland Defensive Rebound.
76 - 77
0:13
Kevin Willis made Two Point Shot. Assisted by Tim Duncan.
78 - 77
0:01
Scottie Pippen made 21 ft Jumper.
78 - 79
0:00
Tim Duncan missed 38 ft Three Point Jumper.
78 - 79
0:00
San Antonio Offensive Rebound.
78 - 79
0:00
End of the 3rd Quarter.
78 - 79

time
TEAM
PLAY
SCORE
12:00
Start of the 4th Quarter.
78 - 79
11:48
Rasheed Wallace missed 24 ft Three Point Jumper.
78 - 79
11:45
Steve Kerr Defensive Rebound.
78 - 79
11:33
Kevin Willis made Two Point Shot. Assisted by Tim Duncan.
80 - 79
11:11
Derek Anderson missed 25 ft Three Point Jumper.
80 - 79
11:08
Steve Smith Defensive Rebound.
80 - 79
10:49
Steve Kerr missed 26 ft Three Point Jumper.
80 - 79
10:47
San Antonio Defensive Rebound.
80 - 79
10:47
Steve Smith Loose Ball Foul
80 - 79
10:37
Emanuel Ginobili Personal Foul
80 - 79
10:30
Derek Anderson Offensive Foul
80 - 79
10:30
Derek Anderson Foul
80 - 79
10:11
Arvydas Sabonis Shooting Foul
80 - 79
10:11
Malik Rose enters the game for Tim Duncan.
80 - 79
10:11
Antonio Daniels enters the game for Derek Anderson.
80 - 79
10:11
Kevin Willis made Free Throw 1 of 2.
81 - 79
10:11
Tony Parker enters the game for Steve Kerr.
81 - 79
10:11
Kevin Willis made Free Throw 2 of 2.
82 - 79
9:56
Rasheed Wallace missed Layup.
82 - 79
9:55
Arvydas Sabonis Offensive Rebound.
82 - 79
9:48
Jeff McInnis missed 10 ft Jumper.
82 - 79
9:44
Emanuel Ginobili Defensive Rebound.
82 - 79
9:30
Antonio Daniels Shooting Foul
82 - 79
9:30
Emanuel Ginobili made Free Throw 1 of 2.
83 - 79
9:30
Emanuel Ginobili made Free Throw 2 of 2.
84 - 79
9:17
Qyntel Woods Lost Ball. Stolen by Steve Smith.
84 - 79
9:03
Emanuel Ginobili missed 25 ft Three Point Jumper.
84 - 79
9:03
San Antonio Defensive Rebound.
84 - 79
8:49
Arvydas Sabonis made Dunk. Assisted by Antonio Daniels.
84 - 81
8:30
Arvydas Sabonis Shooting Foul
84 - 81
8:30
Official Timeout.
84 - 81
8:30
Scottie Pippen enters the game for Qyntel Woods.
84 - 81
8:30
Malik Rose made Free Throw 1 of 2.
85 - 81
8:30
Malik Rose missed Free Throw 2 of 2.
85 - 81
8:30
Malik Rose Offensive Rebound.
85 - 81
8:29
Malik Rose missed Two Point Shot.
85 - 81
8:27
Antonio Daniels Defensive Rebound.
85 - 81
8:22
Rasheed Wallace made 14 ft Jumper. Assisted by Antonio Daniels.
85 - 83
8:06
Arvydas Sabonis Personal Foul
85 - 83
8:06
Dale Davis enters the game for Arvydas Sabonis.
85 - 83
7:56
Antonio Daniels Personal Foul
85 - 83
7:56
Tim Duncan enters the game for Kevin Willis.
85 - 83
7:56
Steve Smith made Free Throw 1 of 2.
86 - 83
7:56
Steve Smith made Free Throw 2 of 2.
87 - 83
7:41
Rasheed Wallace missed 18 ft Jumper.
87 - 83
7:39
Tim Duncan Defensive Rebound.
87 - 83
7:22
Emanuel Ginobili missed 24 ft Three Point Jumper.
87 - 83
7:20
Rasheed Wallace Defensive Rebound.
87 - 83
7:16
Emanuel Ginobili Shooting Foul
87 - 83
7:16
Dale Davis made Free Throw 1 of 2.
87 - 84
7:16
Dale Davis missed Free Throw 2 of 2.
87 - 84
7:16
Dale Davis Offensive Rebound.
87 - 84
7:13
Dale Davis missed Layup. Blocked by Tim Duncan.
87 - 84
7:11
Malik Rose Defensive Rebound.
87 - 84
7:11
Dale Davis Personal Foul
87 - 84
7:11
Malik Rose made Free Throw 1 of 2.
88 - 84
7:11
Malik Rose made Free Throw 2 of 2.
89 - 84
6:56
Jeff McInnis made 8 ft Two Point Shot. Assisted by Rasheed Wallace.
89 - 86
6:56
Tony Parker Shooting Foul
89 - 86
6:56
Jeff McInnis made Free Throw 1 of 1.
89 - 87
6:37
Tim Duncan missed 11 ft Jumper.
89 - 87
6:35
Malik Rose Offensive Rebound.
89 - 87
6:22
Steve Smith missed 16 ft Jumper.
89 - 87
6:20
Dale Davis Defensive Rebound.
89 - 87
6:07
Dale Davis missed Two Point Shot.
89 - 87
6:07
Dale Davis Offensive Rebound.
89 - 87
6:05
Dale Davis made Layup.
89 - 89
5:54
Jeff McInnis Personal Foul
89 - 89
5:54
Portland Full Timeout.
89 - 89
5:54
Bruce Bowen enters the game for Steve Smith.
89 - 89
5:54
Steve Kerr enters the game for Emanuel Ginobili.
89 - 89
5:54
Tony Parker made Free Throw 1 of 2.
90 - 89
5:54
Tony Parker made Free Throw 2 of 2.
91 - 89
5:45
Jeff McInnis missed 15 ft Jumper.
91 - 89
5:43
Malik Rose Defensive Rebound.
91 - 89
5:24
Bruce Bowen made 12 ft Jumper. Assisted by Tim Duncan.
93 - 89
5:05
Rasheed Wallace missed Jumper.
93 - 89
5:03
Malik Rose Defensive Rebound.
93 - 89
4:50
Tim Duncan made 14 ft Jumper.
95 - 89
4:35
Rasheed Wallace missed 8 ft Jumper.
95 - 89
4:33
Malik Rose Defensive Rebound.
95 - 89
4:28
Tony Parker Lost Ball. Stolen by Scottie Pippen.
95 - 89
4:09
Antonio Daniels made 24 ft Three Point Jumper. Assisted by Jeff McInnis.
95 - 92
3:44
Bruce Bowen missed 23 ft Three Point Jumper.
95 - 92
3:42
Scottie Pippen Defensive Rebound.
95 - 92
3:34
Scottie Pippen missed 11 ft Two Point Shot.
95 - 92
3:33
Tim Duncan Defensive Rebound.
95 - 92
3:27
San Antonio Full Timeout.
95 - 92
3:27
Derek Anderson enters the game for Antonio Daniels.
95 - 92
3:26
Bruce Bowen Bad Pass
95 - 92
3:12
Derek Anderson made 13 ft Two Point Shot.
95 - 94
2:43
Bruce Bowen missed 21 ft Jumper.
95 - 94
2:43
San Antonio Offensive Rebound.
95 - 94
2:43
24 second
95 - 94
2:23
Scottie Pippen missed Jumper.
95 - 94
2:19
Rasheed Wallace Offensive Rebound.
95 - 96
2:19
Rasheed Wallace made Layup.
95 - 96
2:03
Tony Parker made 24 ft Three Point Jumper. Assisted by Tim Duncan.
98 - 96
1:49
Stephen Jackson enters the game for Steve Kerr.
98 - 96
1:39
Rasheed Wallace made 12 ft Jumper. Assisted by Derek Anderson.
98 - 98
1:23
Rasheed Wallace Shooting Foul
98 - 98
1:23
Tim Duncan made Free Throw 1 of 2.
99 - 98
1:23
Tim Duncan made Free Throw 2 of 2.
100 - 98
1:23
Portland Full Timeout.
100 - 98
1:00
Rasheed Wallace made 11 ft Two Point Shot.
100 - 100
0:37
Stephen Jackson Bad Pass. Stolen by Derek Anderson.
100 - 100
0:30
Rasheed Wallace missed 26 ft Three Point Jumper.
100 - 100
0:28
Scottie Pippen Offensive Rebound.
100 - 100
0:28
Portland 20 Sec. Timeout.
100 - 100
0:07
Rasheed Wallace missed Layup.
100 - 100
0:04
Dale Davis Offensive Rebound.
100 - 100
0:02
Rasheed Wallace missed 23 ft Three Point Jumper.
100 - 100
0:02
Portland Defensive Rebound.
100 - 100
0:02
Scottie Pippen Loose Ball Foul
100 - 100
0:02
Tim Duncan made Free Throw 1 of 2.
101 - 100
0:02
Tim Duncan made Free Throw 2 of 2.
102 - 100
0:02
Portland Full Timeout.
102 - 100
0:02
Antonio Daniels enters the game for Dale Davis.
102 - 100
0:01
Malik Rose Personal Foul
102 - 100
0:01
Scottie Pippen made Free Throw 1 of 2.
102 - 101
0:01
Dale Davis enters the game for Antonio Daniels.
102 - 101
0:01
Kevin Willis enters the game for Stephen Jackson.
102 - 101
0:01
Scottie Pippen made Free Throw 2 of 2.
102 - 102
0:01
San Antonio Full Timeout.
102 - 102
0:01
Danny Ferry enters the game for Kevin Willis.
102 - 102
0:01
Stephen Jackson enters the game for Malik Rose.
102 - 102
0:01
San Antonio Full Timeout.
102 - 102
0:01
Malik Rose enters the game for Danny Ferry.
102 - 102
0:01
Ruben Patterson enters the game for Jeff McInnis.
102 - 102
0:00
Stephen Jackson missed Jumper.
102 - 102
0:00
San Antonio Offensive Rebound.
102 - 102
0:00
End of the 4th Quarter.
102 - 102

time
TEAM
PLAY
SCORE
5:00
Start of the 1st Overtime.
102 - 102
5:00
Jumpball. Tim Duncan vs. Rasheed Wallace. Malik Rose gains possession.
102 - 102
4:43
Dale Davis Shooting Foul
102 - 102
4:43
Tim Duncan made Free Throw 1 of 2.
103 - 102
4:43
Tim Duncan made Free Throw 2 of 2.
104 - 102
4:26
Scottie Pippen missed 19 ft Jumper.
104 - 102
4:24
Bruce Bowen Defensive Rebound.
104 - 102
4:03
Tony Parker made 5 ft Two Point Shot. Assisted by Tim Duncan.
106 - 102
3:45
Rasheed Wallace made 5 ft Jumper. Assisted by Jeff McInnis.
106 - 104
3:21
Tim Duncan made 5 ft Two Point Shot.
108 - 104
3:03
Jeff McInnis made Jumper. Assisted by Derek Anderson.
108 - 106
2:43
Rasheed Wallace Shooting Foul
108 - 106
2:43
Tim Duncan made Free Throw 1 of 2.
109 - 106
2:43
Tim Duncan missed Free Throw 2 of 2.
109 - 106
2:43
Rasheed Wallace Defensive Rebound.
109 - 106
2:29
Scottie Pippen made Two Point Shot.
109 - 108
2:29
Stephen Jackson Shooting Foul
109 - 108
2:29
Scottie Pippen made Free Throw 1 of 1.
109 - 109
2:08
Stephen Jackson missed 22 ft Jumper.
109 - 109
2:05
Scottie Pippen Defensive Rebound.
109 - 109
2:01
Stephen Jackson Personal Foul
109 - 109
2:01
Portland Full Timeout.
109 - 109
2:01
Emanuel Ginobili enters the game for Stephen Jackson.
109 - 109
1:50
Malik Rose Personal Foul
109 - 109
1:39
Scottie Pippen made 20 ft Jumper.
109 - 111
1:17
Tim Duncan missed 24 ft Three Point Jumper.
109 - 111
1:15
Bruce Bowen Offensive Rebound.
109 - 111
1:00
Tony Parker missed 20 ft Jumper.
109 - 111
0:58
Tim Duncan Offensive Rebound.
109 - 111
0:42
Emanuel Ginobili made 24 ft Three Point Jumper. Assisted by Tony Parker.
112 - 111
0:28
Scottie Pippen missed Two Point Shot. Blocked by Malik Rose.
112 - 111
0:26
Tim Duncan Defensive Rebound.
112 - 111
0:16
Jeff McInnis Personal Foul
112 - 111
0:16
Steve Kerr enters the game for Bruce Bowen.
112 - 111
0:16
Ruben Patterson enters the game for Rasheed Wallace.
112 - 111
0:15
Jeff McInnis Personal Foul
112 - 111
0:15
Bruce Bowen enters the game for Steve Kerr.
112 - 111
0:15
Rasheed Wallace enters the game for Ruben Patterson.
112 - 111
0:15
Tony Parker made Free Throw 1 of 2.
113 - 111
0:15
Tony Parker made Free Throw 2 of 2.
114 - 111
0:15
Portland Full Timeout.
114 - 111
0:15
Antonio Daniels enters the game for Dale Davis.
114 - 111
0:12
Scottie Pippen missed Two Point Shot. Blocked by Tim Duncan.
114 - 111
0:11
Tim Duncan Defensive Rebound.
114 - 111
0:10
Rasheed Wallace Personal Foul
114 - 111
0:10
Ruben Patterson enters the game for Rasheed Wallace.
114 - 111
0:10
Tim Duncan missed Free Throw 1 of 2.
114 - 111
0:10
San Antonio Offensive Rebound.
114 - 111
0:10
Dale Davis enters the game for Antonio Daniels.
114 - 111
0:10
Tim Duncan missed Free Throw 2 of 2.
114 - 111
0:09
Ruben Patterson Defensive Rebound.
114 - 111
0:09
Portland Full Timeout.
114 - 111
0:09
Antonio Daniels enters the game for Dale Davis.
114 - 111
0:09
Arvydas Sabonis enters the game for Ruben Patterson.
114 - 111
0:09
Stephen Jackson enters the game for Malik Rose.
114 - 111
0:08
Scottie Pippen missed 24 ft Three Point Jumper.
114 - 111
0:07
Tim Duncan Defensive Rebound.
114 - 111
0:05
Arvydas Sabonis Personal Foul
114 - 111
0:05
Tony Parker made Free Throw 1 of 2.
115 - 111
0:05
Tony Parker made Free Throw 2 of 2.
116 - 111
0:00
Jeff McInnis missed 25 ft Three Point Jumper.
116 - 111
0:00
Portland Offensive Rebound.
116 - 111
0:00
End of the 1st Overtime.
116 - 111
0:00
End Game
116 - 111
0:00
End Game
116 - 111
0:00
End Game
116 - 111
Raja Bell and Zach Lowe weigh in on how much of an impact Brad Stevens can have on the Celtics' pursuit of a big time free agent.

Raja Bell and Zach Lowe think it's worth it for DeAndre Jordan to explore any option possible to improve his free throw shooting.

Counting down the top 60 NBA moments ever for #NBArank. Here is the shot Michael Jordan sinks over Craig Ehlo with things that you never noticed during the famous play.
Regular Season Series
Series tied 2-2
2015-2016 Pacific Standings