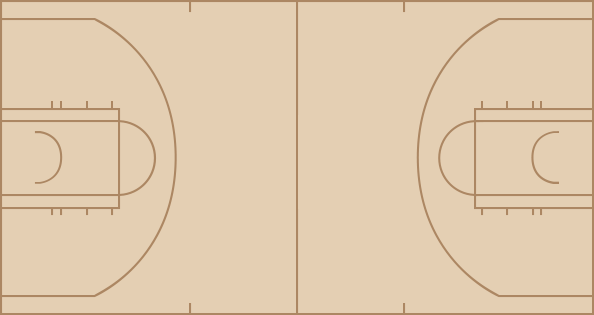 Celtics
time
TEAM
PLAY
SCORE
12:00
Start of the 1st Quarter.
0 - 0
12:00
Jumpball. Walter McCarty vs. Dale Davis. Bonzi Wells gains possession.
0 - 0
11:42
Dale Davis made Two Point Shot. Assisted by Bonzi Wells.
0 - 2
11:29
J.R. Bremer missed 25 ft Three Point Jumper.
0 - 2
11:26
Bonzi Wells Defensive Rebound.
0 - 2
11:14
Derek Anderson made 20 ft Jumper.
0 - 4
10:56
Paul Pierce made 21 ft Jumper. Assisted by Antoine Walker.
2 - 4
10:38
Walter McCarty Shooting Foul
2 - 4
10:38
Bonzi Wells made Free Throw 1 of 2.
2 - 5
10:38
Bonzi Wells missed Free Throw 2 of 2.
2 - 5
10:38
Walter McCarty Defensive Rebound.
2 - 5
10:19
Paul Pierce made 25 ft Three Point Jumper. Assisted by Antoine Walker.
5 - 5
10:10
Rasheed Wallace made Dunk. Assisted by Bonzi Wells.
5 - 7
9:52
Antoine Walker made Two Point Shot.
7 - 7
9:32
Bonzi Wells missed Jumper.
7 - 7
9:30
Dale Davis Offensive Rebound.
7 - 7
9:26
Rasheed Wallace made 25 ft Three Point Jumper. Assisted by Dale Davis.
7 - 10
9:08
Bonzi Wells Personal Foul
7 - 10
9:04
Paul Pierce missed 24 ft Three Point Jumper.
7 - 10
9:03
Bonzi Wells Defensive Rebound.
7 - 10
8:56
Rasheed Wallace missed 24 ft Three Point Jumper.
7 - 10
8:53
Paul Pierce Defensive Rebound.
7 - 10
8:53
Paul Pierce Lost Ball. Stolen by Scottie Pippen.
7 - 10
8:49
Dale Davis made Two Point Shot. Assisted by Derek Anderson.
7 - 12
8:26
Walter McCarty missed 25 ft Three Point Jumper.
7 - 12
8:25
Bonzi Wells Defensive Rebound.
7 - 12
8:22
Bonzi Wells Bad Pass. Stolen by Antoine Walker.
7 - 12
8:15
Antoine Walker missed 7 ft Two Point Shot.
7 - 12
8:14
Boston Offensive Rebound.
7 - 12
8:14
Derek Anderson Loose Ball Foul
7 - 12
8:03
Eric Williams missed 18 ft Jumper.
7 - 12
8:02
Dale Davis Defensive Rebound.
7 - 12
7:46
Dale Davis missed 12 ft Two Point Shot.
7 - 12
7:45
Rasheed Wallace Offensive Rebound.
7 - 14
7:45
Rasheed Wallace made Two Point Shot.
7 - 14
7:20
Walter McCarty made 24 ft Three Point Jumper. Assisted by Paul Pierce.
10 - 14
7:07
Bonzi Wells missed Three Point Jumper.
10 - 14
7:05
Antoine Walker Defensive Rebound.
10 - 14
6:54
Paul Pierce made 24 ft Three Point Jumper. Assisted by J.R. Bremer.
13 - 14
6:37
Bonzi Wells Bad Pass
13 - 14
6:30
J.R. Bremer made 25 ft Three Point Jumper. Assisted by Antoine Walker.
16 - 14
6:20
Portland Full Timeout.
16 - 14
6:13
Dale Davis Lost Ball
16 - 14
5:50
Antoine Walker made 27 ft Three Point Jumper. Assisted by J.R. Bremer.
19 - 14
5:33
Scottie Pippen Bad Pass. Stolen by Eric Williams.
19 - 14
5:30
Paul Pierce made Layup. Assisted by Eric Williams.
21 - 14
5:11
Rasheed Wallace made 12 ft Two Point Shot. Assisted by Derek Anderson.
21 - 16
4:58
Paul Pierce missed 24 ft Three Point Jumper.
21 - 16
4:56
Scottie Pippen Defensive Rebound.
21 - 16
4:39
Bonzi Wells missed 25 ft Three Point Jumper.
21 - 16
4:39
Dale Davis Offensive Rebound.
21 - 16
4:35
Bonzi Wells Lost Ball. Stolen by Paul Pierce.
21 - 16
4:30
Eric Williams made Two Point Shot. Assisted by Antoine Walker.
23 - 16
4:16
Scottie Pippen Bad Pass. Stolen by Walter McCarty.
23 - 16
4:11
Paul Pierce made Layup. Assisted by J.R. Bremer.
25 - 16
4:00
Bonzi Wells Bad Pass. Stolen by Walter McCarty.
25 - 16
3:49
Dale Davis Shooting Foul
25 - 16
3:49
Tony Delk enters the game for J.R. Bremer.
25 - 16
3:49
Vin Baker enters the game for Eric Williams.
25 - 16
3:49
Paul Pierce missed Free Throw 1 of 2.
25 - 16
3:49
Boston Offensive Rebound.
25 - 16
3:49
Paul Pierce made Free Throw 2 of 2.
26 - 16
3:43
Paul Pierce Shooting Foul
26 - 16
3:43
Scottie Pippen missed Free Throw 1 of 2.
26 - 16
3:43
Portland Offensive Rebound.
26 - 16
3:43
Scottie Pippen missed Free Throw 2 of 2.
26 - 16
3:43
Walter McCarty Defensive Rebound.
26 - 16
3:31
Tony Delk Bad Pass. Stolen by Rasheed Wallace.
26 - 16
3:30
Walter McCarty Clear Path Foul
26 - 16
3:30
Grant Long enters the game for Antoine Walker.
26 - 16
3:30
Derek Anderson made Free Throw.
26 - 17
3:30
Eric Williams enters the game for Walter McCarty.
26 - 17
3:23
Eric Williams Personal Foul
26 - 17
3:15
Dale Davis missed 16 ft Jumper.
26 - 17
3:13
Paul Pierce Defensive Rebound.
26 - 17
3:06
Grant Long made 19 ft Jumper. Assisted by Tony Delk.
28 - 17
2:46
Boston Full Timeout.
28 - 17
2:41
Rasheed Wallace missed 25 ft Three Point Jumper.
28 - 17
2:39
Grant Long Defensive Rebound.
28 - 17
2:31
Paul Pierce made Two Point Shot.
30 - 17
2:31
Scottie Pippen Shooting Foul
30 - 17
2:31
Arvydas Sabonis enters the game for Dale Davis.
30 - 17
2:31
Ruben Patterson enters the game for Bonzi Wells.
30 - 17
2:31
Paul Pierce made Free Throw 1 of 1.
31 - 17
2:20
Ruben Patterson Lost Ball. Stolen by Paul Pierce.
31 - 17
2:16
Paul Pierce made Two Point Shot.
33 - 17
2:04
Scottie Pippen Bad Pass
33 - 17
2:04
Jeff McInnis enters the game for Scottie Pippen.
33 - 17
1:53
Eric Williams made Jumper. Assisted by Grant Long.
35 - 17
1:44
Portland 20 Sec. Timeout.
35 - 17
1:31
Arvydas Sabonis missed 10 ft Hook Shot.
35 - 17
1:31
Eric Williams Defensive Rebound.
35 - 17
1:15
Paul Pierce made 18 ft Jumper. Assisted by Vin Baker.
37 - 17
1:00
Paul Pierce Personal Foul
37 - 17
1:00
Shammond Williams enters the game for Paul Pierce.
37 - 17
1:00
Derek Anderson made Free Throw 1 of 2.
37 - 18
1:00
Antoine Walker enters the game for Eric Williams.
37 - 18
1:00
Derek Anderson made Free Throw 2 of 2.
37 - 19
0:44
Antoine Walker made Two Point Shot.
39 - 19
0:30
Arvydas Sabonis made Layup. Assisted by Ruben Patterson.
39 - 21
0:16
Antoine Walker missed 25 ft Three Point Jumper.
39 - 21
0:14
Ruben Patterson Defensive Rebound.
39 - 21
0:02
Jeff McInnis made Two Point Shot.
39 - 23
0:00
End of the 1st Quarter.
39 - 23

time
TEAM
PLAY
SCORE
12:00
Start of the 2nd Quarter.
39 - 23
11:36
Antoine Walker missed 23 ft Three Point Jumper.
39 - 23
11:33
Ruben Patterson Defensive Rebound.
39 - 23
11:22
Ruben Patterson made Two Point Shot. Assisted by Jeff McInnis.
39 - 25
11:00
Antoine Walker missed 6 ft Two Point Shot.
39 - 25
11:00
Rasheed Wallace Defensive Rebound.
39 - 25
10:51
Grant Long Shooting Foul
39 - 25
10:51
Arvydas Sabonis made Free Throw 1 of 2.
39 - 26
10:51
Arvydas Sabonis made Free Throw 2 of 2.
39 - 27
10:32
J.R. Bremer missed Three Point Jumper.
39 - 27
10:30
Rasheed Wallace Defensive Rebound.
39 - 27
10:18
Rasheed Wallace Bad Pass
39 - 27
10:07
Antoine Walker Offensive Foul
39 - 27
10:07
Antoine Walker Foul
39 - 27
10:07
Paul Pierce enters the game for Grant Long.
39 - 27
9:52
Ruben Patterson missed Two Point Shot. Blocked by Vin Baker.
39 - 27
9:52
Portland Offensive Rebound.
39 - 27
9:52
Paul Pierce Loose Ball Foul
39 - 27
9:52
Eric Williams enters the game for Paul Pierce.
39 - 27
9:45
Ruben Patterson made 20 ft Jumper. Assisted by Rasheed Wallace.
39 - 29
9:22
Antoine Walker Traveling
39 - 29
9:11
Vin Baker Shooting Foul
39 - 29
9:11
Rasheed Wallace made Free Throw 1 of 2.
39 - 30
9:11
Rasheed Wallace made Free Throw 2 of 2.
39 - 31
8:53
Vin Baker missed Two Point Shot.
39 - 31
8:52
Arvydas Sabonis Defensive Rebound.
39 - 31
8:42
Jeff McInnis made 11 ft Jumper.
39 - 33
8:34
Boston Full Timeout.
39 - 33
8:26
Eric Williams missed 6 ft Two Point Shot.
39 - 33
8:25
Arvydas Sabonis Defensive Rebound.
39 - 33
8:18
Antonio Daniels Bad Pass. Stolen by Vin Baker.
39 - 33
8:02
J.R. Bremer missed 24 ft Three Point Jumper.
39 - 33
8:00
Boston Defensive Rebound.
39 - 33
7:43
Arvydas Sabonis missed Jumper.
39 - 33
7:41
Antoine Walker Defensive Rebound.
39 - 33
7:37
Tony Delk enters the game for J.R. Bremer.
39 - 33
7:37
Zachary Randolph enters the game for Rasheed Wallace.
39 - 33
7:31
Vin Baker missed Two Point Shot.
39 - 33
7:30
Arvydas Sabonis Defensive Rebound.
39 - 33
7:24
Ruben Patterson missed 19 ft Jumper.
39 - 33
7:22
Zachary Randolph Offensive Rebound.
39 - 33
7:22
Tony Delk Shooting Foul
39 - 33
7:22
Zachary Randolph made Free Throw 1 of 2.
39 - 34
7:22
Zachary Randolph made Free Throw 2 of 2.
39 - 35
7:05
Antoine Walker made 16 ft Two Point Shot.
41 - 35
6:46
Zachary Randolph made 12 ft Two Point Shot.
41 - 37
6:20
Antoine Walker missed Two Point Shot.
41 - 37
6:20
Boston Offensive Rebound.
41 - 37
6:20
Arvydas Sabonis Loose Ball Foul
41 - 37
6:20
Derek Anderson enters the game for Antonio Daniels.
41 - 37
6:01
Vin Baker made Jumper.
43 - 37
5:41
Eric Williams Personal Foul
43 - 37
5:41
Official Timeout.
43 - 37
5:41
Bonzi Wells enters the game for Ruben Patterson.
43 - 37
5:41
Grant Long enters the game for Eric Williams.
43 - 37
5:41
Zachary Randolph missed Free Throw 1 of 2.
43 - 37
5:41
Portland Offensive Rebound.
43 - 37
5:41
Zachary Randolph made Free Throw 2 of 2.
43 - 38
5:22
Vin Baker missed 11 ft Jumper.
43 - 38
5:20
Bonzi Wells Defensive Rebound.
43 - 38
5:05
Jeff McInnis missed Two Point Shot.
43 - 38
5:03
Vin Baker Defensive Rebound.
43 - 38
4:56
Shammond Williams Bad Pass. Stolen by Arvydas Sabonis.
43 - 38
4:52
Bonzi Wells made Two Point Shot. Assisted by Zachary Randolph.
43 - 40
4:26
Vin Baker made Two Point Shot.
45 - 40
4:26
Bonzi Wells Shooting Foul
45 - 40
4:26
Dale Davis enters the game for Arvydas Sabonis.
45 - 40
4:26
J.R. Bremer enters the game for Shammond Williams.
45 - 40
4:26
Vin Baker made Free Throw 1 of 1.
46 - 40
4:03
Zachary Randolph missed 17 ft Jumper.
46 - 40
4:01
Portland Defensive Rebound.
46 - 40
3:38
Tony Delk missed Three Point Jumper.
46 - 40
3:35
Zachary Randolph Defensive Rebound.
46 - 40
3:20
Bonzi Wells missed 8 ft Jumper.
46 - 40
3:18
Antoine Walker Defensive Rebound.
46 - 40
3:14
J.R. Bremer missed Two Point Shot. Blocked by Bonzi Wells.
46 - 40
3:11
Grant Long Offensive Rebound.
46 - 40
3:11
Grant Long missed Layup.
46 - 40
3:09
Vin Baker Offensive Rebound.
48 - 40
3:09
Vin Baker made Layup.
48 - 40
2:58
Portland Full Timeout.
48 - 40
2:58
Rasheed Wallace enters the game for Zachary Randolph.
48 - 40
2:48
Derek Anderson missed 25 ft Three Point Jumper.
48 - 40
2:47
Derek Anderson Offensive Rebound.
48 - 40
2:35
Dale Davis missed Jumper.
48 - 40
2:33
Grant Long Defensive Rebound.
48 - 40
2:28
Antoine Walker Bad Pass. Stolen by Rasheed Wallace.
48 - 40
2:20
Grant Long Shooting Foul
48 - 40
2:20
Dale Davis missed Free Throw 1 of 2.
48 - 40
2:20
Portland Offensive Rebound.
48 - 40
2:20
Dale Davis missed Free Throw 2 of 2.
48 - 40
2:20
Vin Baker Defensive Rebound.
48 - 40
2:09
Rasheed Wallace Personal Foul
48 - 40
1:58
Antoine Walker missed Two Point Shot. Blocked by Dale Davis.
48 - 40
1:57
Rasheed Wallace Defensive Rebound.
48 - 40
1:53
Bonzi Wells Offensive Foul
48 - 40
1:53
Bonzi Wells Foul
48 - 40
1:53
Ruben Patterson enters the game for Bonzi Wells.
48 - 40
1:53
Scottie Pippen enters the game for Jeff McInnis.
48 - 40
1:39
Antoine Walker missed 24 ft Three Point Jumper.
48 - 40
1:39
Grant Long Offensive Rebound.
48 - 40
1:36
J.R. Bremer made 24 ft Three Point Jumper. Assisted by Grant Long.
51 - 40
1:28
Rasheed Wallace made Dunk. Assisted by Ruben Patterson.
51 - 42
1:06
J.R. Bremer missed 24 ft Three Point Jumper.
51 - 42
1:04
Scottie Pippen Defensive Rebound.
51 - 42
0:50
Vin Baker Shooting Foul
51 - 42
0:50
Rasheed Wallace missed Free Throw 1 of 2.
51 - 42
0:50
Portland Offensive Rebound.
51 - 42
0:50
Rasheed Wallace made Free Throw 2 of 2.
51 - 43
0:28
Antoine Walker Offensive Foul
51 - 43
0:28
Antoine Walker Foul
51 - 43
0:13
Rasheed Wallace Bad Pass. Stolen by Tony Delk.
51 - 43
0:11
Ruben Patterson Clear Path Foul
51 - 43
0:11
Tony Delk missed Free Throw.
51 - 43
0:11
Boston Offensive Rebound.
51 - 43
0:11
Boston 20 Sec. Timeout.
51 - 43
0:11
Antonio Daniels enters the game for Dale Davis.
51 - 43
0:00
J.R. Bremer missed 23 ft Three Point Jumper.
51 - 43
0:00
Boston Offensive Rebound.
51 - 43
0:00
End of the 2nd Quarter.
51 - 43

time
TEAM
PLAY
SCORE
12:00
Start of the 3rd Quarter.
51 - 43
11:37
J.R. Bremer Offensive Foul
51 - 43
11:37
J.R. Bremer Foul
51 - 43
11:23
Rasheed Wallace missed Layup.
51 - 43
11:22
Portland Defensive Rebound.
51 - 43
11:22
Rasheed Wallace Loose Ball Foul
51 - 43
11:15
Paul Pierce made Layup. Assisted by Antoine Walker.
53 - 43
10:57
J.R. Bremer Personal Foul
53 - 43
10:52
Derek Anderson Traveling
53 - 43
10:33
Paul Pierce missed 24 ft Three Point Jumper.
53 - 43
10:30
Dale Davis Defensive Rebound.
53 - 43
10:23
Dale Davis made 10 ft Jumper. Assisted by Bonzi Wells.
53 - 45
10:04
Paul Pierce missed 13 ft Jumper.
53 - 45
10:02
Scottie Pippen Defensive Rebound.
53 - 45
9:57
Rasheed Wallace made Two Point Shot. Assisted by Bonzi Wells.
53 - 47
9:34
Antoine Walker Bad Pass. Stolen by Derek Anderson.
53 - 47
9:23
Rasheed Wallace Bad Pass. Stolen by Walter McCarty.
53 - 47
9:14
Eric Williams missed 23 ft Three Point Jumper.
53 - 47
9:11
Rasheed Wallace Defensive Rebound.
53 - 47
9:06
Dale Davis made Dunk. Assisted by Derek Anderson.
53 - 49
9:03
Boston Full Timeout.
53 - 49
8:41
Antoine Walker missed 4 ft Jumper.
53 - 49
8:38
Scottie Pippen Defensive Rebound.
53 - 49
8:33
J.R. Bremer Shooting Foul
53 - 49
8:33
Scottie Pippen made Free Throw 1 of 2.
53 - 50
8:33
Scottie Pippen made Free Throw 2 of 2.
53 - 51
8:11
J.R. Bremer missed 24 ft Three Point Jumper.
53 - 51
8:08
Bonzi Wells Defensive Rebound.
53 - 51
7:54
Rasheed Wallace Offensive Foul
53 - 51
7:54
Rasheed Wallace Foul
53 - 51
7:39
J.R. Bremer missed 24 ft Three Point Jumper.
53 - 51
7:37
Dale Davis Defensive Rebound.
53 - 51
7:28
Scottie Pippen Bad Pass. Stolen by Walter McCarty.
53 - 51
7:22
Paul Pierce made Two Point Shot.
55 - 51
7:22
Bonzi Wells Shooting Foul
55 - 51
7:22
Tony Delk enters the game for J.R. Bremer.
55 - 51
7:22
Ruben Patterson enters the game for Bonzi Wells.
55 - 51
7:22
Paul Pierce made Free Throw 1 of 1.
56 - 51
7:07
Dale Davis made 4 ft Two Point Shot.
56 - 53
6:52
Paul Pierce Lost Ball. Stolen by Dale Davis.
56 - 53
6:45
Scottie Pippen missed 24 ft Three Point Jumper.
56 - 53
6:45
Portland Offensive Rebound.
56 - 53
6:45
Eric Williams Loose Ball Foul
56 - 53
6:45
J.R. Bremer enters the game for Paul Pierce.
56 - 53
6:45
Rasheed Wallace Technical Foul
56 - 53
6:45
J.R. Bremer made Technical Free Throw.
57 - 53
6:37
Dale Davis made Two Point Shot. Assisted by Derek Anderson.
57 - 55
6:16
Antoine Walker Bad Pass
57 - 55
5:56
Dale Davis made Layup. Assisted by Scottie Pippen.
57 - 57
5:56
Eric Williams Shooting Foul
57 - 57
5:56
Paul Pierce enters the game for J.R. Bremer.
57 - 57
5:56
Grant Long enters the game for Eric Williams.
57 - 57
5:56
Dale Davis missed Free Throw 1 of 1.
57 - 57
5:54
Scottie Pippen Offensive Rebound.
57 - 57
5:52
Scottie Pippen Lost Ball. Stolen by Antoine Walker.
57 - 57
5:47
Tony Delk made Jumper. Assisted by Grant Long.
59 - 57
5:24
Ruben Patterson made 13 ft Jumper. Assisted by Scottie Pippen.
59 - 59
5:07
Tony Delk made 24 ft Three Point Jumper. Assisted by Paul Pierce.
62 - 59
4:47
Derek Anderson missed 24 ft Three Point Jumper.
62 - 59
4:45
Antoine Walker Defensive Rebound.
62 - 59
4:31
Paul Pierce made 20 ft Jumper. Assisted by Antoine Walker.
64 - 59
4:30
Portland Full Timeout.
64 - 59
4:18
Tony Delk Personal Foul
64 - 59
4:18
Derek Anderson made Free Throw 1 of 2.
64 - 60
4:18
Derek Anderson made Free Throw 2 of 2.
64 - 61
4:05
Tony Delk missed 23 ft Three Point Jumper.
64 - 61
4:03
Scottie Pippen Defensive Rebound.
64 - 61
3:47
Grant Long Illegal Defense Foul
64 - 61
3:47
Derek Anderson made Technical Free Throw.
64 - 62
3:38
Rasheed Wallace made Two Point Shot.
64 - 64
3:14
Grant Long missed 24 ft Three Point Jumper.
64 - 64
3:12
Scottie Pippen Defensive Rebound.
64 - 64
3:05
Ruben Patterson Bad Pass
64 - 64
2:54
Paul Pierce made 24 ft Three Point Jumper.
67 - 64
2:42
Grant Long Personal Foul
67 - 64
2:42
Derek Anderson made Free Throw 1 of 2.
67 - 65
2:42
Derek Anderson missed Free Throw 2 of 2.
67 - 65
2:41
Antoine Walker Defensive Rebound.
67 - 65
2:20
Antoine Walker missed 26 ft Three Point Jumper.
67 - 65
2:17
Scottie Pippen Defensive Rebound.
67 - 65
2:14
Walter McCarty Shooting Foul
67 - 65
2:14
Rasheed Wallace made Free Throw 1 of 2.
67 - 66
2:14
Rasheed Wallace made Free Throw 2 of 2.
67 - 67
2:00
Dale Davis Shooting Foul
67 - 67
2:00
Paul Pierce made Free Throw 1 of 2.
68 - 67
2:00
Vin Baker enters the game for Walter McCarty.
68 - 67
2:00
Paul Pierce missed Free Throw 2 of 2.
68 - 67
2:00
Dale Davis Defensive Rebound.
68 - 67
1:39
Rasheed Wallace missed 19 ft Jumper.
68 - 67
1:38
Ruben Patterson Offensive Rebound.
68 - 67
1:29
Ruben Patterson missed 6 ft Jumper.
68 - 67
1:28
Tony Delk Defensive Rebound.
68 - 67
1:10
Tony Delk made 25 ft Three Point Jumper. Assisted by Antoine Walker.
71 - 67
0:52
Rasheed Wallace made 23 ft Jumper. Assisted by Scottie Pippen.
71 - 69
0:29
Scottie Pippen Personal Foul
71 - 69
0:29
Antoine Walker missed Free Throw 1 of 2.
71 - 69
0:29
Boston Offensive Rebound.
71 - 69
0:29
Walter McCarty enters the game for Paul Pierce.
71 - 69
0:29
Antoine Walker made Free Throw 2 of 2.
72 - 69
0:07
Rasheed Wallace made 16 ft Jumper.
72 - 71
0:01
Grant Long missed 22 ft Jumper.
72 - 71
0:00
Ruben Patterson Defensive Rebound.
72 - 71
0:00
Ruben Patterson missed 83 ft Three Point Jumper.
72 - 71
0:00
Portland Offensive Rebound.
72 - 71
0:00
End of the 3rd Quarter.
72 - 71

time
TEAM
PLAY
SCORE
12:00
Start of the 4th Quarter.
72 - 71
11:44
Derek Anderson Lost Ball. Stolen by Antoine Walker.
72 - 71
11:34
Vin Baker missed Jumper.
72 - 71
11:33
Dale Davis Defensive Rebound.
72 - 71
11:15
Antoine Walker Shooting Foul
72 - 71
11:15
Rasheed Wallace made Free Throw 1 of 2.
72 - 72
11:15
Rasheed Wallace made Free Throw 2 of 2.
72 - 73
11:03
Walter McCarty made 10 ft Jumper. Assisted by Antoine Walker.
74 - 73
10:49
Derek Anderson made 25 ft Three Point Jumper. Assisted by Scottie Pippen.
74 - 76
10:26
Antoine Walker missed 6 ft Two Point Shot.
74 - 76
10:25
Derek Anderson Defensive Rebound.
74 - 76
10:08
Derek Anderson made 18 ft Two Point Shot. Assisted by Scottie Pippen.
74 - 78
9:51
Antoine Walker made 25 ft Three Point Jumper. Assisted by Walter McCarty.
77 - 78
9:38
Vin Baker Shooting Foul
77 - 78
9:38
Eric Williams Technical Foul
77 - 78
9:38
Derek Anderson made Technical Free Throw.
77 - 79
9:38
Eric Williams Technical Foul
77 - 79
9:38
null
77 - 79
9:38
Derek Anderson made Technical Free Throw.
77 - 80
9:38
Ruben Patterson made Free Throw 1 of 2.
77 - 81
9:38
Ruben Patterson made Free Throw 2 of 2.
77 - 82
9:15
Paul Pierce missed 26 ft Three Point Jumper.
77 - 82
9:15
Scottie Pippen Defensive Rebound.
77 - 82
9:04
Rasheed Wallace made Two Point Shot. Assisted by Scottie Pippen.
77 - 84
9:03
Boston Full Timeout.
77 - 84
8:42
Walter McCarty missed 24 ft Three Point Jumper.
77 - 84
8:41
Rasheed Wallace Defensive Rebound.
77 - 84
8:23
Derek Anderson missed 24 ft Three Point Jumper.
77 - 84
8:22
Paul Pierce Defensive Rebound.
77 - 84
8:21
Derek Anderson Personal Foul
77 - 84
8:12
Paul Pierce missed 18 ft Jumper.
77 - 84
8:11
Scottie Pippen Defensive Rebound.
77 - 84
8:00
Scottie Pippen missed 24 ft Three Point Jumper.
77 - 84
7:56
Tony Delk Defensive Rebound.
77 - 84
7:54
Tony Delk Offensive Foul
77 - 84
7:54
Tony Delk Foul
77 - 84
7:54
Shammond Williams enters the game for Tony Delk.
77 - 84
7:39
Derek Anderson missed Two Point Shot.
77 - 84
7:37
Walter McCarty Defensive Rebound.
77 - 84
7:20
Antoine Walker made Three Point Jumper. Assisted by Walter McCarty.
80 - 84
6:54
Rasheed Wallace Offensive Foul
80 - 84
6:54
Rasheed Wallace Foul
80 - 84
6:54
Eric Williams enters the game for Vin Baker.
80 - 84
6:54
Bonzi Wells enters the game for Ruben Patterson.
80 - 84
6:54
Arvydas Sabonis enters the game for Dale Davis.
80 - 84
6:43
Arvydas Sabonis Shooting Foul
80 - 84
6:43
Paul Pierce missed Free Throw 1 of 2.
80 - 84
6:43
Boston Offensive Rebound.
80 - 84
6:43
Paul Pierce made Free Throw 2 of 2.
81 - 84
6:31
Rasheed Wallace made Two Point Shot. Assisted by Scottie Pippen.
81 - 86
6:13
Paul Pierce Offensive Foul
81 - 86
6:13
Paul Pierce Foul
81 - 86
5:56
Bonzi Wells missed Two Point Shot.
81 - 86
5:54
Shammond Williams Defensive Rebound.
81 - 86
5:45
Arvydas Sabonis Shooting Foul
81 - 86
5:45
Official Timeout.
81 - 86
5:45
Eric Williams missed Free Throw 1 of 2.
81 - 86
5:45
Boston Offensive Rebound.
81 - 86
5:45
Eric Williams missed Free Throw 2 of 2.
81 - 86
5:43
null
81 - 86
5:43
Boston Offensive Rebound.
81 - 86
5:43
Antoine Walker Jump Ball
81 - 86
5:43
Antoine Walker Jump Ball Violation
81 - 86
5:28
Bonzi Wells made 20 ft Jumper. Assisted by Scottie Pippen.
81 - 88
5:13
Shammond Williams made 24 ft Three Point Jumper. Assisted by Antoine Walker.
84 - 88
4:56
Antoine Walker Shooting Foul
84 - 88
4:56
Arvydas Sabonis missed Free Throw 1 of 2.
84 - 88
4:56
Portland Offensive Rebound.
84 - 88
4:56
Arvydas Sabonis made Free Throw 2 of 2.
84 - 89
4:43
Scottie Pippen Shooting Foul
84 - 89
4:43
Dale Davis enters the game for Arvydas Sabonis.
84 - 89
4:43
Paul Pierce made Free Throw 1 of 2.
85 - 89
4:43
Paul Pierce made Free Throw 2 of 2.
86 - 89
4:31
Bonzi Wells made 22 ft Jumper. Assisted by Scottie Pippen.
86 - 91
4:09
Paul Pierce missed Two Point Shot.
86 - 91
4:07
Dale Davis Defensive Rebound.
86 - 91
3:54
Derek Anderson Lost Ball
86 - 91
3:46
Antoine Walker missed 24 ft Three Point Jumper.
86 - 91
3:44
Shammond Williams Offensive Rebound.
86 - 91
3:31
Shammond Williams missed 25 ft Three Point Jumper.
86 - 91
3:29
Bonzi Wells Defensive Rebound.
86 - 91
3:15
Dale Davis missed Two Point Shot.
86 - 91
3:14
Dale Davis Offensive Rebound.
86 - 91
3:14
Dale Davis missed Tip Shot.
86 - 91
3:12
Walter McCarty Defensive Rebound.
86 - 91
3:01
Paul Pierce made Two Point Shot.
88 - 91
2:56
Scottie Pippen Bad Pass
88 - 91
2:56
Portland Full Timeout.
88 - 91
2:36
Paul Pierce Lost Ball. Stolen by Bonzi Wells.
88 - 91
2:32
Shammond Williams Shooting Foul
88 - 91
2:32
Bonzi Wells made Free Throw 1 of 2.
88 - 92
2:32
Bonzi Wells missed Free Throw 2 of 2.
88 - 92
2:32
Eric Williams Defensive Rebound.
88 - 92
2:16
Scottie Pippen Shooting Foul
88 - 92
2:16
Eric Williams made Free Throw 1 of 2.
89 - 92
2:16
Eric Williams made Free Throw 2 of 2.
90 - 92
1:59
Rasheed Wallace missed 24 ft Three Point Jumper.
90 - 92
1:57
Portland Defensive Rebound.
90 - 92
1:57
Bonzi Wells Loose Ball Foul
90 - 92
1:57
Shammond Williams made Free Throw 1 of 2.
91 - 92
1:57
Shammond Williams made Free Throw 2 of 2.
92 - 92
1:39
Scottie Pippen missed Jumper. Blocked by Paul Pierce.
92 - 92
1:37
Portland Offensive Rebound.
92 - 92
1:34
Eric Williams Shooting Foul
92 - 92
1:34
Bonzi Wells missed Free Throw 1 of 2.
92 - 92
1:34
Portland Offensive Rebound.
92 - 92
1:34
Bonzi Wells missed Free Throw 2 of 2.
92 - 92
1:31
Paul Pierce Defensive Rebound.
92 - 92
1:13
Walter McCarty made 25 ft Three Point Jumper. Assisted by Paul Pierce.
95 - 92
1:09
Portland Full Timeout.
95 - 92
0:59
Scottie Pippen missed 26 ft Three Point Jumper.
95 - 92
0:57
Eric Williams Defensive Rebound.
95 - 92
0:31
Antoine Walker made 24 ft Three Point Jumper. Assisted by Paul Pierce.
98 - 92
0:31
Scottie Pippen Bad Pass. Stolen by Antoine Walker.
98 - 92
0:31
Derek Anderson Personal Foul
98 - 92
0:31
Shammond Williams made Free Throw 1 of 2.
99 - 92
0:31
Shammond Williams made Free Throw 2 of 2.
100 - 92
0:31
Portland 20 Sec. Timeout.
100 - 92
0:28
Scottie Pippen missed 25 ft Three Point Jumper.
100 - 92
0:26
Shammond Williams Defensive Rebound.
100 - 92
0:05
Eric Williams missed 25 ft Three Point Jumper.
100 - 92
0:04
Rasheed Wallace Defensive Rebound.
100 - 92
0:00
End of the 4th Quarter.
100 - 92
0:00
End Game
100 - 92
0:00
End Game
100 - 92
Coach Mike Krzyzewski offers his take on the atmosphere and the fan reaction for Kevin Durant in Team USA's matchup against China.

Kevin Durant explains what it was like to play in front of the fans at Oracle Arena for the first time since signing with the Warriors and shares what he talked to Steph Curry about.

Marc Stein breaks down why Team USA basketball has looked so impressive in their first couple of games.
2015-2016 Atlantic Standings
2015-2016 Pacific Standings