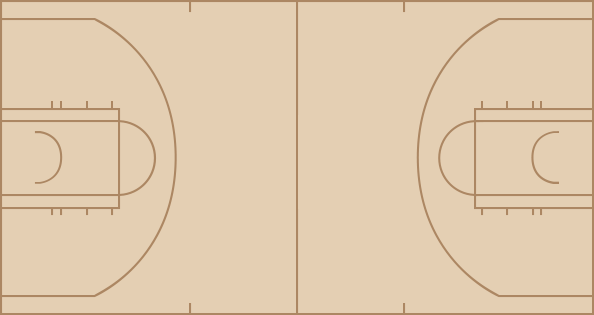 Hawks
time
TEAM
PLAY
SCORE
12:00
Start of the 1st Quarter.
0 - 0
12:00
Jumpball. Theo Ratliff vs. Sean Rooks. Andre Miller gains possession.
0 - 0
11:45
Lamar Odom made Two Point Shot.
0 - 2
11:26
Theo Ratliff missed 6 ft Hook Shot.
0 - 2
11:26
Atlanta Defensive Rebound.
0 - 2
11:15
Elton Brand made 14 ft Jumper. Assisted by Andre Miller.
0 - 4
10:48
Shareef Abdur-Rahim made Two Point Shot.
2 - 4
10:34
Quentin Richardson made Two Point Shot. Assisted by Elton Brand.
2 - 6
10:18
Glenn Robinson missed 7 ft Jumper.
2 - 6
10:17
Quentin Richardson Defensive Rebound.
2 - 6
10:06
Sean Rooks missed 13 ft Jumper.
2 - 6
10:04
Glenn Robinson Defensive Rebound.
2 - 6
9:53
Dion Glover Bad Pass. Stolen by Elton Brand.
2 - 6
9:49
Theo Ratliff Personal Foul
2 - 6
9:34
Lamar Odom missed 6 ft Jumper. Blocked by Theo Ratliff.
2 - 6
9:33
Glenn Robinson Defensive Rebound.
2 - 6
9:27
Dion Glover missed Layup.
2 - 6
9:26
Sean Rooks Defensive Rebound.
2 - 6
9:21
Elton Brand missed 9 ft Jumper.
2 - 6
9:19
Glenn Robinson Defensive Rebound.
2 - 6
9:11
Sean Rooks Illegal Defense Foul
2 - 6
9:11
Glenn Robinson missed Technical Free Throw.
2 - 6
9:11
Atlanta Offensive Rebound.
2 - 6
9:04
Glenn Robinson missed 8 ft Jumper.
2 - 6
9:03
Theo Ratliff Offensive Rebound.
2 - 6
9:03
Theo Ratliff missed Tip Shot.
2 - 6
9:00
Sean Rooks Defensive Rebound.
2 - 6
8:51
Quentin Richardson missed 14 ft Jumper.
2 - 6
8:48
Shareef Abdur-Rahim Defensive Rebound.
2 - 6
8:45
Andre Miller Personal Foul
2 - 6
8:36
Jason Terry made 16 ft Jumper.
4 - 6
8:15
Elton Brand missed 14 ft Jumper.
4 - 6
8:14
Theo Ratliff Defensive Rebound.
4 - 6
8:03
Shareef Abdur-Rahim missed 9 ft Jumper. Blocked by Elton Brand.
4 - 6
8:03
Atlanta Offensive Rebound.
4 - 6
7:56
Jason Terry missed 24 ft Three Point Jumper.
4 - 6
7:54
Andre Miller Defensive Rebound.
4 - 6
7:48
Lamar Odom made Two Point Shot. Assisted by Andre Miller.
4 - 8
7:30
Sean Rooks Shooting Foul
4 - 8
7:30
Shareef Abdur-Rahim made Free Throw 1 of 2.
5 - 8
7:30
Shareef Abdur-Rahim made Free Throw 2 of 2.
6 - 8
7:28
Sean Rooks Bad Pass. Stolen by Glenn Robinson.
6 - 8
7:18
Theo Ratliff made Layup. Assisted by Shareef Abdur-Rahim.
8 - 8
7:01
Sean Rooks Bad Pass
8 - 8
6:48
Theo Ratliff missed Layup.
8 - 8
6:47
Shareef Abdur-Rahim Offensive Rebound.
8 - 8
6:47
Shareef Abdur-Rahim Offensive Foul
8 - 8
6:47
Shareef Abdur-Rahim Foul
8 - 8
6:35
Quentin Richardson missed 25 ft Three Point Jumper.
8 - 8
6:33
Jason Terry Defensive Rebound.
8 - 8
6:26
Jason Terry missed Two Point Shot.
8 - 8
6:24
Atlanta Defensive Rebound.
8 - 8
6:13
Andre Miller Bad Pass. Stolen by Glenn Robinson.
8 - 8
6:09
Glenn Robinson made Two Point Shot.
10 - 8
5:54
Los Angeles Full Timeout.
10 - 8
5:54
Alan Henderson enters the game for Shareef Abdur-Rahim.
10 - 8
5:54
Nazr Mohammed enters the game for Theo Ratliff.
10 - 8
5:37
Quentin Richardson missed 26 ft Three Point Jumper.
10 - 8
5:35
Elton Brand Offensive Rebound.
10 - 8
5:35
Nazr Mohammed Shooting Foul
10 - 8
5:35
Elton Brand missed Free Throw 1 of 2.
10 - 8
5:35
Los Angeles Offensive Rebound.
10 - 8
5:35
Elton Brand made Free Throw 2 of 2.
10 - 9
5:16
Glenn Robinson Lost Ball. Stolen by Lamar Odom.
10 - 9
5:05
Andre Miller made 16 ft Jumper. Assisted by Elton Brand.
10 - 11
4:43
Glenn Robinson missed Jumper.
10 - 11
4:41
Elton Brand Defensive Rebound.
10 - 11
4:30
Alan Henderson Personal Foul
10 - 11
4:16
Quentin Richardson missed 26 ft Three Point Jumper.
10 - 11
4:16
Lamar Odom Offensive Rebound.
10 - 11
4:13
Lamar Odom made 7 ft Two Point Shot.
10 - 13
3:51
Glenn Robinson missed Layup.
10 - 13
3:50
Sean Rooks Defensive Rebound.
10 - 13
3:46
Andre Miller made 17 ft Two Point Shot.
10 - 15
3:36
Atlanta Full Timeout.
10 - 15
3:36
Ira Newble enters the game for Dion Glover.
10 - 15
3:36
Eric Piatkowski enters the game for Sean Rooks.
10 - 15
3:36
Melvin Ely enters the game for Quentin Richardson.
10 - 15
3:21
Jason Terry missed 25 ft Three Point Jumper.
10 - 15
3:20
Atlanta Defensive Rebound.
10 - 15
3:03
Elton Brand made Jumper. Assisted by Andre Miller.
10 - 17
2:49
Nazr Mohammed missed 13 ft Jumper.
10 - 17
2:48
Melvin Ely Defensive Rebound.
10 - 17
2:41
Lamar Odom made 8 ft Two Point Shot. Assisted by Andre Miller.
10 - 19
2:24
Jason Terry missed 6 ft Jumper.
10 - 19
2:23
Lamar Odom Defensive Rebound.
10 - 19
2:15
Andre Miller made 16 ft Jumper.
10 - 21
2:08
Atlanta 20 Sec. Timeout.
10 - 21
2:08
Shareef Abdur-Rahim enters the game for Nazr Mohammed.
10 - 21
2:00
Andre Miller Shooting Foul
10 - 21
2:00
Darvin Ham enters the game for Glenn Robinson.
10 - 21
2:00
Jason Terry made Free Throw 1 of 2.
11 - 21
2:00
Marko Jaric enters the game for Andre Miller.
11 - 21
2:00
Jason Terry made Free Throw 2 of 2.
12 - 21
1:47
Lamar Odom missed 27 ft Three Point Jumper.
12 - 21
1:47
Los Angeles Offensive Rebound.
12 - 21
1:39
Marko Jaric missed Three Point Jumper.
12 - 21
1:38
Elton Brand Offensive Rebound.
12 - 21
1:37
Elton Brand made Two Point Shot.
12 - 23
1:20
Melvin Ely Shooting Foul
12 - 23
1:20
Shareef Abdur-Rahim made Free Throw 1 of 2.
13 - 23
1:20
Shareef Abdur-Rahim made Free Throw 2 of 2.
14 - 23
0:58
Elton Brand Bad Pass. Stolen by Jason Terry.
14 - 23
0:52
Jason Terry missed Two Point Shot.
14 - 23
0:49
Elton Brand Defensive Rebound.
14 - 23
0:46
Eric Piatkowski made 12 ft Two Point Shot.
14 - 25
0:37
Shareef Abdur-Rahim Lost Ball. Stolen by Lamar Odom.
14 - 25
0:32
Elton Brand made Two Point Shot. Assisted by Eric Piatkowski.
14 - 27
0:13
Jason Terry made 14 ft Jumper. Assisted by Shareef Abdur-Rahim.
16 - 27
0:04
Ira Newble Personal Foul
16 - 27
0:00
Marko Jaric missed 28 ft Three Point Jumper.
16 - 27
0:00
Los Angeles Offensive Rebound.
16 - 27
0:00
End of the 1st Quarter.
16 - 27

time
TEAM
PLAY
SCORE
12:00
Start of the 2nd Quarter.
16 - 27
11:45
Shareef Abdur-Rahim made 10 ft Two Point Shot. Assisted by Dan Dickau.
18 - 27
11:26
Eric Piatkowski made 22 ft Jumper. Assisted by Lamar Odom.
18 - 29
11:19
Marko Jaric Personal Foul
18 - 29
11:10
Ira Newble made 20 ft Jumper. Assisted by Dan Dickau.
20 - 29
10:57
Eric Piatkowski missed Jumper.
20 - 29
10:56
Ira Newble Defensive Rebound.
20 - 29
10:55
Lamar Odom Personal Foul
20 - 29
10:55
Theo Ratliff enters the game for Alan Henderson.
20 - 29
10:44
Dan Dickau missed 26 ft Three Point Jumper.
20 - 29
10:42
Melvin Ely Defensive Rebound.
20 - 29
10:30
Marko Jaric missed Two Point Shot.
20 - 29
10:30
Melvin Ely Offensive Rebound.
20 - 29
10:30
Dan Dickau Shooting Foul
20 - 29
10:30
Melvin Ely missed Free Throw 1 of 2.
20 - 29
10:30
Los Angeles Offensive Rebound.
20 - 29
10:30
Melvin Ely made Free Throw 2 of 2.
20 - 30
10:14
Shareef Abdur-Rahim missed 6 ft Jumper. Blocked by Melvin Ely.
20 - 30
10:11
Darvin Ham Offensive Rebound.
20 - 30
10:08
Shareef Abdur-Rahim missed Layup. Blocked by Cherokee Parks.
20 - 30
10:07
Lamar Odom Defensive Rebound.
20 - 30
9:56
Marko Jaric missed 10 ft Jumper. Blocked by Theo Ratliff.
20 - 30
9:52
Ira Newble Defensive Rebound.
20 - 30
9:42
Theo Ratliff made 11 ft Jumper. Assisted by Darvin Ham.
22 - 30
9:29
Lamar Odom missed 25 ft Three Point Jumper.
22 - 30
9:29
Los Angeles Defensive Rebound.
22 - 30
8:59
Ira Newble made 18 ft Jumper. Assisted by Shareef Abdur-Rahim.
24 - 30
8:53
Cherokee Parks missed 18 ft Jumper.
24 - 30
8:51
Shareef Abdur-Rahim Defensive Rebound.
24 - 30
8:40
Shareef Abdur-Rahim made 10 ft Two Point Shot.
26 - 30
8:11
Melvin Ely made 10 ft Jumper.
26 - 32
8:03
Cherokee Parks Shooting Foul
26 - 32
8:03
Official Timeout.
26 - 32
8:03
Elton Brand enters the game for Lamar Odom.
26 - 32
8:03
Andre Miller enters the game for Melvin Ely.
26 - 32
8:03
Quentin Richardson enters the game for Marko Jaric.
26 - 32
8:03
Theo Ratliff made Free Throw 1 of 2.
27 - 32
8:03
Theo Ratliff made Free Throw 2 of 2.
28 - 32
7:43
Cherokee Parks missed 13 ft Jumper.
28 - 32
7:41
Quentin Richardson Offensive Rebound.
28 - 32
7:39
Quentin Richardson Lost Ball. Stolen by Dan Dickau.
28 - 32
7:28
Shareef Abdur-Rahim missed 6 ft Jumper. Blocked by Elton Brand.
28 - 32
7:24
Shareef Abdur-Rahim Offensive Rebound.
28 - 32
7:22
Dan Dickau made 25 ft Three Point Jumper. Assisted by Shareef Abdur-Rahim.
31 - 32
7:00
Eric Piatkowski made 23 ft Jumper. Assisted by Andre Miller.
31 - 34
6:41
Andre Miller Personal Foul
31 - 34
6:41
Marko Jaric enters the game for Andre Miller.
31 - 34
6:31
Shareef Abdur-Rahim made 9 ft Two Point Shot.
33 - 34
6:13
Eric Piatkowski made 26 ft Three Point Jumper.
33 - 37
5:45
Theo Ratliff missed 17 ft Jumper.
33 - 37
5:43
Dan Dickau Offensive Rebound.
33 - 37
5:28
Shareef Abdur-Rahim missed Jumper. Blocked by Elton Brand.
33 - 37
5:26
Atlanta Offensive Rebound.
33 - 37
5:26
Los Angeles Full Timeout.
33 - 37
5:13
Ira Newble Bad Pass
33 - 37
5:01
Eric Piatkowski missed 13 ft Jumper.
33 - 37
5:00
Shareef Abdur-Rahim Defensive Rebound.
33 - 37
4:50
Ira Newble made 23 ft Three Point Jumper. Assisted by Dan Dickau.
36 - 37
4:33
Cherokee Parks missed 13 ft Jumper.
36 - 37
4:31
Darvin Ham Defensive Rebound.
36 - 37
4:22
Dan Dickau missed Two Point Shot.
36 - 37
4:20
Cherokee Parks Defensive Rebound.
36 - 37
4:13
Quentin Richardson missed Two Point Shot.
36 - 37
4:11
Elton Brand Offensive Rebound.
36 - 39
4:11
Elton Brand made Tip Shot.
36 - 39
3:47
Darvin Ham Lost Ball
36 - 39
3:47
Glenn Robinson enters the game for Ira Newble.
36 - 39
3:47
Dion Glover enters the game for Darvin Ham.
36 - 39
3:47
Lamar Odom enters the game for Eric Piatkowski.
36 - 39
3:47
Jason Terry enters the game for Dan Dickau.
36 - 39
3:34
Marko Jaric made 21 ft Jumper. Assisted by Elton Brand.
36 - 41
3:19
Dan Dickau Bad Pass. Stolen by Marko Jaric.
36 - 41
3:17
Dan Dickau Personal Foul
36 - 41
3:17
Jason Terry enters the game for Dan Dickau.
36 - 41
3:03
Quentin Richardson Bad Pass. Stolen by Jason Terry.
36 - 41
3:00
Quentin Richardson Shooting Foul
36 - 41
3:00
Glenn Robinson made Free Throw 1 of 2.
37 - 41
3:00
Glenn Robinson made Free Throw 2 of 2.
38 - 41
2:41
Marko Jaric Bad Pass. Stolen by Theo Ratliff.
38 - 41
2:32
Dion Glover missed 18 ft Jumper.
38 - 41
2:30
Cherokee Parks Defensive Rebound.
38 - 41
2:24
Quentin Richardson missed 8 ft Jumper.
38 - 41
2:21
Cherokee Parks Offensive Rebound.
38 - 41
2:21
Cherokee Parks missed Tip Shot.
38 - 41
2:18
Los Angeles Offensive Rebound.
38 - 41
2:18
Atlanta Full Timeout.
38 - 41
2:04
Cherokee Parks missed 17 ft Jumper.
38 - 41
2:02
Lamar Odom Offensive Rebound.
38 - 41
1:59
Marko Jaric missed 27 ft Three Point Jumper.
38 - 41
1:57
Elton Brand Offensive Rebound.
38 - 41
1:52
Lamar Odom missed 19 ft Jumper.
38 - 41
1:50
Glenn Robinson Defensive Rebound.
38 - 41
1:43
Glenn Robinson Lost Ball. Stolen by Marko Jaric.
38 - 41
1:39
Jason Terry Shooting Foul
38 - 41
1:39
Marko Jaric made Free Throw 1 of 2.
38 - 42
1:39
Marko Jaric made Free Throw 2 of 2.
38 - 43
1:23
Jason Terry made 18 ft Jumper.
40 - 43
1:04
Cherokee Parks made 14 ft Jumper. Assisted by Elton Brand.
40 - 45
0:47
Glenn Robinson missed Layup.
40 - 45
0:47
Dion Glover Offensive Rebound.
42 - 45
0:47
Dion Glover made Tip Shot.
42 - 45
0:35
Lamar Odom made 25 ft Three Point Jumper. Assisted by Marko Jaric.
42 - 48
0:24
Quentin Richardson Shooting Foul
42 - 48
0:24
Dion Glover made Free Throw 1 of 2.
43 - 48
0:24
Dion Glover made Free Throw 2 of 2.
44 - 48
0:20
Los Angeles 20 Sec. Timeout.
44 - 48
0:20
Eric Piatkowski enters the game for Cherokee Parks.
44 - 48
0:20
Darvin Ham enters the game for Glenn Robinson.
44 - 48
0:03
Eric Piatkowski missed 19 ft Jumper.
44 - 48
0:01
Dion Glover Defensive Rebound.
44 - 48
0:00
End of the 2nd Quarter.
44 - 48

time
TEAM
PLAY
SCORE
12:00
Start of the 3rd Quarter.
44 - 48
11:41
Theo Ratliff made 9 ft Two Point Shot.
46 - 48
11:17
Eric Piatkowski missed 25 ft Three Point Jumper.
46 - 48
11:15
Elton Brand Offensive Rebound.
46 - 48
11:06
Eric Piatkowski made Layup. Assisted by Andre Miller.
46 - 50
10:57
Dion Glover missed Layup.
46 - 50
10:56
Eric Piatkowski Defensive Rebound.
46 - 50
10:51
Dion Glover Shooting Foul
46 - 50
10:51
Andre Miller missed Free Throw 1 of 2.
46 - 50
10:51
Andre Miller made Free Throw 2 of 2.
46 - 51
10:51
Los Angeles Offensive Rebound.
46 - 51
10:37
Sean Rooks Shooting Foul
46 - 51
10:37
Theo Ratliff made Free Throw 1 of 2.
47 - 51
10:37
Theo Ratliff missed Free Throw 2 of 2.
47 - 51
10:23
Sean Rooks Defensive Rebound.
47 - 51
10:07
Elton Brand made Layup. Assisted by Lamar Odom.
47 - 53
9:57
Sean Rooks Shooting Foul
47 - 53
9:57
Shareef Abdur-Rahim made Free Throw 1 of 2.
48 - 53
9:57
Shareef Abdur-Rahim made Free Throw 2 of 2.
49 - 53
9:37
Andre Miller missed 26 ft Three Point Jumper.
49 - 53
9:36
Lamar Odom Offensive Rebound.
49 - 53
9:15
Eric Piatkowski made Two Point Shot. Assisted by Andre Miller.
49 - 55
8:56
Theo Ratliff missed 17 ft Jumper.
49 - 55
8:55
Eric Piatkowski Defensive Rebound.
49 - 55
8:48
Elton Brand 3 second
49 - 55
8:33
Glenn Robinson missed 17 ft Jumper.
49 - 55
8:32
Andre Miller Defensive Rebound.
49 - 55
8:17
Andre Miller missed 17 ft Jumper.
49 - 55
8:15
Theo Ratliff Defensive Rebound.
49 - 55
8:11
Glenn Robinson made 16 ft Jumper. Assisted by Jason Terry.
51 - 55
7:48
Elton Brand missed Two Point Shot.
51 - 55
7:45
Theo Ratliff Defensive Rebound.
51 - 55
7:37
Dion Glover Traveling
51 - 55
7:18
Andre Miller made Two Point Shot.
51 - 57
7:01
Lamar Odom Shooting Foul
51 - 57
7:01
Glenn Robinson made Free Throw 1 of 2.
52 - 57
7:01
Glenn Robinson made Free Throw 2 of 2.
53 - 57
6:50
Elton Brand missed 14 ft Jumper.
53 - 57
6:48
Shareef Abdur-Rahim Defensive Rebound.
53 - 57
6:31
Dion Glover made Two Point Shot.
55 - 57
6:13
Elton Brand missed Layup.
55 - 57
6:11
Shareef Abdur-Rahim Defensive Rebound.
55 - 57
6:05
Theo Ratliff made Layup. Assisted by Glenn Robinson.
57 - 57
6:05
Sean Rooks Shooting Foul
57 - 57
6:05
Alan Henderson enters the game for Shareef Abdur-Rahim.
57 - 57
6:05
Melvin Ely enters the game for Sean Rooks.
57 - 57
6:05
Theo Ratliff missed Free Throw 1 of 1.
57 - 57
6:03
Elton Brand Defensive Rebound.
57 - 57
5:54
Melvin Ely missed Jumper.
57 - 57
5:52
Theo Ratliff Defensive Rebound.
57 - 57
5:41
Alan Henderson made Jumper. Assisted by Glenn Robinson.
59 - 57
5:39
Los Angeles Full Timeout.
59 - 57
5:39
Ira Newble enters the game for Dion Glover.
59 - 57
5:22
Jason Terry Personal Foul
59 - 57
5:13
Eric Piatkowski missed 27 ft Three Point Jumper.
59 - 57
5:11
Glenn Robinson Defensive Rebound.
59 - 57
5:05
Ira Newble made Two Point Shot. Assisted by Glenn Robinson.
61 - 57
4:52
Jason Terry Personal Foul
61 - 57
4:37
Andre Miller missed 27 ft Three Point Jumper.
61 - 57
4:35
Ira Newble Defensive Rebound.
61 - 57
4:31
Eric Piatkowski Shooting Foul
61 - 57
4:31
Glenn Robinson made Free Throw 1 of 2.
62 - 57
4:31
Quentin Richardson enters the game for Eric Piatkowski.
62 - 57
4:31
Glenn Robinson made Free Throw 2 of 2.
63 - 57
4:16
Andre Miller made Layup. Assisted by Lamar Odom.
63 - 59
3:57
Theo Ratliff missed 6 ft Jumper.
63 - 59
3:55
Alan Henderson Offensive Rebound.
63 - 59
3:49
Elton Brand Shooting Foul
63 - 59
3:49
Theo Ratliff missed Free Throw 1 of 2.
63 - 59
3:49
Atlanta Offensive Rebound.
63 - 59
3:49
Theo Ratliff made Free Throw 2 of 2.
64 - 59
3:36
Andre Miller made Jumper. Assisted by Elton Brand.
64 - 61
3:18
Theo Ratliff made Two Point Shot. Assisted by Jason Terry.
66 - 61
3:00
Melvin Ely missed Layup.
66 - 61
2:59
Ira Newble Defensive Rebound.
66 - 61
2:36
Ira Newble made 19 ft Jumper. Assisted by Jason Terry.
68 - 61
2:16
Andre Miller made 17 ft Jumper. Assisted by Quentin Richardson.
68 - 63
1:53
Theo Ratliff made 7 ft Two Point Shot.
70 - 63
1:35
Quentin Richardson missed 11 ft Jumper.
70 - 63
1:34
Elton Brand Offensive Rebound.
70 - 63
1:32
Elton Brand missed Layup.
70 - 63
1:31
Ira Newble Defensive Rebound.
70 - 63
1:27
Atlanta Full Timeout.
70 - 63
1:27
Cherokee Parks enters the game for Melvin Ely.
70 - 63
1:27
Dan Dickau enters the game for Jason Terry.
70 - 63
1:27
Darvin Ham enters the game for Glenn Robinson.
70 - 63
1:27
Shareef Abdur-Rahim enters the game for Theo Ratliff.
70 - 63
1:14
Shareef Abdur-Rahim missed 6 ft Jumper.
70 - 63
1:09
Elton Brand Defensive Rebound.
70 - 63
1:05
Alan Henderson Shooting Foul
70 - 63
1:05
Elton Brand made Free Throw 1 of 2.
70 - 64
1:05
Elton Brand made Free Throw 2 of 2.
70 - 65
0:53
Elton Brand Personal Foul
70 - 65
0:53
Shareef Abdur-Rahim made Free Throw 1 of 2.
71 - 65
0:53
Shareef Abdur-Rahim made Free Throw 2 of 2.
72 - 65
0:37
Cherokee Parks made Slam Dunk. Assisted by Lamar Odom.
72 - 67
0:37
Alan Henderson Shooting Foul
72 - 67
0:37
Cherokee Parks missed Free Throw 1 of 1.
72 - 67
0:36
Alan Henderson Defensive Rebound.
72 - 67
0:15
Dan Dickau missed 4 ft Jumper.
72 - 67
0:13
Alan Henderson Offensive Rebound.
72 - 67
0:01
Alan Henderson missed Jumper.
72 - 67
0:00
Elton Brand Defensive Rebound.
72 - 67
0:00
End of the 3rd Quarter.
72 - 67

time
TEAM
PLAY
SCORE
12:00
Start of the 4th Quarter.
72 - 67
11:44
Lamar Odom missed 17 ft Jumper.
72 - 67
11:42
Dion Glover Defensive Rebound.
72 - 67
11:33
Darvin Ham missed Layup. Blocked by Elton Brand.
72 - 67
11:33
Jumpball. Darvin Ham vs. Elton Brand. Andre Miller gains possession.
72 - 67
11:33
Atlanta Defensive Rebound.
72 - 67
11:15
Quentin Richardson missed 23 ft Three Point Jumper.
72 - 67
11:14
Darvin Ham Defensive Rebound.
72 - 67
11:07
Dion Glover missed 25 ft Three Point Jumper.
72 - 67
11:04
Darvin Ham Offensive Rebound.
72 - 67
10:55
Dan Dickau missed 26 ft Three Point Jumper.
72 - 67
10:52
Lamar Odom Defensive Rebound.
72 - 67
10:41
Quentin Richardson missed Jumper.
72 - 67
10:40
Alan Henderson Defensive Rebound.
72 - 67
10:25
Dion Glover Bad Pass
72 - 67
10:11
Alan Henderson Personal Foul
72 - 67
9:57
Andre Miller made 27 ft Three Point Jumper. Assisted by Lamar Odom.
72 - 70
9:44
Dan Dickau Lost Ball
72 - 70
9:26
Andre Miller missed 13 ft Jumper.
72 - 70
9:23
Shareef Abdur-Rahim Defensive Rebound.
72 - 70
9:19
Alan Henderson made Slam Dunk. Assisted by Shareef Abdur-Rahim.
74 - 70
9:02
Elton Brand missed Layup.
74 - 70
9:00
Quentin Richardson Offensive Rebound.
74 - 70
8:59
Quentin Richardson made Layup.
74 - 72
8:33
Dion Glover missed 17 ft Jumper.
74 - 72
8:30
Darvin Ham Offensive Rebound.
74 - 72
8:15
Darvin Ham missed Jumper.
74 - 72
8:15
Lamar Odom Defensive Rebound.
74 - 72
8:11
Dan Dickau Shooting Foul
74 - 72
8:11
Official Timeout.
74 - 72
8:11
Jason Terry enters the game for Darvin Ham.
74 - 72
8:11
Lamar Odom made Free Throw 1 of 2.
74 - 73
8:11
Lamar Odom made Free Throw 2 of 2.
74 - 74
8:11
Glenn Robinson enters the game for Dan Dickau.
86 - 87
8:11
Glenn Robinson enters the game for Dan Dickau.
86 - 87
8:11
Theo Ratliff enters the game for Shareef Abdur-Rahim.
83 - 82
7:54
Theo Ratliff made Layup. Assisted by Jason Terry.
76 - 74
7:37
Quentin Richardson missed 25 ft Three Point Jumper. Blocked by Glenn Robinson.
76 - 74
7:33
Quentin Richardson Offensive Rebound.
76 - 74
7:31
Quentin Richardson made Layup.
76 - 76
7:13
Dion Glover missed Layup. Blocked by Elton Brand.
76 - 76
7:11
Alan Henderson Offensive Rebound.
76 - 76
7:09
Alan Henderson missed Layup.
76 - 76
7:01
Elton Brand made 17 ft Jumper. Assisted by Andre Miller.
76 - 78
6:41
Jason Terry missed 14 ft Jumper.
76 - 78
6:37
Quentin Richardson Defensive Rebound.
76 - 78
6:33
Lamar Odom missed 28 ft Three Point Jumper.
76 - 78
6:31
Dion Glover Defensive Rebound.
76 - 78
6:24
Andre Miller Personal Foul
76 - 78
6:18
Jason Terry Offensive Foul
76 - 78
6:18
Jason Terry Foul
76 - 78
6:01
Cherokee Parks missed Layup.
76 - 78
6:01
Cherokee Parks Offensive Rebound.
76 - 78
5:58
Cherokee Parks missed Layup.
76 - 78
5:56
Alan Henderson Defensive Rebound.
76 - 78
5:48
Glenn Robinson made 25 ft Three Point Jumper. Assisted by Jason Terry.
79 - 78
5:20
Quentin Richardson made Two Point Shot.
79 - 80
5:20
Defensive Goaltending
79 - 80
5:07
Glenn Robinson missed 26 ft Three Point Jumper.
79 - 80
5:05
Cherokee Parks Defensive Rebound.
79 - 80
4:56
Elton Brand missed 16 ft Jumper.
79 - 80
4:54
Dion Glover Defensive Rebound.
79 - 80
4:48
Glenn Robinson made 15 ft Two Point Shot.
81 - 80
4:31
Cherokee Parks made Layup. Assisted by Lamar Odom.
81 - 82
4:15
Jason Terry made 11 ft Jumper.
83 - 82
4:11
Los Angeles Full Timeout.
83 - 82
4:11
Shareef Abdur-Rahim enters the game for Dion Glover.
86 - 85
3:48
Andre Miller missed Layup.
83 - 82
3:47
Glenn Robinson Defensive Rebound.
83 - 82
3:40
Theo Ratliff missed 6 ft Jumper. Blocked by Elton Brand.
83 - 82
3:35
Cherokee Parks Defensive Rebound.
83 - 82
3:27
Shareef Abdur-Rahim Personal Foul
83 - 82
3:13
Andre Miller missed 8 ft Jumper.
83 - 82
3:10
Shareef Abdur-Rahim Defensive Rebound.
83 - 82
2:44
Quentin Richardson made 25 ft Three Point Jumper. Assisted by Andre Miller.
83 - 85
2:27
Jason Terry made 26 ft Three Point Jumper.
86 - 85
2:14
Elton Brand missed 16 ft Jumper.
86 - 85
2:11
Glenn Robinson Defensive Rebound.
86 - 85
2:02
Atlanta Full Timeout.
86 - 85
1:53
Ira Newble missed 24 ft Three Point Jumper.
86 - 85
1:51
Andre Miller Defensive Rebound.
86 - 85
1:37
Lamar Odom made Layup.
86 - 87
1:15
Theo Ratliff Offensive Foul
86 - 87
1:15
Theo Ratliff Foul
86 - 87
1:15
Los Angeles Full Timeout.
86 - 87
1:02
Quentin Richardson missed Layup. Blocked by Theo Ratliff.
86 - 87
0:59
Theo Ratliff Defensive Rebound.
86 - 87
0:39
Shareef Abdur-Rahim missed Layup. Blocked by Cherokee Parks.
86 - 87
0:36
Andre Miller Defensive Rebound.
86 - 87
0:25
Andre Miller missed Layup.
86 - 87
0:23
Shareef Abdur-Rahim Defensive Rebound.
86 - 87
0:17
Lamar Odom Personal Foul
86 - 87
0:17
Atlanta Full Timeout.
86 - 87
0:17
Dan Dickau enters the game for Theo Ratliff.
86 - 87
0:17
Alan Henderson enters the game for Ira Newble.
86 - 87
0:17
Marko Jaric enters the game for Cherokee Parks.
86 - 87
0:14
Marko Jaric Personal Foul
86 - 87
0:14
Jason Terry missed Free Throw 1 of 2.
86 - 87
0:14
Atlanta Offensive Rebound.
86 - 87
0:14
Cherokee Parks enters the game for Marko Jaric.
86 - 87
0:14
Theo Ratliff enters the game for Alan Henderson.
86 - 87
0:14
Ira Newble enters the game for Dan Dickau.
86 - 87
0:14
Jason Terry made Free Throw 2 of 2.
87 - 87
0:14
Los Angeles Full Timeout.
87 - 87
0:14
Darvin Ham enters the game for Jason Terry.
87 - 87
0:14
Eric Piatkowski enters the game for Cherokee Parks.
87 - 87
0:03
Lamar Odom missed 11 ft Jumper.
87 - 87
0:01
Elton Brand Offensive Rebound.
87 - 87
0:00
End of the 4th Quarter.
87 - 87
0:00
End Game
87 - 87
0:00
End Game
87 - 87
Derrick Rose says his new team, the revamped Knicks, are being put in the same class of "super team" as the Golden State Warriors.

Shaquille O'Neal and Darryl Dawkins are among the players to slam dunk with enough force to break the backboard.

Free tips for Adam Silver beyond the 'hack-a-player' rule changes.
Regular Season Series
ATL wins series 2-0