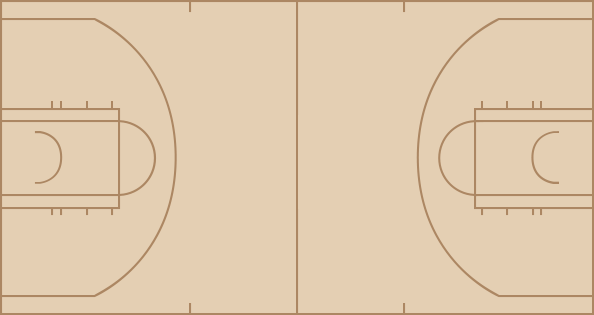 Bulls
time
TEAM
PLAY
SCORE
12:00
Start of the 1st Quarter.
0 - 0
12:00
Jumpball. Tyson Chandler vs. Brian Grant. Rasual Butler gains possession.
0 - 0
11:40
Malik Allen missed Jumper.
0 - 0
11:38
Brian Grant Offensive Rebound.
0 - 0
11:38
Trenton Hassell Personal Foul
0 - 0
11:30
Brian Grant made Jumper. Assisted by Eddie Jones.
0 - 2
11:11
Jalen Rose missed 9 ft Jumper.
0 - 2
11:10
Brian Grant Defensive Rebound.
0 - 2
10:49
Malik Allen Lost Ball. Stolen by Jay Williams.
0 - 2
10:40
Donyell Marshall missed Hook Shot.
0 - 2
10:37
Travis Best Defensive Rebound.
0 - 2
10:26
Travis Best missed Two Point Shot.
0 - 2
10:25
Brian Grant Offensive Rebound.
0 - 2
10:23
Brian Grant made Layup.
0 - 4
10:03
Jay Williams missed 19 ft Jumper.
0 - 4
10:03
Chicago Defensive Rebound.
0 - 4
9:49
Brian Grant Traveling
0 - 4
9:33
Jalen Rose missed 19 ft Jumper.
0 - 4
9:32
Tyson Chandler Offensive Rebound.
0 - 4
9:22
Jalen Rose made 7 ft Jumper.
2 - 4
9:03
Travis Best missed 26 ft Three Point Jumper.
2 - 4
9:02
Malik Allen Offensive Rebound.
2 - 4
8:55
Malik Allen made 17 ft Jumper.
2 - 6
8:36
Trenton Hassell missed 13 ft Jumper.
2 - 6
8:33
Donyell Marshall Offensive Rebound.
2 - 6
8:32
Donyell Marshall missed 6 ft Jumper.
2 - 6
8:30
Brian Grant Defensive Rebound.
2 - 6
8:23
Travis Best made Two Point Shot.
2 - 8
8:07
Trenton Hassell Bad Pass. Stolen by Travis Best.
2 - 8
7:58
Malik Allen made 18 ft Jumper. Assisted by Eddie Jones.
2 - 10
7:48
Chicago Full Timeout.
2 - 10
7:46
Jalen Rose missed Layup.
2 - 10
7:43
Tyson Chandler Offensive Rebound.
2 - 10
7:41
Eddie Jones Shooting Foul
2 - 10
7:41
Tyson Chandler missed Free Throw 1 of 2.
2 - 10
7:41
Chicago Offensive Rebound.
2 - 10
7:41
Tyson Chandler missed Free Throw 2 of 2.
2 - 10
7:39
Brian Grant Defensive Rebound.
2 - 10
7:37
Malik Allen missed Jumper.
2 - 10
7:35
Malik Allen Offensive Rebound.
2 - 10
7:26
Malik Allen missed 10 ft Hook Shot.
2 - 10
7:24
Jalen Rose Defensive Rebound.
2 - 10
7:09
Jalen Rose made 9 ft Jumper.
4 - 10
6:52
Rasual Butler missed Jumper.
4 - 10
6:48
Miami Offensive Rebound.
4 - 10
6:48
Tyson Chandler Loose Ball Foul
4 - 10
6:35
Travis Best made Two Point Shot.
4 - 12
6:15
Donyell Marshall missed 5 ft Hook Shot.
4 - 12
6:09
Tyson Chandler Offensive Rebound.
4 - 12
6:09
Tyson Chandler missed Tip Shot.
4 - 12
6:07
Eddie Jones Defensive Rebound.
4 - 12
5:50
Tyson Chandler missed Layup.
4 - 12
5:48
Eddie Jones Defensive Rebound.
4 - 12
5:39
Malik Allen made 4 ft Jumper. Assisted by Rasual Butler.
4 - 14
5:22
Jay Williams missed Two Point Shot. Blocked by Malik Allen.
4 - 14
5:22
Chicago Offensive Rebound.
4 - 14
5:13
Brian Grant Personal Foul
4 - 14
5:07
Jay Williams missed Layup. Blocked by Brian Grant.
4 - 14
5:05
Donyell Marshall Offensive Rebound.
4 - 14
5:03
Donyell Marshall made Layup.
6 - 14
4:37
Travis Best missed 19 ft Jumper.
6 - 14
4:35
Tyson Chandler Defensive Rebound.
6 - 14
4:31
Jalen Rose made Two Point Shot.
8 - 14
4:31
Rasual Butler Shooting Foul
8 - 14
4:31
Jalen Rose made Free Throw 1 of 1.
9 - 14
4:13
Malik Allen missed 8 ft Jumper.
9 - 14
4:11
Brian Grant Offensive Rebound.
9 - 14
4:07
Malik Allen missed 15 ft Jumper. Blocked by Donyell Marshall.
9 - 14
4:05
Tyson Chandler Defensive Rebound.
9 - 14
4:00
Donyell Marshall missed Layup. Blocked by Malik Allen.
9 - 14
3:59
Chicago Offensive Rebound.
9 - 14
3:47
Brian Grant Personal Foul
9 - 14
3:47
Vladimir Stepania enters the game for Brian Grant.
9 - 14
3:43
Jay Williams missed Layup.
9 - 14
3:42
Eddie Jones Defensive Rebound.
9 - 14
3:30
Malik Allen missed Jumper.
9 - 14
3:28
Trenton Hassell Defensive Rebound.
9 - 14
3:16
Jalen Rose made Two Point Shot.
11 - 14
3:06
Miami Full Timeout.
11 - 14
3:06
Lonny Baxter enters the game for Donyell Marshall.
11 - 14
3:01
Lonny Baxter Personal Foul
11 - 14
2:54
Rasual Butler Lost Ball
11 - 14
2:41
Lonny Baxter missed Jumper.
11 - 14
2:39
Chicago Offensive Rebound.
11 - 14
2:39
Vladimir Stepania Loose Ball Foul
11 - 14
2:39
Tyson Chandler made Free Throw 1 of 2.
12 - 14
2:39
Tyson Chandler made Free Throw 2 of 2.
13 - 14
2:21
Malik Allen made 16 ft Jumper. Assisted by Travis Best.
13 - 16
2:02
Lonny Baxter missed 7 ft Hook Shot.
13 - 16
2:00
Travis Best Defensive Rebound.
13 - 16
1:49
Travis Best made Two Point Shot.
13 - 18
1:49
Trenton Hassell Shooting Foul
13 - 18
1:49
Travis Best made Free Throw 1 of 1.
13 - 19
1:38
Vladimir Stepania Personal Foul
13 - 19
1:38
Fred Hoiberg enters the game for Trenton Hassell.
13 - 19
1:38
Tyson Chandler made Free Throw 1 of 2.
14 - 19
1:38
Eddie House enters the game for Eddie Jones.
14 - 19
1:38
Sean Marks enters the game for Vladimir Stepania.
14 - 19
1:38
Tyson Chandler missed Free Throw 2 of 2.
14 - 19
1:37
Malik Allen Defensive Rebound.
14 - 19
1:20
Travis Best missed 18 ft Jumper.
14 - 19
1:17
Tyson Chandler Defensive Rebound.
14 - 19
1:07
Jalen Rose made 24 ft Three Point Jumper. Assisted by Jay Williams.
17 - 19
0:51
Malik Allen missed Layup.
17 - 19
0:49
Fred Hoiberg Defensive Rebound.
17 - 19
0:44
Jalen Rose missed 17 ft Jumper.
17 - 19
0:42
Chicago Defensive Rebound.
17 - 19
0:42
Eddie Robinson Technical Foul
17 - 19
0:42
Jalen Rose missed Technical Free Throw.
17 - 19
0:42
Miami Offensive Rebound.
17 - 19
0:42
Eddy Curry enters the game for Tyson Chandler.
17 - 19
0:31
Eddie House Bad Pass. Stolen by Fred Hoiberg.
17 - 19
0:08
Eddy Curry made Dunk. Assisted by Jay Williams.
19 - 19
0:01
Travis Best missed 17 ft Jumper.
19 - 19
0:00
Miami Offensive Rebound.
19 - 19
0:00
End of the 1st Quarter.
19 - 19

time
TEAM
PLAY
SCORE
12:00
Start of the 2nd Quarter.
19 - 19
11:45
Eddy Curry missed 4 ft Hook Shot.
19 - 19
11:44
Eddy Curry Offensive Rebound.
19 - 19
11:41
Eddy Curry made Layup.
21 - 19
11:29
Lonny Baxter Shooting Foul
21 - 19
11:29
Travis Best made Free Throw 1 of 2.
21 - 20
11:29
Brian Grant enters the game for Malik Allen.
21 - 20
11:29
Travis Best made Free Throw 2 of 2.
21 - 21
11:19
Eddie House Shooting Foul
21 - 21
11:19
Eddy Curry made Free Throw 1 of 2.
22 - 21
11:19
Eddy Curry made Free Throw 2 of 2.
23 - 21
11:03
Sean Marks missed Jumper.
23 - 21
11:00
Jay Williams Defensive Rebound.
23 - 21
10:42
Eddy Curry Lost Ball. Stolen by Sean Marks.
23 - 21
10:37
Eddie House missed Jumper.
23 - 21
10:34
Lonny Baxter Defensive Rebound.
23 - 21
10:27
Eddy Curry made Hook Shot. Assisted by Fred Hoiberg.
25 - 21
10:14
Travis Best made Jumper.
25 - 23
9:49
Jalen Rose made 16 ft Jumper.
27 - 23
9:29
Rasual Butler missed 13 ft Jumper.
27 - 23
9:26
Lonny Baxter Defensive Rebound.
27 - 23
9:22
Jay Williams missed Jumper.
27 - 23
9:19
Chicago Offensive Rebound.
27 - 23
9:19
Jamal Crawford enters the game for Jay Williams.
27 - 23
9:19
Eddie Jones enters the game for Rasual Butler.
27 - 23
9:19
Mike James enters the game for Travis Best.
27 - 23
9:14
Eddy Curry made Jumper. Assisted by Jalen Rose.
29 - 23
8:56
Fred Hoiberg Personal Foul
29 - 23
8:56
Official Timeout.
29 - 23
8:51
Eddie Jones missed Layup.
29 - 23
8:49
Lonny Baxter Defensive Rebound.
29 - 23
8:37
Sean Marks Shooting Foul
29 - 23
8:37
Eddy Curry made Free Throw 1 of 2.
30 - 23
8:37
Eddy Curry missed Free Throw 2 of 2.
30 - 23
8:37
Brian Grant Defensive Rebound.
30 - 23
8:26
Sean Marks made Dunk. Assisted by Brian Grant.
30 - 25
8:10
Lonny Baxter Offensive Foul
30 - 25
8:10
Lonny Baxter Foul
30 - 25
8:10
Tyson Chandler enters the game for Lonny Baxter.
30 - 25
7:54
Eddie Jones missed 14 ft Jumper.
30 - 25
7:52
Fred Hoiberg Defensive Rebound.
30 - 25
7:39
Eddy Curry made Hook Shot. Assisted by Fred Hoiberg.
32 - 25
7:20
Eddie Jones made Three Point Jumper. Assisted by Mike James.
32 - 28
7:05
Mike James Personal Foul
32 - 28
7:05
Vladimir Stepania enters the game for Sean Marks.
32 - 28
6:58
Jalen Rose made 19 ft Jumper.
34 - 28
6:35
Mike James made 13 ft Jumper.
34 - 30
6:22
Eddy Curry missed Jumper.
34 - 30
6:20
Mike James Defensive Rebound.
34 - 30
6:07
Vladimir Stepania missed 18 ft Jumper.
34 - 30
5:54
Mike James Offensive Rebound.
34 - 32
5:54
Mike James made Two Point Shot.
34 - 32
5:46
Chicago Full Timeout.
34 - 32
5:46
Donyell Marshall enters the game for Tyson Chandler.
34 - 32
5:31
Jalen Rose missed 13 ft Jumper.
34 - 32
5:30
Vladimir Stepania Defensive Rebound.
34 - 32
5:24
Eddie Jones missed Three Point Jumper.
34 - 32
5:22
Brian Grant Offensive Rebound.
34 - 32
5:20
Brian Grant made Dunk.
34 - 34
5:07
Jamal Crawford made Two Point Shot.
36 - 34
5:07
Defensive Goaltending
36 - 34
4:50
Eddie Jones missed Jumper.
36 - 34
4:48
Eddie Jones Offensive Rebound.
36 - 34
4:47
Eddie Jones made Two Point Shot.
36 - 36
4:47
Eddy Curry Shooting Foul
36 - 36
4:47
Eddie Jones made Free Throw 1 of 1.
36 - 37
4:35
Jalen Rose Bad Pass. Stolen by Brian Grant.
36 - 37
4:28
Mike James missed Layup. Blocked by Eddy Curry.
36 - 37
4:26
Fred Hoiberg Defensive Rebound.
36 - 37
4:09
Donyell Marshall missed Layup.
36 - 37
4:07
Eddie House Defensive Rebound.
36 - 37
3:58
Brian Grant missed 16 ft Jumper.
36 - 37
3:56
Eddy Curry Defensive Rebound.
36 - 37
3:46
Fred Hoiberg missed 24 ft Three Point Jumper.
36 - 37
3:46
Chicago Defensive Rebound.
36 - 37
3:46
Donyell Marshall Loose Ball Foul
36 - 37
3:46
Malik Allen enters the game for Brian Grant.
36 - 37
3:46
Travis Best enters the game for Eddie House.
36 - 37
3:30
Malik Allen made Jumper. Assisted by Mike James.
36 - 39
3:13
Jalen Rose missed Two Point Shot.
36 - 39
3:11
Malik Allen Defensive Rebound.
36 - 39
2:56
Travis Best missed 24 ft Three Point Jumper.
36 - 39
2:54
Miami Defensive Rebound.
36 - 39
2:54
Miami Full Timeout.
36 - 39
2:54
Jay Williams enters the game for Donyell Marshall.
36 - 39
2:54
Tyson Chandler enters the game for Jamal Crawford.
36 - 39
2:45
Eddy Curry made Dunk. Assisted by Tyson Chandler.
38 - 39
2:29
Malik Allen missed 20 ft Jumper.
38 - 39
2:27
Eddy Curry Defensive Rebound.
38 - 39
2:11
Eddy Curry made Jumper. Assisted by Fred Hoiberg.
40 - 39
1:55
Malik Allen made 9 ft Jumper.
40 - 41
1:31
Travis Best Personal Foul
40 - 41
1:31
Trenton Hassell enters the game for Fred Hoiberg.
40 - 41
1:23
Jay Williams made 4 ft Two Point Shot.
42 - 41
1:04
Malik Allen missed 12 ft Jumper.
42 - 41
1:01
Trenton Hassell Defensive Rebound.
42 - 41
0:51
Tyson Chandler missed Layup.
42 - 41
0:49
Travis Best Defensive Rebound.
42 - 41
0:46
Malik Allen Offensive Foul
42 - 41
0:46
Malik Allen Foul
42 - 41
0:33
Travis Best Shooting Foul
42 - 41
0:33
Jay Williams missed Free Throw 1 of 2.
42 - 41
0:33
Eddie House enters the game for Travis Best.
42 - 41
0:33
Chicago Offensive Rebound.
42 - 41
0:33
Travis Best Technical Foul
42 - 41
0:33
Eddie House enters the game for Travis Best.
42 - 41
0:33
Jalen Rose made Technical Free Throw.
43 - 41
0:33
Roger Mason Jr enters the game for Trenton Hassell.
43 - 41
0:33
Jalen Rose made Free Throw 1 of 2.
44 - 41
0:19
Eddie Jones made Free Throw 1 of 2.
44 - 42
0:19
Eddie Jones made Free Throw 2 of 2.
44 - 43
0:14
Jalen Rose missed 8 ft Jumper.
44 - 43
0:12
Eddy Curry Offensive Rebound.
44 - 43
0:09
Eddy Curry missed Jumper.
44 - 43
0:00
Chicago Offensive Rebound.
44 - 43
0:00
End of the 2nd Quarter.
44 - 43

time
TEAM
PLAY
SCORE
12:00
Start of the 3rd Quarter.
44 - 43
11:45
Jalen Rose made Two Point Shot.
46 - 43
11:45
Eddie Jones Shooting Foul
46 - 43
11:45
Jalen Rose missed Free Throw 1 of 1.
46 - 43
11:45
Eddie Jones Defensive Rebound.
46 - 43
11:33
Brian Grant missed Layup.
46 - 43
11:30
Tyson Chandler Defensive Rebound.
46 - 43
11:26
Jay Williams missed 12 ft Jumper. Blocked by Malik Allen.
46 - 43
11:25
Chicago Defensive Rebound.
46 - 43
11:07
Trenton Hassell Personal Foul
46 - 43
11:00
Malik Allen missed 19 ft Jumper.
46 - 43
10:57
Jay Williams Defensive Rebound.
46 - 43
10:38
Rasual Butler Shooting Foul
46 - 43
10:38
Tyson Chandler made Free Throw 1 of 2.
47 - 43
10:38
Tyson Chandler missed Free Throw 2 of 2.
47 - 43
10:37
Brian Grant Defensive Rebound.
47 - 43
10:21
Tyson Chandler Illegal Defense Foul
47 - 43
10:21
Eddie Jones made Technical Free Throw.
47 - 44
10:15
Travis Best missed 25 ft Three Point Jumper.
47 - 44
10:11
Tyson Chandler Defensive Rebound.
47 - 44
10:04
Jalen Rose Offensive Foul
47 - 44
10:04
Jalen Rose Foul
47 - 44
9:52
Jalen Rose Personal Foul
47 - 44
9:42
Malik Allen made 19 ft Jumper. Assisted by Travis Best.
47 - 46
9:22
Trenton Hassell missed 19 ft Jumper.
47 - 46
9:19
Malik Allen Defensive Rebound.
47 - 46
9:11
Trenton Hassell Shooting Foul
47 - 46
9:11
Eddie Jones missed Free Throw 1 of 2.
47 - 46
9:11
Miami Offensive Rebound.
47 - 46
9:11
Fred Hoiberg enters the game for Trenton Hassell.
47 - 46
9:11
Eddie Jones made Free Throw 2 of 2.
47 - 47
8:56
Brian Grant Shooting Foul
47 - 47
8:56
Jay Williams missed Free Throw 1 of 2.
47 - 47
8:56
Chicago Offensive Rebound.
47 - 47
8:56
Jay Williams missed Free Throw 2 of 2.
47 - 47
8:56
Rasual Butler Defensive Rebound.
47 - 47
8:42
Travis Best missed 17 ft Jumper.
47 - 47
8:41
Jay Williams Defensive Rebound.
47 - 47
8:37
Jay Williams Bad Pass. Stolen by Brian Grant.
47 - 47
8:15
Brian Grant missed Jumper.
47 - 47
8:14
Brian Grant Offensive Rebound.
47 - 47
8:00
Eddie Jones made 26 ft Three Point Jumper. Assisted by Travis Best.
47 - 50
7:43
Jalen Rose missed 25 ft Three Point Jumper.
47 - 50
7:41
Travis Best Defensive Rebound.
47 - 50
7:22
Malik Allen Lost Ball. Stolen by Fred Hoiberg.
47 - 50
7:01
Jalen Rose missed Layup.
47 - 50
7:00
Donyell Marshall Offensive Rebound.
49 - 50
6:58
Donyell Marshall made Tip Shot.
49 - 50
6:58
Delay of Game
49 - 50
6:50
Jalen Rose Technical Foul
49 - 50
6:50
Eddie Jones made Technical Free Throw.
49 - 51
6:50
Chicago Full Timeout.
49 - 51
6:41
Eddie Jones made 14 ft Two Point Shot.
49 - 53
6:20
Tyson Chandler missed 14 ft Jumper.
49 - 53
6:18
Malik Allen Defensive Rebound.
49 - 53
6:18
Tyson Chandler Personal Foul
49 - 53
6:03
Brian Grant made Jumper. Assisted by Travis Best.
49 - 55
5:50
Donyell Marshall made Dunk. Assisted by Jay Williams.
51 - 55
5:35
Jalen Rose Personal Foul
51 - 55
5:35
Eddy Curry enters the game for Donyell Marshall.
51 - 55
5:35
Eddie Jones made Free Throw 1 of 2.
51 - 56
5:35
Eddie Jones made Free Throw 2 of 2.
51 - 57
5:24
Eddy Curry Bad Pass. Stolen by Eddie Jones.
51 - 57
5:11
Brian Grant missed 18 ft Jumper.
51 - 57
5:09
Eddy Curry Defensive Rebound.
51 - 57
5:03
Jay Williams missed 16 ft Jumper.
51 - 57
5:01
Travis Best Defensive Rebound.
51 - 57
4:54
Eddie Jones missed 25 ft Three Point Jumper.
51 - 57
4:54
Jalen Rose Defensive Rebound.
51 - 57
4:35
Jay Williams missed 24 ft Three Point Jumper.
51 - 57
4:35
Brian Grant Defensive Rebound.
51 - 57
4:26
Miami Full Timeout.
51 - 57
4:09
Travis Best made 28 ft Three Point Jumper.
51 - 60
3:56
Brian Grant Personal Foul
51 - 60
3:56
Vladimir Stepania enters the game for Brian Grant.
51 - 60
3:44
Eddy Curry missed Layup.
51 - 60
3:43
Eddy Curry Offensive Rebound.
51 - 60
3:43
Travis Best Shooting Foul
51 - 60
3:43
Eddy Curry missed Free Throw 1 of 2.
51 - 60
3:43
Chicago Offensive Rebound.
51 - 60
3:43
Eddy Curry missed Free Throw 2 of 2.
51 - 60
3:42
Rasual Butler Defensive Rebound.
51 - 60
3:20
Eddie Jones missed Jumper. Blocked by Tyson Chandler.
51 - 60
3:19
Miami Offensive Rebound.
51 - 60
3:16
Travis Best missed 19 ft Jumper.
51 - 60
3:15
Eddy Curry Defensive Rebound.
51 - 60
2:58
Jalen Rose made Two Point Shot.
53 - 60
2:38
Rasual Butler made 25 ft Three Point Jumper.
53 - 63
2:20
Eddy Curry made Dunk. Assisted by Tyson Chandler.
55 - 63
2:02
Eddie Jones missed 24 ft Three Point Jumper.
55 - 63
2:00
Eddy Curry Defensive Rebound.
55 - 63
1:55
Tyson Chandler missed Dunk. Blocked by Rasual Butler.
55 - 63
1:54
Eddie Jones Defensive Rebound.
55 - 63
1:36
Rasual Butler missed Jumper.
55 - 63
1:34
Malik Allen Offensive Rebound.
55 - 63
1:23
Eddy Curry Shooting Foul
55 - 63
1:23
Travis Best made Free Throw 1 of 2.
55 - 64
1:23
Lonny Baxter enters the game for Tyson Chandler.
55 - 64
1:23
Travis Best made Free Throw 2 of 2.
55 - 65
1:07
Lonny Baxter missed 6 ft Jumper.
55 - 65
1:05
Vladimir Stepania Defensive Rebound.
55 - 65
0:52
Rasual Butler missed 24 ft Three Point Jumper.
55 - 65
0:50
Vladimir Stepania Offensive Rebound.
55 - 65
0:44
Malik Allen made Hook Shot. Assisted by Eddie Jones.
55 - 67
0:28
Jay Williams missed 7 ft Jumper.
55 - 67
0:27
Chicago Offensive Rebound.
55 - 67
0:27
Malik Allen Loose Ball Foul
55 - 67
0:27
Eddy Curry missed Free Throw 1 of 2.
55 - 67
0:27
Chicago Offensive Rebound.
55 - 67
0:27
Eddie House enters the game for Vladimir Stepania.
55 - 67
0:27
Eddy Curry missed Free Throw 2 of 2.
55 - 67
0:26
Malik Allen Defensive Rebound.
55 - 67
0:10
Rasual Butler missed 25 ft Three Point Jumper.
55 - 67
0:08
Fred Hoiberg Defensive Rebound.
55 - 67
0:03
Jay Williams Bad Pass
55 - 67
0:01
Travis Best missed Layup. Blocked by Lonny Baxter.
55 - 67
0:00
Miami Offensive Rebound.
55 - 67
0:00
End of the 3rd Quarter.
55 - 67

time
TEAM
PLAY
SCORE
12:00
Start of the 4th Quarter.
55 - 67
11:44
Sean Marks made 18 ft Jumper. Assisted by Eddie House.
55 - 69
11:26
Jalen Rose missed 18 ft Jumper.
55 - 69
11:23
Travis Best Defensive Rebound.
55 - 69
11:15
Eddie Jones made 25 ft Three Point Jumper. Assisted by Travis Best.
55 - 72
10:53
Eddy Curry made Layup.
57 - 72
10:53
Sean Marks Shooting Foul
57 - 72
10:53
Eddy Curry made Free Throw 1 of 1.
58 - 72
10:38
Trenton Hassell Personal Foul
58 - 72
10:38
Fred Hoiberg enters the game for Trenton Hassell.
58 - 72
10:33
Travis Best missed Two Point Shot.
58 - 72
10:30
Eddy Curry Defensive Rebound.
58 - 72
10:26
Jalen Rose Lost Ball. Stolen by Eddie House.
58 - 72
10:21
Eddie House made 21 ft Jumper.
58 - 74
10:14
Chicago Full Timeout.
58 - 74
9:59
Malik Allen Personal Foul
58 - 74
9:59
Lonny Baxter made Free Throw 1 of 2.
59 - 74
9:59
Lonny Baxter made Free Throw 2 of 2.
60 - 74
9:44
Lonny Baxter Shooting Foul
60 - 74
9:44
Sean Marks made Free Throw 1 of 2.
60 - 75
9:44
Tyson Chandler enters the game for Lonny Baxter.
60 - 75
9:44
Mike James enters the game for Travis Best.
60 - 75
9:44
Brian Grant enters the game for Malik Allen.
60 - 75
9:44
Rasual Butler enters the game for Eddie Jones.
60 - 75
9:44
Sean Marks made Free Throw 2 of 2.
60 - 76
9:32
Jalen Rose made Two Point Shot.
62 - 76
9:14
Jalen Rose Shooting Foul
62 - 76
9:14
Rasual Butler made Free Throw 1 of 3.
62 - 77
9:14
Rasual Butler made Free Throw 2 of 3.
62 - 78
9:14
Rasual Butler made Free Throw 3 of 3.
62 - 79
8:56
Jamal Crawford made Two Point Shot.
64 - 79
8:37
Eddie House missed 24 ft Three Point Jumper.
64 - 79
8:36
Miami Defensive Rebound.
64 - 79
8:25
Sean Marks Shooting Foul
64 - 79
8:25
Eddy Curry made Free Throw 1 of 2.
65 - 79
8:25
Eddy Curry made Free Throw 2 of 2.
66 - 79
8:07
Rasual Butler made Layup.
66 - 81
7:47
Fred Hoiberg missed 24 ft Three Point Jumper.
66 - 81
7:46
Brian Grant Defensive Rebound.
66 - 81
7:33
Eddie House missed 14 ft Jumper.
66 - 81
7:31
Sean Marks Offensive Rebound.
66 - 81
7:18
Brian Grant made Jumper. Assisted by Mike James.
66 - 83
7:03
Tyson Chandler made 9 ft Jumper.
68 - 83
6:52
Eddie House made 19 ft Jumper. Assisted by Mike James.
68 - 85
6:30
Rasual Butler Shooting Foul
68 - 85
6:30
Jalen Rose made Free Throw 1 of 2.
69 - 85
6:30
Jalen Rose made Free Throw 2 of 2.
70 - 85
6:13
Brian Grant made 18 ft Jumper.
70 - 87
6:00
Jamal Crawford made 18 ft Jumper.
72 - 87
5:41
Sean Marks missed 13 ft Jumper.
72 - 87
5:39
Tyson Chandler Defensive Rebound.
72 - 87
5:31
Jamal Crawford made Two Point Shot.
74 - 87
5:09
Official Timeout.
74 - 87
5:09
Eddie Jones enters the game for Rasual Butler.
74 - 87
5:09
Jumpball. Tyson Chandler vs. Sean Marks. Mike James gains possession.
74 - 87
5:01
Sean Marks missed 18 ft Jumper.
74 - 87
4:58
Jamal Crawford Defensive Rebound.
74 - 87
4:46
Jalen Rose made Jumper.
76 - 87
4:31
Eddie Jones made 19 ft Jumper. Assisted by Mike James.
76 - 89
4:15
Sean Marks Shooting Foul
76 - 89
4:15
Malik Allen enters the game for Sean Marks.
76 - 89
4:15
Travis Best enters the game for Mike James.
76 - 89
4:15
Jalen Rose made Free Throw 1 of 2.
77 - 89
4:15
Jalen Rose made Free Throw 2 of 2.
78 - 89
4:00
Travis Best missed 19 ft Jumper.
78 - 89
3:58
Fred Hoiberg Defensive Rebound.
78 - 89
3:47
Brian Grant Flagrant Foul Type 1
78 - 89
3:47
Fred Hoiberg made Flagrant Free Throw 1 of 2.
79 - 89
3:47
Fred Hoiberg made Flagrant Free Throw 2 of 2.
80 - 89
3:41
Jalen Rose made Layup.
82 - 89
3:18
Malik Allen missed Jumper.
82 - 89
3:16
Jalen Rose Defensive Rebound.
82 - 89
3:11
Eddie House Shooting Foul
82 - 89
3:11
Tyson Chandler missed Free Throw 1 of 2.
82 - 89
3:11
Chicago Offensive Rebound.
82 - 89
3:11
Tyson Chandler made Free Throw 2 of 2.
83 - 89
2:57
Eddy Curry Personal Foul
83 - 89
2:57
Miami Full Timeout.
83 - 89
2:48
Malik Allen made 17 ft Jumper.
83 - 91
2:31
Jalen Rose missed Layup.
83 - 91
2:30
Malik Allen Defensive Rebound.
83 - 91
2:29
Tyson Chandler Personal Foul
83 - 91
2:29
Malik Allen made Free Throw 1 of 2.
83 - 92
2:29
Malik Allen made Free Throw 2 of 2.
83 - 93
2:17
Jalen Rose Offensive Foul
83 - 93
2:17
Jalen Rose Foul
83 - 93
2:08
Eddie House missed 22 ft Jumper.
83 - 93
2:05
Jalen Rose Defensive Rebound.
83 - 93
1:59
Jalen Rose Bad Pass. Stolen by Travis Best.
83 - 93
1:55
Travis Best made Two Point Shot.
83 - 95
1:55
Jalen Rose Shooting Foul
83 - 95
1:55
Trenton Hassell enters the game for Jalen Rose.
83 - 95
1:55
Travis Best made Free Throw 1 of 1.
83 - 96
1:55
Chicago Full Timeout.
83 - 96
1:47
Fred Hoiberg made 8 ft Two Point Shot.
85 - 96
1:27
Malik Allen made 17 ft Jumper. Assisted by Eddie House.
85 - 98
1:22
Travis Best Personal Foul
85 - 98
1:22
Jamal Crawford made Free Throw 1 of 2.
86 - 98
1:22
Jamal Crawford missed Free Throw 2 of 2.
86 - 98
1:21
Tyson Chandler Offensive Rebound.
86 - 98
1:20
Tyson Chandler made Dunk.
88 - 98
0:54
Eddie House missed 26 ft Three Point Jumper.
88 - 98
0:53
Tyson Chandler Defensive Rebound.
88 - 98
0:43
Fred Hoiberg Lost Ball. Stolen by Eddie House.
88 - 98
0:35
Jamal Crawford Personal Foul
88 - 98
0:35
Travis Best missed Free Throw 1 of 2.
88 - 98
0:35
Miami Offensive Rebound.
88 - 98
0:35
Travis Best made Free Throw 2 of 2.
88 - 99
0:29
Jamal Crawford missed 25 ft Three Point Jumper.
88 - 99
0:28
Travis Best Defensive Rebound.
88 - 99
0:28
Eddy Curry Personal Foul
88 - 99
0:28
Travis Best made Free Throw 1 of 2.
88 - 100
0:28
Travis Best missed Free Throw 2 of 2.
88 - 100
0:26
Tyson Chandler Defensive Rebound.
88 - 100
0:18
Eddy Curry made 19 ft Jumper. Assisted by Fred Hoiberg.
90 - 100
0:00
End of the 4th Quarter.
90 - 100
0:00
End Game
90 - 100
0:00
End Game
90 - 100
Jalen Rose and David Jacoby react to President Obama and Tyronn Lue's phone call in which the President urges Coach Lue to have his players keep their shirts on.

With their ugly 30-52 season behind them, the Pelicans are feeling good about landing upbeat scorer Buddy Hield with the No. 6 pick in the draft.

Newly acquired Knick Derrick Rose tosses some shade to the Chicago Bulls by thanking them for sending him to New York.
2015-2016 Central Standings
2015-2016 Atlantic Standings