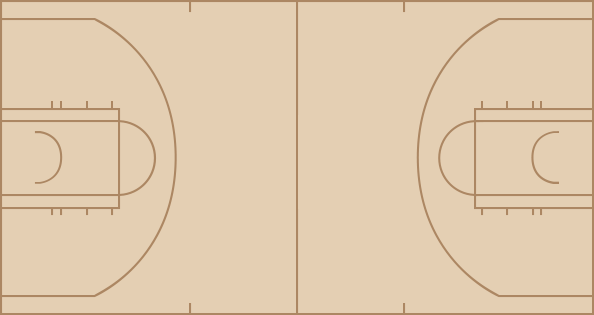 Cavaliers
time
TEAM
PLAY
SCORE
12:00
Start of the 1st Quarter.
0 - 0
12:00
Jumpball. Zydrunas Ilgauskas vs. Kevin Garnett. Milt Palacio gains possession.
0 - 0
11:41
Jumaine Jones missed 25 ft Three Point Jumper.
0 - 0
11:41
Radoslav Nesterovic Defensive Rebound.
0 - 0
11:19
Radoslav Nesterovic made 20 ft Jumper. Assisted by Kevin Garnett.
0 - 2
11:07
Jumaine Jones made 26 ft Three Point Jumper. Assisted by Zydrunas Ilgauskas.
3 - 2
10:55
Wally Szczerbiak made 22 ft Jumper. Assisted by Troy Hudson.
3 - 4
10:40
Zydrunas Ilgauskas made Jumper. Assisted by Milt Palacio.
5 - 4
10:22
Radoslav Nesterovic missed 16 ft Jumper.
5 - 4
10:22
Ricky Davis Defensive Rebound.
5 - 4
10:14
Zydrunas Ilgauskas made 6 ft Two Point Shot. Assisted by Milt Palacio.
7 - 4
9:56
Wally Szczerbiak missed 25 ft Three Point Jumper.
7 - 4
9:56
Milt Palacio Defensive Rebound.
7 - 4
9:52
Darius Miles made Dunk. Assisted by Milt Palacio.
9 - 4
9:37
Kevin Garnett made 15 ft Two Point Shot. Assisted by Troy Hudson.
9 - 6
9:19
Darius Miles Lost Ball
9 - 6
9:07
Kevin Garnett made 11 ft Two Point Shot. Assisted by Anthony Peeler.
9 - 8
8:47
Zydrunas Ilgauskas missed 19 ft Jumper.
9 - 8
8:45
Darius Miles Offensive Rebound.
9 - 8
8:33
Ricky Davis Bad Pass. Stolen by Troy Hudson.
9 - 8
8:27
Zydrunas Ilgauskas Shooting Foul
9 - 8
8:27
Wally Szczerbiak made Free Throw 1 of 2.
9 - 9
8:27
Wally Szczerbiak made Free Throw 2 of 2.
9 - 10
8:15
Darius Miles made Two Point Shot. Assisted by Milt Palacio.
11 - 10
8:04
Radoslav Nesterovic missed 19 ft Jumper.
11 - 10
8:03
Milt Palacio Defensive Rebound.
11 - 10
7:58
Milt Palacio Bad Pass
11 - 10
7:50
Anthony Peeler missed Layup.
11 - 10
7:48
Anthony Peeler Offensive Rebound.
11 - 10
7:48
Anthony Peeler made Layup.
11 - 12
7:24
Wally Szczerbiak Personal Foul
11 - 12
7:22
Darius Miles made 20 ft Jumper. Assisted by Jumaine Jones.
13 - 12
7:01
Radoslav Nesterovic made 9 ft Hook Shot. Assisted by Wally Szczerbiak.
13 - 14
6:47
Zydrunas Ilgauskas missed 14 ft Jumper.
13 - 14
6:43
Wally Szczerbiak Defensive Rebound.
13 - 14
6:37
Wally Szczerbiak made 23 ft Three Point Jumper. Assisted by Troy Hudson.
13 - 17
6:26
Ricky Davis made 24 ft Three Point Jumper. Assisted by Darius Miles.
16 - 17
6:13
Wally Szczerbiak made 20 ft Jumper. Assisted by Troy Hudson.
16 - 19
5:58
Ricky Davis missed 16 ft Jumper.
16 - 19
5:56
Darius Miles Offensive Rebound.
16 - 19
5:52
Darius Miles missed Layup. Blocked by Radoslav Nesterovic.
16 - 19
5:50
Darius Miles Offensive Rebound.
16 - 19
5:48
Ricky Davis missed 25 ft Three Point Jumper.
16 - 19
5:46
Darius Miles Offensive Rebound.
16 - 19
5:43
Zydrunas Ilgauskas made Dunk. Assisted by Ricky Davis.
18 - 19
5:31
Minnesota Full Timeout.
18 - 19
5:18
Wally Szczerbiak made 20 ft Jumper. Assisted by Kevin Garnett.
18 - 21
4:58
Darius Miles made Two Point Shot. Assisted by Milt Palacio.
20 - 21
4:37
Anthony Peeler missed 24 ft Three Point Jumper.
20 - 21
4:33
Milt Palacio Defensive Rebound.
20 - 21
4:28
Ricky Davis missed 19 ft Jumper.
20 - 21
4:26
Kevin Garnett Defensive Rebound.
20 - 21
4:20
Troy Hudson made Two Point Shot.
20 - 23
4:05
Zydrunas Ilgauskas missed Layup.
20 - 23
4:03
Radoslav Nesterovic Defensive Rebound.
20 - 23
3:53
Radoslav Nesterovic missed 13 ft Jumper.
20 - 23
3:51
Ricky Davis Defensive Rebound.
20 - 23
3:39
Milt Palacio Traveling
20 - 23
3:29
Troy Hudson made 21 ft Jumper. Assisted by Kevin Garnett.
20 - 25
3:15
Anthony Peeler Personal Foul
20 - 25
3:15
Kendall Gill enters the game for Anthony Peeler.
20 - 25
3:01
Jumaine Jones made 23 ft Three Point Jumper. Assisted by Ricky Davis.
23 - 25
2:42
Kendall Gill made Two Point Shot. Assisted by Radoslav Nesterovic.
23 - 27
2:18
Kevin Garnett Shooting Foul
23 - 27
2:18
Cleveland Full Timeout.
23 - 27
2:18
Zydrunas Ilgauskas made Free Throw 1 of 2.
24 - 27
2:18
Zydrunas Ilgauskas made Free Throw 2 of 2.
25 - 27
2:06
Kevin Garnett made Two Point Shot.
25 - 29
1:43
Ricky Davis missed 16 ft Jumper.
25 - 29
1:42
Ricky Davis Offensive Rebound.
25 - 29
1:39
Ricky Davis missed 9 ft Jumper.
25 - 29
1:38
Kevin Garnett Defensive Rebound.
25 - 29
1:23
Troy Hudson made 19 ft Jumper. Assisted by Radoslav Nesterovic.
25 - 31
1:00
Zydrunas Ilgauskas Bad Pass. Stolen by Kendall Gill.
25 - 31
0:58
Wally Szczerbiak made Layup. Assisted by Kendall Gill.
25 - 33
0:43
Jumaine Jones made 23 ft Three Point Jumper. Assisted by Ricky Davis.
28 - 33
0:29
Troy Hudson missed 16 ft Jumper.
28 - 33
0:28
Zydrunas Ilgauskas Defensive Rebound.
28 - 33
0:23
Milt Palacio Bad Pass. Stolen by Troy Hudson.
28 - 33
0:02
Radoslav Nesterovic made 6 ft Jumper. Assisted by Troy Hudson.
28 - 35
0:00
Milt Palacio missed 65 ft Three Point Jumper.
28 - 35
0:00
Cleveland Offensive Rebound.
28 - 35
0:00
End of the 1st Quarter.
28 - 35

time
TEAM
PLAY
SCORE
12:00
Start of the 2nd Quarter.
28 - 35
11:42
Kendall Gill missed 19 ft Jumper.
28 - 35
11:41
Carlos Boozer Defensive Rebound.
28 - 35
11:22
Jumaine Jones missed Jumper.
28 - 35
11:22
Kevin Garnett Defensive Rebound.
28 - 35
11:10
Marc Jackson missed 21 ft Jumper.
28 - 35
11:08
Jumaine Jones Defensive Rebound.
28 - 35
11:00
Carlos Boozer made 18 ft Jumper. Assisted by Jumaine Jones.
30 - 35
10:45
Wally Szczerbiak made 18 ft Jumper.
30 - 37
10:18
24 second
30 - 37
10:18
Gary Trent enters the game for Kevin Garnett.
30 - 37
10:07
Wally Szczerbiak missed 9 ft Jumper.
30 - 37
10:06
Mike Wilks Offensive Rebound.
30 - 37
10:02
DeSagana Diop Shooting Foul
30 - 37
10:02
Kendall Gill made Free Throw 1 of 2.
30 - 38
10:02
Kendall Gill made Free Throw 2 of 2.
30 - 39
9:45
Gary Trent Shooting Foul
30 - 39
9:45
Carlos Boozer made Free Throw 1 of 2.
31 - 39
9:45
Carlos Boozer missed Free Throw 2 of 2.
31 - 39
9:45
DeSagana Diop Offensive Rebound.
31 - 39
9:38
Ricky Davis Traveling
31 - 39
9:30
DeSagana Diop Shooting Foul
31 - 39
9:30
Milt Palacio enters the game for Ricky Davis.
31 - 39
9:30
Marc Jackson made Free Throw 1 of 2.
31 - 40
9:30
Anthony Peeler enters the game for Wally Szczerbiak.
31 - 40
9:30
Marc Jackson made Free Throw 2 of 2.
31 - 41
9:12
Mike Wilks Shooting Foul
31 - 41
9:12
Dajuan Wagner made Free Throw 1 of 2.
32 - 41
9:12
Dajuan Wagner made Free Throw 2 of 2.
33 - 41
9:00
Gary Trent made Layup. Assisted by Mike Wilks.
33 - 43
8:42
Dajuan Wagner missed 26 ft Three Point Jumper.
33 - 43
8:41
Jumaine Jones Offensive Rebound.
33 - 43
8:32
Jumaine Jones made 25 ft Three Point Jumper. Assisted by DeSagana Diop.
36 - 43
8:22
Full Timeout.
36 - 43
8:12
Carlos Boozer Shooting Foul
36 - 43
8:12
Gary Trent made Free Throw 1 of 2.
36 - 44
8:12
Gary Trent made Free Throw 2 of 2.
36 - 45
8:00
Dajuan Wagner made 11 ft Two Point Shot. Assisted by Milt Palacio.
38 - 45
7:48
Marc Jackson Bad Pass. Stolen by Milt Palacio.
38 - 45
7:41
Milt Palacio made Two Point Shot.
40 - 45
7:26
Anthony Peeler missed 22 ft Jumper.
40 - 45
7:24
DeSagana Diop Defensive Rebound.
40 - 45
7:07
Jumaine Jones missed 23 ft Three Point Jumper.
40 - 45
7:05
Kendall Gill Defensive Rebound.
40 - 45
7:03
Jumaine Jones Personal Foul
40 - 45
7:03
Radoslav Nesterovic enters the game for Marc Jackson.
40 - 45
7:03
Ricky Davis enters the game for Jumaine Jones.
40 - 45
6:50
Wally Szczerbiak made 12 ft Jumper. Assisted by Troy Hudson.
40 - 47
5:54
DeSagana Diop made 17 ft Two Point Shot. Assisted by Carlos Boozer.
42 - 47
5:39
Troy Hudson made 26 ft Three Point Jumper.
42 - 50
5:24
Dajuan Wagner missed 25 ft Three Point Jumper.
42 - 50
5:22
Anthony Peeler Defensive Rebound.
42 - 50
5:16
Radoslav Nesterovic made Layup. Assisted by Troy Hudson.
42 - 52
5:01
DeSagana Diop missed 18 ft Jumper.
42 - 52
4:58
Wally Szczerbiak Defensive Rebound.
42 - 52
4:54
Gary Trent made 13 ft Jumper. Assisted by Wally Szczerbiak.
42 - 54
4:54
Carlos Boozer Shooting Foul
42 - 54
4:54
Minnesota Full Timeout.
42 - 54
4:54
Kevin Garnett enters the game for Anthony Peeler.
42 - 54
4:54
Chris Mihm enters the game for DeSagana Diop.
42 - 54
4:54
Gary Trent made Free Throw 1 of 1.
42 - 55
4:43
Carlos Boozer Bad Pass. Stolen by Radoslav Nesterovic.
42 - 55
4:37
Troy Hudson Bad Pass. Stolen by Milt Palacio.
42 - 55
4:28
Dajuan Wagner missed 24 ft Three Point Jumper.
42 - 55
4:26
Gary Trent Defensive Rebound.
42 - 55
4:16
Chris Mihm Technical Foul
42 - 55
4:16
Chris Mihm Personal Foul
42 - 55
4:16
Kevin Garnett made Free Throw 1 of 2.
42 - 56
4:16
Kevin Garnett missed Free Throw 2 of 2.
42 - 56
4:16
Carlos Boozer Defensive Rebound.
42 - 56
3:57
Carlos Boozer made Two Point Shot.
44 - 56
3:44
Radoslav Nesterovic made Dunk. Assisted by Troy Hudson.
44 - 58
3:31
Dajuan Wagner missed Jumper.
44 - 58
3:29
Milt Palacio Offensive Rebound.
44 - 58
3:18
Carlos Boozer missed 17 ft Jumper.
44 - 58
3:16
Chris Mihm Offensive Rebound.
44 - 58
3:16
Chris Mihm missed Tip Shot.
44 - 58
3:15
Gary Trent Defensive Rebound.
44 - 58
3:01
Troy Hudson made 26 ft Three Point Jumper. Assisted by Radoslav Nesterovic.
44 - 61
2:42
Ricky Davis missed 25 ft Three Point Jumper.
44 - 61
2:39
Kevin Garnett Defensive Rebound.
44 - 61
2:31
Gary Trent missed 18 ft Jumper.
44 - 61
2:30
Wally Szczerbiak Offensive Rebound.
44 - 61
2:19
Radoslav Nesterovic missed 19 ft Jumper.
44 - 61
2:17
Ricky Davis Defensive Rebound.
44 - 61
2:06
Gary Trent Personal Foul
44 - 61
2:06
Cleveland Full Timeout.
44 - 61
2:06
Zydrunas Ilgauskas enters the game for Milt Palacio.
44 - 61
2:00
Chris Mihm made 12 ft Jumper. Assisted by Dajuan Wagner.
46 - 61
1:40
Gary Trent made Layup. Assisted by Kevin Garnett.
46 - 63
1:23
Ricky Davis made 15 ft Two Point Shot. Assisted by Carlos Boozer.
48 - 63
1:08
Kevin Garnett missed 19 ft Jumper.
48 - 63
1:07
Carlos Boozer Defensive Rebound.
48 - 63
0:50
Carlos Boozer missed Layup. Blocked by Radoslav Nesterovic.
48 - 63
0:48
Cleveland Defensive Rebound.
48 - 63
0:34
Kevin Garnett made 20 ft Two Point Shot.
48 - 65
0:17
Ricky Davis Traveling
48 - 65
0:17
Minnesota 20 Sec. Timeout.
48 - 65
0:17
Anthony Peeler enters the game for Gary Trent.
48 - 65
0:02
Wally Szczerbiak missed 20 ft Jumper.
48 - 65
0:00
Zydrunas Ilgauskas Defensive Rebound.
48 - 65
0:00
End of the 2nd Quarter.
48 - 65

time
TEAM
PLAY
SCORE
12:00
Start of the 3rd Quarter.
48 - 65
11:40
Radoslav Nesterovic made Layup. Assisted by Kevin Garnett.
48 - 67
11:37
Cleveland 20 Sec. Timeout.
48 - 67
11:23
Zydrunas Ilgauskas Bad Pass
48 - 67
11:02
Kevin Garnett missed 18 ft Jumper.
48 - 67
11:00
Zydrunas Ilgauskas Defensive Rebound.
48 - 67
10:52
Darius Miles missed 9 ft Jumper.
48 - 67
10:52
Wally Szczerbiak Defensive Rebound.
48 - 67
10:45
Troy Hudson missed 10 ft Jumper.
48 - 67
10:44
Radoslav Nesterovic Offensive Rebound.
48 - 69
10:44
Radoslav Nesterovic made Tip Shot.
48 - 69
10:22
Troy Hudson Personal Foul
48 - 69
10:15
Ricky Davis Bad Pass
48 - 69
10:04
Wally Szczerbiak made Jumper. Assisted by Radoslav Nesterovic.
48 - 71
9:51
Darius Miles made 21 ft Jumper. Assisted by Milt Palacio.
50 - 71
9:41
Troy Hudson missed 19 ft Jumper.
50 - 71
9:40
Jumaine Jones Defensive Rebound.
50 - 71
9:37
Ricky Davis made Dunk. Assisted by Jumaine Jones.
52 - 71
9:22
Zydrunas Ilgauskas Personal Foul
52 - 71
9:11
Anthony Peeler missed 22 ft Jumper.
52 - 71
9:11
Zydrunas Ilgauskas Defensive Rebound.
52 - 71
9:04
Jumaine Jones missed 20 ft Jumper.
52 - 71
9:03
Kevin Garnett Defensive Rebound.
52 - 71
8:56
Anthony Peeler made Jumper. Assisted by Troy Hudson.
52 - 73
8:30
Darius Miles made Layup. Assisted by Ricky Davis.
54 - 73
8:18
Radoslav Nesterovic missed 21 ft Jumper.
54 - 73
8:17
Darius Miles Defensive Rebound.
54 - 73
8:04
Ricky Davis missed 24 ft Three Point Jumper.
54 - 73
8:03
Zydrunas Ilgauskas Offensive Rebound.
54 - 73
8:00
Zydrunas Ilgauskas made 10 ft Jumper.
56 - 73
7:47
Anthony Peeler made 15 ft Two Point Shot. Assisted by Troy Hudson.
56 - 75
7:28
Zydrunas Ilgauskas Bad Pass. Stolen by Troy Hudson.
56 - 75
7:22
Wally Szczerbiak missed Layup.
56 - 75
7:20
Minnesota Offensive Rebound.
56 - 75
7:20
Dajuan Wagner enters the game for Ricky Davis.
56 - 75
7:07
Kevin Garnett made 14 ft Two Point Shot.
56 - 77
6:47
Darius Miles made 17 ft Jumper. Assisted by Zydrunas Ilgauskas.
58 - 77
6:28
Anthony Peeler Bad Pass. Stolen by Jumaine Jones.
58 - 77
6:24
Jumaine Jones made Slam Dunk.
60 - 77
6:11
Kevin Garnett made Dunk. Assisted by Troy Hudson.
60 - 79
5:45
Darius Miles missed 9 ft Two Point Shot.
60 - 79
5:43
Darius Miles Offensive Rebound.
62 - 79
5:43
Darius Miles made Two Point Shot.
62 - 79
5:31
Kevin Garnett missed 18 ft Jumper.
62 - 79
5:30
Jumaine Jones Defensive Rebound.
62 - 79
5:13
Dajuan Wagner missed 22 ft Three Point Jumper.
62 - 79
5:11
Troy Hudson Defensive Rebound.
62 - 79
5:05
Minnesota Full Timeout.
62 - 79
4:56
Wally Szczerbiak missed 23 ft Jumper.
62 - 79
4:54
Darius Miles Defensive Rebound.
62 - 79
4:39
Radoslav Nesterovic Shooting Foul
62 - 79
4:39
Zydrunas Ilgauskas missed Free Throw 1 of 2.
62 - 79
4:39
Cleveland Offensive Rebound.
62 - 79
4:39
Zydrunas Ilgauskas made Free Throw 2 of 2.
63 - 79
4:28
Anthony Peeler made Layup. Assisted by Troy Hudson.
63 - 81
4:05
Jumaine Jones missed 23 ft Three Point Jumper.
63 - 81
4:03
Radoslav Nesterovic Defensive Rebound.
63 - 81
3:56
Chris Mihm enters the game for Jumaine Jones.
63 - 81
3:49
Kevin Garnett made 10 ft Two Point Shot.
63 - 83
3:49
Chris Mihm Shooting Foul
63 - 83
3:49
Kevin Garnett made Free Throw 1 of 1.
63 - 84
3:35
Dajuan Wagner made 21 ft Two Point Shot.
65 - 84
3:21
Wally Szczerbiak missed Layup.
65 - 84
3:20
Zydrunas Ilgauskas Defensive Rebound.
65 - 84
3:14
Darius Miles missed 10 ft Jumper. Blocked by Wally Szczerbiak.
65 - 84
3:12
Radoslav Nesterovic Defensive Rebound.
65 - 84
2:50
Wally Szczerbiak made 17 ft Two Point Shot. Assisted by Troy Hudson.
65 - 86
2:31
Cleveland Full Timeout.
65 - 86
2:31
Mike Wilks enters the game for Troy Hudson.
65 - 86
2:31
Kendall Gill enters the game for Anthony Peeler.
65 - 86
2:20
Dajuan Wagner made 9 ft Two Point Shot.
67 - 86
2:05
Kevin Garnett made 19 ft Jumper. Assisted by Mike Wilks.
67 - 88
1:43
Chris Mihm missed 9 ft Jumper.
67 - 88
1:40
Kevin Garnett Defensive Rebound.
67 - 88
1:31
Radoslav Nesterovic made Layup. Assisted by Kevin Garnett.
67 - 90
1:09
Zydrunas Ilgauskas missed 18 ft Jumper.
67 - 90
1:07
Kevin Garnett Defensive Rebound.
67 - 90
1:01
Radoslav Nesterovic made 7 ft Two Point Shot. Assisted by Kevin Garnett.
67 - 92
0:34
Dajuan Wagner made Two Point Shot.
69 - 92
0:22
Radoslav Nesterovic missed 7 ft Jumper.
69 - 92
0:21
Zydrunas Ilgauskas Defensive Rebound.
69 - 92
0:04
Mike Wilks Personal Foul
69 - 92
0:04
Gary Trent enters the game for Kevin Garnett.
69 - 92
0:04
Michael Stewart enters the game for Zydrunas Ilgauskas.
69 - 92
0:04
Carlos Boozer enters the game for Chris Mihm.
69 - 92
0:01
Milt Palacio missed 24 ft Three Point Jumper.
69 - 92
0:00
Cleveland Offensive Rebound.
69 - 92
0:00
End of the 3rd Quarter.
69 - 92

time
TEAM
PLAY
SCORE
12:00
Start of the 4th Quarter.
69 - 92
11:42
Carlos Boozer Bad Pass. Stolen by Kendall Gill.
69 - 92
11:37
Kendall Gill missed Layup.
69 - 92
11:36
Wally Szczerbiak Offensive Rebound.
69 - 92
11:30
Michael Stewart Personal Foul
69 - 92
11:25
Mike Wilks missed 22 ft Jumper.
69 - 92
11:22
Michael Stewart Defensive Rebound.
69 - 92
11:08
Mike Wilks Shooting Foul
69 - 92
11:08
Dajuan Wagner made Free Throw 1 of 2.
70 - 92
11:08
Dajuan Wagner made Free Throw 2 of 2.
71 - 92
10:52
Gary Trent missed 17 ft Jumper.
71 - 92
10:49
Marc Jackson Offensive Rebound.
71 - 92
10:48
Marc Jackson missed Layup.
71 - 92
10:45
Kendall Gill Offensive Rebound.
71 - 92
10:45
Carlos Boozer Shooting Foul
71 - 92
10:45
Kendall Gill made Free Throw 1 of 2.
71 - 93
10:45
Jumaine Jones enters the game for Darius Miles.
71 - 93
10:45
Kendall Gill made Free Throw 2 of 2.
71 - 94
10:30
Milt Palacio made Two Point Shot.
73 - 94
10:11
Kendall Gill missed 20 ft Jumper.
73 - 94
10:11
Michael Stewart Defensive Rebound.
73 - 94
10:03
Carlos Boozer made 18 ft Jumper. Assisted by Milt Palacio.
75 - 94
9:48
Wally Szczerbiak made 18 ft Jumper. Assisted by Mike Wilks.
75 - 96
9:26
Carlos Boozer made 15 ft Two Point Shot.
77 - 96
9:11
Gary Trent missed 6 ft Jumper.
77 - 96
9:08
Carlos Boozer Defensive Rebound.
77 - 96
9:00
Dajuan Wagner made 6 ft Two Point Shot.
79 - 96
8:56
Minnesota Full Timeout.
79 - 96
8:56
Anthony Peeler enters the game for Wally Szczerbiak.
79 - 96
8:56
Troy Hudson enters the game for Mike Wilks.
79 - 96
8:56
Kevin Garnett enters the game for Marc Jackson.
79 - 96
8:56
Ricky Davis enters the game for Milt Palacio.
79 - 96
8:40
Gary Trent made Layup. Assisted by Kevin Garnett.
79 - 98
8:40
Michael Stewart Shooting Foul
79 - 98
8:40
Gary Trent missed Free Throw 1 of 1.
79 - 98
8:40
Carlos Boozer Defensive Rebound.
79 - 98
8:25
Dajuan Wagner missed Layup.
79 - 98
8:23
Michael Stewart Offensive Rebound.
81 - 98
8:23
Michael Stewart made Tip Shot.
81 - 98
8:07
Kevin Garnett missed 19 ft Jumper.
81 - 98
8:06
Jumaine Jones Defensive Rebound.
81 - 98
7:52
Troy Hudson Personal Foul
81 - 98
7:39
Jumaine Jones missed 26 ft Three Point Jumper.
81 - 98
7:39
Anthony Peeler Defensive Rebound.
81 - 98
7:35
Minnesota 20 Sec. Timeout.
81 - 98
7:26
Carlos Boozer Shooting Foul
81 - 98
7:26
Gary Trent missed Free Throw 1 of 2.
81 - 98
7:26
Minnesota Offensive Rebound.
81 - 98
7:26
Gary Trent missed Free Throw 2 of 2.
81 - 98
7:26
Carlos Boozer Defensive Rebound.
81 - 98
7:13
Dajuan Wagner missed 6 ft Jumper.
81 - 98
7:11
Cleveland Defensive Rebound.
81 - 98
7:11
Radoslav Nesterovic enters the game for Gary Trent.
81 - 98
6:52
Troy Hudson made Two Point Shot. Assisted by Radoslav Nesterovic.
81 - 100
6:31
Radoslav Nesterovic Shooting Foul
81 - 100
6:31
Zydrunas Ilgauskas enters the game for Michael Stewart.
81 - 100
6:31
Carlos Boozer made Free Throw 1 of 2.
82 - 100
6:31
Carlos Boozer made Free Throw 2 of 2.
83 - 100
6:16
Anthony Peeler missed 21 ft Jumper.
83 - 100
6:15
Dajuan Wagner Defensive Rebound.
83 - 100
5:58
Carlos Boozer made 17 ft Jumper. Assisted by Ricky Davis.
85 - 100
5:41
Kendall Gill missed Layup. Blocked by Zydrunas Ilgauskas.
85 - 100
5:39
Dajuan Wagner Defensive Rebound.
85 - 100
5:26
Carlos Boozer Offensive Foul
85 - 100
5:26
Carlos Boozer Foul
85 - 100
5:26
Full Timeout.
85 - 100
5:26
Wally Szczerbiak enters the game for Kendall Gill.
85 - 100
5:18
Troy Hudson missed 19 ft Jumper.
85 - 100
5:16
Radoslav Nesterovic Offensive Rebound.
85 - 100
5:16
Radoslav Nesterovic missed Tip Shot.
85 - 100
5:15
Jumaine Jones Defensive Rebound.
85 - 100
5:03
Zydrunas Ilgauskas missed 16 ft Jumper.
85 - 100
5:01
Troy Hudson Defensive Rebound.
85 - 100
4:52
Kevin Garnett missed 8 ft Jumper.
85 - 100
4:50
Kevin Garnett Offensive Rebound.
85 - 100
4:47
Kevin Garnett missed 10 ft Jumper. Blocked by Zydrunas Ilgauskas.
85 - 100
4:45
Carlos Boozer Defensive Rebound.
85 - 100
4:39
Dajuan Wagner missed Layup.
85 - 100
4:39
Carlos Boozer Offensive Rebound.
85 - 100
4:39
Carlos Boozer missed Dunk.
85 - 100
4:37
Wally Szczerbiak Defensive Rebound.
85 - 100
4:33
Kevin Garnett made Two Point Shot. Assisted by Anthony Peeler.
85 - 102
4:16
Ricky Davis made 21 ft Jumper.
87 - 102
3:54
Anthony Peeler made Two Point Shot. Assisted by Troy Hudson.
87 - 104
3:31
Ricky Davis missed 17 ft Jumper.
87 - 104
3:30
Kevin Garnett Defensive Rebound.
87 - 104
3:15
Troy Hudson made 16 ft Jumper.
87 - 106
2:56
Zydrunas Ilgauskas made Dunk. Assisted by Ricky Davis.
89 - 106
2:36
Troy Hudson made 16 ft Two Point Shot.
89 - 108
2:14
Ricky Davis missed 21 ft Jumper.
89 - 108
2:13
Kevin Garnett Defensive Rebound.
89 - 108
2:09
Wally Szczerbiak made Two Point Shot. Assisted by Kevin Garnett.
89 - 110
2:02
Cleveland Full Timeout.
89 - 110
2:02
Gary Trent enters the game for Wally Szczerbiak.
89 - 110
2:02
Loren Woods enters the game for Kevin Garnett.
89 - 110
2:02
Igor Rakocevic enters the game for Radoslav Nesterovic.
89 - 110
2:02
Marc Jackson enters the game for Anthony Peeler.
89 - 110
2:02
Mike Wilks enters the game for Troy Hudson.
89 - 110
1:49
Carlos Boozer missed 15 ft Jumper.
89 - 110
1:47
Ricky Davis Offensive Rebound.
89 - 110
1:37
Ricky Davis missed Jumper.
89 - 110
1:36
Ricky Davis Offensive Rebound.
89 - 110
1:35
Marc Jackson Shooting Foul
89 - 110
1:35
Carlos Boozer made Free Throw 1 of 2.
90 - 110
1:35
Carlos Boozer made Free Throw 2 of 2.
91 - 110
1:16
Gary Trent made Layup. Assisted by Igor Rakocevic.
91 - 112
1:05
Dajuan Wagner missed 10 ft Jumper.
91 - 112
1:04
Loren Woods Defensive Rebound.
91 - 112
0:56
Marc Jackson made Layup. Assisted by Igor Rakocevic.
91 - 114
0:38
Ricky Davis made 18 ft Two Point Shot.
93 - 114
0:27
Igor Rakocevic made 20 ft Jumper. Assisted by Mike Wilks.
93 - 116
0:07
Carlos Boozer missed 18 ft Jumper.
93 - 116
0:05
Gary Trent Defensive Rebound.
93 - 116
0:01
Gary Trent Bad Pass. Stolen by Carlos Boozer.
93 - 116
0:00
End of the 4th Quarter.
93 - 116
0:00
End Game
93 - 116
0:00
End Game
93 - 116
0:00
End Game
93 - 116
After a difficult season, Rockets star James Harden is determined to re-build a winner in Houston -- no matter what (and who) it takes.

ESPN Insider Jeff Goodman explains why Danny Ainge decided not to swing a deal with the third pick and why he eventually chose to draft Jaylen Brown out of California instead of Kris Dunn out of Providence.

Marc Spears says he texted DeMarcus Cousins after he tweeted following the Kings drafting Greek center Georgios Papagiannis and Cousins told him the tweet had to do with a yoga class he was taking.