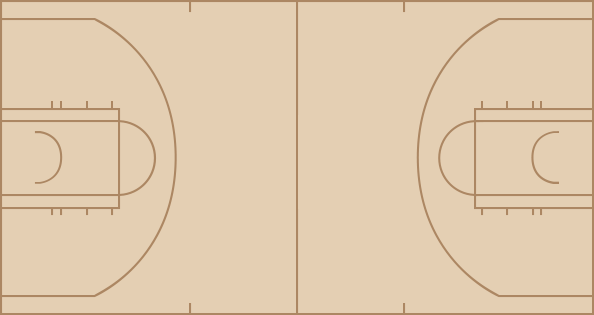 Bucks
time
TEAM
PLAY
SCORE
12:00
Start of the 1st Quarter.
0 - 0
12:00
Jumpball. Tim Thomas vs. Brian Grant. Gary Payton gains possession.
0 - 0
11:48
Desmond Mason missed 16 ft Jumper.
0 - 0
11:45
Travis Best Defensive Rebound.
0 - 0
11:25
Malik Allen made Hook Shot.
0 - 2
11:07
Sam Cassell missed 7 ft Jumper.
0 - 2
11:04
Malik Allen Defensive Rebound.
0 - 2
11:00
Travis Best missed Layup. Blocked by Gary Payton.
0 - 2
10:59
Miami Defensive Rebound.
0 - 2
10:36
Sam Cassell made Jumper. Assisted by Anthony Mason.
2 - 2
10:15
Caron Butler missed Layup.
2 - 2
10:14
Sam Cassell Defensive Rebound.
2 - 2
10:10
Gary Payton Lost Ball
2 - 2
10:00
Brian Grant made 18 ft Two Point Shot. Assisted by Mike James.
2 - 4
9:45
Caron Butler Shooting Foul
2 - 4
9:45
Desmond Mason made Free Throw 1 of 2.
3 - 4
9:45
Desmond Mason made Free Throw 2 of 2.
4 - 4
9:32
Brian Grant made Layup. Assisted by Mike James.
4 - 6
9:15
Kicked Ball
4 - 6
9:11
Tim Thomas missed 18 ft Jumper.
4 - 6
9:08
Mike James Defensive Rebound.
4 - 6
8:56
Caron Butler missed Jumper.
4 - 6
8:53
Gary Payton Defensive Rebound.
4 - 6
8:41
Tim Thomas made Layup. Assisted by Sam Cassell.
6 - 6
8:32
Travis Best made 16 ft Jumper.
6 - 8
8:15
Gary Payton missed 9 ft Two Point Shot.
6 - 8
8:14
Mike James Defensive Rebound.
6 - 8
8:08
Travis Best missed 17 ft Jumper.
6 - 8
8:07
Tim Thomas Defensive Rebound.
6 - 8
7:54
Gary Payton made 11 ft Two Point Shot.
8 - 8
7:39
Brian Grant made 10 ft Two Point Shot.
8 - 10
7:24
Gary Payton missed 18 ft Jumper.
8 - 10
7:22
Malik Allen Defensive Rebound.
8 - 10
7:18
Mike James missed Layup.
8 - 10
7:16
Anthony Mason Defensive Rebound.
8 - 10
7:03
Tim Thomas missed 24 ft Three Point Jumper.
8 - 10
7:01
Brian Grant Defensive Rebound.
8 - 10
6:54
Kicked Ball
8 - 10
6:43
Brian Grant missed 17 ft Jumper.
8 - 10
6:41
Sam Cassell Defensive Rebound.
8 - 10
6:35
Desmond Mason made 18 ft Jumper. Assisted by Gary Payton.
10 - 10
6:24
Travis Best missed 19 ft Jumper. Blocked by Gary Payton.
10 - 10
6:22
Tim Thomas Defensive Rebound.
10 - 10
6:09
Mike James Personal Foul
10 - 10
6:01
Sam Cassell made 24 ft Three Point Jumper. Assisted by Anthony Mason.
13 - 10
5:54
Miami Full Timeout.
13 - 10
5:43
Mike James made 19 ft Jumper.
13 - 12
5:28
Gary Payton made Layup. Assisted by Sam Cassell.
15 - 12
5:11
Travis Best made 17 ft Jumper.
15 - 14
4:48
Brian Grant Shooting Foul
15 - 14
4:48
Anthony Mason missed Free Throw 1 of 2.
15 - 14
4:48
Anthony Mason Lane Violation
15 - 14
4:48
Lane Violation
15 - 14
4:48
Anthony Mason Lane Violation
15 - 14
4:35
Caron Butler missed Layup.
15 - 14
4:33
Brian Grant Offensive Rebound.
15 - 14
4:18
Travis Best Offensive Foul
15 - 14
4:18
Travis Best Foul
15 - 14
4:18
Toni Kukoc enters the game for Tim Thomas.
15 - 14
4:18
LaPhonso Ellis enters the game for Brian Grant.
15 - 14
4:09
Gary Payton Lost Ball. Stolen by Mike James.
15 - 14
4:07
Travis Best missed Layup.
15 - 14
4:07
Toni Kukoc Defensive Rebound.
15 - 14
4:07
Mike James Personal Foul
15 - 14
3:55
Gary Payton made Jumper.
17 - 14
3:41
Mike James missed 17 ft Jumper.
17 - 14
3:38
LaPhonso Ellis Offensive Rebound.
17 - 14
3:33
LaPhonso Ellis Lost Ball. Stolen by Gary Payton.
17 - 14
3:27
Mike James Shooting Foul
17 - 14
3:27
Eddie House enters the game for Mike James.
17 - 14
3:27
Michael Redd enters the game for Desmond Mason.
17 - 14
3:27
Sam Cassell made Free Throw 1 of 2.
18 - 14
3:27
Sam Cassell made Free Throw 2 of 2.
19 - 14
3:15
Michael Redd Personal Foul
19 - 14
3:06
Malik Allen missed 17 ft Jumper.
19 - 14
3:04
Anthony Mason Defensive Rebound.
19 - 14
2:51
Toni Kukoc made 18 ft Jumper. Assisted by Gary Payton.
21 - 14
2:31
Anthony Mason Shooting Foul
21 - 14
2:31
Milwaukee Full Timeout.
21 - 14
2:31
Malik Allen made Free Throw 1 of 2.
21 - 15
2:31
Malik Allen made Free Throw 2 of 2.
21 - 16
2:15
Michael Redd missed 16 ft Jumper.
21 - 16
2:15
Malik Allen Defensive Rebound.
21 - 16
1:58
Michael Redd Personal Foul
21 - 16
1:58
Tim Thomas enters the game for Sam Cassell.
21 - 16
1:54
Tim Thomas Shooting Foul
21 - 16
1:54
Caron Butler made Free Throw 1 of 2.
21 - 17
1:54
Caron Butler missed Free Throw 2 of 2.
21 - 17
1:52
Anthony Mason Defensive Rebound.
21 - 17
1:38
Tim Thomas made 9 ft Two Point Shot.
23 - 17
1:31
Caron Butler missed 14 ft Jumper.
23 - 17
1:31
Gary Payton Defensive Rebound.
23 - 17
1:23
Gary Payton made 12 ft Two Point Shot.
25 - 17
1:23
Travis Best Shooting Foul
25 - 17
1:23
Gary Payton missed Free Throw 1 of 1.
25 - 17
1:23
Eddie House Defensive Rebound.
25 - 17
1:00
Toni Kukoc Personal Foul
25 - 17
1:00
Anthony Carter enters the game for Travis Best.
25 - 17
1:00
Malik Allen missed Free Throw 1 of 2.
25 - 17
1:00
Miami Offensive Rebound.
25 - 17
1:00
Malik Allen made Free Throw 2 of 2.
25 - 18
0:39
Toni Kukoc missed 15 ft Jumper.
25 - 18
0:37
Caron Butler Defensive Rebound.
25 - 18
0:32
LaPhonso Ellis made Layup. Assisted by Caron Butler.
25 - 20
0:11
Tim Thomas missed 14 ft Jumper.
25 - 20
0:09
Eddie House Defensive Rebound.
25 - 20
0:03
Eddie House made 22 ft Jumper. Assisted by Anthony Carter.
25 - 22
0:00
End of the 1st Quarter.
25 - 22

time
TEAM
PLAY
SCORE
12:00
Start of the 2nd Quarter.
25 - 22
11:48
LaPhonso Ellis missed 8 ft Jumper.
25 - 22
11:45
Michael Redd Defensive Rebound.
25 - 22
11:32
Toni Kukoc made Layup.
27 - 22
11:15
Tim Thomas Personal Foul
27 - 22
11:03
Caron Butler missed 16 ft Jumper.
27 - 22
11:03
LaPhonso Ellis Offensive Rebound.
27 - 22
11:03
Toni Kukoc Loose Ball Foul
27 - 22
11:03
Desmond Mason enters the game for Michael Redd.
27 - 22
10:55
Caron Butler Bad Pass. Stolen by Ervin Johnson.
27 - 22
10:47
Gary Payton missed Layup. Blocked by Brian Grant.
27 - 22
10:45
Brian Grant Defensive Rebound.
27 - 22
10:38
Eddie House made 16 ft Jumper. Assisted by Anthony Carter.
27 - 24
10:21
Gary Payton missed Layup.
27 - 24
10:19
Ervin Johnson Offensive Rebound.
27 - 24
10:18
Ervin Johnson made 6 ft Jumper.
29 - 24
10:03
Anthony Carter Bad Pass
29 - 24
10:03
Sam Cassell enters the game for Gary Payton.
29 - 24
10:03
Rasual Butler enters the game for LaPhonso Ellis.
29 - 24
9:51
Desmond Mason made 13 ft Jumper.
31 - 24
9:51
Eddie House Shooting Foul
31 - 24
9:51
Desmond Mason made Free Throw 1 of 1.
32 - 24
9:40
Rasual Butler missed 16 ft Jumper.
32 - 24
9:37
Brian Grant Offensive Rebound.
32 - 24
9:18
Caron Butler made Jumper.
32 - 26
9:08
Sam Cassell missed Jumper.
32 - 26
9:07
Brian Grant Defensive Rebound.
32 - 26
9:03
Desmond Mason Personal Foul
32 - 26
8:52
Eddie House made 19 ft Jumper. Assisted by Anthony Carter.
32 - 28
8:36
Sam Cassell made 7 ft Jumper.
34 - 28
8:21
Ervin Johnson Personal Foul
34 - 28
8:21
Official Timeout.
34 - 28
8:07
Eddie House missed 23 ft Three Point Jumper.
34 - 28
8:06
Eddie House Offensive Rebound.
34 - 28
8:06
Ervin Johnson Personal Foul
34 - 28
8:06
Caron Butler made Free Throw 1 of 2.
34 - 29
8:06
Caron Butler made Free Throw 2 of 2.
34 - 30
7:52
Desmond Mason missed 16 ft Jumper.
34 - 30
7:50
Rasual Butler Defensive Rebound.
34 - 30
7:39
Brian Grant missed Two Point Shot.
34 - 30
7:37
Toni Kukoc Defensive Rebound.
34 - 30
7:31
Toni Kukoc Bad Pass. Stolen by Eddie House.
34 - 30
7:26
Caron Butler made Dunk. Assisted by Anthony Carter.
34 - 32
7:01
Sam Cassell made 19 ft Jumper.
36 - 32
6:35
Rasual Butler missed 16 ft Jumper.
36 - 32
6:33
Miami Defensive Rebound.
36 - 32
6:33
Malik Allen enters the game for Caron Butler.
36 - 32
6:22
Eddie House Personal Foul
36 - 32
6:13
Malik Allen Shooting Foul
36 - 32
6:13
Toni Kukoc made Free Throw 1 of 2.
37 - 32
6:13
Toni Kukoc made Free Throw 2 of 2.
38 - 32
6:00
Brian Grant made 9 ft Jumper. Assisted by Anthony Carter.
38 - 34
5:50
Sam Cassell Bad Pass. Stolen by Anthony Carter.
38 - 34
5:47
Eddie House made Layup. Assisted by Anthony Carter.
38 - 36
5:28
Tim Thomas made 25 ft Three Point Jumper. Assisted by Toni Kukoc.
41 - 36
5:22
Miami Full Timeout.
41 - 36
5:22
Gary Payton enters the game for Toni Kukoc.
41 - 36
5:22
Anthony Mason enters the game for Ervin Johnson.
41 - 36
5:07
Tim Thomas Defensive Rebound.
41 - 36
5:00
Gary Payton missed Jumper.
41 - 36
4:58
Eddie House Defensive Rebound.
41 - 36
4:43
Anthony Carter made Two Point Shot.
41 - 38
4:28
Sam Cassell made 16 ft Jumper. Assisted by Anthony Mason.
43 - 38
4:11
Eddie House missed 18 ft Jumper.
43 - 38
4:09
Desmond Mason Defensive Rebound.
43 - 38
4:03
Sam Cassell made 16 ft Jumper.
45 - 38
3:47
Malik Allen made Two Point Shot. Assisted by Eddie House.
45 - 40
3:31
Tim Thomas missed 17 ft Jumper.
45 - 40
3:29
Eddie House Defensive Rebound.
45 - 40
3:15
Rasual Butler made Jumper.
45 - 42
3:00
Sam Cassell Lost Ball. Stolen by Anthony Carter.
45 - 42
2:53
Eddie House made Jumper. Assisted by Rasual Butler.
45 - 44
2:39
Desmond Mason missed Jumper.
45 - 44
2:36
Milwaukee Offensive Rebound.
45 - 44
2:36
Milwaukee Full Timeout.
45 - 44
2:36
Lane Violation
45 - 44
2:36
Desmond Mason Lane Violation
45 - 44
2:36
Michael Redd enters the game for Tim Thomas.
45 - 44
2:36
Travis Best enters the game for Eddie House.
45 - 44
2:36
Caron Butler enters the game for Anthony Carter.
45 - 44
2:20
Sam Cassell made 13 ft Jumper.
47 - 44
2:20
Travis Best Shooting Foul
47 - 44
2:20
Sam Cassell made Free Throw 1 of 1.
48 - 44
1:59
Rasual Butler missed 13 ft Jumper.
48 - 44
1:57
Sam Cassell Defensive Rebound.
48 - 44
1:52
Gary Payton made Two Point Shot.
50 - 44
1:36
Caron Butler missed 13 ft Jumper.
50 - 44
1:34
Gary Payton Defensive Rebound.
50 - 44
1:17
Michael Redd missed 24 ft Three Point Jumper.
50 - 44
1:15
Travis Best Defensive Rebound.
50 - 44
1:08
Caron Butler missed Two Point Shot.
50 - 44
1:07
Malik Allen Offensive Rebound.
50 - 44
1:02
Caron Butler made Layup. Assisted by Brian Grant.
50 - 46
0:39
Desmond Mason missed 18 ft Jumper.
50 - 46
0:37
Malik Allen Defensive Rebound.
50 - 46
0:19
Michael Redd Personal Foul
50 - 46
0:19
Eddie House enters the game for Travis Best.
50 - 46
0:19
Anthony Carter enters the game for Malik Allen.
50 - 46
0:19
Rasual Butler made Free Throw 1 of 2.
50 - 47
0:19
Tim Thomas enters the game for Michael Redd.
50 - 47
0:19
Rasual Butler made Free Throw 2 of 2.
50 - 48
0:03
Anthony Mason made 16 ft Jumper. Assisted by Tim Thomas.
52 - 48
0:00
End of the 2nd Quarter.
52 - 48

time
TEAM
PLAY
SCORE
12:00
Start of the 3rd Quarter.
52 - 48
11:41
Tim Thomas Shooting Foul
52 - 48
11:41
Brian Grant made Free Throw 1 of 2.
52 - 49
11:41
Brian Grant made Free Throw 2 of 2.
52 - 50
11:23
Sam Cassell made 12 ft Jumper.
54 - 50
11:07
Brian Grant missed 14 ft Jumper.
54 - 50
11:04
Tim Thomas Defensive Rebound.
54 - 50
10:53
Sam Cassell missed 15 ft Jumper.
54 - 50
10:52
Malik Allen Defensive Rebound.
54 - 50
10:41
Mike James made Two Point Shot.
54 - 52
10:19
Anthony Mason made Layup.
56 - 52
10:04
Brian Grant made Jumper. Assisted by Mike James.
56 - 54
9:49
Gary Payton missed 24 ft Three Point Jumper.
56 - 54
9:48
Malik Allen Defensive Rebound.
56 - 54
9:41
Caron Butler missed Layup.
56 - 54
9:41
Anthony Mason Defensive Rebound.
56 - 54
9:30
Desmond Mason missed 17 ft Jumper.
56 - 54
9:29
Caron Butler Defensive Rebound.
56 - 54
9:14
Mike James missed 17 ft Jumper.
56 - 54
9:11
Gary Payton Defensive Rebound.
56 - 54
9:02
Tim Thomas made Jumper.
58 - 54
8:48
Travis Best missed 12 ft Two Point Shot.
58 - 54
8:47
Anthony Mason Defensive Rebound.
58 - 54
8:38
Tim Thomas missed 24 ft Three Point Jumper.
58 - 54
8:37
Malik Allen Defensive Rebound.
58 - 54
8:37
Desmond Mason Loose Ball Foul
58 - 54
8:27
Caron Butler missed Layup.
58 - 54
8:26
Malik Allen Offensive Rebound.
58 - 54
8:22
Malik Allen missed Hook Shot.
58 - 54
8:21
Tim Thomas Defensive Rebound.
58 - 54
8:11
Desmond Mason missed Layup.
58 - 54
8:10
Malik Allen Defensive Rebound.
58 - 54
7:52
Malik Allen missed Jumper.
58 - 54
7:50
Tim Thomas Defensive Rebound.
58 - 54
7:46
Travis Best Personal Foul
58 - 54
7:46
Eddie House enters the game for Travis Best.
58 - 54
7:35
Anthony Mason made Layup.
60 - 54
7:28
Miami Full Timeout.
60 - 54
7:20
Caron Butler missed Layup. Blocked by Desmond Mason.
60 - 54
7:18
Gary Payton Defensive Rebound.
60 - 54
7:11
Malik Allen Shooting Foul
60 - 54
7:11
Desmond Mason made Free Throw 1 of 2.
61 - 54
7:11
Desmond Mason missed Free Throw 2 of 2.
61 - 54
7:11
Mike James Defensive Rebound.
61 - 54
6:52
Malik Allen made Hook Shot.
61 - 56
6:30
Gary Payton Lost Ball. Stolen by Mike James.
61 - 56
6:20
Kicked Ball
61 - 56
6:15
Mike James Lost Ball
61 - 56
6:00
Sam Cassell Lost Ball
61 - 56
5:43
Mike James Offensive Foul
61 - 56
5:43
Mike James Foul
61 - 56
5:43
Anthony Carter enters the game for Mike James.
61 - 56
5:33
Sam Cassell made 19 ft Jumper.
63 - 56
5:18
Brian Grant made 8 ft Jumper. Assisted by Caron Butler.
63 - 58
5:18
Gary Payton Shooting Foul
63 - 58
5:18
Brian Grant made Free Throw 1 of 1.
63 - 59
5:03
Tim Thomas Offensive Foul
63 - 59
5:03
Tim Thomas Foul
63 - 59
5:03
Eddie House Shooting Foul
63 - 59
5:03
Michael Redd enters the game for Desmond Mason.
63 - 59
5:03
Sam Cassell missed Free Throw 1 of 2.
63 - 59
5:03
Milwaukee Offensive Rebound.
63 - 59
5:03
Sam Cassell made Free Throw 2 of 2.
64 - 59
4:45
Eddie House missed 19 ft Jumper.
64 - 59
4:43
Anthony Mason Defensive Rebound.
64 - 59
4:33
Caron Butler Personal Foul
64 - 59
4:33
Brian Grant Away From Ball Foul
64 - 59
4:33
Sam Cassell made Free Throw 1 of 2.
65 - 59
4:33
Sam Cassell made Free Throw 2 of 2.
66 - 59
4:28
Sam Cassell Offensive Foul
66 - 59
4:28
Sam Cassell Foul
66 - 59
4:28
Sam Cassell Personal Foul
66 - 59
4:28
Toni Kukoc enters the game for Gary Payton.
66 - 59
4:11
Malik Allen Lost Ball. Stolen by Toni Kukoc.
66 - 59
4:09
Anthony Carter Shooting Foul
66 - 59
4:09
Michael Redd made Free Throw 1 of 2.
67 - 59
4:09
Michael Redd made Free Throw 2 of 2.
68 - 59
3:48
Tim Thomas Personal Foul
68 - 59
3:48
Eddie House made Free Throw 1 of 2.
68 - 60
3:48
Desmond Mason enters the game for Tim Thomas.
68 - 60
3:48
Eddie House made Free Throw 2 of 2.
68 - 61
3:35
Desmond Mason missed Hook Shot.
68 - 61
3:33
Brian Grant Defensive Rebound.
68 - 61
3:29
Anthony Carter made Layup. Assisted by Eddie House.
68 - 63
3:11
Anthony Mason Bad Pass. Stolen by Eddie House.
68 - 63
3:03
Caron Butler missed Layup.
68 - 63
3:01
Sam Cassell Defensive Rebound.
68 - 63
2:46
Toni Kukoc missed 12 ft Jumper.
68 - 63
2:44
Brian Grant Defensive Rebound.
68 - 63
2:39
Eddie House made 19 ft Jumper. Assisted by Anthony Carter.
68 - 65
2:31
Milwaukee Full Timeout.
68 - 65
2:31
Rasual Butler enters the game for Caron Butler.
68 - 65
2:15
Michael Redd missed Three Point Jumper.
68 - 65
2:12
Milwaukee Offensive Rebound.
68 - 65
2:12
Brian Grant Personal Foul
68 - 65
2:12
Desmond Mason made Free Throw 1 of 2.
69 - 65
2:12
Desmond Mason missed Free Throw 2 of 2.
69 - 65
2:11
Malik Allen Defensive Rebound.
69 - 65
2:00
Anthony Carter Bad Pass. Stolen by Michael Redd.
69 - 65
1:54
Desmond Mason made Layup. Assisted by Toni Kukoc.
71 - 65
1:35
Malik Allen made Layup. Assisted by Eddie House.
71 - 67
1:35
Sam Cassell Shooting Foul
71 - 67
1:35
Malik Allen made Free Throw 1 of 1.
71 - 68
1:24
Sam Cassell Bad Pass. Stolen by Eddie House.
71 - 68
1:20
Anthony Carter made Layup. Assisted by Eddie House.
71 - 70
1:02
Desmond Mason 3 second
71 - 70
1:02
Vladimir Stepania enters the game for Brian Grant.
71 - 70
0:52
Eddie House missed Jumper.
71 - 70
0:50
Toni Kukoc Defensive Rebound.
71 - 70
0:34
Malik Allen Shooting Foul
71 - 70
0:34
Ervin Johnson enters the game for Anthony Mason.
71 - 70
0:34
Michael Redd made Free Throw 1 of 2.
72 - 70
0:34
Michael Redd made Free Throw 2 of 2.
73 - 70
0:17
Rasual Butler missed 23 ft Three Point Jumper.
73 - 70
0:15
Michael Redd Defensive Rebound.
73 - 70
0:01
Michael Redd missed 15 ft Jumper. Blocked by Malik Allen.
73 - 70
0:00
Vladimir Stepania Defensive Rebound.
73 - 70
0:00
End of the 3rd Quarter.
73 - 70

time
TEAM
PLAY
SCORE
12:00
Start of the 4th Quarter.
73 - 70
11:37
Desmond Mason missed 12 ft Jumper. Blocked by Rasual Butler.
73 - 70
11:33
Milwaukee Offensive Rebound.
73 - 70
11:23
Ervin Johnson missed 8 ft Jumper.
73 - 70
11:18
Eddie House Defensive Rebound.
73 - 70
10:59
Anthony Carter missed 19 ft Jumper.
73 - 70
10:56
Gary Payton Defensive Rebound.
73 - 70
10:55
Kicked Ball
73 - 70
10:38
Michael Redd made 14 ft Jumper.
75 - 70
10:21
Rasual Butler missed 16 ft Jumper.
75 - 70
10:18
Gary Payton Defensive Rebound.
75 - 70
10:14
Gary Payton missed Layup.
75 - 70
10:11
Ervin Johnson Offensive Rebound.
75 - 70
10:04
Caron Butler enters the game for Eddie House.
75 - 70
10:00
Toni Kukoc made 25 ft Three Point Jumper. Assisted by Gary Payton.
78 - 70
9:29
Caron Butler missed 25 ft Three Point Jumper.
78 - 70
9:26
Miami Defensive Rebound.
78 - 70
9:11
Gary Payton missed Jumper.
78 - 70
9:08
Vladimir Stepania Defensive Rebound.
78 - 70
9:06
Caron Butler Bad Pass. Stolen by Toni Kukoc.
78 - 70
9:02
Gary Payton missed Layup. Blocked by Caron Butler.
78 - 70
8:57
Anthony Carter Defensive Rebound.
78 - 70
8:53
Toni Kukoc Personal Foul
78 - 70
8:53
Official Timeout.
78 - 70
8:53
Travis Best enters the game for Anthony Carter.
78 - 70
8:44
Caron Butler missed Layup. Blocked by Ervin Johnson.
78 - 70
8:42
Miami Offensive Rebound.
78 - 70
8:37
Rasual Butler missed 24 ft Three Point Jumper.
78 - 70
8:37
Miami Offensive Rebound.
78 - 70
8:37
24 second
78 - 70
8:22
Gary Payton missed Two Point Shot.
78 - 70
8:21
Milwaukee Defensive Rebound.
78 - 70
8:21
Ervin Johnson Loose Ball Foul
78 - 70
8:21
Malik Allen enters the game for Vladimir Stepania.
78 - 70
8:03
Malik Allen made 17 ft Jumper.
78 - 72
7:48
Gary Payton made Two Point Shot.
80 - 72
7:37
Brian Grant missed 12 ft Two Point Shot.
80 - 72
7:35
Ervin Johnson Defensive Rebound.
80 - 72
7:22
Ervin Johnson made 7 ft Hook Shot. Assisted by Gary Payton.
82 - 72
7:22
Miami 20 Sec. Timeout.
82 - 72
7:00
Caron Butler missed 17 ft Jumper.
82 - 72
6:56
Brian Grant Offensive Rebound.
82 - 74
6:56
Brian Grant made Tip Shot.
82 - 74
6:37
Michael Redd made 24 ft Three Point Jumper. Assisted by Desmond Mason.
85 - 74
6:22
Rasual Butler missed 16 ft Jumper.
85 - 74
6:20
Toni Kukoc Defensive Rebound.
85 - 74
6:18
Brian Grant Shooting Foul
85 - 74
6:18
Tim Thomas enters the game for Desmond Mason.
85 - 74
6:18
Mike James enters the game for Rasual Butler.
85 - 74
6:18
Ervin Johnson made Free Throw 1 of 2.
86 - 74
6:18
Ervin Johnson missed Free Throw 2 of 2.
86 - 74
6:16
Brian Grant Defensive Rebound.
86 - 74
6:01
Travis Best missed 17 ft Jumper.
86 - 74
6:00
Ervin Johnson Defensive Rebound.
86 - 74
5:52
Anthony Mason enters the game for Ervin Johnson.
86 - 74
5:52
Malik Allen Loose Ball Foul
86 - 74
5:43
Toni Kukoc missed 12 ft Jumper.
86 - 74
5:41
Brian Grant Defensive Rebound.
86 - 74
5:37
Malik Allen missed 19 ft Jumper.
86 - 74
5:37
Miami Offensive Rebound.
86 - 74
5:37
Miami Full Timeout.
86 - 74
5:22
Brian Grant missed Layup.
86 - 74
5:20
Caron Butler Offensive Rebound.
86 - 74
5:18
Caron Butler made 7 ft Jumper.
86 - 76
4:58
Toni Kukoc missed Layup. Blocked by Caron Butler.
86 - 76
4:58
Milwaukee Offensive Rebound.
86 - 76
4:58
Sam Cassell enters the game for Michael Redd.
86 - 76
4:50
Sam Cassell missed 25 ft Three Point Jumper.
86 - 76
4:48
Malik Allen Defensive Rebound.
86 - 76
4:28
Mike James made Two Point Shot.
86 - 78
4:09
Brian Grant Shooting Foul
86 - 78
4:09
Desmond Mason enters the game for Toni Kukoc.
86 - 78
4:09
Gary Payton made Free Throw 1 of 2.
87 - 78
4:09
Gary Payton made Free Throw 2 of 2.
88 - 78
3:55
Mike James missed 19 ft Jumper.
88 - 78
3:53
Anthony Mason Defensive Rebound.
88 - 78
3:34
Caron Butler Shooting Foul
88 - 78
3:34
Desmond Mason made Free Throw 1 of 2.
89 - 78
3:34
Eddie House enters the game for Malik Allen.
89 - 78
3:34
Desmond Mason made Free Throw 2 of 2.
90 - 78
3:28
Brian Grant made 12 ft Jumper.
90 - 80
3:28
Anthony Mason Shooting Foul
90 - 80
3:28
Brian Grant made Free Throw 1 of 1.
90 - 81
3:04
Tim Thomas missed 25 ft Three Point Jumper.
90 - 81
3:02
Travis Best Defensive Rebound.
90 - 81
3:00
Caron Butler made 12 ft Two Point Shot.
90 - 83
3:00
Caron Butler made Free Throw 1 of 1.
90 - 84
2:43
Desmond Mason missed 5 ft Jumper.
90 - 84
2:42
Desmond Mason Offensive Rebound.
90 - 84
2:40
Desmond Mason made Tip Shot.
92 - 84
2:35
Milwaukee Full Timeout.
92 - 84
2:35
Anthony Mason Technical Foul
92 - 84
2:35
Caron Butler made Technical Free Throw.
92 - 85
2:21
Eddie House missed 25 ft Three Point Jumper.
92 - 85
2:19
Travis Best Offensive Rebound.
92 - 85
2:17
Caron Butler missed Jumper.
92 - 85
2:15
Sam Cassell Defensive Rebound.
92 - 85
1:53
Sam Cassell missed 19 ft Jumper.
92 - 85
1:53
Milwaukee Offensive Rebound.
92 - 85
1:53
24 second
92 - 85
1:43
Travis Best made 19 ft Jumper.
92 - 87
1:34
Desmond Mason missed Jumper.
92 - 87
1:31
Mike James Defensive Rebound.
92 - 87
1:17
Eddie House missed 24 ft Three Point Jumper.
92 - 87
1:15
Desmond Mason Defensive Rebound.
92 - 87
0:54
Tim Thomas made Three Point Jumper. Assisted by Sam Cassell.
95 - 87
0:54
Miami Full Timeout.
95 - 87
0:50
Travis Best missed 21 ft Jumper.
95 - 87
0:48
Brian Grant Offensive Rebound.
95 - 87
0:46
Mike James made 20 ft Jumper. Assisted by Brian Grant.
95 - 89
0:36
Mike James Personal Foul
95 - 89
0:36
Desmond Mason made Free Throw 1 of 2.
96 - 89
0:36
Desmond Mason made Free Throw 2 of 2.
97 - 89
0:36
Miami Full Timeout.
97 - 89
0:30
Eddie House missed 15 ft Two Point Shot.
97 - 89
0:29
Anthony Mason Defensive Rebound.
97 - 89
0:28
Anthony Mason Bad Pass
97 - 89
0:26
Eddie House missed 15 ft Jumper.
97 - 89
0:25
Sam Cassell Defensive Rebound.
97 - 89
0:20
Gary Payton made Layup. Assisted by Sam Cassell.
99 - 89
0:13
Anthony Mason Personal Foul
99 - 89
0:13
Mike James made Free Throw 1 of 2.
99 - 90
0:13
Mike James made Free Throw 2 of 2.
99 - 91
0:09
Caron Butler Personal Foul
99 - 91
0:09
Gary Payton missed Free Throw 1 of 2.
99 - 91
0:09
Milwaukee Offensive Rebound.
99 - 91
0:09
Gary Payton made Free Throw 2 of 2.
100 - 91
0:05
Mike James missed 24 ft Three Point Jumper.
100 - 91
0:04
Travis Best Offensive Rebound.
100 - 91
0:03
Travis Best missed 17 ft Jumper.
100 - 91
0:02
Brian Grant Offensive Rebound.
100 - 91
0:01
Brian Grant missed 10 ft Jumper.
100 - 91
0:00
Miami Offensive Rebound.
100 - 91
0:00
End of the 4th Quarter.
100 - 91
0:00
End Game
100 - 91
Cavs coach Tyronn Lue said Sunday that he should have called more plays for LeBron James in Saturday's Eastern Conference Finals Game 3 loss to the Raptors.

With the Charlotte Hornets eliminated from the playoffs, Jeremy Lin is getting in some basketball action wherever he can.

Draymond Green, Kevin Durant and Steph Curry speak on the importance of Game 3 between the Thunder and Warriors in the Western Conference finals.
Regular Season Series
MIL wins series 3-1
2015-2016 Central Standings
2015-2016 Atlantic Standings