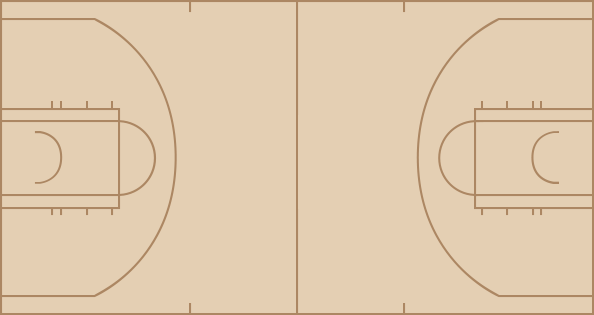 Mavericks
time
TEAM
PLAY
SCORE
12:00
Start of the 1st Quarter.
0 - 0
12:00
Jumpball. Raef LaFrentz vs. Brian Grant. Caron Butler gains possession.
0 - 0
11:37
Brian Grant missed 12 ft Jumper.
0 - 0
11:36
Steve Nash Defensive Rebound.
0 - 0
11:30
Raef LaFrentz made Layup. Assisted by Michael Finley.
2 - 0
11:15
Malik Allen missed 21 ft Jumper.
2 - 0
11:12
Brian Grant Offensive Rebound.
2 - 0
11:11
Brian Grant made 4 ft Jumper.
2 - 2
10:51
Michael Finley missed 19 ft Jumper.
2 - 2
10:48
Brian Grant Defensive Rebound.
2 - 2
10:41
Travis Best made Layup.
2 - 4
10:30
Steve Nash missed Two Point Shot. Blocked by Malik Allen.
2 - 4
10:27
Brian Grant Defensive Rebound.
2 - 4
10:23
Caron Butler made Two Point Shot.
2 - 6
10:02
Dirk Nowitzki missed 24 ft Three Point Jumper.
2 - 6
10:00
Dallas Defensive Rebound.
2 - 6
10:00
Steve Nash Loose Ball Foul
2 - 6
9:42
Brian Grant made 6 ft Jumper.
2 - 8
9:27
Travis Best Shooting Foul
2 - 8
9:27
Steve Nash made Free Throw 1 of 2.
3 - 8
9:27
Steve Nash made Free Throw 2 of 2.
4 - 8
9:18
Caron Butler missed 6 ft Jumper. Blocked by Raef LaFrentz.
4 - 8
9:15
Rasual Butler Offensive Rebound.
4 - 8
9:14
Rasual Butler made Layup.
4 - 10
8:56
Dirk Nowitzki missed 13 ft Jumper.
4 - 10
8:55
Malik Allen Defensive Rebound.
4 - 10
8:45
Malik Allen Offensive Foul
4 - 10
8:45
Malik Allen Foul
4 - 10
8:25
Dirk Nowitzki missed 20 ft Jumper.
4 - 10
8:22
Malik Allen Defensive Rebound.
4 - 10
8:15
Dirk Nowitzki Personal Foul
4 - 10
8:06
Malik Allen made 20 ft Jumper. Assisted by Brian Grant.
4 - 12
7:58
Dallas Full Timeout.
4 - 12
7:39
Steve Nash made 24 ft Three Point Jumper. Assisted by Michael Finley.
7 - 12
7:20
Rasual Butler missed Jumper.
7 - 12
7:18
Malik Allen Offensive Rebound.
7 - 12
7:05
Travis Best missed 19 ft Jumper.
7 - 12
7:03
Michael Finley Defensive Rebound.
7 - 12
6:52
Dirk Nowitzki missed 21 ft Jumper.
7 - 12
6:50
Raef LaFrentz Offensive Rebound.
7 - 12
6:43
Raja Bell missed 21 ft Jumper.
7 - 12
6:41
Dirk Nowitzki Offensive Rebound.
7 - 12
6:37
Raef LaFrentz made Jumper. Assisted by Dirk Nowitzki.
9 - 12
6:22
Raja Bell Personal Foul
9 - 12
6:22
Eduardo Najera enters the game for Raja Bell.
9 - 12
6:13
Travis Best missed Two Point Shot. Blocked by Raef LaFrentz.
9 - 12
6:11
Dirk Nowitzki Defensive Rebound.
9 - 12
6:00
Michael Finley made Three Point Jumper. Assisted by Steve Nash.
12 - 12
5:41
Caron Butler missed 20 ft Jumper.
12 - 12
5:39
Michael Finley Defensive Rebound.
12 - 12
5:33
Dirk Nowitzki made 15 ft Jumper.
14 - 12
5:05
Rasual Butler missed 20 ft Jumper.
14 - 12
5:05
Malik Allen Offensive Rebound.
14 - 12
5:05
Raef LaFrentz Shooting Foul
14 - 12
5:05
Malik Allen missed Free Throw 1 of 2.
14 - 12
5:05
Miami Offensive Rebound.
14 - 12
5:05
Malik Allen made Free Throw 2 of 2.
14 - 13
4:52
Dirk Nowitzki missed Hook Shot.
14 - 13
4:50
Dallas Defensive Rebound.
14 - 13
4:39
Caron Butler made Layup. Assisted by Rasual Butler.
14 - 15
4:26
Raef LaFrentz made 21 ft Jumper. Assisted by Dirk Nowitzki.
16 - 15
4:09
Caron Butler Offensive Foul
16 - 15
4:09
Caron Butler Foul
16 - 15
4:09
Nick Van Exel enters the game for Steve Nash.
16 - 15
4:05
Raef LaFrentz missed Two Point Shot. Blocked by Rasual Butler.
16 - 15
4:03
Raef LaFrentz Offensive Rebound.
16 - 15
4:00
Dirk Nowitzki missed 24 ft Three Point Jumper.
16 - 15
3:58
Rasual Butler Defensive Rebound.
16 - 15
3:50
Rasual Butler made 20 ft Jumper.
16 - 17
3:31
Raef LaFrentz missed 18 ft Jumper.
16 - 17
3:30
Eduardo Najera Offensive Rebound.
16 - 17
3:13
Nick Van Exel Bad Pass. Stolen by Caron Butler.
16 - 17
2:47
Rasual Butler missed 21 ft Jumper.
16 - 17
2:46
Michael Finley Defensive Rebound.
16 - 17
2:39
Raef LaFrentz missed Jumper.
16 - 17
2:36
Brian Grant Defensive Rebound.
16 - 17
2:28
Caron Butler Lost Ball. Stolen by Dirk Nowitzki.
16 - 17
2:15
Dirk Nowitzki missed Layup.
16 - 17
2:13
Dirk Nowitzki Offensive Rebound.
16 - 17
2:12
Dirk Nowitzki made Layup.
18 - 17
2:12
Miami Full Timeout.
18 - 17
2:12
Adrian Griffin enters the game for Dirk Nowitzki.
18 - 17
1:54
Travis Best Lost Ball. Stolen by Eduardo Najera.
18 - 17
1:44
Michael Finley made 22 ft Jumper.
20 - 17
1:20
Caron Butler missed 5 ft Jumper. Blocked by Michael Finley.
20 - 17
1:16
Caron Butler Offensive Rebound.
20 - 17
1:15
Caron Butler made 3 ft Jumper.
20 - 19
1:00
Travis Best Personal Foul
20 - 19
1:00
Mike James enters the game for Travis Best.
20 - 19
1:00
Sean Marks enters the game for Brian Grant.
20 - 19
0:48
Raef LaFrentz missed Two Point Shot.
20 - 19
0:46
Rasual Butler Defensive Rebound.
20 - 19
0:26
Malik Allen made 17 ft Jumper. Assisted by Mike James.
20 - 21
0:03
Michael Finley missed 21 ft Jumper.
20 - 21
0:02
Eduardo Najera Offensive Rebound.
20 - 21
0:01
Eduardo Najera missed 14 ft Jumper.
20 - 21
0:00
Dallas Offensive Rebound.
20 - 21
0:00
End of the 1st Quarter.
20 - 21

time
TEAM
PLAY
SCORE
12:00
Start of the 2nd Quarter.
20 - 21
11:41
Nick Van Exel missed 13 ft Jumper.
20 - 21
11:41
Eduardo Najera Offensive Rebound.
20 - 21
11:38
Eduardo Najera missed 5 ft Jumper.
20 - 21
11:36
Sean Marks Defensive Rebound.
20 - 21
11:25
Malik Allen missed Jumper.
20 - 21
11:23
Shawn Bradley Defensive Rebound.
20 - 21
11:17
Nick Van Exel Bad Pass
20 - 21
11:02
Sean Marks made 22 ft Jumper. Assisted by Mike James.
20 - 23
10:41
Adrian Griffin missed 14 ft Two Point Shot. Blocked by Rasual Butler.
20 - 23
10:40
Malik Allen Defensive Rebound.
20 - 23
10:30
Rasual Butler missed Two Point Shot.
20 - 23
10:29
Adrian Griffin Defensive Rebound.
20 - 23
10:08
Shawn Bradley missed Jumper.
20 - 23
10:07
Adrian Griffin Offensive Rebound.
20 - 23
9:49
Eduardo Najera missed Two Point Shot.
20 - 23
9:48
Malik Allen Defensive Rebound.
20 - 23
9:34
Caron Butler missed 21 ft Jumper.
20 - 23
9:33
Eduardo Najera Defensive Rebound.
20 - 23
9:27
Nick Van Exel made 25 ft Three Point Jumper. Assisted by Eduardo Najera.
23 - 23
9:12
Mike James made 24 ft Three Point Jumper.
23 - 26
8:56
Adrian Griffin missed Jumper.
23 - 26
8:55
Malik Allen Defensive Rebound.
23 - 26
8:48
Mike James made 21 ft Jumper.
23 - 28
8:30
Michael Finley made 25 ft Three Point Jumper. Assisted by Nick Van Exel.
26 - 28
8:03
Caron Butler Bad Pass. Stolen by Eduardo Najera.
26 - 28
7:54
Nick Van Exel missed Layup.
26 - 28
7:52
Malik Allen Defensive Rebound.
26 - 28
7:46
Malik Allen Bad Pass. Stolen by Adrian Griffin.
26 - 28
7:39
Nick Van Exel Bad Pass. Stolen by Mike James.
26 - 28
7:37
Adrian Griffin Personal Foul
26 - 28
7:37
Official Timeout.
26 - 28
7:37
Dirk Nowitzki enters the game for Michael Finley.
26 - 28
7:37
Steve Nash enters the game for Nick Van Exel.
26 - 28
7:37
Travis Best enters the game for Malik Allen.
26 - 28
7:37
Vladimir Stepania enters the game for Rasual Butler.
26 - 28
7:26
Mike James Bad Pass. Stolen by Shawn Bradley.
26 - 28
7:09
Shawn Bradley made Layup.
28 - 28
6:41
Mike James missed 9 ft Two Point Shot.
28 - 28
6:39
Eduardo Najera Defensive Rebound.
28 - 28
6:18
Eduardo Najera missed 5 ft Hook Shot.
28 - 28
6:16
Caron Butler Defensive Rebound.
28 - 28
6:15
Adrian Griffin Shooting Foul
28 - 28
6:15
Brian Grant enters the game for Sean Marks.
28 - 28
6:15
Caron Butler missed Free Throw 1 of 2.
28 - 28
6:15
Miami Offensive Rebound.
28 - 28
6:15
Caron Butler made Free Throw 2 of 2.
28 - 29
5:58
Dirk Nowitzki made 20 ft Jumper.
30 - 29
5:48
Brian Grant Offensive Foul
30 - 29
5:48
Brian Grant Foul
30 - 29
5:48
Shawn Bradley Shooting Foul
30 - 29
5:48
Miami Full Timeout.
30 - 29
5:48
Rasual Butler enters the game for Caron Butler.
30 - 29
5:48
Raef LaFrentz enters the game for Eduardo Najera.
30 - 29
5:48
Mike James missed Free Throw 1 of 2.
30 - 29
5:48
Miami Offensive Rebound.
30 - 29
5:48
Mike James missed Free Throw 2 of 2.
30 - 29
5:47
Shawn Bradley Defensive Rebound.
30 - 29
5:39
Brian Grant Personal Foul
30 - 29
5:35
Dirk Nowitzki missed 15 ft Jumper.
30 - 29
5:33
Dallas Offensive Rebound.
30 - 29
5:30
Adrian Griffin Offensive Foul
30 - 29
5:30
Adrian Griffin Foul
30 - 29
5:15
Rasual Butler made 24 ft Three Point Jumper.
30 - 32
5:05
Travis Best Personal Foul
30 - 32
5:05
Michael Finley enters the game for Adrian Griffin.
30 - 32
5:05
Anthony Carter enters the game for Travis Best.
30 - 32
4:58
Steve Nash missed 24 ft Three Point Jumper.
30 - 32
4:56
Brian Grant Defensive Rebound.
30 - 32
4:41
Mike James made 24 ft Three Point Jumper. Assisted by Anthony Carter.
30 - 35
4:30
Dirk Nowitzki made 17 ft Jumper. Assisted by Steve Nash.
32 - 35
4:28
Shawn Bradley Technical Foul
32 - 35
4:28
Mike James made Technical Free Throw.
32 - 36
4:28
Evan Eschmeyer enters the game for Shawn Bradley.
32 - 36
4:15
Rasual Butler missed 24 ft Three Point Jumper.
32 - 36
4:13
Michael Finley Defensive Rebound.
32 - 36
3:49
Steve Nash missed 5 ft Two Point Shot.
32 - 36
3:47
Raef LaFrentz Offensive Rebound.
32 - 36
3:46
Raef LaFrentz made Layup.
34 - 36
3:25
Vladimir Stepania made Jumper. Assisted by Anthony Carter.
34 - 38
3:03
Michael Finley missed 6 ft Jumper.
34 - 38
3:01
Steve Nash Offensive Rebound.
34 - 38
2:55
Steve Nash Bad Pass. Stolen by Brian Grant.
34 - 38
2:50
Vladimir Stepania Lost Ball
34 - 38
2:50
Dallas Full Timeout.
34 - 38
2:50
Avery Johnson enters the game for Steve Nash.
34 - 38
2:50
Eduardo Najera enters the game for Evan Eschmeyer.
34 - 38
2:31
Brian Grant Personal Foul
34 - 38
2:18
Avery Johnson missed Two Point Shot. Blocked by Rasual Butler.
34 - 38
2:17
Dallas Offensive Rebound.
34 - 38
2:17
24 second
34 - 38
2:06
Brian Grant made Dunk. Assisted by Mike James.
34 - 40
1:49
Dirk Nowitzki missed 26 ft Three Point Jumper.
34 - 40
1:47
Vladimir Stepania Defensive Rebound.
34 - 40
1:31
Brian Grant missed 4 ft Jumper.
34 - 40
1:30
Eduardo Najera Defensive Rebound.
34 - 40
1:30
Brian Grant Personal Foul
34 - 40
1:30
Malik Allen enters the game for Brian Grant.
34 - 40
1:09
Avery Johnson missed 8 ft Two Point Shot.
34 - 40
1:07
Anthony Carter Defensive Rebound.
34 - 40
1:04
Rasual Butler made Dunk. Assisted by Anthony Carter.
34 - 42
0:53
Avery Johnson Bad Pass. Stolen by Vladimir Stepania.
34 - 42
0:48
Rasual Butler made Layup. Assisted by Anthony Carter.
34 - 44
0:28
Raef LaFrentz made Dunk. Assisted by Eduardo Najera.
36 - 44
0:04
Malik Allen missed 19 ft Jumper.
36 - 44
0:00
Avery Johnson Defensive Rebound.
36 - 44
0:00
End of the 2nd Quarter.
36 - 44

time
TEAM
PLAY
SCORE
12:00
Start of the 3rd Quarter.
36 - 44
11:42
Michael Finley missed 25 ft Three Point Jumper.
36 - 44
11:40
Raja Bell Offensive Rebound.
36 - 44
11:32
Steve Nash missed 5 ft Two Point Shot. Blocked by Travis Best.
36 - 44
11:30
Caron Butler Defensive Rebound.
36 - 44
11:15
Brian Grant missed 13 ft Jumper.
36 - 44
11:14
Michael Finley Defensive Rebound.
36 - 44
11:02
Michael Finley made 14 ft Jumper.
38 - 44
10:48
Raja Bell Personal Foul
38 - 44
10:37
Brian Grant missed 15 ft Jumper.
38 - 44
10:34
Malik Allen Offensive Rebound.
38 - 44
10:17
Malik Allen missed Jumper.
38 - 44
10:15
Brian Grant Offensive Rebound.
38 - 44
10:10
Brian Grant missed 4 ft Jumper.
38 - 44
10:07
Malik Allen Offensive Rebound.
38 - 46
10:07
Malik Allen made Layup.
38 - 46
9:52
Steve Nash made Layup. Assisted by Dirk Nowitzki.
40 - 46
9:30
Brian Grant missed 20 ft Jumper.
40 - 46
9:30
Dirk Nowitzki Defensive Rebound.
40 - 46
9:30
Malik Allen Personal Foul
40 - 46
9:17
Michael Finley missed 24 ft Three Point Jumper.
40 - 46
9:14
Michael Finley Offensive Rebound.
40 - 46
9:07
Dirk Nowitzki made 14 ft Jumper.
42 - 46
8:51
Malik Allen made 15 ft Jumper. Assisted by Travis Best.
42 - 48
8:37
Travis Best Shooting Foul
42 - 48
8:37
Steve Nash made Free Throw 1 of 2.
43 - 48
8:37
Mike James enters the game for Travis Best.
43 - 48
8:37
Steve Nash made Free Throw 2 of 2.
44 - 48
8:12
Mike James missed 25 ft Three Point Jumper.
44 - 48
8:11
Steve Nash Defensive Rebound.
44 - 48
8:02
Michael Finley made 25 ft Three Point Jumper. Assisted by Steve Nash.
47 - 48
7:41
Brian Grant made Dunk.
47 - 50
7:26
Caron Butler Personal Foul
47 - 50
7:18
Raja Bell missed 22 ft Jumper.
47 - 50
7:16
Brian Grant Defensive Rebound.
47 - 50
7:05
Brian Grant missed 19 ft Jumper.
47 - 50
7:03
Michael Finley Defensive Rebound.
47 - 50
6:56
Michael Finley missed 24 ft Three Point Jumper.
47 - 50
6:54
Dirk Nowitzki Offensive Rebound.
47 - 50
6:54
Malik Allen Shooting Foul
47 - 50
6:54
Dirk Nowitzki made Free Throw 1 of 2.
48 - 50
6:54
Dirk Nowitzki made Free Throw 2 of 2.
49 - 50
6:33
Malik Allen missed 14 ft Jumper.
49 - 50
6:31
Michael Finley Defensive Rebound.
49 - 50
6:24
Steve Nash missed 16 ft Jumper.
49 - 50
6:22
Dallas Defensive Rebound.
49 - 50
6:22
Miami Full Timeout.
49 - 50
6:03
Kicked Ball
49 - 50
5:56
Rasual Butler made Two Point Shot.
49 - 52
5:45
Brian Grant Personal Foul
49 - 52
5:45
Raja Bell missed Free Throw 1 of 2.
49 - 52
5:45
Dallas Offensive Rebound.
49 - 52
5:45
Vladimir Stepania enters the game for Brian Grant.
49 - 52
5:45
Raja Bell made Free Throw 2 of 2.
50 - 52
5:31
Caron Butler made 22 ft Jumper.
50 - 54
5:16
Raja Bell made 18 ft Jumper. Assisted by Steve Nash.
52 - 54
4:56
Caron Butler made 20 ft Jumper. Assisted by Rasual Butler.
52 - 56
4:46
Vladimir Stepania Shooting Foul
52 - 56
4:46
Eduardo Najera enters the game for Raja Bell.
52 - 56
4:46
Steve Nash made Free Throw 1 of 2.
53 - 56
4:46
Adrian Griffin enters the game for Michael Finley.
53 - 56
4:46
Steve Nash made Free Throw 2 of 2.
54 - 56
4:31
Raef LaFrentz Shooting Foul
54 - 56
4:31
Malik Allen made Free Throw 1 of 2.
54 - 57
4:31
Malik Allen made Free Throw 2 of 2.
54 - 58
4:13
Dirk Nowitzki missed 17 ft Jumper. Blocked by Malik Allen.
54 - 58
4:13
Dallas Defensive Rebound.
54 - 58
4:13
Eduardo Najera Loose Ball Foul
54 - 58
3:58
Dirk Nowitzki Shooting Foul
54 - 58
3:58
Rasual Butler missed Free Throw 1 of 2.
54 - 58
3:58
Defensive Goaltending
54 - 58
3:58
Rasual Butler made Free Throw 1 of 1.
54 - 59
3:33
Adrian Griffin made 15 ft Jumper. Assisted by Eduardo Najera.
56 - 59
3:15
Rasual Butler made 20 ft Jumper.
56 - 61
3:01
Mike James Personal Foul
56 - 61
3:01
Steve Nash made Free Throw 1 of 2.
57 - 61
3:01
Shawn Bradley enters the game for Raef LaFrentz.
57 - 61
3:01
Steve Nash made Free Throw 2 of 2.
58 - 61
2:44
Caron Butler Bad Pass. Stolen by Steve Nash.
58 - 61
2:40
Adrian Griffin missed Layup.
58 - 61
2:38
Rasual Butler Defensive Rebound.
58 - 61
2:31
Rasual Butler made Jumper.
58 - 63
2:28
Walt Williams Technical Foul
58 - 63
2:28
Caron Butler made Technical Free Throw.
58 - 64
2:28
Dallas Full Timeout.
58 - 64
2:17
Shawn Bradley made Layup. Assisted by Dirk Nowitzki.
60 - 64
2:00
Vladimir Stepania missed 18 ft Jumper.
60 - 64
1:58
Steve Nash Defensive Rebound.
60 - 64
1:47
Dirk Nowitzki Lost Ball. Stolen by Mike James.
60 - 64
1:43
Rasual Butler missed 16 ft Jumper.
60 - 64
1:40
Eduardo Najera Defensive Rebound.
60 - 64
1:36
Steve Nash made Layup.
62 - 64
1:36
Defensive Goaltending
62 - 64
1:22
Mike James missed Two Point Shot.
62 - 64
1:20
Shawn Bradley Defensive Rebound.
62 - 64
1:07
Steve Nash made 16 ft Jumper.
64 - 64
0:52
Rasual Butler missed 20 ft Jumper.
64 - 64
0:50
Dirk Nowitzki Defensive Rebound.
64 - 64
0:41
Dirk Nowitzki made 18 ft Jumper.
66 - 64
0:41
Miami 20 Sec. Timeout.
66 - 64
0:41
Anthony Carter enters the game for Caron Butler.
66 - 64
0:20
Vladimir Stepania missed 5 ft Jumper.
66 - 64
0:18
Dirk Nowitzki Defensive Rebound.
66 - 64
0:04
Steve Nash Lost Ball. Stolen by Mike James.
66 - 64
0:00
Mike James missed 21 ft Jumper.
66 - 64
0:00
Miami Offensive Rebound.
66 - 64
0:00
End of the 3rd Quarter.
66 - 64

time
TEAM
PLAY
SCORE
12:00
Start of the 4th Quarter.
66 - 64
11:38
Anthony Carter made 4 ft Two Point Shot.
66 - 66
11:38
Shawn Bradley Shooting Foul
66 - 66
11:38
Anthony Carter made Free Throw 1 of 1.
66 - 67
11:27
Dirk Nowitzki missed 6 ft Two Point Shot.
66 - 67
11:26
Rasual Butler Defensive Rebound.
66 - 67
11:11
Rasual Butler missed 24 ft Three Point Jumper.
66 - 67
11:08
Shawn Bradley Defensive Rebound.
66 - 67
10:57
Michael Finley Bad Pass. Stolen by Rasual Butler.
66 - 67
10:53
Rasual Butler Bad Pass. Stolen by Michael Finley.
66 - 67
10:29
Michael Finley missed 19 ft Jumper.
66 - 67
10:26
Eduardo Najera Offensive Rebound.
68 - 67
10:25
Eduardo Najera made Tip Shot.
68 - 67
10:11
Malik Allen missed 15 ft Jumper.
68 - 67
10:10
Dirk Nowitzki Defensive Rebound.
68 - 67
10:03
Dirk Nowitzki made 24 ft Three Point Jumper.
71 - 67
9:41
Vladimir Stepania Offensive Foul
71 - 67
9:41
Vladimir Stepania Foul
71 - 67
9:41
Brian Grant enters the game for Malik Allen.
71 - 67
9:41
Caron Butler enters the game for Rasual Butler.
71 - 67
9:29
Brian Grant Personal Foul
71 - 67
9:18
Nick Van Exel missed 14 ft Jumper.
71 - 67
9:15
Shawn Bradley Offensive Rebound.
71 - 67
9:14
Shawn Bradley made 5 ft Hook Shot.
73 - 67
9:03
Miami Full Timeout.
73 - 67
8:53
Anthony Carter missed 21 ft Jumper.
73 - 67
8:52
Shawn Bradley Defensive Rebound.
73 - 67
8:37
Nick Van Exel missed 24 ft Three Point Jumper.
73 - 67
8:34
Brian Grant Defensive Rebound.
73 - 67
8:25
Caron Butler missed 12 ft Two Point Shot.
73 - 67
8:23
Vladimir Stepania Offensive Rebound.
73 - 67
8:12
Mike James missed 19 ft Jumper.
73 - 67
8:11
Michael Finley Defensive Rebound.
73 - 67
8:08
Vladimir Stepania Technical Foul
73 - 67
8:08
Dirk Nowitzki made Technical Free Throw.
74 - 67
8:08
Sean Marks enters the game for Vladimir Stepania.
74 - 67
8:08
Travis Best enters the game for Anthony Carter.
74 - 67
7:54
Dirk Nowitzki missed 19 ft Jumper.
74 - 67
7:52
Sean Marks Defensive Rebound.
74 - 67
7:26
Steve Nash made 11 ft Jumper.
76 - 67
7:11
Brian Grant Bad Pass. Stolen by Michael Finley.
76 - 67
7:03
Steve Nash Traveling
76 - 67
6:52
Sean Marks made Dunk. Assisted by Caron Butler.
76 - 69
6:52
Eduardo Najera Shooting Foul
76 - 69
6:52
Sean Marks made Free Throw 1 of 1.
76 - 70
6:37
Dirk Nowitzki made 25 ft Three Point Jumper. Assisted by Michael Finley.
79 - 70
6:13
Mike James made Two Point Shot.
79 - 72
5:54
Dirk Nowitzki missed 21 ft Jumper.
79 - 72
5:52
Caron Butler Defensive Rebound.
79 - 72
5:43
Travis Best missed 16 ft Jumper.
79 - 72
5:41
Shawn Bradley Defensive Rebound.
79 - 72
5:22
Michael Finley made 18 ft Jumper.
81 - 72
5:00
Mike James missed 12 ft Two Point Shot.
81 - 72
4:58
Dirk Nowitzki Defensive Rebound.
81 - 72
4:39
Dirk Nowitzki missed Three Point Jumper.
81 - 72
4:37
Travis Best Defensive Rebound.
81 - 72
4:33
Caron Butler made Layup. Assisted by Travis Best.
81 - 74
4:16
Shawn Bradley made Layup. Assisted by Steve Nash.
83 - 74
4:16
Caron Butler Shooting Foul
83 - 74
4:16
Official Timeout.
83 - 74
4:16
Shawn Bradley made Free Throw 1 of 1.
84 - 74
3:59
Sean Marks missed 15 ft Jumper.
84 - 74
3:59
Miami Offensive Rebound.
84 - 74
3:59
Eduardo Najera Loose Ball Foul
84 - 74
3:42
Caron Butler missed 25 ft Three Point Jumper.
84 - 74
3:40
Michael Finley Defensive Rebound.
84 - 74
3:19
Shawn Bradley made 20 ft Jumper. Assisted by Michael Finley.
86 - 74
3:01
Caron Butler missed 21 ft Jumper.
86 - 74
3:00
Dirk Nowitzki Defensive Rebound.
86 - 74
2:41
Michael Finley missed 16 ft Jumper.
86 - 74
2:39
Sean Marks Defensive Rebound.
86 - 74
2:31
Dirk Nowitzki Shooting Foul
86 - 74
2:31
Dallas Full Timeout.
86 - 74
2:31
Malik Allen enters the game for Travis Best.
86 - 74
2:31
Rasual Butler enters the game for Sean Marks.
86 - 74
2:31
Mike James made Free Throw 1 of 3.
86 - 75
2:31
Mike James made Free Throw 2 of 3.
86 - 76
2:31
Mike James made Free Throw 3 of 3.
86 - 77
2:12
Caron Butler Personal Foul
86 - 77
2:03
Michael Finley missed 20 ft Jumper.
86 - 77
2:01
Shawn Bradley Offensive Rebound.
86 - 77
2:00
Shawn Bradley missed Layup.
86 - 77
1:59
Shawn Bradley Offensive Rebound.
86 - 77
1:58
Shawn Bradley made Layup.
88 - 77
1:40
Mike James made Two Point Shot.
88 - 79
1:40
Shawn Bradley Shooting Foul
88 - 79
1:40
Mike James made Free Throw 1 of 1.
88 - 80
1:25
Steve Nash missed 5 ft Two Point Shot.
88 - 80
1:24
Brian Grant Defensive Rebound.
88 - 80
1:24
Steve Nash Loose Ball Foul
88 - 80
1:24
Brian Grant made Free Throw 1 of 2.
88 - 81
1:24
Brian Grant made Free Throw 2 of 2.
88 - 82
1:07
Eduardo Najera missed Layup. Blocked by Brian Grant.
88 - 82
1:06
Brian Grant Defensive Rebound.
88 - 82
1:01
Caron Butler made Two Point Shot.
88 - 84
0:38
Michael Finley missed 22 ft Jumper.
88 - 84
0:35
Michael Finley Offensive Rebound.
88 - 84
0:16
Michael Finley missed 25 ft Three Point Jumper.
88 - 84
0:14
Caron Butler Defensive Rebound.
88 - 84
0:11
Caron Butler Offensive Foul
88 - 84
0:11
Caron Butler Foul
88 - 84
0:11
Nick Van Exel enters the game for Eduardo Najera.
88 - 84
0:10
Malik Allen Personal Foul
88 - 84
0:10
Mike James Personal Foul
88 - 84
0:10
Raja Bell enters the game for Nick Van Exel.
88 - 84
0:10
Eduardo Najera enters the game for Shawn Bradley.
88 - 84
0:10
Steve Nash made Free Throw 1 of 2.
89 - 84
0:10
Steve Nash made Free Throw 2 of 2.
90 - 84
0:10
Miami Full Timeout.
90 - 84
0:03
Michael Finley Shooting Foul
90 - 84
0:03
Mike James made Free Throw 1 of 2.
90 - 85
0:03
Mike James made Free Throw 2 of 2.
90 - 86
0:03
Adrian Griffin enters the game for Raja Bell.
90 - 86
0:03
Mike James made Free Throw 1 of 2.
90 - 87
0:02
Caron Butler Personal Foul
90 - 87
0:02
Vladimir Stepania enters the game for Caron Butler.
90 - 87
0:02
Steve Nash missed Free Throw 1 of 2.
90 - 87
0:02
Dallas Offensive Rebound.
90 - 87
0:02
Steve Nash made Free Throw 2 of 2.
91 - 87
0:02
Miami Full Timeout.
91 - 87
0:02
Raja Bell enters the game for Eduardo Najera.
91 - 87
0:02
Travis Best enters the game for Vladimir Stepania.
91 - 87
0:00
Malik Allen missed 18 ft Jumper.
91 - 87
0:00
Miami Offensive Rebound.
91 - 87
0:00
End of the 4th Quarter.
91 - 87
0:00
End Game
91 - 87
0:00
End Game
91 - 87
0:00
End Game
91 - 87
The Charlotte Hornets have signed 7-foot Virginia center Mike Tobey.

Kevin Blackistone is not impressed with Michael Jordan's generous donations, instead, Blackistone proposes that Jordan contribute to the grass-roots movement Black Lives Matter, who he sees as the new era in civil rights advocates.

Russell Westbrook's free agency is supposed to start in the summer of 2017, but he knows the Thunder need a long-term answer now.
Regular Season Series
DAL wins series 2-0
2015-2016 Atlantic Standings