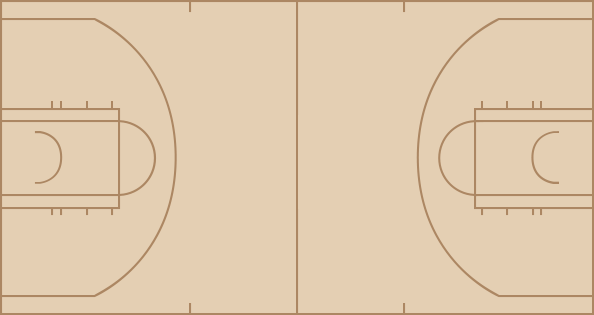 Kings
time
TEAM
PLAY
SCORE
12:00
Start of the 1st Quarter.
0 - 0
12:00
Jumpball. Vlade Divac vs. Greg Ostertag. Peja Stojakovic gains possession.
0 - 0
11:41
Mike Bibby made Layup. Assisted by Chris Webber.
2 - 0
11:25
Matt Harpring missed Layup.
2 - 0
11:23
Matt Harpring Offensive Rebound.
2 - 2
11:23
Matt Harpring made Layup.
2 - 2
11:11
Mike Bibby made 21 ft Jumper. Assisted by Chris Webber.
4 - 2
10:56
Calbert Cheaney made 18 ft Jumper. Assisted by John Stockton.
4 - 4
10:44
Doug Christie Bad Pass. Stolen by John Stockton.
4 - 4
10:32
Karl Malone missed 18 ft Jumper.
4 - 4
10:30
Greg Ostertag Offensive Rebound.
4 - 4
10:10
Matt Harpring Bad Pass. Stolen by Vlade Divac.
4 - 4
10:06
Mike Bibby made Layup. Assisted by Vlade Divac.
6 - 4
9:45
John Stockton made 15 ft Two Point Shot. Assisted by Matt Harpring.
6 - 6
9:45
Mike Bibby Shooting Foul
6 - 6
9:45
John Stockton made Free Throw 1 of 1.
6 - 7
9:37
Chris Webber made 19 ft Jumper. Assisted by Doug Christie.
8 - 7
9:22
Greg Ostertag missed 13 ft Jumper.
8 - 7
9:18
Vlade Divac Defensive Rebound.
8 - 7
9:15
Peja Stojakovic missed 21 ft Jumper.
8 - 7
9:12
John Stockton Defensive Rebound.
8 - 7
8:56
Matt Harpring missed Layup. Blocked by Vlade Divac.
8 - 7
8:52
Vlade Divac Defensive Rebound.
8 - 7
8:51
Peja Stojakovic made Layup. Assisted by Mike Bibby.
10 - 7
8:25
John Stockton missed 20 ft Jumper.
10 - 7
8:22
Vlade Divac Defensive Rebound.
10 - 7
8:07
Doug Christie missed 20 ft Jumper.
10 - 7
8:03
Karl Malone Defensive Rebound.
10 - 7
7:58
Calbert Cheaney made Layup.
10 - 9
7:45
Chris Webber made 20 ft Jumper. Assisted by Mike Bibby.
12 - 9
7:24
Karl Malone missed 19 ft Jumper.
12 - 9
7:20
Peja Stojakovic Defensive Rebound.
12 - 9
7:11
Peja Stojakovic made 18 ft Jumper.
14 - 9
6:52
John Stockton made 20 ft Jumper. Assisted by Karl Malone.
14 - 11
6:43
Peja Stojakovic made Layup. Assisted by Vlade Divac.
16 - 11
6:20
John Stockton Bad Pass. Stolen by Doug Christie.
16 - 11
6:20
Greg Ostertag Loose Ball Foul
16 - 11
6:09
Chris Webber missed 19 ft Jumper.
16 - 11
6:07
Karl Malone Defensive Rebound.
16 - 11
5:58
Calbert Cheaney missed 20 ft Jumper.
16 - 11
5:56
Vlade Divac Defensive Rebound.
16 - 11
5:54
Peja Stojakovic made Dunk. Assisted by Doug Christie.
18 - 11
5:33
Greg Ostertag missed 9 ft Hook Shot.
18 - 11
5:30
Peja Stojakovic Defensive Rebound.
18 - 11
5:20
Karl Malone Illegal Defense Foul
18 - 11
5:20
Utah Full Timeout.
18 - 11
5:20
Mark Jackson enters the game for John Stockton.
18 - 11
5:20
Peja Stojakovic made Technical Free Throw.
19 - 11
5:07
Chris Webber Lost Ball. Stolen by Karl Malone.
19 - 11
5:03
Peja Stojakovic Personal Foul
19 - 11
5:00
Karl Malone made 21 ft Jumper. Assisted by Matt Harpring.
19 - 13
4:48
Mike Bibby missed 21 ft Jumper.
19 - 13
4:47
Karl Malone Defensive Rebound.
19 - 13
4:31
Karl Malone Bad Pass. Stolen by Vlade Divac.
19 - 13
4:28
Mark Jackson Personal Foul
19 - 13
4:28
DeShawn Stevenson enters the game for Calbert Cheaney.
19 - 13
4:28
Andrei Kirilenko enters the game for Matt Harpring.
19 - 13
4:18
Peja Stojakovic missed 25 ft Three Point Jumper.
19 - 13
4:16
Karl Malone Defensive Rebound.
19 - 13
4:01
Karl Malone made 19 ft Jumper. Assisted by Mark Jackson.
19 - 15
3:40
Chris Webber made 21 ft Jumper. Assisted by Vlade Divac.
21 - 15
3:21
DeShawn Stevenson made 21 ft Jumper. Assisted by Mark Jackson.
21 - 17
3:09
Mike Bibby made 21 ft Jumper. Assisted by Chris Webber.
23 - 17
2:51
Andrei Kirilenko Bad Pass
23 - 17
2:51
Sacramento Full Timeout.
23 - 17
2:39
Karl Malone Personal Foul
23 - 17
2:31
Vlade Divac 3 second
23 - 17
2:15
Karl Malone made Jumper. Assisted by Mark Jackson.
23 - 19
2:02
Peja Stojakovic missed Layup. Blocked by Greg Ostertag.
23 - 19
2:00
Andrei Kirilenko Defensive Rebound.
23 - 19
1:46
Andrei Kirilenko missed 24 ft Three Point Jumper.
23 - 19
1:46
Greg Ostertag Offensive Rebound.
23 - 19
1:46
Chris Webber Loose Ball Foul
23 - 19
1:46
Keon Clark enters the game for Vlade Divac.
23 - 19
1:46
Bobby Jackson enters the game for Doug Christie.
23 - 19
1:35
Karl Malone made 16 ft Jumper.
23 - 21
1:19
Chris Webber made Two Point Shot.
25 - 21
0:54
Mark Jackson made 10 ft Two Point Shot.
25 - 23
0:38
Chris Webber missed 16 ft Jumper.
25 - 23
0:35
Mark Jackson Defensive Rebound.
25 - 23
0:34
Bobby Jackson Shooting Foul
25 - 23
0:34
Andrei Kirilenko missed Free Throw 1 of 2.
25 - 23
0:34
Utah Offensive Rebound.
25 - 23
0:34
Andrei Kirilenko made Free Throw 2 of 2.
25 - 24
0:22
Keon Clark Bad Pass. Stolen by DeShawn Stevenson.
25 - 24
0:17
DeShawn Stevenson made Two Point Shot.
25 - 26
0:00
Mike Bibby made Two Point Shot.
27 - 26
0:00
End of the 1st Quarter.
27 - 26

time
TEAM
PLAY
SCORE
12:00
Start of the 2nd Quarter.
27 - 26
11:48
Jim Jackson Shooting Foul
27 - 26
11:48
Andrei Kirilenko made Free Throw 1 of 2.
27 - 27
11:48
Andrei Kirilenko missed Free Throw 2 of 2.
27 - 27
11:45
Chris Webber Defensive Rebound.
27 - 27
11:29
Keon Clark made 20 ft Jumper. Assisted by Jim Jackson.
29 - 27
11:07
Mark Jackson missed 16 ft Two Point Shot.
29 - 27
11:04
Greg Ostertag Offensive Rebound.
29 - 27
10:49
DeShawn Stevenson made 21 ft Jumper. Assisted by Mark Jackson.
29 - 29
10:37
Bobby Jackson missed 24 ft Three Point Jumper.
29 - 29
10:34
Greg Ostertag Defensive Rebound.
29 - 29
10:30
DeShawn Stevenson missed Layup.
29 - 29
10:29
Chris Webber Defensive Rebound.
29 - 29
10:15
Bobby Jackson Traveling
29 - 29
10:04
DeShawn Stevenson missed 20 ft Jumper.
29 - 29
10:02
Andrei Kirilenko Offensive Rebound.
29 - 29
10:00
DeShawn Stevenson missed 4 ft Jumper. Blocked by Keon Clark.
29 - 29
10:00
Utah Offensive Rebound.
29 - 29
9:44
Scott Padgett missed 25 ft Three Point Jumper.
29 - 29
9:41
DeShawn Stevenson Offensive Rebound.
29 - 29
9:29
Andrei Kirilenko made Dunk. Assisted by Mark Jackson.
29 - 31
9:15
Greg Ostertag Shooting Foul
29 - 31
9:15
Hedo Turkoglu enters the game for Chris Webber.
29 - 31
9:15
Tony Massenburg enters the game for Greg Ostertag.
29 - 31
9:15
Keon Clark made Free Throw 1 of 2.
30 - 31
9:15
Keon Clark made Free Throw 2 of 2.
31 - 31
8:57
Mark Jackson missed 24 ft Three Point Jumper.
31 - 31
8:56
Jim Jackson Defensive Rebound.
31 - 31
8:47
Hedo Turkoglu missed 11 ft Two Point Shot.
31 - 31
8:44
Jim Jackson Offensive Rebound.
31 - 31
8:30
Jim Jackson missed 16 ft Jumper. Blocked by Andrei Kirilenko.
31 - 31
8:26
Jim Jackson Offensive Rebound.
31 - 31
8:26
Jim Jackson missed 11 ft Jumper.
31 - 31
8:23
Sacramento Defensive Rebound.
31 - 31
8:23
Official Timeout.
31 - 31
8:23
Doug Christie enters the game for Mike Bibby.
31 - 31
8:10
Scott Padgett Bad Pass. Stolen by Jim Jackson.
31 - 31
7:58
Tony Massenburg Personal Foul
31 - 31
7:58
John Stockton enters the game for Mark Jackson.
31 - 31
7:45
Hedo Turkoglu missed 17 ft Jumper.
31 - 31
7:43
Tony Massenburg Defensive Rebound.
31 - 31
7:28
Keon Clark Shooting Foul
31 - 31
7:28
Tony Massenburg made Free Throw 1 of 2.
31 - 32
7:28
Tony Massenburg made Free Throw 2 of 2.
31 - 33
7:13
Jim Jackson made 16 ft Jumper.
33 - 33
6:50
John Stockton missed 18 ft Jumper.
33 - 33
6:48
Doug Christie Defensive Rebound.
33 - 33
6:33
Jim Jackson Bad Pass. Stolen by Scott Padgett.
33 - 33
6:24
Andrei Kirilenko made Jumper. Assisted by John Stockton.
33 - 35
6:05
Bobby Jackson made 16 ft Jumper.
35 - 35
5:54
Kicked Ball
35 - 35
5:54
Utah Full Timeout.
35 - 35
5:48
Kicked Ball
35 - 35
5:43
John Stockton missed Layup.
35 - 35
5:41
John Stockton Offensive Rebound.
35 - 35
5:39
Andrei Kirilenko missed Layup. Blocked by Keon Clark.
35 - 35
5:35
Keon Clark Defensive Rebound.
35 - 35
5:33
Doug Christie made Dunk. Assisted by Bobby Jackson.
37 - 35
5:16
Jim Jackson Personal Foul
37 - 35
5:16
Karl Malone enters the game for Scott Padgett.
37 - 35
5:07
Doug Christie Personal Foul
37 - 35
5:07
Chris Webber enters the game for Jim Jackson.
37 - 35
4:58
Karl Malone missed 17 ft Jumper.
37 - 35
4:56
Doug Christie Defensive Rebound.
37 - 35
4:35
Chris Webber missed 6 ft Two Point Shot.
37 - 35
4:31
Andrei Kirilenko Defensive Rebound.
37 - 35
4:24
DeShawn Stevenson missed 18 ft Jumper.
37 - 35
4:24
Utah Defensive Rebound.
37 - 35
4:24
Karl Malone Loose Ball Foul
37 - 35
4:07
Tony Massenburg Personal Foul
37 - 35
4:07
Matt Harpring enters the game for Tony Massenburg.
37 - 35
4:01
Chris Webber made 8 ft Two Point Shot.
39 - 35
3:42
Karl Malone made Layup. Assisted by John Stockton.
39 - 37
3:42
Chris Webber Shooting Foul
39 - 37
3:42
Peja Stojakovic enters the game for Hedo Turkoglu.
39 - 37
3:42
Calbert Cheaney enters the game for DeShawn Stevenson.
39 - 37
3:42
Mike Bibby enters the game for Bobby Jackson.
39 - 37
3:42
Karl Malone made Free Throw 1 of 1.
39 - 38
3:31
Chris Webber made Layup.
41 - 38
3:31
Karl Malone Shooting Foul
41 - 38
3:31
Greg Ostertag enters the game for Karl Malone.
41 - 38
3:31
Chris Webber missed Free Throw 1 of 1.
41 - 38
3:30
Andrei Kirilenko Defensive Rebound.
41 - 38
3:25
John Stockton made Two Point Shot.
41 - 40
3:08
John Stockton Shooting Foul
41 - 40
3:08
Mike Bibby made Free Throw 1 of 2.
42 - 40
3:08
Mike Bibby made Free Throw 2 of 2.
43 - 40
2:55
John Stockton made 17 ft Jumper. Assisted by Greg Ostertag.
43 - 42
2:45
Chris Webber missed 22 ft Jumper.
43 - 42
2:43
Andrei Kirilenko Defensive Rebound.
43 - 42
2:35
Calbert Cheaney made Two Point Shot. Assisted by John Stockton.
43 - 44
2:17
Matt Harpring Personal Foul
43 - 44
2:17
Sacramento Full Timeout.
43 - 44
2:17
Keon Clark missed Free Throw 1 of 2.
43 - 44
2:17
Sacramento Offensive Rebound.
43 - 44
2:17
Keon Clark made Free Throw 2 of 2.
44 - 44
2:01
Mike Bibby Personal Foul
44 - 44
2:01
John Amaechi enters the game for Greg Ostertag.
44 - 44
2:01
John Stockton made Free Throw 1 of 2.
44 - 45
2:01
John Stockton made Free Throw 2 of 2.
44 - 46
1:39
Mike Bibby missed 19 ft Jumper.
44 - 46
1:37
Matt Harpring Defensive Rebound.
44 - 46
1:15
Calbert Cheaney missed 16 ft Jumper.
44 - 46
1:14
Chris Webber Defensive Rebound.
44 - 46
1:04
Doug Christie missed 19 ft Jumper.
44 - 46
1:00
Andrei Kirilenko Defensive Rebound.
44 - 46
0:57
Keon Clark Personal Foul
44 - 46
0:57
Andrei Kirilenko missed Free Throw 1 of 2.
44 - 46
0:57
Utah Offensive Rebound.
44 - 46
0:57
Andrei Kirilenko made Free Throw 2 of 2.
44 - 47
0:41
Chris Webber made Two Point Shot.
46 - 47
0:19
Calbert Cheaney missed 11 ft Jumper.
46 - 47
0:17
Peja Stojakovic Defensive Rebound.
46 - 47
0:14
Mike Bibby made Layup. Assisted by Peja Stojakovic.
48 - 47
0:00
Matt Harpring missed 23 ft Three Point Jumper.
48 - 47
0:00
Keon Clark Defensive Rebound.
48 - 47
0:00
End of the 2nd Quarter.
48 - 47

time
TEAM
PLAY
SCORE
12:00
Start of the 3rd Quarter.
48 - 47
11:47
Karl Malone Bad Pass. Stolen by Vlade Divac.
48 - 47
11:40
Peja Stojakovic made 24 ft Three Point Jumper. Assisted by Mike Bibby.
51 - 47
11:18
Greg Ostertag missed Layup.
51 - 47
11:17
Vlade Divac Defensive Rebound.
51 - 47
11:11
Peja Stojakovic missed Layup.
51 - 47
11:08
Karl Malone Defensive Rebound.
51 - 47
10:57
Calbert Cheaney Bad Pass. Stolen by Doug Christie.
51 - 47
10:45
Peja Stojakovic Bad Pass. Stolen by Greg Ostertag.
51 - 47
10:22
Calbert Cheaney made 21 ft Jumper. Assisted by Karl Malone.
51 - 49
10:00
Mike Bibby missed 23 ft Jumper.
51 - 49
10:00
Sacramento Defensive Rebound.
51 - 49
9:40
Matt Harpring missed 20 ft Jumper.
51 - 49
9:37
Chris Webber Defensive Rebound.
51 - 49
9:18
Mike Bibby missed 17 ft Jumper.
51 - 49
9:17
Greg Ostertag Defensive Rebound.
51 - 49
9:03
Karl Malone missed 19 ft Jumper.
51 - 49
9:03
Utah Defensive Rebound.
51 - 49
9:03
Matt Harpring Loose Ball Foul
51 - 49
8:49
Mike Bibby made Two Point Shot.
53 - 49
8:34
John Stockton Bad Pass. Stolen by Doug Christie.
53 - 49
8:22
Chris Webber made 22 ft Jumper. Assisted by Mike Bibby.
55 - 49
8:03
Greg Ostertag missed 14 ft Jumper.
55 - 49
8:00
Vlade Divac Defensive Rebound.
55 - 49
7:52
Peja Stojakovic missed 24 ft Three Point Jumper.
55 - 49
7:50
Matt Harpring Defensive Rebound.
55 - 49
7:43
Karl Malone missed 21 ft Jumper.
55 - 49
7:41
Chris Webber Defensive Rebound.
55 - 49
7:26
Chris Webber made 20 ft Jumper.
57 - 49
7:07
Karl Malone made 19 ft Jumper. Assisted by John Stockton.
57 - 51
7:01
Matt Harpring Personal Foul
57 - 51
6:54
Mike Bibby missed 24 ft Three Point Jumper.
57 - 51
6:52
Chris Webber Offensive Rebound.
57 - 51
6:52
Chris Webber Bad Pass. Stolen by John Stockton.
57 - 51
6:43
Calbert Cheaney missed 18 ft Two Point Shot.
57 - 51
6:41
Calbert Cheaney Offensive Rebound.
57 - 51
6:41
Mike Bibby Personal Foul
57 - 51
6:37
Chris Webber Personal Foul
57 - 51
6:24
Calbert Cheaney missed Layup.
57 - 51
6:22
Greg Ostertag Offensive Rebound.
57 - 51
6:22
Greg Ostertag made Layup.
57 - 53
6:22
Vlade Divac Shooting Foul
57 - 53
6:22
Greg Ostertag missed Free Throw 1 of 1.
57 - 53
6:20
Vlade Divac Defensive Rebound.
57 - 53
6:05
Vlade Divac missed Layup. Blocked by Greg Ostertag.
57 - 53
6:01
Vlade Divac Offensive Rebound.
59 - 53
6:01
Vlade Divac made Layup.
59 - 53
5:48
Mike Bibby Personal Foul
59 - 53
5:48
Utah Full Timeout.
59 - 53
5:48
Bobby Jackson enters the game for Mike Bibby.
59 - 53
5:43
Greg Ostertag made Layup. Assisted by John Stockton.
59 - 55
5:26
Bobby Jackson made Layup. Assisted by Doug Christie.
61 - 55
5:03
Matt Harpring made Jumper. Assisted by Karl Malone.
61 - 57
4:50
Doug Christie missed 20 ft Jumper.
61 - 57
4:47
Chris Webber Offensive Rebound.
63 - 57
4:47
Chris Webber made Tip Shot.
63 - 57
4:35
Matt Harpring missed 20 ft Jumper.
63 - 57
4:33
Chris Webber Defensive Rebound.
63 - 57
4:22
Peja Stojakovic Bad Pass. Stolen by Greg Ostertag.
63 - 57
4:16
John Stockton made Layup. Assisted by Karl Malone.
63 - 59
4:09
Doug Christie missed 25 ft Three Point Jumper.
63 - 59
4:05
Chris Webber Offensive Rebound.
63 - 59
4:03
Chris Webber missed 10 ft Jumper.
63 - 59
4:01
Matt Harpring Defensive Rebound.
63 - 59
3:49
Vlade Divac Shooting Foul
63 - 59
3:49
Mark Jackson enters the game for John Stockton.
63 - 59
3:49
Greg Ostertag made Free Throw 1 of 2.
63 - 60
3:49
Andrei Kirilenko enters the game for Matt Harpring.
63 - 60
3:49
Greg Ostertag missed Free Throw 2 of 2.
63 - 60
3:48
Chris Webber Defensive Rebound.
63 - 60
3:34
Vlade Divac made Layup. Assisted by Doug Christie.
65 - 60
3:15
Calbert Cheaney Bad Pass
65 - 60
3:15
Tony Massenburg enters the game for Greg Ostertag.
65 - 60
3:02
Peja Stojakovic missed 25 ft Three Point Jumper.
65 - 60
3:00
Tony Massenburg Defensive Rebound.
65 - 60
2:51
Karl Malone missed 19 ft Jumper.
65 - 60
2:49
Peja Stojakovic Defensive Rebound.
65 - 60
2:29
Chris Webber missed 18 ft Jumper.
65 - 60
2:27
Mark Jackson Defensive Rebound.
65 - 60
2:20
Andrei Kirilenko Lost Ball. Stolen by Bobby Jackson.
65 - 60
2:18
Mark Jackson Personal Foul
65 - 60
2:18
Sacramento Full Timeout.
65 - 60
2:18
DeShawn Stevenson enters the game for Calbert Cheaney.
65 - 60
2:18
Keon Clark enters the game for Chris Webber.
65 - 60
2:18
Jim Jackson enters the game for Doug Christie.
65 - 60
2:06
Bobby Jackson made 24 ft Three Point Jumper. Assisted by Jim Jackson.
68 - 60
1:51
Andrei Kirilenko made Jumper. Assisted by Mark Jackson.
68 - 62
1:31
Tony Massenburg Shooting Foul
68 - 62
1:31
Vlade Divac made Free Throw 1 of 2.
69 - 62
1:31
Vlade Divac made Free Throw 2 of 2.
70 - 62
1:21
Karl Malone missed 20 ft Jumper.
70 - 62
1:19
Tony Massenburg Offensive Rebound.
70 - 62
1:17
Tony Massenburg missed Layup.
70 - 62
1:15
Jim Jackson Defensive Rebound.
70 - 62
1:12
Keon Clark made Dunk. Assisted by Peja Stojakovic.
72 - 62
0:49
Karl Malone made 15 ft Jumper.
72 - 64
0:37
Jim Jackson missed 22 ft Jumper.
72 - 64
0:35
Andrei Kirilenko Defensive Rebound.
72 - 64
0:35
Bobby Jackson Personal Foul
72 - 64
0:35
Andrei Kirilenko missed Free Throw 1 of 2.
72 - 64
0:35
Utah Offensive Rebound.
72 - 64
0:35
Andrei Kirilenko made Free Throw 2 of 2.
72 - 65
0:16
Peja Stojakovic missed Jumper.
72 - 65
0:14
Mark Jackson Defensive Rebound.
72 - 65
0:10
Mark Jackson Bad Pass. Stolen by Vlade Divac.
72 - 65
0:04
Peja Stojakovic missed Layup. Blocked by Andrei Kirilenko.
72 - 65
0:02
DeShawn Stevenson Defensive Rebound.
72 - 65
0:00
DeShawn Stevenson made 25 ft Three Point Jumper. Assisted by Andrei Kirilenko.
72 - 68
0:00
End of the 3rd Quarter.
72 - 68

time
TEAM
PLAY
SCORE
12:00
Start of the 4th Quarter.
72 - 68
11:40
Hedo Turkoglu Bad Pass
72 - 68
11:23
Tony Massenburg made 12 ft Jumper.
72 - 70
11:08
Jim Jackson made 10 ft Jumper. Assisted by Keon Clark.
74 - 70
10:41
Andrei Kirilenko Bad Pass
74 - 70
10:26
Hedo Turkoglu Bad Pass. Stolen by DeShawn Stevenson.
74 - 70
10:22
DeShawn Stevenson made Dunk.
74 - 72
10:03
Hedo Turkoglu made 25 ft Three Point Jumper. Assisted by Jim Jackson.
77 - 72
9:40
DeShawn Stevenson made 21 ft Jumper.
77 - 74
9:26
Keon Clark made Layup. Assisted by Hedo Turkoglu.
79 - 74
9:07
Karl Malone made 18 ft Jumper. Assisted by Mark Jackson.
79 - 76
8:56
Keon Clark Bad Pass
79 - 76
8:56
Official Timeout.
79 - 76
8:56
Greg Ostertag enters the game for Tony Massenburg.
79 - 76
8:44
Mark Jackson made 24 ft Three Point Jumper. Assisted by Karl Malone.
79 - 79
8:23
Jim Jackson made 23 ft Three Point Jumper. Assisted by Chris Webber.
82 - 79
7:56
Mark Jackson missed 13 ft Jumper.
82 - 79
7:52
Greg Ostertag Offensive Rebound.
82 - 79
7:52
Greg Ostertag missed Tip Shot.
82 - 79
7:50
Greg Ostertag Offensive Rebound.
82 - 79
7:50
Greg Ostertag missed Tip Shot.
82 - 79
7:48
Chris Webber Defensive Rebound.
82 - 79
7:45
Bobby Jackson made 20 ft Jumper. Assisted by Chris Webber.
84 - 79
7:28
DeShawn Stevenson made Dunk. Assisted by Karl Malone.
84 - 81
7:11
Keon Clark Lost Ball
84 - 81
7:00
Greg Ostertag Bad Pass. Stolen by Keon Clark.
84 - 81
6:56
Keon Clark missed Layup. Blocked by Greg Ostertag.
84 - 81
6:54
Andrei Kirilenko Defensive Rebound.
84 - 81
6:37
DeShawn Stevenson missed 21 ft Jumper.
84 - 81
6:35
Chris Webber Defensive Rebound.
84 - 81
6:24
Hedo Turkoglu missed Layup. Blocked by Andrei Kirilenko.
84 - 81
6:20
DeShawn Stevenson Defensive Rebound.
84 - 81
6:09
Karl Malone missed 14 ft Jumper.
84 - 81
6:07
Greg Ostertag Offensive Rebound.
84 - 81
6:07
Hedo Turkoglu Shooting Foul
84 - 81
6:07
John Stockton enters the game for Mark Jackson.
84 - 81
6:07
Vlade Divac enters the game for Keon Clark.
84 - 81
6:07
Sacramento Full Timeout.
84 - 81
6:07
Matt Harpring enters the game for Andrei Kirilenko.
84 - 81
6:07
Greg Ostertag made Free Throw 1 of 2.
84 - 82
6:07
Mike Bibby enters the game for Hedo Turkoglu.
84 - 82
6:07
Greg Ostertag missed Free Throw 2 of 2.
84 - 82
6:05
Jim Jackson Defensive Rebound.
84 - 82
5:48
Bobby Jackson missed 24 ft Three Point Jumper.
84 - 82
5:46
DeShawn Stevenson Defensive Rebound.
84 - 82
5:30
Karl Malone made 21 ft Jumper. Assisted by John Stockton.
84 - 84
5:09
Chris Webber made 20 ft Jumper. Assisted by Jim Jackson.
86 - 84
4:43
Karl Malone missed 19 ft Jumper.
86 - 84
4:43
Utah Offensive Rebound.
86 - 84
4:43
Vlade Divac Loose Ball Foul
86 - 84
4:43
Peja Stojakovic enters the game for Jim Jackson.
86 - 84
4:31
DeShawn Stevenson missed 23 ft Jumper.
86 - 84
4:30
Chris Webber Defensive Rebound.
86 - 84
4:28
DeShawn Stevenson Personal Foul
86 - 84
4:18
Mike Bibby missed 23 ft Three Point Jumper.
86 - 84
4:13
Sacramento Offensive Rebound.
86 - 84
4:13
Sacramento 20 Sec. Timeout.
86 - 84
4:07
Chris Webber missed 17 ft Jumper.
86 - 84
4:05
DeShawn Stevenson Defensive Rebound.
86 - 84
3:49
John Stockton Bad Pass. Stolen by Chris Webber.
86 - 84
3:45
Bobby Jackson made Layup. Assisted by Chris Webber.
88 - 84
3:24
DeShawn Stevenson missed 20 ft Jumper.
88 - 84
3:21
Mike Bibby Defensive Rebound.
88 - 84
3:18
Mike Bibby Bad Pass. Stolen by John Stockton.
88 - 84
3:11
Karl Malone made Two Point Shot. Assisted by John Stockton.
88 - 86
2:56
John Stockton Personal Foul
88 - 86
2:56
Utah Full Timeout.
88 - 86
2:56
Andrei Kirilenko enters the game for Matt Harpring.
88 - 86
2:47
Mike Bibby made 21 ft Jumper. Assisted by Chris Webber.
90 - 86
2:27
John Stockton made 20 ft Two Point Shot.
90 - 88
2:05
Mike Bibby made 21 ft Jumper. Assisted by Chris Webber.
92 - 88
1:49
Greg Ostertag Bad Pass. Stolen by Bobby Jackson.
92 - 88
1:46
Bobby Jackson made Layup.
94 - 88
1:31
Karl Malone missed 18 ft Jumper. Blocked by Bobby Jackson.
94 - 88
1:27
Chris Webber Defensive Rebound.
94 - 88
1:12
Chris Webber missed 19 ft Jumper.
94 - 88
1:09
Greg Ostertag Defensive Rebound.
94 - 88
1:04
John Stockton made 25 ft Three Point Jumper. Assisted by Greg Ostertag.
94 - 91
0:51
Karl Malone Personal Foul
94 - 91
0:40
Bobby Jackson missed 24 ft Three Point Jumper.
94 - 91
0:38
DeShawn Stevenson Defensive Rebound.
94 - 91
0:17
Chris Webber Shooting Foul
94 - 91
0:17
Greg Ostertag made Free Throw 1 of 2.
94 - 92
0:17
Greg Ostertag made Free Throw 2 of 2.
94 - 93
0:17
Sacramento Full Timeout.
94 - 93
0:17
Calbert Cheaney enters the game for Greg Ostertag.
94 - 93
0:17
Doug Christie enters the game for Vlade Divac.
94 - 93
0:17
Sacramento Full Timeout.
94 - 93
0:14
DeShawn Stevenson Personal Foul
94 - 93
0:14
Bobby Jackson missed Free Throw 1 of 2.
94 - 93
0:14
Sacramento Offensive Rebound.
94 - 93
0:14
Bobby Jackson made Free Throw 2 of 2.
95 - 93
0:14
Utah Full Timeout.
95 - 93
0:14
Matt Harpring enters the game for Calbert Cheaney.
95 - 93
0:14
Jim Jackson enters the game for Mike Bibby.
95 - 93
0:12
Utah Full Timeout.
95 - 93
0:12
Utah 20 Sec. Timeout.
95 - 93
0:04
Doug Christie Shooting Foul
95 - 93
0:04
Karl Malone made Free Throw 1 of 2.
95 - 94
0:04
Karl Malone missed Free Throw 2 of 2.
95 - 94
0:04
Mike Bibby enters the game for Jim Jackson.
95 - 94
0:04
Karl Malone made Free Throw 2 of 2.
95 - 95
0:00
Peja Stojakovic Bad Pass. Stolen by Andrei Kirilenko.
95 - 95
0:00
Andrei Kirilenko missed 28 ft Three Point Jumper.
95 - 95
0:00
Utah Offensive Rebound.
95 - 95
0:00
End of the 4th Quarter.
95 - 95

time
TEAM
PLAY
SCORE
5:00
Start of the 1st Overtime.
95 - 95
4:58
null
95 - 95
4:43
DeShawn Stevenson missed 23 ft Jumper.
95 - 95
4:41
DeShawn Stevenson Offensive Rebound.
95 - 95
4:24
DeShawn Stevenson missed 7 ft Jumper.
95 - 95
4:22
Peja Stojakovic Defensive Rebound.
95 - 95
4:05
Chris Webber made 20 ft Jumper. Assisted by Bobby Jackson.
97 - 95
3:53
Bobby Jackson Personal Foul
97 - 95
3:40
Vlade Divac Shooting Foul
97 - 95
3:40
Greg Ostertag missed Free Throw 1 of 2.
97 - 95
3:40
Utah Offensive Rebound.
97 - 95
3:40
Greg Ostertag missed Free Throw 2 of 2.
97 - 95
3:38
Chris Webber Defensive Rebound.
97 - 95
3:19
Peja Stojakovic made 23 ft Three Point Jumper. Assisted by Mike Bibby.
100 - 95
3:04
Kicked Ball
100 - 95
2:55
Karl Malone missed 17 ft Jumper.
100 - 95
2:54
Greg Ostertag Offensive Rebound.
100 - 95
2:35
Andrei Kirilenko missed 23 ft Three Point Jumper.
100 - 95
2:32
Bobby Jackson Defensive Rebound.
100 - 95
2:31
Andrei Kirilenko Shooting Foul
100 - 95
2:31
Peja Stojakovic made Free Throw 1 of 2.
101 - 95
2:31
Scott Padgett enters the game for Greg Ostertag.
101 - 95
2:31
Peja Stojakovic made Free Throw 2 of 2.
102 - 95
2:19
Scott Padgett made 25 ft Three Point Jumper. Assisted by John Stockton.
102 - 98
1:55
Bobby Jackson missed 23 ft Three Point Jumper.
102 - 98
1:54
Peja Stojakovic Offensive Rebound.
102 - 98
1:54
Peja Stojakovic made Layup.
104 - 98
1:43
John Stockton made 18 ft Jumper.
104 - 100
1:43
Sacramento Full Timeout.
104 - 100
1:22
Bobby Jackson Lost Ball. Stolen by Karl Malone.
104 - 100
1:07
Scott Padgett missed Layup. Blocked by Vlade Divac.
104 - 100
1:04
Bobby Jackson Defensive Rebound.
104 - 100
0:45
Mike Bibby missed 22 ft Jumper.
104 - 100
0:41
Scott Padgett Defensive Rebound.
104 - 100
0:32
DeShawn Stevenson missed 20 ft Jumper.
104 - 100
0:29
Karl Malone Offensive Rebound.
104 - 100
0:25
John Stockton missed 23 ft Jumper.
104 - 100
0:22
DeShawn Stevenson Offensive Rebound.
104 - 100
0:22
DeShawn Stevenson missed Tip Shot.
104 - 100
0:21
Karl Malone Offensive Rebound.
104 - 102
0:21
Karl Malone made Layup.
104 - 102
0:18
Scott Padgett Personal Foul
104 - 102
0:18
Jim Jackson enters the game for Vlade Divac.
104 - 102
0:18
Sacramento Full Timeout.
104 - 102
0:18
John Stockton Personal Foul
104 - 102
0:18
Mike Bibby made Free Throw 1 of 2.
105 - 102
0:18
Mike Bibby made Free Throw 2 of 2.
106 - 102
0:18
Utah Full Timeout.
106 - 102
0:13
Andrei Kirilenko missed 24 ft Three Point Jumper.
106 - 102
0:11
Utah Defensive Rebound.
106 - 102
0:10
John Stockton Personal Foul
106 - 102
0:10
Mike Bibby made Free Throw 1 of 2.
107 - 102
0:10
Mike Bibby made Free Throw 2 of 2.
108 - 102
0:07
Andrei Kirilenko made Dunk. Assisted by John Stockton.
108 - 104
0:05
DeShawn Stevenson Personal Foul
108 - 104
0:05
Peja Stojakovic missed Free Throw 1 of 2.
108 - 104
0:05
Sacramento Offensive Rebound.
108 - 104
0:05
Peja Stojakovic missed Free Throw 2 of 2.
108 - 104
0:05
Karl Malone Defensive Rebound.
108 - 104
0:05
Utah Full Timeout.
108 - 104
0:04
Bobby Jackson Personal Foul
108 - 104
0:02
John Stockton missed 25 ft Three Point Jumper.
108 - 104
0:00
Andrei Kirilenko Offensive Rebound.
108 - 104
0:00
Jim Jackson Shooting Foul
108 - 104
0:00
Andrei Kirilenko made Free Throw 1 of 2.
108 - 105
0:00
Vlade Divac enters the game for Mike Bibby.
108 - 105
0:00
Andrei Kirilenko missed Free Throw 2 of 2.
108 - 105
0:00
Andrei Kirilenko Offensive Rebound.
108 - 105
0:00
Andrei Kirilenko missed Layup.
108 - 105
0:00
End of the 1st Overtime.
108 - 105
0:00
End Game
108 - 105
0:00
End Game
108 - 105
0:00
End Game
108 - 105
A behind the scenes look as the members of the US Olympic Men's Basketball team gather in Las Vegas for training camp.

Reese Waters and Sarah Spain explain whether or not Shaquille O'Neal is right in not considering Tim Duncan as one of the greatest big men because he is a power forward.

Ramona Shelburne says she found it "surprising" that Draymond Green shrugged off recent incidents by saying, "being me has gotten me this far" after how contrite Green was after being suspended for Game 5 of the NBA Finals.
Playoff Series
SAC wins series 4-1
2015-2016 Pacific Standings