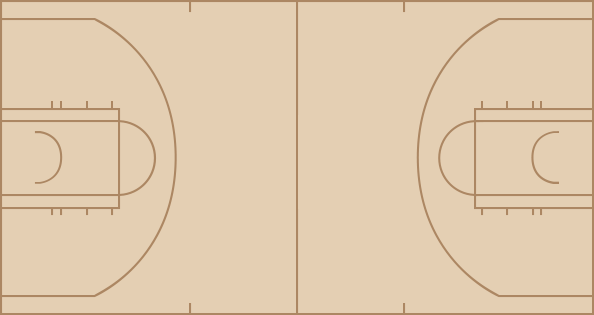 Magic
time
TEAM
PLAY
SCORE
12:00
Start of the 1st Quarter.
0 - 0
12:00
Jumpball. Drew Gooden vs. Brendan Haywood. Christian Laettner gains possession.
0 - 0
11:47
Jerry Stackhouse made Two Point Shot. Assisted by Larry Hughes.
0 - 2
11:26
Drew Gooden Lost Ball
0 - 2
11:07
Christian Laettner missed 20 ft Jumper.
0 - 2
11:04
Drew Gooden Defensive Rebound.
0 - 2
10:53
Tracy McGrady made 19 ft Jumper.
2 - 2
10:53
Michael Jordan Shooting Foul
2 - 2
10:53
Tracy McGrady made Free Throw 1 of 1.
3 - 2
10:34
Michael Jordan made 10 ft Two Point Shot.
3 - 4
10:19
Tracy McGrady made 21 ft Jumper.
5 - 4
10:08
Larry Hughes missed Layup. Blocked by Shawn Kemp.
5 - 4
10:06
Larry Hughes Offensive Rebound.
5 - 4
10:03
Larry Hughes missed 18 ft Jumper.
5 - 4
10:03
Brendan Haywood Offensive Rebound.
5 - 4
9:48
Michael Jordan Lost Ball. Stolen by Tracy McGrady.
5 - 4
9:44
Drew Gooden made Dunk. Assisted by Jacque Vaughn.
7 - 4
9:23
Gordan Giricek Personal Foul
7 - 4
9:18
Gordan Giricek Personal Foul
7 - 4
9:18
Jeryl Sasser enters the game for Gordan Giricek.
7 - 4
9:14
Michael Jordan made Layup. Assisted by Larry Hughes.
7 - 6
9:14
Shawn Kemp Shooting Foul
7 - 6
9:14
Michael Jordan made Free Throw 1 of 1.
7 - 7
9:03
Christian Laettner Shooting Foul
7 - 7
9:03
Jeryl Sasser missed Free Throw 1 of 2.
7 - 7
9:03
Orlando Offensive Rebound.
7 - 7
9:03
Jeryl Sasser made Free Throw 2 of 2.
8 - 7
8:49
Michael Jordan missed 17 ft Jumper.
8 - 7
8:49
Washington Defensive Rebound.
8 - 7
8:34
Jacque Vaughn made 20 ft Jumper. Assisted by Drew Gooden.
10 - 7
8:22
Shawn Kemp Shooting Foul
10 - 7
8:22
Jerry Stackhouse made Free Throw 1 of 2.
10 - 8
8:22
Andrew DeClercq enters the game for Shawn Kemp.
10 - 8
8:22
Jerry Stackhouse made Free Throw 2 of 2.
10 - 9
8:12
Drew Gooden missed 4 ft Jumper.
10 - 9
8:11
Christian Laettner Defensive Rebound.
10 - 9
7:58
Jerry Stackhouse missed 17 ft Jumper.
10 - 9
7:56
Andrew DeClercq Defensive Rebound.
10 - 9
7:47
Jeryl Sasser made 23 ft Three Point Jumper. Assisted by Tracy McGrady.
13 - 9
7:20
Michael Jordan missed 15 ft Jumper.
13 - 9
7:18
Brendan Haywood Offensive Rebound.
13 - 9
7:16
Brendan Haywood made Dunk.
13 - 11
7:09
Jacque Vaughn Lost Ball. Stolen by Michael Jordan.
13 - 11
7:03
Larry Hughes made Two Point Shot.
13 - 13
6:41
Tracy McGrady made 15 ft Two Point Shot.
15 - 13
6:18
Michael Jordan made 15 ft Two Point Shot.
15 - 15
6:07
Tracy McGrady missed 25 ft Three Point Jumper.
15 - 15
6:07
Christian Laettner Defensive Rebound.
15 - 15
5:54
Michael Jordan Traveling
15 - 15
5:54
Washington Full Timeout.
15 - 15
5:43
Jacque Vaughn Bad Pass
15 - 15
5:24
Christian Laettner made 18 ft Jumper. Assisted by Brendan Haywood.
15 - 17
5:11
Jacque Vaughn missed Layup.
15 - 17
5:09
Andrew DeClercq Offensive Rebound.
15 - 17
5:07
Andrew DeClercq missed Jumper.
15 - 17
5:07
Brendan Haywood Defensive Rebound.
15 - 17
4:58
Jerry Stackhouse missed Layup. Blocked by Jeryl Sasser.
15 - 17
4:58
Washington Offensive Rebound.
15 - 17
4:58
Darrell Armstrong enters the game for Jacque Vaughn.
15 - 17
4:52
Andrew DeClercq Personal Foul
15 - 17
4:52
Jerry Stackhouse made Free Throw 1 of 2.
15 - 18
4:52
Jerry Stackhouse made Free Throw 2 of 2.
15 - 19
4:43
Tracy McGrady made 22 ft Jumper. Assisted by Andrew DeClercq.
17 - 19
4:22
Michael Jordan made Layup. Assisted by Christian Laettner.
17 - 21
4:22
Tracy McGrady Shooting Foul
17 - 21
4:22
Michael Jordan made Free Throw 1 of 1.
17 - 22
4:11
Tracy McGrady missed 10 ft Jumper.
17 - 22
4:09
Drew Gooden Offensive Rebound.
17 - 22
4:07
Drew Gooden missed 9 ft Jumper.
17 - 22
4:07
Michael Jordan Defensive Rebound.
17 - 22
4:03
Michael Jordan Bad Pass
17 - 22
3:51
Drew Gooden made 14 ft Jumper. Assisted by Tracy McGrady.
19 - 22
3:27
Michael Jordan missed 17 ft Jumper.
19 - 22
3:25
Jeryl Sasser Defensive Rebound.
19 - 22
3:10
Brendan Haywood Personal Foul
19 - 22
3:10
Pat Garrity enters the game for Andrew DeClercq.
19 - 22
3:10
Tracy McGrady made Free Throw 1 of 2.
20 - 22
3:10
Bryon Russell enters the game for Michael Jordan.
20 - 22
3:10
Kwame Brown enters the game for Brendan Haywood.
20 - 22
3:10
Tracy McGrady made Free Throw 2 of 2.
21 - 22
2:55
Larry Hughes made 19 ft Jumper. Assisted by Christian Laettner.
21 - 24
2:43
Tracy McGrady made Two Point Shot. Assisted by Jeryl Sasser.
23 - 24
2:23
Larry Hughes made Layup. Assisted by Jerry Stackhouse.
23 - 26
2:08
Jeryl Sasser made 22 ft Three Point Jumper. Assisted by Darrell Armstrong.
26 - 26
1:51
Christian Laettner made Dunk. Assisted by Jerry Stackhouse.
26 - 28
1:36
Tracy McGrady made 21 ft Jumper.
28 - 28
1:19
Christian Laettner made Layup. Assisted by Jerry Stackhouse.
28 - 30
1:05
Drew Gooden made 8 ft Two Point Shot.
30 - 30
0:49
Pat Garrity Shooting Foul
30 - 30
0:49
Orlando Full Timeout.
30 - 30
0:49
Christian Laettner made Free Throw 1 of 2.
30 - 31
0:49
Christian Laettner made Free Throw 2 of 2.
30 - 32
0:26
Drew Gooden Lost Ball. Stolen by Larry Hughes.
30 - 32
0:23
Jerry Stackhouse made Two Point Shot. Assisted by Christian Laettner.
30 - 34
0:02
Tracy McGrady Offensive Foul
30 - 34
0:02
Tracy McGrady Foul
30 - 34
0:02
Chris Whitney enters the game for Tracy McGrady.
30 - 34
0:00
Larry Hughes missed Layup.
30 - 34
0:00
Washington Offensive Rebound.
30 - 34
0:00
End of the 1st Quarter.
30 - 34

time
TEAM
PLAY
SCORE
12:00
Start of the 2nd Quarter.
30 - 34
11:42
Kwame Brown Shooting Foul
30 - 34
11:42
Drew Gooden made Free Throw 1 of 2.
31 - 34
11:42
Drew Gooden made Free Throw 2 of 2.
32 - 34
11:22
Michael Jordan made 11 ft Two Point Shot.
32 - 36
10:56
Drew Gooden missed 4 ft Jumper.
32 - 36
10:55
Bryon Russell Defensive Rebound.
32 - 36
10:48
Larry Hughes made 9 ft Two Point Shot.
32 - 38
10:32
Drew Gooden Bad Pass
32 - 38
10:32
Drew Gooden Technical Foul
32 - 38
10:32
Christian Laettner made Technical Free Throw.
32 - 39
10:32
Shawn Kemp enters the game for Drew Gooden.
32 - 39
10:18
Darrell Armstrong Personal Foul
32 - 39
10:08
Christian Laettner Bad Pass
32 - 39
9:57
Pat Garrity missed 25 ft Three Point Jumper.
32 - 39
9:56
Bryon Russell Defensive Rebound.
32 - 39
9:42
Bryon Russell missed 23 ft Three Point Jumper.
32 - 39
9:41
Shawn Kemp Defensive Rebound.
32 - 39
9:32
Chris Whitney made 26 ft Three Point Jumper. Assisted by Pat Garrity.
35 - 39
9:10
Chris Whitney Shooting Foul
35 - 39
9:10
Larry Hughes Bad Pass. Stolen by Jeryl Sasser.
35 - 39
9:10
Bryon Russell made Free Throw 1 of 2.
35 - 40
9:10
Bryon Russell made Free Throw 2 of 2.
35 - 41
8:59
Darrell Armstrong Offensive Rebound.
35 - 41
8:56
Darrell Armstrong missed 14 ft Jumper.
35 - 40
8:45
Michael Jordan Bad Pass. Stolen by Darrell Armstrong.
35 - 40
8:40
Darrell Armstrong missed Layup.
35 - 40
8:38
Michael Jordan Defensive Rebound.
35 - 40
8:22
Michael Jordan Lost Ball
35 - 40
8:22
Official Timeout.
35 - 40
8:22
Jerry Stackhouse enters the game for Christian Laettner.
35 - 40
8:07
Chris Whitney made 19 ft Jumper. Assisted by Pat Garrity.
37 - 40
7:24
Michael Jordan missed 14 ft Jumper.
37 - 40
7:22
Washington Defensive Rebound.
37 - 40
7:09
Kwame Brown Shooting Foul
37 - 40
7:09
Shawn Kemp missed Free Throw 1 of 2.
37 - 40
7:09
Orlando Offensive Rebound.
37 - 40
7:09
Brendan Haywood enters the game for Kwame Brown.
37 - 40
7:09
Shawn Kemp made Free Throw 2 of 2.
38 - 40
7:01
Chris Whitney Personal Foul
38 - 40
7:01
Tracy McGrady enters the game for Darrell Armstrong.
38 - 40
6:56
Juan Dixon missed 11 ft Jumper.
38 - 40
6:54
Pat Garrity Defensive Rebound.
38 - 40
6:43
Gordan Giricek made 25 ft Three Point Jumper. Assisted by Pat Garrity.
41 - 40
6:24
Jerry Stackhouse missed 21 ft Jumper.
41 - 40
6:22
Washington Defensive Rebound.
41 - 40
6:11
Larry Hughes enters the game for Juan Dixon.
41 - 40
6:09
Pat Garrity made 21 ft Jumper. Assisted by Tracy McGrady.
43 - 40
5:46
Larry Hughes missed 18 ft Jumper.
43 - 40
5:43
Shawn Kemp Defensive Rebound.
43 - 40
5:31
Shawn Kemp Lost Ball
43 - 40
5:31
Washington Full Timeout.
43 - 40
5:20
Chris Whitney Personal Foul
43 - 40
5:11
Pat Garrity Personal Foul
43 - 40
5:11
Jacque Vaughn enters the game for Chris Whitney.
43 - 40
5:11
Bryon Russell made Free Throw 1 of 2.
43 - 41
5:11
Bryon Russell made Free Throw 2 of 2.
43 - 42
5:03
Tracy McGrady missed 15 ft Jumper.
43 - 42
5:01
Jerry Stackhouse Defensive Rebound.
43 - 42
4:45
Michael Jordan Lost Ball. Stolen by Pat Garrity.
43 - 42
4:37
Gordan Giricek made 19 ft Jumper. Assisted by Jacque Vaughn.
45 - 42
4:09
Larry Hughes made 16 ft Jumper. Assisted by Jerry Stackhouse.
45 - 44
3:53
Shawn Kemp missed Layup.
45 - 44
3:50
Shawn Kemp Offensive Rebound.
45 - 44
3:49
Shawn Kemp missed Layup.
45 - 44
3:48
Jerry Stackhouse Defensive Rebound.
45 - 44
3:38
Brendan Haywood Lost Ball
45 - 44
3:25
Tracy McGrady missed Layup.
45 - 44
3:24
Tracy McGrady Offensive Rebound.
45 - 44
3:21
Tracy McGrady missed Layup.
45 - 44
3:19
Tracy McGrady Offensive Rebound.
45 - 44
3:18
Tracy McGrady made Layup.
47 - 44
3:00
Jerry Stackhouse made Two Point Shot.
47 - 46
2:53
Jacque Vaughn Bad Pass. Stolen by Michael Jordan.
47 - 46
2:47
Michael Jordan Lost Ball. Stolen by Pat Garrity.
47 - 46
2:44
Gordan Giricek Discontinue Dribble
47 - 46
2:44
Orlando Full Timeout.
47 - 46
2:44
Christian Laettner enters the game for Bryon Russell.
47 - 46
2:44
Drew Gooden enters the game for Shawn Kemp.
47 - 46
2:32
Jerry Stackhouse Lost Ball. Stolen by Tracy McGrady.
47 - 46
2:28
Tracy McGrady made Two Point Shot. Assisted by Gordan Giricek.
49 - 46
2:12
Michael Jordan missed 15 ft Jumper.
49 - 46
2:11
Pat Garrity Defensive Rebound.
49 - 46
1:53
Tracy McGrady made 16 ft Jumper.
51 - 46
1:38
Larry Hughes made 19 ft Jumper. Assisted by Michael Jordan.
51 - 48
1:24
Drew Gooden missed 22 ft Jumper.
51 - 48
1:23
Larry Hughes Defensive Rebound.
51 - 48
1:15
Gordan Giricek Personal Foul
51 - 48
1:15
Jeryl Sasser enters the game for Tracy McGrady.
51 - 48
1:15
Darrell Armstrong enters the game for Gordan Giricek.
51 - 48
1:15
Jerry Stackhouse made Free Throw 1 of 2.
51 - 49
1:15
Jerry Stackhouse made Free Throw 2 of 2.
51 - 50
1:04
Jacque Vaughn missed 23 ft Three Point Jumper.
51 - 50
1:00
Christian Laettner Defensive Rebound.
51 - 50
0:45
Michael Jordan made Layup. Assisted by Larry Hughes.
51 - 52
0:45
Pat Garrity Shooting Foul
51 - 52
0:45
Michael Jordan made Free Throw 1 of 1.
51 - 53
0:34
Pat Garrity missed 17 ft Jumper.
51 - 53
0:32
Jacque Vaughn Offensive Rebound.
51 - 53
0:30
Orlando 20 Sec. Timeout.
51 - 53
0:13
Pat Garrity missed 25 ft Three Point Jumper.
51 - 53
0:11
Michael Jordan Defensive Rebound.
51 - 53
0:01
Michael Jordan missed 22 ft Jumper.
51 - 53
0:00
Darrell Armstrong Defensive Rebound.
51 - 53
0:00
End of the 2nd Quarter.
51 - 53

time
TEAM
PLAY
SCORE
12:00
Start of the 3rd Quarter.
51 - 53
11:45
Drew Gooden Lost Ball
51 - 53
11:25
Michael Jordan made 15 ft Two Point Shot. Assisted by Larry Hughes.
51 - 55
11:12
Tracy McGrady made 25 ft Three Point Jumper.
54 - 55
10:52
Shawn Kemp Shooting Foul
54 - 55
10:52
Pat Garrity enters the game for Drew Gooden.
54 - 55
10:52
Brendan Haywood missed Free Throw 1 of 2.
54 - 55
10:52
Washington Offensive Rebound.
54 - 55
10:52
Brendan Haywood made Free Throw 2 of 2.
54 - 56
10:45
Tracy McGrady made 20 ft Jumper.
56 - 56
10:27
Jerry Stackhouse missed 21 ft Jumper.
56 - 56
10:26
Shawn Kemp Defensive Rebound.
56 - 56
10:10
Shawn Kemp made 11 ft Jumper. Assisted by Tracy McGrady.
58 - 56
9:47
Jacque Vaughn Personal Foul
58 - 56
9:40
Christian Laettner made 16 ft Jumper. Assisted by Larry Hughes.
58 - 58
9:23
Michael Jordan Shooting Foul
58 - 58
9:23
Tracy McGrady missed Free Throw 1 of 2.
58 - 58
9:23
Orlando Offensive Rebound.
58 - 58
9:23
Tracy McGrady made Free Throw 2 of 2.
59 - 58
9:06
Brendan Haywood made Slam Dunk. Assisted by Michael Jordan.
59 - 60
8:52
Gordan Giricek made 2 ft Two Point Shot. Assisted by Jacque Vaughn.
61 - 60
8:33
Larry Hughes missed 16 ft Jumper.
61 - 60
8:30
Shawn Kemp Defensive Rebound.
61 - 60
8:21
Shawn Kemp missed Layup.
61 - 60
8:19
Orlando Defensive Rebound.
61 - 60
8:19
Shawn Kemp Loose Ball Foul
61 - 60
8:07
Jerry Stackhouse Bad Pass. Stolen by Pat Garrity.
61 - 60
8:07
Christian Laettner Personal Foul
61 - 60
8:07
Delay of Game
61 - 60
7:52
Shawn Kemp made 17 ft Jumper. Assisted by Gordan Giricek.
63 - 60
7:43
Washington Full Timeout.
63 - 60
7:33
Larry Hughes made 21 ft Jumper. Assisted by Jerry Stackhouse.
63 - 62
7:09
Shawn Kemp missed Layup.
63 - 62
7:09
Brendan Haywood Defensive Rebound.
63 - 62
6:58
Christian Laettner missed 17 ft Jumper.
63 - 62
6:56
Gordan Giricek Defensive Rebound.
63 - 62
6:41
Jacque Vaughn missed 19 ft Jumper.
63 - 62
6:39
Jerry Stackhouse Defensive Rebound.
63 - 62
6:24
Michael Jordan missed 10 ft Jumper.
63 - 62
6:22
Shawn Kemp Defensive Rebound.
63 - 62
6:11
Tracy McGrady missed 20 ft Jumper.
63 - 62
6:09
Larry Hughes Defensive Rebound.
63 - 62
6:05
Jerry Stackhouse made Layup. Assisted by Larry Hughes.
63 - 64
5:45
Pat Garrity Bad Pass. Stolen by Christian Laettner.
63 - 64
5:41
Michael Jordan made Layup. Assisted by Christian Laettner.
63 - 66
5:24
Tracy McGrady made 6 ft Jumper. Assisted by Gordan Giricek.
65 - 66
5:00
Christian Laettner made Two Point Shot. Assisted by Jerry Stackhouse.
65 - 68
4:43
Michael Jordan Personal Foul
65 - 68
4:43
Drew Gooden enters the game for Shawn Kemp.
65 - 68
4:43
Darrell Armstrong enters the game for Jacque Vaughn.
65 - 68
4:37
Pat Garrity made 25 ft Three Point Jumper. Assisted by Darrell Armstrong.
68 - 68
4:26
Jerry Stackhouse made Two Point Shot.
68 - 70
4:07
Gordan Giricek made 24 ft Three Point Jumper. Assisted by Darrell Armstrong.
71 - 70
3:45
Brendan Haywood made Dunk. Assisted by Larry Hughes.
71 - 72
3:24
Darrell Armstrong missed 23 ft Three Point Jumper.
71 - 72
3:23
Drew Gooden Offensive Rebound.
71 - 72
3:14
Gordan Giricek missed 25 ft Three Point Jumper.
71 - 72
3:13
Jerry Stackhouse Defensive Rebound.
71 - 72
3:09
Jerry Stackhouse Lost Ball. Stolen by Darrell Armstrong.
71 - 72
3:05
Gordan Giricek made 2 ft Two Point Shot. Assisted by Tracy McGrady.
73 - 72
2:42
Larry Hughes missed 12 ft Jumper.
73 - 72
2:40
Washington Offensive Rebound.
73 - 72
2:40
Pat Garrity Shooting Foul
73 - 72
2:40
Orlando Full Timeout.
73 - 72
2:40
Andrew DeClercq enters the game for Pat Garrity.
73 - 72
2:40
Bryon Russell enters the game for Michael Jordan.
73 - 72
2:40
Brendan Haywood missed Free Throw 1 of 2.
73 - 72
2:40
Washington Offensive Rebound.
73 - 72
2:40
Brendan Haywood made Free Throw 2 of 2.
73 - 73
2:27
Tracy McGrady Lost Ball. Stolen by Bryon Russell.
73 - 73
2:06
Jerry Stackhouse missed 10 ft Jumper.
73 - 73
2:05
Drew Gooden Defensive Rebound.
73 - 73
1:57
Darrell Armstrong made 16 ft Two Point Shot.
75 - 73
1:39
Jerry Stackhouse Offensive Foul
75 - 73
1:39
Jerry Stackhouse Foul
75 - 73
1:25
Drew Gooden missed 5 ft Jumper.
75 - 73
1:23
Darrell Armstrong Offensive Rebound.
75 - 73
1:22
Drew Gooden made Layup. Assisted by Darrell Armstrong.
77 - 73
0:59
Jerry Stackhouse missed 5 ft Jumper.
77 - 73
0:59
Brendan Haywood Offensive Rebound.
77 - 73
0:59
Brendan Haywood made Layup.
77 - 75
0:59
Andrew DeClercq Shooting Foul
77 - 75
0:59
Brendan Haywood made Free Throw 1 of 1.
77 - 76
0:42
Drew Gooden missed Jumper.
77 - 76
0:40
Christian Laettner Defensive Rebound.
77 - 76
0:27
Jerry Stackhouse made 16 ft Jumper.
77 - 78
0:08
Bryon Russell Personal Foul
77 - 78
0:01
Andrew DeClercq missed 18 ft Jumper.
77 - 78
0:00
Orlando Defensive Rebound.
77 - 78
0:00
End of the 3rd Quarter.
77 - 78

time
TEAM
PLAY
SCORE
12:00
Start of the 4th Quarter.
77 - 78
11:41
Bryon Russell missed 18 ft Jumper.
77 - 78
11:40
Christian Laettner Offensive Rebound.
77 - 78
11:30
Larry Hughes made 22 ft Jumper. Assisted by Jerry Stackhouse.
77 - 80
11:08
Jeryl Sasser made Two Point Shot.
79 - 80
10:45
Jerry Stackhouse made 18 ft Jumper. Assisted by Larry Hughes.
79 - 82
10:26
Tracy McGrady missed 3 ft Jumper.
79 - 82
10:23
Christian Laettner Defensive Rebound.
79 - 82
10:06
Jerry Stackhouse missed 16 ft Jumper.
79 - 82
10:03
Drew Gooden Defensive Rebound.
79 - 82
9:48
Drew Gooden missed 8 ft Jumper. Blocked by Charles Oakley.
79 - 82
9:45
Bryon Russell Defensive Rebound.
79 - 82
9:30
Christian Laettner Bad Pass
79 - 82
9:30
Chris Whitney enters the game for Darrell Armstrong.
79 - 82
9:30
Michael Jordan enters the game for Jerry Stackhouse.
79 - 82
9:15
Andrew DeClercq Offensive Foul
79 - 82
9:15
Andrew DeClercq Foul
79 - 82
8:55
Larry Hughes missed 26 ft Three Point Jumper.
79 - 82
8:52
Jeryl Sasser Defensive Rebound.
79 - 82
8:45
Tracy McGrady made 26 ft Three Point Jumper. Assisted by Jeryl Sasser.
82 - 82
8:26
Charles Oakley made 20 ft Jumper. Assisted by Larry Hughes.
82 - 84
8:06
Andrew DeClercq made Dunk. Assisted by Jeryl Sasser.
84 - 84
8:06
Michael Jordan Shooting Foul
84 - 84
8:06
Official Timeout.
84 - 84
8:06
Andrew DeClercq made Free Throw 1 of 1.
85 - 84
7:43
Michael Jordan Bad Pass
85 - 84
7:33
Tracy McGrady missed 23 ft Jumper.
85 - 84
7:31
Bryon Russell Defensive Rebound.
85 - 84
7:05
Charles Oakley missed Jumper.
85 - 84
7:03
Charles Oakley Offensive Rebound.
85 - 84
7:03
Charles Oakley missed Layup.
85 - 84
7:03
Charles Oakley Offensive Rebound.
85 - 84
7:03
Andrew DeClercq Shooting Foul
85 - 84
7:03
Jerry Stackhouse enters the game for Christian Laettner.
85 - 84
7:03
Charles Oakley made Free Throw 1 of 2.
85 - 85
7:03
Pat Garrity enters the game for Andrew DeClercq.
85 - 85
7:03
Charles Oakley made Free Throw 2 of 2.
85 - 86
6:48
Drew Gooden missed 6 ft Jumper. Blocked by Jerry Stackhouse.
85 - 86
6:47
Michael Jordan Defensive Rebound.
85 - 86
6:37
Michael Jordan made Dunk. Assisted by Charles Oakley.
85 - 88
6:35
Orlando Full Timeout.
85 - 88
6:35
Gordan Giricek enters the game for Jeryl Sasser.
85 - 88
6:24
Bryon Russell Shooting Foul
85 - 88
6:24
Tracy McGrady made Free Throw 1 of 2.
86 - 88
6:24
Tracy McGrady made Free Throw 2 of 2.
87 - 88
6:03
Larry Hughes missed 21 ft Jumper.
87 - 88
6:01
Gordan Giricek Defensive Rebound.
87 - 88
5:48
Tracy McGrady missed 25 ft Three Point Jumper.
87 - 88
5:46
Charles Oakley Defensive Rebound.
87 - 88
5:22
Michael Jordan missed 18 ft Jumper.
87 - 88
5:20
Pat Garrity Defensive Rebound.
87 - 88
5:20
Charles Oakley Personal Foul
87 - 88
5:09
Drew Gooden Lost Ball. Stolen by Charles Oakley.
87 - 88
4:52
Jerry Stackhouse missed 20 ft Jumper.
87 - 88
4:50
Pat Garrity Defensive Rebound.
87 - 88
4:35
Tracy McGrady Lost Ball. Stolen by Bryon Russell.
87 - 88
4:35
Washington Full Timeout.
87 - 88
4:35
Christian Laettner enters the game for Bryon Russell.
87 - 88
4:18
Larry Hughes made 1 ft Two Point Shot. Assisted by Christian Laettner.
87 - 90
4:00
Gordan Giricek made 10 ft Jumper.
89 - 90
4:00
Jerry Stackhouse Shooting Foul
89 - 90
4:00
Darrell Armstrong enters the game for Chris Whitney.
89 - 90
4:00
Gordan Giricek missed Free Throw 1 of 1.
89 - 90
3:58
Drew Gooden Offensive Rebound.
89 - 90
3:45
Tracy McGrady made 1 ft Two Point Shot.
91 - 90
3:24
Drew Gooden Shooting Foul
91 - 90
3:24
Jerry Stackhouse made Free Throw 1 of 2.
91 - 91
3:24
Jerry Stackhouse made Free Throw 2 of 2.
91 - 92
3:06
Pat Garrity Bad Pass. Stolen by Larry Hughes.
91 - 92
3:02
Larry Hughes made Two Point Shot. Assisted by Charles Oakley.
91 - 94
2:47
Pat Garrity missed 26 ft Three Point Jumper.
91 - 94
2:46
Orlando Defensive Rebound.
91 - 94
2:20
Christian Laettner missed Jumper.
91 - 94
2:18
Darrell Armstrong Defensive Rebound.
91 - 94
2:12
Pat Garrity made 26 ft Three Point Jumper. Assisted by Gordan Giricek.
94 - 94
2:09
Washington Full Timeout.
94 - 94
1:49
Michael Jordan Bad Pass. Stolen by Darrell Armstrong.
94 - 94
1:46
Tracy McGrady missed Layup.
94 - 94
1:44
Larry Hughes Defensive Rebound.
94 - 94
1:23
Christian Laettner missed 5 ft Jumper.
94 - 94
1:23
Drew Gooden Defensive Rebound.
94 - 94
1:17
Darrell Armstrong Bad Pass. Stolen by Christian Laettner.
94 - 94
1:14
Jerry Stackhouse made Layup.
94 - 96
1:14
Defensive Goaltending
94 - 96
1:14
Jacque Vaughn enters the game for Darrell Armstrong.
94 - 96
1:14
Jerry Stackhouse made Free Throw 1 of 1.
94 - 97
1:14
Orlando Full Timeout.
94 - 97
1:14
Bryon Russell enters the game for Charles Oakley.
94 - 97
1:14
Chris Whitney enters the game for Jacque Vaughn.
94 - 97
1:07
Bryon Russell Shooting Foul
94 - 97
1:07
Tracy McGrady missed Free Throw 1 of 2.
94 - 97
1:07
Orlando Offensive Rebound.
94 - 97
1:07
Charles Oakley enters the game for Bryon Russell.
94 - 97
1:07
Jeryl Sasser enters the game for Chris Whitney.
94 - 97
1:07
Tracy McGrady made Free Throw 2 of 2.
95 - 97
0:50
Christian Laettner missed 15 ft Jumper.
95 - 97
0:48
Jeryl Sasser Defensive Rebound.
95 - 97
0:35
Pat Garrity made 19 ft Jumper. Assisted by Tracy McGrady.
97 - 97
0:35
Washington Full Timeout.
97 - 97
0:35
Bryon Russell enters the game for Charles Oakley.
97 - 97
0:25
Michael Jordan made Layup. Assisted by Jerry Stackhouse.
97 - 99
0:25
Orlando Full Timeout.
97 - 99
0:25
Chris Whitney enters the game for Jeryl Sasser.
97 - 99
0:18
Drew Gooden made Layup. Assisted by Gordan Giricek.
99 - 99
0:18
Gordan Giricek Personal Foul
99 - 99
0:18
Jerry Stackhouse made Free Throw 1 of 2.
99 - 100
0:18
Jerry Stackhouse made Free Throw 2 of 2.
99 - 101
0:18
Orlando 20 Sec. Timeout.
99 - 101
0:18
Darrell Armstrong enters the game for Drew Gooden.
99 - 101
0:11
Chris Whitney missed 23 ft Three Point Jumper.
99 - 101
0:10
Jerry Stackhouse Defensive Rebound.
99 - 101
0:10
Pat Garrity Personal Foul
99 - 101
0:10
Jerry Stackhouse made Free Throw 1 of 2.
99 - 102
0:10
Jerry Stackhouse made Free Throw 2 of 2.
99 - 103
0:05
Tracy McGrady made 27 ft Three Point Jumper.
102 - 103
0:04
Darrell Armstrong Personal Foul
102 - 103
0:04
Jerry Stackhouse made Free Throw 1 of 2.
102 - 104
0:04
Jerry Stackhouse made Free Throw 2 of 2.
102 - 105
0:00
Tracy McGrady made 28 ft Three Point Jumper.
105 - 105
0:00
End of the 4th Quarter.
105 - 105
0:00
End Game
105 - 105
Dion Waiters elbows Manu Ginobili while attempting to inbound the ball and turns it over. On the ensuing possession, the Spurs are unable to score and lose by a point, with TNT's Chris Webber saying there should've been a foul.

After Andre Roberson comes up with a steal and passes the ball to Kevin Durant who flies downcourt and throws down a two-handed jam.

Kawhi Leonard drives around two defenders across the baseline and sinks a reverse layup with his left hand.
Regular Season Series
Series tied 2-2
2015-2016 Atlantic Standings