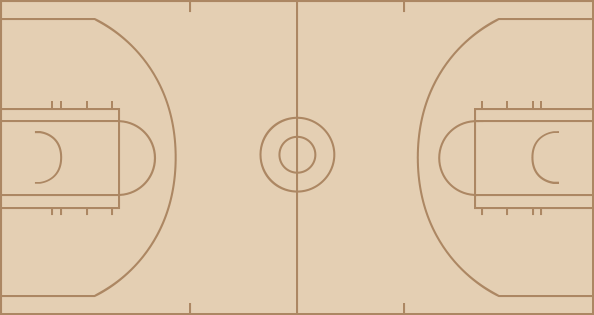 Bucks
time
TEAM
PLAY
SCORE
12:00
Start of the 1st Quarter.
0 - 0
12:00
Jumpball. Ervin Johnson vs. Jason Collins. Kenyon Martin gains possession.
0 - 0
11:41
Jason Collins missed 18 ft Jumper.
0 - 0
11:38
Gary Payton Defensive Rebound.
0 - 0
11:26
Desmond Mason made 20 ft Jumper.
2 - 0
11:07
Kenyon Martin made 9 ft Hook Shot.
2 - 2
10:48
Desmond Mason missed Two Point Shot.
2 - 2
10:47
Kenyon Martin Defensive Rebound.
2 - 2
10:41
Jason Kidd missed 18 ft Jumper.
2 - 2
10:40
Sam Cassell Defensive Rebound.
2 - 2
10:34
Gary Payton made Two Point Shot. Assisted by Sam Cassell.
4 - 2
10:18
Richard Jefferson Lost Ball
4 - 2
10:07
Tim Thomas made 16 ft Jumper. Assisted by Gary Payton.
6 - 2
9:49
Kenyon Martin made 5 ft Hook Shot. Assisted by Jason Kidd.
6 - 4
9:27
Tim Thomas missed 6 ft Jumper.
6 - 4
9:26
Richard Jefferson Defensive Rebound.
6 - 4
9:17
Jason Collins Offensive Foul
6 - 4
9:17
Jason Collins Foul
6 - 4
9:04
Jason Collins Shooting Foul
6 - 4
9:04
Gary Payton missed Free Throw 1 of 2.
6 - 4
9:04
Milwaukee Offensive Rebound.
6 - 4
9:04
Aaron Williams enters the game for Jason Collins.
6 - 4
9:04
Gary Payton made Free Throw 2 of 2.
7 - 4
8:52
Aaron Williams missed 9 ft Two Point Shot.
7 - 4
8:51
Richard Jefferson Offensive Rebound.
7 - 4
8:48
Richard Jefferson Lost Ball. Stolen by Sam Cassell.
7 - 4
8:42
Gary Payton Lost Ball. Stolen by Richard Jefferson.
7 - 4
8:41
Richard Jefferson made Slam Dunk.
7 - 6
8:14
Gary Payton missed 17 ft Jumper.
7 - 6
8:12
Kenyon Martin Defensive Rebound.
7 - 6
8:07
Richard Jefferson Bad Pass. Stolen by Ervin Johnson.
7 - 6
8:03
Sam Cassell Bad Pass. Stolen by Kenyon Martin.
7 - 6
8:00
Ervin Johnson Shooting Foul
7 - 6
8:00
Kenyon Martin missed Free Throw 1 of 2.
7 - 6
8:00
New Jersey Offensive Rebound.
7 - 6
8:00
Kenyon Martin made Free Throw 2 of 2.
7 - 7
7:39
Gary Payton missed 25 ft Three Point Jumper.
7 - 7
7:37
Tim Thomas Offensive Rebound.
7 - 7
7:35
Tim Thomas missed 7 ft Jumper.
7 - 7
7:35
Kerry Kittles Defensive Rebound.
7 - 7
7:26
Kenyon Martin made 6 ft Hook Shot. Assisted by Jason Kidd.
7 - 9
7:13
Sam Cassell made 25 ft Three Point Jumper.
10 - 9
6:54
Jason Kidd made 25 ft Three Point Jumper. Assisted by Kenyon Martin.
10 - 12
6:43
Sam Cassell made 25 ft Three Point Jumper.
13 - 12
6:22
Aaron Williams missed Two Point Shot.
13 - 12
6:20
Ervin Johnson Defensive Rebound.
13 - 12
6:07
Gary Payton missed 15 ft Jumper.
13 - 12
6:07
Kenyon Martin Defensive Rebound.
13 - 12
6:03
Sam Cassell Shooting Foul
13 - 12
6:03
Jason Kidd made Free Throw 1 of 2.
13 - 13
6:03
Jason Kidd made Free Throw 2 of 2.
13 - 14
5:47
Ervin Johnson missed Layup. Blocked by Aaron Williams.
13 - 14
5:45
Jason Kidd Defensive Rebound.
13 - 14
5:37
Tim Thomas Personal Foul
13 - 14
5:37
New Jersey Full Timeout.
13 - 14
5:26
Kerry Kittles missed 25 ft Three Point Jumper.
13 - 14
5:24
Ervin Johnson Defensive Rebound.
13 - 14
5:05
Sam Cassell missed Layup. Blocked by Aaron Williams.
13 - 14
5:05
Kerry Kittles Defensive Rebound.
13 - 14
4:54
Richard Jefferson missed Two Point Shot.
13 - 14
4:54
Desmond Mason Defensive Rebound.
13 - 14
4:33
Kerry Kittles Personal Foul
13 - 14
4:33
Michael Redd enters the game for Desmond Mason.
13 - 14
4:26
Kerry Kittles Shooting Foul
13 - 14
4:26
Gary Payton made Free Throw 1 of 2.
14 - 14
4:26
Lucious Harris enters the game for Kerry Kittles.
14 - 14
4:26
Gary Payton missed Free Throw 2 of 2.
14 - 14
4:26
Kenyon Martin Defensive Rebound.
14 - 14
4:07
Richard Jefferson missed Two Point Shot.
14 - 14
4:05
Tim Thomas Defensive Rebound.
14 - 14
3:49
Michael Redd made 21 ft Jumper. Assisted by Sam Cassell.
16 - 14
3:32
Richard Jefferson made 17 ft Jumper. Assisted by Jason Kidd.
16 - 16
3:18
Gary Payton missed 17 ft Jumper.
16 - 16
3:16
Richard Jefferson Defensive Rebound.
16 - 16
3:15
Tim Thomas Shooting Foul
16 - 16
3:15
Brian Scalabrine enters the game for Richard Jefferson.
16 - 16
3:15
Toni Kukoc enters the game for Tim Thomas.
16 - 16
3:15
Kenyon Martin missed Free Throw 1 of 2.
16 - 16
3:15
New Jersey Offensive Rebound.
16 - 16
3:15
Kenyon Martin made Free Throw 2 of 2.
16 - 17
3:00
Toni Kukoc made 14 ft Jumper. Assisted by Gary Payton.
18 - 17
2:42
Aaron Williams made 7 ft Jumper. Assisted by Brian Scalabrine.
18 - 19
2:18
Toni Kukoc Bad Pass. Stolen by Lucious Harris.
18 - 19
2:15
Kenyon Martin made Two Point Shot. Assisted by Lucious Harris.
18 - 21
2:15
Michael Redd Shooting Foul
18 - 21
2:15
Milwaukee Full Timeout.
18 - 21
2:15
Kenyon Martin made Free Throw 1 of 1.
18 - 22
2:01
Michael Redd made Layup. Assisted by Toni Kukoc.
20 - 22
1:39
Kenyon Martin made Hook Shot.
20 - 24
1:19
Aaron Williams Shooting Foul
20 - 24
1:19
Gary Payton made Free Throw 1 of 2.
21 - 24
1:19
Gary Payton made Free Throw 2 of 2.
22 - 24
1:01
Jason Kidd Bad Pass. Stolen by Michael Redd.
22 - 24
0:57
Gary Payton missed 22 ft Three Point Jumper.
22 - 24
0:56
Brian Scalabrine Defensive Rebound.
22 - 24
0:49
Jason Kidd missed Two Point Shot.
22 - 24
0:48
Lucious Harris Offensive Rebound.
22 - 24
0:41
Kenyon Martin made Slam Dunk. Assisted by Jason Kidd.
22 - 26
0:41
Ervin Johnson Technical Foul
22 - 26
0:41
Marcus Haislip enters the game for Gary Payton.
22 - 26
0:41
Jason Kidd made Technical Free Throw.
22 - 27
0:27
Toni Kukoc made 19 ft Jumper.
24 - 27
0:03
Jason Kidd missed 19 ft Jumper.
24 - 27
0:01
Michael Redd Defensive Rebound.
24 - 27
0:00
End of the 1st Quarter.
24 - 27

time
TEAM
PLAY
SCORE
12:00
Start of the 2nd Quarter.
24 - 27
11:42
Sam Cassell made 22 ft Three Point Jumper. Assisted by Toni Kukoc.
27 - 27
11:22
Richard Jefferson missed 21 ft Jumper.
27 - 27
11:21
Sam Cassell Defensive Rebound.
27 - 27
11:15
Marcus Haislip made Layup. Assisted by Sam Cassell.
29 - 27
11:02
Lucious Harris Offensive Foul
29 - 27
11:02
Lucious Harris Foul
29 - 27
10:44
Sam Cassell made 16 ft Jumper.
31 - 27
10:29
Marcus Haislip Personal Foul
31 - 27
10:17
Richard Jefferson missed Two Point Shot. Blocked by Marcus Haislip.
31 - 27
10:15
New Jersey Offensive Rebound.
31 - 27
10:14
Toni Kukoc Shooting Foul
31 - 27
10:14
Brian Scalabrine made Free Throw 1 of 2.
31 - 28
10:14
Brian Scalabrine made Free Throw 2 of 2.
31 - 29
10:02
Marcus Haislip Offensive Foul
31 - 29
10:02
Marcus Haislip Foul
31 - 29
9:52
Richard Jefferson made Two Point Shot.
31 - 31
9:37
Sam Cassell Lost Ball. Stolen by Anthony Johnson.
31 - 31
9:34
Anthony Johnson made Two Point Shot.
31 - 33
9:25
Anthony Johnson Shooting Foul
31 - 33
9:25
Milwaukee Full Timeout.
31 - 33
9:25
Sam Cassell made Free Throw 1 of 2.
32 - 33
9:25
Sam Cassell missed Free Throw 2 of 2.
32 - 33
9:23
Brian Scalabrine Defensive Rebound.
32 - 33
9:11
Richard Jefferson missed 5 ft Jumper.
32 - 33
9:10
Brian Scalabrine Offensive Rebound.
32 - 33
9:07
New Jersey 20 Sec. Timeout.
32 - 33
9:07
Brian Scalabrine Inbound
32 - 33
8:47
Brian Scalabrine Shooting Foul
32 - 33
8:47
Toni Kukoc missed Free Throw 1 of 2.
32 - 33
8:47
Milwaukee Offensive Rebound.
32 - 33
8:47
Toni Kukoc missed Free Throw 2 of 2.
32 - 33
8:45
Brian Scalabrine Defensive Rebound.
32 - 33
8:33
Richard Jefferson missed Layup. Blocked by Marcus Haislip.
32 - 33
8:32
New Jersey Offensive Rebound.
32 - 33
8:25
Brian Scalabrine Lost Ball. Stolen by Michael Redd.
32 - 33
8:22
Michael Redd made Slam Dunk. Assisted by Toni Kukoc.
34 - 33
8:04
Brian Scalabrine Bad Pass. Stolen by Toni Kukoc.
34 - 33
7:58
Sam Cassell missed 14 ft Jumper.
34 - 33
7:56
Richard Jefferson Defensive Rebound.
34 - 33
7:46
Brian Scalabrine missed 21 ft Jumper.
34 - 33
7:43
Michael Redd Defensive Rebound.
34 - 33
7:35
Marcus Haislip made Dunk. Assisted by Toni Kukoc.
36 - 33
7:26
New Jersey Full Timeout.
36 - 33
7:26
Jason Kidd enters the game for Anthony Johnson.
36 - 33
7:26
Kenyon Martin enters the game for Brian Scalabrine.
36 - 33
7:26
Jason Collins enters the game for Aaron Williams.
36 - 33
7:26
Gary Payton enters the game for Sam Cassell.
36 - 33
7:18
Lucious Harris missed Jumper.
36 - 33
7:16
Gary Payton Defensive Rebound.
36 - 33
7:11
Marcus Haislip Lost Ball. Stolen by Jason Collins.
36 - 33
6:52
Kenyon Martin missed Layup.
36 - 33
6:50
Lucious Harris Offensive Rebound.
36 - 33
6:48
Lucious Harris missed 17 ft Jumper.
36 - 33
6:46
Desmond Mason Defensive Rebound.
36 - 33
6:39
Toni Kukoc missed 24 ft Three Point Jumper.
36 - 33
6:37
Richard Jefferson Defensive Rebound.
36 - 33
6:31
Jason Kidd made Two Point Shot.
36 - 35
6:16
Michael Redd made 25 ft Three Point Jumper. Assisted by Toni Kukoc.
39 - 35
5:54
Gary Payton Shooting Foul
39 - 35
5:54
Tim Thomas enters the game for Toni Kukoc.
39 - 35
5:54
Kerry Kittles enters the game for Lucious Harris.
39 - 35
5:54
Jason Collins made Free Throw 1 of 2.
39 - 36
5:54
Jason Collins missed Free Throw 2 of 2.
39 - 36
5:54
Marcus Haislip Defensive Rebound.
39 - 36
5:35
Michael Redd missed 24 ft Three Point Jumper.
39 - 36
5:33
Desmond Mason Offensive Rebound.
39 - 36
5:31
Desmond Mason missed Dunk.
39 - 36
5:30
Kenyon Martin Defensive Rebound.
39 - 36
5:26
Kerry Kittles made 22 ft Jumper. Assisted by Jason Kidd.
39 - 38
5:07
Marcus Haislip missed 25 ft Three Point Jumper.
39 - 38
5:05
Milwaukee Defensive Rebound.
39 - 38
4:48
Kerry Kittles missed 8 ft Two Point Shot.
39 - 38
4:48
Jason Collins Offensive Rebound.
39 - 38
4:45
Jason Collins missed Tip Shot.
39 - 38
4:43
Kenyon Martin Offensive Rebound.
39 - 38
4:43
Kenyon Martin made Slam Dunk.
39 - 40
4:33
Richard Jefferson Personal Foul
39 - 40
4:33
Ervin Johnson enters the game for Marcus Haislip.
39 - 40
4:26
Desmond Mason missed Dunk. Blocked by Richard Jefferson.
39 - 40
4:24
Jason Kidd Defensive Rebound.
39 - 40
4:20
Jason Kidd Offensive Foul
39 - 40
4:20
Jason Kidd Foul
39 - 40
4:00
Richard Jefferson Shooting Foul
39 - 40
4:00
Desmond Mason made Free Throw 1 of 2.
40 - 40
4:00
Desmond Mason missed Free Throw 2 of 2.
40 - 40
4:00
Desmond Mason Offensive Rebound.
40 - 40
4:00
Jason Collins Personal Foul
40 - 40
4:00
Desmond Mason made Free Throw 1 of 2.
41 - 40
4:00
Aaron Williams enters the game for Jason Collins.
41 - 40
4:00
Desmond Mason made Free Throw 2 of 2.
42 - 40
3:45
Kenyon Martin Bad Pass
42 - 40
3:26
Gary Payton made 4 ft Two Point Shot. Assisted by Tim Thomas.
44 - 40
3:26
Kenyon Martin Shooting Foul
44 - 40
3:26
Gary Payton made Free Throw 1 of 1.
45 - 40
3:13
Michael Redd Illegal Defense Foul
45 - 40
3:13
Jason Kidd made Technical Free Throw.
45 - 41
3:03
Kenyon Martin Bad Pass. Stolen by Michael Redd.
45 - 41
2:57
Desmond Mason made 21 ft Jumper. Assisted by Michael Redd.
47 - 41
2:38
Tim Thomas Personal Foul
47 - 41
2:38
Official Timeout.
47 - 41
2:38
Toni Kukoc enters the game for Tim Thomas.
47 - 41
2:27
Kenyon Martin made 16 ft Jumper.
47 - 43
2:06
Desmond Mason missed Layup.
47 - 43
2:05
Kenyon Martin Defensive Rebound.
47 - 43
2:01
Richard Jefferson made Two Point Shot. Assisted by Jason Kidd.
47 - 45
1:39
Desmond Mason missed 25 ft Three Point Jumper.
47 - 45
1:38
Milwaukee Defensive Rebound.
47 - 45
1:38
Sam Cassell enters the game for Michael Redd.
47 - 45
1:27
Kerry Kittles made Two Point Shot. Assisted by Aaron Williams.
47 - 47
1:07
Gary Payton made 16 ft Two Point Shot.
49 - 47
0:40
Kerry Kittles missed 20 ft Jumper.
49 - 47
0:38
Kenyon Martin Offensive Rebound.
49 - 47
0:35
Kenyon Martin Bad Pass. Stolen by Toni Kukoc.
49 - 47
0:30
Desmond Mason made 16 ft Jumper. Assisted by Toni Kukoc.
51 - 47
0:14
Aaron Williams Traveling
51 - 47
0:14
Marcus Haislip enters the game for Ervin Johnson.
51 - 47
0:14
Michael Redd enters the game for Desmond Mason.
51 - 47
0:14
Anthony Johnson enters the game for Aaron Williams.
51 - 47
0:01
Sam Cassell made 24 ft Three Point Jumper. Assisted by Gary Payton.
54 - 47
0:00
End of the 2nd Quarter.
54 - 47

time
TEAM
PLAY
SCORE
12:00
Start of the 3rd Quarter.
54 - 47
11:44
Tim Thomas missed 23 ft Three Point Jumper.
54 - 47
11:41
Desmond Mason Offensive Rebound.
54 - 47
11:37
Gary Payton made 22 ft Jumper.
56 - 47
11:37
Defensive Goaltending
56 - 47
11:22
Sam Cassell Personal Foul
56 - 47
11:15
Jason Kidd missed 17 ft Jumper.
56 - 47
11:14
Richard Jefferson Offensive Rebound.
56 - 47
11:03
Desmond Mason Shooting Foul
56 - 47
11:03
Jason Collins missed Free Throw 1 of 2.
56 - 47
11:03
New Jersey Offensive Rebound.
56 - 47
11:03
Jason Collins made Free Throw 2 of 2.
56 - 48
10:52
Sam Cassell missed 16 ft Jumper.
56 - 48
10:52
Tim Thomas Offensive Rebound.
56 - 48
10:41
Tim Thomas missed Two Point Shot. Blocked by Kenyon Martin.
56 - 48
10:40
Jason Kidd Defensive Rebound.
56 - 48
10:34
Jason Collins made Two Point Shot. Assisted by Jason Kidd.
56 - 50
10:18
Desmond Mason Lost Ball. Stolen by Jason Kidd.
56 - 50
10:10
Kerry Kittles made 23 ft Three Point Jumper. Assisted by Jason Kidd.
56 - 53
9:38
24 second
56 - 53
9:19
Kenyon Martin Lost Ball. Stolen by Desmond Mason.
56 - 53
9:18
Richard Jefferson Personal Foul
56 - 53
9:08
Gary Payton missed 25 ft Three Point Jumper.
56 - 53
9:07
Jason Collins Defensive Rebound.
56 - 53
8:56
Kenyon Martin made Two Point Shot. Assisted by Kerry Kittles.
56 - 55
8:41
Gary Payton made 17 ft Jumper. Assisted by Sam Cassell.
58 - 55
8:26
Jason Collins missed 18 ft Jumper.
58 - 55
8:23
Richard Jefferson Offensive Rebound.
58 - 55
8:21
Kerry Kittles missed 24 ft Three Point Jumper.
58 - 55
8:18
Jason Collins Offensive Rebound.
58 - 55
8:15
Tim Thomas Shooting Foul
58 - 55
8:15
Jason Kidd made Free Throw 1 of 3.
58 - 56
8:15
Toni Kukoc enters the game for Tim Thomas.
58 - 56
8:15
Jason Kidd made Free Throw 2 of 3.
58 - 57
8:15
Jason Kidd made Free Throw 3 of 3.
58 - 58
7:58
Sam Cassell made Two Point Shot. Assisted by Toni Kukoc.
60 - 58
7:41
Kenyon Martin missed Two Point Shot.
60 - 58
7:39
Desmond Mason Defensive Rebound.
60 - 58
7:22
Desmond Mason missed 7 ft Jumper.
60 - 58
7:22
Jason Kidd Defensive Rebound.
60 - 58
7:07
Kenyon Martin Lost Ball
60 - 58
6:56
Sam Cassell missed 15 ft Jumper.
60 - 58
6:54
Ervin Johnson Offensive Rebound.
60 - 58
6:35
Gary Payton missed 23 ft Three Point Jumper.
60 - 58
6:33
Ervin Johnson Offensive Rebound.
60 - 58
6:28
Gary Payton missed 18 ft Jumper.
60 - 58
6:28
Desmond Mason Offensive Rebound.
60 - 58
6:24
Desmond Mason made Two Point Shot.
62 - 58
6:09
Kenyon Martin Lost Ball. Stolen by Toni Kukoc.
62 - 58
6:07
Kenyon Martin Personal Foul
62 - 58
5:52
Toni Kukoc missed Layup.
62 - 58
5:50
Jason Collins Defensive Rebound.
62 - 58
5:43
Richard Jefferson missed 16 ft Jumper.
62 - 58
5:41
Sam Cassell Defensive Rebound.
62 - 58
5:37
Sam Cassell missed 25 ft Three Point Jumper.
62 - 58
5:35
Jason Kidd Defensive Rebound.
62 - 58
5:26
Richard Jefferson Bad Pass. Stolen by Gary Payton.
62 - 58
5:16
Desmond Mason missed 22 ft Jumper.
62 - 58
5:16
Jason Collins Defensive Rebound.
62 - 58
4:56
Desmond Mason Shooting Foul
62 - 58
4:56
New Jersey Full Timeout.
62 - 58
4:56
Michael Redd enters the game for Sam Cassell.
62 - 58
4:56
Kenyon Martin made Free Throw 1 of 2.
62 - 59
4:56
Kenyon Martin made Free Throw 2 of 2.
62 - 60
4:48
Ervin Johnson missed Layup. Blocked by Jason Kidd.
62 - 60
4:46
Milwaukee Offensive Rebound.
62 - 60
4:43
Michael Redd missed Layup.
62 - 60
4:43
Jason Collins Defensive Rebound.
62 - 60
4:35
Kenyon Martin missed 4 ft Hook Shot.
62 - 60
4:33
Ervin Johnson Defensive Rebound.
62 - 60
4:33
Kenyon Martin Technical Foul
62 - 60
4:33
Michael Redd made Technical Free Throw.
63 - 60
4:16
Michael Redd missed Three Point Jumper.
63 - 60
4:16
Kenyon Martin Defensive Rebound.
63 - 60
4:09
Kerry Kittles made 18 ft Jumper. Assisted by Jason Kidd.
63 - 62
3:50
Desmond Mason made Layup. Assisted by Michael Redd.
65 - 62
3:28
Ervin Johnson Shooting Foul
65 - 62
3:28
Marcus Haislip enters the game for Ervin Johnson.
65 - 62
3:28
Kenyon Martin made Free Throw 1 of 2.
65 - 63
3:28
Kenyon Martin made Free Throw 2 of 2.
65 - 64
3:02
Michael Redd missed 25 ft Three Point Jumper.
65 - 64
3:00
Milwaukee Defensive Rebound.
65 - 64
2:43
Kerry Kittles missed 25 ft Three Point Jumper.
65 - 64
2:41
Richard Jefferson Offensive Rebound.
65 - 64
2:40
Richard Jefferson made Layup.
65 - 66
2:26
Toni Kukoc missed 25 ft Three Point Jumper.
65 - 66
2:24
Jason Kidd Defensive Rebound.
65 - 66
2:14
Kenyon Martin missed 8 ft Hook Shot. Blocked by Marcus Haislip.
65 - 66
2:13
Jason Collins Offensive Rebound.
65 - 66
2:12
Kerry Kittles missed Layup.
65 - 66
2:11
Jason Collins Offensive Rebound.
65 - 66
2:10
Jason Collins made Layup.
65 - 68
2:10
Toni Kukoc Shooting Foul
65 - 68
2:10
Milwaukee Full Timeout.
65 - 68
2:10
Lucious Harris enters the game for Kerry Kittles.
65 - 68
2:10
Jason Collins made Free Throw 1 of 1.
65 - 69
1:47
Desmond Mason made 22 ft Jumper. Assisted by Michael Redd.
67 - 69
1:24
Kenyon Martin missed 9 ft Jumper.
67 - 69
1:23
Desmond Mason Defensive Rebound.
67 - 69
1:19
Gary Payton missed 17 ft Jumper.
67 - 69
1:16
Richard Jefferson Defensive Rebound.
67 - 69
1:13
Jason Collins Offensive Foul
67 - 69
1:13
Jason Collins Foul
67 - 69
1:13
Tim Thomas enters the game for Desmond Mason.
67 - 69
1:13
Aaron Williams enters the game for Jason Collins.
67 - 69
1:00
Jason Kidd Shooting Foul
67 - 69
1:00
Toni Kukoc made Free Throw 1 of 2.
68 - 69
1:00
Toni Kukoc made Free Throw 2 of 2.
69 - 69
0:51
Lucious Harris made 24 ft Jumper. Assisted by Richard Jefferson.
69 - 71
0:32
Marcus Haislip made Slam Dunk. Assisted by Toni Kukoc.
71 - 71
0:15
Lucious Harris Lost Ball. Stolen by Michael Redd.
71 - 71
0:03
Gary Payton made Two Point Shot.
73 - 71
0:01
Jason Kidd made Layup. Assisted by Kenyon Martin.
73 - 73
0:00
End of the 3rd Quarter.
73 - 73

time
TEAM
PLAY
SCORE
12:00
Start of the 4th Quarter.
73 - 73
11:42
Kenyon Martin Lost Ball. Stolen by Gary Payton.
73 - 73
11:22
Tim Thomas missed 19 ft Jumper.
73 - 73
11:22
Kenyon Martin Defensive Rebound.
73 - 73
11:11
Lucious Harris missed 15 ft Jumper.
73 - 73
11:11
Tim Thomas Defensive Rebound.
73 - 73
11:03
Toni Kukoc made 18 ft Jumper. Assisted by Gary Payton.
75 - 73
10:40
Kenyon Martin missed 18 ft Jumper.
75 - 73
10:37
Tim Thomas Defensive Rebound.
75 - 73
10:30
Marcus Haislip made 16 ft Jumper. Assisted by Gary Payton.
77 - 73
10:11
Lucious Harris missed 21 ft Jumper.
77 - 73
10:08
Toni Kukoc Defensive Rebound.
77 - 73
10:02
Tim Thomas missed 17 ft Jumper.
77 - 73
10:00
Kenyon Martin Defensive Rebound.
77 - 73
9:45
Marcus Haislip Personal Foul
77 - 73
9:45
Sam Cassell enters the game for Gary Payton.
77 - 73
9:32
Kenyon Martin missed 20 ft Jumper.
77 - 73
9:30
Jason Kidd Offensive Rebound.
77 - 73
9:25
Richard Jefferson missed Layup. Blocked by Sam Cassell.
77 - 73
9:23
Sam Cassell Defensive Rebound.
77 - 73
9:22
Michael Redd made Dunk. Assisted by Sam Cassell.
79 - 73
9:18
New Jersey Full Timeout.
79 - 73
9:03
Aaron Williams missed 5 ft Two Point Shot.
79 - 73
9:02
Richard Jefferson Offensive Rebound.
79 - 73
9:00
Richard Jefferson made Tip Shot.
79 - 75
8:47
Aaron Williams Shooting Foul
79 - 75
8:47
Kerry Kittles enters the game for Jason Kidd.
79 - 75
8:47
Marcus Haislip made Free Throw 1 of 2.
80 - 75
8:47
Marcus Haislip made Free Throw 2 of 2.
81 - 75
8:34
Lucious Harris Lost Ball. Stolen by Sam Cassell.
81 - 75
8:30
Marcus Haislip made Dunk. Assisted by Toni Kukoc.
83 - 75
8:06
Lucious Harris missed 20 ft Jumper.
83 - 75
8:03
Tim Thomas Defensive Rebound.
83 - 75
7:50
Aaron Williams Personal Foul
83 - 75
7:50
Jason Collins enters the game for Aaron Williams.
83 - 75
7:48
Sam Cassell made 24 ft Three Point Jumper. Assisted by Marcus Haislip.
86 - 75
7:26
Kenyon Martin missed 16 ft Jumper.
85 - 75
7:24
Toni Kukoc Defensive Rebound.
85 - 75
7:18
Kenyon Martin Shooting Foul
85 - 75
7:18
Jason Kidd enters the game for Lucious Harris.
85 - 75
7:18
Tim Thomas made Free Throw 1 of 2.
86 - 75
7:18
Tim Thomas made Free Throw 2 of 2.
87 - 75
7:07
Toni Kukoc Shooting Foul
87 - 75
7:07
Kenyon Martin missed Free Throw 1 of 2.
87 - 75
7:07
New Jersey Offensive Rebound.
87 - 75
7:07
Kenyon Martin made Free Throw 2 of 2.
87 - 76
6:50
Sam Cassell missed 17 ft Two Point Shot.
87 - 76
6:48
Michael Redd Offensive Rebound.
87 - 76
6:35
Tim Thomas Offensive Foul
87 - 76
6:35
Tim Thomas Foul
87 - 76
6:24
Jason Kidd Lost Ball. Stolen by Sam Cassell.
87 - 76
6:18
Tim Thomas missed 24 ft Three Point Jumper.
87 - 76
6:16
Jason Kidd Defensive Rebound.
87 - 76
6:11
Kerry Kittles made Layup.
87 - 78
5:52
Michael Redd made 22 ft Jumper. Assisted by Toni Kukoc.
89 - 78
5:39
Jason Kidd missed 18 ft Jumper.
89 - 78
5:37
Sam Cassell Defensive Rebound.
89 - 78
5:31
Sam Cassell made Two Point Shot.
91 - 78
5:30
New Jersey 20 Sec. Timeout.
91 - 78
5:30
Official Timeout.
91 - 78
5:30
Desmond Mason enters the game for Tim Thomas.
91 - 78
5:20
Kenyon Martin missed Layup.
91 - 78
5:18
Kenyon Martin Offensive Rebound.
91 - 78
5:16
Kenyon Martin made Layup.
91 - 80
4:50
Desmond Mason made 20 ft Jumper. Assisted by Michael Redd.
93 - 80
4:35
Jason Kidd Bad Pass. Stolen by Sam Cassell.
93 - 80
4:33
Kenyon Martin Loose Ball Foul
93 - 80
4:18
Marcus Haislip missed 21 ft Jumper.
93 - 80
4:16
Richard Jefferson Defensive Rebound.
93 - 80
4:03
Marcus Haislip Shooting Foul
93 - 80
4:03
Richard Jefferson made Free Throw 1 of 2.
93 - 81
4:03
Gary Payton enters the game for Marcus Haislip.
93 - 81
4:03
Richard Jefferson made Free Throw 2 of 2.
93 - 82
3:43
Gary Payton made Two Point Shot.
95 - 82
3:24
Jason Kidd Bad Pass
95 - 82
3:24
Lucious Harris enters the game for Jason Collins.
95 - 82
3:08
Gary Payton made Two Point Shot.
97 - 82
2:54
Kerry Kittles Bad Pass. Stolen by Gary Payton.
97 - 82
2:50
Toni Kukoc Bad Pass. Stolen by Richard Jefferson.
97 - 82
2:47
Kerry Kittles missed 8 ft Two Point Shot.
97 - 82
2:45
Kenyon Martin Offensive Rebound.
97 - 82
2:44
Kenyon Martin missed Tip Shot.
97 - 82
2:43
Desmond Mason Defensive Rebound.
97 - 82
2:27
Toni Kukoc missed 24 ft Three Point Jumper.
97 - 82
2:25
Richard Jefferson Defensive Rebound.
97 - 82
2:12
Jason Kidd made 24 ft Three Point Jumper. Assisted by Lucious Harris.
97 - 85
1:47
Desmond Mason missed Two Point Shot. Blocked by Richard Jefferson.
97 - 85
1:45
Kenyon Martin Defensive Rebound.
97 - 85
1:42
Jason Kidd missed 25 ft Three Point Jumper.
97 - 85
1:39
Toni Kukoc Defensive Rebound.
97 - 85
1:16
Sam Cassell missed 19 ft Two Point Shot.
97 - 85
1:15
Jason Kidd Defensive Rebound.
97 - 85
1:10
Desmond Mason Personal Foul
97 - 85
1:10
Milwaukee Full Timeout.
97 - 85
1:10
Tim Thomas enters the game for Toni Kukoc.
97 - 85
1:07
Kenyon Martin missed 10 ft Two Point Shot.
97 - 85
1:07
Michael Redd Defensive Rebound.
97 - 85
1:05
Richard Jefferson Personal Foul
97 - 85
1:05
Anthony Johnson enters the game for Jason Kidd.
97 - 85
1:05
Brian Scalabrine enters the game for Kenyon Martin.
97 - 85
1:05
Donny Marshall enters the game for Richard Jefferson.
97 - 85
1:05
Michael Redd made Free Throw 1 of 2.
98 - 85
1:05
Brandon Armstrong enters the game for Kerry Kittles.
98 - 85
1:05
Michael Redd made Free Throw 2 of 2.
99 - 85
0:55
Lucious Harris missed 18 ft Jumper. Blocked by Tim Thomas.
99 - 85
0:54
Michael Redd Defensive Rebound.
99 - 85
0:53
Brandon Armstrong Personal Foul
99 - 85
0:53
Michael Redd made Free Throw 1 of 2.
100 - 85
0:53
Marcus Haislip enters the game for Sam Cassell.
99 - 85
0:53
Michael Redd made Free Throw 2 of 2.
100 - 85
0:38
Brandon Armstrong Offensive Foul
100 - 85
0:38
Brandon Armstrong Foul
100 - 85
0:16
Gary Payton made 16 ft Jumper.
102 - 85
0:06
Donny Marshall missed 16 ft Jumper.
102 - 85
0:04
Desmond Mason Defensive Rebound.
102 - 85
0:00
End of the 4th Quarter.
102 - 85
0:00
End Game
102 - 85
The Phoenix Suns selected Greek center Georgios Papagiannis with the No. 13 overall pick of the 2016 NBA draft on Thursday night.

The Milwaukee Bucks select Aussie Thon Maker with the No. 10 pick in the NBA draft.

Amin Elhassan and Myron Medcalf break down Marquese Chriss being traded to the Suns.
Playoff Series
NJ wins series 4-2