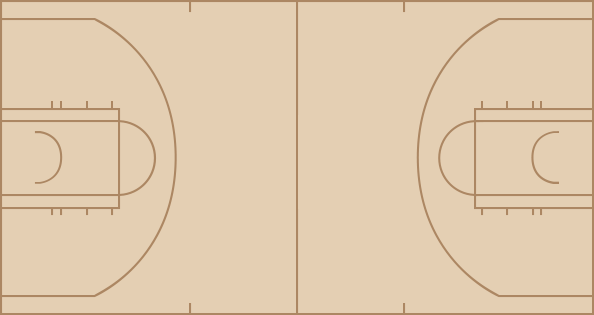 76ers
time
TEAM
PLAY
SCORE
12:00
Start of the 1st Quarter.
0 - 0
12:00
Jumpball. Keith Van Horn vs. Ben Wallace. Chauncey Billups gains possession.
0 - 0
11:47
Clifford Robinson made 6 ft Two Point Shot.
0 - 2
11:30
Allen Iverson made 21 ft Jumper. Assisted by Keith Van Horn.
2 - 2
11:04
Richard Hamilton made 13 ft Two Point Shot. Assisted by Michael Curry.
2 - 4
10:45
Derrick Coleman missed 17 ft Jumper.
2 - 4
10:42
Clifford Robinson Defensive Rebound.
2 - 4
10:36
Chauncey Billups made 9 ft Jumper.
2 - 6
10:15
Keith Van Horn missed 16 ft Jumper.
2 - 6
10:14
Derrick Coleman Offensive Rebound.
2 - 6
10:11
Derrick Coleman made Layup.
4 - 6
9:53
Ben Wallace made Two Point Shot. Assisted by Richard Hamilton.
4 - 8
9:38
Derrick Coleman missed Layup. Blocked by Ben Wallace.
4 - 8
9:37
Derrick Coleman Offensive Rebound.
4 - 8
9:36
Derrick Coleman made Tip Shot.
6 - 8
9:12
Clifford Robinson missed 25 ft Three Point Jumper.
6 - 8
9:11
Keith Van Horn Defensive Rebound.
6 - 8
9:03
Michael Curry Shooting Foul
6 - 8
9:03
Keith Van Horn made Free Throw 1 of 2.
7 - 8
9:03
Keith Van Horn missed Free Throw 2 of 2.
7 - 8
9:03
Clifford Robinson Defensive Rebound.
7 - 8
8:41
Richard Hamilton missed 15 ft Jumper.
7 - 8
8:40
Ben Wallace Offensive Rebound.
7 - 8
8:36
Ben Wallace missed Layup.
7 - 8
8:34
Keith Van Horn Defensive Rebound.
7 - 8
8:27
Allen Iverson missed Layup. Blocked by Ben Wallace.
7 - 8
8:26
Ben Wallace Defensive Rebound.
7 - 8
8:22
Keith Van Horn Shooting Foul
7 - 8
8:22
Michael Curry made Free Throw 1 of 2.
7 - 9
8:22
Michael Curry made Free Throw 2 of 2.
7 - 10
8:08
Ben Wallace Shooting Foul
7 - 10
8:08
Tyrone Hill missed Free Throw 1 of 2.
7 - 10
8:08
Philadelphia Offensive Rebound.
7 - 10
8:08
Tyrone Hill missed Free Throw 2 of 2.
7 - 10
8:08
Chauncey Billups Defensive Rebound.
7 - 10
7:50
Clifford Robinson missed Jumper.
7 - 10
7:48
Derrick Coleman Defensive Rebound.
7 - 10
7:37
Keith Van Horn missed 24 ft Three Point Jumper.
7 - 10
7:35
Chauncey Billups Defensive Rebound.
7 - 10
7:31
Richard Hamilton missed 16 ft Jumper.
7 - 10
7:28
Derrick Coleman Defensive Rebound.
7 - 10
7:20
Allen Iverson missed 18 ft Jumper.
7 - 10
7:18
Chauncey Billups Defensive Rebound.
7 - 10
7:11
Chauncey Billups made 26 ft Three Point Jumper.
7 - 13
6:48
Eric Snow made Two Point Shot.
9 - 13
6:31
Clifford Robinson Bad Pass. Stolen by Derrick Coleman.
9 - 13
6:26
Derrick Coleman Bad Pass. Stolen by Ben Wallace.
9 - 13
6:22
Richard Hamilton missed Layup. Blocked by Derrick Coleman.
9 - 13
6:18
Keith Van Horn Defensive Rebound.
9 - 13
6:15
Allen Iverson made 18 ft Jumper.
11 - 13
6:07
Detroit Full Timeout.
11 - 13
5:48
Richard Hamilton missed 9 ft Jumper.
11 - 13
5:46
Richard Hamilton Offensive Rebound.
11 - 13
5:30
Michael Curry missed 17 ft Jumper.
11 - 13
5:28
Ben Wallace Offensive Rebound.
11 - 13
5:28
Eric Snow Shooting Foul
11 - 13
5:28
Ben Wallace made Free Throw 1 of 2.
11 - 14
5:28
Ben Wallace missed Free Throw 2 of 2.
11 - 14
5:28
Keith Van Horn Defensive Rebound.
11 - 14
5:11
Allen Iverson missed Layup.
11 - 14
5:11
Ben Wallace Defensive Rebound.
11 - 14
5:07
Tyrone Hill Personal Foul
11 - 14
5:01
Chauncey Billups made Two Point Shot.
11 - 16
5:01
Allen Iverson Shooting Foul
11 - 16
5:01
Chauncey Billups made Free Throw 1 of 1.
11 - 17
4:41
Derrick Coleman Lost Ball. Stolen by Ben Wallace.
11 - 17
4:35
Chauncey Billups made 27 ft Three Point Jumper. Assisted by Ben Wallace.
11 - 20
4:16
Keith Van Horn made Two Point Shot.
13 - 20
4:03
Ben Wallace Bad Pass. Stolen by Allen Iverson.
13 - 20
4:00
Derrick Coleman Bad Pass. Stolen by Richard Hamilton.
13 - 20
3:56
Richard Hamilton made 17 ft Jumper.
13 - 22
3:36
Eric Snow missed 16 ft Jumper.
13 - 22
3:35
Ben Wallace Defensive Rebound.
13 - 22
3:29
Aaron McKie enters the game for Eric Snow.
13 - 22
3:29
Kenny Thomas enters the game for Tyrone Hill.
13 - 22
3:12
Michael Curry missed 9 ft Jumper.
13 - 22
3:10
Richard Hamilton Offensive Rebound.
13 - 22
3:09
Richard Hamilton missed Tip Shot.
13 - 22
3:05
Derrick Coleman Defensive Rebound.
13 - 22
2:57
Keith Van Horn missed Layup. Blocked by Ben Wallace.
13 - 22
2:54
Ben Wallace Defensive Rebound.
13 - 22
2:50
Kenny Thomas Shooting Foul
13 - 22
2:50
Philadelphia Full Timeout.
13 - 22
2:50
Greg Buckner enters the game for Keith Van Horn.
13 - 22
2:50
Corliss Williamson enters the game for Michael Curry.
13 - 22
2:50
Chauncey Billups made Free Throw 1 of 2.
13 - 23
2:50
Chauncey Billups made Free Throw 2 of 2.
13 - 24
2:35
Greg Buckner missed 9 ft Hook Shot.
13 - 24
2:33
Derrick Coleman Offensive Rebound.
13 - 24
2:33
Corliss Williamson Shooting Foul
13 - 24
2:33
Derrick Coleman missed Free Throw 1 of 2.
13 - 24
2:33
Philadelphia Offensive Rebound.
13 - 24
2:33
Derrick Coleman made Free Throw 2 of 2.
14 - 24
2:15
Corliss Williamson made 12 ft Two Point Shot.
14 - 26
2:00
Kenny Thomas made 14 ft Jumper. Assisted by Allen Iverson.
16 - 26
1:47
Clifford Robinson Offensive Foul
16 - 26
1:47
Clifford Robinson Foul
16 - 26
1:47
Mehmet Okur enters the game for Clifford Robinson.
16 - 26
1:34
Greg Buckner missed 7 ft Jumper.
16 - 26
1:31
Ben Wallace Defensive Rebound.
16 - 26
1:27
Chauncey Billups made 27 ft Three Point Jumper.
16 - 29
1:08
Allen Iverson missed Layup.
16 - 29
1:07
Ben Wallace Defensive Rebound.
16 - 29
1:04
Mehmet Okur Traveling
16 - 29
0:53
Aaron McKie made Layup. Assisted by Allen Iverson.
18 - 29
0:30
Corliss Williamson missed Hook Shot. Blocked by Derrick Coleman.
18 - 29
0:27
Mehmet Okur Offensive Rebound.
18 - 29
0:07
Chauncey Billups missed 15 ft Jumper.
18 - 29
0:05
Richard Hamilton Offensive Rebound.
18 - 29
0:03
Richard Hamilton missed 15 ft Jumper.
18 - 29
0:01
Ben Wallace Offensive Rebound.
18 - 29
0:00
Ben Wallace missed 11 ft Jumper.
18 - 29
0:00
Detroit Offensive Rebound.
18 - 29
0:00
End of the 1st Quarter.
18 - 29

time
TEAM
PLAY
SCORE
12:00
Start of the 2nd Quarter.
18 - 29
11:45
Derrick Coleman made 15 ft Jumper. Assisted by Allen Iverson.
20 - 29
11:29
Corliss Williamson missed 6 ft Hook Shot. Blocked by Kenny Thomas.
20 - 29
11:26
Aaron McKie Defensive Rebound.
20 - 29
11:18
Derrick Coleman missed 27 ft Three Point Jumper.
20 - 29
11:17
Chauncey Billups Defensive Rebound.
20 - 29
11:12
Chauncey Billups missed 28 ft Three Point Jumper.
20 - 29
11:11
Kenny Thomas Defensive Rebound.
20 - 29
11:07
Mehmet Okur Shooting Foul
20 - 29
11:07
Chucky Atkins enters the game for Chauncey Billups.
20 - 29
11:07
Monty Williams made Free Throw 1 of 2.
21 - 29
11:07
Monty Williams made Free Throw 2 of 2.
22 - 29
10:52
Mehmet Okur made Layup.
22 - 31
10:25
Derrick Coleman made 12 ft Two Point Shot.
24 - 31
10:00
Mehmet Okur made 14 ft Two Point Shot. Assisted by Jon Barry.
24 - 33
9:33
Monty Williams missed Layup. Blocked by Ben Wallace.
24 - 33
9:33
Philadelphia Offensive Rebound.
24 - 33
9:32
Corliss Williamson Personal Foul
24 - 33
9:23
Aaron McKie missed 15 ft Jumper.
24 - 33
9:22
Ben Wallace Defensive Rebound.
24 - 33
9:10
Corliss Williamson made Hook Shot. Assisted by Mehmet Okur.
24 - 35
8:55
Aaron McKie missed Layup.
24 - 35
8:52
Ben Wallace Defensive Rebound.
24 - 35
8:48
Corliss Williamson missed Two Point Shot.
24 - 35
8:44
Derrick Coleman Defensive Rebound.
24 - 35
8:41
Kenny Thomas missed Layup. Blocked by Ben Wallace.
24 - 35
8:37
Aaron McKie Offensive Rebound.
24 - 35
8:36
Aaron McKie Lost Ball. Stolen by Corliss Williamson.
24 - 35
8:33
Derrick Coleman Shooting Foul
24 - 35
8:33
Official Timeout.
24 - 35
8:33
Keith Van Horn enters the game for Monty Williams.
24 - 35
8:33
Eric Snow enters the game for Allen Iverson.
24 - 35
8:33
Brian Skinner enters the game for Derrick Coleman.
24 - 35
8:33
Ben Wallace missed Free Throw 1 of 2.
24 - 35
8:33
Detroit Offensive Rebound.
24 - 35
8:33
Ben Wallace made Free Throw 2 of 2.
24 - 36
8:19
Kenny Thomas Traveling
24 - 36
8:04
Corliss Williamson missed Layup.
24 - 36
8:03
Kenny Thomas Defensive Rebound.
24 - 36
7:47
Aaron McKie Lost Ball. Stolen by Chucky Atkins.
24 - 36
7:41
Jon Barry missed 26 ft Three Point Jumper.
24 - 36
7:39
Aaron McKie Defensive Rebound.
24 - 36
7:35
Aaron McKie Traveling
24 - 36
7:18
Aaron McKie Personal Foul
24 - 36
7:18
Clifford Robinson enters the game for Ben Wallace.
24 - 36
7:05
Chucky Atkins made 23 ft Three Point Jumper. Assisted by Mehmet Okur.
24 - 39
6:54
Keith Van Horn missed 19 ft Jumper.
24 - 39
6:52
Aaron McKie Offensive Rebound.
24 - 39
6:45
Keith Van Horn missed 12 ft Jumper.
24 - 39
6:43
Keith Van Horn Offensive Rebound.
24 - 39
6:39
Keith Van Horn made Layup.
26 - 39
6:20
Mehmet Okur missed 11 ft Jumper.
26 - 39
6:18
Kenny Thomas Defensive Rebound.
26 - 39
6:11
Keith Van Horn Bad Pass. Stolen by Corliss Williamson.
26 - 39
6:07
Chucky Atkins made 17 ft Jumper.
26 - 41
5:56
Philadelphia Full Timeout.
26 - 41
5:56
Allen Iverson enters the game for Aaron McKie.
26 - 41
5:50
Allen Iverson missed 18 ft Jumper.
26 - 41
5:48
Philadelphia Defensive Rebound.
26 - 41
5:37
Chucky Atkins made 26 ft Three Point Jumper.
26 - 44
5:18
Eric Snow made 12 ft Two Point Shot.
28 - 44
5:01
Clifford Robinson Bad Pass. Stolen by Eric Snow.
28 - 44
4:56
Jon Barry Shooting Foul
28 - 44
4:56
Derrick Coleman enters the game for Kenny Thomas.
28 - 44
4:56
Eric Snow made Free Throw 1 of 2.
29 - 44
4:56
Eric Snow made Free Throw 2 of 2.
30 - 44
4:37
Clifford Robinson made 26 ft Three Point Jumper. Assisted by Jon Barry.
30 - 47
4:22
Allen Iverson Bad Pass. Stolen by Jon Barry.
30 - 47
4:18
Jon Barry made Layup.
30 - 49
4:18
Defensive Goaltending
30 - 49
4:05
Derrick Coleman Bad Pass. Stolen by Jon Barry.
30 - 49
4:01
Chucky Atkins missed 28 ft Three Point Jumper.
30 - 49
3:59
Brian Skinner Defensive Rebound.
30 - 49
3:51
Brian Skinner missed Dunk.
30 - 49
3:48
Keith Van Horn Offensive Rebound.
30 - 49
3:43
Allen Iverson missed 23 ft Three Point Jumper.
30 - 49
3:41
Mehmet Okur Defensive Rebound.
30 - 49
3:27
Chucky Atkins made Two Point Shot.
30 - 51
3:16
Philadelphia 20 Sec. Timeout.
30 - 51
3:16
Tyrone Hill enters the game for Brian Skinner.
30 - 51
3:16
Ben Wallace enters the game for Mehmet Okur.
30 - 51
3:10
Allen Iverson missed Layup. Blocked by Ben Wallace.
30 - 51
3:06
Jon Barry Defensive Rebound.
30 - 51
3:03
Clifford Robinson made Layup. Assisted by Jon Barry.
30 - 53
2:43
Tyrone Hill made 10 ft Two Point Shot.
32 - 53
2:27
Corliss Williamson made Jumper.
32 - 55
2:01
Derrick Coleman missed Layup. Blocked by Corliss Williamson.
32 - 55
1:59
Derrick Coleman Offensive Rebound.
32 - 55
1:58
Derrick Coleman made Dunk.
34 - 55
1:54
Detroit Full Timeout.
34 - 55
1:54
Michael Curry enters the game for Corliss Williamson.
34 - 55
1:54
Chauncey Billups enters the game for Chucky Atkins.
34 - 55
1:54
Richard Hamilton enters the game for Jon Barry.
34 - 55
1:54
Kenny Thomas enters the game for Keith Van Horn.
34 - 55
1:39
Clifford Robinson missed 25 ft Three Point Jumper.
34 - 55
1:36
Allen Iverson Defensive Rebound.
34 - 55
1:21
Derrick Coleman made Layup. Assisted by Allen Iverson.
36 - 55
0:57
Richard Hamilton made 13 ft Jumper. Assisted by Clifford Robinson.
36 - 57
0:41
Eric Snow made Layup. Assisted by Allen Iverson.
38 - 57
0:22
Tyrone Hill Shooting Foul
38 - 57
0:22
Richard Hamilton made Free Throw 1 of 2.
38 - 58
0:22
Keith Van Horn enters the game for Tyrone Hill.
38 - 58
0:22
Richard Hamilton made Free Throw 2 of 2.
38 - 59
0:09
Richard Hamilton Personal Foul
38 - 59
0:05
Allen Iverson missed Layup. Blocked by Ben Wallace.
38 - 59
0:03
Ben Wallace Defensive Rebound.
38 - 59
0:01
Clifford Robinson missed 42 ft Three Point Jumper.
38 - 59
0:00
Detroit Offensive Rebound.
38 - 59
0:00
End of the 2nd Quarter.
38 - 59

time
TEAM
PLAY
SCORE
12:00
Start of the 3rd Quarter.
38 - 59
11:48
Michael Curry Shooting Foul
38 - 59
11:48
Keith Van Horn made Free Throw 1 of 2.
39 - 59
11:48
Keith Van Horn missed Free Throw 2 of 2.
39 - 59
11:48
Clifford Robinson Defensive Rebound.
39 - 59
11:33
Clifford Robinson made Two Point Shot. Assisted by Chauncey Billups.
39 - 61
11:15
Eric Snow missed 13 ft Jumper.
39 - 61
11:14
Ben Wallace Defensive Rebound.
39 - 61
10:53
Richard Hamilton made Jumper. Assisted by Michael Curry.
39 - 63
10:27
Derrick Coleman missed 15 ft Jumper.
39 - 63
10:26
Ben Wallace Defensive Rebound.
39 - 63
10:07
Clifford Robinson missed 20 ft Jumper.
39 - 63
10:04
Derrick Coleman Defensive Rebound.
39 - 63
9:53
Derrick Coleman made Layup. Assisted by Allen Iverson.
41 - 63
9:33
Chauncey Billups made 21 ft Jumper. Assisted by Michael Curry.
41 - 65
9:11
Eric Snow missed 18 ft Jumper.
41 - 65
9:07
Chauncey Billups Defensive Rebound.
41 - 65
8:56
Richard Hamilton missed 13 ft Jumper.
41 - 65
8:53
Keith Van Horn Defensive Rebound.
41 - 65
8:48
Eric Snow made Two Point Shot.
43 - 65
8:30
Richard Hamilton made Two Point Shot. Assisted by Chauncey Billups.
43 - 67
8:30
Keith Van Horn Shooting Foul
43 - 67
8:30
Aaron McKie enters the game for Tyrone Hill.
43 - 67
8:30
Richard Hamilton made Free Throw 1 of 1.
43 - 68
8:12
Keith Van Horn missed Layup.
43 - 68
8:11
Ben Wallace Defensive Rebound.
43 - 68
8:07
Chauncey Billups made 27 ft Three Point Jumper.
43 - 71
8:03
Philadelphia Full Timeout.
43 - 71
7:50
Derrick Coleman made Layup. Assisted by Eric Snow.
45 - 71
7:28
Clifford Robinson Traveling
45 - 71
7:15
Keith Van Horn missed 13 ft Jumper. Blocked by Clifford Robinson.
45 - 71
7:13
Derrick Coleman Offensive Rebound.
45 - 71
7:11
Derrick Coleman missed Layup.
45 - 71
7:09
Ben Wallace Defensive Rebound.
45 - 71
7:03
Chauncey Billups made 27 ft Three Point Jumper.
45 - 74
6:47
Allen Iverson missed Layup. Blocked by Ben Wallace.
45 - 74
6:45
Ben Wallace Defensive Rebound.
45 - 74
6:39
Richard Hamilton made Layup. Assisted by Chauncey Billups.
45 - 76
6:18
Keith Van Horn missed 21 ft Jumper.
45 - 76
6:16
Ben Wallace Defensive Rebound.
45 - 76
6:09
Chauncey Billups Bad Pass
45 - 76
6:05
Kenny Thomas enters the game for Keith Van Horn.
45 - 76
5:46
Derrick Coleman missed Layup.
45 - 76
5:45
Ben Wallace Defensive Rebound.
45 - 76
5:30
Richard Hamilton missed Layup.
45 - 76
5:28
Derrick Coleman Defensive Rebound.
45 - 76
5:05
Eric Snow missed Layup. Blocked by Ben Wallace.
45 - 76
5:05
Richard Hamilton Defensive Rebound.
45 - 76
4:48
Clifford Robinson missed Jumper.
45 - 76
4:46
Aaron McKie Defensive Rebound.
45 - 76
4:30
Ben Wallace Shooting Foul
45 - 76
4:30
Derrick Coleman made Free Throw 1 of 2.
46 - 76
4:30
Greg Buckner enters the game for Eric Snow.
46 - 76
4:30
Derrick Coleman made Free Throw 2 of 2.
47 - 76
4:13
Chauncey Billups made 27 ft Three Point Jumper.
47 - 79
3:58
Derrick Coleman missed 16 ft Jumper.
47 - 79
3:56
Clifford Robinson Defensive Rebound.
47 - 79
3:42
Richard Hamilton Lost Ball. Stolen by Kenny Thomas.
47 - 79
3:38
Michael Curry Shooting Foul
47 - 79
3:38
Allen Iverson made Free Throw 1 of 2.
48 - 79
3:38
Allen Iverson missed Free Throw 2 of 2.
48 - 79
3:35
Ben Wallace Defensive Rebound.
48 - 79
3:15
Michael Curry missed 18 ft Jumper.
48 - 79
3:15
Ben Wallace Offensive Rebound.
48 - 79
3:14
24 second
48 - 79
3:06
Allen Iverson Bad Pass
48 - 79
2:49
Richard Hamilton missed 21 ft Jumper.
48 - 79
2:48
Detroit Defensive Rebound.
48 - 79
2:47
Detroit Full Timeout.
48 - 79
2:47
Brian Skinner enters the game for Derrick Coleman.
48 - 79
2:35
Greg Buckner missed 14 ft Jumper.
48 - 79
2:33
Brian Skinner Offensive Rebound.
48 - 79
2:31
Greg Buckner missed Layup.
48 - 79
2:30
Michael Curry Defensive Rebound.
48 - 79
2:25
Chauncey Billups missed 26 ft Three Point Jumper.
48 - 79
2:24
Richard Hamilton Offensive Rebound.
48 - 79
2:21
Richard Hamilton missed Layup. Blocked by Brian Skinner.
48 - 79
2:19
Greg Buckner Defensive Rebound.
48 - 79
2:10
Clifford Robinson Shooting Foul
48 - 79
2:10
Greg Buckner made Free Throw 1 of 2.
49 - 79
2:10
Jon Barry enters the game for Richard Hamilton.
49 - 79
2:10
Corliss Williamson enters the game for Michael Curry.
49 - 79
2:10
Greg Buckner made Free Throw 2 of 2.
50 - 79
1:58
Brian Skinner Shooting Foul
50 - 79
1:58
Chauncey Billups made Free Throw 1 of 2.
50 - 80
1:58
Chauncey Billups made Free Throw 2 of 2.
50 - 81
1:47
Allen Iverson Bad Pass. Stolen by Jon Barry.
50 - 81
1:38
Greg Buckner Personal Foul
50 - 81
1:38
Corliss Williamson made Free Throw 1 of 2.
50 - 82
1:38
Corliss Williamson made Free Throw 2 of 2.
50 - 83
1:21
Brian Skinner missed 5 ft Hook Shot.
50 - 83
1:19
Kenny Thomas Offensive Rebound.
50 - 83
1:17
Kenny Thomas missed Tip Shot.
50 - 83
1:15
Jon Barry Defensive Rebound.
50 - 83
1:01
Ben Wallace missed 19 ft Jumper.
50 - 83
1:00
Aaron McKie Defensive Rebound.
50 - 83
0:56
Jon Barry Shooting Foul
50 - 83
0:56
Brian Skinner missed Free Throw 1 of 2.
50 - 83
0:56
Philadelphia Offensive Rebound.
50 - 83
0:56
Brian Skinner made Free Throw 2 of 2.
51 - 83
0:47
Corliss Williamson made Layup. Assisted by Chauncey Billups.
51 - 85
0:34
Aaron McKie made Two Point Shot.
53 - 85
0:22
Chauncey Billups Bad Pass. Stolen by Allen Iverson.
53 - 85
0:06
Greg Buckner made 23 ft Three Point Jumper. Assisted by Allen Iverson.
56 - 85
0:02
Kenny Thomas Personal Foul
56 - 85
0:02
Clifford Robinson missed Free Throw 1 of 2.
56 - 85
0:02
Detroit Offensive Rebound.
56 - 85
0:02
Clifford Robinson made Free Throw 2 of 2.
56 - 86
0:00
End of the 3rd Quarter.
56 - 86

time
TEAM
PLAY
SCORE
12:00
Start of the 4th Quarter.
56 - 86
11:42
Ben Wallace made Two Point Shot. Assisted by Corliss Williamson.
56 - 88
11:18
Kenny Thomas made 17 ft Jumper. Assisted by Eric Snow.
58 - 88
10:56
Corliss Williamson missed 14 ft Jumper.
58 - 88
10:55
Ben Wallace Offensive Rebound.
58 - 88
10:49
Jon Barry made 25 ft Three Point Jumper. Assisted by Ben Wallace.
58 - 91
10:34
Greg Buckner made Layup. Assisted by Monty Williams.
60 - 91
10:34
Defensive Goaltending
60 - 91
10:19
Corliss Williamson made Jumper. Assisted by Jon Barry.
60 - 93
10:07
Greg Buckner made 16 ft Jumper. Assisted by Eric Snow.
62 - 93
9:47
Ben Wallace made Two Point Shot.
62 - 95
9:26
Monty Williams missed 15 ft Jumper.
62 - 95
9:23
Eric Snow Offensive Rebound.
62 - 95
9:18
Eric Snow made Layup.
64 - 95
8:56
Chauncey Billups missed Layup. Blocked by Monty Williams.
64 - 95
8:55
Detroit Offensive Rebound.
64 - 95
8:55
24 second
64 - 95
8:55
Official Timeout.
64 - 95
8:55
Hubert Davis enters the game for Chauncey Billups.
64 - 95
8:55
Derrick Coleman enters the game for Brian Skinner.
64 - 95
8:45
Danny Manning enters the game for Ben Wallace.
64 - 95
8:44
Jon Barry Shooting Foul
64 - 95
8:44
Greg Buckner made Free Throw 1 of 2.
65 - 95
8:44
Greg Buckner missed Free Throw 2 of 2.
65 - 95
8:44
Corliss Williamson Defensive Rebound.
65 - 95
8:23
Corliss Williamson made Two Point Shot.
65 - 97
8:07
Derrick Coleman missed 10 ft Jumper. Blocked by Mehmet Okur.
65 - 97
8:04
Corliss Williamson Defensive Rebound.
65 - 97
7:50
Danny Manning missed Three Point Jumper.
65 - 97
7:48
Mehmet Okur Offensive Rebound.
65 - 97
7:47
Mehmet Okur made Layup.
65 - 99
7:26
Monty Williams made Layup.
67 - 99
7:11
Corliss Williamson Bad Pass. Stolen by Derrick Coleman.
67 - 99
7:01
Eric Snow missed 16 ft Jumper.
67 - 99
6:58
Danny Manning Defensive Rebound.
67 - 99
6:56
John Salmons enters the game for Eric Snow.
67 - 99
6:56
Brian Skinner enters the game for Derrick Coleman.
67 - 99
6:56
Tayshaun Prince enters the game for Corliss Williamson.
67 - 99
6:56
Efthimios Rentzias enters the game for Monty Williams.
67 - 99
6:46
Mehmet Okur made 27 ft Three Point Jumper. Assisted by Hubert Davis.
67 - 102
6:26
Kenny Thomas made 16 ft Jumper. Assisted by Efthimios Rentzias.
69 - 102
6:11
Tayshaun Prince missed Three Point Jumper.
69 - 102
6:09
Greg Buckner Defensive Rebound.
69 - 102
6:01
Kenny Thomas missed 19 ft Jumper.
69 - 102
5:58
Mehmet Okur Defensive Rebound.
69 - 102
5:37
Mehmet Okur missed 25 ft Three Point Jumper.
69 - 102
5:37
Detroit Defensive Rebound.
69 - 102
5:37
Detroit Full Timeout.
69 - 102
5:24
Kenny Thomas made Hook Shot.
71 - 102
5:16
Danny Manning Offensive Foul
71 - 102
5:16
Danny Manning Foul
71 - 102
5:03
Efthimios Rentzias made 13 ft Two Point Shot.
73 - 102
4:46
Mehmet Okur made Three Point Jumper. Assisted by Danny Manning.
73 - 105
4:22
John Salmons made 13 ft Two Point Shot.
75 - 105
4:03
Mehmet Okur made 7 ft Jumper.
75 - 107
3:49
John Salmons made Two Point Shot.
77 - 107
3:31
Danny Manning Lost Ball. Stolen by Brian Skinner.
77 - 107
3:28
John Salmons made Layup. Assisted by Kenny Thomas.
79 - 107
3:21
Inbound
79 - 107
3:10
Kenny Thomas made Two Point Shot.
81 - 107
2:49
Mehmet Okur made 18 ft Jumper.
81 - 109
2:30
Efthimios Rentzias missed 26 ft Three Point Jumper.
81 - 109
2:28
Brian Skinner Offensive Rebound.
81 - 109
2:23
Efthimios Rentzias missed 7 ft Hook Shot.
81 - 109
2:18
Mehmet Okur Defensive Rebound.
81 - 109
1:58
Efthimios Rentzias Shooting Foul
81 - 109
1:58
Philadelphia Full Timeout.
81 - 109
1:58
Mehmet Okur made Free Throw 1 of 2.
81 - 110
1:58
Mehmet Okur made Free Throw 2 of 2.
81 - 111
1:37
John Salmons missed 11 ft Two Point Shot.
81 - 111
1:34
Mehmet Okur Defensive Rebound.
81 - 111
1:14
Tayshaun Prince missed 6 ft Hook Shot.
81 - 111
1:10
Greg Buckner Defensive Rebound.
81 - 111
1:07
Greg Buckner Bad Pass. Stolen by Jon Barry.
81 - 111
0:52
Tayshaun Prince made Dunk. Assisted by Jon Barry.
81 - 113
0:37
Brian Skinner made Jumper. Assisted by Greg Buckner.
83 - 113
0:22
Hubert Davis missed 22 ft Jumper.
83 - 113
0:20
Tayshaun Prince Offensive Rebound.
83 - 113
0:15
Hubert Davis missed 28 ft Three Point Jumper.
83 - 113
0:13
Kenny Thomas Defensive Rebound.
83 - 113
0:09
Danny Manning Personal Foul
83 - 113
0:04
John Salmons made 16 ft Jumper. Assisted by Kenny Thomas.
85 - 113
0:00
End of the 4th Quarter.
85 - 113
0:00
End Game
85 - 113
0:00
End Game
85 - 113
The Hornets have reportedly offered the head coaching job for their new D-League Greensboro Swarm affiliate to Nuggets assistant coach Noel Gillespie.

Pat Riley expresses regret with how Dwyane Wade's tenure with the Heat ended and wishes he would have done more to ensure he wouldn't have left.

Hall of Fame center Nate Thurmond, who spent the majority of his NBA career with the Warriors, has died after a battle with leukemia. He was 74.
Playoff Series
DET wins series 4-2
2015-2016 Atlantic Standings