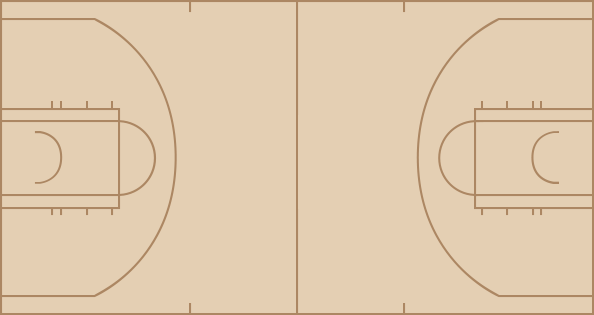 Lakers
time
TEAM
PLAY
SCORE
12:00
Start of the 1st Quarter.
0 - 0
12:00
Jumpball. Shaquille O'Neal vs. Vlade Divac. Derek Fisher gains possession.
0 - 0
11:37
Derek Fisher made 26 ft Three Point Jumper. Assisted by Rick Fox.
3 - 0
11:18
Mark Madsen Personal Foul
3 - 0
11:12
Chris Webber missed 7 ft Two Point Shot.
3 - 0
11:11
Derek Fisher Defensive Rebound.
3 - 0
11:00
Kobe Bryant missed 16 ft Jumper.
3 - 0
11:00
Peja Stojakovic Defensive Rebound.
3 - 0
10:45
Mike Bibby Lost Ball. Stolen by Derek Fisher.
3 - 0
10:30
Rick Fox missed 14 ft Two Point Shot.
3 - 0
10:30
Chris Webber Defensive Rebound.
3 - 0
10:19
Peja Stojakovic made 23 ft Three Point Jumper. Assisted by Doug Christie.
3 - 3
10:00
Derek Fisher missed 17 ft Jumper.
3 - 3
9:59
Chris Webber Defensive Rebound.
3 - 3
9:53
Shaquille O'Neal Shooting Foul
3 - 3
9:53
Vlade Divac made Free Throw 1 of 2.
3 - 4
9:53
Vlade Divac made Free Throw 2 of 2.
3 - 5
9:44
Shaquille O'Neal missed 9 ft Jumper.
3 - 5
9:42
Doug Christie Defensive Rebound.
3 - 5
9:37
Chris Webber missed 16 ft Jumper.
3 - 5
9:36
Kobe Bryant Defensive Rebound.
3 - 5
9:22
Shaquille O'Neal missed 7 ft Jumper.
3 - 5
9:21
Chris Webber Defensive Rebound.
3 - 5
9:15
Doug Christie made 19 ft Jumper.
3 - 7
9:03
Shaquille O'Neal missed 5 ft Jumper.
3 - 7
9:03
Chris Webber Defensive Rebound.
3 - 7
8:56
Doug Christie made 24 ft Three Point Jumper. Assisted by Chris Webber.
3 - 10
8:36
Mark Madsen Bad Pass. Stolen by Mike Bibby.
3 - 10
8:33
Mike Bibby made Two Point Shot.
3 - 12
8:12
Kobe Bryant missed 18 ft Jumper.
3 - 12
8:11
Mark Madsen Offensive Rebound.
3 - 12
8:10
Mark Madsen missed Jumper.
3 - 12
8:07
Kobe Bryant Offensive Rebound.
3 - 12
8:07
Kobe Bryant missed Tip Shot.
3 - 12
8:07
Kobe Bryant Offensive Rebound.
3 - 12
8:06
Kobe Bryant missed 8 ft Two Point Shot.
3 - 12
8:04
Shaquille O'Neal Offensive Rebound.
5 - 12
8:04
Shaquille O'Neal made Two Point Shot.
5 - 12
7:50
Mike Bibby made 21 ft Jumper.
5 - 14
7:35
Vlade Divac Shooting Foul
5 - 14
7:35
Shaquille O'Neal missed Free Throw 1 of 2.
5 - 14
7:35
Los Angeles Offensive Rebound.
5 - 14
7:35
Shaquille O'Neal made Free Throw 2 of 2.
6 - 14
7:24
Vlade Divac made Two Point Shot. Assisted by Doug Christie.
6 - 16
7:07
Rick Fox Bad Pass
6 - 16
7:01
Mike Bibby Lost Ball
6 - 16
6:41
Derek Fisher missed Three Point Jumper.
6 - 16
6:39
Mike Bibby Defensive Rebound.
6 - 16
6:33
Peja Stojakovic missed 25 ft Three Point Jumper.
6 - 16
6:31
Rick Fox Defensive Rebound.
6 - 16
6:20
Mark Madsen Bad Pass. Stolen by Vlade Divac.
6 - 16
6:09
Vlade Divac missed 4 ft Jumper. Blocked by Shaquille O'Neal.
6 - 16
6:07
Rick Fox Defensive Rebound.
6 - 16
5:58
Derek Fisher made Three Point Jumper. Assisted by Kobe Bryant.
9 - 16
5:43
Vlade Divac missed Layup.
9 - 16
5:43
Shaquille O'Neal Defensive Rebound.
9 - 16
5:31
Rick Fox missed 25 ft Three Point Jumper.
9 - 16
5:31
Vlade Divac Defensive Rebound.
9 - 16
5:22
Chris Webber missed 19 ft Jumper.
9 - 16
5:20
Kobe Bryant Defensive Rebound.
9 - 16
5:13
Rick Fox missed 23 ft Three Point Jumper.
9 - 16
5:11
Mike Bibby Defensive Rebound.
9 - 16
5:05
Peja Stojakovic made Jumper. Assisted by Mike Bibby.
9 - 18
4:39
Shaquille O'Neal made Two Point Shot. Assisted by Kobe Bryant.
11 - 18
4:30
Mike Bibby made 23 ft Jumper. Assisted by Vlade Divac.
11 - 20
4:13
Kobe Bryant made 12 ft Jumper. Assisted by Derek Fisher.
13 - 20
4:03
Doug Christie Bad Pass. Stolen by Rick Fox.
13 - 20
3:55
Kobe Bryant missed 7 ft Jumper. Blocked by Vlade Divac.
13 - 20
3:53
Vlade Divac Defensive Rebound.
13 - 20
3:40
Doug Christie missed Two Point Shot.
13 - 20
3:38
Chris Webber Offensive Rebound.
13 - 22
3:38
Chris Webber made Tip Shot.
13 - 22
3:23
Shaquille O'Neal made 5 ft Two Point Shot. Assisted by Rick Fox.
15 - 22
2:57
Chris Webber missed 9 ft Two Point Shot.
15 - 22
2:55
Mark Madsen Defensive Rebound.
15 - 22
2:46
Kobe Bryant missed Jumper.
15 - 22
2:44
Vlade Divac Defensive Rebound.
15 - 22
2:40
Peja Stojakovic missed Layup. Blocked by Rick Fox.
15 - 22
2:40
Sacramento Offensive Rebound.
15 - 22
2:40
Sacramento Full Timeout.
15 - 22
2:38
Mike Bibby missed 17 ft Jumper.
15 - 22
2:36
Rick Fox Defensive Rebound.
15 - 22
2:16
Mark Madsen missed 14 ft Jumper.
15 - 22
2:15
Rick Fox Offensive Rebound.
15 - 22
2:12
Rick Fox missed 23 ft Three Point Jumper.
15 - 22
2:11
Mike Bibby Defensive Rebound.
15 - 22
2:02
Chris Webber made 18 ft Jumper.
15 - 24
1:39
Vlade Divac Personal Foul
15 - 24
1:39
Los Angeles Full Timeout.
15 - 24
1:39
Bobby Jackson enters the game for Mike Bibby.
15 - 24
1:39
Scot Pollard enters the game for Vlade Divac.
15 - 24
1:39
Devean George enters the game for Rick Fox.
15 - 24
1:39
Robert Horry enters the game for Mark Madsen.
15 - 24
1:25
Kobe Bryant missed 26 ft Three Point Jumper.
15 - 24
1:24
Scot Pollard Defensive Rebound.
15 - 24
1:13
Shaquille O'Neal Illegal Defense Foul
15 - 24
1:13
Samaki Walker enters the game for Shaquille O'Neal.
15 - 24
1:13
Peja Stojakovic made Technical Free Throw.
15 - 25
1:02
Chris Webber missed Two Point Shot.
15 - 25
1:00
Samaki Walker Defensive Rebound.
15 - 25
0:38
Derek Fisher missed 26 ft Three Point Jumper.
15 - 25
0:37
Scot Pollard Defensive Rebound.
15 - 25
0:24
Peja Stojakovic missed 23 ft Three Point Jumper.
15 - 25
0:24
Samaki Walker Defensive Rebound.
15 - 25
0:00
Derek Fisher made 21 ft Jumper. Assisted by Kobe Bryant.
17 - 25
0:00
End of the 1st Quarter.
17 - 25

time
TEAM
PLAY
SCORE
12:00
Start of the 2nd Quarter.
17 - 25
11:41
Chris Webber missed 7 ft Two Point Shot.
17 - 25
11:41
Robert Horry Defensive Rebound.
17 - 25
11:29
Samaki Walker made 13 ft Jumper.
19 - 25
11:17
Chris Webber Offensive Foul
19 - 25
11:17
Chris Webber Foul
19 - 25
11:06
Devean George missed Two Point Shot.
19 - 25
11:03
Scot Pollard Defensive Rebound.
19 - 25
10:53
Bobby Jackson missed Two Point Shot.
19 - 25
10:52
Scot Pollard Offensive Rebound.
19 - 27
10:52
Scot Pollard made Two Point Shot.
19 - 27
10:33
Doug Christie Shooting Foul
19 - 27
10:33
Kobe Bryant missed Free Throw 1 of 2.
19 - 27
10:33
Los Angeles Offensive Rebound.
19 - 27
10:33
Kobe Bryant made Free Throw 2 of 2.
20 - 27
10:17
Scot Pollard missed 14 ft Jumper.
20 - 27
10:15
Robert Horry Defensive Rebound.
20 - 27
10:11
Robert Horry Bad Pass
20 - 27
9:56
Jim Jackson missed 20 ft Jumper.
20 - 27
9:53
Kobe Bryant Defensive Rebound.
20 - 27
9:32
Kobe Bryant missed 20 ft Jumper.
20 - 27
9:30
Chris Webber Defensive Rebound.
20 - 27
9:22
Jim Jackson missed Layup.
20 - 27
9:22
Sacramento Defensive Rebound.
20 - 27
9:22
Scot Pollard Loose Ball Foul
20 - 27
9:22
Hedo Turkoglu enters the game for Doug Christie.
20 - 27
9:07
Robert Horry missed 25 ft Three Point Jumper.
20 - 27
9:06
Bobby Jackson Defensive Rebound.
20 - 27
9:03
Chris Webber made Dunk. Assisted by Bobby Jackson.
20 - 29
8:45
Samaki Walker made 7 ft Two Point Shot.
22 - 29
8:38
Samaki Walker Personal Foul
22 - 29
8:38
Official Timeout.
22 - 29
8:38
Keon Clark enters the game for Chris Webber.
22 - 29
8:34
Devean George Shooting Foul
22 - 29
8:34
Hedo Turkoglu missed Free Throw 1 of 2.
22 - 29
8:34
Sacramento Offensive Rebound.
22 - 29
8:34
Hedo Turkoglu made Free Throw 2 of 2.
22 - 30
8:19
Kobe Bryant Bad Pass. Stolen by Keon Clark.
22 - 30
8:07
Derek Fisher Shooting Foul
22 - 30
8:07
Bobby Jackson made Free Throw 1 of 2.
22 - 31
8:07
Shaquille O'Neal enters the game for Samaki Walker.
22 - 31
8:07
Mark Madsen enters the game for Robert Horry.
22 - 31
8:07
Brian Shaw enters the game for Kobe Bryant.
22 - 31
8:07
Bobby Jackson made Free Throw 2 of 2.
22 - 32
7:43
Shaquille O'Neal missed 9 ft Jumper.
22 - 32
7:41
Shaquille O'Neal Offensive Rebound.
22 - 32
7:39
Shaquille O'Neal Bad Pass
22 - 32
7:28
Bobby Jackson missed 17 ft Jumper.
22 - 32
7:26
Scot Pollard Offensive Rebound.
22 - 32
7:26
Scot Pollard missed Tip Shot.
22 - 32
7:24
Scot Pollard Offensive Rebound.
22 - 34
7:24
Scot Pollard made Tip Shot.
22 - 34
7:11
Mark Madsen missed Two Point Shot. Blocked by Keon Clark.
22 - 34
7:09
Hedo Turkoglu Defensive Rebound.
22 - 34
7:01
Jim Jackson made Layup.
22 - 36
7:01
Brian Shaw Shooting Foul
22 - 36
7:01
Jim Jackson made Free Throw 1 of 1.
22 - 37
6:48
Brian Shaw missed 18 ft Jumper.
22 - 37
6:46
Mark Madsen Offensive Rebound.
22 - 37
6:43
Mark Madsen made Layup.
24 - 37
6:33
Hedo Turkoglu missed 18 ft Jumper.
24 - 37
6:33
Sacramento Defensive Rebound.
24 - 37
6:26
Hedo Turkoglu Personal Foul
24 - 37
6:18
Shaquille O'Neal made 5 ft Jumper.
26 - 37
6:18
Scot Pollard Shooting Foul
26 - 37
6:18
Shaquille O'Neal made Free Throw 1 of 1.
27 - 37
6:07
Scot Pollard Offensive Foul
27 - 37
6:07
Scot Pollard Foul
27 - 37
6:07
Vlade Divac enters the game for Scot Pollard.
27 - 37
5:47
Mark Madsen made Two Point Shot.
29 - 37
5:26
Vlade Divac missed 17 ft Jumper.
29 - 37
5:24
Keon Clark Offensive Rebound.
29 - 37
5:11
Jim Jackson Bad Pass
29 - 37
5:11
Sacramento Full Timeout.
29 - 37
5:11
Mike Bibby enters the game for Jim Jackson.
29 - 37
5:11
Peja Stojakovic enters the game for Hedo Turkoglu.
29 - 37
5:11
Rick Fox enters the game for Derek Fisher.
29 - 37
5:11
Kareem Rush enters the game for Devean George.
29 - 37
5:11
Kobe Bryant enters the game for Brian Shaw.
29 - 37
4:50
Kobe Bryant made 23 ft Jumper. Assisted by Mark Madsen.
31 - 37
4:31
Vlade Divac Lost Ball. Stolen by Shaquille O'Neal.
31 - 37
4:31
Vlade Divac Technical Foul
31 - 37
4:31
Kobe Bryant made Technical Free Throw.
32 - 37
4:31
Chris Webber enters the game for Keon Clark.
32 - 37
4:16
Shaquille O'Neal missed 10 ft Two Point Shot.
32 - 37
4:13
Peja Stojakovic Defensive Rebound.
32 - 37
4:05
Mark Madsen Personal Foul
32 - 37
4:05
Doug Christie enters the game for Bobby Jackson.
32 - 37
4:05
Vlade Divac missed Free Throw 1 of 2.
32 - 37
4:05
Sacramento Offensive Rebound.
32 - 37
4:05
Vlade Divac missed Free Throw 2 of 2.
32 - 37
4:05
Rick Fox Defensive Rebound.
32 - 37
3:45
Kareem Rush missed 21 ft Jumper.
32 - 37
3:43
Mark Madsen Offensive Rebound.
32 - 37
3:41
Kareem Rush made Slam Dunk. Assisted by Mark Madsen.
34 - 37
3:23
Mike Bibby missed 22 ft Jumper.
34 - 37
3:21
Kareem Rush Defensive Rebound.
34 - 37
3:02
Mark Madsen Bad Pass. Stolen by Doug Christie.
34 - 37
2:59
Doug Christie made Slam Dunk.
34 - 39
2:44
Mark Madsen Lost Ball. Stolen by Chris Webber.
34 - 39
2:39
Peja Stojakovic made Dunk. Assisted by Mike Bibby.
34 - 41
2:30
Los Angeles Full Timeout.
34 - 41
2:30
Robert Horry enters the game for Mark Madsen.
34 - 41
2:30
Derek Fisher enters the game for Kareem Rush.
34 - 41
2:19
Robert Horry missed 9 ft Jumper.
34 - 41
2:18
Vlade Divac Defensive Rebound.
34 - 41
2:08
Robert Horry Shooting Foul
34 - 41
2:08
Vlade Divac made Free Throw 1 of 2.
34 - 42
2:08
Vlade Divac made Free Throw 2 of 2.
34 - 43
1:57
Derek Fisher missed Jumper.
34 - 43
1:54
Doug Christie Defensive Rebound.
34 - 43
1:44
Peja Stojakovic missed 6 ft Jumper.
34 - 43
1:42
Doug Christie Offensive Rebound.
34 - 43
1:37
Doug Christie Bad Pass. Stolen by Rick Fox.
34 - 43
1:31
Kobe Bryant made 7 ft Jumper. Assisted by Rick Fox.
36 - 43
1:15
Mike Bibby missed 21 ft Jumper.
36 - 43
1:14
Kobe Bryant Defensive Rebound.
36 - 43
1:05
Shaquille O'Neal made Two Point Shot. Assisted by Robert Horry.
38 - 43
0:49
Chris Webber missed 7 ft Two Point Shot.
38 - 43
0:47
Robert Horry Defensive Rebound.
38 - 43
0:34
Kobe Bryant missed 23 ft Jumper.
38 - 43
0:32
Chris Webber Defensive Rebound.
38 - 43
0:29
Chris Webber Lost Ball. Stolen by Shaquille O'Neal.
38 - 43
0:24
Derek Fisher missed Layup.
38 - 43
0:23
Shaquille O'Neal Offensive Rebound.
38 - 43
0:22
Vlade Divac Personal Foul
38 - 43
0:22
Keon Clark enters the game for Vlade Divac.
38 - 43
0:22
Shaquille O'Neal missed Free Throw 1 of 2.
38 - 43
0:22
Los Angeles Offensive Rebound.
38 - 43
0:22
Shaquille O'Neal made Free Throw 2 of 2.
39 - 43
0:05
Mike Bibby missed Layup. Blocked by Shaquille O'Neal.
39 - 43
0:04
Derek Fisher Defensive Rebound.
39 - 43
0:04
Mike Bibby Personal Foul
39 - 43
0:04
Mike Bibby Technical Foul
39 - 43
0:04
Derek Fisher made Technical Free Throw.
40 - 43
0:04
Mark Madsen enters the game for Shaquille O'Neal.
40 - 43
0:04
Derek Fisher made Free Throw 1 of 2.
41 - 43
0:04
Derek Fisher made Free Throw 2 of 2.
42 - 43
0:01
Chris Webber missed 22 ft Jumper.
42 - 43
0:00
Chris Webber Offensive Rebound.
42 - 45
0:00
Chris Webber made 5 ft Jumper.
42 - 45
0:00
End of the 2nd Quarter.
42 - 45

time
TEAM
PLAY
SCORE
12:00
Start of the 3rd Quarter.
42 - 45
11:48
Chris Webber made 20 ft Jumper. Assisted by Doug Christie.
42 - 47
11:29
Shaquille O'Neal Lost Ball. Stolen by Chris Webber.
42 - 47
11:14
Chris Webber made 17 ft Two Point Shot.
42 - 49
10:51
Kobe Bryant missed 24 ft Three Point Jumper.
42 - 49
10:49
Mark Madsen Offensive Rebound.
42 - 49
10:34
Shaquille O'Neal missed 6 ft Two Point Shot.
42 - 49
10:33
Chris Webber Defensive Rebound.
42 - 49
10:23
Mike Bibby Bad Pass. Stolen by Derek Fisher.
42 - 49
10:19
Derek Fisher Bad Pass
42 - 49
10:07
Peja Stojakovic missed Three Point Jumper.
42 - 49
10:04
Derek Fisher Defensive Rebound.
42 - 49
9:56
Derek Fisher Bad Pass. Stolen by Doug Christie.
42 - 49
9:47
Chris Webber missed 21 ft Jumper.
42 - 49
9:45
Rick Fox Defensive Rebound.
42 - 49
9:38
Shaquille O'Neal made 4 ft Two Point Shot. Assisted by Rick Fox.
44 - 49
9:22
Peja Stojakovic missed 21 ft Jumper.
44 - 49
9:21
Kobe Bryant Defensive Rebound.
44 - 49
9:06
Mark Madsen Bad Pass
44 - 49
8:49
Mike Bibby missed 17 ft Jumper.
44 - 49
8:48
Kobe Bryant Defensive Rebound.
44 - 49
8:40
Kobe Bryant made Two Point Shot.
46 - 49
8:21
Chris Webber Lost Ball. Stolen by Mark Madsen.
46 - 49
8:12
Kobe Bryant missed 23 ft Jumper.
46 - 49
8:11
Mike Bibby Defensive Rebound.
46 - 49
8:00
Mike Bibby made Three Point Jumper. Assisted by Doug Christie.
46 - 52
7:43
Mark Madsen made 16 ft Jumper. Assisted by Derek Fisher.
48 - 52
7:24
Mike Bibby made 22 ft Jumper.
48 - 54
7:07
Kobe Bryant missed 13 ft Jumper. Blocked by Doug Christie.
48 - 54
7:07
Rick Fox Offensive Rebound.
48 - 54
7:03
Kobe Bryant missed 6 ft Jumper. Blocked by Vlade Divac.
48 - 54
7:01
Kobe Bryant Offensive Rebound.
48 - 54
6:58
Kobe Bryant made 21 ft Jumper.
50 - 54
6:41
Chris Webber missed 16 ft Jumper.
50 - 54
6:39
Kobe Bryant Defensive Rebound.
50 - 54
6:30
Rick Fox missed 25 ft Three Point Jumper.
50 - 54
6:28
Shaquille O'Neal Offensive Rebound.
50 - 54
6:26
Doug Christie Shooting Foul
50 - 54
6:26
Shaquille O'Neal made Free Throw 1 of 2.
51 - 54
6:26
Shaquille O'Neal made Free Throw 2 of 2.
52 - 54
6:11
Chris Webber made 20 ft Jumper. Assisted by Vlade Divac.
52 - 56
5:50
Mark Madsen missed Dunk. Blocked by Chris Webber.
52 - 56
5:48
Los Angeles Defensive Rebound.
52 - 56
5:48
Rick Fox Loose Ball Foul
52 - 56
5:48
Sacramento Full Timeout.
52 - 56
5:35
Mark Madsen Shooting Foul
52 - 56
5:35
Chris Webber made Free Throw 1 of 2.
52 - 57
5:35
Chris Webber made Free Throw 2 of 2.
52 - 58
5:18
Mark Madsen made Layup.
54 - 58
5:01
Chris Webber missed 20 ft Jumper.
54 - 58
5:00
Shaquille O'Neal Defensive Rebound.
54 - 58
4:37
Kobe Bryant made 20 ft Jumper.
56 - 58
4:24
Chris Webber missed 17 ft Jumper.
56 - 58
4:22
Vlade Divac Offensive Rebound.
56 - 58
4:20
Vlade Divac Bad Pass. Stolen by Mark Madsen.
56 - 58
4:11
Shaquille O'Neal missed 9 ft Jumper.
56 - 58
4:09
Mark Madsen Offensive Rebound.
56 - 58
4:09
Mark Madsen missed Tip Shot.
56 - 58
4:09
Vlade Divac Defensive Rebound.
56 - 58
4:07
Mark Madsen Personal Foul
56 - 58
4:07
Robert Horry enters the game for Mark Madsen.
56 - 58
3:57
Peja Stojakovic missed 25 ft Three Point Jumper.
56 - 58
3:55
Shaquille O'Neal Defensive Rebound.
56 - 58
3:39
Rick Fox made 24 ft Three Point Jumper. Assisted by Robert Horry.
59 - 58
3:28
Derek Fisher Personal Foul
59 - 58
3:18
Peja Stojakovic made 22 ft Two Point Shot.
59 - 60
3:06
Rick Fox Lost Ball. Stolen by Mike Bibby.
59 - 60
3:05
Rick Fox Personal Foul
59 - 60
3:05
Mike Bibby missed Free Throw 1 of 2.
59 - 60
3:05
Sacramento Offensive Rebound.
59 - 60
3:05
Mike Bibby missed Free Throw 2 of 2.
59 - 60
3:05
Derek Fisher Defensive Rebound.
59 - 60
2:48
Kobe Bryant missed 24 ft Jumper.
59 - 60
2:47
Kobe Bryant Offensive Rebound.
59 - 60
2:45
Chris Webber Shooting Foul
59 - 60
2:45
Los Angeles Full Timeout.
59 - 60
2:45
Bobby Jackson enters the game for Vlade Divac.
59 - 60
2:45
Scot Pollard enters the game for Mike Bibby.
59 - 60
2:45
Kobe Bryant missed Free Throw 1 of 2.
59 - 60
2:45
Los Angeles Offensive Rebound.
59 - 60
2:45
Kobe Bryant made Free Throw 2 of 2.
60 - 60
2:31
Peja Stojakovic made Two Point Shot.
59 - 62
2:14
Scot Pollard Shooting Foul
59 - 62
2:14
Shaquille O'Neal made Free Throw 1 of 2.
60 - 62
2:14
Shaquille O'Neal made Free Throw 2 of 2.
61 - 62
2:04
Rick Fox Personal Foul
61 - 62
2:04
Peja Stojakovic made Free Throw 1 of 2.
61 - 63
2:04
Peja Stojakovic made Free Throw 2 of 2.
61 - 64
1:51
Shaquille O'Neal missed 8 ft Two Point Shot.
61 - 64
1:50
Chris Webber Defensive Rebound.
61 - 64
1:40
Chris Webber missed 23 ft Jumper.
61 - 64
1:37
Derek Fisher Defensive Rebound.
61 - 64
1:23
Robert Horry made Two Point Shot. Assisted by Derek Fisher.
63 - 64
1:09
Bobby Jackson missed 12 ft Jumper.
63 - 64
1:07
Robert Horry Defensive Rebound.
63 - 64
0:57
Kobe Bryant made Two Point Shot. Assisted by Shaquille O'Neal.
65 - 64
0:43
Doug Christie missed 25 ft Three Point Jumper.
65 - 64
0:42
Robert Horry Defensive Rebound.
65 - 64
0:34
Derek Fisher missed 26 ft Three Point Jumper.
65 - 64
0:33
Derek Fisher Offensive Rebound.
65 - 64
0:33
Bobby Jackson Personal Foul
65 - 64
0:22
Kobe Bryant made 17 ft Jumper.
67 - 64
0:02
Scot Pollard made Dunk. Assisted by Bobby Jackson.
67 - 66
0:02
Robert Horry Bad Pass. Stolen by Scot Pollard.
67 - 66
0:00
Peja Stojakovic missed 42 ft Three Point Jumper.
67 - 66
0:00
Sacramento Offensive Rebound.
67 - 66
0:00
End of the 3rd Quarter.
67 - 66

time
TEAM
PLAY
SCORE
12:00
Start of the 4th Quarter.
67 - 66
11:45
Jim Jackson Shooting Foul
67 - 66
11:45
Kobe Bryant made Free Throw 1 of 2.
68 - 66
11:45
Kobe Bryant missed Free Throw 2 of 2.
68 - 66
11:44
Keon Clark Defensive Rebound.
68 - 66
11:25
Devean George Shooting Foul
68 - 66
11:25
Peja Stojakovic made Free Throw 1 of 2.
68 - 67
11:25
Peja Stojakovic made Free Throw 2 of 2.
68 - 68
11:15
Kobe Bryant missed 18 ft Jumper.
68 - 68
11:12
Chris Webber Defensive Rebound.
68 - 68
10:59
Chris Webber made Two Point Shot.
68 - 70
10:34
Devean George missed 25 ft Three Point Jumper.
68 - 70
10:33
Keon Clark Defensive Rebound.
68 - 70
10:27
Peja Stojakovic made 25 ft Three Point Jumper. Assisted by Bobby Jackson.
68 - 73
10:14
Kobe Bryant missed 9 ft Jumper.
68 - 73
10:12
Kobe Bryant Offensive Rebound.
68 - 73
10:08
Keon Clark Shooting Foul
68 - 73
10:08
Kobe Bryant made Free Throw 1 of 2.
69 - 73
10:08
Kobe Bryant made Free Throw 2 of 2.
70 - 73
9:56
Bobby Jackson made Two Point Shot.
70 - 75
9:42
Jim Jackson Personal Foul
70 - 75
9:34
Kobe Bryant made 20 ft Two Point Shot.
72 - 75
9:18
Bobby Jackson missed 22 ft Jumper.
72 - 75
9:17
Kobe Bryant Defensive Rebound.
72 - 75
9:07
Samaki Walker missed Jumper. Blocked by Keon Clark.
72 - 75
9:06
Jim Jackson Defensive Rebound.
72 - 75
8:52
Jim Jackson made 25 ft Three Point Jumper. Assisted by Peja Stojakovic.
72 - 78
8:27
Kobe Bryant made 24 ft Three Point Jumper.
75 - 78
8:27
Jim Jackson Shooting Foul
75 - 78
8:27
Official Timeout.
75 - 78
8:27
Jim Jackson Technical Foul
75 - 78
8:27
Shaquille O'Neal enters the game for Samaki Walker.
75 - 78
8:27
Kareem Rush enters the game for Derek Fisher.
75 - 78
8:27
Kobe Bryant made Technical Free Throw.
76 - 78
8:27
Kobe Bryant made Free Throw 1 of 1.
77 - 78
8:17
Peja Stojakovic missed 25 ft Three Point Jumper.
77 - 78
8:15
Shaquille O'Neal Defensive Rebound.
77 - 78
7:56
Shaquille O'Neal Lost Ball. Stolen by Chris Webber.
77 - 78
7:50
Chris Webber made Layup. Assisted by Jim Jackson.
77 - 80
7:43
Los Angeles Full Timeout.
77 - 80
7:30
Devean George made 19 ft Jumper. Assisted by Shaquille O'Neal.
79 - 80
7:11
Chris Webber made 9 ft Two Point Shot.
79 - 82
6:54
Robert Horry missed 20 ft Jumper.
79 - 82
6:54
Bobby Jackson Defensive Rebound.
79 - 82
6:45
Keon Clark missed 4 ft Jumper. Blocked by Shaquille O'Neal.
79 - 82
6:43
Robert Horry Defensive Rebound.
79 - 82
6:39
Jim Jackson Shooting Foul
79 - 82
6:39
Kobe Bryant made Free Throw 1 of 2.
80 - 82
6:39
Kobe Bryant made Free Throw 2 of 2.
81 - 82
6:26
Keon Clark made Layup. Assisted by Jim Jackson.
81 - 84
6:09
Devean George missed 24 ft Three Point Jumper.
81 - 84
6:07
Robert Horry Offensive Rebound.
81 - 84
6:05
Robert Horry missed Layup.
81 - 84
6:05
Shaquille O'Neal Offensive Rebound.
81 - 84
6:03
Shaquille O'Neal made Dunk.
83 - 84
5:46
Peja Stojakovic missed 17 ft Jumper.
83 - 84
5:45
Keon Clark Offensive Rebound.
83 - 84
5:37
Jim Jackson made Three Point Jumper. Assisted by Bobby Jackson.
83 - 87
5:16
Kareem Rush made 4 ft Two Point Shot. Assisted by Robert Horry.
85 - 87
5:07
Bobby Jackson missed 25 ft Three Point Jumper.
85 - 87
5:05
Shaquille O'Neal Defensive Rebound.
85 - 87
4:47
Kobe Bryant missed 19 ft Jumper.
85 - 87
4:46
Shaquille O'Neal Offensive Rebound.
85 - 87
4:43
Bobby Jackson Shooting Foul
85 - 87
4:43
Vlade Divac enters the game for Keon Clark.
85 - 87
4:43
Shaquille O'Neal made Free Throw 1 of 2.
86 - 87
4:43
Rick Fox enters the game for Devean George.
86 - 87
4:43
Derek Fisher enters the game for Kareem Rush.
86 - 87
4:43
Mike Bibby enters the game for Bobby Jackson.
86 - 87
4:43
Shaquille O'Neal made Free Throw 2 of 2.
87 - 87
4:28
Mike Bibby made 17 ft Jumper. Assisted by Chris Webber.
87 - 89
4:13
Shaquille O'Neal made Slam Dunk. Assisted by Robert Horry.
89 - 89
4:01
Shaquille O'Neal Shooting Foul
89 - 89
4:01
Chris Webber made Free Throw 1 of 2.
89 - 90
4:01
Doug Christie enters the game for Jim Jackson.
89 - 90
4:01
Chris Webber made Free Throw 2 of 2.
89 - 91
3:46
Shaquille O'Neal missed Jumper.
89 - 91
3:44
Mike Bibby Defensive Rebound.
89 - 91
3:31
Vlade Divac made 19 ft Jumper. Assisted by Chris Webber.
89 - 93
3:17
Derek Fisher missed 23 ft Three Point Jumper.
89 - 93
3:16
Vlade Divac Defensive Rebound.
89 - 93
3:02
Robert Horry Personal Foul
89 - 93
2:58
Peja Stojakovic made 18 ft Jumper. Assisted by Vlade Divac.
89 - 95
2:44
Sacramento Full Timeout.
89 - 95
2:40
Kobe Bryant Bad Pass
89 - 95
2:27
Chris Webber made 17 ft Two Point Shot. Assisted by Mike Bibby.
89 - 97
2:08
Kobe Bryant made Layup.
91 - 97
2:08
Defensive Goaltending
91 - 97
1:54
Mike Bibby made 19 ft Jumper.
91 - 99
1:45
Chris Webber Shooting Foul
91 - 99
1:45
Kobe Bryant missed Free Throw 1 of 2.
91 - 99
1:45
Los Angeles Offensive Rebound.
91 - 99
1:45
Kobe Bryant made Free Throw 2 of 2.
92 - 99
1:31
Robert Horry Personal Foul
92 - 99
1:23
Chris Webber missed 19 ft Jumper.
92 - 99
1:21
Shaquille O'Neal Defensive Rebound.
92 - 99
1:12
Shaquille O'Neal Lost Ball. Stolen by Peja Stojakovic.
92 - 99
1:09
Robert Horry Personal Foul
92 - 99
1:09
Peja Stojakovic made Free Throw 1 of 2.
92 - 100
1:09
Peja Stojakovic made Free Throw 2 of 2.
92 - 101
1:09
Los Angeles Full Timeout.
92 - 101
1:07
Robert Horry missed Three Point Jumper.
92 - 101
1:07
Los Angeles Defensive Rebound.
92 - 101
1:07
Shaquille O'Neal Loose Ball Foul
92 - 101
1:07
Vlade Divac made Free Throw 1 of 2.
92 - 102
1:07
Peja Stojakovic made Free Throw 2 of 2.
92 - 103
0:56
Shaquille O'Neal Offensive Goaltending
92 - 103
0:48
Derek Fisher Personal Foul
92 - 103
0:48
Mike Bibby made Free Throw 1 of 2.
92 - 104
0:48
Jim Jackson enters the game for Vlade Divac.
92 - 104
0:48
Mike Bibby made Free Throw 2 of 2.
92 - 105
0:40
Kobe Bryant missed 27 ft Three Point Jumper.
92 - 105
0:37
Derek Fisher Offensive Rebound.
92 - 105
0:34
Kobe Bryant missed 25 ft Three Point Jumper.
92 - 105
0:32
Shaquille O'Neal Offensive Rebound.
92 - 105
0:32
Shaquille O'Neal made Layup.
94 - 105
0:32
Chris Webber Shooting Foul
94 - 105
0:32
Shaquille O'Neal made Free Throw 1 of 1.
95 - 105
0:22
Kobe Bryant Personal Foul
95 - 105
0:22
Mike Bibby made Free Throw 1 of 2.
95 - 106
0:22
Mike Bibby made Free Throw 2 of 2.
95 - 107
0:13
Derek Fisher made 25 ft Three Point Jumper. Assisted by Robert Horry.
98 - 107
0:00
End of the 4th Quarter.
98 - 107
0:00
End Game
98 - 107
0:00
End Game
98 - 107
Backup point guard Matthew Dellavedova received a qualifying offer from the Cavaliers on Thursday, which makes him a restricted free agent.

The National Basketball Players' Association Players Awards will not be revealed in a television show this offseason, the union told The Undefeated.

The big trades, the big free agents, the big decisions. Our NBA Insiders go 5-on-5 on 28 teams, leading with Kevin Durant and the Oklahoma City Thunder.
Regular Season Series
Series tied 2-2
2015-2016 Pacific Standings