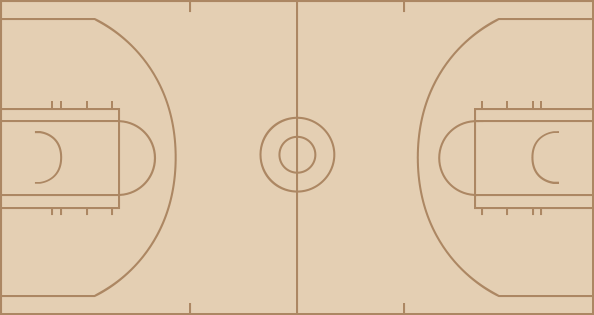 Wizards
time
TEAM
PLAY
SCORE
12:00
Start of the 1st Quarter.
0 - 0
12:00
Jumpball. Jahidi White vs. Predrag Drobnjak. Tyronn Lue gains possession.
0 - 0
11:41
Jahidi White Lost Ball. Stolen by Rashard Lewis.
0 - 0
11:18
Rashard Lewis missed 19 ft Jumper.
0 - 0
11:17
Predrag Drobnjak Offensive Rebound.
0 - 0
11:14
Reggie Evans missed Dunk.
0 - 0
11:11
Reggie Evans Offensive Rebound.
0 - 0
11:10
Reggie Evans made Layup.
0 - 2
10:47
Michael Jordan missed 18 ft Jumper.
0 - 2
10:45
Ray Allen Defensive Rebound.
0 - 2
10:37
Predrag Drobnjak missed 15 ft Jumper.
0 - 2
10:37
Reggie Evans Offensive Rebound.
0 - 2
10:15
Jahidi White Shooting Foul
0 - 2
10:15
Reggie Evans missed Free Throw 1 of 2.
0 - 2
10:15
Seattle Offensive Rebound.
0 - 2
10:15
Reggie Evans made Free Throw 2 of 2.
0 - 3
10:03
Michael Jordan missed 19 ft Jumper.
0 - 3
10:02
Michael Jordan Offensive Rebound.
0 - 3
9:56
Jerry Stackhouse made 17 ft Jumper. Assisted by Michael Jordan.
2 - 3
9:38
Predrag Drobnjak missed 10 ft Jumper.
2 - 3
9:36
Michael Jordan Defensive Rebound.
2 - 3
9:22
Predrag Drobnjak Shooting Foul
2 - 3
9:22
Christian Laettner made Free Throw 1 of 2.
3 - 3
9:22
Christian Laettner made Free Throw 2 of 2.
4 - 3
9:14
Ray Allen Backcourt
4 - 3
9:00
Christian Laettner made 20 ft Jumper. Assisted by Jerry Stackhouse.
6 - 3
8:44
Rashard Lewis made Layup. Assisted by Brent Barry.
6 - 5
8:23
Tyronn Lue made 17 ft Jumper.
8 - 5
7:56
Ray Allen missed 26 ft Three Point Jumper.
8 - 5
7:54
Seattle Defensive Rebound.
8 - 5
7:37
Tyronn Lue missed 12 ft Jumper.
8 - 5
7:35
Predrag Drobnjak Defensive Rebound.
8 - 5
7:26
Ray Allen missed Layup.
8 - 5
7:24
Reggie Evans Offensive Rebound.
8 - 7
7:24
Reggie Evans made Two Point Shot.
8 - 7
7:05
Jerry Stackhouse missed 24 ft Three Point Jumper.
8 - 7
7:03
Predrag Drobnjak Defensive Rebound.
8 - 7
6:58
Brent Barry Offensive Foul
8 - 7
6:58
Brent Barry Foul
8 - 7
6:41
Jerry Stackhouse Bad Pass. Stolen by Brent Barry.
8 - 7
6:37
Brent Barry Bad Pass. Stolen by Michael Jordan.
8 - 7
6:37
Michael Jordan made Two Point Shot.
10 - 7
6:37
Brent Barry Shooting Foul
10 - 7
6:37
Kevin Ollie enters the game for Brent Barry.
10 - 7
6:37
Michael Jordan missed Free Throw 1 of 1.
10 - 7
6:37
Jahidi White Offensive Rebound.
10 - 7
6:22
Michael Jordan made Two Point Shot.
12 - 7
6:03
Ray Allen missed Layup.
12 - 7
6:03
Ray Allen Offensive Rebound.
12 - 7
5:58
Rashard Lewis missed 8 ft Two Point Shot.
12 - 7
5:54
Christian Laettner Defensive Rebound.
12 - 7
5:52
Jerry Stackhouse made Two Point Shot. Assisted by Michael Jordan.
14 - 7
5:33
Predrag Drobnjak missed 18 ft Jumper.
14 - 7
5:31
Reggie Evans Offensive Rebound.
14 - 7
5:26
Reggie Evans made Layup.
14 - 9
5:09
Jerry Stackhouse made Two Point Shot.
16 - 9
4:52
Predrag Drobnjak missed 8 ft Jumper. Blocked by Christian Laettner.
16 - 9
4:50
Predrag Drobnjak Offensive Rebound.
16 - 9
4:50
Michael Jordan Shooting Foul
16 - 9
4:50
Seattle Full Timeout.
16 - 9
4:50
Kwame Brown enters the game for Christian Laettner.
16 - 9
4:50
Predrag Drobnjak made Free Throw 1 of 2.
16 - 10
4:50
Predrag Drobnjak made Free Throw 2 of 2.
16 - 11
4:37
Michael Jordan made 16 ft Two Point Shot. Assisted by Jerry Stackhouse.
18 - 11
4:09
Predrag Drobnjak missed 9 ft Jumper.
18 - 11
4:09
Seattle Offensive Rebound.
18 - 11
4:09
24 second
18 - 11
4:09
Vladimir Radmanovic enters the game for Predrag Drobnjak.
18 - 11
3:49
Michael Jordan made 18 ft Jumper. Assisted by Jerry Stackhouse.
20 - 11
3:28
Reggie Evans made Layup. Assisted by Kevin Ollie.
20 - 13
3:11
Jerry Stackhouse missed Two Point Shot.
20 - 13
3:10
Jahidi White Offensive Rebound.
20 - 13
3:08
Jahidi White missed Layup.
20 - 13
3:06
Reggie Evans Defensive Rebound.
20 - 13
3:01
Kevin Ollie Offensive Foul
20 - 13
3:01
Kevin Ollie Foul
20 - 13
3:01
Christian Laettner enters the game for Jahidi White.
20 - 13
2:46
Michael Jordan made 20 ft Jumper. Assisted by Jerry Stackhouse.
22 - 13
2:26
Vladimir Radmanovic missed 18 ft Jumper.
22 - 13
2:24
Reggie Evans Offensive Rebound.
22 - 13
2:24
Christian Laettner Shooting Foul
22 - 13
2:24
Washington Full Timeout.
22 - 13
2:24
Reggie Evans made Free Throw 1 of 2.
22 - 14
2:24
Reggie Evans made Free Throw 2 of 2.
22 - 15
2:11
Kwame Brown made Two Point Shot. Assisted by Jerry Stackhouse.
24 - 15
1:44
Kevin Ollie missed 19 ft Jumper.
24 - 15
1:42
Christian Laettner Defensive Rebound.
24 - 15
1:21
Tyronn Lue missed 18 ft Jumper.
24 - 15
1:20
Vladimir Radmanovic Defensive Rebound.
24 - 15
1:10
Kevin Ollie made Two Point Shot. Assisted by Vladimir Radmanovic.
24 - 17
0:55
Christian Laettner made Two Point Shot. Assisted by Kwame Brown.
26 - 17
0:37
Rashard Lewis missed 10 ft Jumper.
26 - 17
0:34
Kwame Brown Defensive Rebound.
26 - 17
0:29
Rashard Lewis Shooting Foul
26 - 17
0:29
Jerome James enters the game for Reggie Evans.
26 - 17
0:29
Michael Jordan made Free Throw 1 of 2.
27 - 17
0:29
Jahidi White enters the game for Christian Laettner.
27 - 17
0:29
Michael Jordan made Free Throw 2 of 2.
28 - 17
0:13
Vladimir Radmanovic missed 25 ft Three Point Jumper.
28 - 17
0:11
Jerome James Offensive Rebound.
28 - 17
0:06
Jahidi White Shooting Foul
28 - 17
0:06
Rashard Lewis made Free Throw 1 of 2.
28 - 18
0:06
Christian Laettner enters the game for Jahidi White.
28 - 18
0:06
Rashard Lewis missed Free Throw 2 of 2.
28 - 18
0:06
Reggie Evans enters the game for Jerome James.
28 - 18
0:06
Rashard Lewis made Free Throw 2 of 2.
28 - 19
0:00
Michael Jordan missed 20 ft Two Point Shot.
28 - 19
0:00
Vladimir Radmanovic Defensive Rebound.
28 - 19
0:00
End of the 1st Quarter.
28 - 19

time
TEAM
PLAY
SCORE
12:00
Start of the 2nd Quarter.
28 - 19
11:45
Ray Allen missed 24 ft Three Point Jumper.
28 - 19
11:44
Kwame Brown Defensive Rebound.
28 - 19
11:32
Tyronn Lue made 10 ft Jumper.
30 - 19
11:10
Vladimir Radmanovic made 23 ft Three Point Jumper. Assisted by Rashard Lewis.
30 - 22
10:51
Kwame Brown made 6 ft Two Point Shot. Assisted by Jerry Stackhouse.
32 - 22
10:30
Jerome James missed Two Point Shot.
32 - 22
10:27
Bobby Simmons Defensive Rebound.
32 - 22
10:14
Jerry Stackhouse made 16 ft Jumper. Assisted by Tyronn Lue.
34 - 22
10:04
Seattle Full Timeout.
34 - 22
10:04
Brent Barry enters the game for Rashard Lewis.
34 - 22
9:51
Kevin Ollie missed 5 ft Jumper. Blocked by Brendan Haywood.
34 - 22
9:48
Brendan Haywood Defensive Rebound.
34 - 22
9:34
Kwame Brown missed 16 ft Jumper.
34 - 22
9:34
Washington Defensive Rebound.
34 - 22
9:11
Brent Barry made 25 ft Three Point Jumper. Assisted by Ray Allen.
34 - 25
8:48
Tyronn Lue missed 14 ft Jumper.
34 - 25
8:48
Washington Offensive Rebound.
34 - 25
8:48
Ray Allen Loose Ball Foul
34 - 25
8:48
Michael Jordan enters the game for Jerry Stackhouse.
34 - 25
8:48
Rashard Lewis enters the game for Ray Allen.
34 - 25
8:38
Michael Jordan Traveling
34 - 25
8:23
Rashard Lewis made 25 ft Three Point Jumper. Assisted by Kevin Ollie.
34 - 28
8:03
Michael Jordan made 16 ft Jumper. Assisted by Tyronn Lue.
36 - 28
7:45
Jerome James missed 7 ft Jumper.
36 - 28
7:43
Jerome James Offensive Rebound.
36 - 28
7:41
Jerome James Lost Ball. Stolen by Kwame Brown.
36 - 28
7:26
Tyronn Lue missed 15 ft Jumper.
36 - 28
7:24
Rashard Lewis Defensive Rebound.
36 - 28
7:09
Brendan Haywood Flagrant Foul Type 1
36 - 28
7:09
Seattle Full Timeout.
36 - 28
7:09
Rashard Lewis made Flagrant Free Throw 1 of 2.
36 - 29
7:09
Rashard Lewis missed Flagrant Free Throw 2 of 2.
36 - 29
7:09
Seattle Offensive Rebound.
36 - 29
7:09
Ray Allen enters the game for Rashard Lewis.
36 - 29
7:03
Brendan Haywood Personal Foul
36 - 29
7:03
Bryon Russell enters the game for Brendan Haywood.
36 - 29
6:50
Ray Allen missed 27 ft Three Point Jumper.
36 - 29
6:48
Jerome James Offensive Rebound.
36 - 29
6:46
Jerome James Bad Pass
36 - 29
6:31
Bobby Simmons missed 18 ft Jumper.
36 - 29
6:31
Washington Offensive Rebound.
36 - 29
6:31
Jerome James Loose Ball Foul
36 - 29
6:31
Reggie Evans enters the game for Jerome James.
36 - 29
6:20
Kwame Brown missed 7 ft Two Point Shot.
36 - 29
6:16
Vladimir Radmanovic Defensive Rebound.
36 - 29
6:09
Ray Allen made 10 ft Jumper.
36 - 31
5:45
Kwame Brown made 13 ft Jumper.
38 - 31
5:16
Brent Barry missed 25 ft Three Point Jumper.
38 - 31
5:15
Michael Jordan Defensive Rebound.
38 - 31
5:03
Michael Jordan made 15 ft Two Point Shot. Assisted by Tyronn Lue.
40 - 31
4:48
Bobby Simmons Personal Foul
40 - 31
4:35
Brent Barry missed Two Point Shot.
40 - 31
4:33
Kwame Brown Defensive Rebound.
40 - 31
4:15
Michael Jordan Bad Pass. Stolen by Brent Barry.
40 - 31
4:09
Brent Barry missed Layup. Blocked by Kwame Brown.
40 - 31
4:09
Seattle Offensive Rebound.
40 - 31
4:07
Brent Barry made 26 ft Three Point Jumper. Assisted by Kevin Ollie.
40 - 34
4:00
Reggie Evans Personal Foul
40 - 34
3:42
Michael Jordan missed 19 ft Jumper.
40 - 34
3:41
Bryon Russell Offensive Rebound.
40 - 34
3:30
Ray Allen Personal Foul
40 - 34
3:30
Jerry Stackhouse enters the game for Tyronn Lue.
40 - 34
3:18
Kwame Brown made 8 ft Jumper.
42 - 34
3:00
Vladimir Radmanovic Lost Ball. Stolen by Michael Jordan.
42 - 34
2:51
Washington 20 Sec. Timeout.
42 - 34
2:51
Official Timeout.
42 - 34
2:41
Bryon Russell missed Two Point Shot.
42 - 34
2:40
Ray Allen Defensive Rebound.
42 - 34
2:31
Bryon Russell Shooting Foul
42 - 34
2:31
Ray Allen made Free Throw 1 of 2.
42 - 35
2:31
Ray Allen made Free Throw 2 of 2.
42 - 36
2:17
Michael Jordan missed 9 ft Jumper.
42 - 36
2:15
Kwame Brown Offensive Rebound.
42 - 36
2:15
Kwame Brown missed Layup.
42 - 36
2:13
Reggie Evans Defensive Rebound.
42 - 36
2:09
Ray Allen missed Three Point Jumper.
42 - 36
2:06
Jerry Stackhouse Defensive Rebound.
42 - 36
1:55
Jerry Stackhouse missed 12 ft Jumper.
42 - 36
1:54
Washington Defensive Rebound.
42 - 36
1:54
Bobby Simmons Loose Ball Foul
42 - 36
1:54
Kevin Ollie missed Free Throw 1 of 2.
42 - 36
1:54
Seattle Offensive Rebound.
42 - 36
1:54
Kevin Ollie made Free Throw 2 of 2.
42 - 37
1:40
Michael Jordan missed 6 ft Two Point Shot.
42 - 37
1:36
Reggie Evans Defensive Rebound.
42 - 37
1:31
Brent Barry Lost Ball
42 - 37
1:13
Kwame Brown Offensive Foul
42 - 37
1:13
Kwame Brown Foul
42 - 37
0:57
Ray Allen missed 6 ft Two Point Shot.
42 - 37
0:53
Kwame Brown Defensive Rebound.
42 - 37
0:42
Kwame Brown Bad Pass
42 - 37
0:42
Tyronn Lue enters the game for Bobby Simmons.
42 - 37
0:37
Ray Allen made Two Point Shot. Assisted by Brent Barry.
42 - 39
0:23
Michael Jordan Bad Pass. Stolen by Kevin Ollie.
42 - 39
0:19
Brent Barry made Two Point Shot. Assisted by Kevin Ollie.
42 - 41
0:05
Kwame Brown missed 9 ft Two Point Shot.
42 - 41
0:03
Brent Barry Defensive Rebound.
42 - 41
0:00
Brent Barry made Three Point Jumper.
42 - 44
0:00
End of the 2nd Quarter.
42 - 44

time
TEAM
PLAY
SCORE
12:00
Start of the 3rd Quarter.
42 - 44
11:37
Ray Allen Bad Pass
42 - 44
11:22
Tyronn Lue missed Jumper.
42 - 44
11:19
Ray Allen Defensive Rebound.
42 - 44
11:17
Brent Barry made Two Point Shot. Assisted by Ray Allen.
42 - 46
10:56
Jerry Stackhouse missed 26 ft Three Point Jumper.
42 - 46
10:55
Reggie Evans Defensive Rebound.
42 - 46
10:48
Brent Barry Lost Ball
42 - 46
10:30
Jerry Stackhouse missed 16 ft Two Point Shot.
42 - 46
10:26
Reggie Evans Defensive Rebound.
42 - 46
10:08
Jerry Stackhouse Personal Foul
42 - 46
9:52
Rashard Lewis made 20 ft Jumper. Assisted by Ray Allen.
42 - 48
9:30
Michael Jordan made 20 ft Jumper.
44 - 48
9:14
Predrag Drobnjak made 18 ft Jumper. Assisted by Ray Allen.
44 - 50
8:59
Rashard Lewis Personal Foul
44 - 50
8:51
Predrag Drobnjak Shooting Foul
44 - 50
8:51
Jerry Stackhouse made Free Throw 1 of 2.
45 - 50
8:51
Jerry Stackhouse made Free Throw 2 of 2.
46 - 50
8:37
Ray Allen missed 15 ft Jumper.
46 - 50
8:37
Jahidi White Defensive Rebound.
46 - 50
8:29
Michael Jordan made Layup. Assisted by Jerry Stackhouse.
48 - 50
8:04
Rashard Lewis missed Layup.
48 - 50
8:03
Jahidi White Defensive Rebound.
48 - 50
7:50
Michael Jordan Bad Pass
48 - 50
7:35
Predrag Drobnjak missed 17 ft Jumper.
48 - 50
7:33
Tyronn Lue Defensive Rebound.
48 - 50
7:20
Tyronn Lue made 25 ft Three Point Jumper. Assisted by Jerry Stackhouse.
51 - 50
7:01
Ray Allen Bad Pass. Stolen by Tyronn Lue.
51 - 50
6:43
Jahidi White missed Layup.
51 - 50
6:41
Ray Allen Defensive Rebound.
51 - 50
6:35
Ray Allen missed 17 ft Jumper.
51 - 50
6:33
Ray Allen Offensive Rebound.
51 - 50
6:28
Rashard Lewis missed 25 ft Three Point Jumper.
51 - 50
6:26
Tyronn Lue Defensive Rebound.
51 - 50
6:13
Jahidi White made Layup. Assisted by Michael Jordan.
53 - 50
6:13
Brent Barry Shooting Foul
53 - 50
6:13
Vladimir Radmanovic enters the game for Predrag Drobnjak.
53 - 50
6:13
Seattle Full Timeout.
53 - 50
6:13
Jahidi White missed Free Throw 1 of 1.
53 - 50
6:11
Reggie Evans Defensive Rebound.
53 - 50
5:56
Vladimir Radmanovic made 12 ft Two Point Shot.
53 - 52
5:35
Jerry Stackhouse Bad Pass. Stolen by Ray Allen.
53 - 52
5:31
Brent Barry made Two Point Shot. Assisted by Ray Allen.
53 - 54
5:09
Jerry Stackhouse made 26 ft Three Point Jumper.
56 - 54
4:45
Vladimir Radmanovic missed Dunk. Blocked by Jahidi White.
56 - 54
4:41
Jerry Stackhouse Defensive Rebound.
56 - 54
4:31
Washington Full Timeout.
56 - 54
4:24
Jerry Stackhouse missed 26 ft Three Point Jumper.
56 - 54
4:22
Jahidi White Offensive Rebound.
56 - 54
4:00
Reggie Evans Shooting Foul
56 - 54
4:00
Tyronn Lue made Free Throw 1 of 2.
57 - 54
4:00
Tyronn Lue missed Free Throw 2 of 2.
57 - 54
3:57
Rashard Lewis Defensive Rebound.
57 - 54
3:43
Rashard Lewis missed 8 ft Jumper. Blocked by Jahidi White.
57 - 54
3:41
Seattle Offensive Rebound.
57 - 54
3:41
Jerome James enters the game for Reggie Evans.
57 - 54
3:36
Ray Allen made 26 ft Three Point Jumper. Assisted by Brent Barry.
57 - 57
3:15
Christian Laettner made Layup. Assisted by Michael Jordan.
59 - 57
2:57
Ray Allen Lost Ball
59 - 57
2:33
Jerry Stackhouse made 34 ft Three Point Jumper. Assisted by Christian Laettner.
62 - 57
2:15
Vladimir Radmanovic missed 23 ft Three Point Jumper.
62 - 57
2:14
Jerry Stackhouse Defensive Rebound.
62 - 57
1:54
Jerry Stackhouse missed 19 ft Jumper.
62 - 57
1:53
Vladimir Radmanovic Defensive Rebound.
62 - 57
1:37
Rashard Lewis missed 20 ft Jumper.
62 - 57
1:35
Michael Jordan Defensive Rebound.
62 - 57
1:25
Washington Full Timeout.
62 - 57
1:25
Kevin Ollie enters the game for Brent Barry.
62 - 57
1:16
Jahidi White Offensive Foul
62 - 57
1:16
Jahidi White Foul
62 - 57
1:01
Kevin Ollie Bad Pass
62 - 57
0:38
Jerry Stackhouse missed 18 ft Jumper.
62 - 57
0:38
Washington Offensive Rebound.
62 - 57
0:38
24 second
62 - 57
0:24
Rashard Lewis missed 16 ft Jumper.
62 - 57
0:22
Christian Laettner Defensive Rebound.
62 - 57
0:01
Tyronn Lue missed 7 ft Jumper.
62 - 57
0:00
Jerome James Defensive Rebound.
62 - 57
0:00
End of the 3rd Quarter.
62 - 57

time
TEAM
PLAY
SCORE
12:00
Start of the 4th Quarter.
62 - 57
11:38
Michael Jordan missed 18 ft Jumper. Blocked by Rashard Lewis.
62 - 57
11:36
Ray Allen Defensive Rebound.
62 - 57
11:33
Ray Allen missed 25 ft Three Point Jumper.
62 - 57
11:30
Michael Jordan Defensive Rebound.
62 - 57
11:07
Christian Laettner missed 16 ft Jumper.
62 - 57
11:03
Jahidi White Offensive Rebound.
62 - 57
11:03
Jahidi White missed Tip Shot.
62 - 57
11:02
Jerome James Defensive Rebound.
62 - 57
10:47
Jerome James missed 6 ft Jumper.
62 - 57
10:44
Christian Laettner Defensive Rebound.
62 - 57
10:27
Jerry Stackhouse missed 9 ft Jumper.
62 - 57
10:26
Ray Allen Defensive Rebound.
62 - 57
10:18
Ray Allen made Two Point Shot.
62 - 59
10:17
Washington Full Timeout.
62 - 59
10:17
Kwame Brown enters the game for Jahidi White.
62 - 59
10:17
Elden Campbell enters the game for Jerome James.
62 - 59
10:17
Brent Barry enters the game for Ray Allen.
62 - 59
9:57
Michael Jordan missed 20 ft Jumper.
62 - 59
9:55
Kevin Ollie Defensive Rebound.
62 - 59
9:42
Rashard Lewis missed 8 ft Jumper.
62 - 59
9:40
Michael Jordan Defensive Rebound.
62 - 59
9:22
Jerry Stackhouse missed 26 ft Three Point Jumper.
62 - 59
9:21
Rashard Lewis Defensive Rebound.
62 - 59
9:07
Kevin Ollie made 19 ft Jumper.
62 - 61
8:41
Jerry Stackhouse Bad Pass. Stolen by Elden Campbell.
62 - 61
8:36
Tyronn Lue Shooting Foul
62 - 61
8:36
Vladimir Radmanovic missed Free Throw 1 of 2.
62 - 61
8:36
Seattle Offensive Rebound.
62 - 61
8:36
Vladimir Radmanovic missed Free Throw 2 of 2.
62 - 61
8:33
Michael Jordan Defensive Rebound.
62 - 61
8:18
Brent Barry Shooting Foul
62 - 61
8:18
Kwame Brown missed Free Throw 1 of 2.
62 - 61
8:18
Washington Offensive Rebound.
62 - 61
8:18
Bobby Simmons enters the game for Jerry Stackhouse.
62 - 61
8:18
Kwame Brown made Free Throw 2 of 2.
63 - 61
8:00
Brent Barry missed 7 ft Two Point Shot.
63 - 61
7:56
Michael Jordan Defensive Rebound.
63 - 61
7:56
Brent Barry Personal Foul
63 - 61
7:56
Ray Allen enters the game for Brent Barry.
63 - 61
7:41
Kwame Brown missed 12 ft Jumper. Blocked by Elden Campbell.
63 - 61
7:39
Washington Offensive Rebound.
63 - 61
7:33
Tyronn Lue missed 25 ft Three Point Jumper.
63 - 61
7:31
Bobby Simmons Offensive Rebound.
63 - 61
7:16
Ray Allen Shooting Foul
63 - 61
7:16
Kwame Brown made Free Throw 1 of 2.
64 - 61
7:16
Kwame Brown missed Free Throw 2 of 2.
64 - 61
7:15
Elden Campbell Defensive Rebound.
64 - 61
6:58
Michael Jordan Personal Foul
64 - 61
6:47
Rashard Lewis missed 18 ft Jumper.
64 - 61
6:45
Christian Laettner Defensive Rebound.
64 - 61
6:24
Tyronn Lue missed 27 ft Three Point Jumper.
64 - 61
6:22
Bobby Simmons Offensive Rebound.
64 - 61
6:20
Bobby Simmons missed Layup.
64 - 61
6:18
Jerry Stackhouse enters the game for Michael Jordan.
64 - 61
6:18
Jumpball. Kwame Brown vs. Elden Campbell. Rashard Lewis gains possession.
64 - 61
6:18
Washington Defensive Rebound.
64 - 61
6:00
Elden Campbell missed Layup.
64 - 61
5:58
Christian Laettner Defensive Rebound.
64 - 61
5:37
Tyronn Lue made 24 ft Three Point Jumper. Assisted by Jerry Stackhouse.
67 - 61
5:20
Jerry Stackhouse Shooting Foul
67 - 61
5:20
Official Timeout.
67 - 61
5:20
Ray Allen made Free Throw 1 of 2.
67 - 62
5:20
Michael Jordan enters the game for Bobby Simmons.
67 - 62
5:20
Ray Allen made Free Throw 2 of 2.
67 - 63
5:00
Kwame Brown missed 7 ft Two Point Shot. Blocked by Elden Campbell.
67 - 63
4:54
Vladimir Radmanovic Defensive Rebound.
67 - 63
4:39
Vladimir Radmanovic missed Jumper. Blocked by Kwame Brown.
67 - 63
4:35
Christian Laettner Defensive Rebound.
67 - 63
4:16
Jerry Stackhouse missed 13 ft Two Point Shot.
67 - 63
4:13
Rashard Lewis Defensive Rebound.
67 - 63
3:57
Kevin Ollie missed 14 ft Jumper.
67 - 63
3:55
Michael Jordan Defensive Rebound.
67 - 63
3:32
Michael Jordan missed 18 ft Jumper.
67 - 63
3:31
Christian Laettner Offensive Rebound.
67 - 63
3:31
24 second
67 - 63
3:31
Brent Barry enters the game for Elden Campbell.
67 - 63
3:16
Ray Allen made 15 ft Jumper.
67 - 65
2:59
Michael Jordan made Two Point Shot. Assisted by Tyronn Lue.
69 - 65
2:48
Ray Allen missed 24 ft Three Point Jumper.
69 - 65
2:47
Michael Jordan Defensive Rebound.
69 - 65
2:26
Michael Jordan made Two Point Shot.
71 - 65
2:18
Seattle Full Timeout.
71 - 65
2:18
Bobby Simmons enters the game for Kwame Brown.
71 - 65
2:08
Vladimir Radmanovic missed 13 ft Jumper.
71 - 65
2:05
Rashard Lewis Offensive Rebound.
71 - 65
2:03
Rashard Lewis made Layup.
71 - 67
1:45
Michael Jordan made 14 ft Two Point Shot.
73 - 67
1:34
Ray Allen made Two Point Shot.
73 - 69
1:12
Ray Allen Shooting Foul
73 - 69
1:12
Bobby Simmons missed Free Throw 1 of 2.
73 - 69
1:12
Washington Offensive Rebound.
73 - 69
1:12
Bryon Russell enters the game for Christian Laettner.
73 - 69
1:12
Bobby Simmons made Free Throw 2 of 2.
74 - 69
1:01
Ray Allen missed 5 ft Two Point Shot. Blocked by Michael Jordan.
74 - 69
1:01
Seattle Offensive Rebound.
74 - 69
0:53
Vladimir Radmanovic made Three Point Jumper. Assisted by Ray Allen.
74 - 72
0:36
Michael Jordan missed 17 ft Jumper.
74 - 72
0:33
Bryon Russell Offensive Rebound.
74 - 72
0:16
Bobby Simmons missed 9 ft Jumper.
74 - 72
0:15
Jerry Stackhouse Offensive Rebound.
74 - 72
0:15
Jerry Stackhouse made Layup.
76 - 72
0:15
Seattle Full Timeout.
76 - 72
0:10
Michael Jordan Personal Foul
76 - 72
0:05
Ray Allen Lost Ball. Stolen by Bobby Simmons.
76 - 72
0:05
Ray Allen Loose Ball Foul
76 - 72
0:05
Bobby Simmons made Free Throw 1 of 2.
77 - 72
0:05
Bobby Simmons made Free Throw 2 of 2.
78 - 72
0:05
Seattle 20 Sec. Timeout.
78 - 72
0:03
Rashard Lewis made Layup. Assisted by Brent Barry.
78 - 74
0:02
Ray Allen Personal Foul
78 - 74
0:02
Reggie Evans enters the game for Ray Allen.
78 - 74
0:02
Kwame Brown enters the game for Michael Jordan.
78 - 74
0:02
Jerry Stackhouse made Free Throw 1 of 2.
79 - 74
0:02
Jerry Stackhouse made Free Throw 2 of 2.
80 - 74
0:00
End of the 4th Quarter.
80 - 74
0:00
End Game
80 - 74
0:00
End Game
80 - 74
0:00
End Game
80 - 74
0:00
End Game
80 - 74
0:00
End Game
80 - 74
0:00
End Game
80 - 74
0:00
End Game
80 - 74
Even with chatter of a potential trade, it appears Ricky Rubio will be staying with the Timberwolves for the time being.

The Serbian basketball federation says Nemanja Bjelica will miss the Rio de Janeiro Olympics because of a right-foot injury.

John Saunders looks back on the career of Tim Duncan, who he believes made basketball fun to watch even though he wasn't one of the game's bigger personalities.
2015-2016 Atlantic Standings